You usually think of bread pudding as a dessert, and we sometimes joke that bread pudding is a recycled dessert – a vehicle for using up whatever leftover ingredients are still rattling around in your fridge.  But if you make bread pudding with veggies and some cheese, it turns into a warm, tasty meal.  To that end, we recently found this recipe from Bon Appétit and decided to try it out one chilly fall night.  It's hearty and filled with seasonal vegetables, and even though it's an unusual use of bread pudding, we think you should try it.
To make it, you'll need:
Butter
2 loves of brioche
A small butternut squash
2 leeks
Thyme
Cayenne pepper
4 eggs
3 cups of heavy cream
3 cups of milk
Sugar
An 8-ounce block of Gouda cheese
Start by tearing your brioche into small pieces and placing them on a baking sheet.  Bake the pieces at 350°F for 25-30 minutes.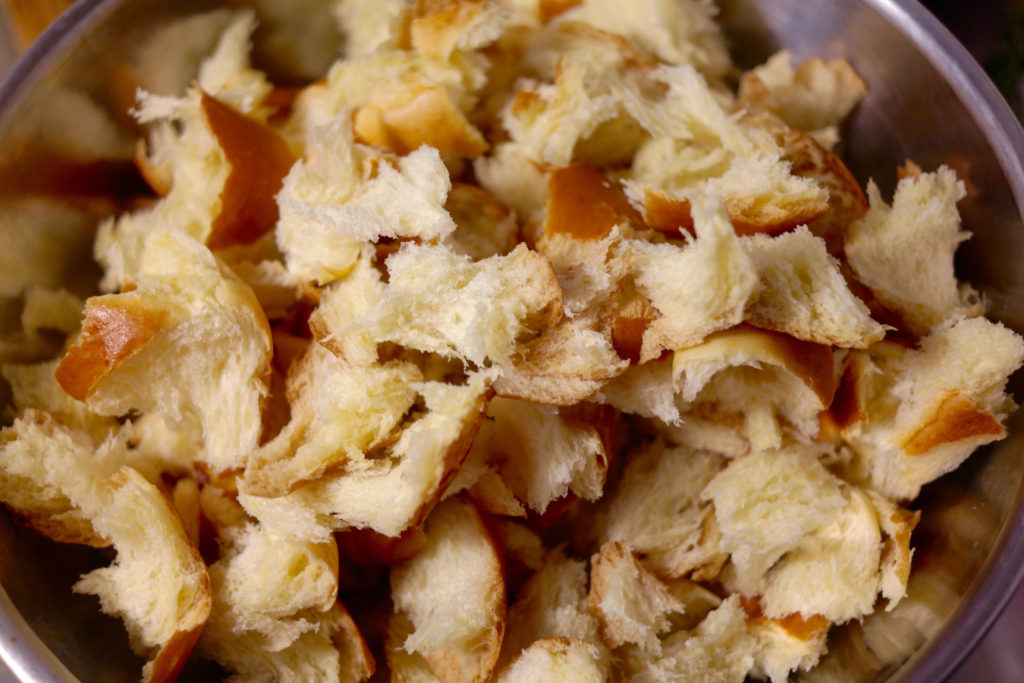 Meanwhile, peel your squash, use a spoon to scoop out all the seeds and pulp, and cut it into bite-sized pieces.  Thinly slice the white and light green parts of the leeks and mix them with the squash and a small handful of thyme leaves.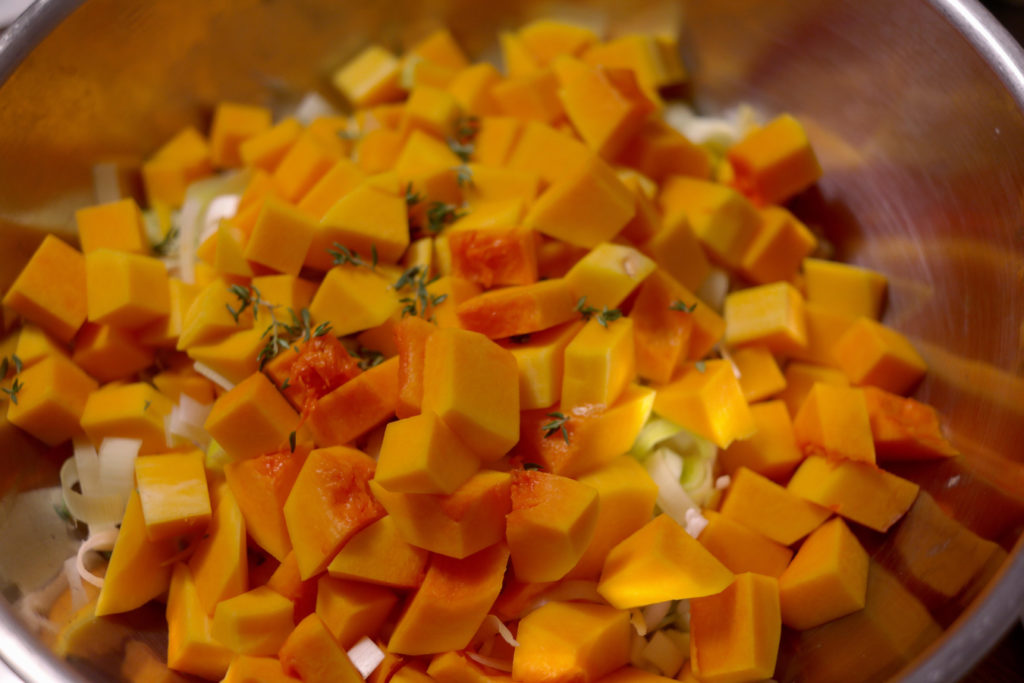 Heat 4 tablespoons of butter in a large skillet and cook the veggies for 10-12 minutes, until the squash begins to soften.  Mix in a pinch of cayenne pepper.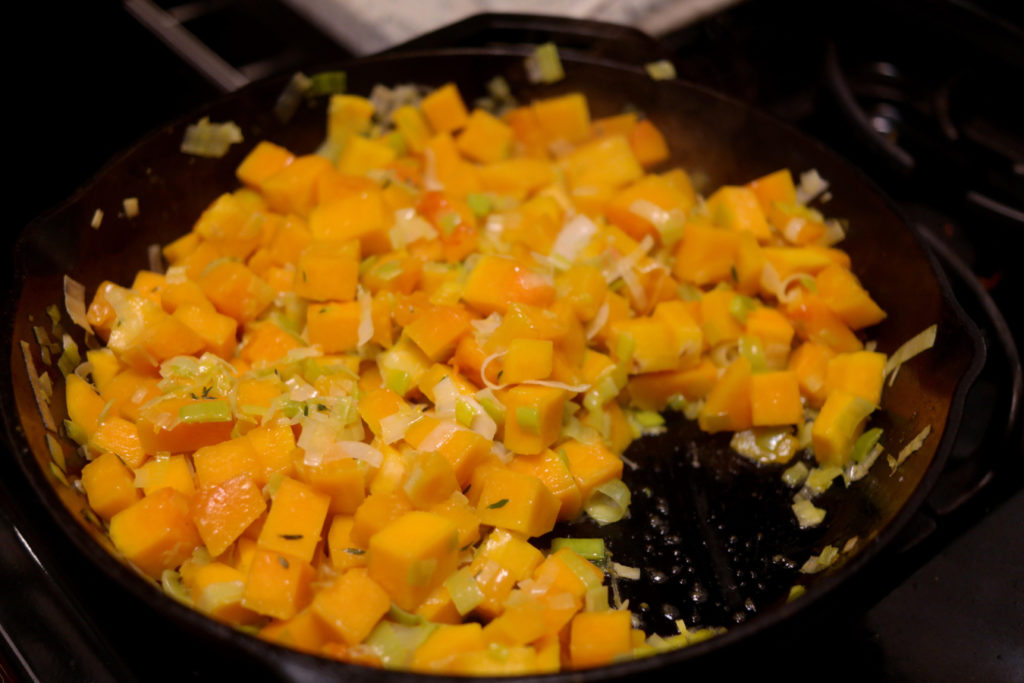 Once the bread is done baking …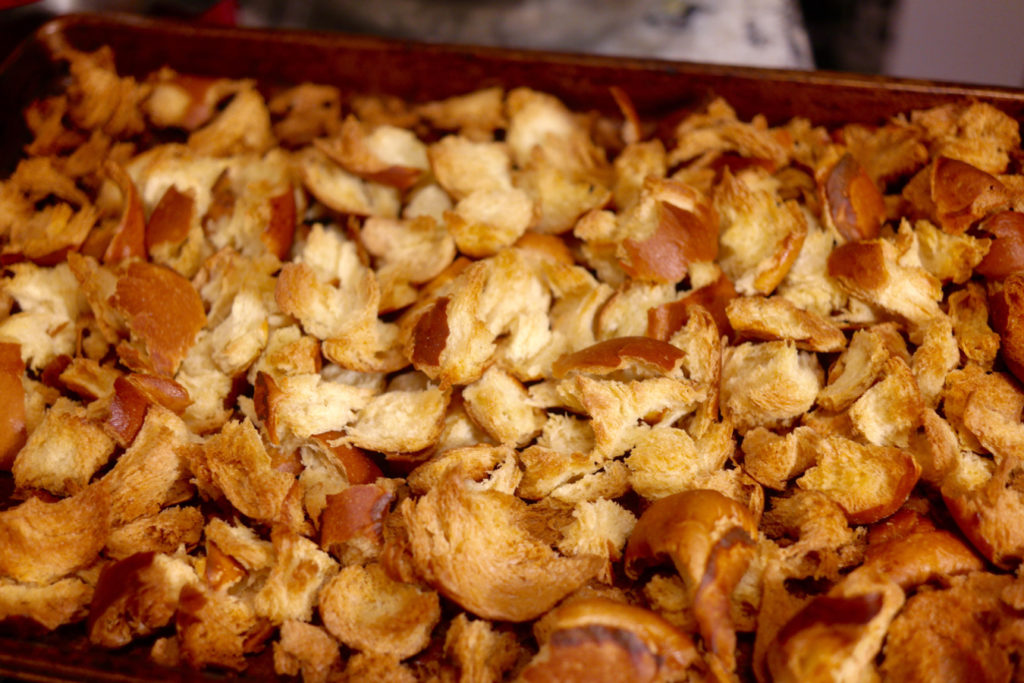 … put it in a large bowl, let it cool slightly, and stir in the vegetables and 1 cup of shredded Gouda.
Then turn this mixture into a large casserole dish.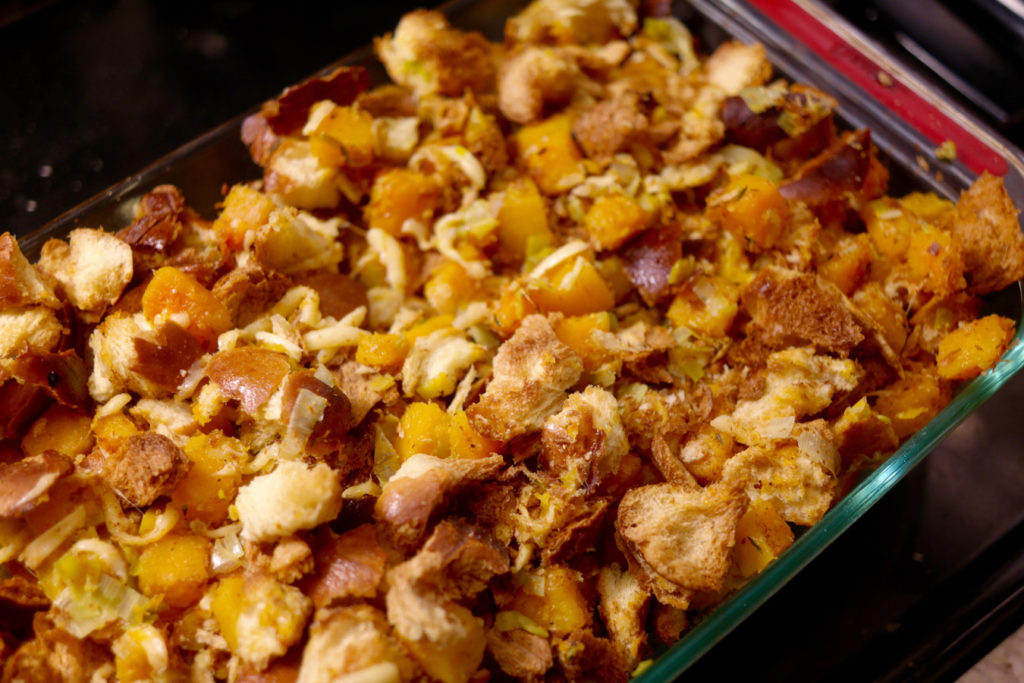 Whisk together the 4 eggs, 3 cups of cream, 3 cups of milk, a teaspoon of sugar, salt, and another pinch of cayenne.  Gently pour this over everything in the casserole dish and press the bread into the liquid to make sure it gets thickly coated.  Let this sit for 15 minutes.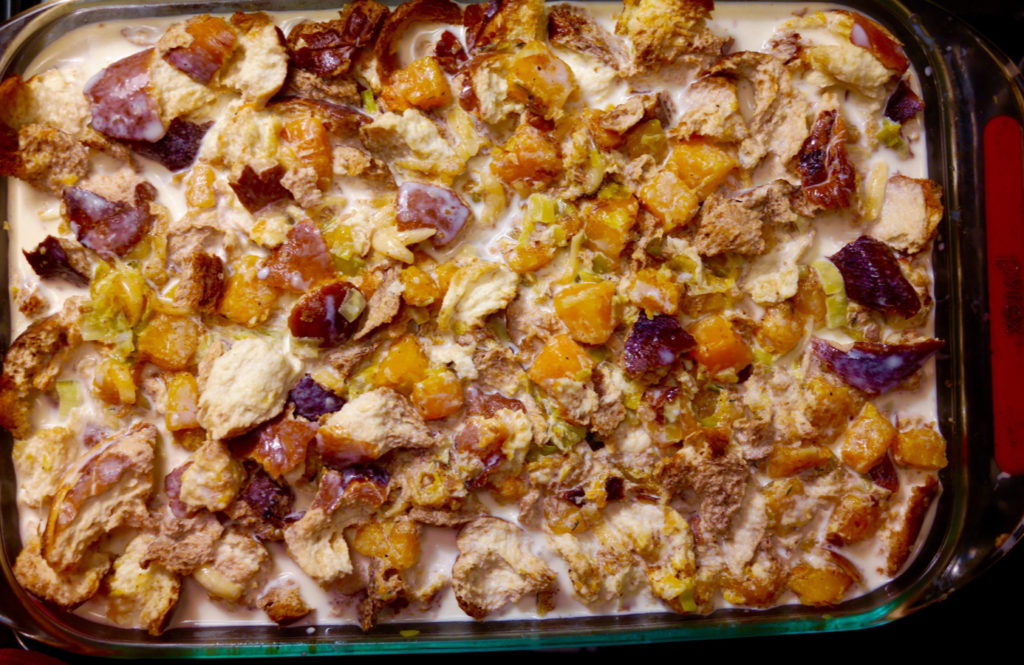 Spread the remaining shredded cheese on top of your casserole …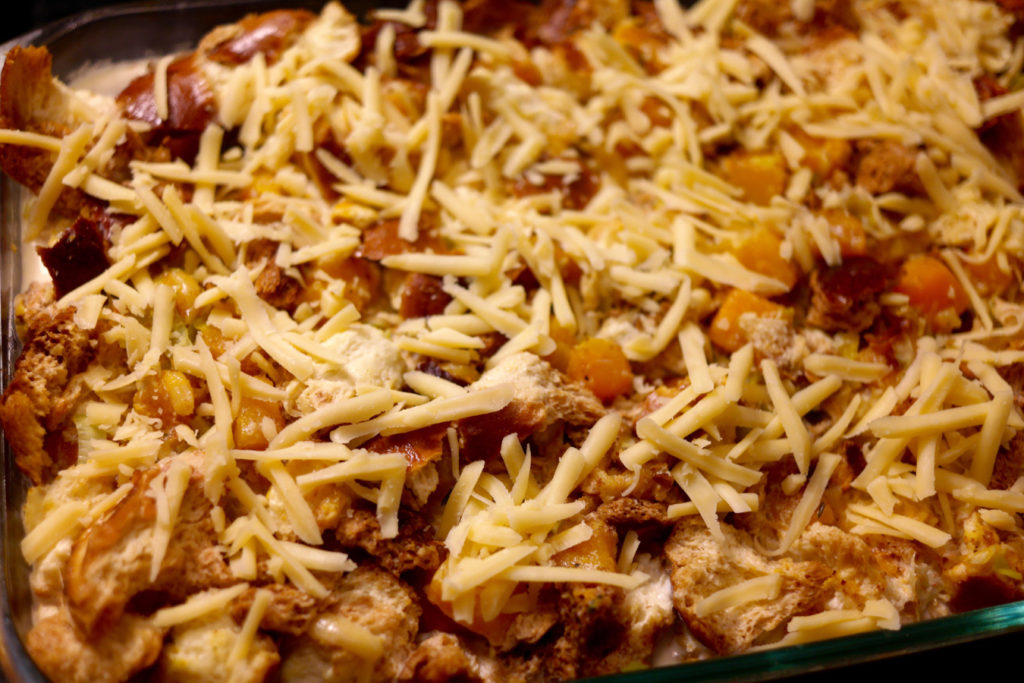 … and bake the bread pudding for at least an hour, until the bread puffs up and the liquid becomes a firm custard.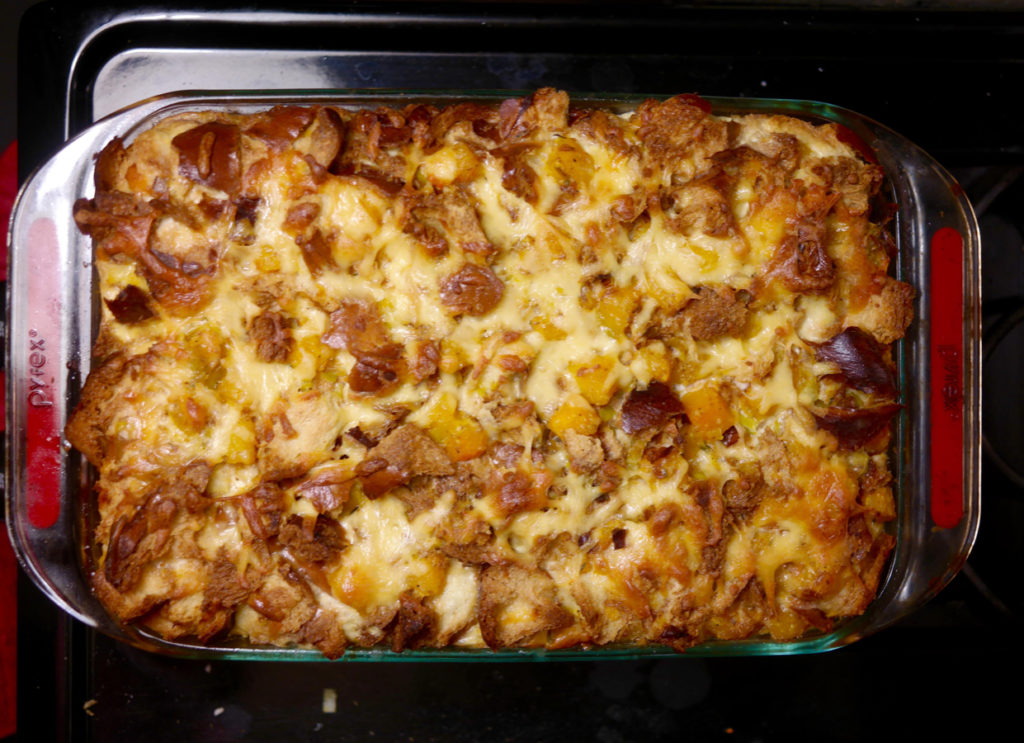 Let it cool for about 10 minutes, then slice it and serve it up.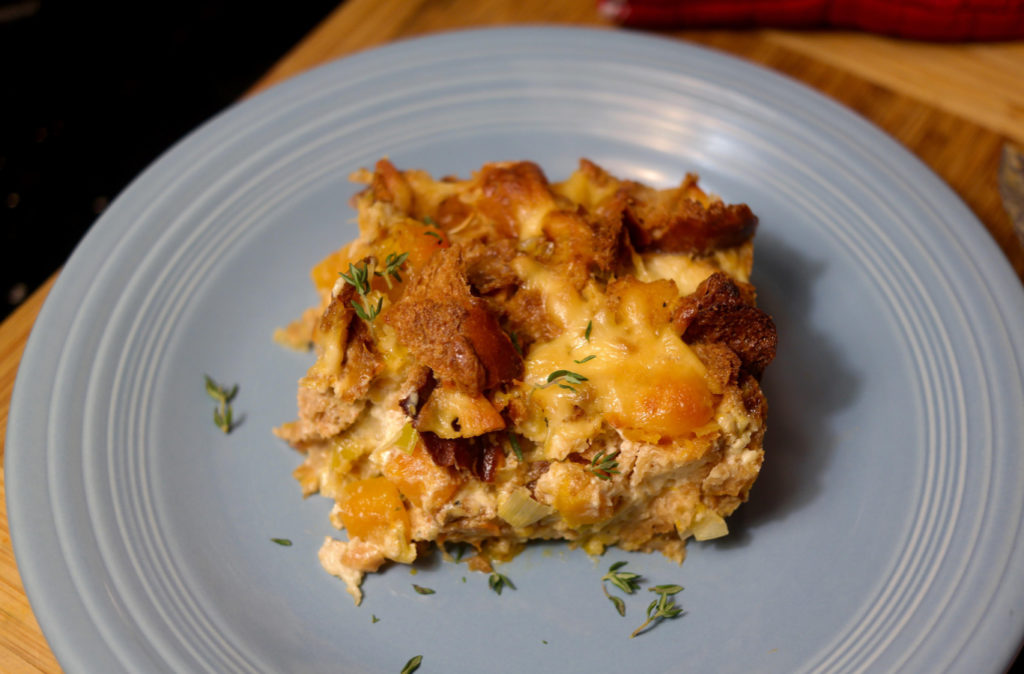 Looks delicious, no?  The bread pudding turns out crispy on the outside and gooey on the inside.  The squash and leeks provide a nice savory flavor, and the Gouda adds some tasty creaminess.  Overall, it's a hot, nourishing meal that utilizes a gourd that's in season right now.  If you're skeptical about whether bread pudding can really be anything besides a dessert, give this a try and we think you might be convinced.