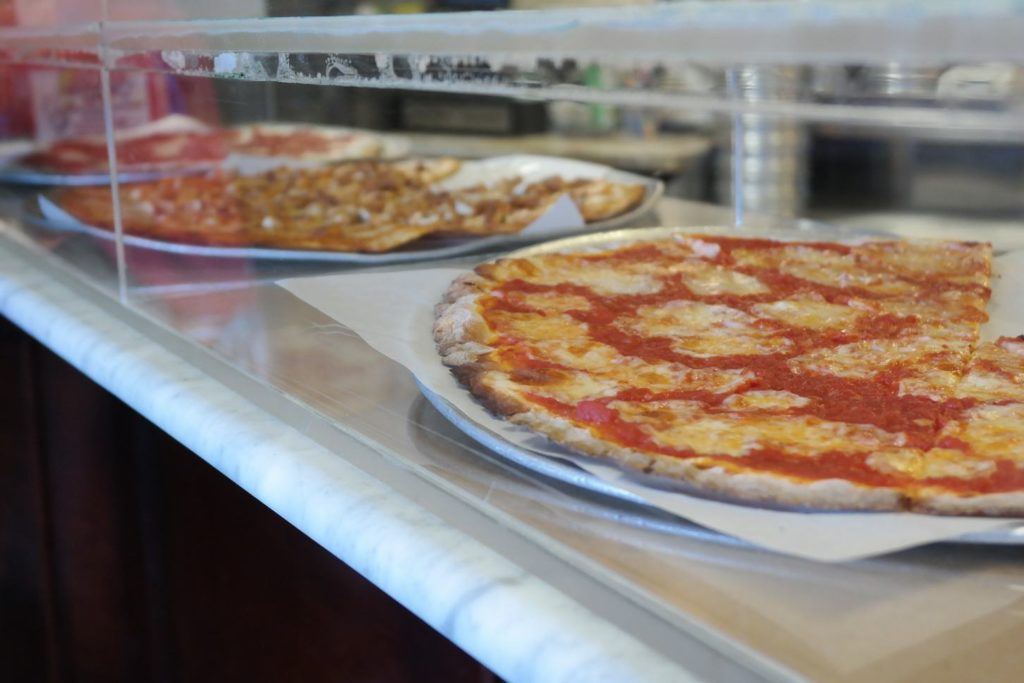 Staten Island is New York's forgotten borough – we hardly ever (or never) go there, and it's easy to forget about that it's out there, south of Manhattan.  But recently, New York magazine published a multi-page spread about all the different things to do in Staten Island, and one of the things they highlighted was the great pizza there.
So one Sunday, Cyril and I decided to venture to the island and spend all day hunting down the pizza that New York recommended – in both vegetarian and non-vegetarian varieties.  This is our journey, and it began with two subway rides and then a trip on the ferry to Pier 76.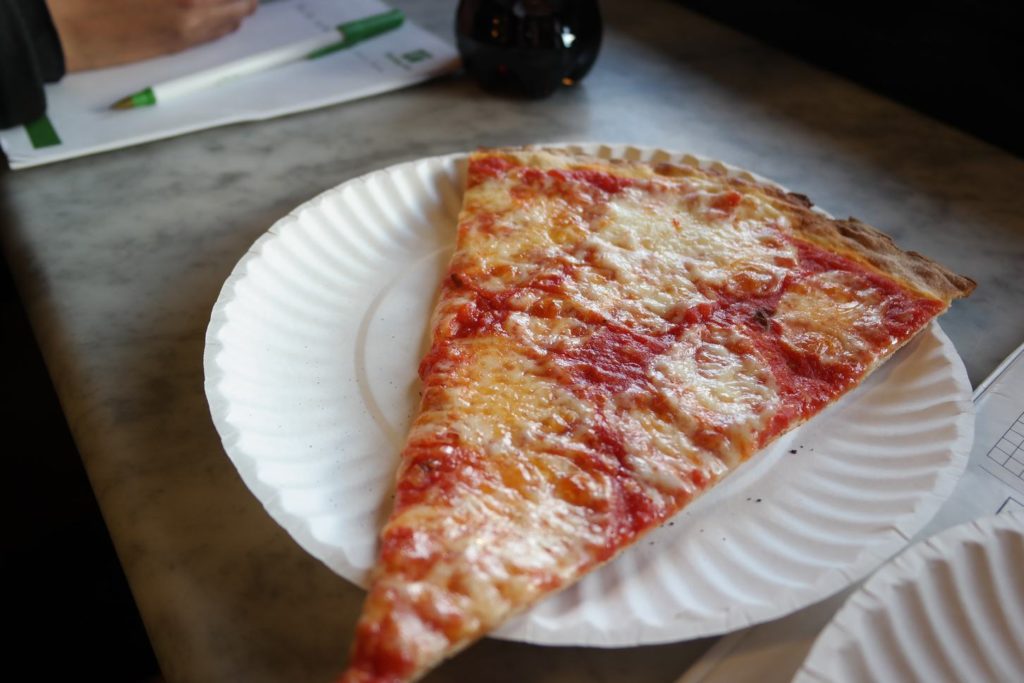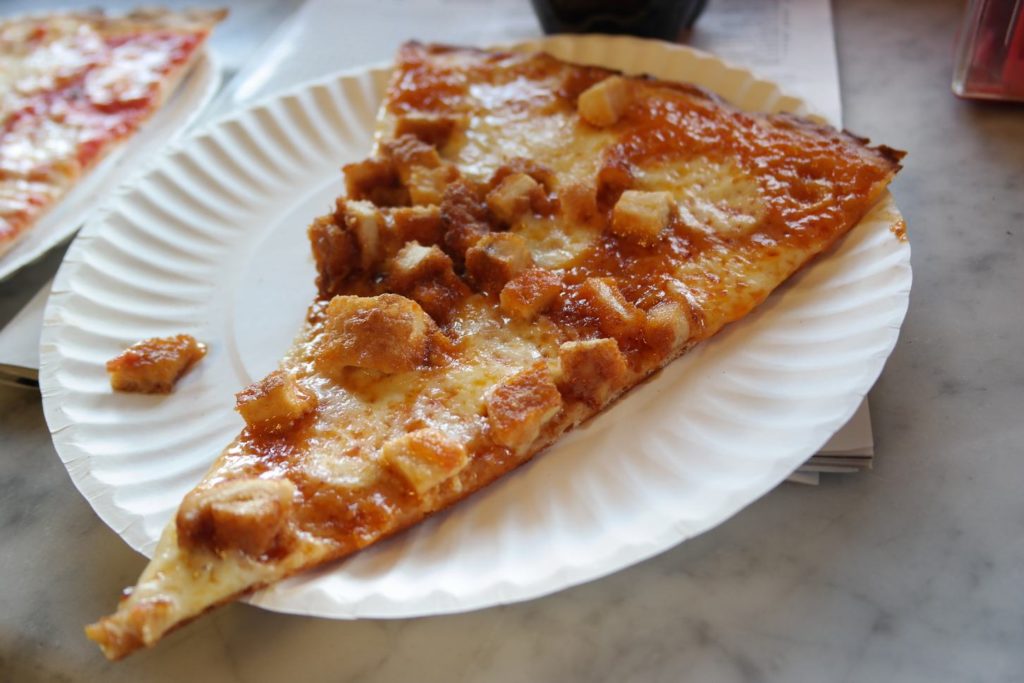 We got to Pier 76 right as they opened, so they only had a few pizzas ready that we could get as slices. Miriam chose the plain cheese and Cyril got buffalo chicken, which was nicely sweet and spicy.  Both slices had a thin crust, which was good underneath all the toppings but maybe a little too crispy on its own.
Next we hopped on a bus to Joe and Pat's, where we got a slice of margherita pizza and a slice of vodka pizza, which is apparently a Staten Island specialty.
The crust on these pizzas was somehow even thinner than at Pier 76, and the topping-less ends were almost like a cracker.  The vodka sauce, however, was delicious underneath the cheese, and the margherita tasted great with fresh mozzarella on top.
As you can see, Cyril enjoyed his slice.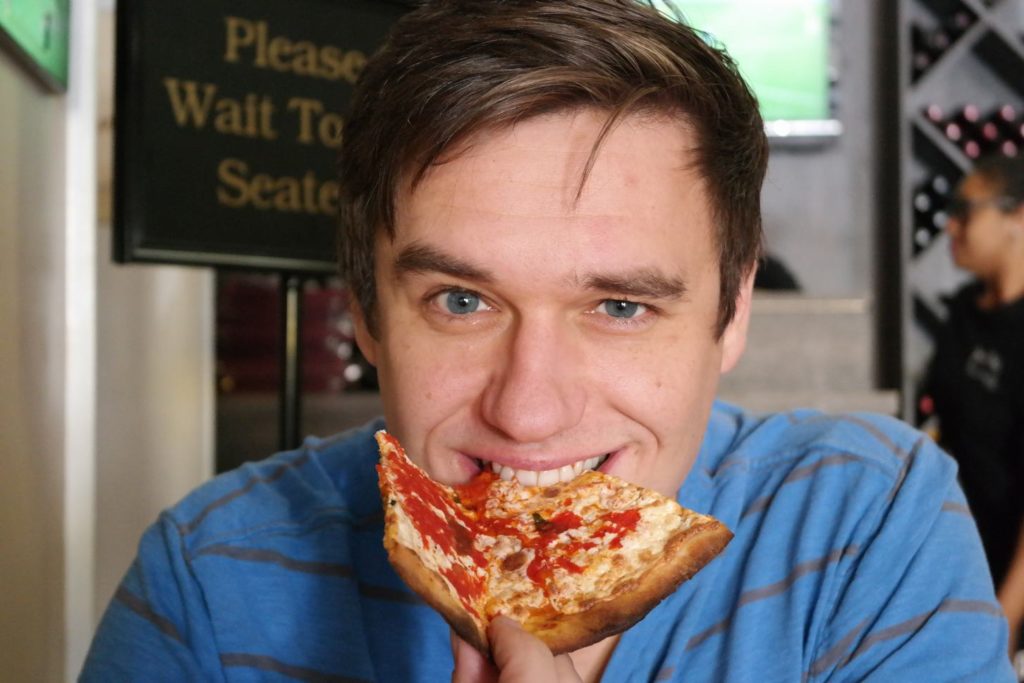 After another bus ride, we arrived at Pizzeria Giove.  They didn't have slices there, so we sat down and got a small pizza.  We chose the Ortolana, which is a white pizza topped with zucchini, roasted red peppers, mushrooms, breaded eggplant, and chopped cherry tomatoes.  The crust here was thicker than at the other pizzerias we had visited so far, which we liked.  Miriam especially loved this one because it was a nice departure from the boring toppings that you usually find on a veggie pizza.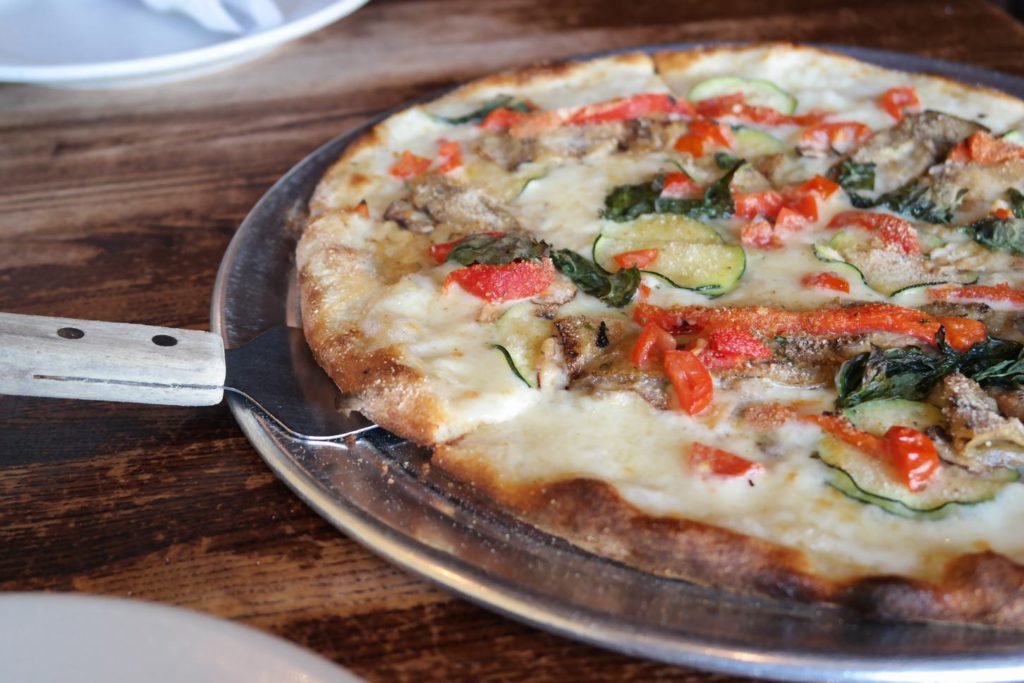 From there, we walked around the corner to Nunzio's.  At Nunzio's, when you order a slice you start out with plain cheese and then get to add whatever toppings you'd like.  Miriam got garlic – a LOT of garlic.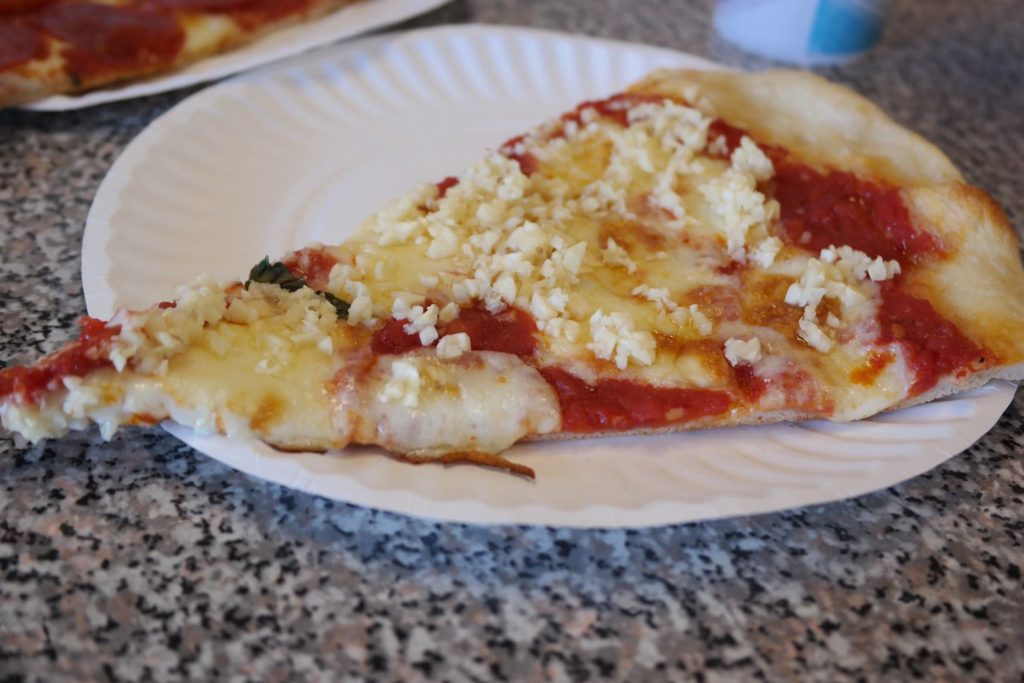 Cyril chose pepperoni – but as we were leaving he saw someone order two slices with sausage and meatballs and got a little jealous.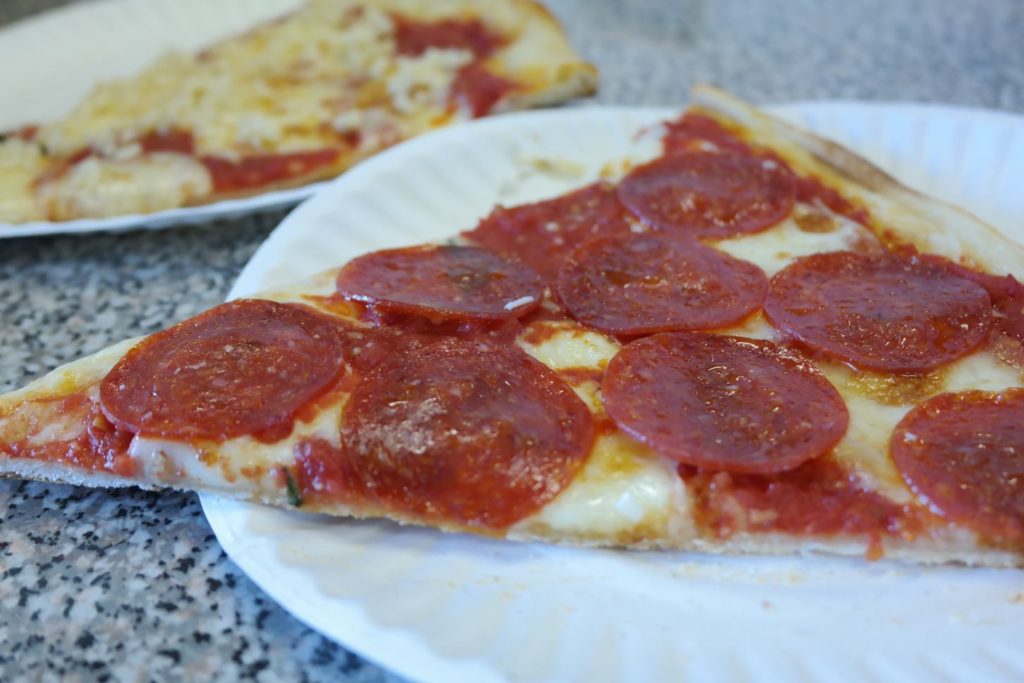 Nunzio's turned out to be the best of all the pizza we had:  the crust was thicker but not too thick, the toppings were generous, and we liked that we had so much choice in what to put on our pizzas.  It was also the least expensive of all the pizza we had that day, and the people working there were super nice.
Our next stop was all the way at the bottom of Staten Island, so it was a long bus ride to Reggiano's.   Once again, we went for one margherita slice and one vodka slice.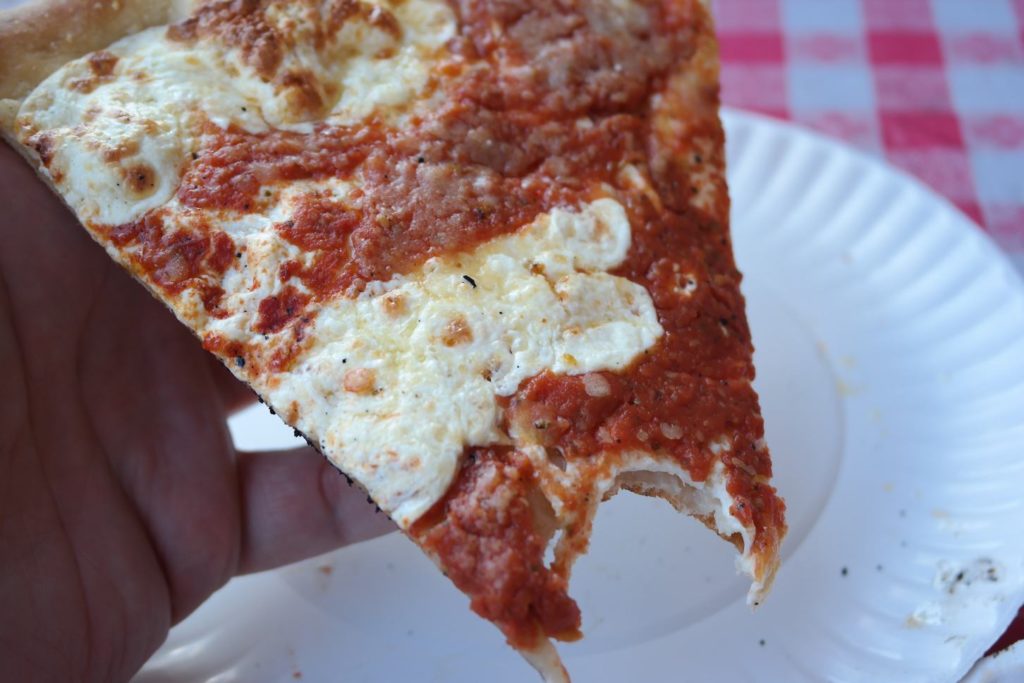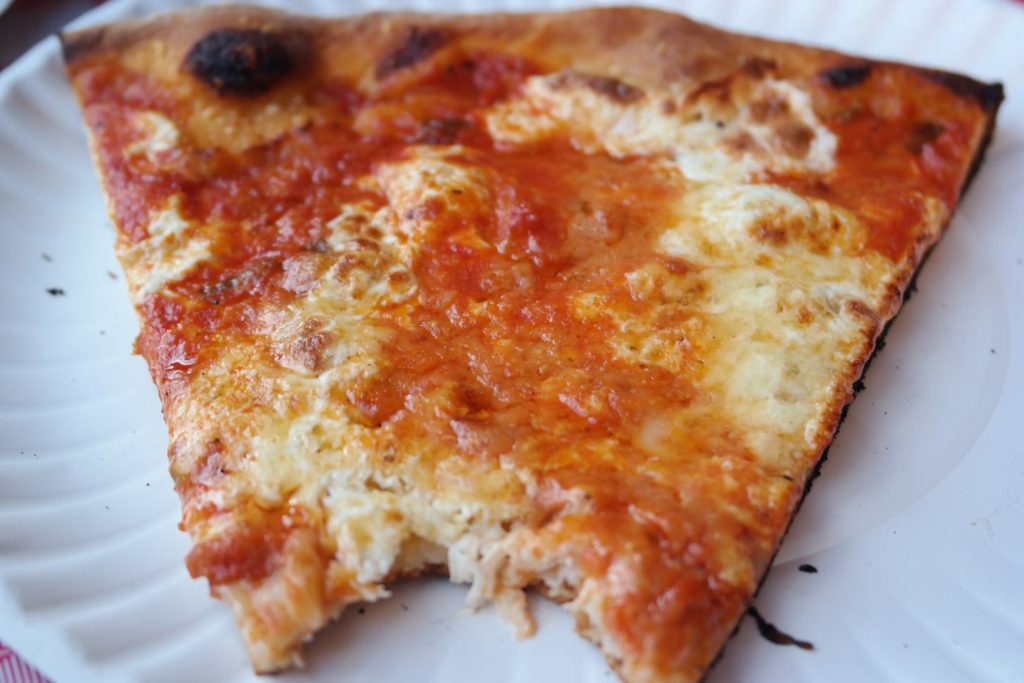 The vodka pizza here was absolutely delicious – if you can't tell from the picture above, the cheese and the sauce are layered in diagonal stripes, which creates a nice blend of flavors.  The margherita pizza was also constructed in the same way.
Finally, our last pizza of the day came from Lee's Tavern, which is more of a bar than a pizzeria.  Cyril insisted on having Staten Island's other well-known pizza:  clam pie.  As a compromise, he ordered it half-plain so Miriam would have something to eat.
In all, we ate six different types of pizza and then dragged our stuffed selves home.  We both decided that Nunzio's was our favorite place of the day, but all the pizzas we had were good, and we got to try some new flavors.  So, if you ever have the chance to visit this borough, or you're looking to spend a day gorging on sauce and cheese, give Staten Island pizza a chance.