Why boozy?  Because we brought in two different types of alcohol to make these burgers.  Specifically, we used:
Bourbon
An 11-ounce bottle of stour beer
2 or 3 onions
Olive oil
Butter
Salt
Pepper
Flour
Heavy cream
Mustard powder
Worcestershire sauce
2 cups of cheddar cheese
Milk
Yeast
Vegetable oil
Rice flour
Sugar
Morningstar Farms or Boca burgers
The bourbon we used to braise some onions.  To make these, we took our onions and cut them into slices, then cooked them in a pan with about 2 tablespoons each of olive oil and butter.  Once they were a little browned, we seasoned them with salt and pepper and added a tiny bit of water, then simmered them over the stove for around 10 minutes.  Finally, we added 1/4 cup of bourbon and browned the onions for another three minutes until the alcohol was cooked off.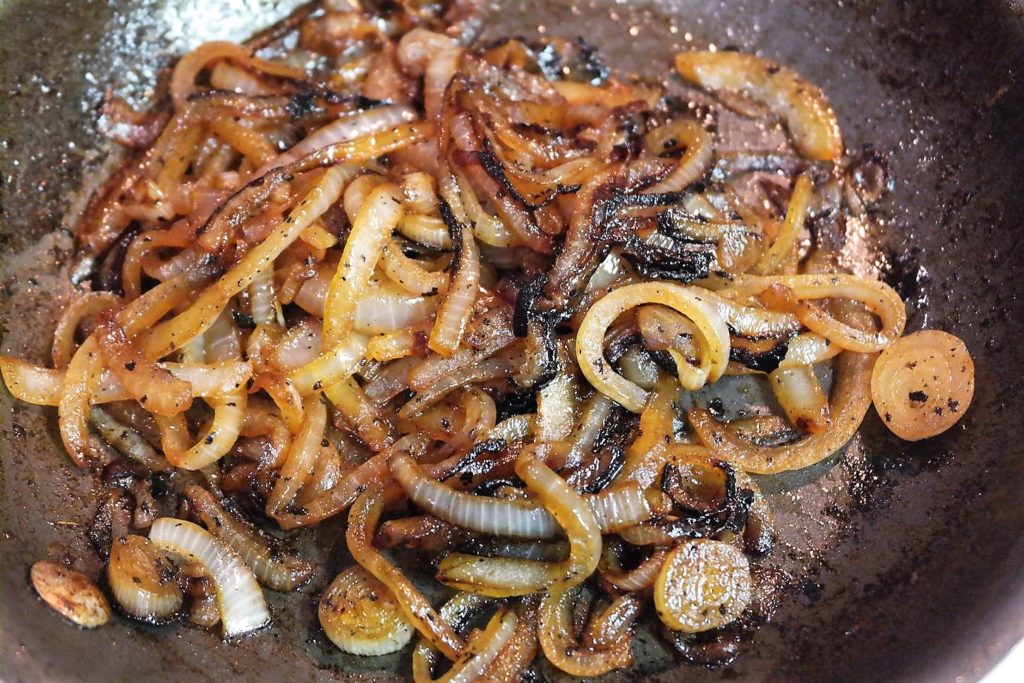 The beer went into making a beer cheese sauce for the burgers.  Apparently, as we learned, the best beer cheese sauces are made with a dark beer, so we chose to use a stout.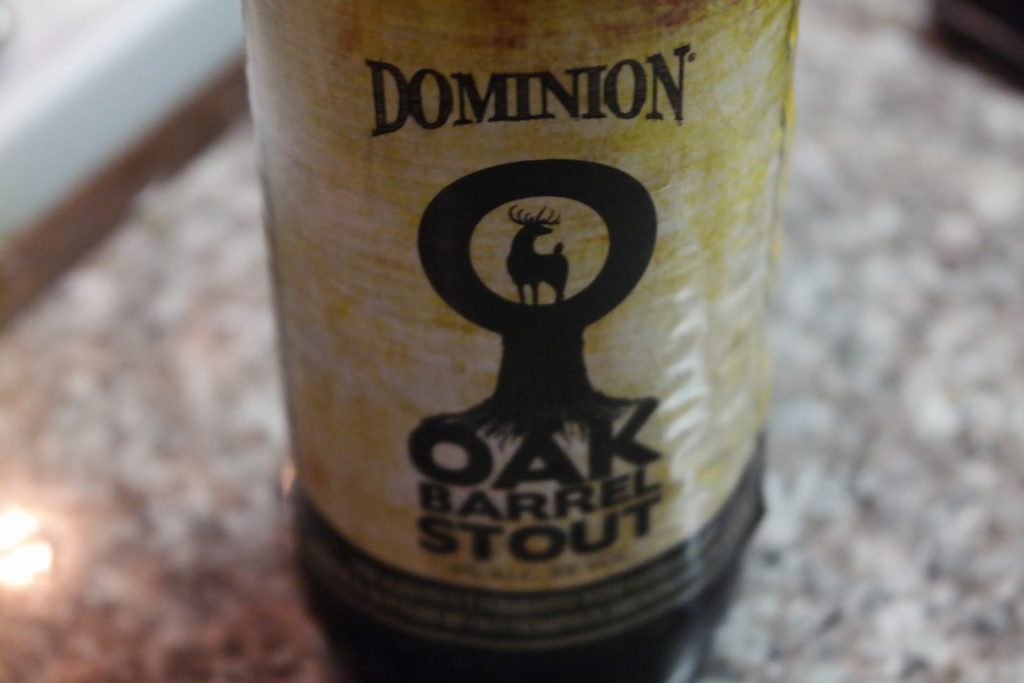 To make the sauce, we melted 1/4 cup butter over the stove and added 1/4 cup flour, then cooked the butter and flour together for about 5 minutes.  Using a whisk, we mixed in 1 cup of heavy cream and then the entire bottle (11oz.) of the stout beer.  Next we added in a teaspoon of mustard powder, a tablespoon of Worcestershire sauce, salt and pepper.  Then we slowly whisked in all of the cheddar cheese, turned the heat down to low, and let the sauce thicken.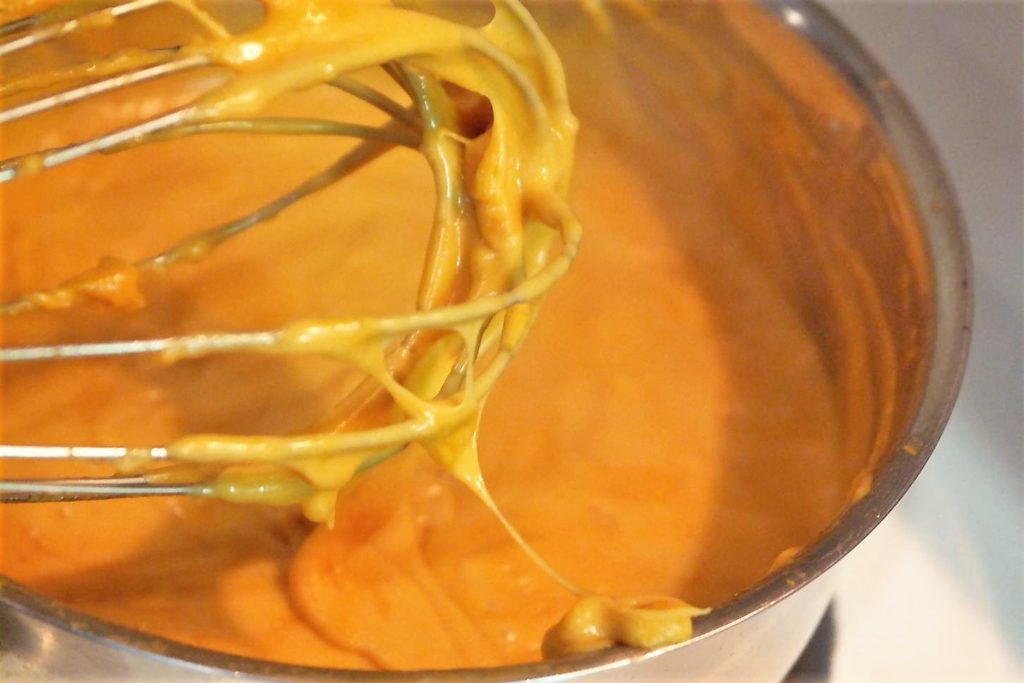 Just to get a little fancy, we also decided to make some crackle buns.  We'd never heard of crackle buns until Miriam saw them on a menu, but they looked so fantastic that we decided to make them and turn them into burger buns.  You can get the recipe we used here – you'll need your milk, butter, flour, yeast, sugar, salt, vegetable oil, and rice flour to make them.
Here's how they turned out – pretty cool, right?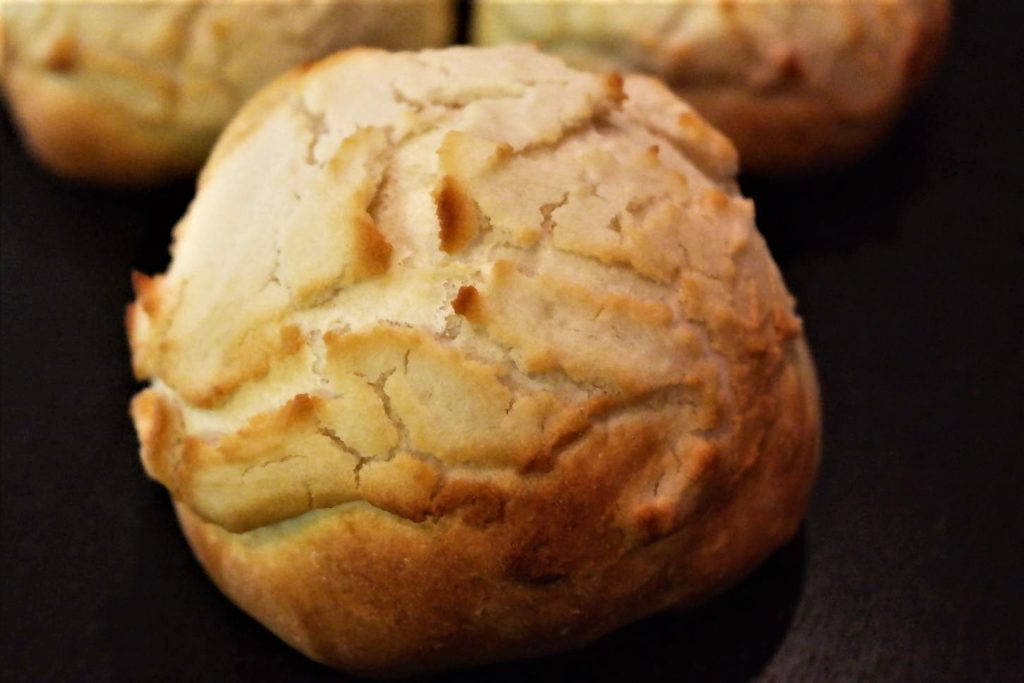 Then comes the easiest part: cooking and assembling your burgers.  To cook the burger patties, all you have to do is thaw them, stick them on a griddle that's been brushed with a little olive oil, and cook them for about 4 minutes on each side.
Once everything was ready, we sliced open the crackle buns and slipped a cooked burger inside.  Then we spread on some beer cheese sauce and topped everything with the onions.  Behold: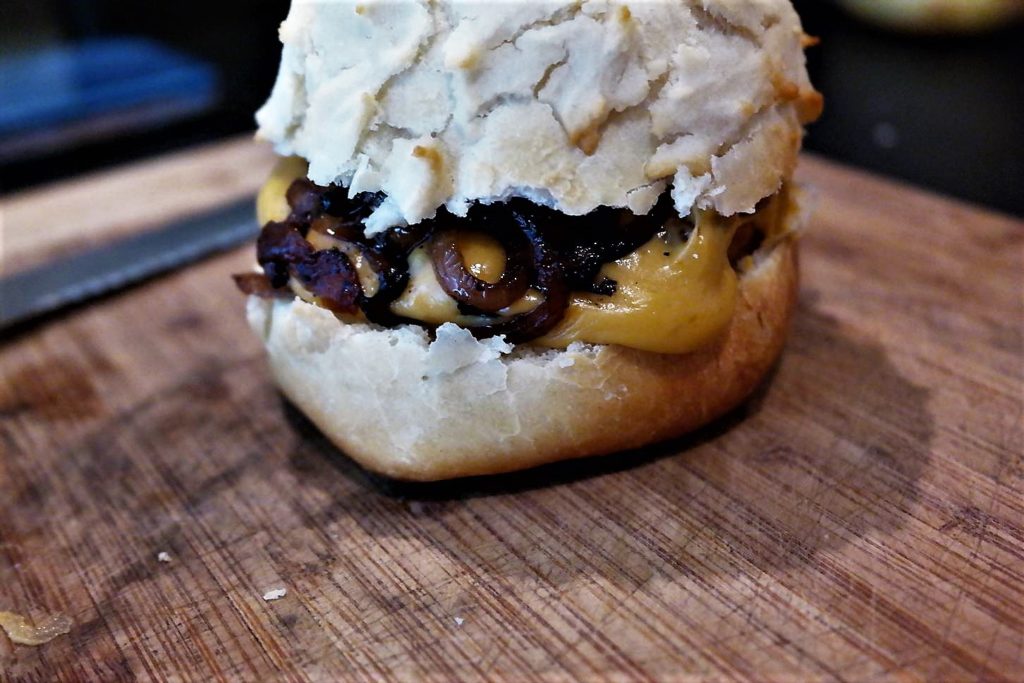 Were these burgers messy?  Yes, yes they were, as you can see below.  The beer cheese sauce was definitely runny (but in a good way!) and the crackle buns are thick so good luck trying to get your mouth around them.  But who cares, because these were delicious!  The beer in the cheese sauce and the bourbon in the onions added some nice flavors to the burger, and the crackle buns were not just tasty but also fun to make.  And as a bonus, you'll be left with some extra buns and cheese sauce to snack on.