Growing up, Miriam's family took Christmas cookies very seriously.  Come December, their kitchen turned into a cookie-making factory, and at least 15 different varieties of cookies were made every year.  We wanted to continue that tradition, but on a more manageable scale, so for Christmas this year we decided to make three different varieties of cookies.
We first made sugar cookies from a recipe that Miriam's grandmother passed down to her – one that Miriam has been making her entire life, and which is so old that it exists in its original form on a typewritten index card.  But it's become a cookie tradition for a reason:  it's delicious!
To make these cookies you'll need:
1 cup of powered sugar
1 cup of white sugar
1 cup of butter
1 teaspoon of vanilla extract
1 cup of vegetable oil
2 eggs
5 cups of flour
1 teaspoon of baking soda
1 teaspoon of cream of tartar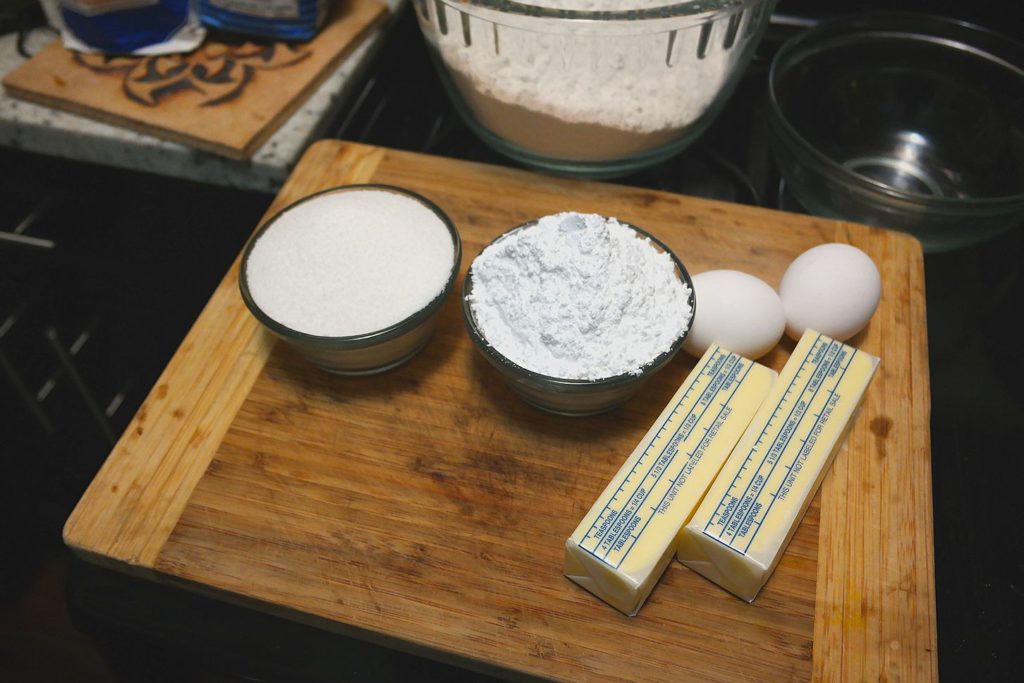 First, use a stand mixer to beat together the two sugars with the butter and the vanilla.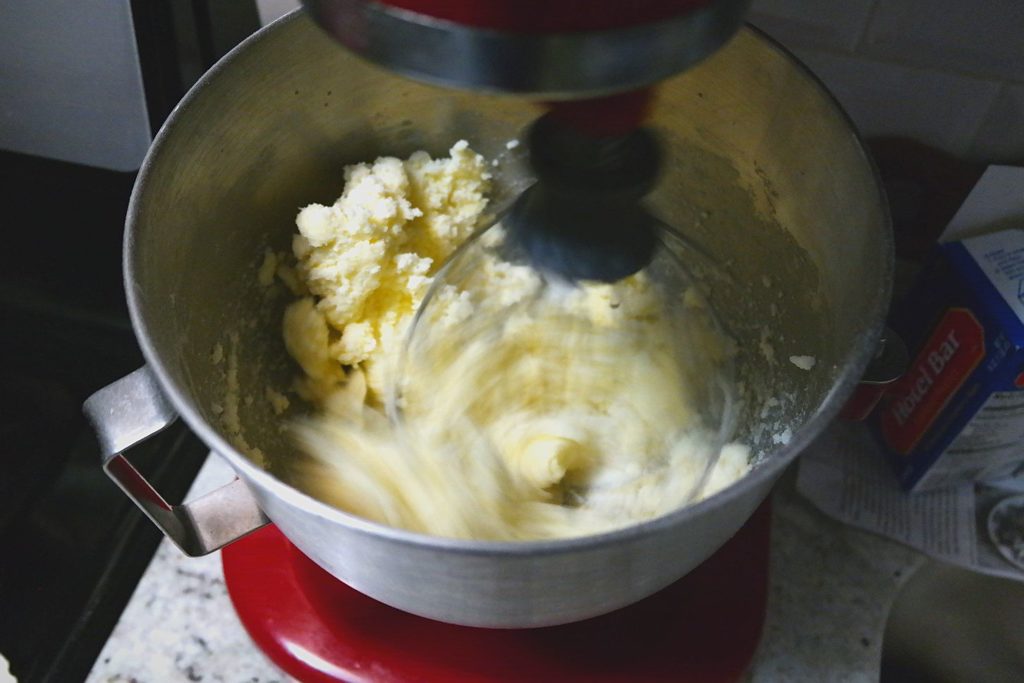 In a separate bowl, beat the eggs and then stir in the oil.  In yet another bowl, mix together the flour, baking soda, and cream of tartar.  While running the stand mixer, add in a little bit of the eggs and oil mix and then a little bit of the flour mix, then keep alternating between the two until everything is combined.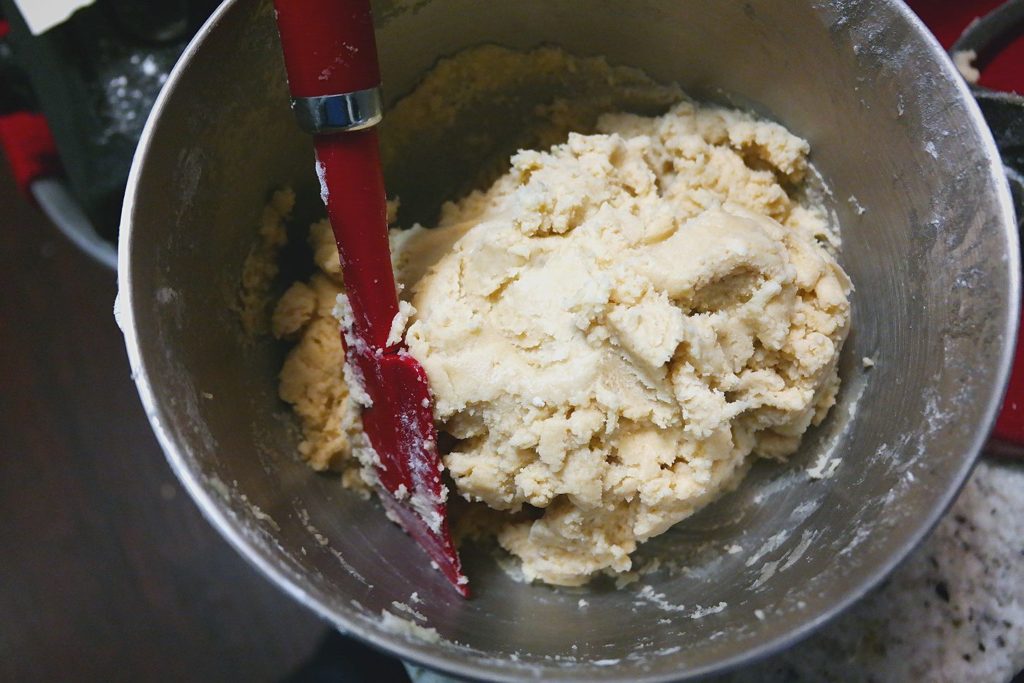 Once the dough is ready, flour a flat surface and flour the top of the dough.  Roll the dough out and use cookie cutters to cut out some Christmas shapes.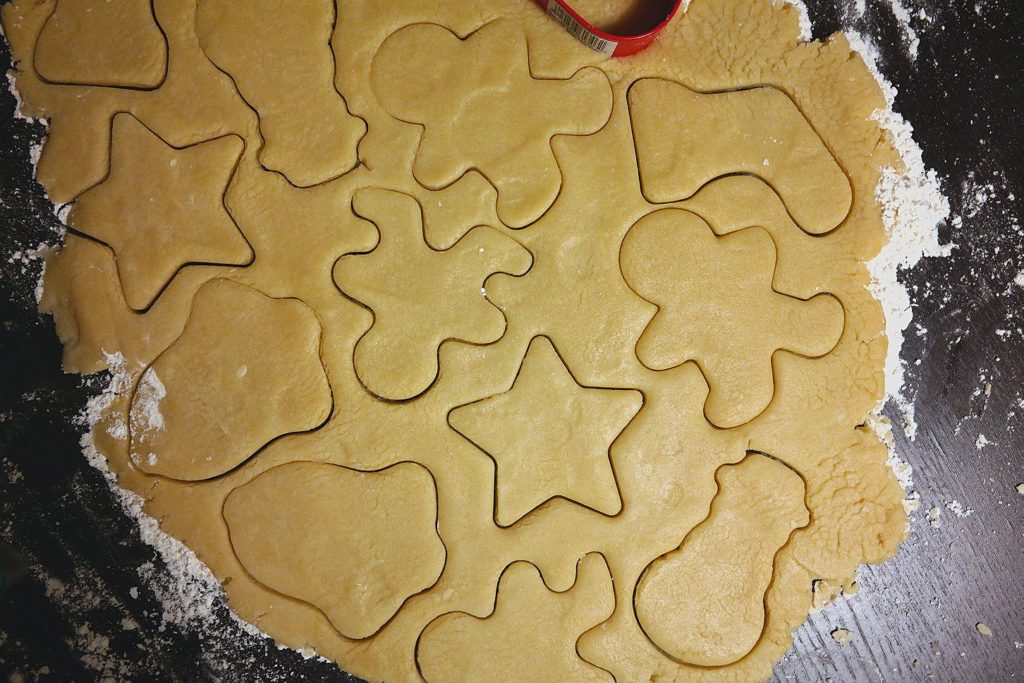 Then place the cut out cookies on a baking sheet lined with parchment paper and cover them with sprinkles.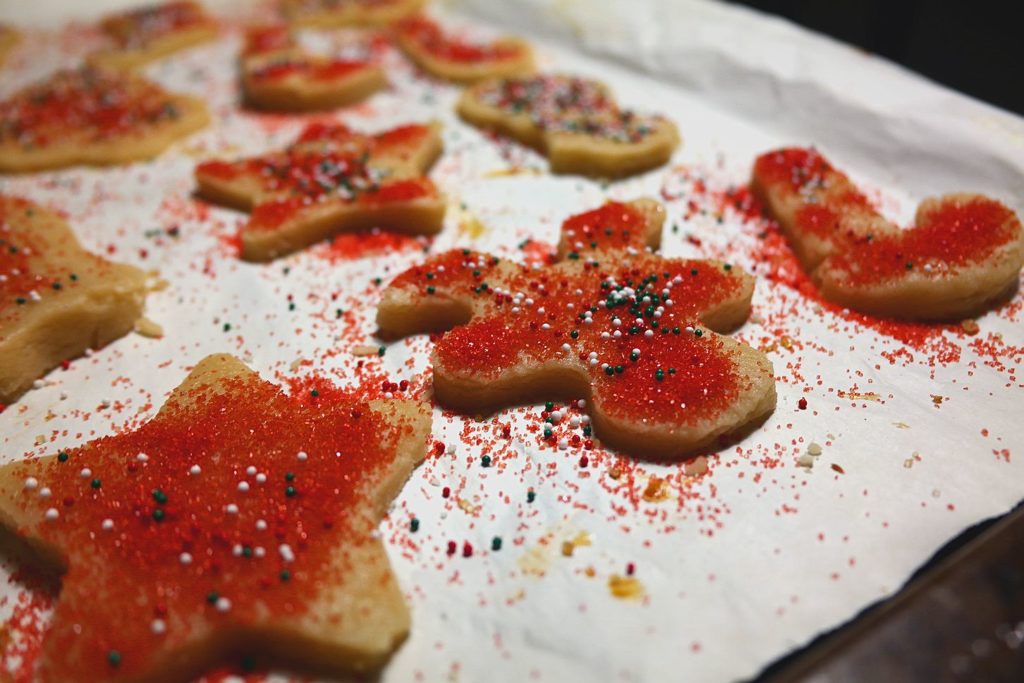 Bake them at 350° for 10-12 minutes, and make sure they don't brown.  Here's our sugar cookies in their final form: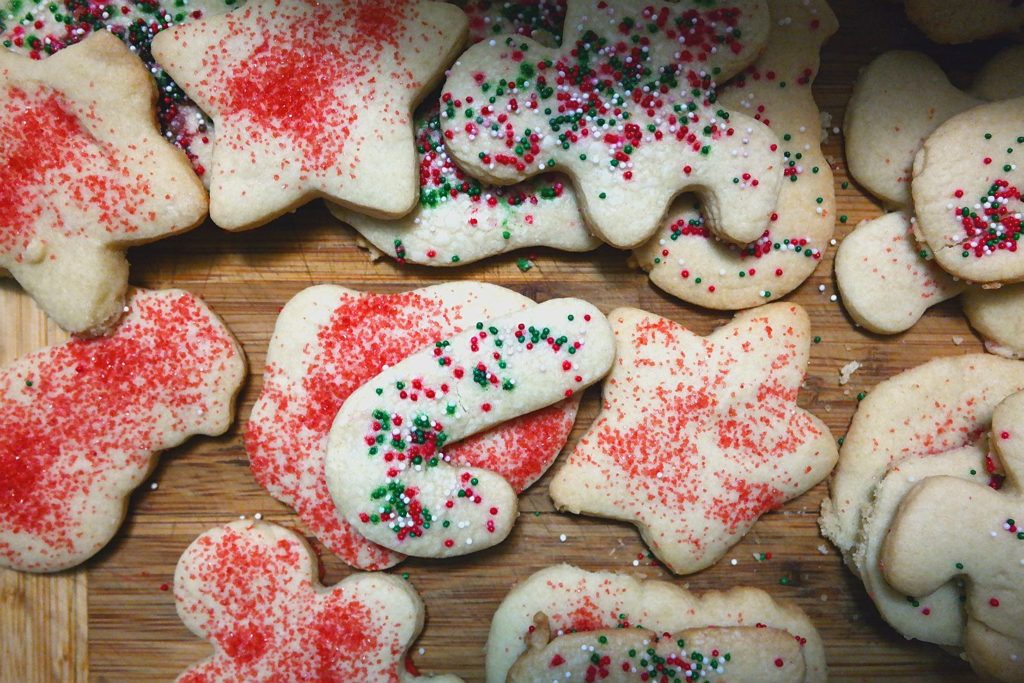 We also decided to make a new cookie recipe this year:  Danish Butter Cookies, based on a recipe from Bon Appetit.  For this recipe, we used:
1 cup of butter
3/4 cup of white sugar
2 eggs
2 cups of flour
Raw sugar
A vanilla bean pod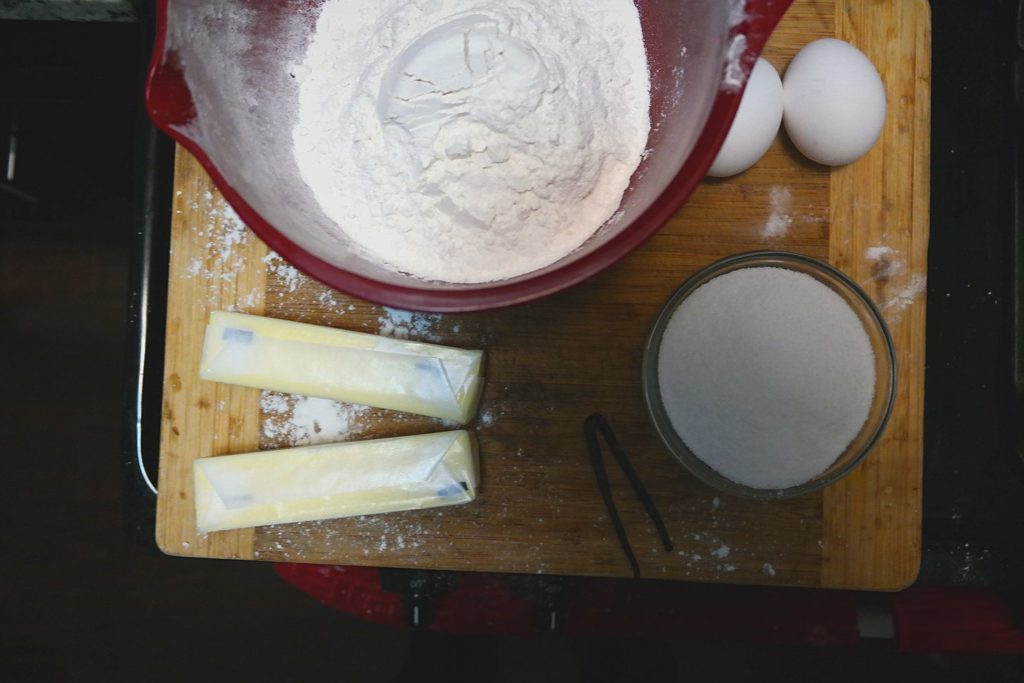 We used our stand mixer again to beat together the butter, white sugar, and the seeds we had scraped out from inside the vanilla bean pod.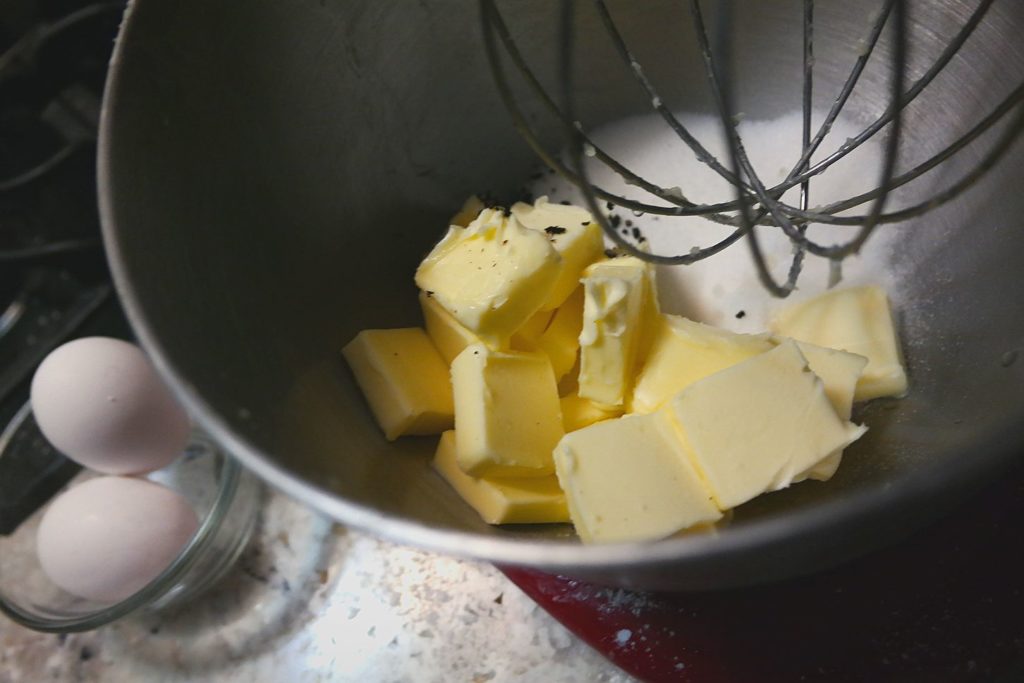 Once everything was mixed together, we added in one egg, switched the mixer to a low speed, and slowly beat in the flour until a dough formed.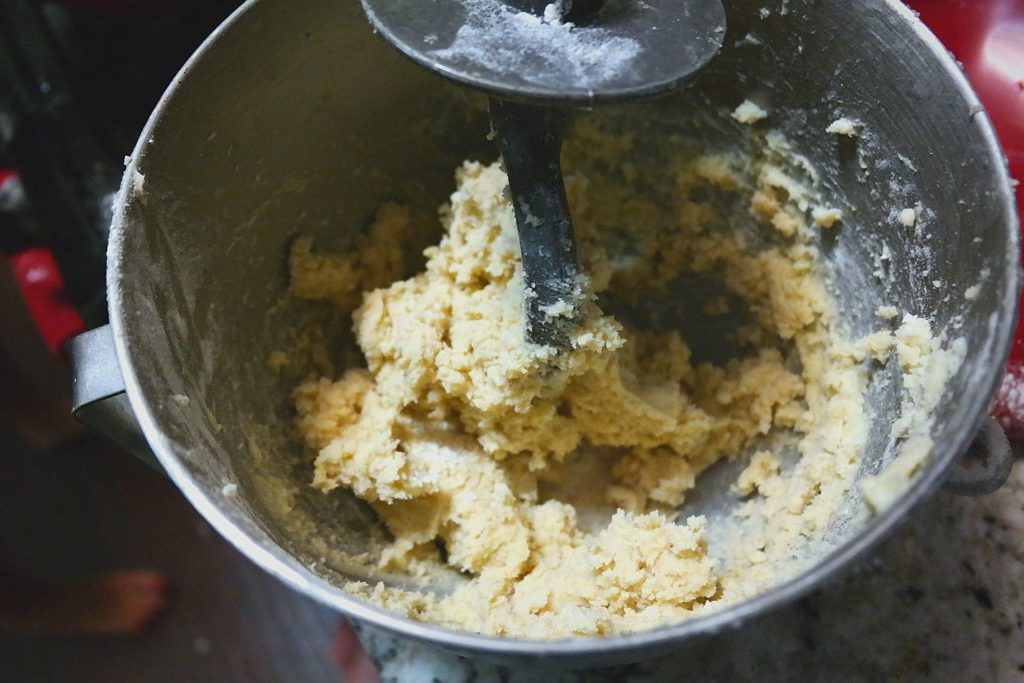 We then refrigerated the dough overnight, and the next day we rolled it out on floured parchment paper to about 1/2-inch thickness.  We used a Stella Artois glass to cut out circles in the dough.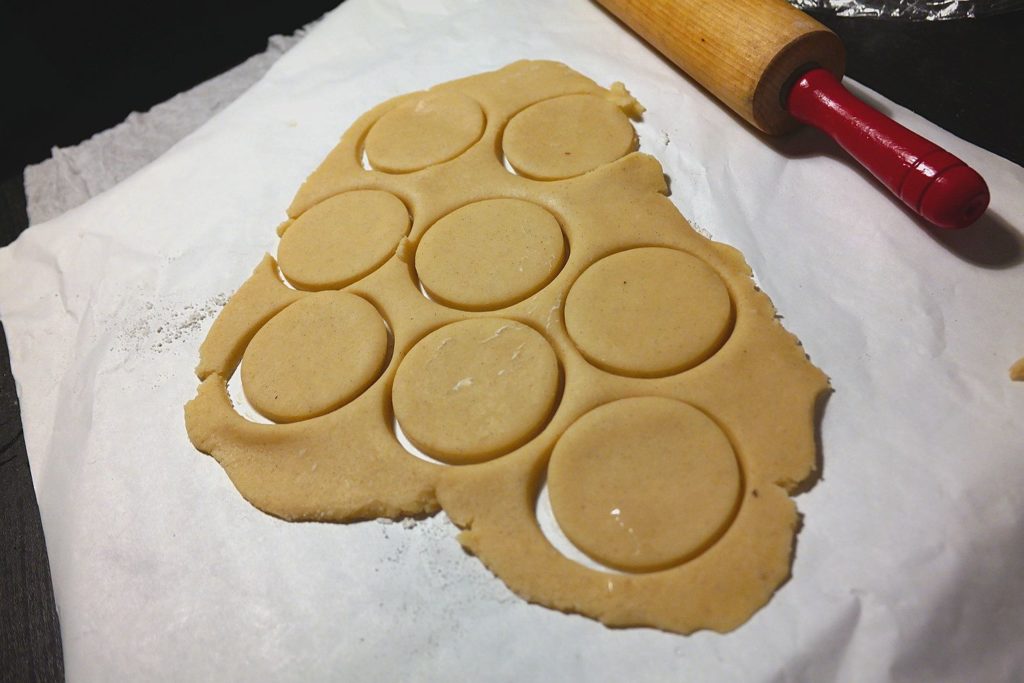 To make each cookie into a ring, we then used the mouth of a water bottle to cut a smaller circle out in the middle of each cookie.  We put the cookie rings on a baking sheet lined with parchment paper, then beat the other egg and bushed that over each cookie.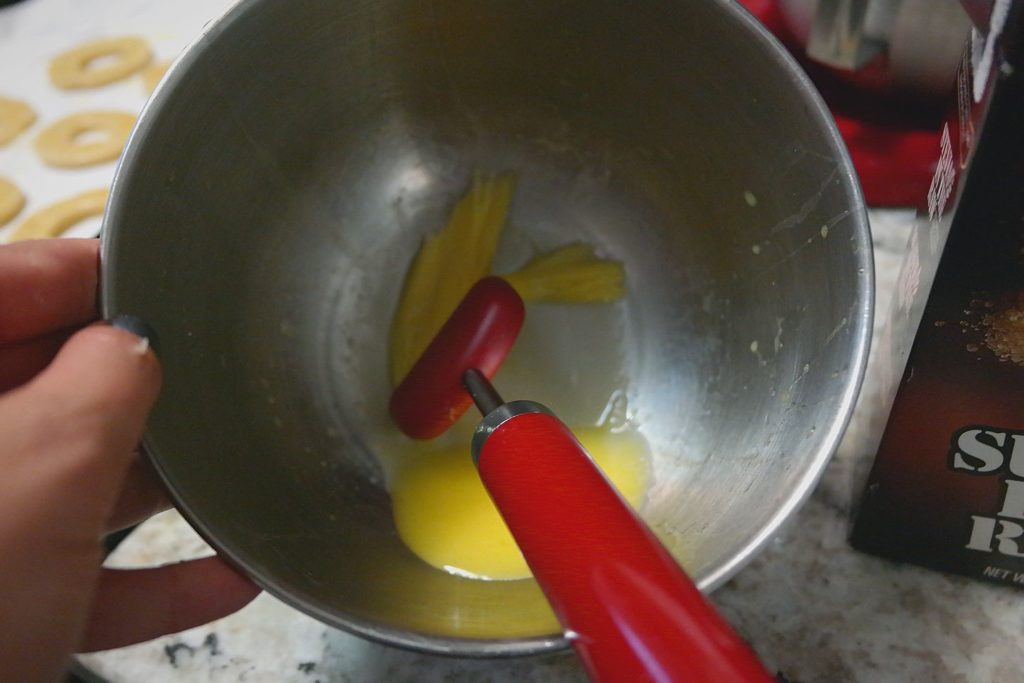 Then we sprinkled raw sugar over each cookie.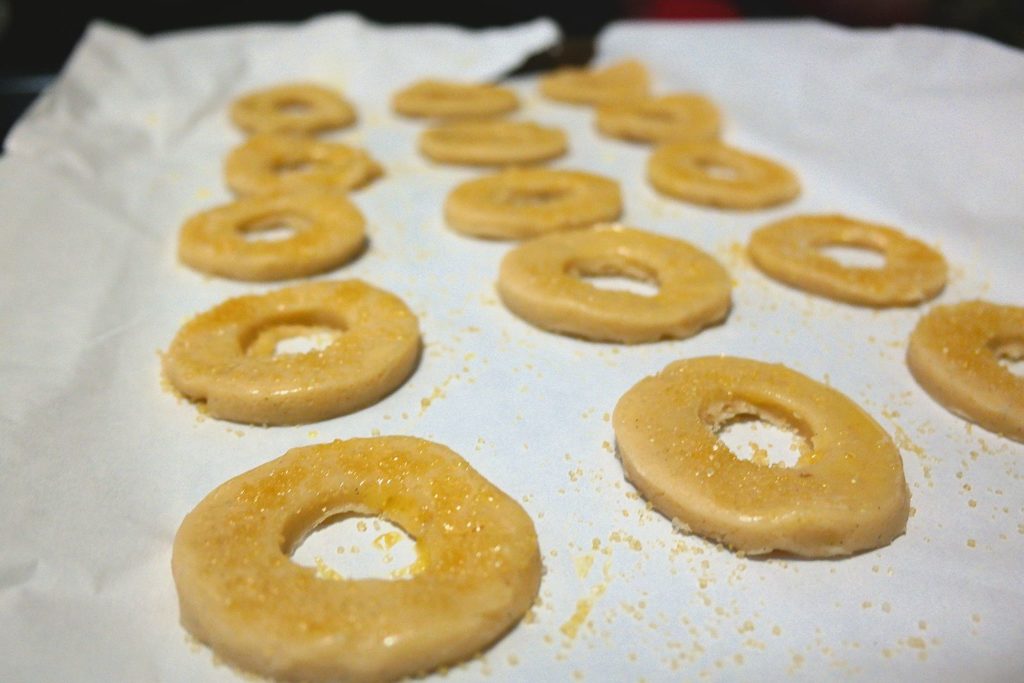 We baked the cookies at 350° for 10-15 minutes until the edges were a little browned.  Here's how they looked when they were done: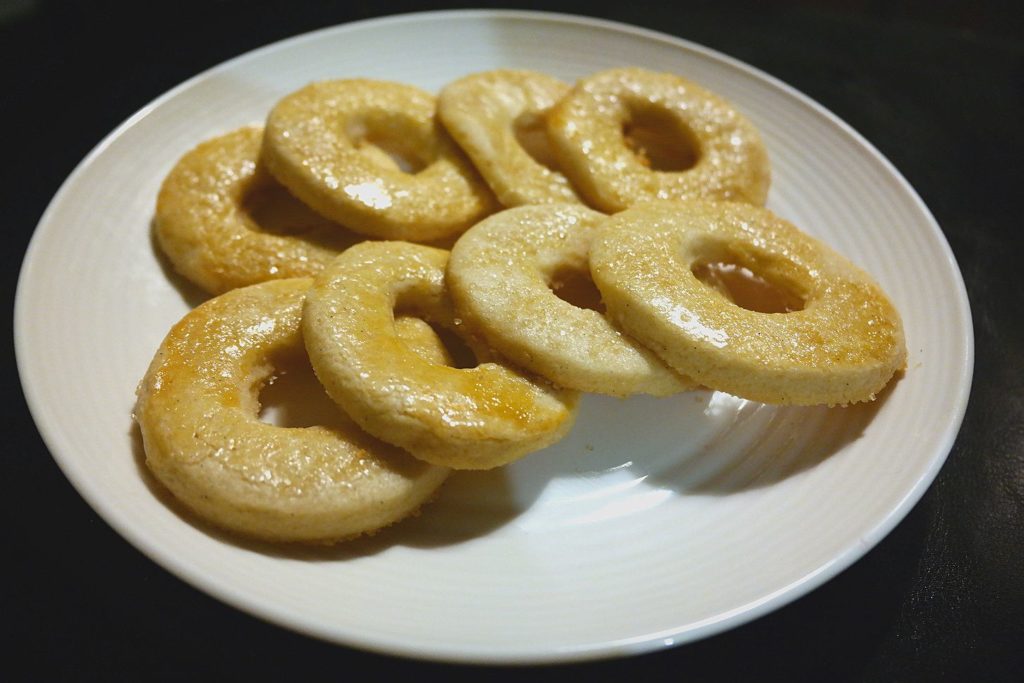 Miriam made one last batch of Christmas cookies at a baking class with Sur La Table.  These were sugar cookies topped with royal icing.   You can use any recipe of sugar cookie recipe you like; for the royal icing, you'll need:
2 pounds of powdered sugar
1/2 teaspoon of cream of tartar
3 1/2 tablespoons of meringue powder
Gel food coloring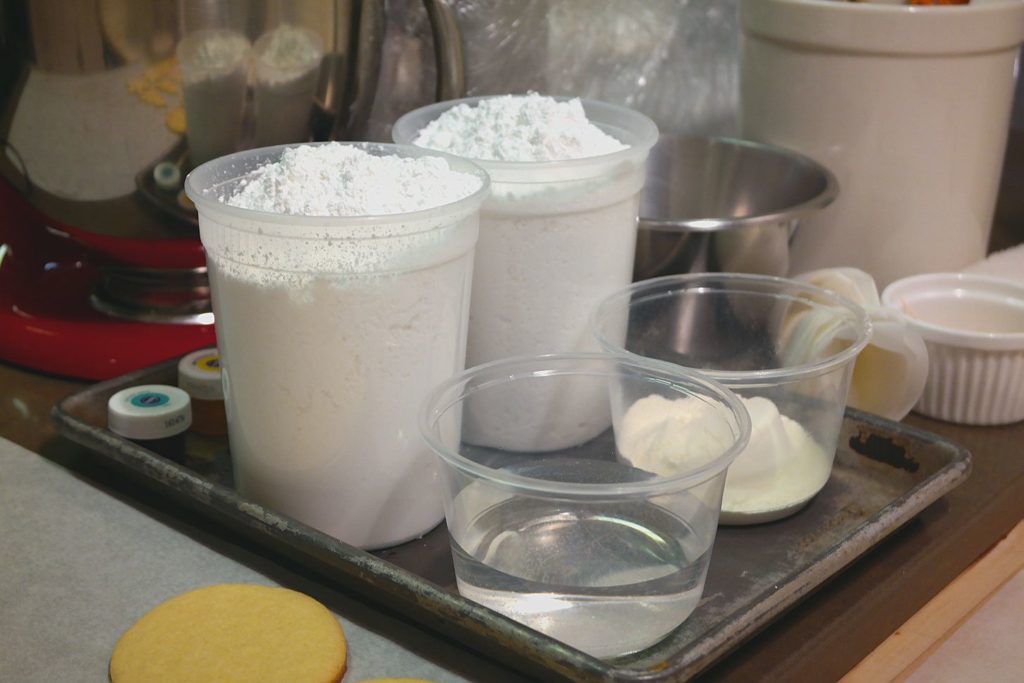 Once again, we're using the stand mixer – this time to whisk together the sugar and cream of tartar and then add the meringue powder and 6 tablespoons of water.  Once everything is combined, turn the mixer up to a medium-high speed and whip everything together until the icing is stiff but still fluffy.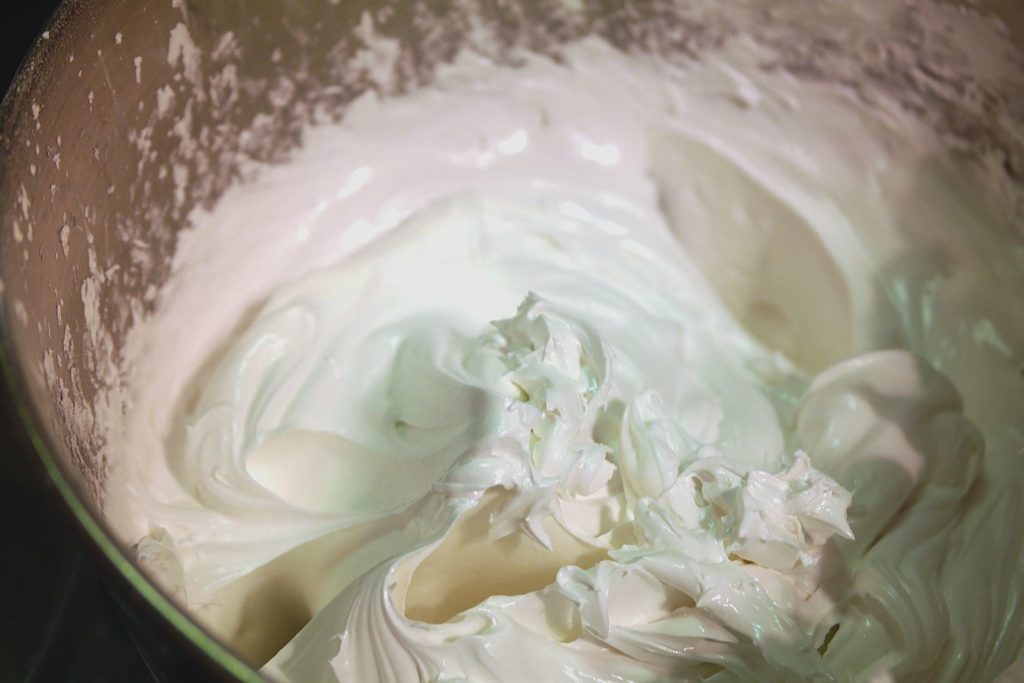 Then divide the icing into several bowls and mix in gel food coloring to get the colors you want.  If you're using icing to cover the entire surface of a cookie, add in 2-3 tablespoons of water first before adding the color.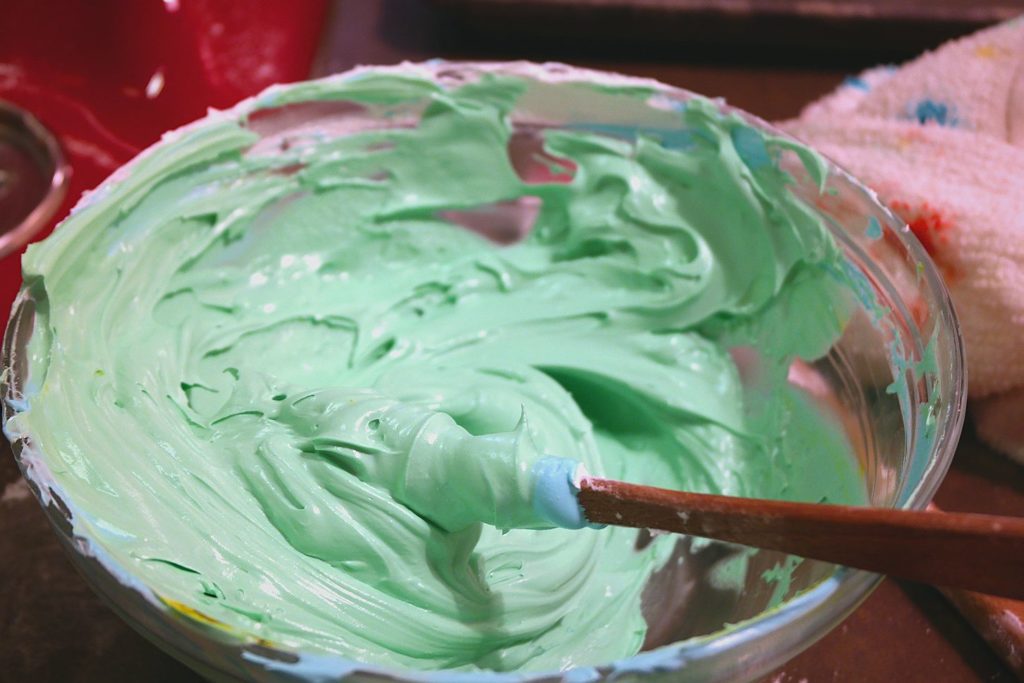 Once you've got your colors, make a small cone out of parchment paper and put a little bit of icing inside.  Snip off the tip of the cone and you've got your own mini piping bag to decorate your cookies with.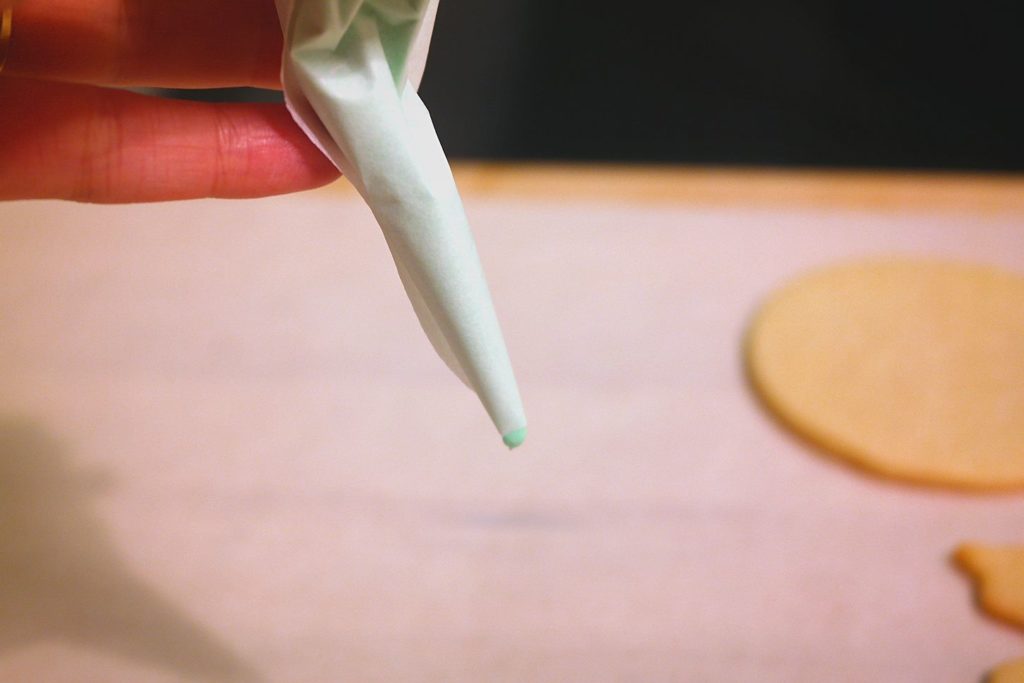 You can use the icing to outline your cookies and make designs, or you can cover each cookie fully in icing.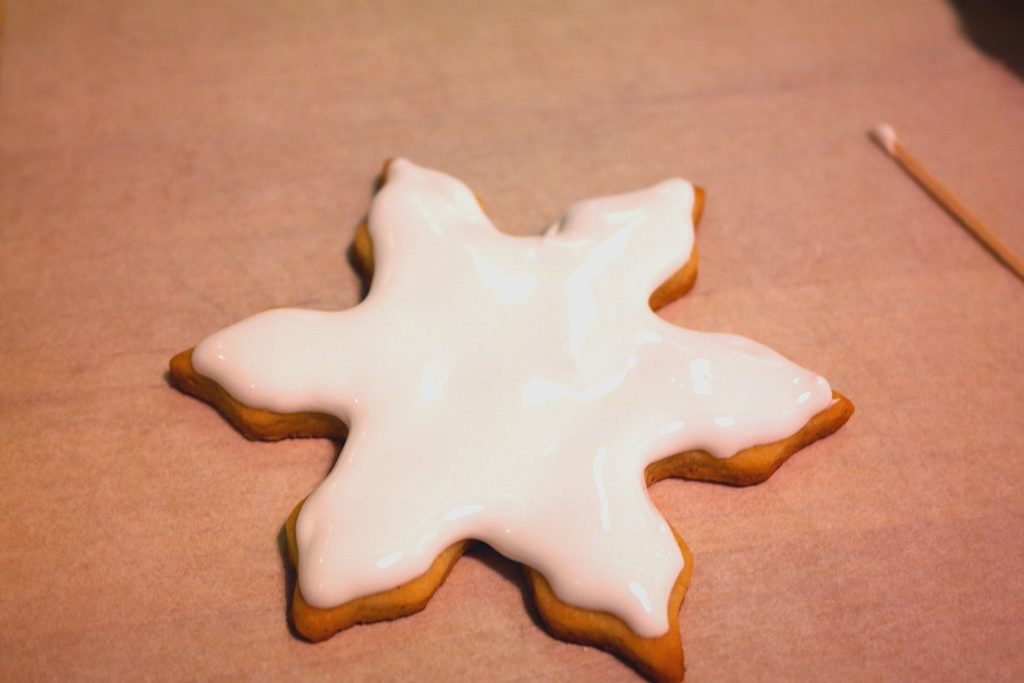 So there you have it – three recipes for Christmas cookies!  One is traditional, one is new, one lets you get creative, and they're all tasty.  We've handed these cookies out to coworkers and family, and so far everyone has loved them.  We hope you do too.
Happy holidays!