Continuing on with the theme of "Let's Try to Eat Healthier in January" – we made a kale and squash pie.  We know, we know, kale doesn't have the greatest reputation.  It's bitter and tough if you don't cook it right, and it's become way too trendy.
However, we came across this recipe for kale baked into a pie and  – well, who doesn't love pie?  We decided to give it a try and it turned out to be delicious because, again, pie, but also because the kale cooks nicely and blends well with the buttery, flaky crust and all the other flavors inside.  We made some alterations to the recipe and our version came out nicely, so thought we'd show you how we did it.
Here's what we used:
2 onions
A 1-pound butternut squash
Thyme
Red pepper flakes
Kale
2 eggs
1/4 cup Parmesan cheese
Frozen puff pastry sheets
A 4-ounce package of feta cheese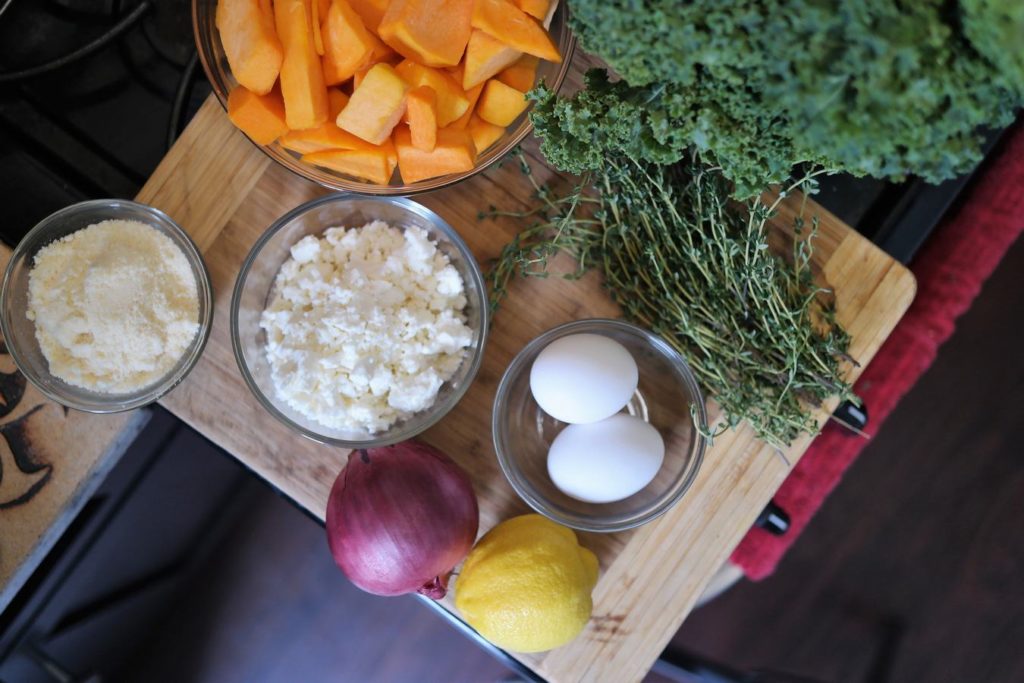 First things first, we took the onions, diced them finely, and cooked them in a large cast iron skillet for 6-8 minutes in 3 tablespoons of olive oil.  Then we cubed the butternut squash, added it to the skillet and cooked that for 8-10 minutes.  Once both veggies were done, we mixed in the thyme leaves and some red pepper flakes.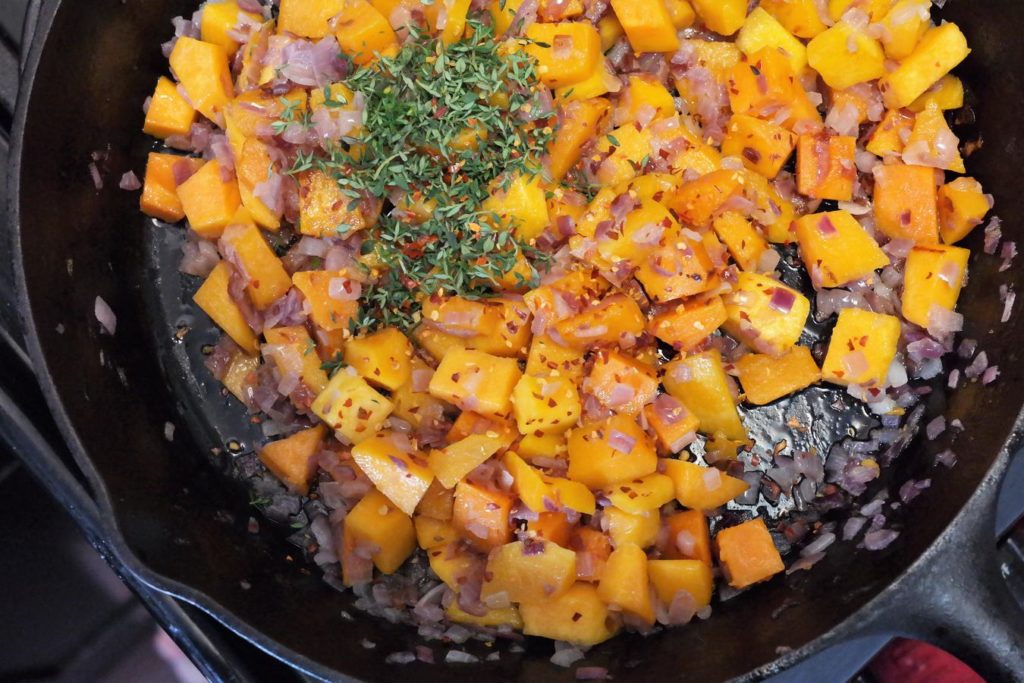 Then we put everything in a large bowl and wiped the skillet clean to use later.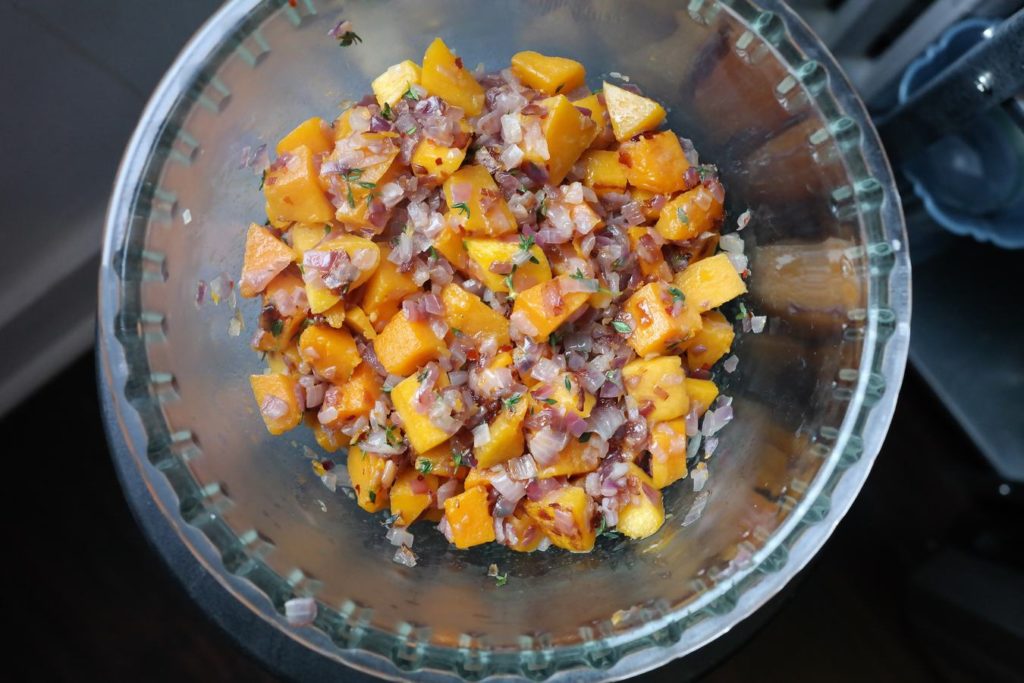 We then added to the bowl one bunch's worth of sliced kale leaves, the eggs, the Parmesan cheese, salt, pepper, and the zest from our lemon and mixed everything together.
Meanwhile, we took one sheet of the frozen puff pastry and let it thaw while we were cooking all the veggies.  Once it was room temperature, we unwrapped it and rolled it out until it was about twice its usual size.  We broke it into three segments and draped them across our cast iron skillet so the bottom was completely covered and the sides of the pastry sheets were hanging off the edge of the skillet.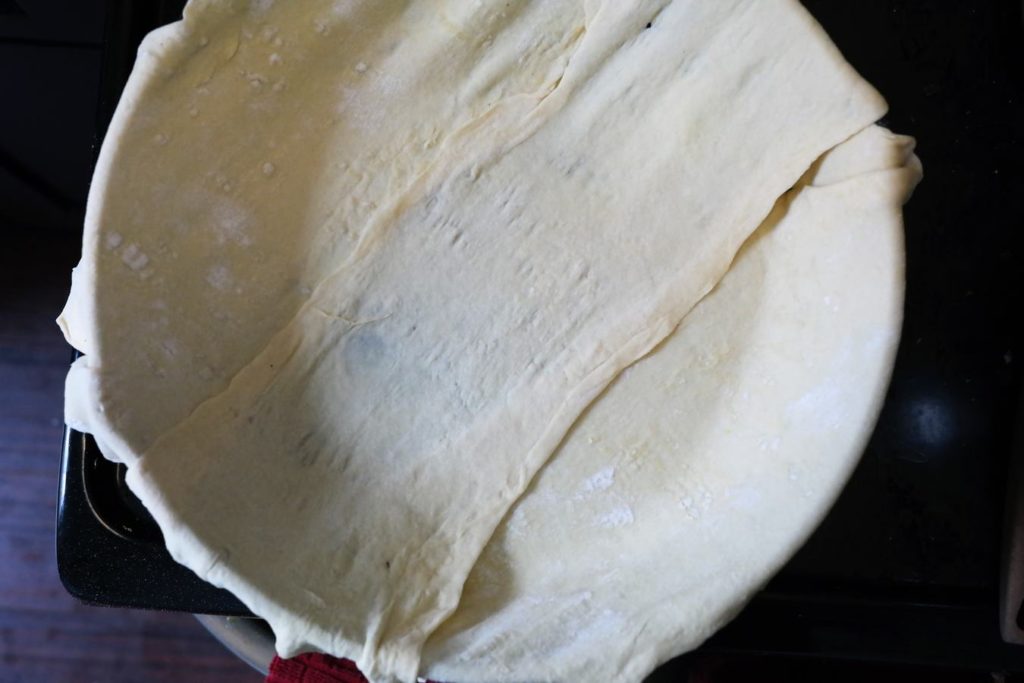 We poured the bowl of veggies right into the middle of the pastry sheets and sprinkled all of the feta cheese on top.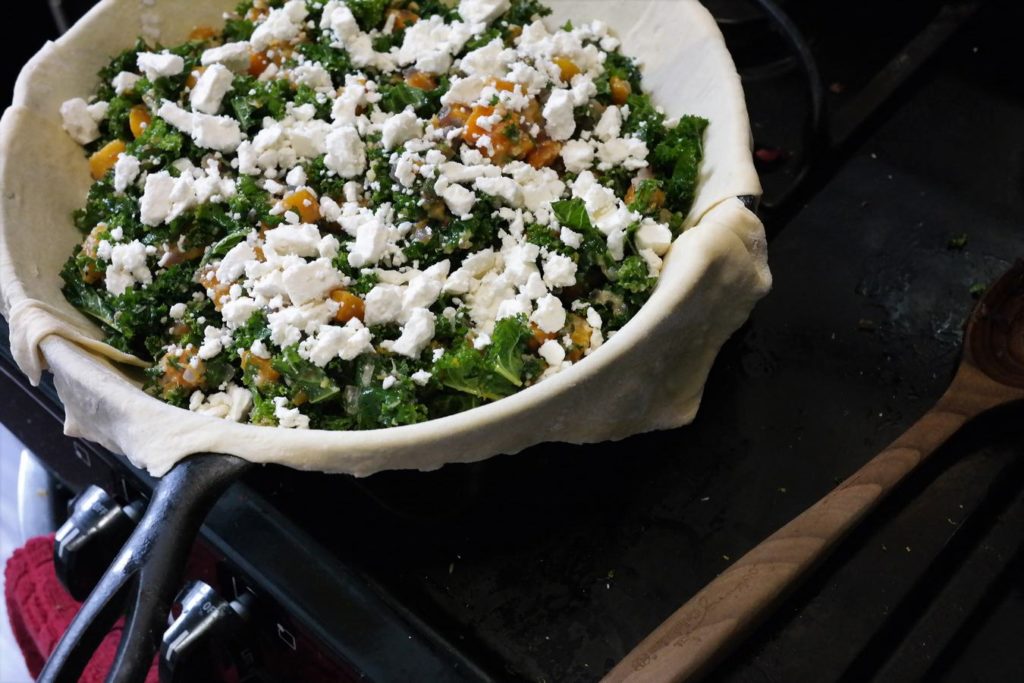 Then we took the sides of the pastry sheets and folded them back up and over everything, so they were covering most but not all of the veggies.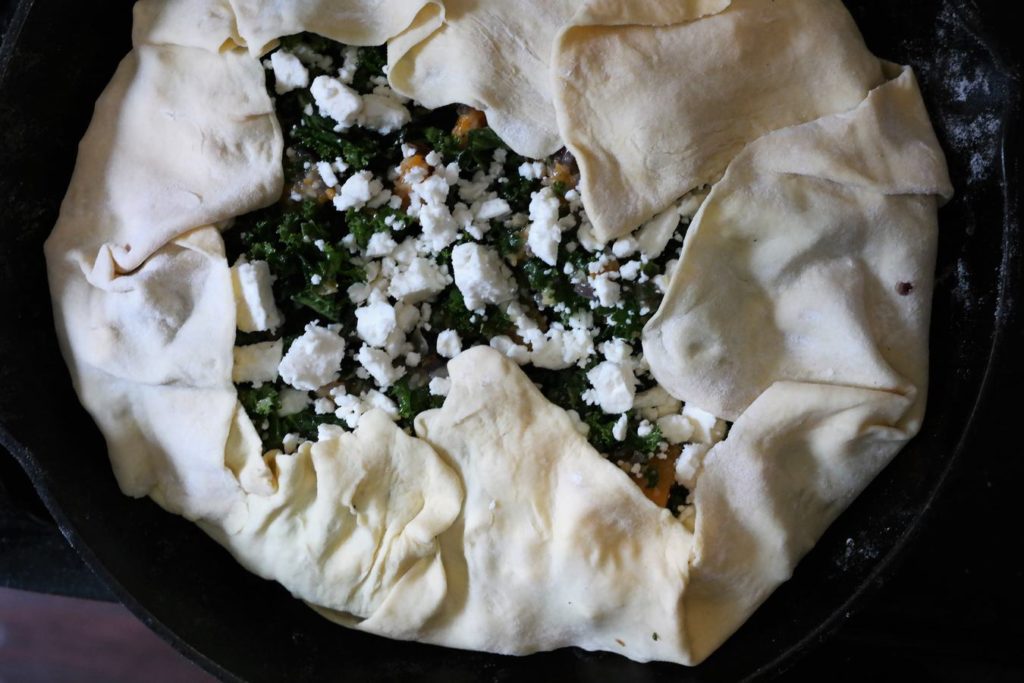 We cooked the pie in the skillet over medium heat for a few minutes, then transferred it to the oven and baked it at 400°F for 20-25 minutes.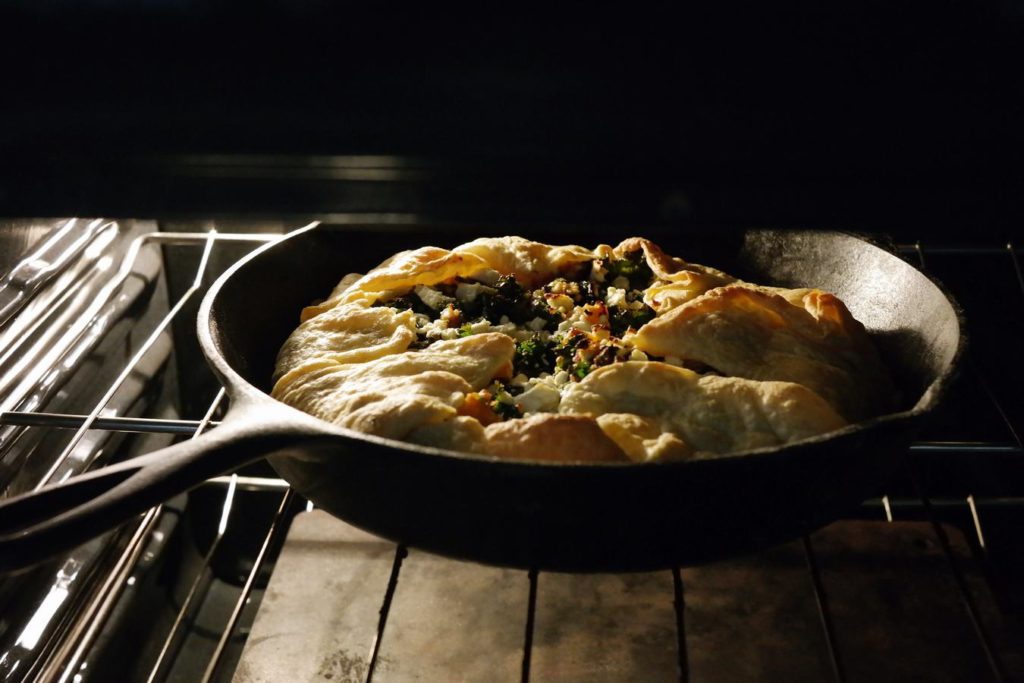 You'll know it's done once the kale is wilted inside and the top of the pastry sheets start to brown.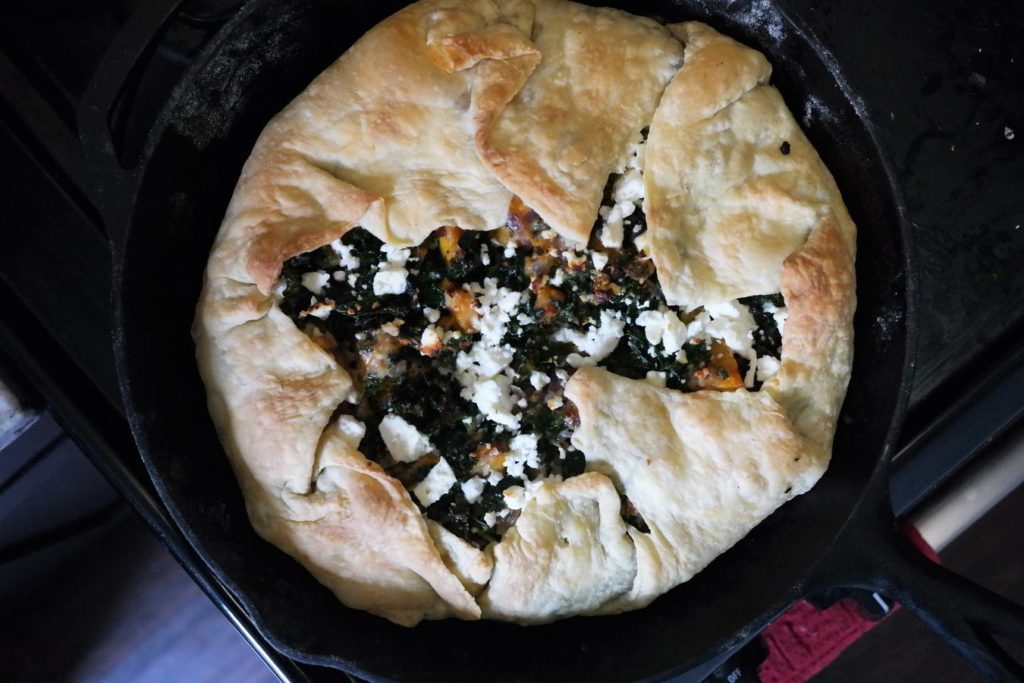 And then you can slice it up and eat it!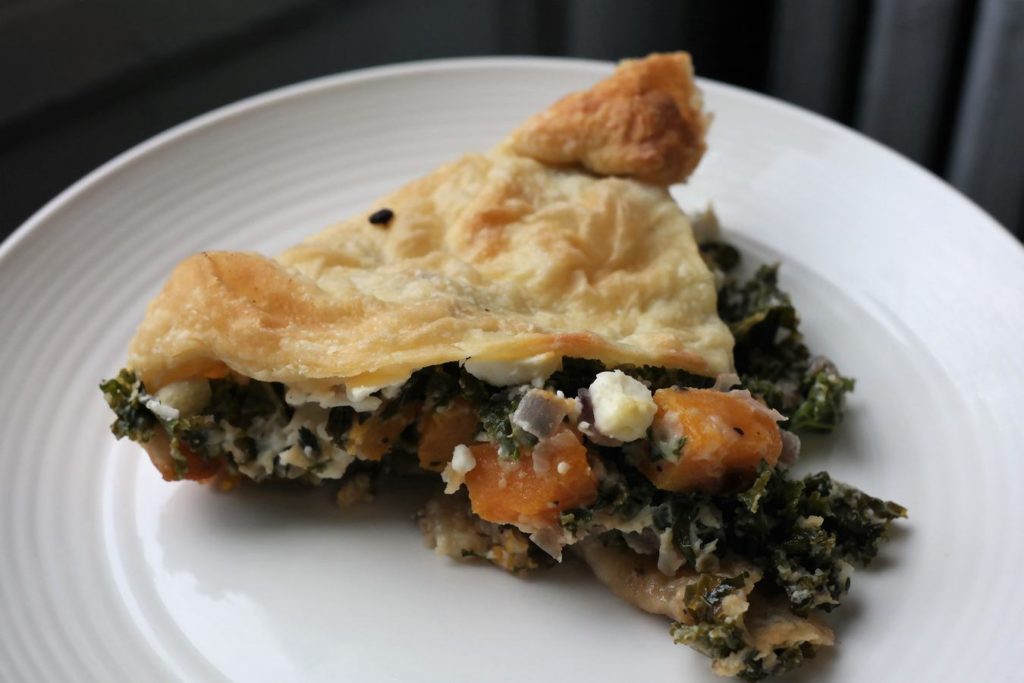 It's like eating a pot pie, but a little lighter and with more vegetables and a little bit of cheese.  Cooking the kale makes it more tender and better tasting, so it doesn't feel like you're choking down bitter greens, and the puff pastry is really easy to work with so this turns into a quick, healthy meal.  It's nice and warm and tasty, and it's great way to get your veggies in on a cold winter day.