One of Cyril's specialties is these burritos – they're huge, they're filling, and they're really tasty.  We once made cooked these up and brought them on a 20-mile hike along the Appalachian Trail, and while people were making fun of us ("Why couldn't you just bring sandwiches??") guess who finished that long hike first?
Anyway, we've since perfected this recipe and we'll share it here.  You can make these burritos vegan or non-vegan and we'll tell you about how to make both versions.
Here's what you'll need:
For vegan burritos
3 zucchini
2 yellow squash
* Note:  You can also sub in 3 potatoes for the squash and zucchini, but using the two veggies instead of potatoes will make these burritos a little lighter
2 jalapeños
1 packet of Goya sazón
1 package of Goya rice and black beans (make sure you get only this kind, in the light blue box – this is the only version that we know of that doesn't have any meat products in it)
1 package of the largest tortillas you can find
Salsa
For non-vegan burritos add:
Shredded cheese
Sour cream
To start, first prepare the rice and beans according to the package directions.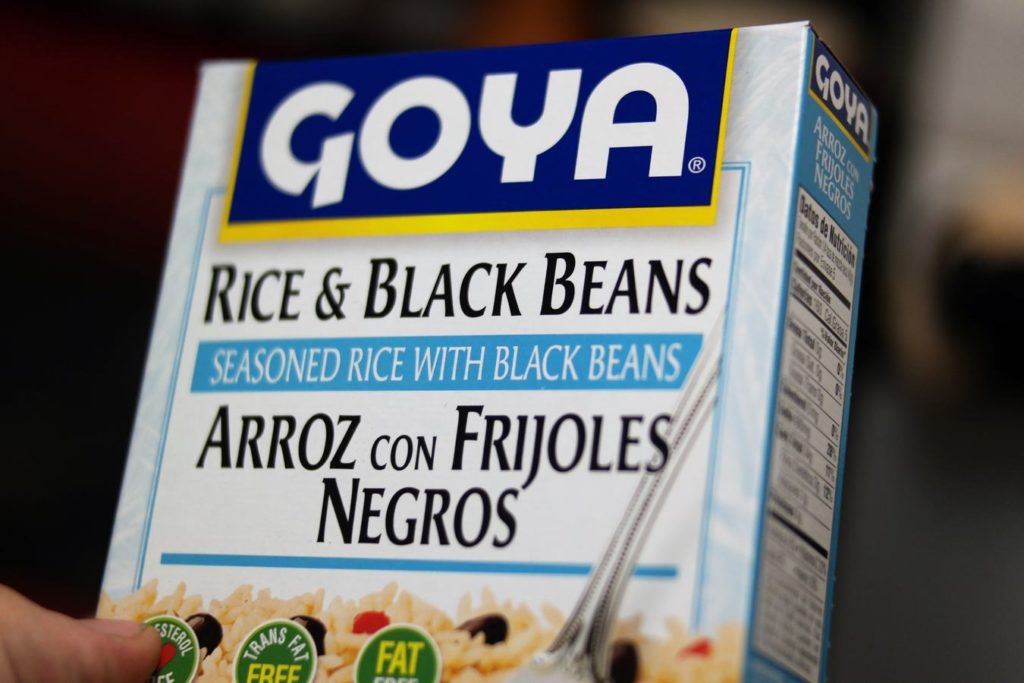 While that's cooking, chop up all your veggies (and if you've decided to use potatoes instead of zucchini and squash, follow all the same directions below).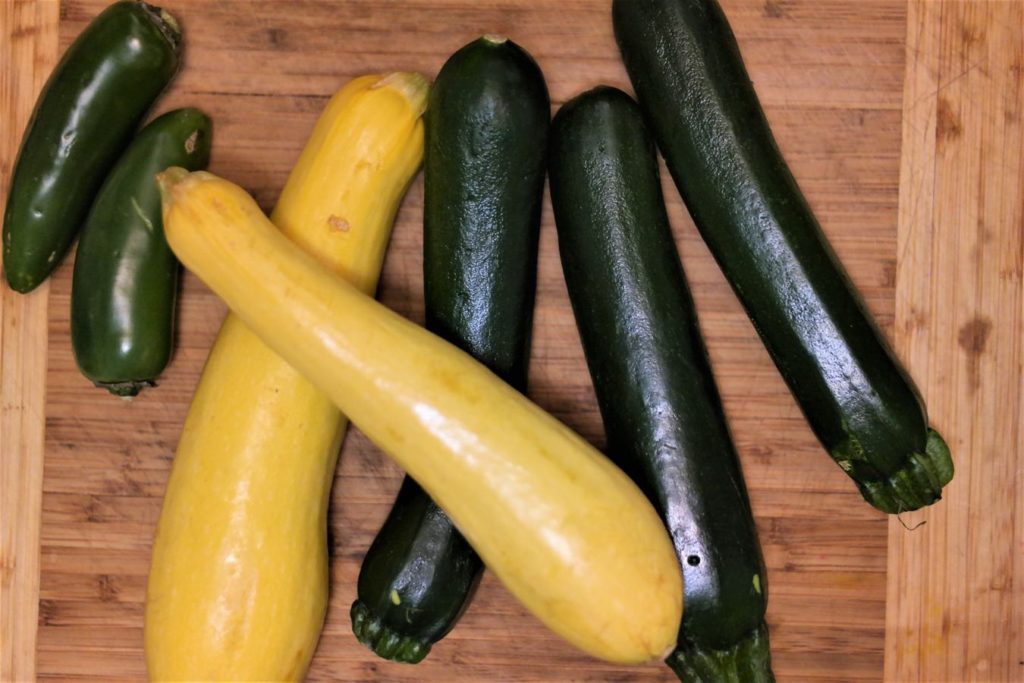 You'll want to cut up the zucchini and squash by slicing them lengthwise, then slicing them lengthwise again so each veggie is in four long strips.  Then chop them up so that you have small quarters, like this:
Cook the squash and zucchini (save the jalapeños for later) in a large skillet with a little oil.  Once everything starts to get a little soft, mix in the Goya sazón.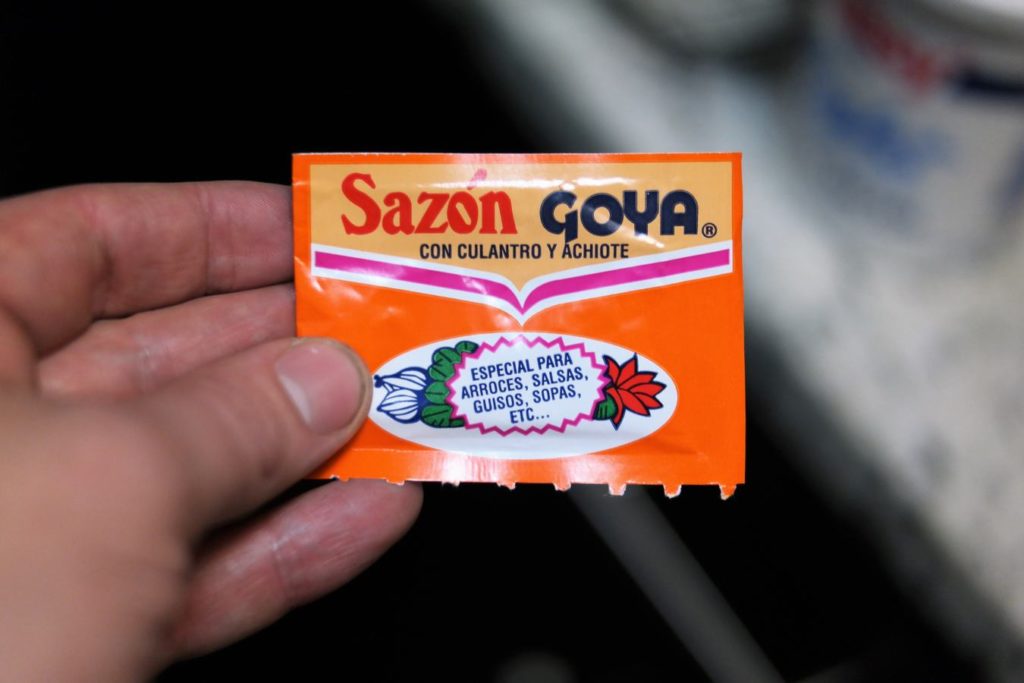 Cook the veggies and sazón for just a few minutes longer.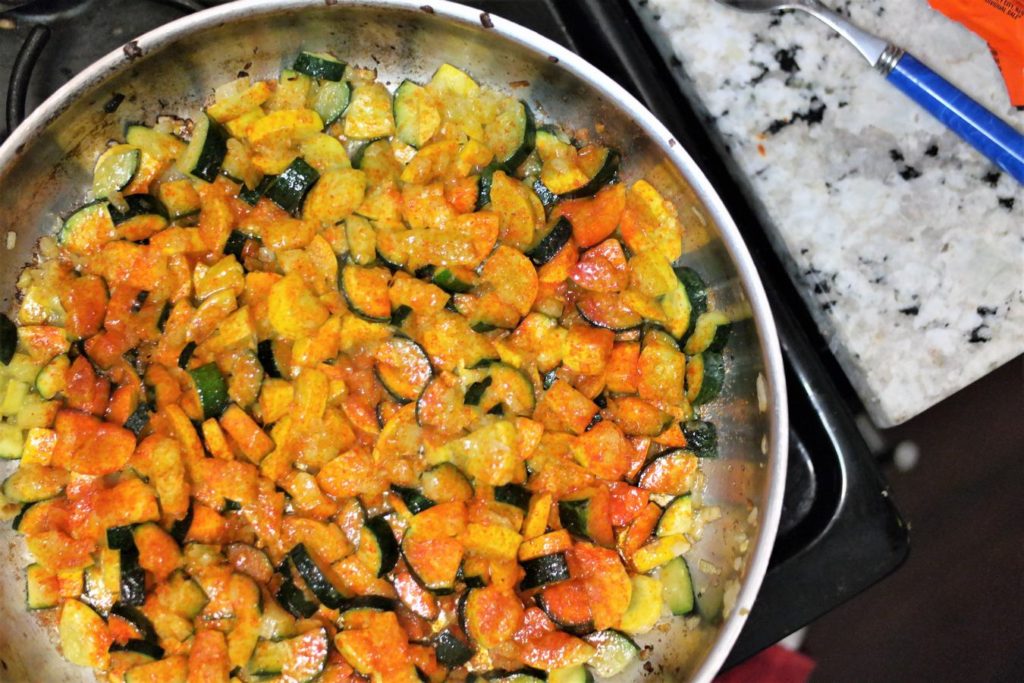 When your veggies and your rice and beans are done …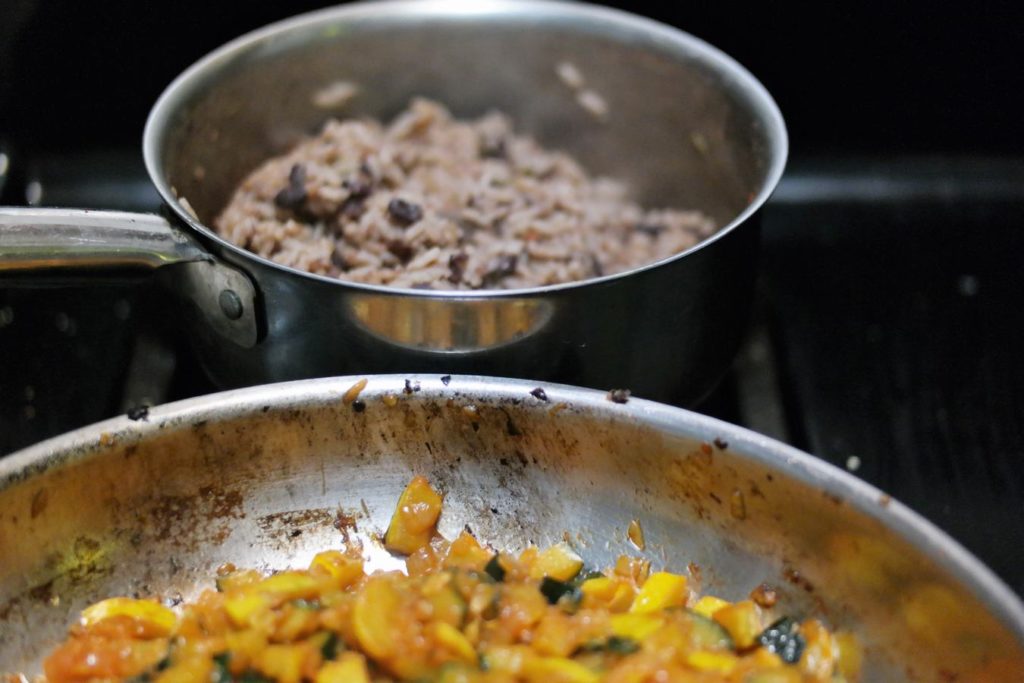 … put one of your tortillas on a plate and place 2-3 large spoonfuls of rice and beans in the middle.  Then put 2-3 large spoonfuls of veggies on top of that.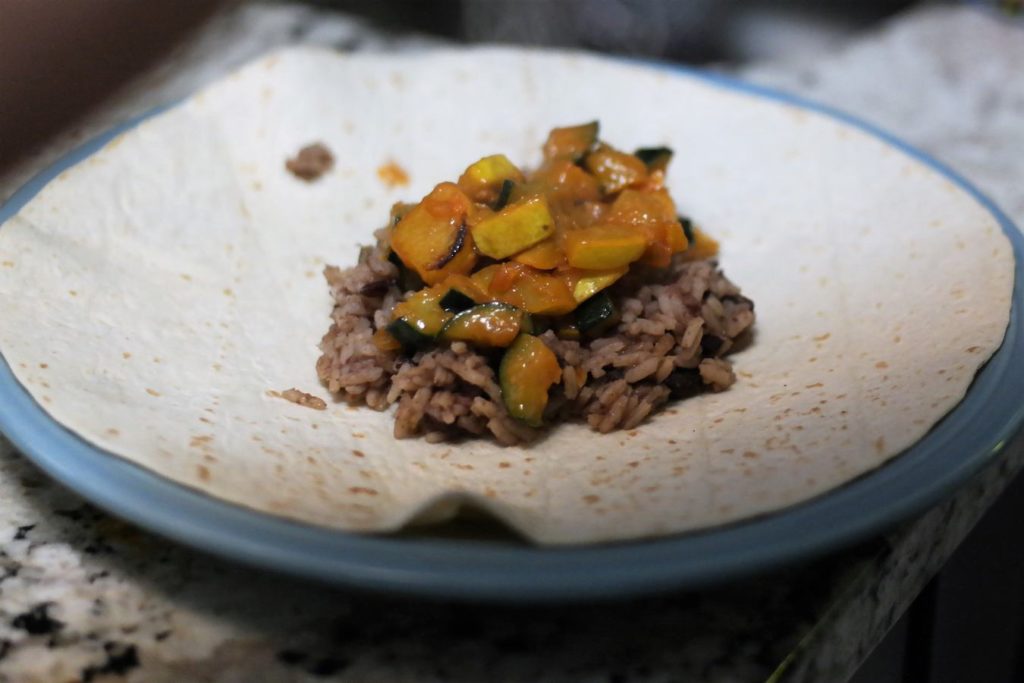 Top your burrito with shredded cheese (if you're using it), the chopped jalapeños, and 1-2 small spoonfuls of salsa.  Then wrap up your burrito.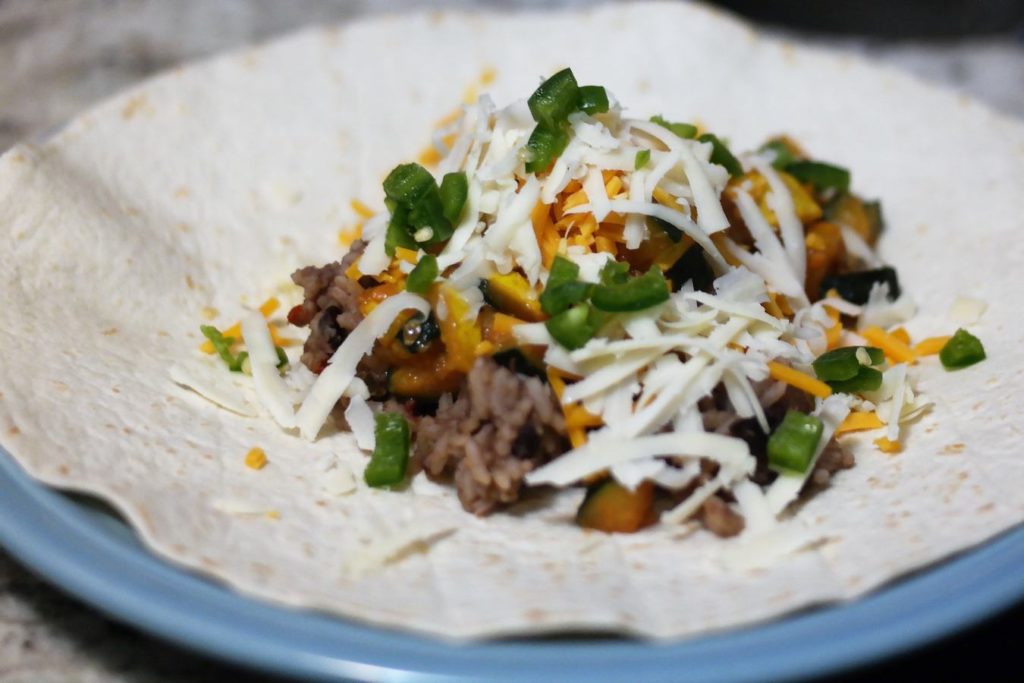 We think grilling the burritos make them extra delicious, so we heat a cast-iron griddle over the stove with the grill side up and place our wrapped burritos on it over medium heat for 3-5 minutes.  To really press the burritos down and get them nice and grilled, we place a a small cast-iron pan on top to weigh them down.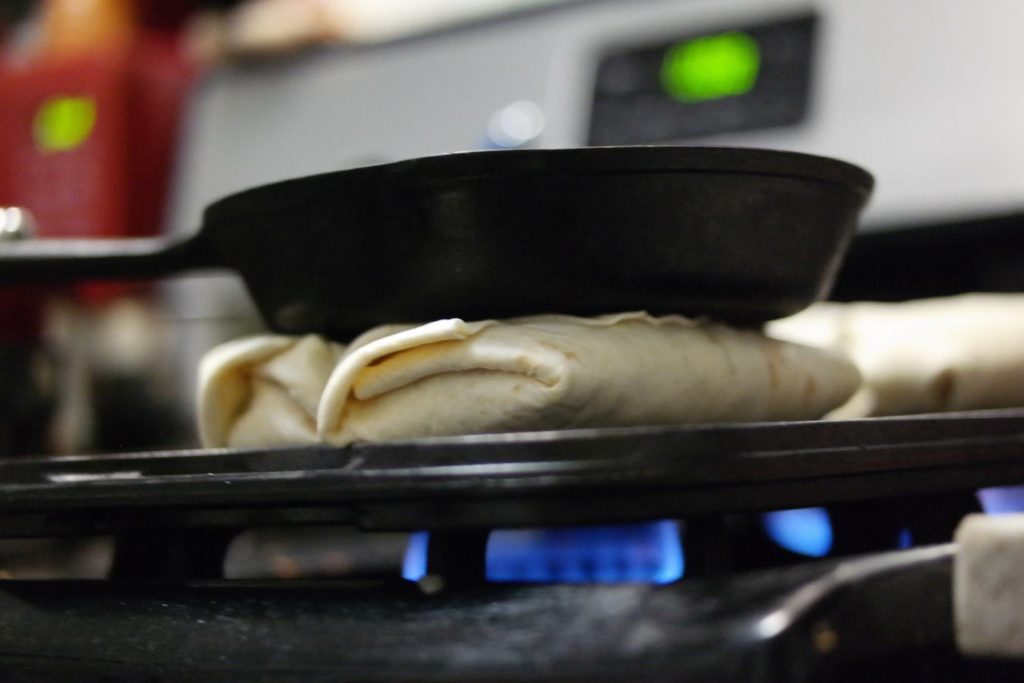 Once the burritos are grilled as much as you want, serve them with the sour cream (or not, if you're going for vegan).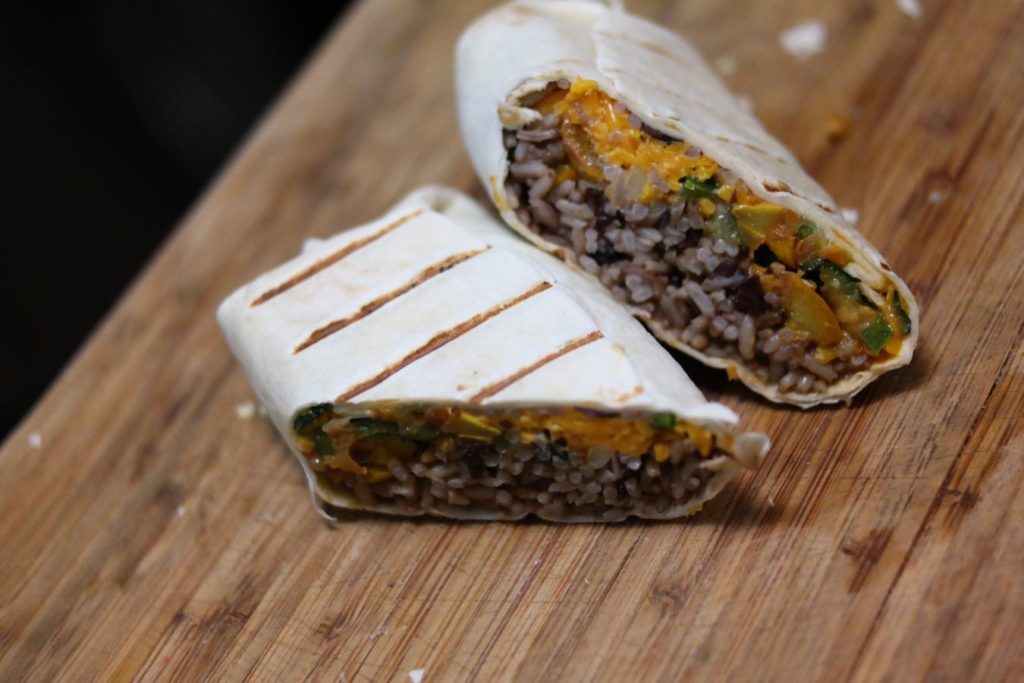 These are enormously filling – just one burrito is more than enough for a hearty lunch.  Our recipe makes enough to use up an entire package of tortillas, and these stand up well to re-heating, so you should have lunch/dinner/snacks for days.  And we promise you won't get tired of eating these, either, because they're so good!  The rice and beans are tasty and easy to make, the sazón gives the veggies a nice flavor, the salsa and jalapeños add in some heat, and grilling everything makes for a nice crunchy texture to bite into.  Definitely give these a try!