Aglio e oilo is one of the simplest pasta dishes out there:  it's just olive oil and garlic as your sauce.  It also happens to be vegetarian and very tasty.
You can make just a simple aglio and olio sauce on its own, but we decided to dress our pasta up a little bit after being inspired by this recipe from Bon Appetit.  It's was still pretty easy to make, though – here's what we used:
12 ounces of spaghetti
A large bunch a kale
Garlic
Olive oil
Salt
Pepper
Red pepper flakes
Parmesan cheese (skip this if you want vegan pasta)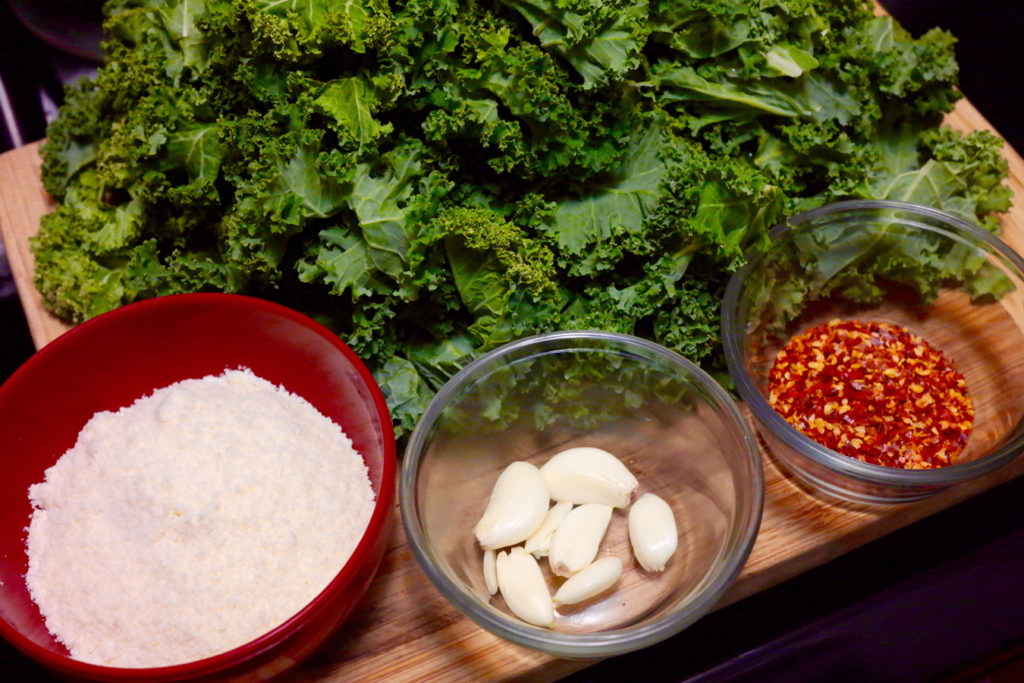 Before we started anything else, we cooked the spaghetti in boiling water on our stovetop.  Then we began tearing the leaves off of our kale, chopped them up into bite-sized pieces, and boiled them in a pot on the stove for about 2 minutes.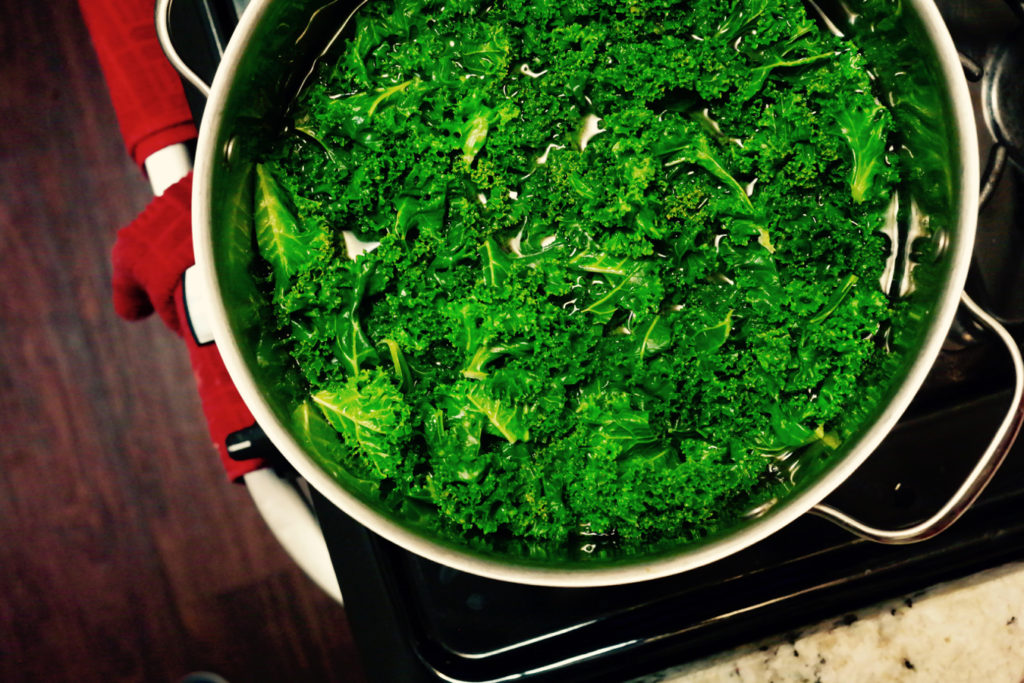 Once the kale was softened, we fished it out of the water with tongs and drained it in a colander.  Then we placed it in a bowl, patted it dry with paper towels, and set it aside.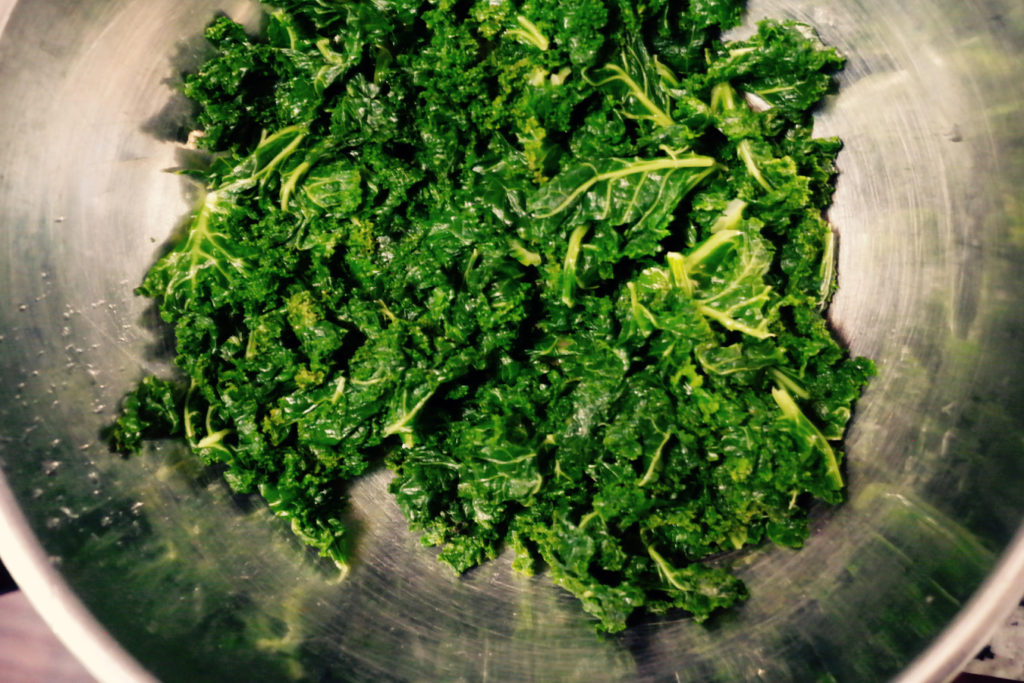 Next we put 1/4 cup of olive oil in a large cast-iron pan and added in seven big cloves of garlic that we had smashed (not chopped).  We seasoned the garlic with salt and lots of pepper and cooked it for a few minutes until it started to brown, and we stirred the cloves around as they were cooking to break them up a little bit.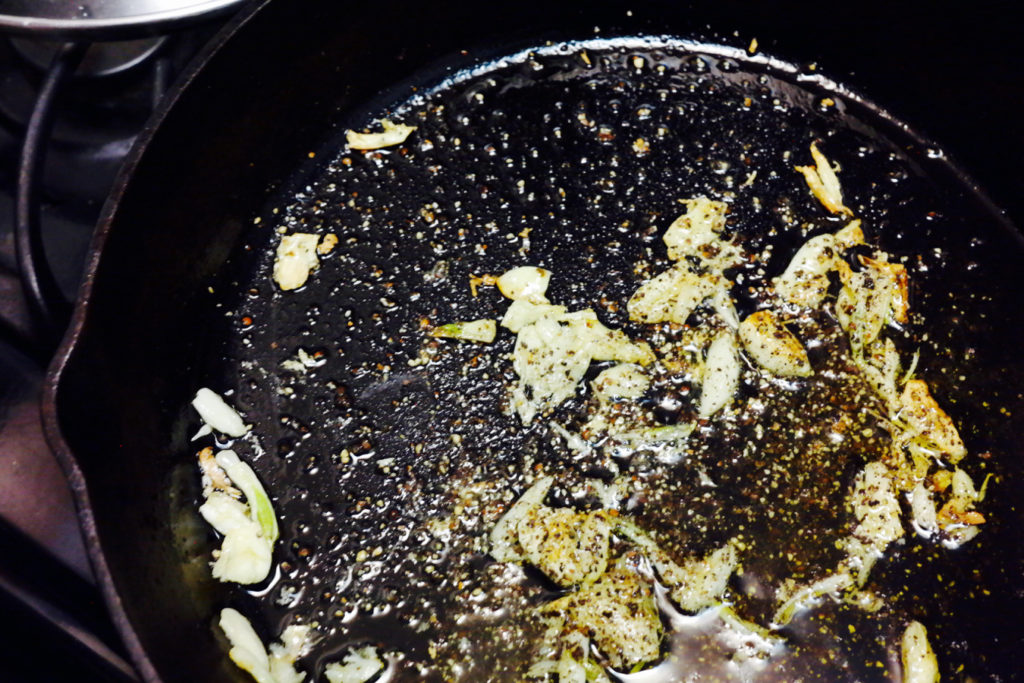 Then we added the kale into the pan and cooked it for another 5-10 minutes until it had all wilted.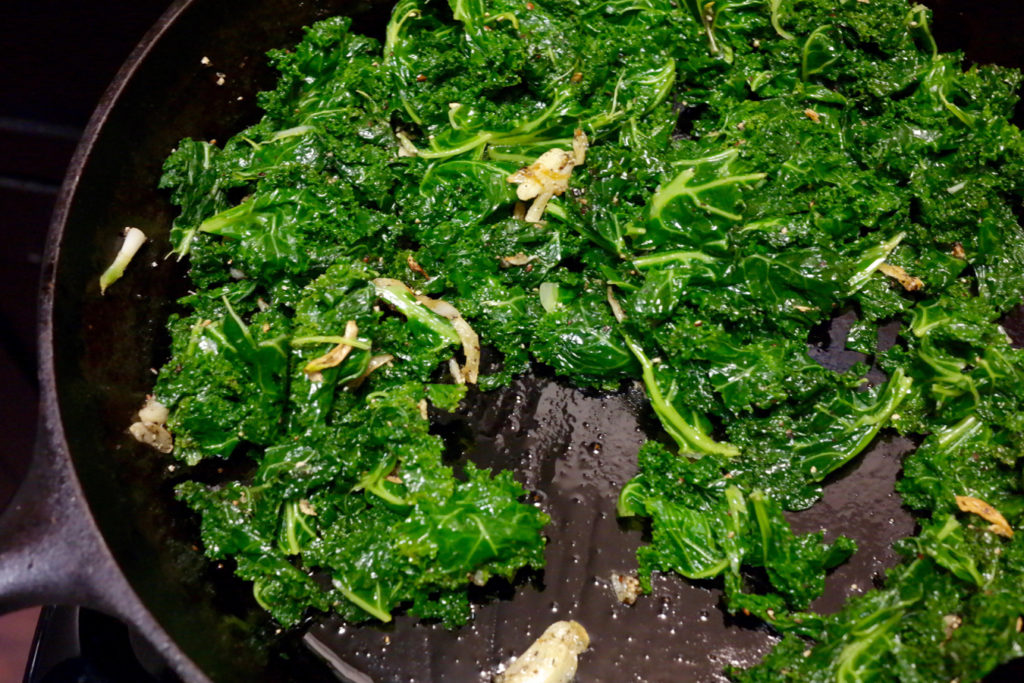 Once the spaghetti was done, we put it right into our pan with the kale and garlic.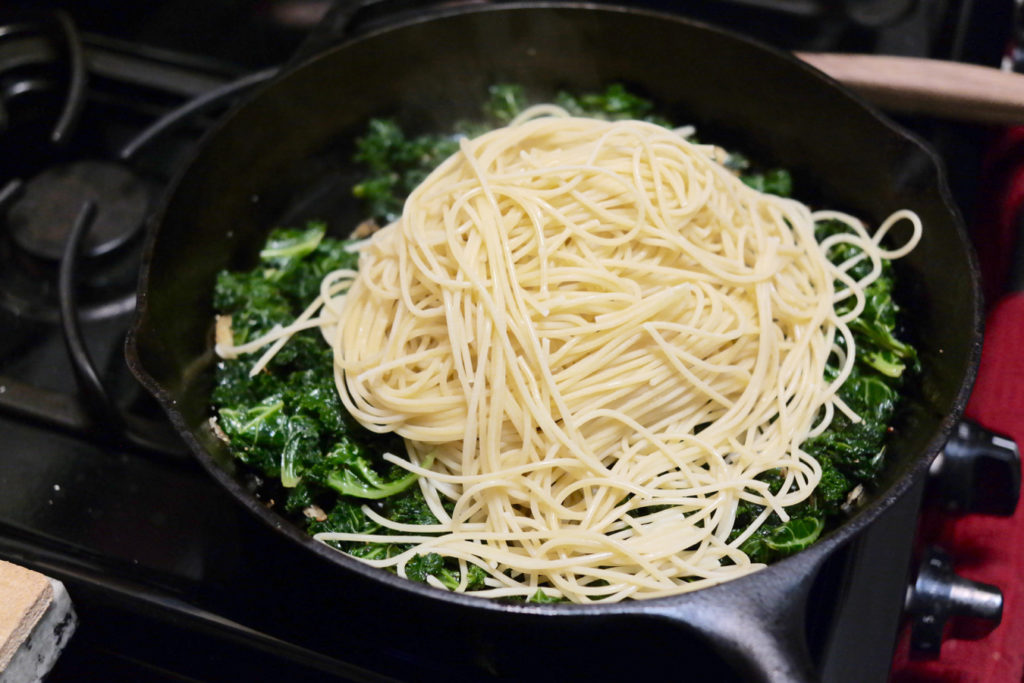 Then we added in a bunch of red pepper flakes (because we like things spicy – you can use as much or as little as you'd like) and 1 cup of the water the spaghetti was cooked it and mixed everything together until the pasta was well coated with the sauce.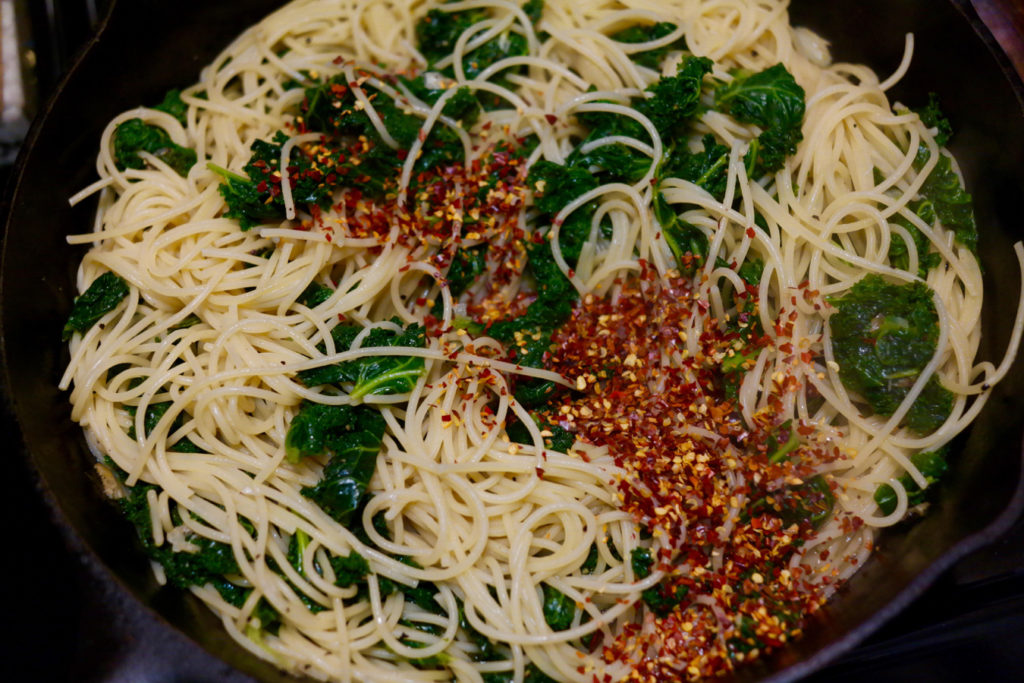 And last, we topped our pasta with a generous sprinkling of Parmesan cheese before serving it.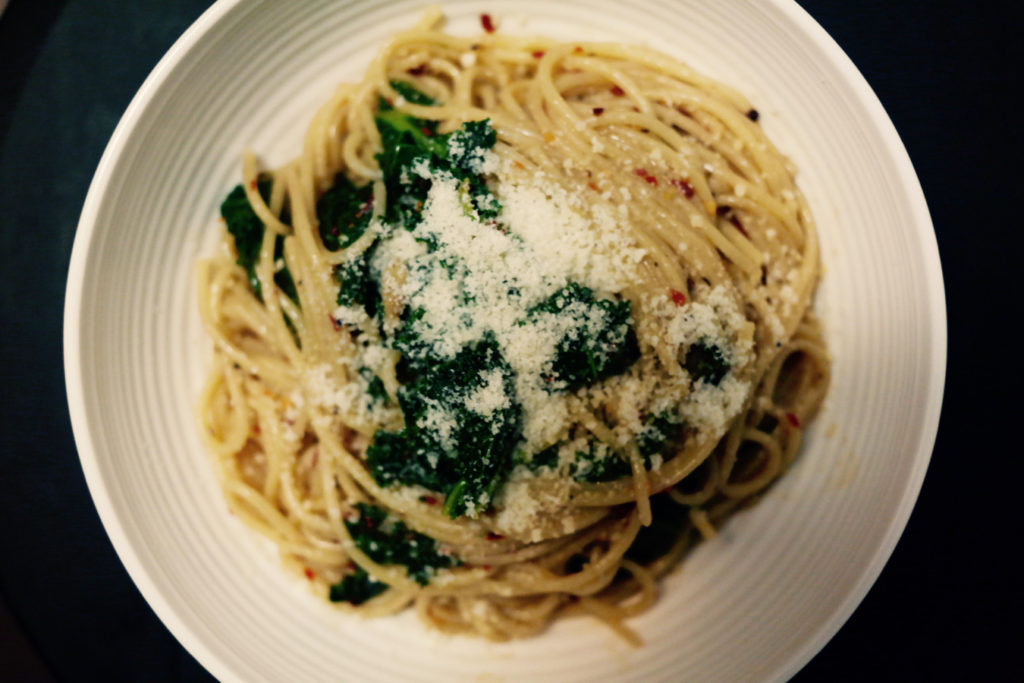 And there it is – a new version of aglio and olio.  It's still pretty easy to make, and with kale tossed this recipe is a little healthier.  Boiling the kale ahead of time and then wilting it helps ensure that the kale's not too tough, as kale sometimes is, and seasoning it with plenty of salt and pepper makes it tasty.  We also used a lot of red pepper flakes and a lot of garlic to make this dish really flavorful, but you can adjust these to your taste.  Overall this was a simple, delicious, and veggie-filled Sunday night dinner, and we would definitely recommend you try this as quick and tasty way to get your kale in.