When we lived in upstate New York, we discovered a local dish that people called chicken riggies.  It's a funny name, sure, but it's pretty delicious:  it's rigatoni pasta with chicken in a spicy red sauce.  Apparently it originated somewhere around Utica, and it's so famous there that the city holds a RiggieFest every year.  So yeah, it's that serious.
Anyway, after several years of Miriam having to look sadly and longingly at every plate of chicken riggies that passed her way, we decided to make our own vegetarian version, using the Morningstar Farms Chik products that we love.  Here's what we used in the recipe we came up with:
Two red bell peppers
Two cubanelle peppers
Two hot peppers
An onion
3 cloves of garlic
One 28-ounce can of crushed tomatoes
1/2 cup of cream or half-and-half
12 ounces of pasta (you're supposed to use rigatoni pasta but any tube-shaped noodle will do)
A package of Morningstar Farms Buffalo Chik patties
One egg
Breadcrumbs
Vegetable oil
Olive oil
Parmesan cheese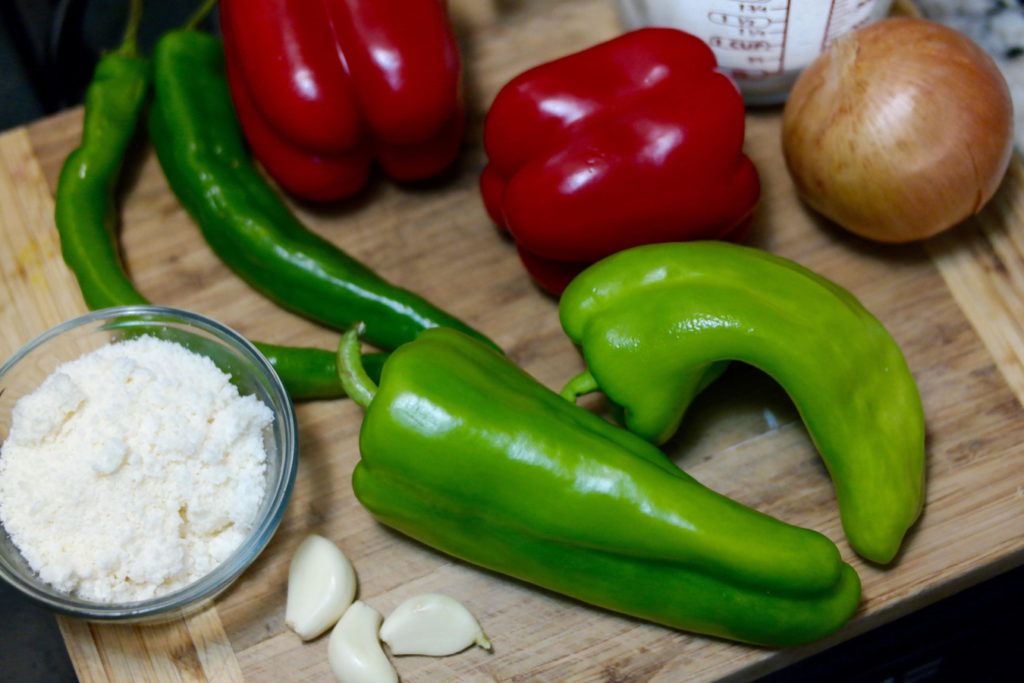 Part of what makes chicken riggies so delicious is it's made not with your usual tomato-based sauce but with something a little more spicy and smoky.  So, to that end, the first thing we did was take our two red peppers and roast them directly on our stovetop.  We turned one of our burners up to medium heat and placed a red pepper right over the flame.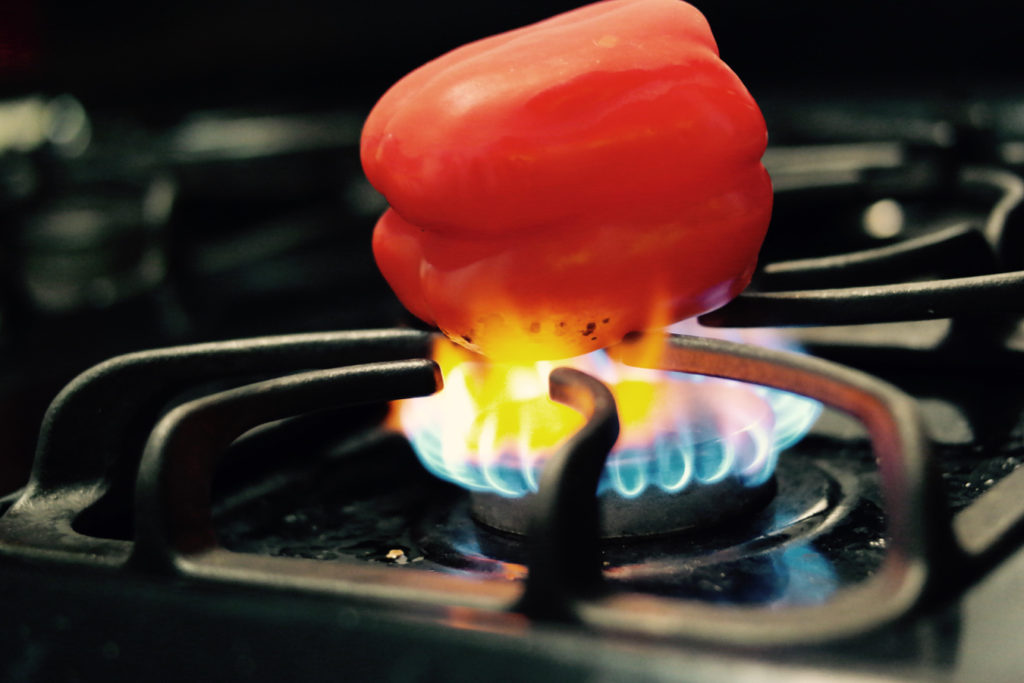 Once the pepper began to blacken on the side closest to the flame, we rotated it to another side to cook and kept doing that until the entire outside of the pepper was charred.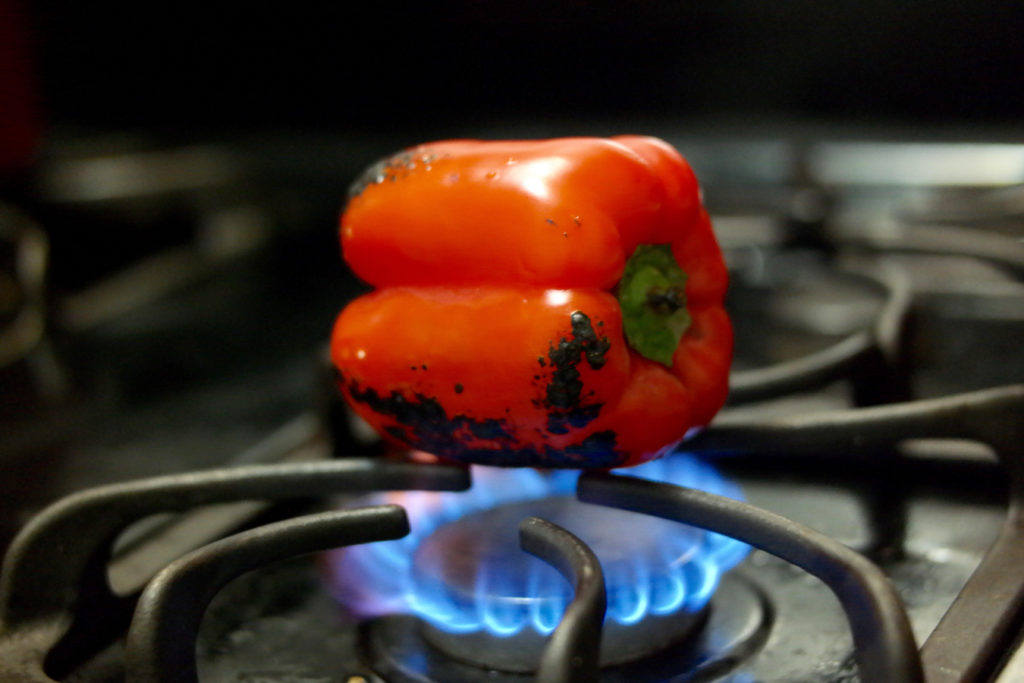 Once both peppers were done, we put them each into their own separate plastic bags and tied the bags tightly closed so that the peppers could steam.  Then we set those aside for 15-20 minutes.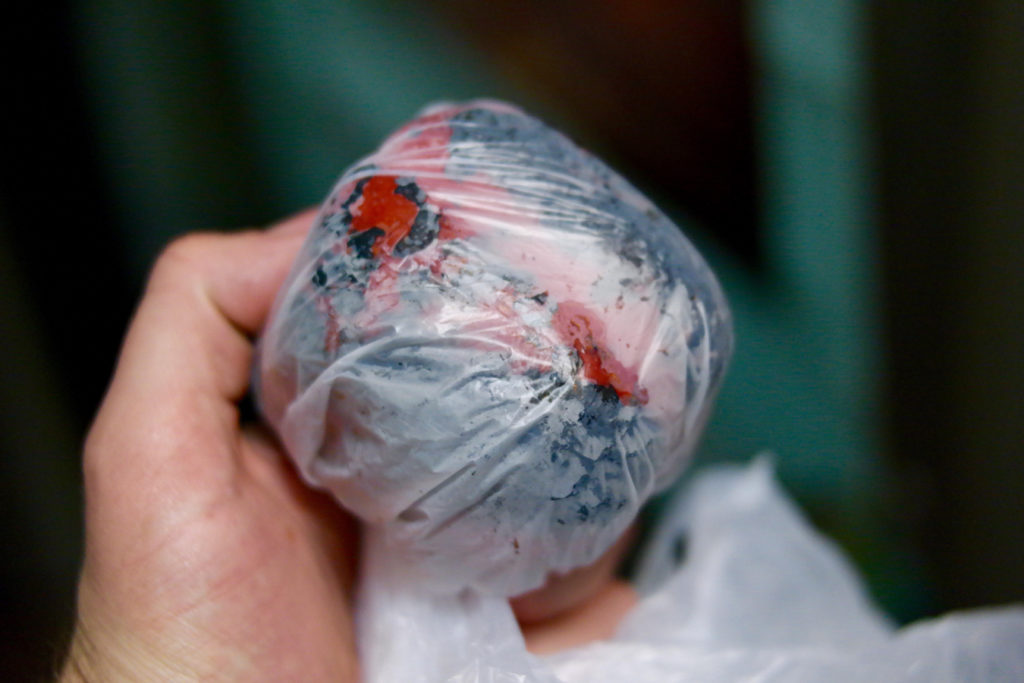 In the meantime, we began cooking our pasta.  We also cut up the Buffalo Chik patties into chunks and dipped each piece in a beaten egg and then plenty of breadcrumbs.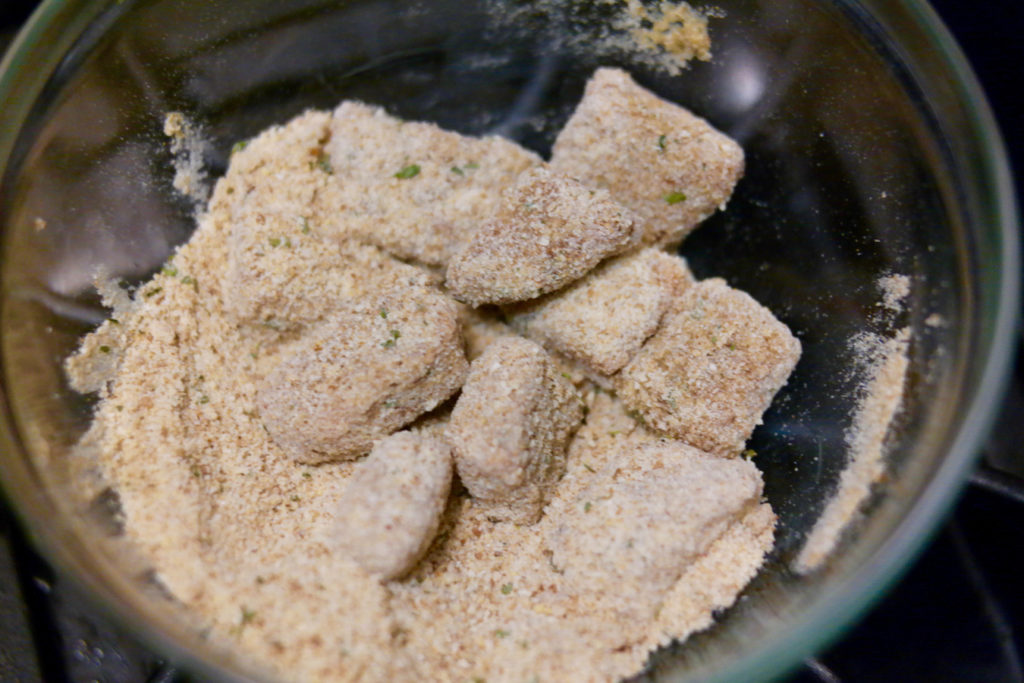 Then we heated some vegetable oil in a large, deep skillet and fried each chick'n piece on both sides until they were a golden brown.  Once they were done, we set them on paper towels to drain and cool off.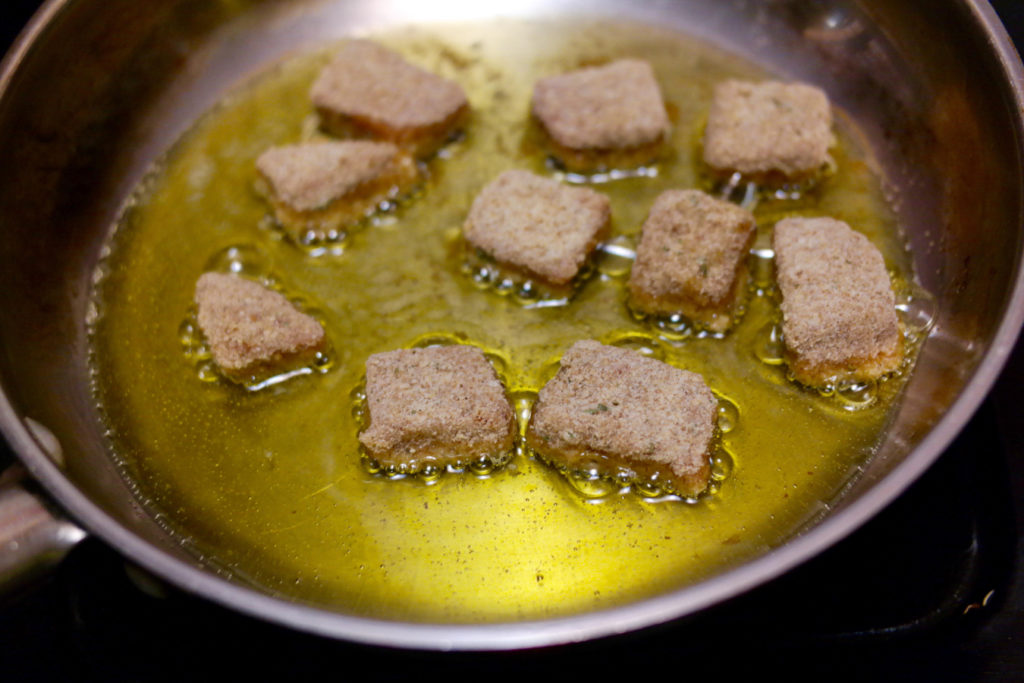 Next we diced up our onion and chopped up all our garlic and began to sauté them in a little bit of olive oil in a different, large skillet.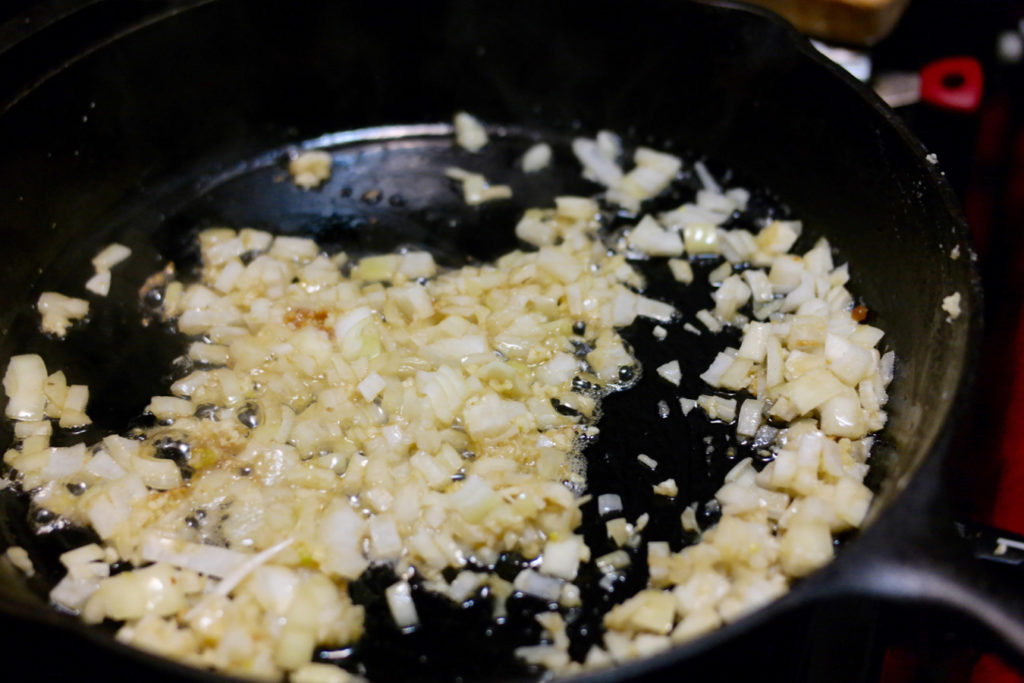 Once the onion had softened and browned slightly, we sliced up our cubanelle peppers and added them to our skillet to cook too.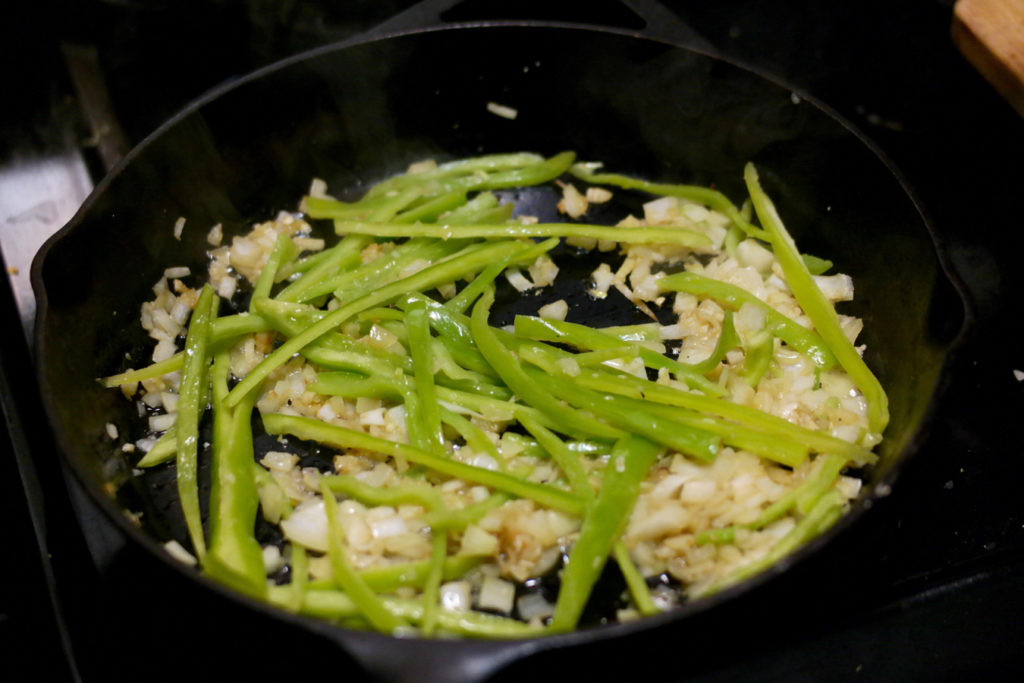 Then we took our two peppers out of their bags and used a knife to scrape off all the charred bits, leaving just the soft skin underneath.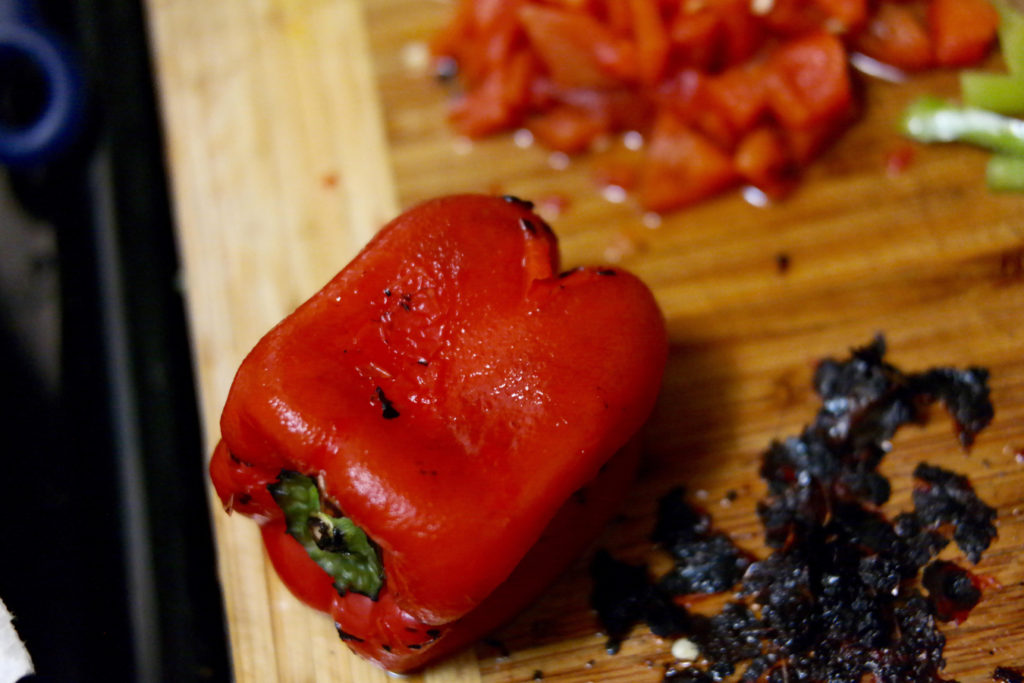 We chopped up the bell peppers like this, along with our two hot peppers, and added them to the skillet as well.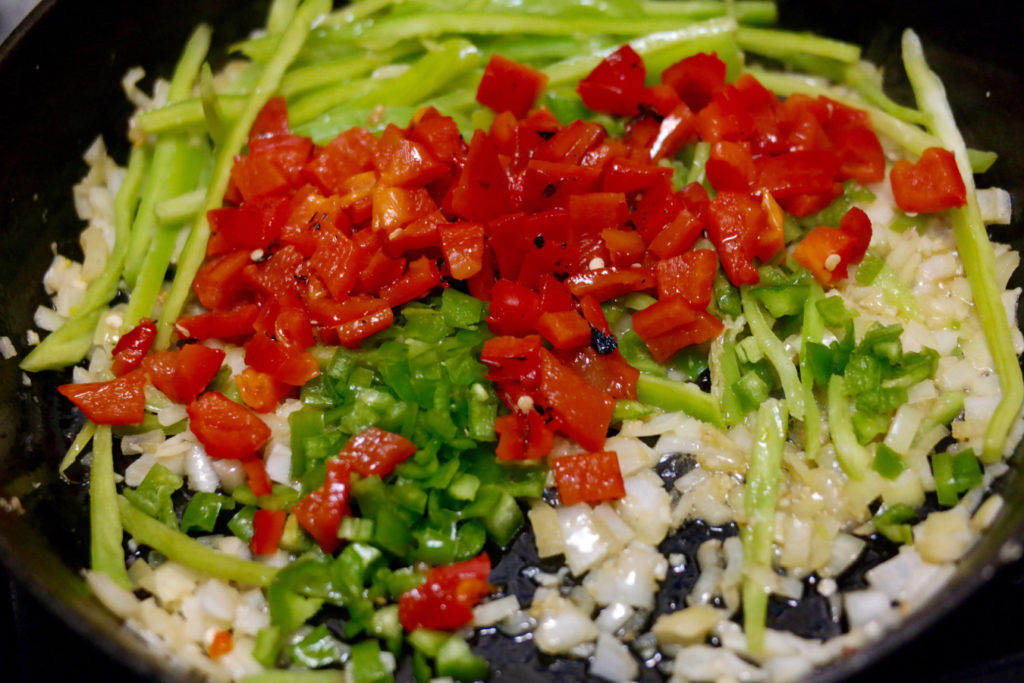 Once all the veggies were softened a little bit, we poured in the entire can of crushed tomatoes and the cream (or half-and-half) …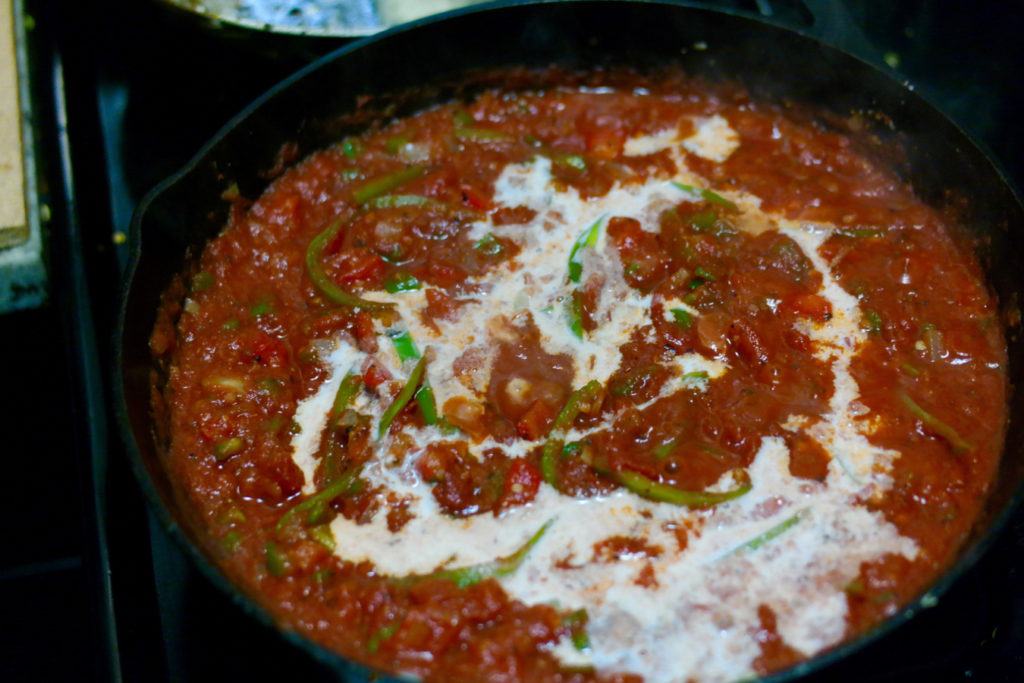 … and then mixed it all up to make our sauce.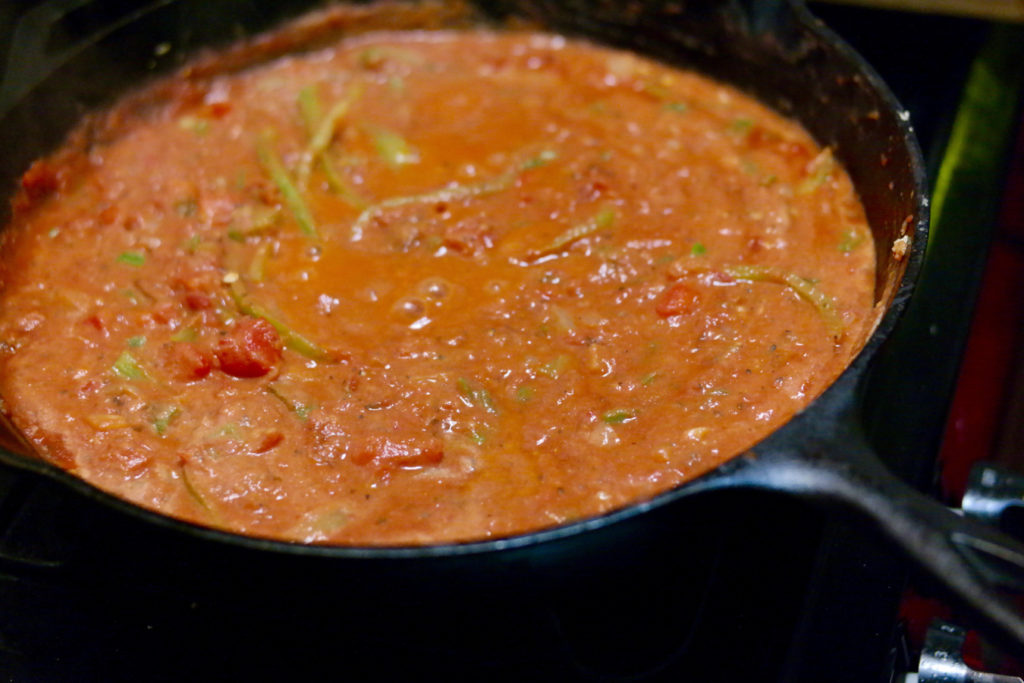 When the pasta was done, we put it right into the skillet and stirred everything together.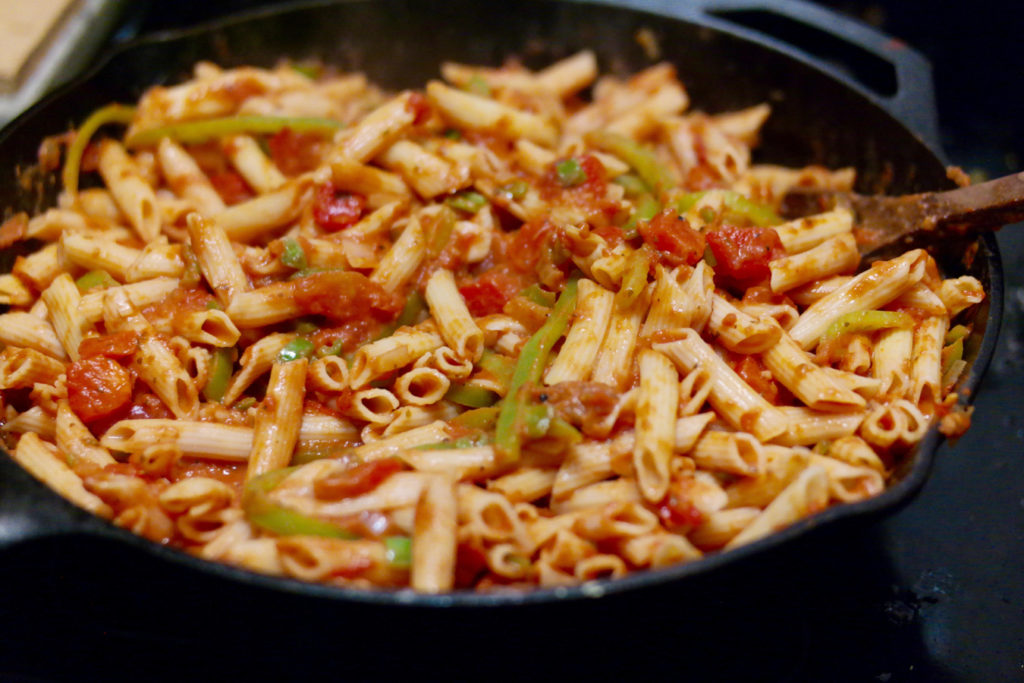 To serve it, we dished the pasta out in bowls and topped it with a few pieces of chick'n and some Parmesan cheese.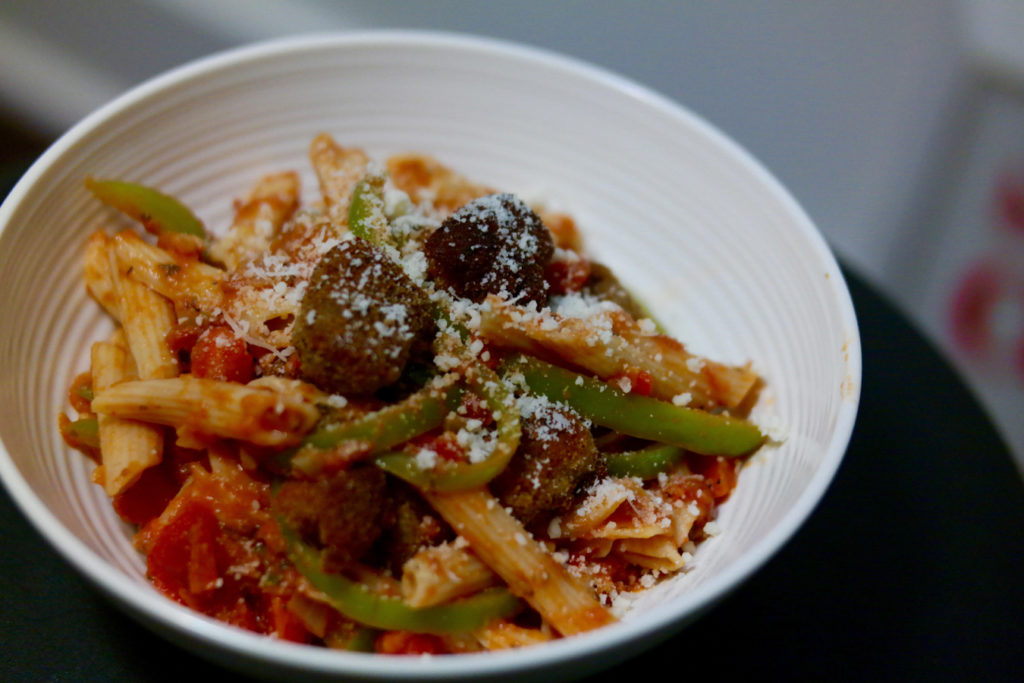 And there you go – vegetarian chicken riggies!  You've got some spicy, delicious fried chick'n, a hot and smoky tomato sauce, and crunchy sweet peppers, all over pasta.  What's not to love?  Even if you'd never heard of this dish before, try it out and see what makes it so popular in central New York.