A few weeks ago, we got the chance to visit New Mexico as part of the American Camp Association's annual conference in Albuquerque (because Miriam was previously on their board).  While we were there, we decided to try some New Mexican cuisine, so we wanted to highlight here some of the cool food we ate and the places we went.  Some of what we'll show you here is vegetarian but some is not, so be forewarned.
Our first culinary stop was Frontier Restaurant, right across the street from the University of New Mexico's campus.  This place apparently has become an Albuquerque institution because it serves cheap, delicious food quickly – and in fact, when we went, it was so packed that we could barely find a place to sit down.  We decided to get a couple of different vegetarian dishes and share them, so we started off with a vegetable tortilla soup served with chips to dip right in: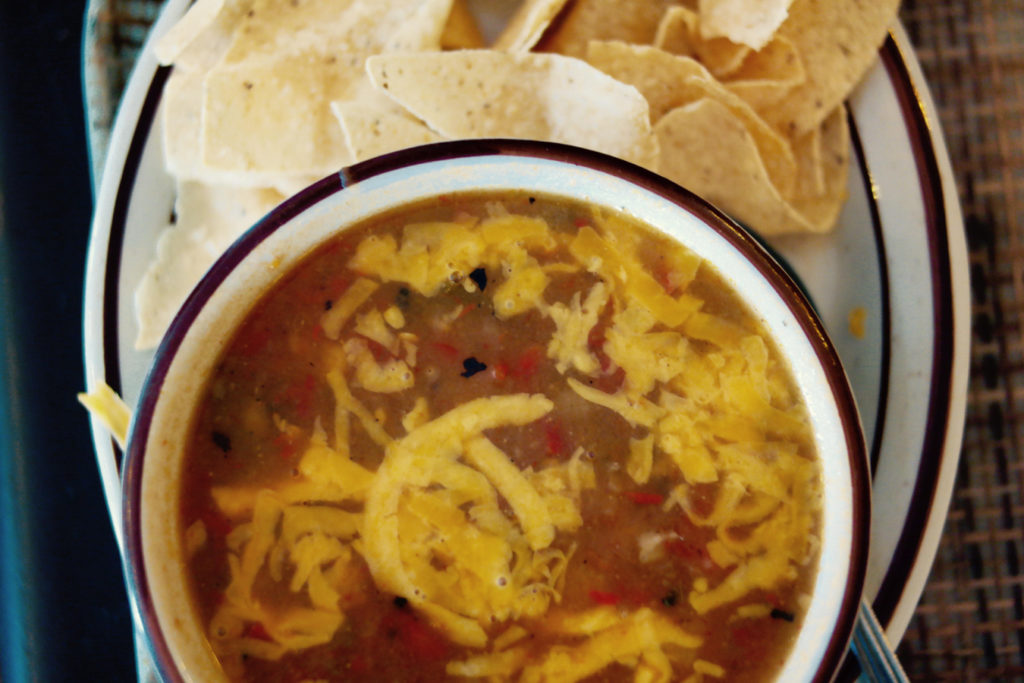 We also got ourselves a sweet roll, which is like an extra-buttery cinnamon bun: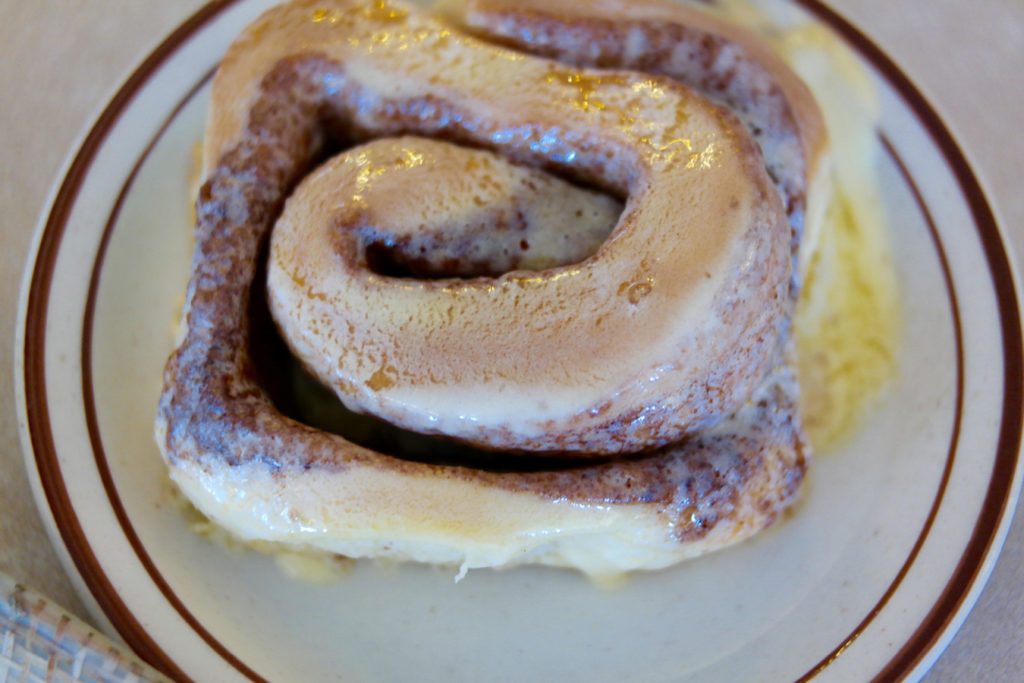 Then we split some cheese enchiladas smothered in red chile …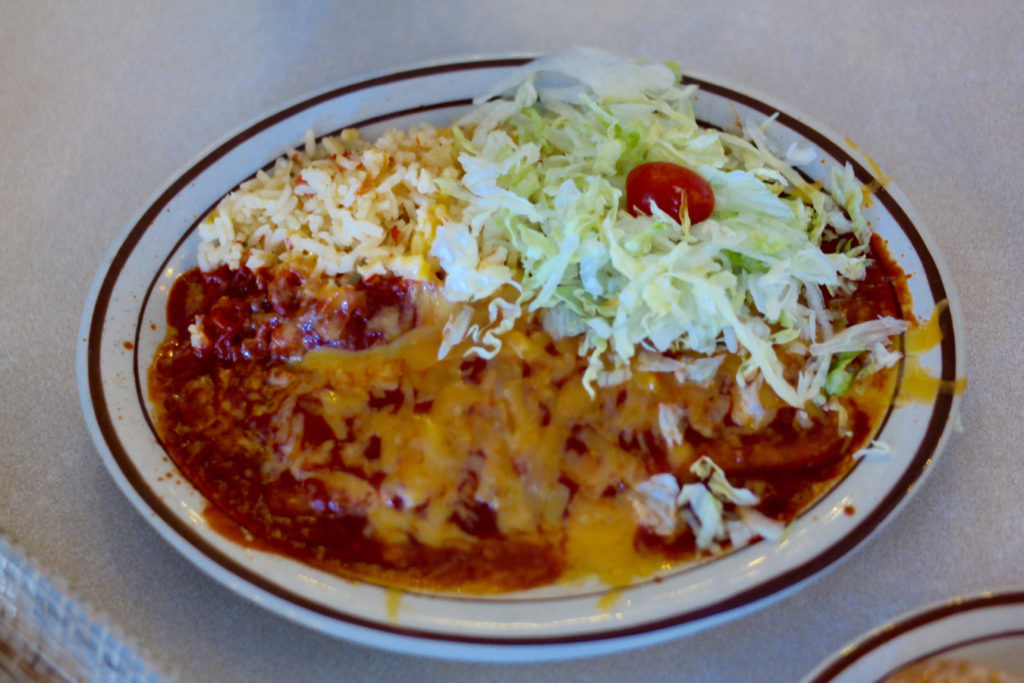 … and a veggie burrito, also with red chile on top.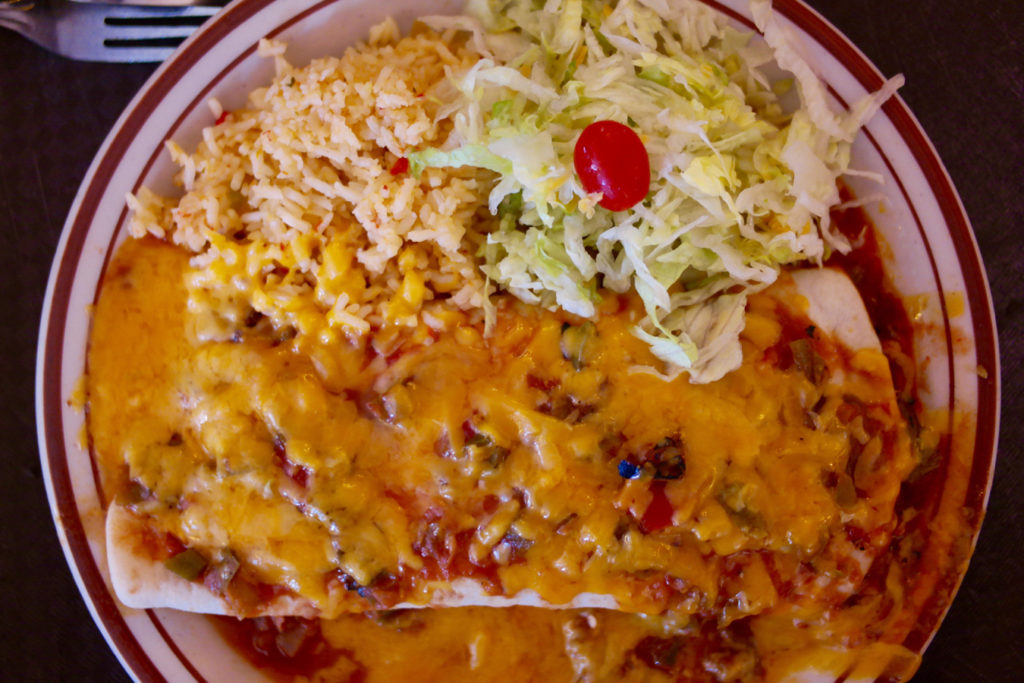 If you're wondering what we mean by "chile", we learned while in Albuquerque that southern New Mexican food is often covered in a sauce made from Hatch chile peppers, which you can get in a red or green variety.  Red chile is made from fully ripened peppers, which are milder, while green chile is a little spicier and is made from chiles that are not yet ripe.  A lot of foods come with either red or green chile on top -or both! – on top.  Wikipedia has more information, if you're interested in learning about this particular niche of American cuisine.
Since we had only tried red chile at Frontier, we decided to go somewhere else to see what green chile was like.  We ended up at Cocina Azul, which has two locations around Albuquerque.  We started our meal off with the Chile con Queso, which was not only tasty but unlike any queso dip we've ever had before because you can eat the bowl it comes in!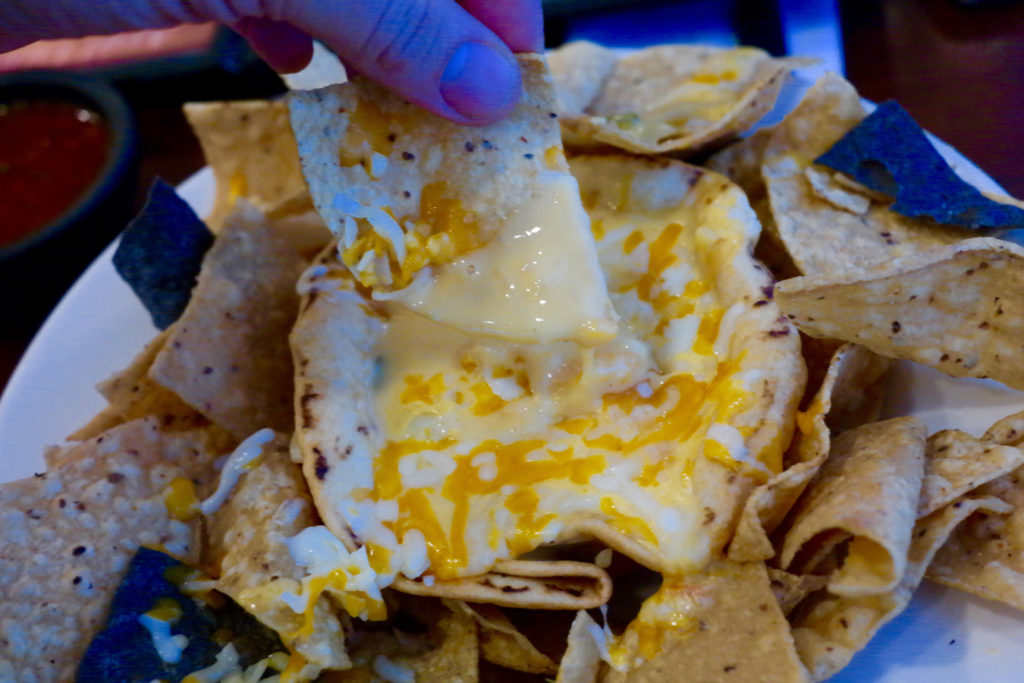 Then Miriam got the New Mexico Relleno plate, which had two fried cheese-stuffed green Hatch chiles topped with green and red chile.  Thanks to the green chiles in the sauce and as the base of this dish, it was plenty spicy.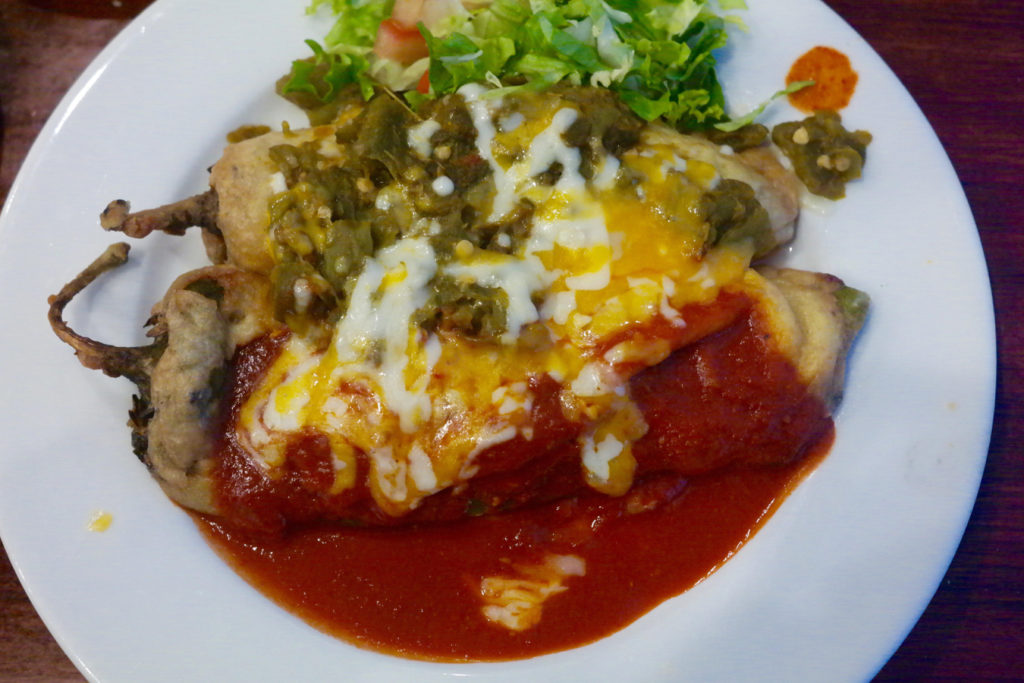 Cyril got the Carne Adovada Relleno plate, which was like a meat-y version of what Miriam had:  two green chiles filled with cheese and pork, also smothered with red and green chile.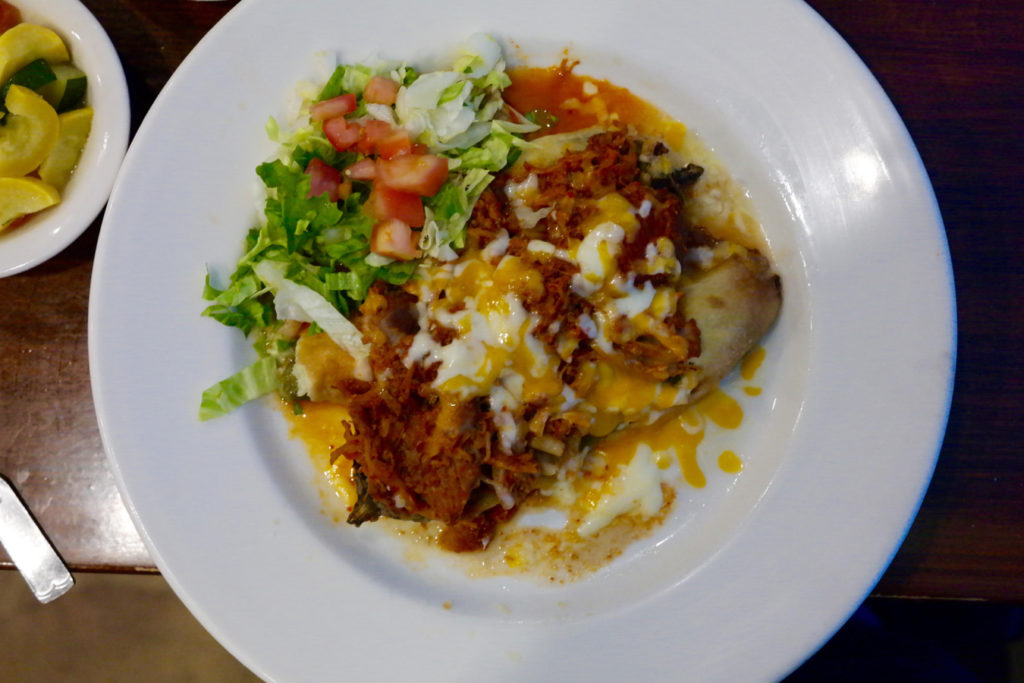 We also got some sopapillas – pockets of fried dough that are hollow and airy inside – with our food.  We read that you're supposed to bite off one corner of the sopapilla first and then fill it with honey, so that's how we ate them.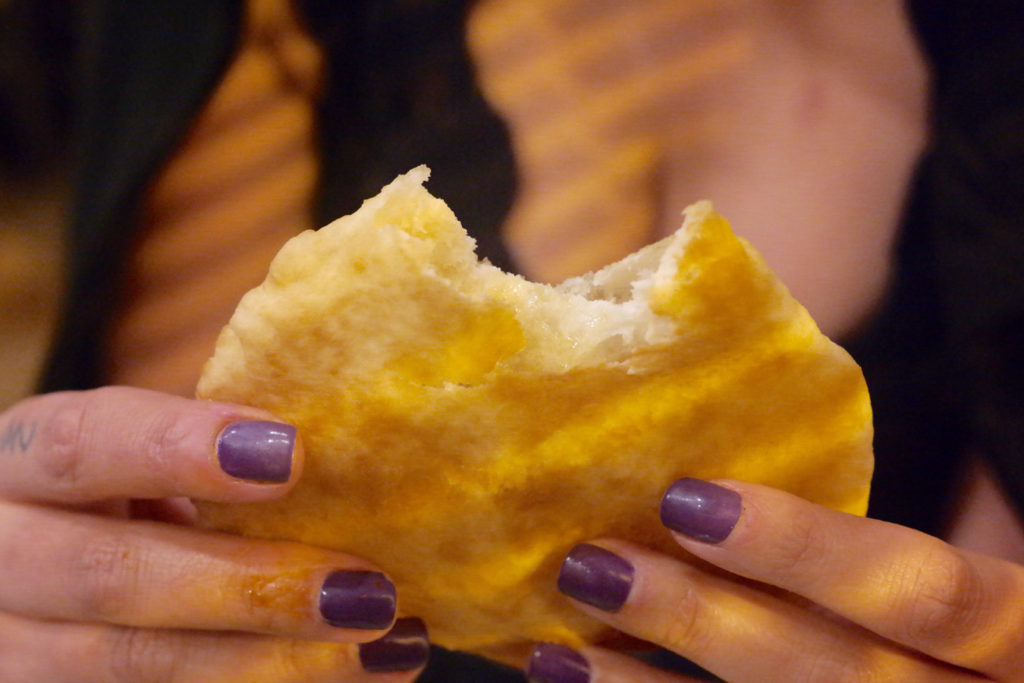 As you can probably tell, we were very full by the time we left Cocina Azul.
One last place we visited was the Pueblo Harvest Cafe.  This restaurant is inside the Indian Pueblo Cultural Center, which is an amazing museum dedicated to the history of the tribes who have lived in the New Mexico area for centuries.  The cafe incorporates some Native foods and cooking methods into its menu, most notably in its Tewa Tacos.  These are built with a base of frybread, which is part of the Navajo culinary tradition, and then covered with traditional taco toppings.  Both of our Twea Tacos came with lettuce, tomato, onions, and cheese; Cyril got ground beef and beans on his, while the cafe was kind enough to leave off the beef for Miriam's.  And of course, both came with red and green chile.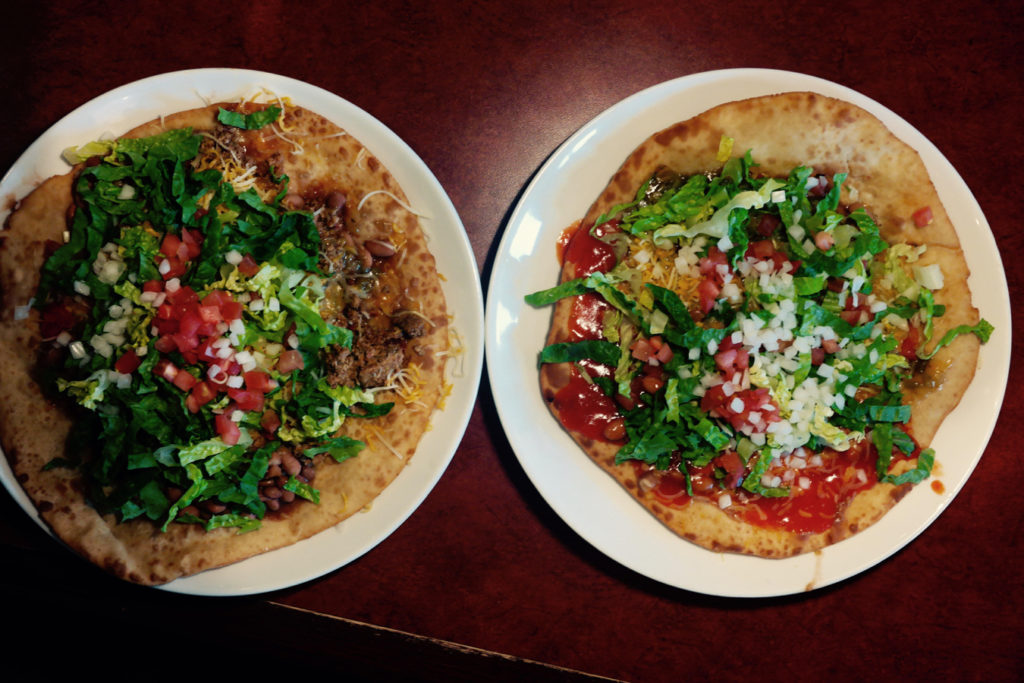 The food in New Mexico was a nice departure from what we usually have here in New York, and we're glad we had the chance to sample all these different dishes.  Who knows – maybe we'll be cooking up our own versions of some of these foods soon!