The idea for this Rasta Pasta – which is combines flavors from the Caribbean with the tastiness of creamy pasta – came from someone Miriam knows, who is originally from one of the islands and who spent about a week writing on Facebook about craving this dish.  Eventually she made it and documented it, complete with pictures, for all of us on social media.  It looked delicious!  But unfortunately, it had chicken in it.  We weren't dissuaded, though, so we put our heads together to try to come up with a vegetarian version of rasta pasta.  This is the result, and we think it turned our pretty good.
Here's what we used:
8 ounces of pasta
Half-and-half
A stick of butter
Parmesan or Romano cheese
A green bell pepper
A red bell pepper
A yellow bell pepper
An orange bell pepper
Paprika
White pepper
Red pepper flakes
Cayenne powder
Chile powder
Seasoned salt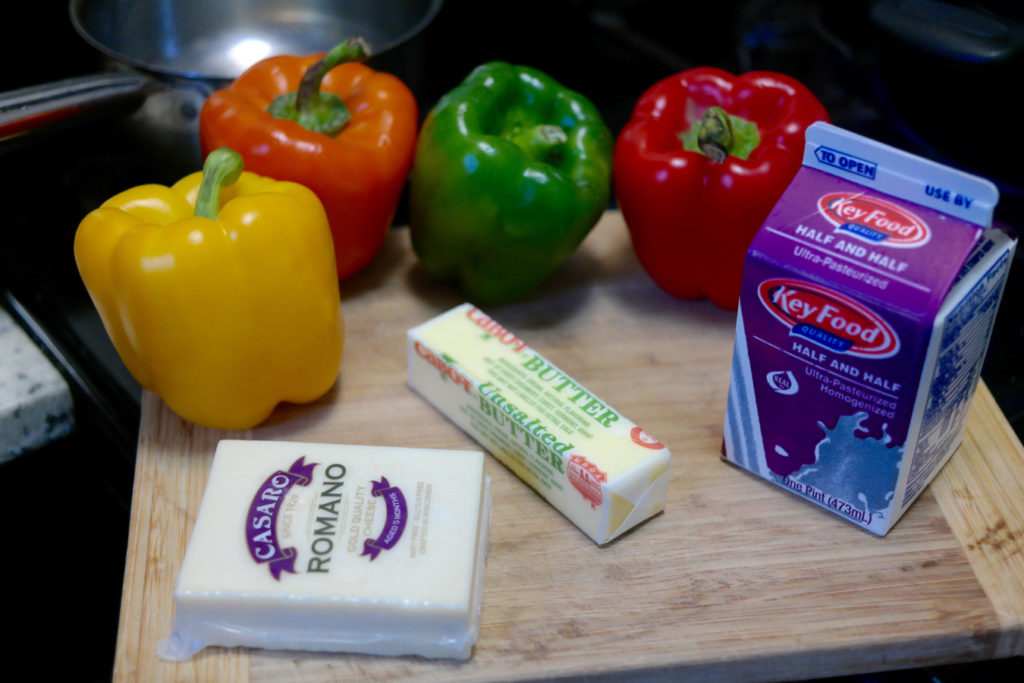 We first started boiling water to cook the pasta, and in the meantime we made our sauce.  We used our standard alfredo recipe, which involved melting the stick of butter over medium heat and then mixing in a cup of half-and-half and 1 to 1 1/4 cup shredded parmesan or Romano cheese.
Once we had a smooth alfredo sauce, we measured out our spices:  1 teaspoon each of seasoned salt, chile powder, red pepper flakes, white pepper and paprika and a 1/2 teaspoon of cayenne powder.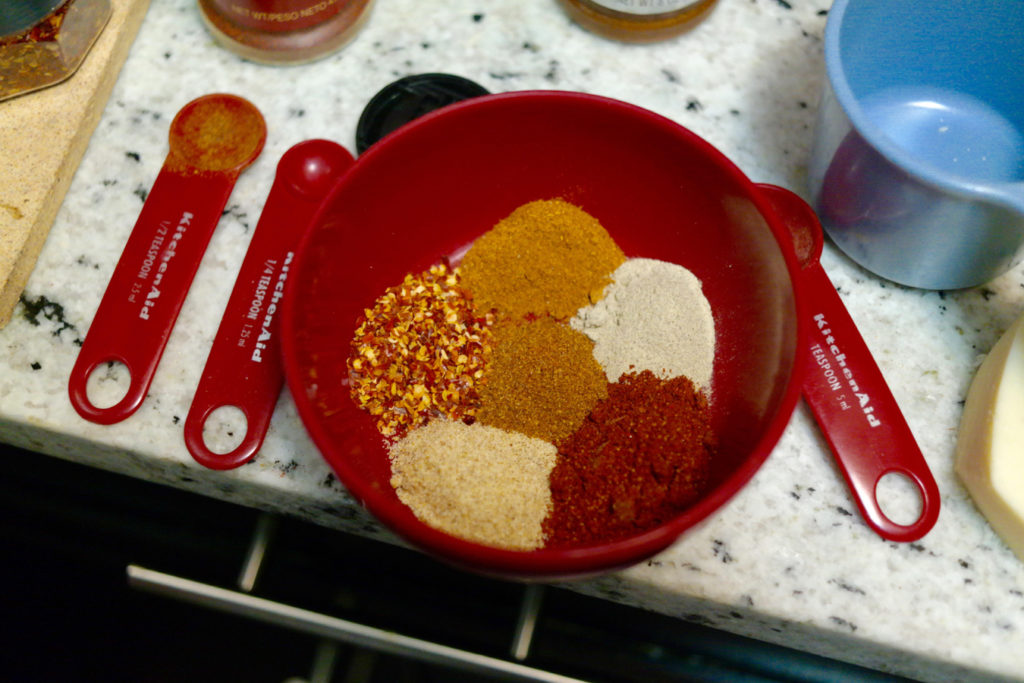 Then we stirred all those spices into our sauce until it looked like this: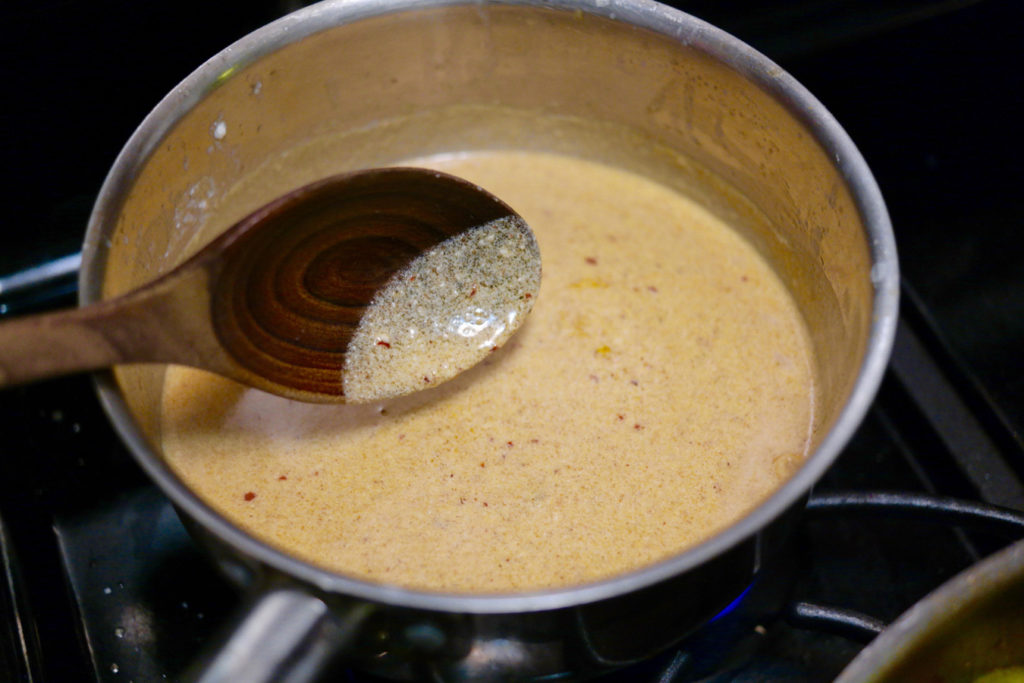 To cook the veggies, we cut each of our peppers into strips …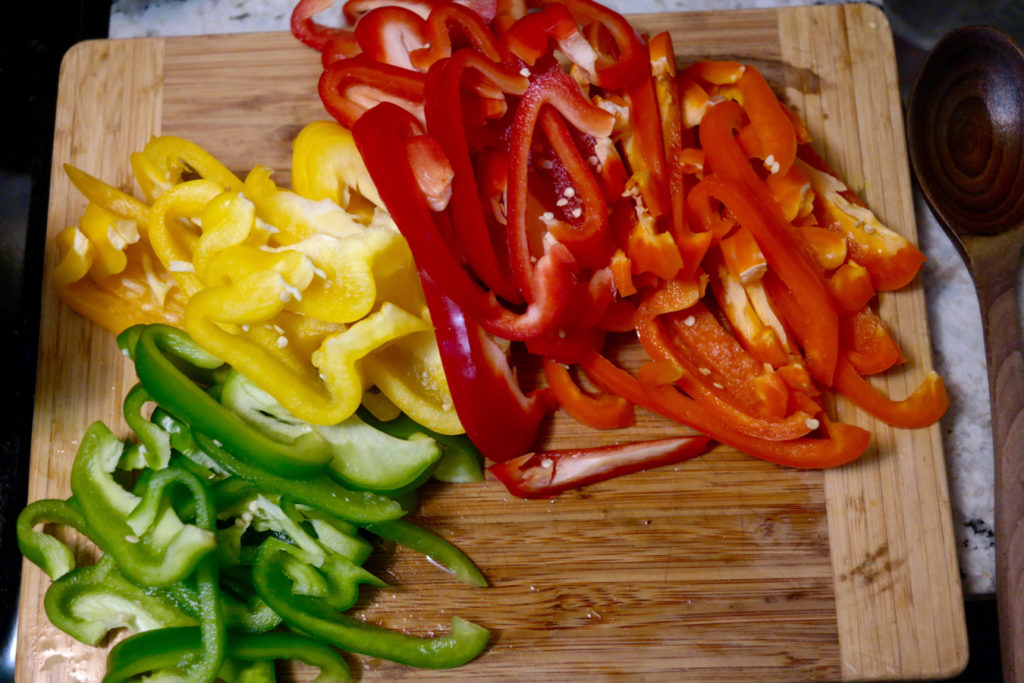 … and cooked them in a large skillet with some vegetable oil for about 10 minutes, until they were softened and no longer crunchy.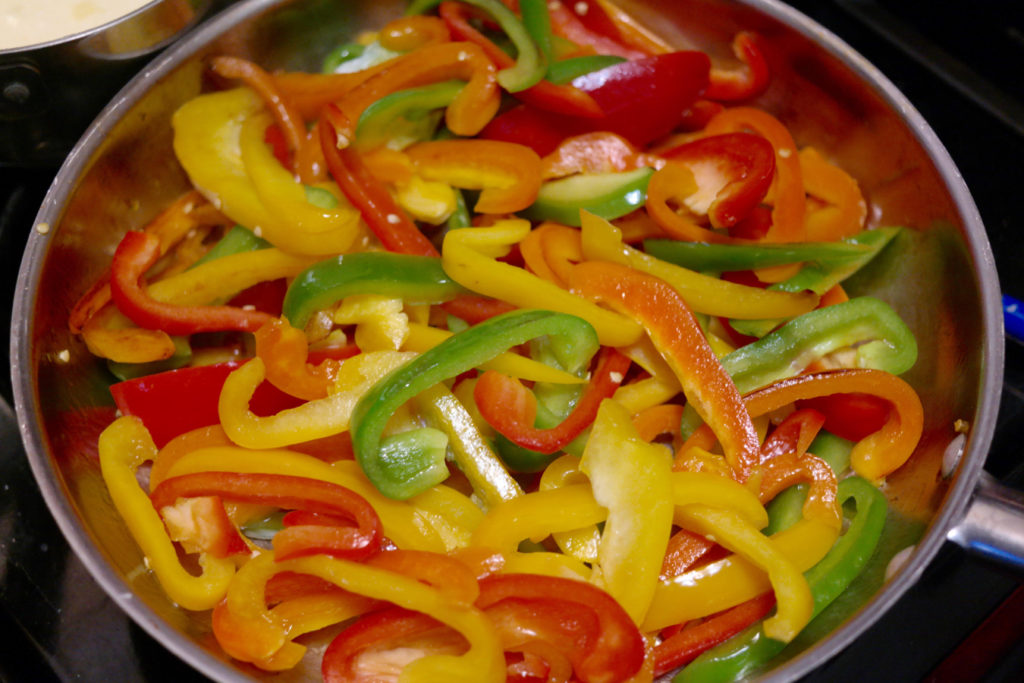 Once the pasta was done we mixed it with our sauce.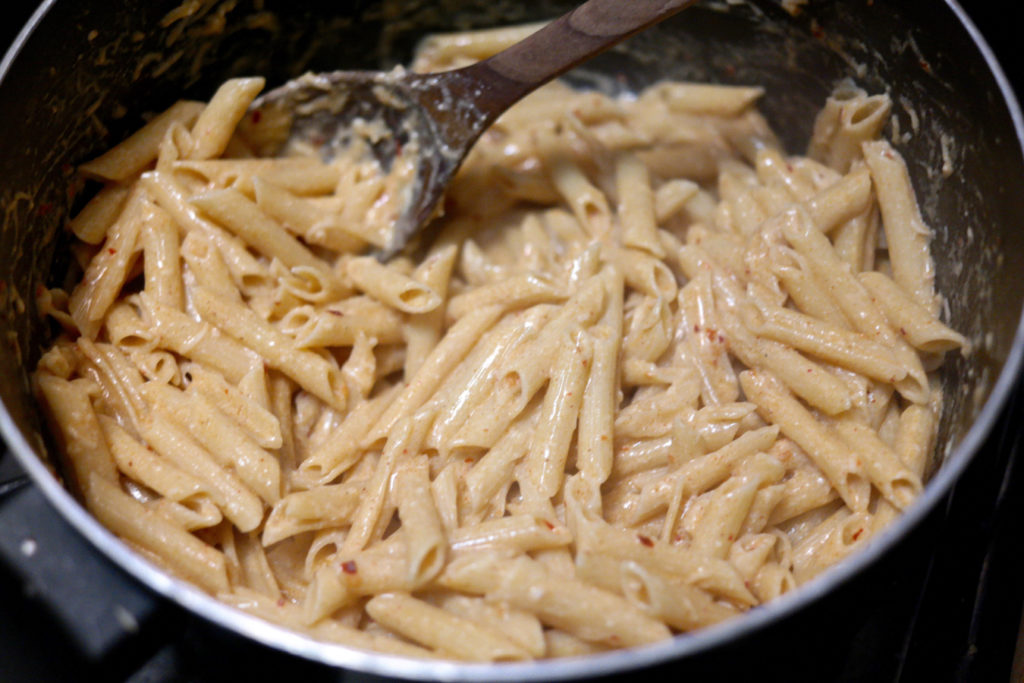 Then we added in our peppers.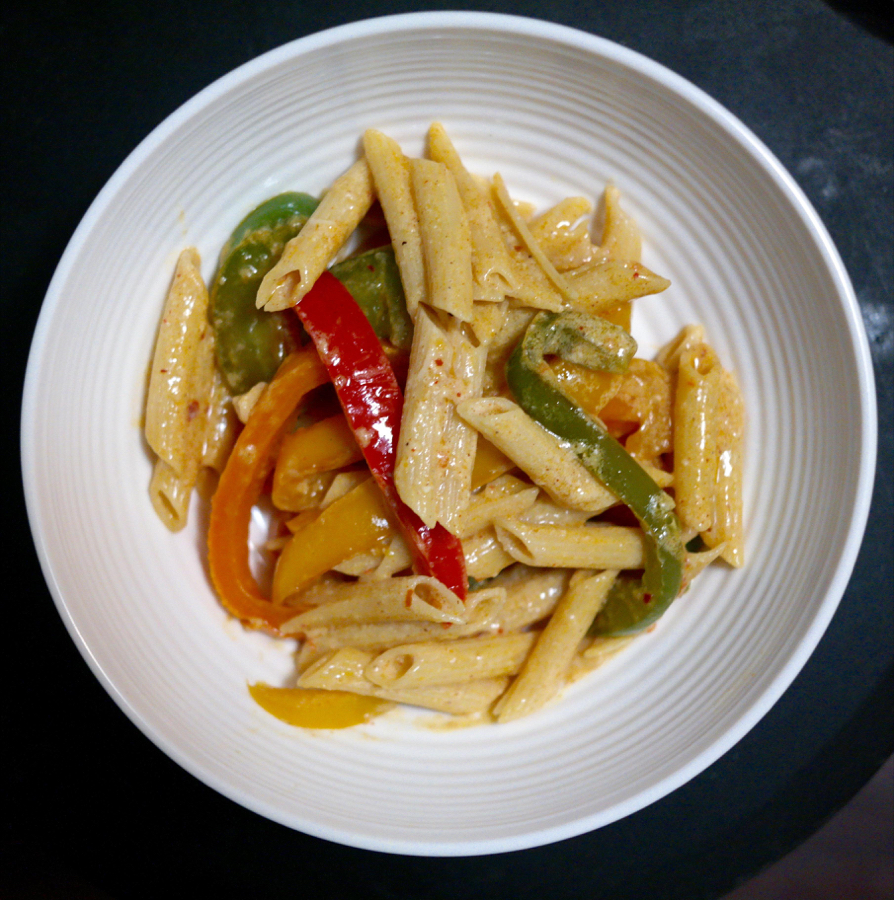 We grated a little bit of extra cheese on top of the pasta, and then we were ready to eat it!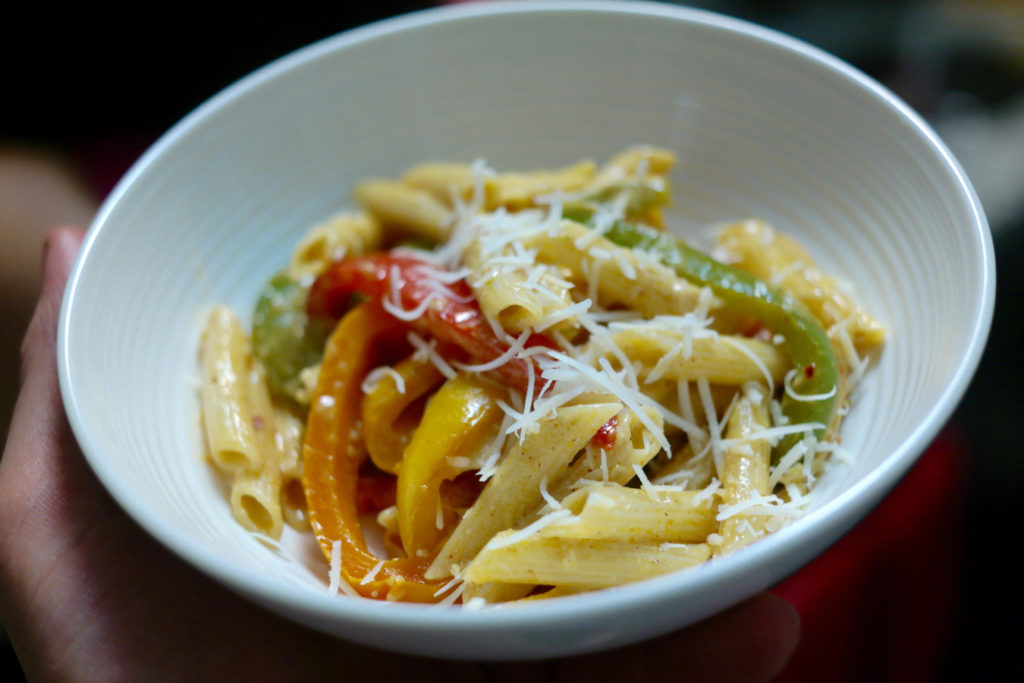 This was a pretty quick and simple meal to make, but it was really, really good.  The peppers were nice and sweet and mixed well with the creaminess of the pasta.  And the sauce was definitely a tasty departure from what you usually get on pastas:  it had some fire to it and had a ton of different flavors from all the spices we added.  This rasta pasta is something we recommend when you want to try something new without spending a ton of time in the kitchen.