To indulge our inner love of junk food, today we're showing you some tasty things you can do with fries to make interesting side dishes.  We've been inspired by many of the local restaurants in the New York-New Jersey-Philadelphia area we went to growing up, which can get really creative with the way they serve up fries.  We've come up with a bunch of different vegetarian versions you can make – yesterday we showed you how to make disco fries, and today we'll show you six other easy recipes.
To make everything, you'll need:
Packages of steak fries (because their size means they hold up well under the weight of toppings, but also because we really like steak fries)
Shredded mozzarella cheese
A good red sauce
Vodka sauce (we used Newman's Own)
Shredded taco cheese blend
A tomato
An onion
A hot pepper
Cheddar cheese
A good ranch dressing (not the cheap shelf-stable kind – we used Marzetti Simply Dressed)
Crumbled blue cheese
Old Bay seasoning
8 ounces of white cheddar cheese
Whole milk or cream
Flour
Butter
An 11-ounce bottle of dark ale
Pizza Fries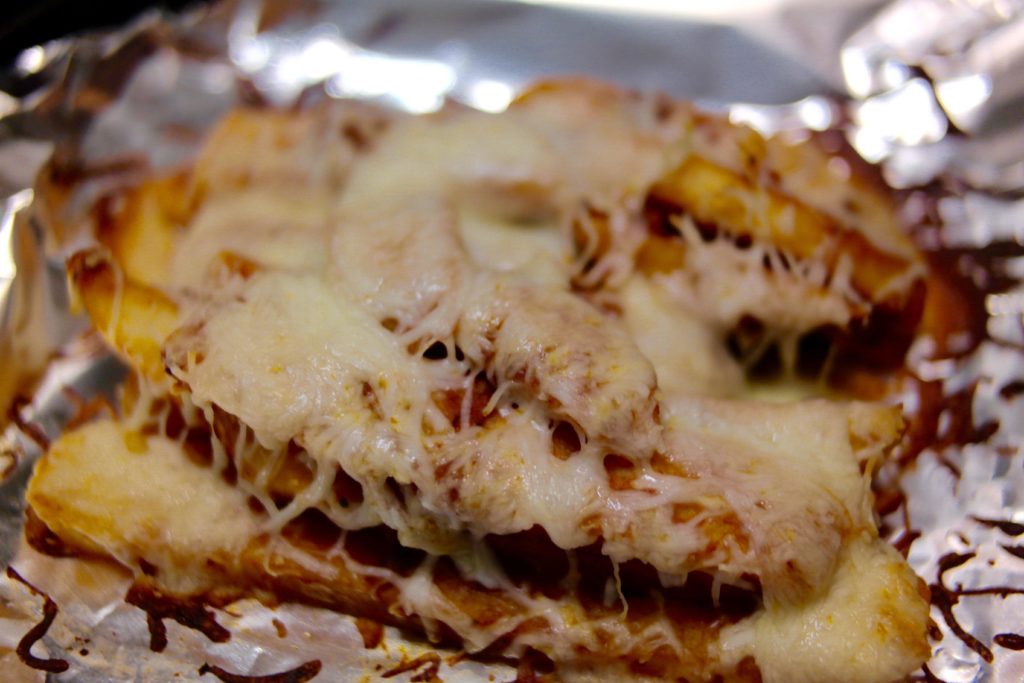 This one's pretty easy, but delicious.  Cook the steak fries according to the package directions, and when they're done let them cool off a little and then mix them with your red sauce.  Spread them out on a foil-lined baking sheet and cover the fries with a generous amount of mozzarella cheese.  Bake them at 350°F for 5-7 minutes until the cheese is melted.
Vodka Fries
No booze here – these are just like the pizza fries, but with vodka sauce instead.  Cook the fries, let them cool off, then mix them with vodka sauce.  Place them on a foil-lined baking sheet, spread mozzarella on top, and bake at 350°F for 5-7 minutes to melt the cheese.
Nacho Fries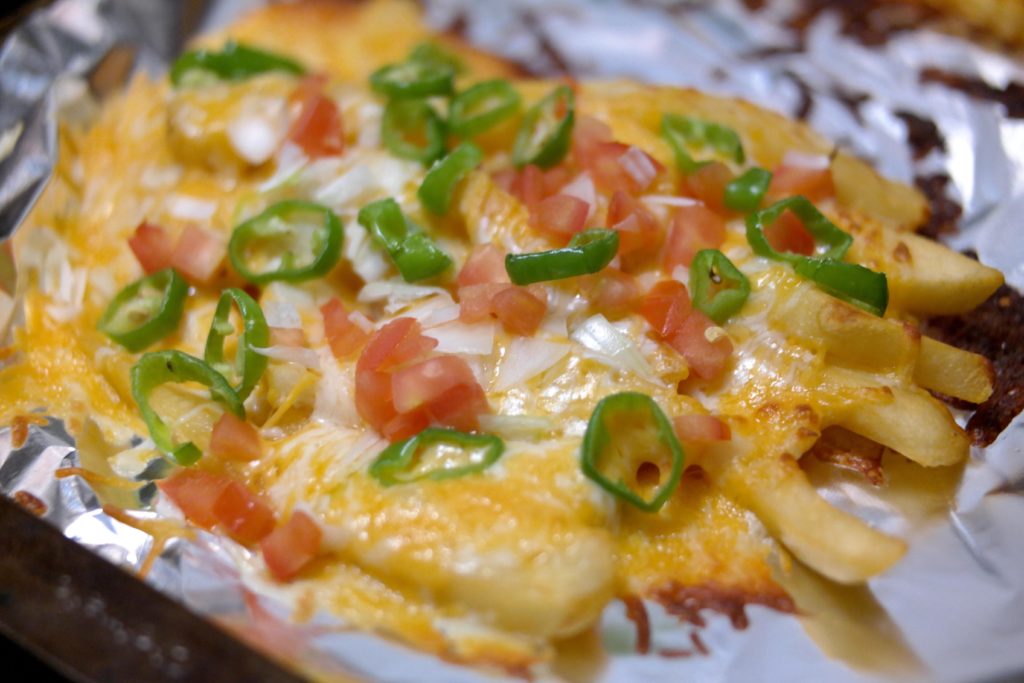 There's no chips involved:  instead, the fries are your nachos.  Cook the fries, then lay them out on a foil-lined baking sheet.  Cover them with a taco cheese blend and sprinkle chopped tomato and onion and slices of hot pepper on top.  Bake the fries at 350°F for 5-7 minutes, just until the cheese melts.
Mega Fries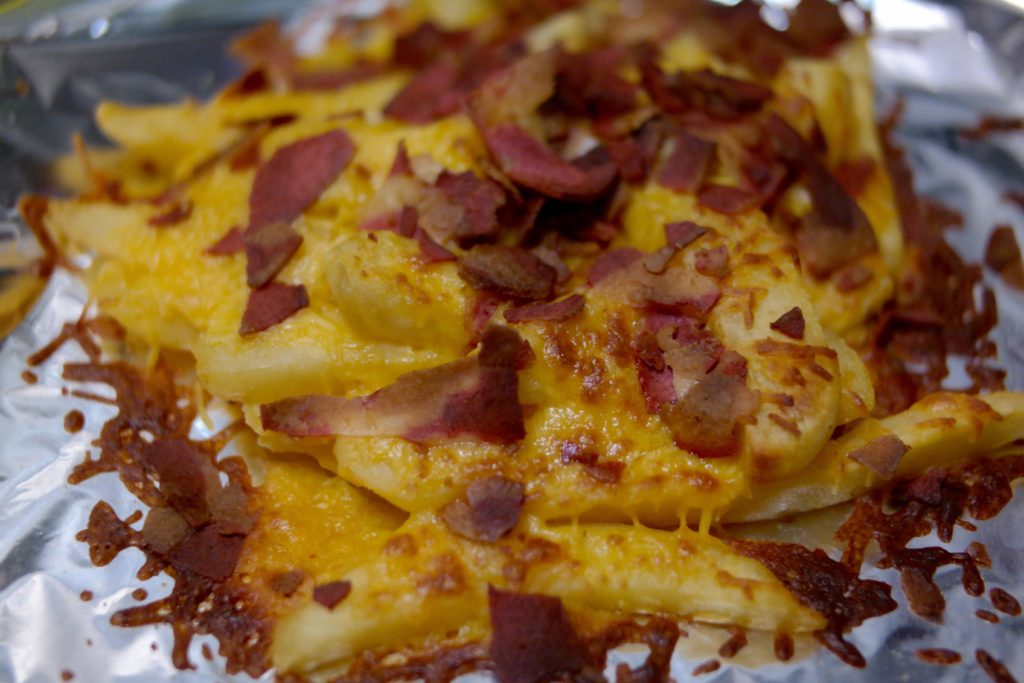 These fries earn their name because they're loaded with hardy toppings.  Bake your fries according to the package directions, and while they're in the oven place 4 strips of Morningstar Farms Veggie Bacon in a skillet and cook them for 2-3 minutes on each side until they just start to brown.  Once your fries are done and have cooled off, mix them with ranch dressing and place them on a foil-lined baking sheet.  Top them with cheddar cheese, then crumble the strips of veggie bacon on top.  Bake everything at 350°F for 5-7 minutes to melt the cheese.
Buffalo Fries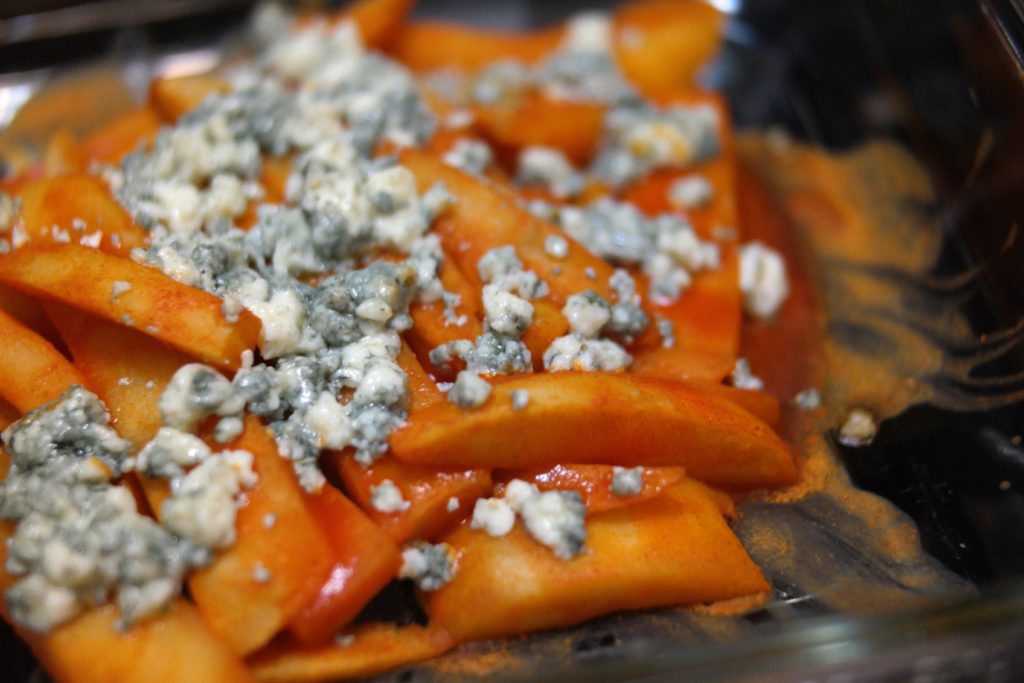 These are like buffalo wings, except we're subbing in fries for chicken.  Cook your fries and then coat them in Frank's Red Hot sauce once they've cooled off.  Lay them out in a baking dish and crumble blue cheese on top.  Bake them in the oven at 350°F for about 10 minutes until the cheese melts a little.
Crab Fries
Don't worry – these fries are 100% vegetarian because there's no seafood involved.  To make these, first toss your fries in a little bit of vegetable oil and some Old Bay seasoning before you stick them in the oven.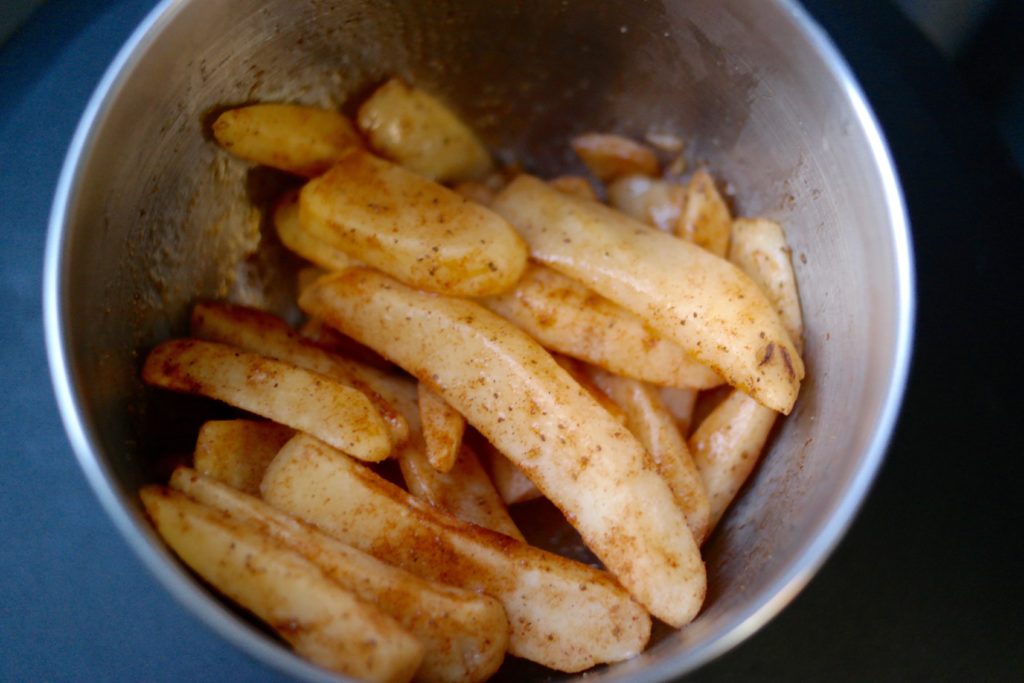 Then bake them according to the package's directions, and lay them out on a plate when they're done.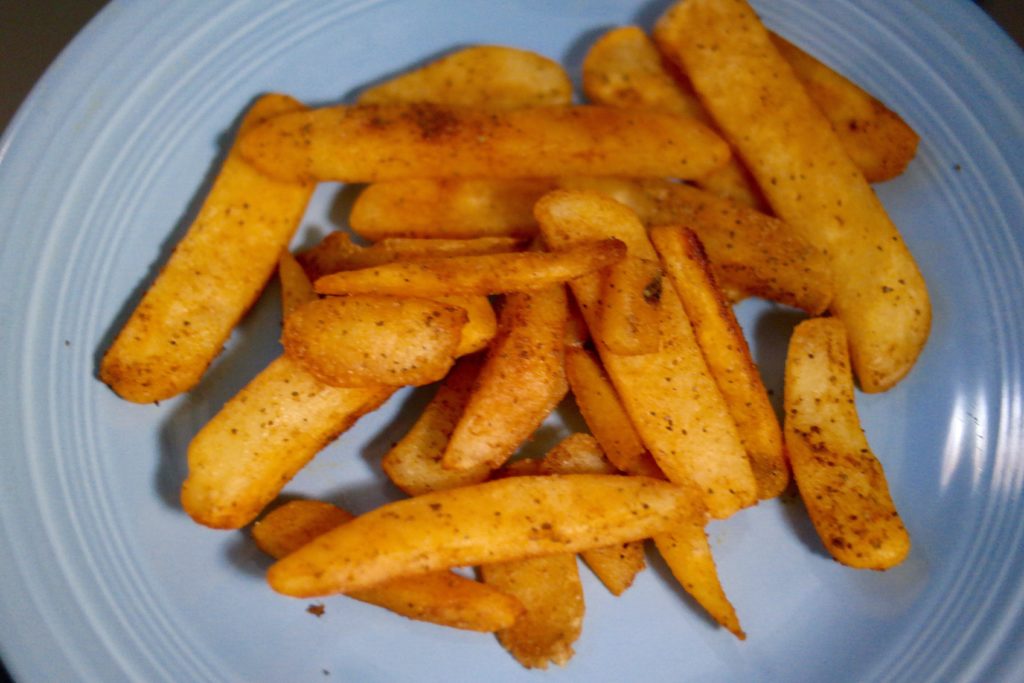 Then mix up a beer cheese sauce, like the one we used for our Boozy Burgers:  melt 1/4 cup butter in a pot, whisk in 1/4 cup flour, cook this for about 5 minutes and then add 1 cup of whole milk or cream and the entire bottle of ale.  Shred all your white cheddar cheese and slowly add that in too, then let everything simmer until your sauce thickens.  Once it's done, pour it over your crab fries.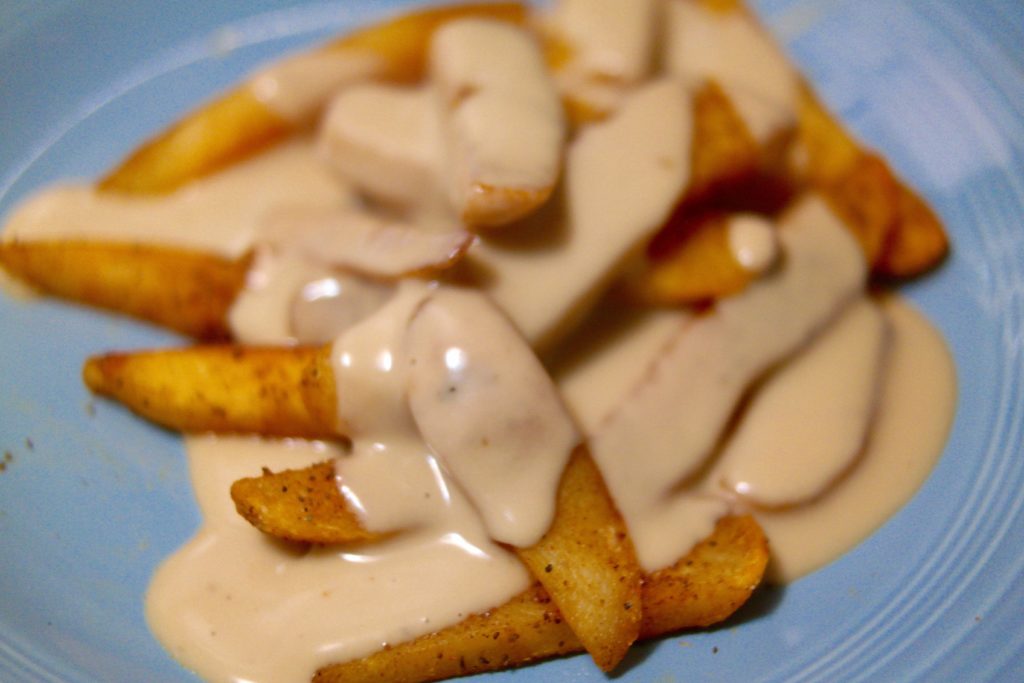 And there you go – next time you need to bring a snack to a potluck, or you're just craving some cheesy fries, cook up one of these recipes.  They're meat-free, tasty, and they go beyond just your usual plain side of fries.  They're pretty easy too, so you don't have to break a sweat making them.
Happy Fry-day!