If you've never heard of harissa, you don't know what you're missing.  It's a tomato-based dip from North Africa that's pretty spicy – and we love spicy.  We found a recipe for harissa recently from Bon Appetit and decided to try it but we needed something to scoop it up with, so we made our own pita chips to go with it.  Altogether, this recipe turned out to be 100% vegan.
Here's what we used:
6 pitas
Garlic powder
Chili powder
Onion powder
15 dried chiles de árbol
3 dried guajillo chiles
Cumin seeds
Coriander seeds
Garlic
Lemon juice
Vinegar
Tomato paste
Smoked paprika
Olive oil
To make the pita chips, we first cut our pitas into four pieces each.  We also poured a little olive oil into one small bowl, and in another bowl we mixed together 1/2 teaspoon each of garlic powder, chili powder, and onion powder.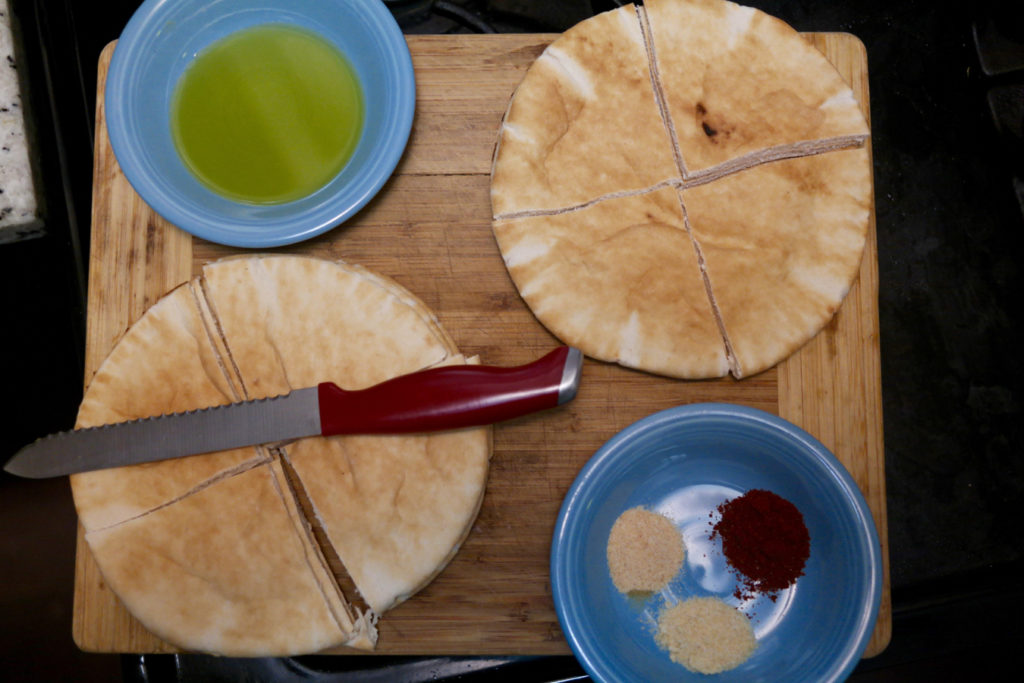 We placed all the pita pieces on baking sheets and brushed them with a little bit of the olive oil.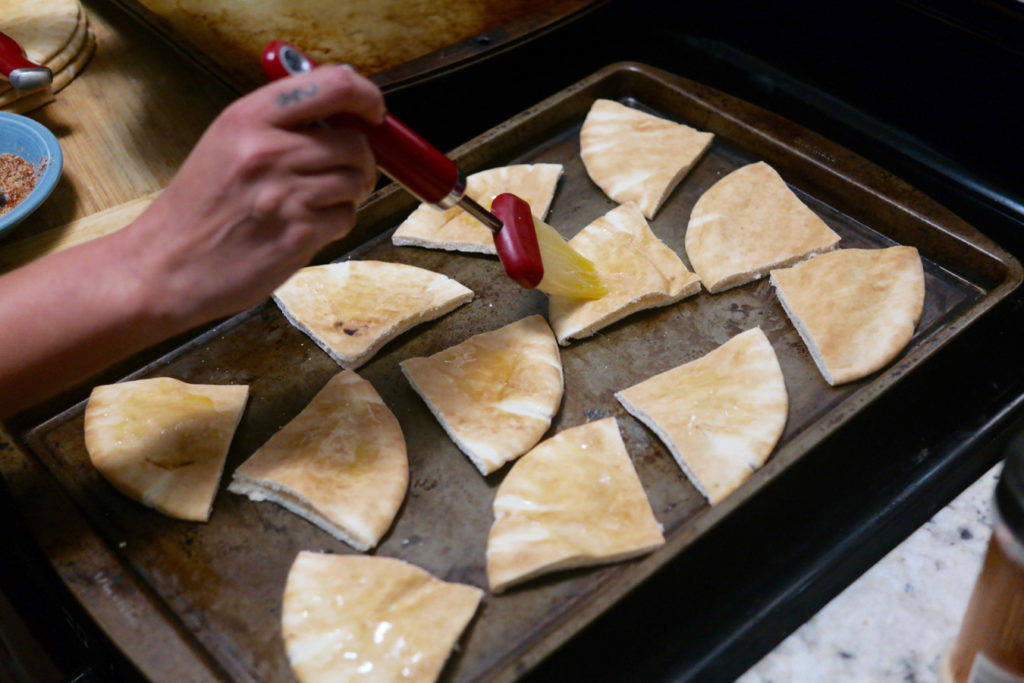 Then we sprinkled our mix of garlic, onion, and chili powders on top, along with some salt.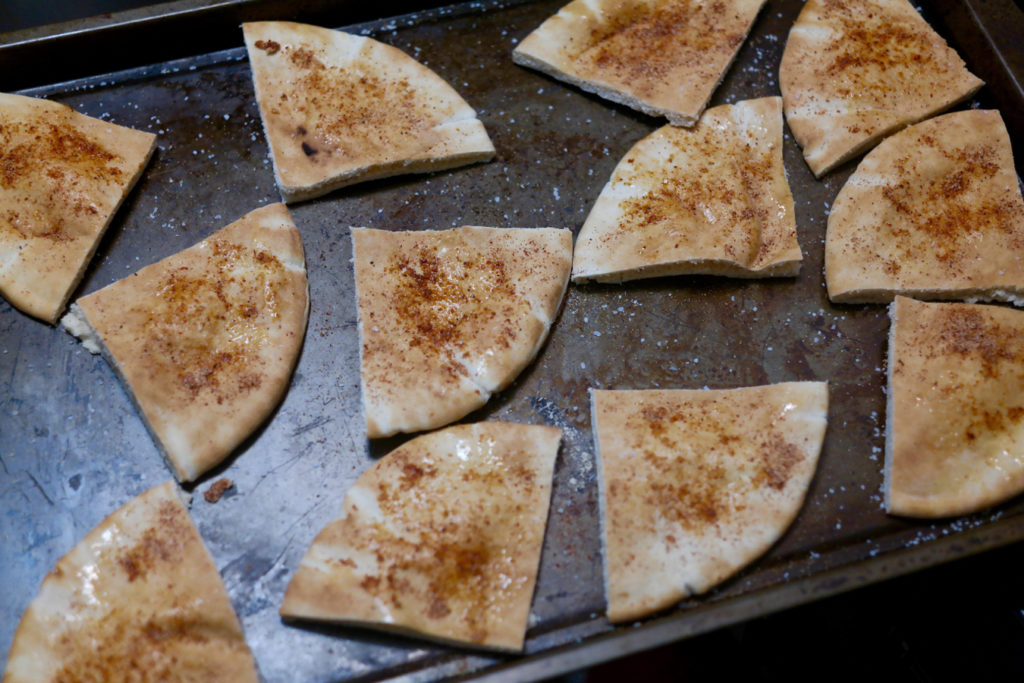 We baked our chips at 400°F for only about 7 minutes, making sure that they didn't get too crispy or burn. Once they were done, we set them aside to cool.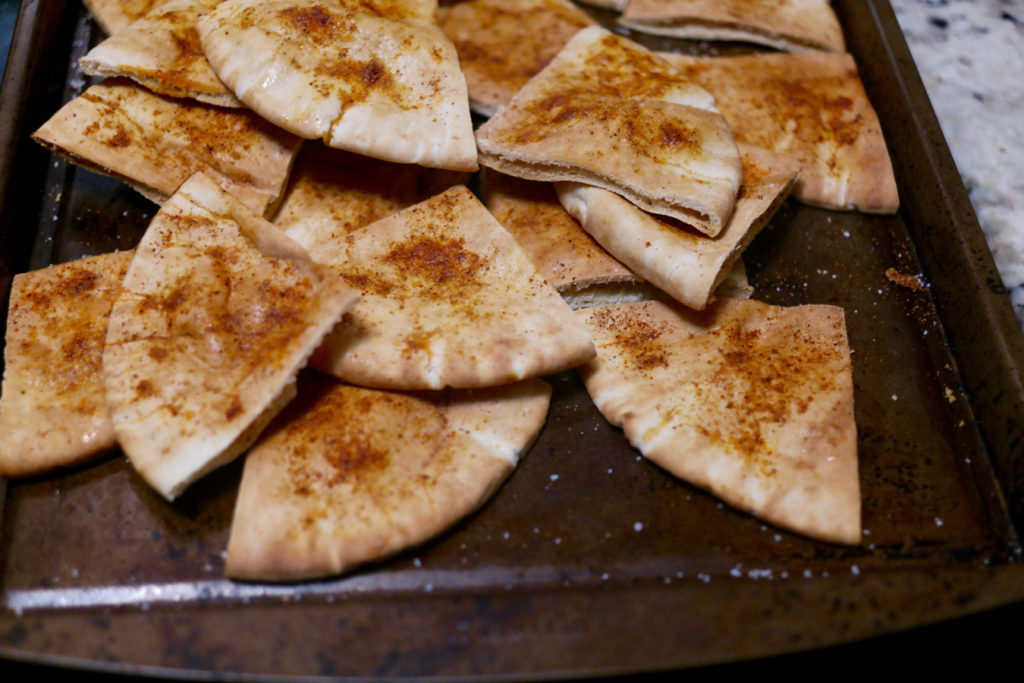 Then we started making the harissa.  We took all of our peppers …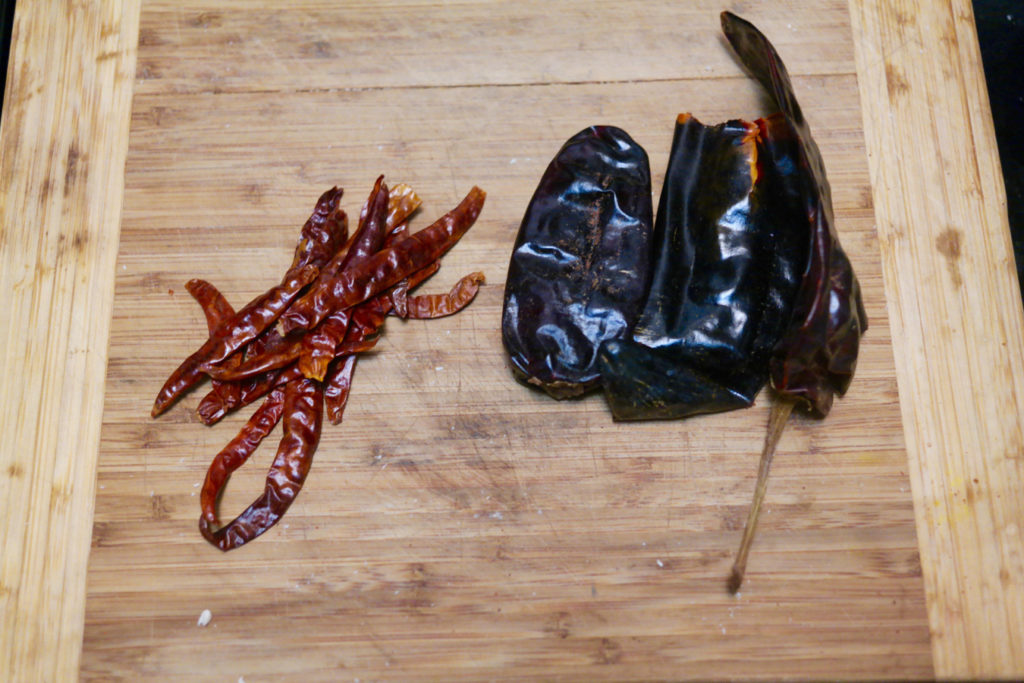 … and submersed them in a bowl of boiling water, then covered the bowl with plastic wrap to keep the heat in and let the peppers soak for 15-20 minutes.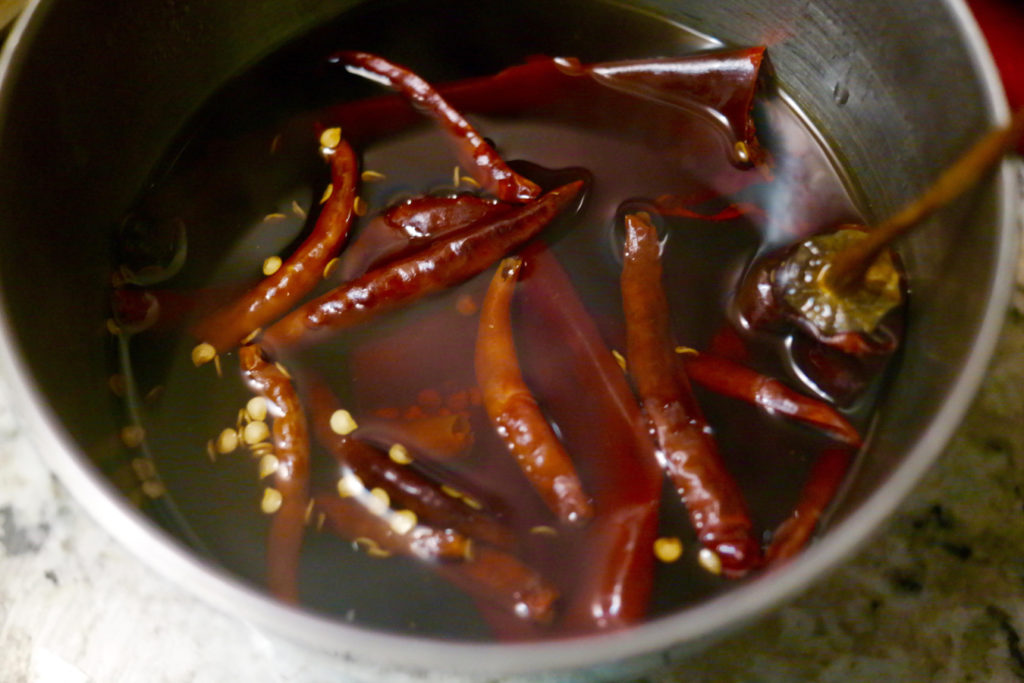 While the peppers were in the water, we toasted a tablespoon of the cumin seeds and 1 1/2 teaspoons of the coriander seeds in a dry skillet, over medium-low heat, for only around 3 minutes.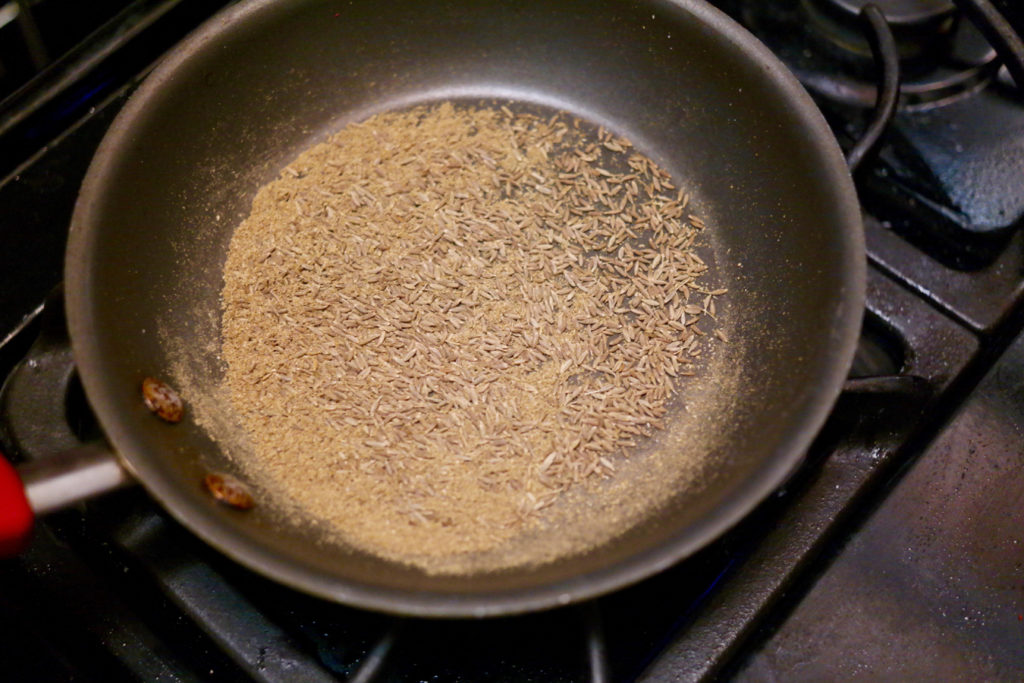 Then we placed these spices in a food processor with 3 smashed garlic cloves and mixed everything up.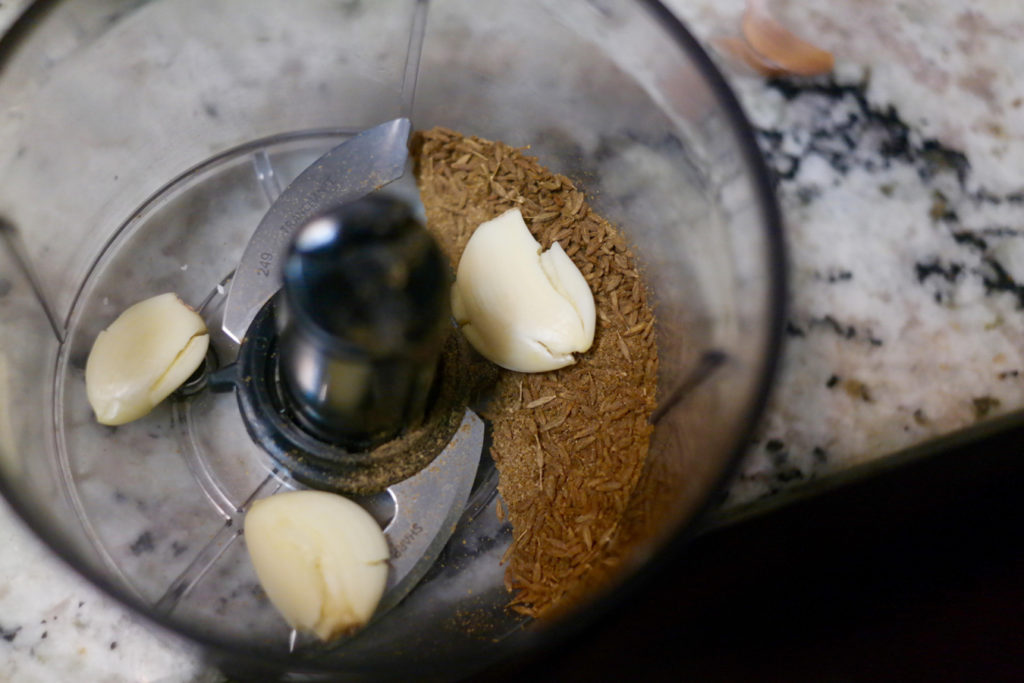 Once the chiles were done steaming, we pulled off the stems and deseeded them and then put them in our food processor to blend in with everything else, until a paste formed.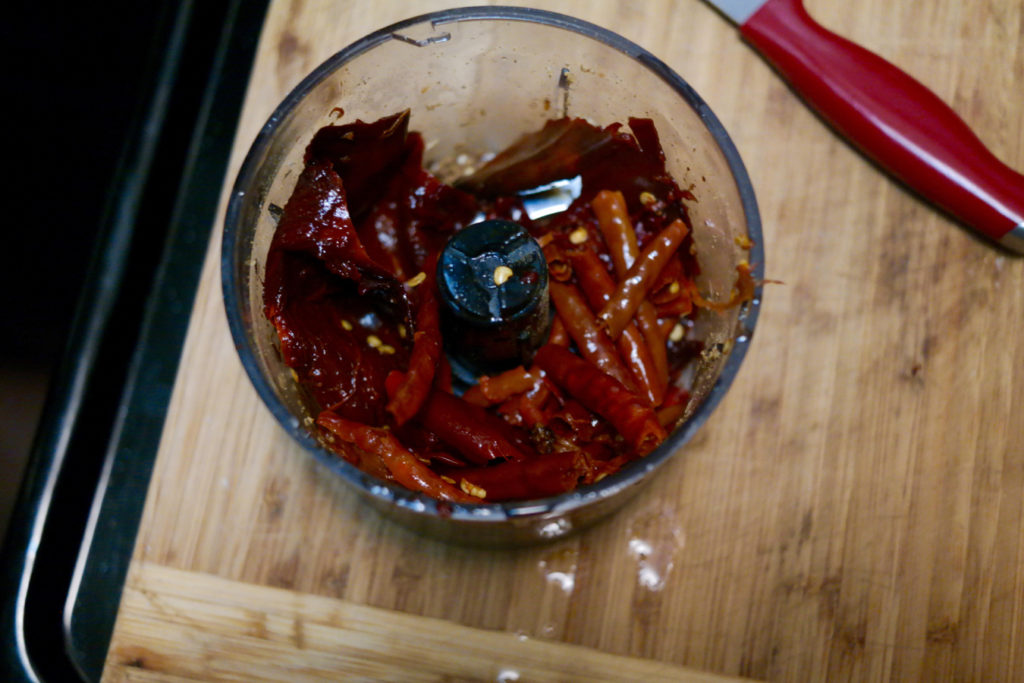 Finally, we added in 2 tablespoons of lemon juice, a tablespoon of vinegar, a tablespoon of tomato paste, 1 1/2 teaspoons of paprika and a handful of salt and processed everything together, then poured in 1/2 cup of olive oil and blended that in too.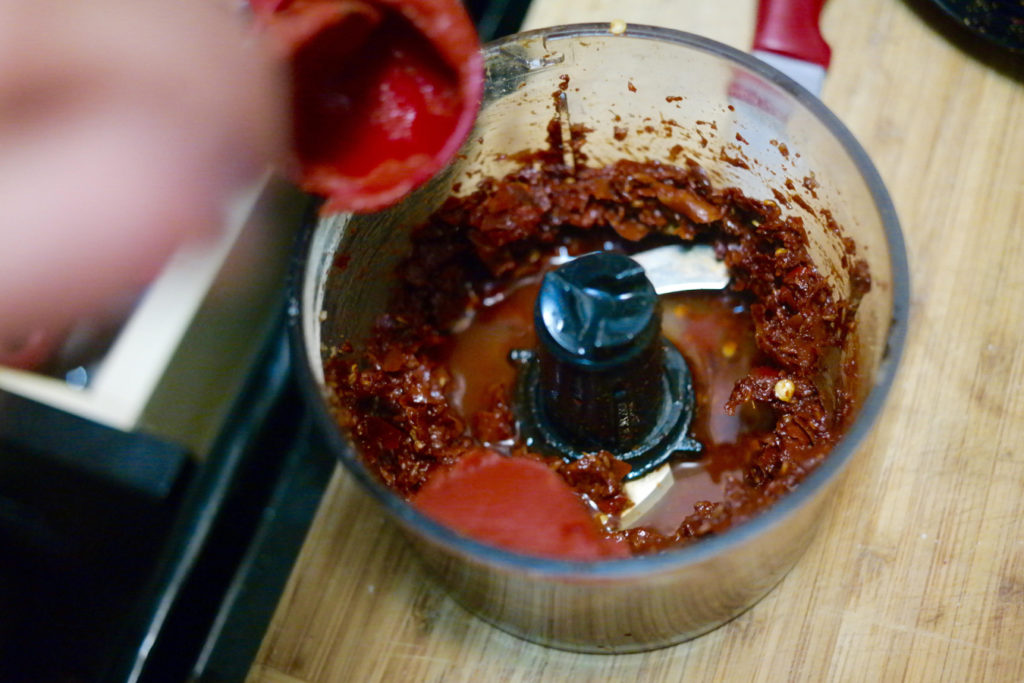 Once we had a smooth mixture, we transferred the harissa to a bowl and drizzled another 1/4 cup of olive oil on top.   And then we were ready to eat it with our pita chips.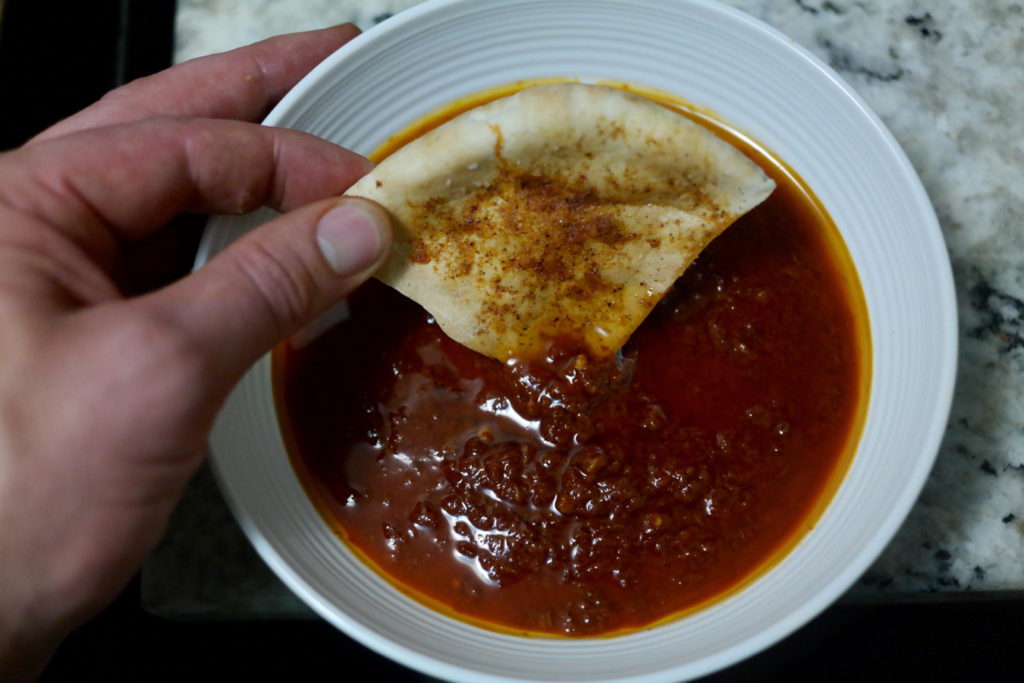 It was delicious!  The peppers and paprika definitely gave it a kick, and the olive oil added a nice rich flavor.  The chips were pretty easy to make, and if you're wondering how to get the peppers we used, we suggest checking out a Mexican grocery store to see what varieties of dried chiles they have.  This is a nice alternative to your typical chips and dip, so if you've got time to find all the ingredients try it out the next time you want to make a spicy, tasty appetizer.