We recently found a recipe from Bon Appetit for cauliflower steaks and decided to try it out.  If you're wondering:  no, these don't taste like actual steaks, but using a hearty cauliflower and both sautéing and baking it gives you a nice, thick, flavorful veggie to bite into.  We made some adjustments to the recipe, both for convenience and to make it vegan, so we'll walk you through how we made these steaks.
Here's what you'll need:
A large cauliflower
Walnuts
Olive oil
Capers
A serrano chile
Parsley
Dried currants
Vinegar
A lemon
A clove of garlic
Sesame seeds
Chile oil
Oregano
To create the steaks, we trimmed most of the leaves off of our cauliflower and then sliced it in half.  We cut the rounded lobes off the end of each half of the cauliflower (and set these aside), so that we were left with two flat, thick pieces of cauliflower.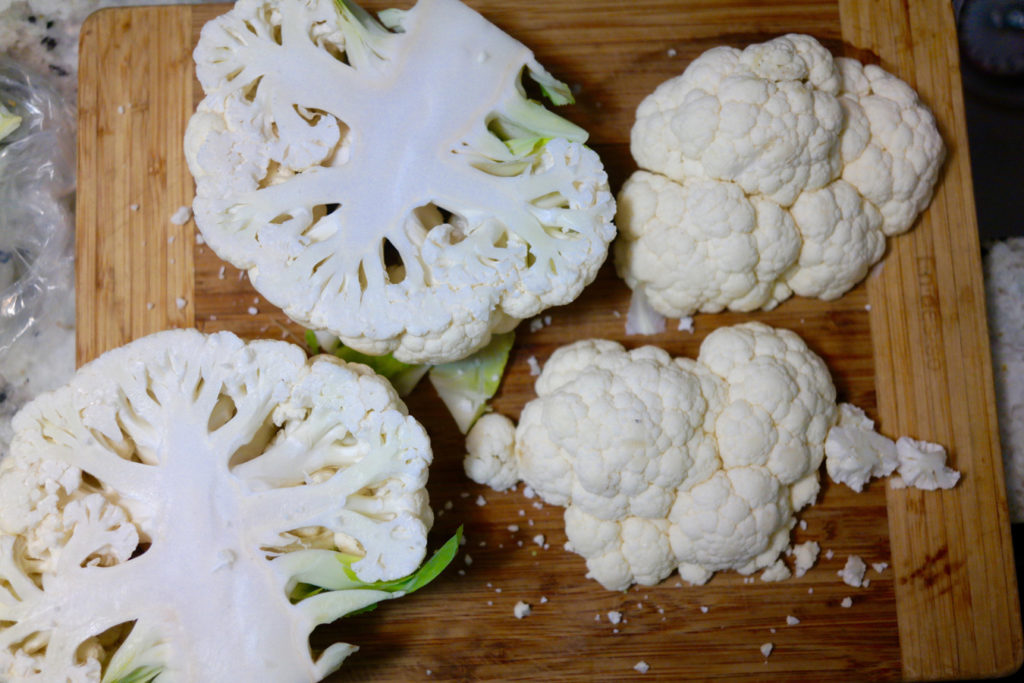 Then we heated 3 tablespoons of olive oil in a large skillet over medium-high heat and placed the two slices of cauliflower in the pan, along with two generous sprigs of oregano and two strips of lemon zest.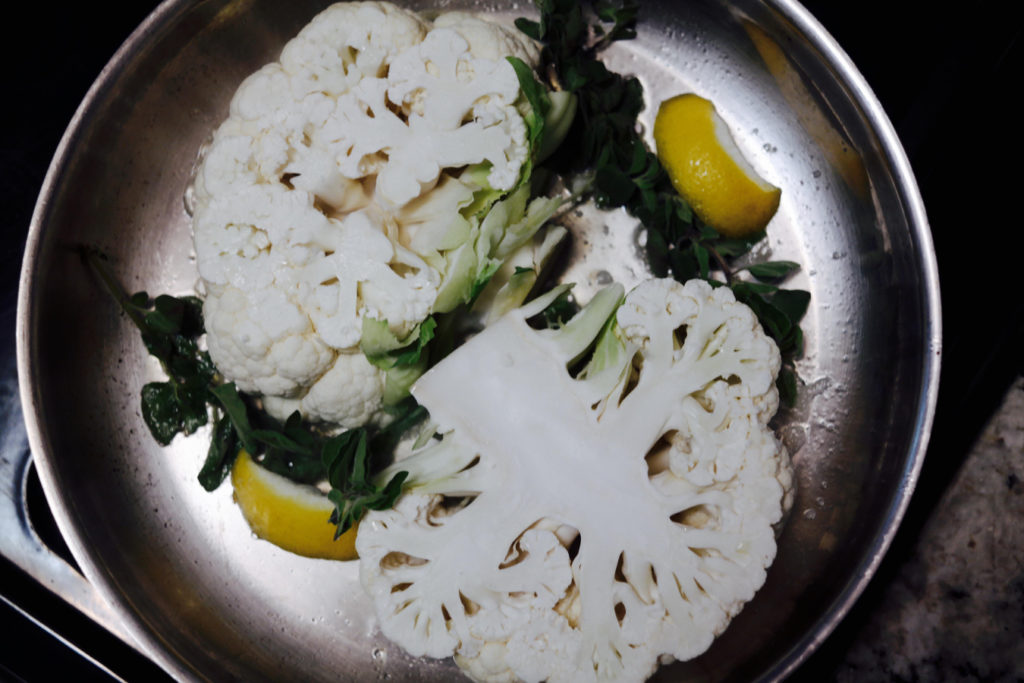 We let the steaks brown on one side, then flipped them over to cook the other side.  Once they were sautéed on both sides, we transferred the skillet to the oven and cooked the cauliflower for 10-15 minutes at 425°F.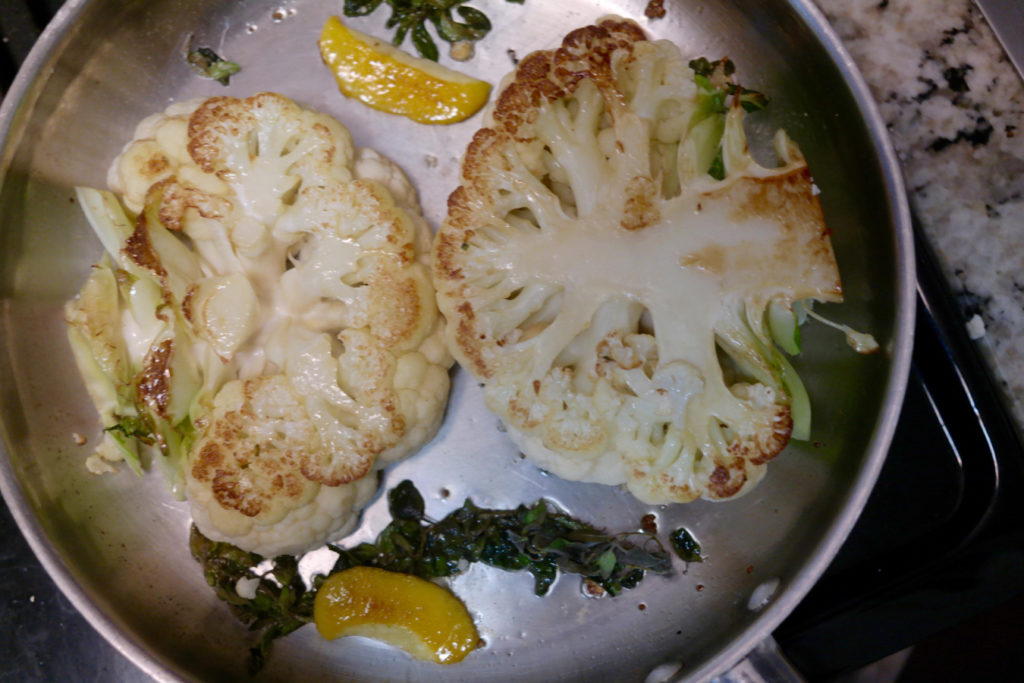 While the steaks were in the oven, we prepared two other parts of this meal:  a cauliflower puree and a sauce.  To make the puree, we chopped the remaining cauliflower into florets.  We cooked this extra cauliflower in boiling water for 7 minutes, drained it, and placed the pieces into a food processor along with 2 tablespoons of chile oil, a tablespoon of sesame seeds, a clove of garlic, all the juice from our lemon, and a tablespoon of water.  We pulsed everything together in the food processor until we had a smooth mixture.
To make the sauce, we toasted 1/3 cup of walnuts on a baking sheet in the oven for just a few minutes.  We also put 1/4 cup of olive oil in a small saucepan on the stove over the medium heat and added 2 tablespoons of capers that we had drained and dried.  Once the oil and capers had cooked for about 5 minutes, we mixed them in a bowl with the walnuts and our chopped serrano chile, a large handful of parsley leaves, a tablespoon of currants, a tablespoon of vinegar, and a little bit of lemon zest.
Once the steaks were done, we served them on top of the cauliflower puree with our sauce drizzled over them and some slices of our lemon on the side.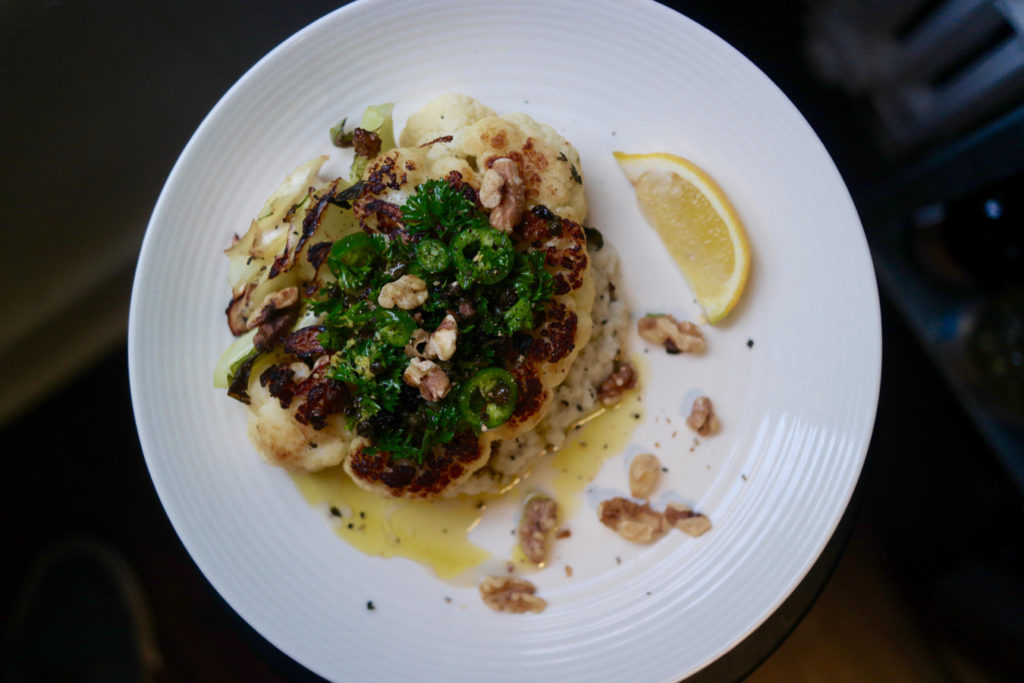 Like we said, these aren't real steaks.  They are, however, thick and tasty pieces of a nicely cooked vegetable.  Preparing the cauliflower two ways gives it just the right texture, and the sauce has many different flavors to enhance the steaks.  The puree, too, is a nice substitute for your typical mashed potatoes and allows you to use all the parts of the cauliflower.  These steaks turned out to be a nice, light, veggie-centered dinner and were satisfyingly thick to cut into.  So if you're looking for a unique vegan recipe to try out, try this!