Here are some interesting, casual places we've discovered recently in New York where we got to sample some really delicious food.  These are all unique places where you can get a snack or a quick meal for under $15, so if you're looking for something interesting and tasty for not a lot of money, try these places out – just be warned, we do feature some meat-based dishes here.
One night we decided to check out Popbar, which was originally opened to sell gelato pops.  They recently expanded to making gelato sandwiches that you can customize with different toppings and dips, so we went there to make our own treats.  This is Cyril's pop, which was pistachio gelato between chocolate wafers, dipped in dark chocolate and covered with nuts, coconut flakes, and a white chocolate drizzle.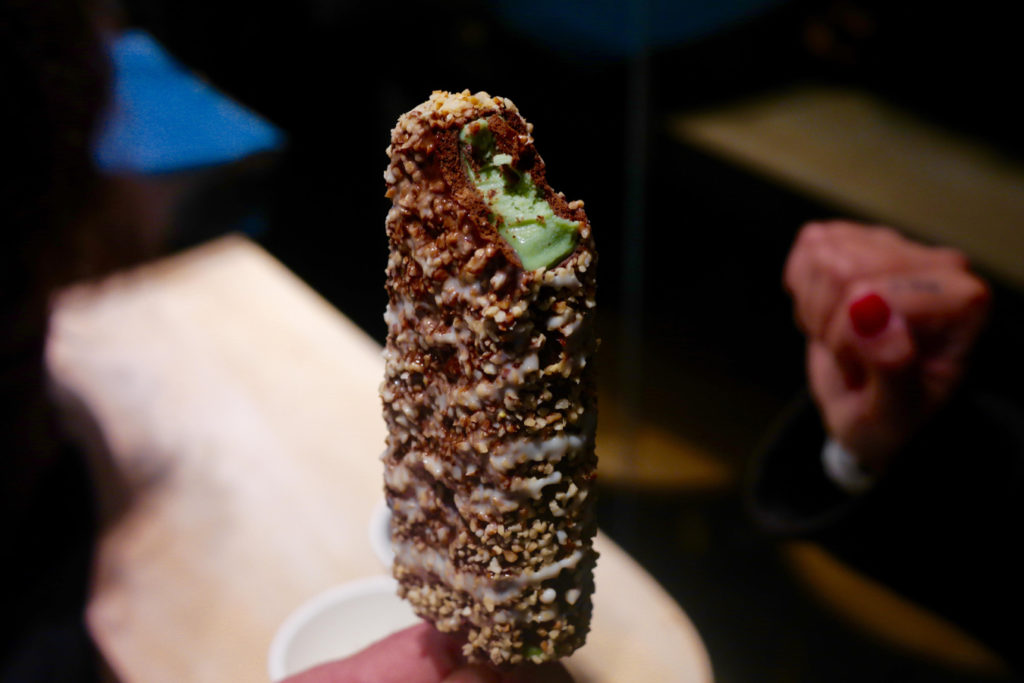 Miriam got peanut butter gelato sandwiched into chocolate wafers and covered in white chocolate and then chocolate sprinkles – as you can see, it was a chocolate overload.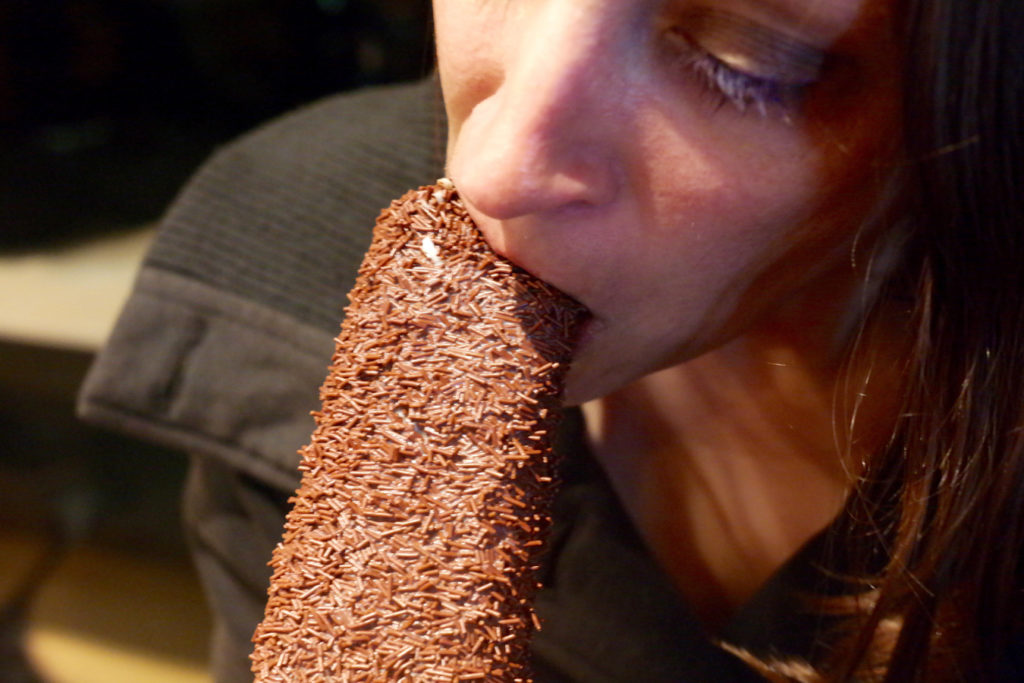 A few days later we spent an afternoon in Williamsburg at the William Vale Hotel, which has a lot of cool food options.  On the ground floor Du's Donuts – a bakery founded by chef Wylie Dufresne – opened just recently.  They serve donuts with really interesting flavor combinations, so we decided to try two:  the pomegranate tahini (on the left) and the orange creamsicle (one the right).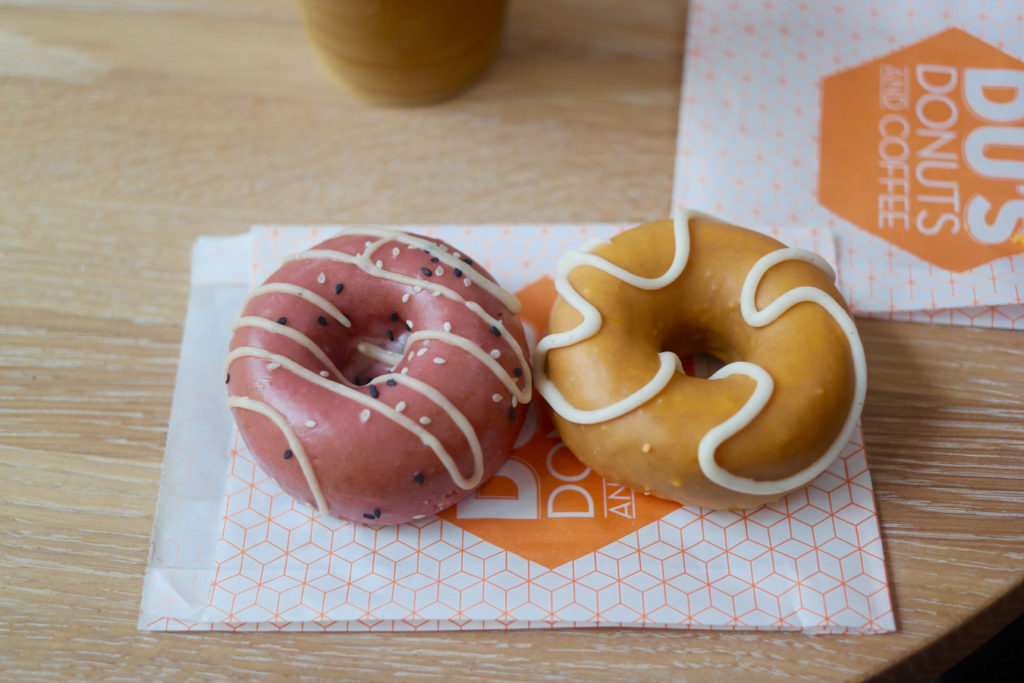 Then we made our way to the William Vale's rooftop garden, where an Airstream trailer houses Mister Dips in the spring, summer, and early fall.  Mister Dips makes a small menu of burgers, fries, and ice cream concoctions, and they've got a really nice homemade veggie burger topped with Swiss cheese –   that's what Miriam tried.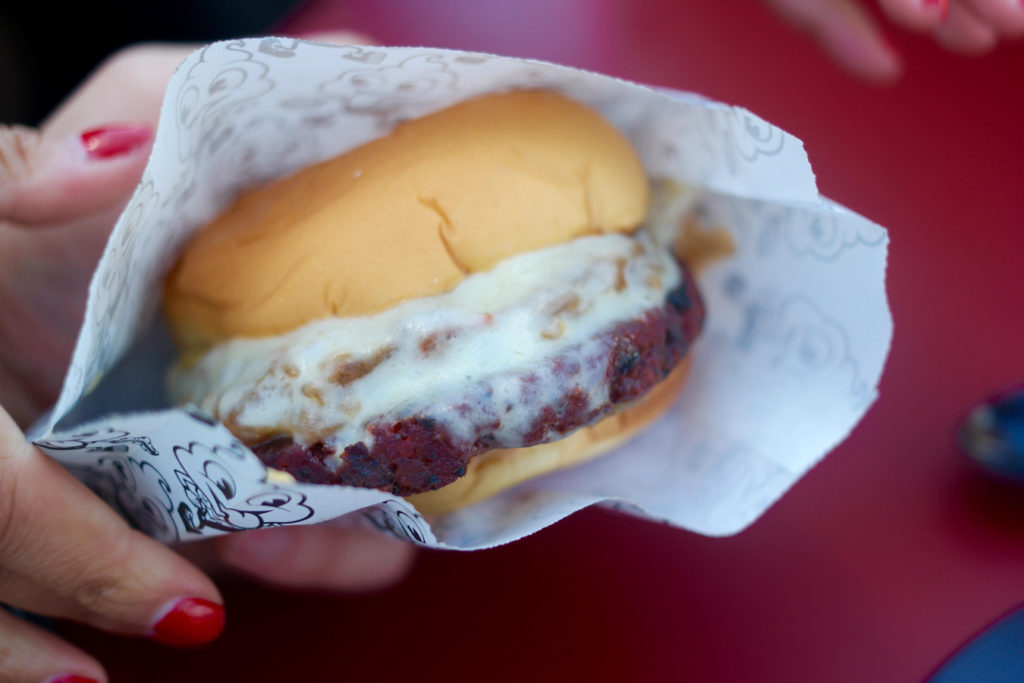 Cyril tried a double Special Dip, which is made with jack cheese and chiles and comes smothered with a spicy green sauce.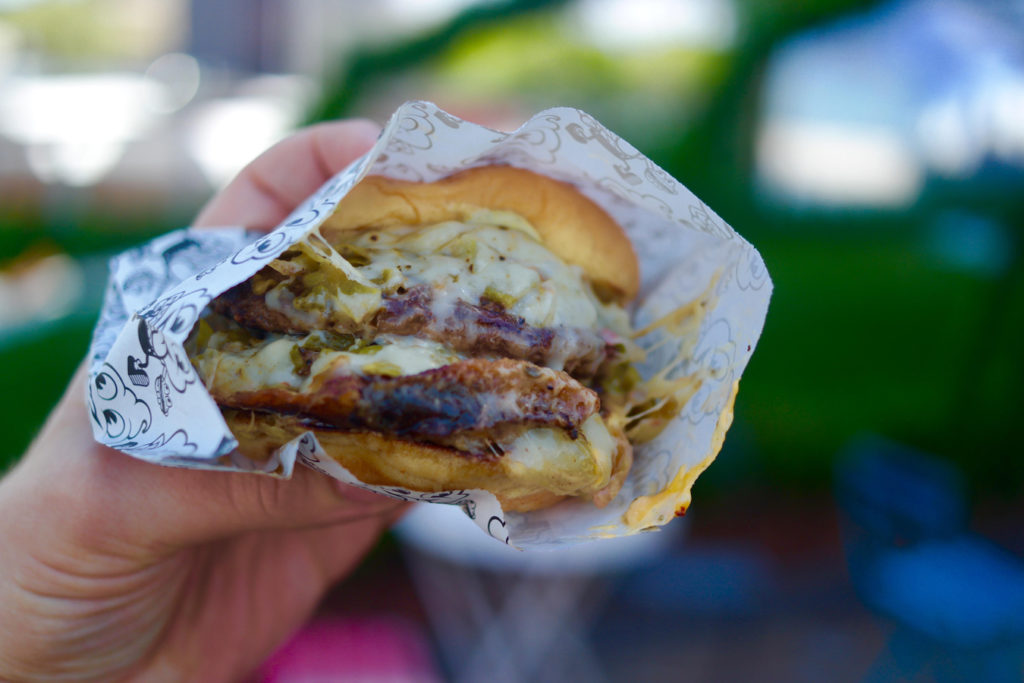 We also split an order of the Dirty Dipped Waffles:  waffle fries layered with a spicy cheese sauce, pesto ranch, paprika, and scallions.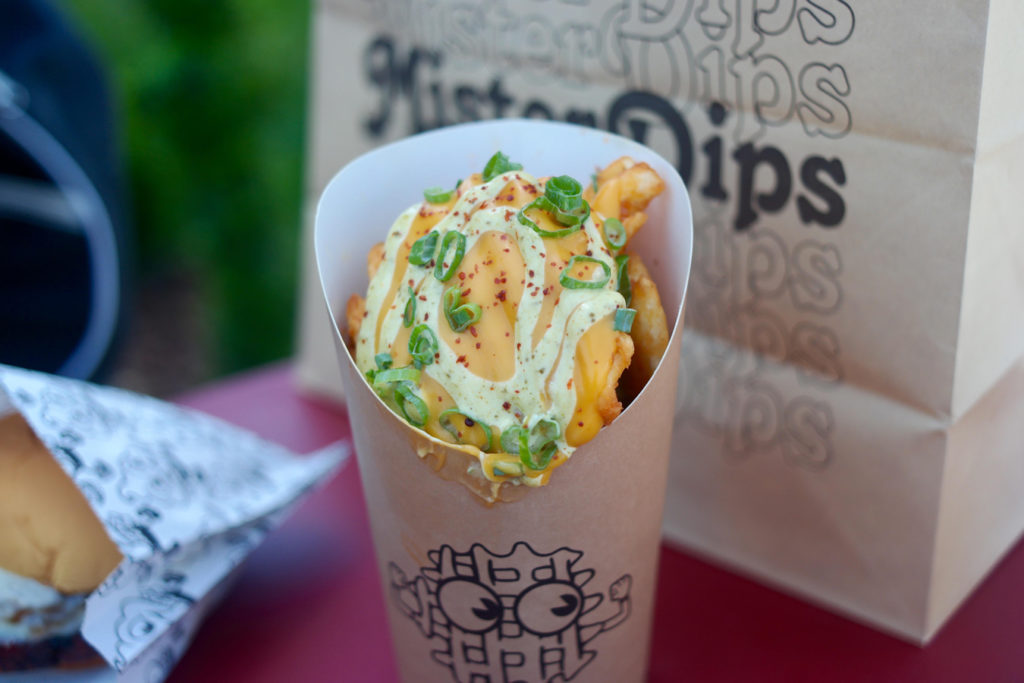 And finally, we also decided one rainy Saturday to venture all the way to Flatbush to get some garbage plates from Buffalo's Famous.  If you're not familiar with what a garbage plate is – and don't worry, most people aren't – they're a specialty originating from Rochester that consists of potatoes, meat, some kind of mayo-based salad, sauce, and toppings all layered together on a plate.  The name's not very appealing, and it might seem weird to pile all of these different ingredients on top of each other, but it's an interesting dish.  We became familiar with garbage plates while living upstate, but it's been hard to find them anywhere else – luckily, Buffalo's Famous specializes in food from western New York.
So each of us got our own plate:  Cyril's (on the left) was made with fries, macaroni salad, two burger patties, American cheese, meat sauce, chopped onions, and mustard, while Miriam's (on the right) was fries and macaroni salad topped with two veggie burger patties, American cheese, and hot sauce.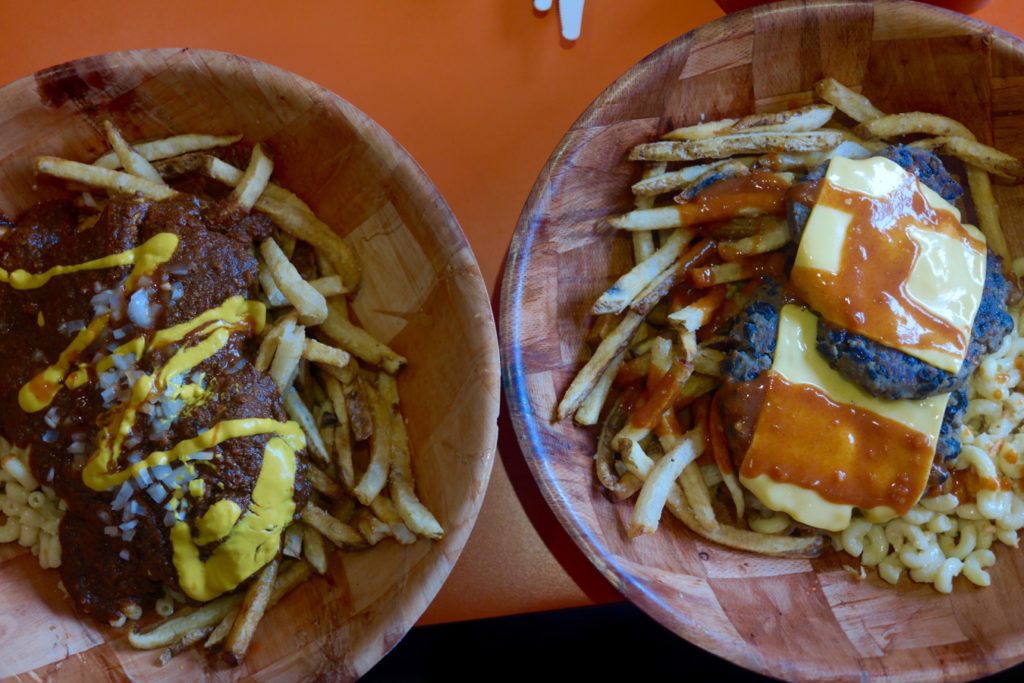 We enjoyed grabbing a quick bite at each of these places and we'd recommend any one of them if you're in the mood for eating cheap and well.  Check back later for more places around New York that we've tried and loved!