For Memorial Day weekend this year, we ended up at a wedding in northern Indiana.  Since we were in the Midwest and had the holiday off, we decided to take a little detour to visit the famous Zingerman's Deli in Ann Arbor, Michigan.
Maybe you've heard of Zingerman's  – it's been written about by the New York Times, it was visited by President Obama in 2014, and it's become known for its deli fare and its business shipping all kinds of gourmet food across the country.  But even if the name doesn't sound familiar, you still might have seen Zingerman's:  it's the deli where Jason Segal's character works in the movie The Five-Year Engagement once his fiancée begins her post-doctorate program at the University of Michigan.
So, since we were in the area during a holiday weekend, we decided to try out Zingerman's for ourselves.  We went over the course of two days so we could sample as much as possible.
On the first day, we decided to try the sandwich Zingerman's is best known for:  its reuben.  Cyril got the Brooklyn reuben, made with pastrami, Swiss cheese, sauerkraut, and Russian dressing …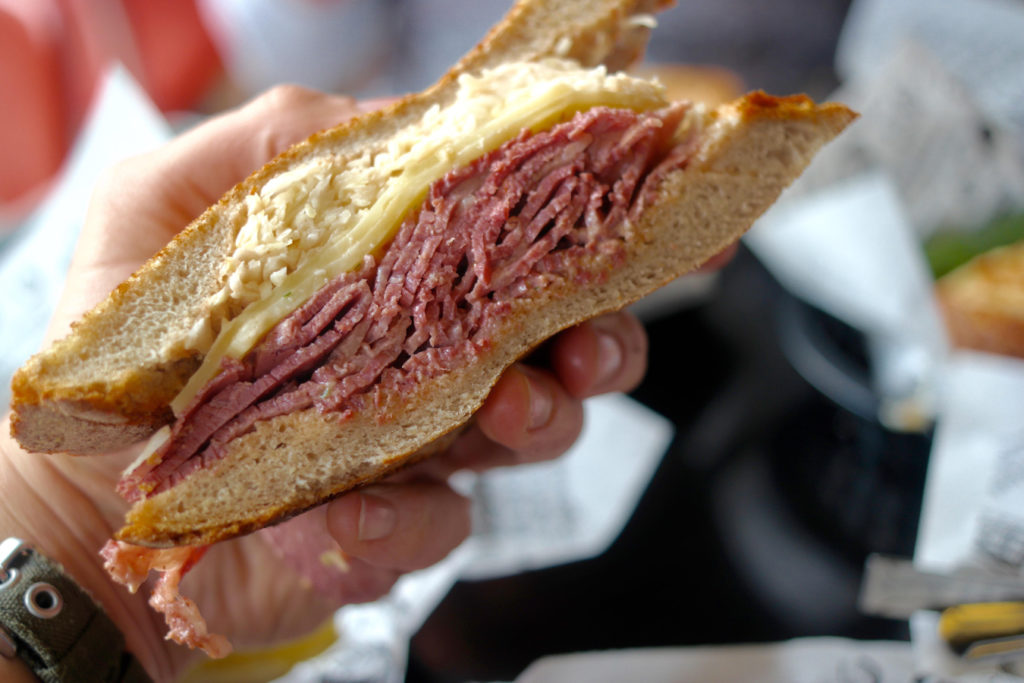 … while Miriam got the vegetarian version, which had tempeh in place of the pastrami.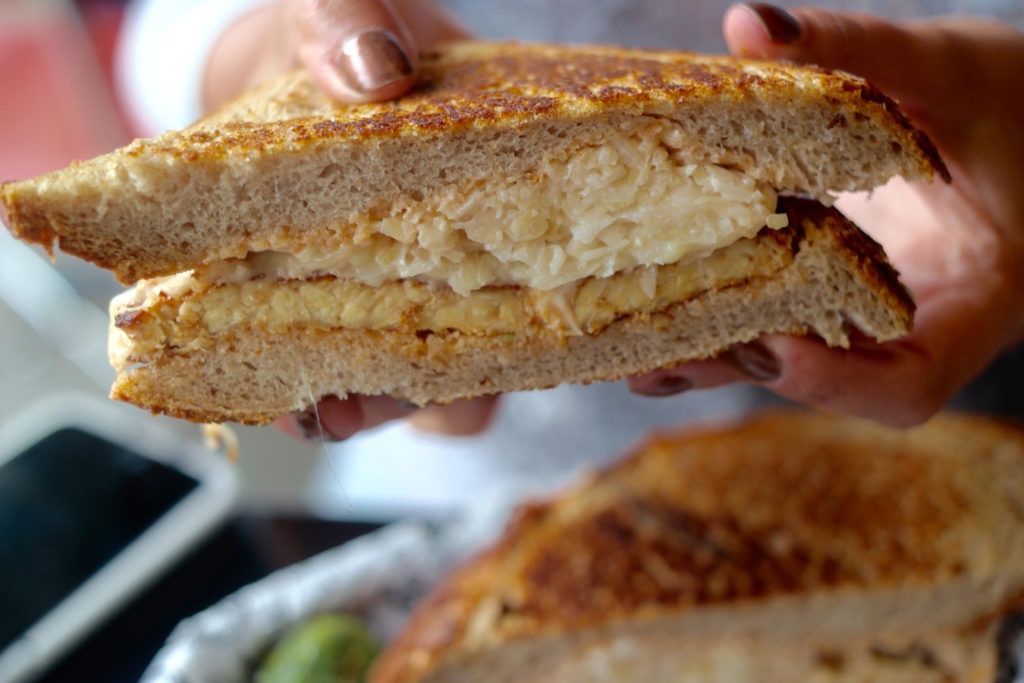 We also split a Leo's Friendly Lion, which is a nicely spicy sandwich made with avocado, muenster cheese, tomatoes, and New Mexican chiles.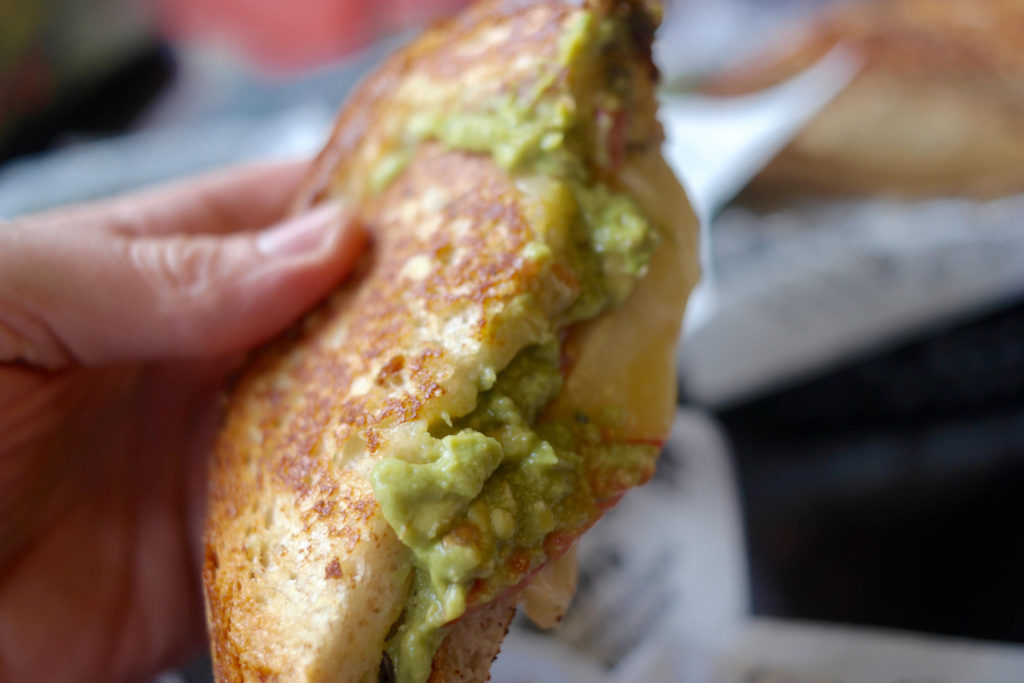 On top of all that, we had a potato knish (deep fried dough stuffed with mashed potatoes) …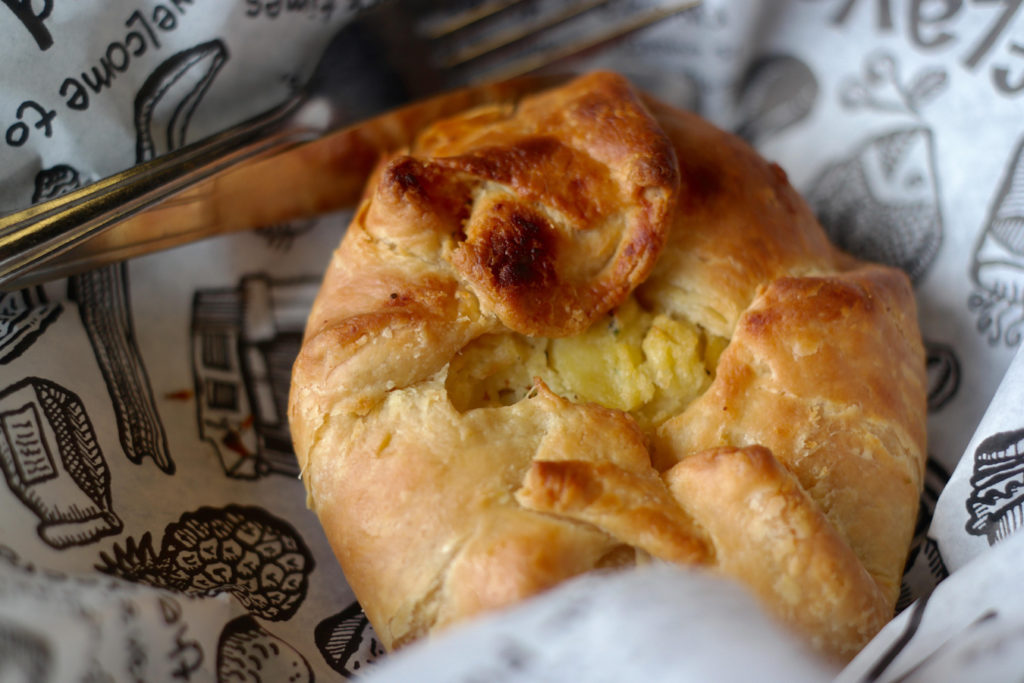 … and we topped that all off with two different kinds of Zingerman's own chips.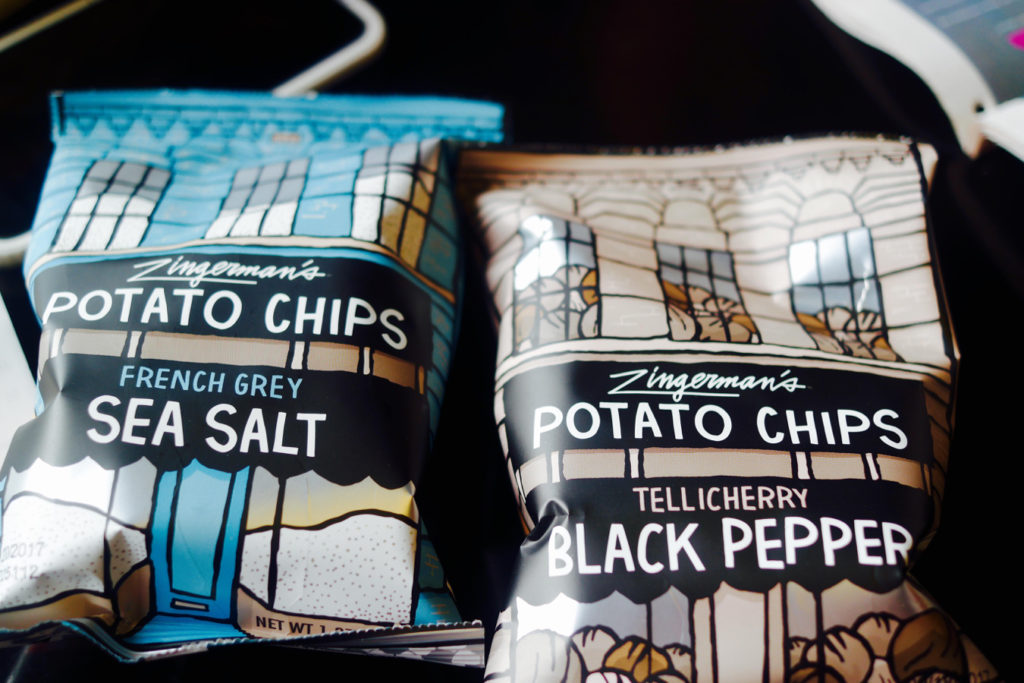 That was a lot of food, but we weren't done with Zingerman's yet.  The next morning, we went back to try the breakfast selections.  Cyril opted for the Becky's Backstage sandwich:  egg, cheddar cheese, tomato, and onion on a sesame bagel.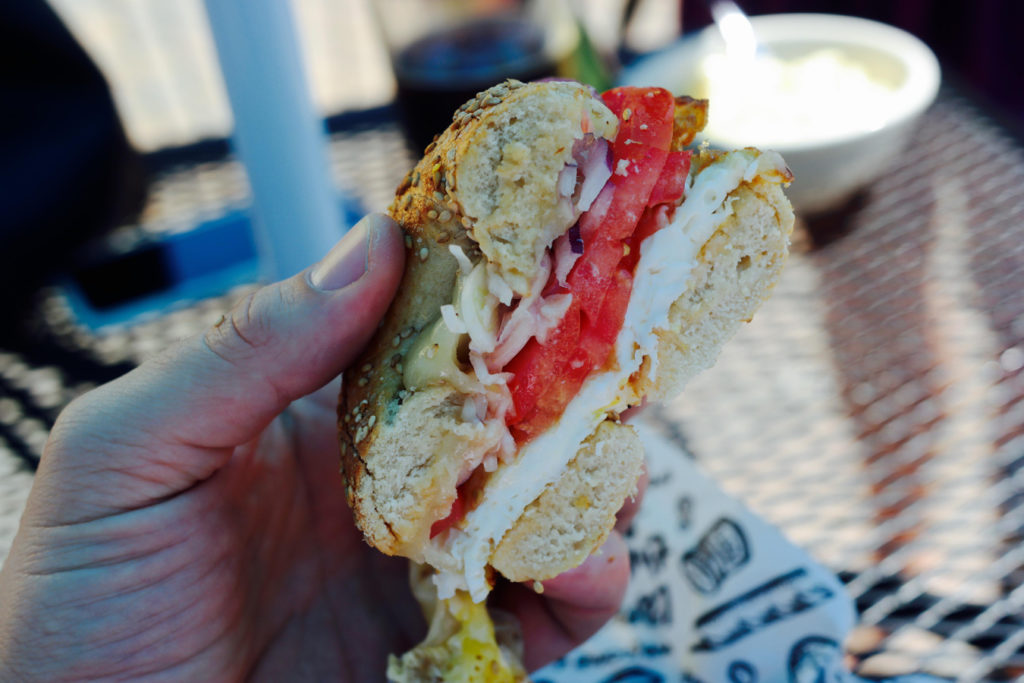 Miriam, meanwhile, got the Farmer's Hash with sweet potatoes and redskin potatoes mashed with peppers, spinach, and onions and served with rye toast.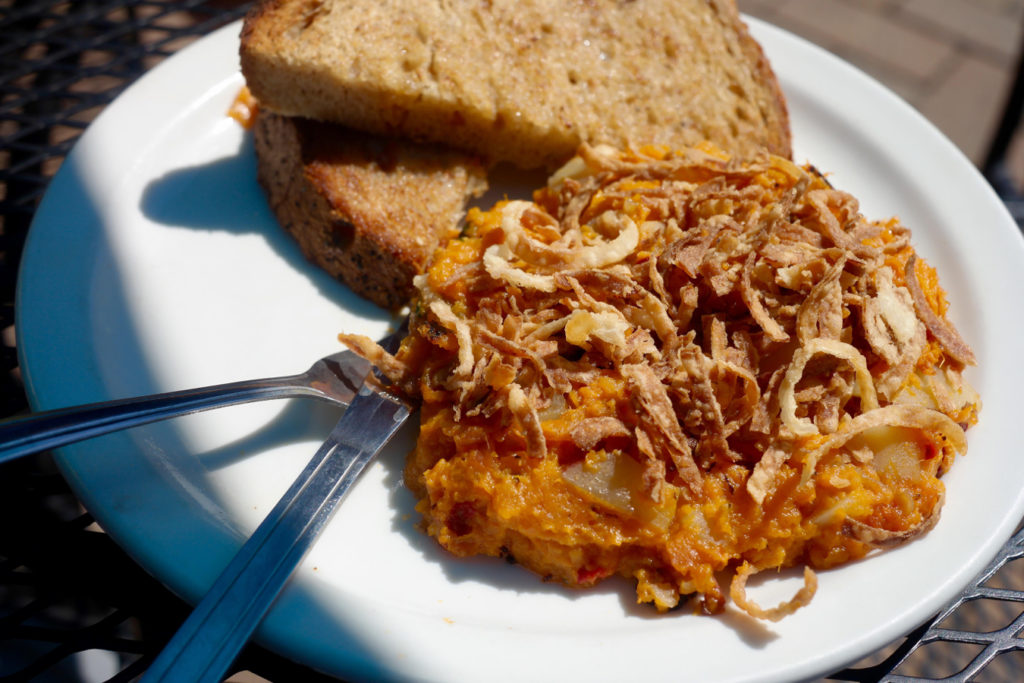 And, since we showed up for breakfast at around 10:45am, we were just in time to get the first batch of Zingerman's mac and cheese – which is lucky, since they sell out almost every day.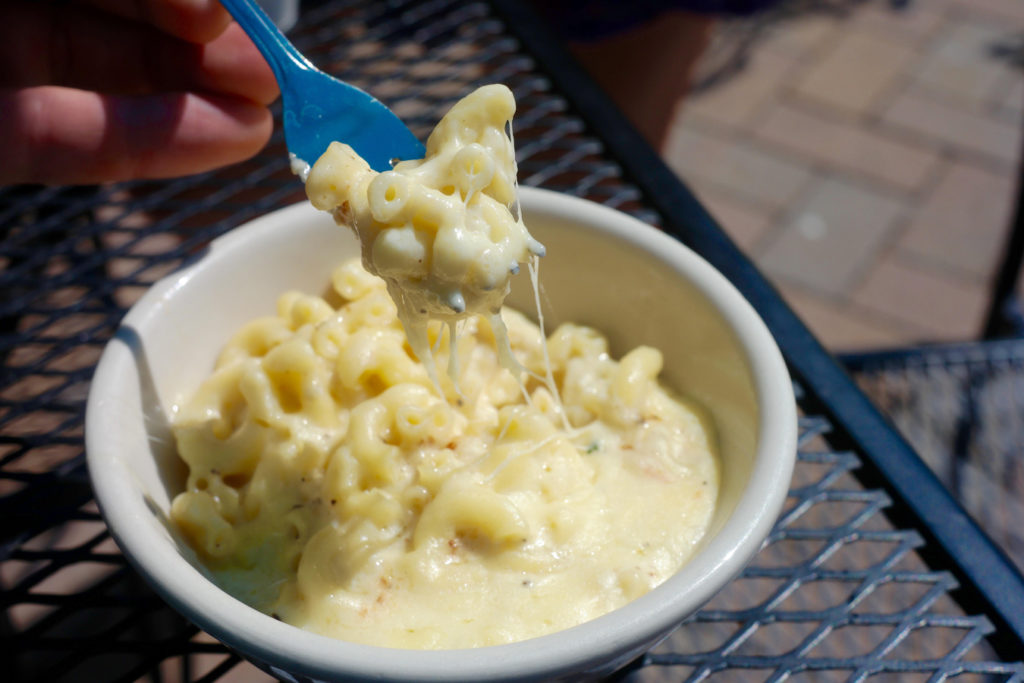 All told, we spent about $90 at Zingerman's, but we got to try so much good food!  We were really happy to sample all different kinds of food, from sandwiches to chips to breakfast dishes, and we got a good sense of what makes this college town deli so unique and popular.  Ann Arbor isn't exactly close to anything in particular, but if you're in Michigan swing by Zingerman's to try out some sandwiches and see what they've got to offer.