Miriam got a chance to visit Jamaica last week and came back with a new appreciation for jerk and for hot sauces.  Although it's an unfortunate name, "jerk" is a Jamaican style of cooking that involves a mix of many different spices.  It's usually applied to chicken or pork, but we decided to try it on veggies.  As a bonus, we also made Caribbean-style coconut rice and peas as an accompaniment, based on a recipe we found in Bon Appetit, to make a complete vegan meal.
Here's what we used:
A yellow squash
2 zucchini
A red bell pepper
A yellow bell pepper
A green bell pepper
Thyme
A can of kidney beans
A shallot
Oregano
Garlic
A 13.5-ounce can of coconut milk
2 cups of rice
Onion powder
Garlic powder
Ground ginger
White pepper
Cinnamon
Ground allspice (if you have whole allspice, use a spoon to grind up the berries)
Smoked paprika
Nutmeg
Brown sugar
Red pepper flakes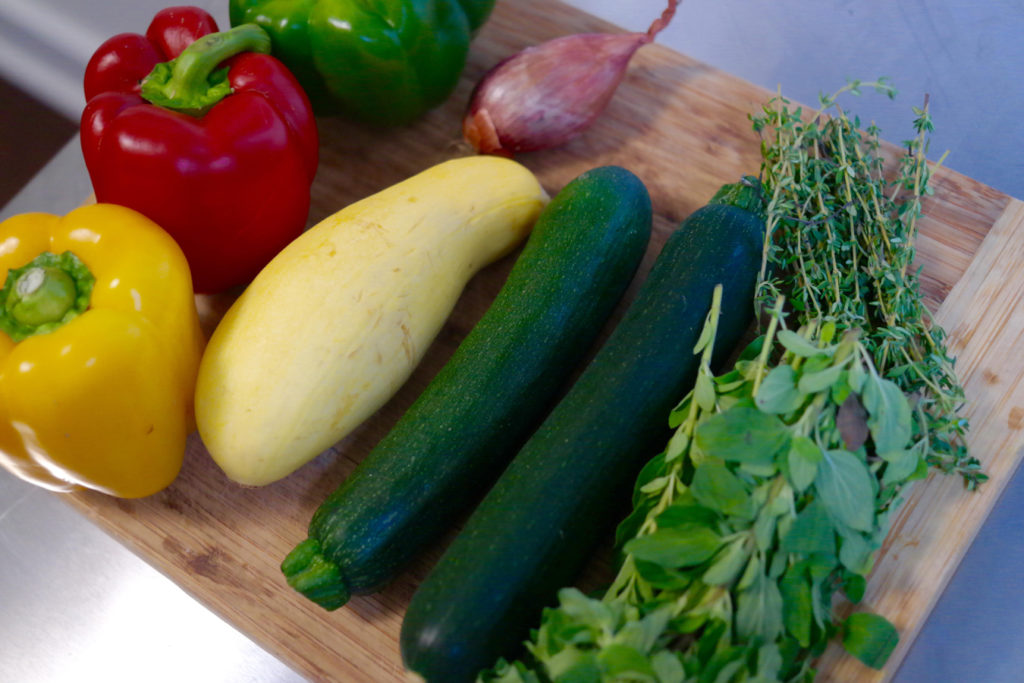 To make the rice, we first finely diced our shallot and sautéed it in a pan with 2 tablespoons of olive oil, a tablespoon of oregano leaves, and a teaspoon of thyme leaves.  We cooked all this for about 4 minutes, added 2 minced garlic cloves, and then heated eveyerthing through for just one more minute.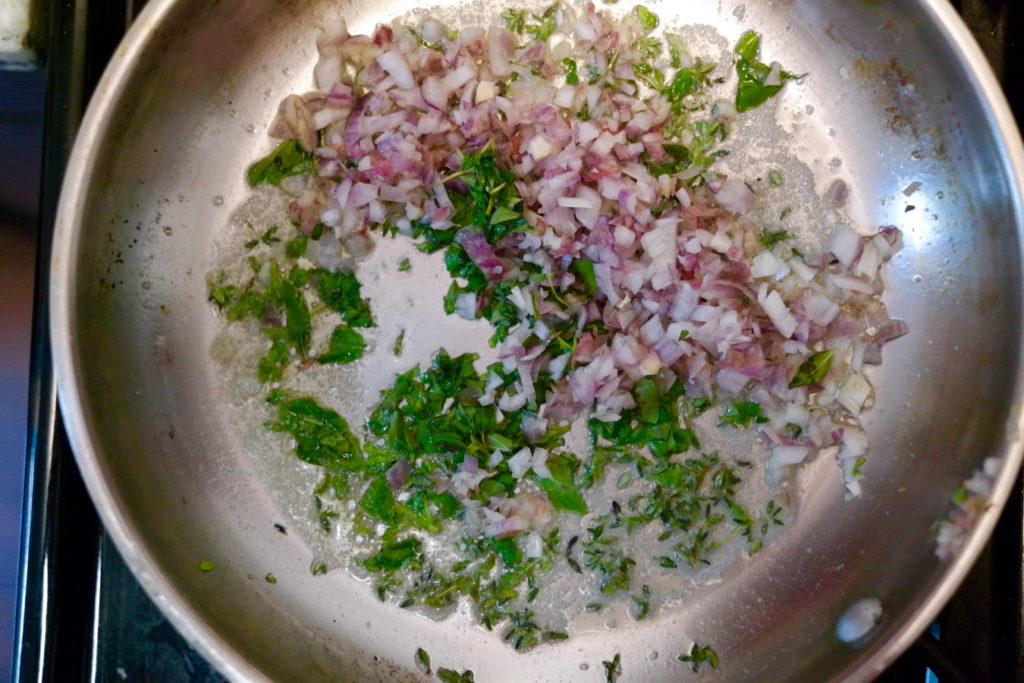 Then we drained our beans – but kept the liquid – and added them to the shallot mixture.  We took all this off the stove and set it aside for a little bit.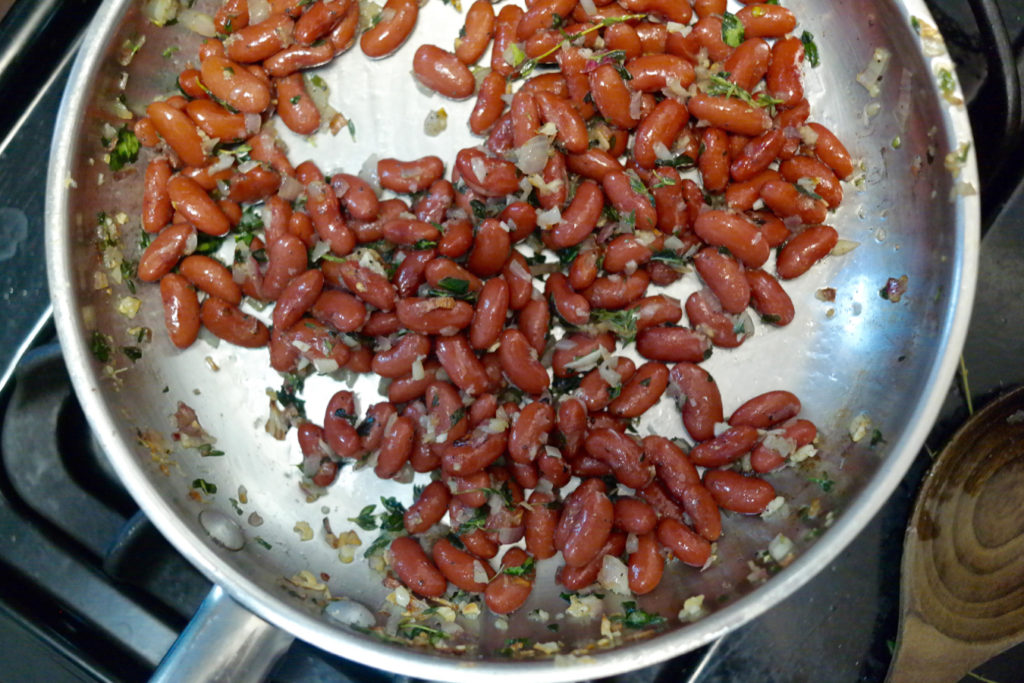 Next we took the liquid from the beans and combined it with enough water to make 4 cups of liquid, then mixed this with the coconut milk in a large saucepan over medium heat.  Once this was all simmering, we added our rice and cooked it for 10 minutes.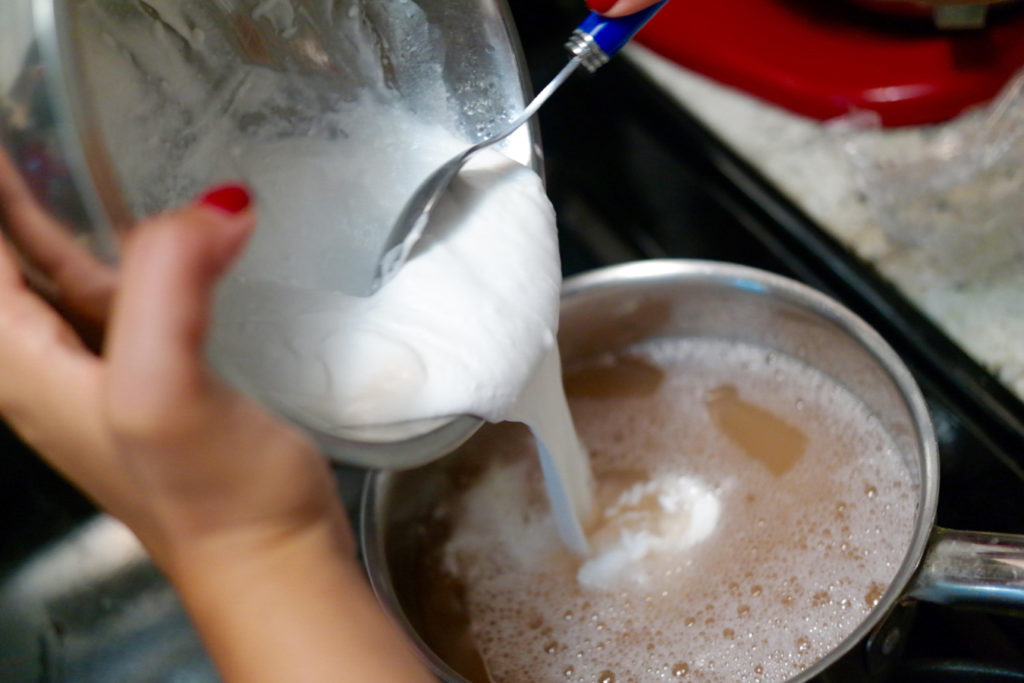 Then we added in the bean mixture, covered everything, and cooked the rice and peas for another 10 minutes.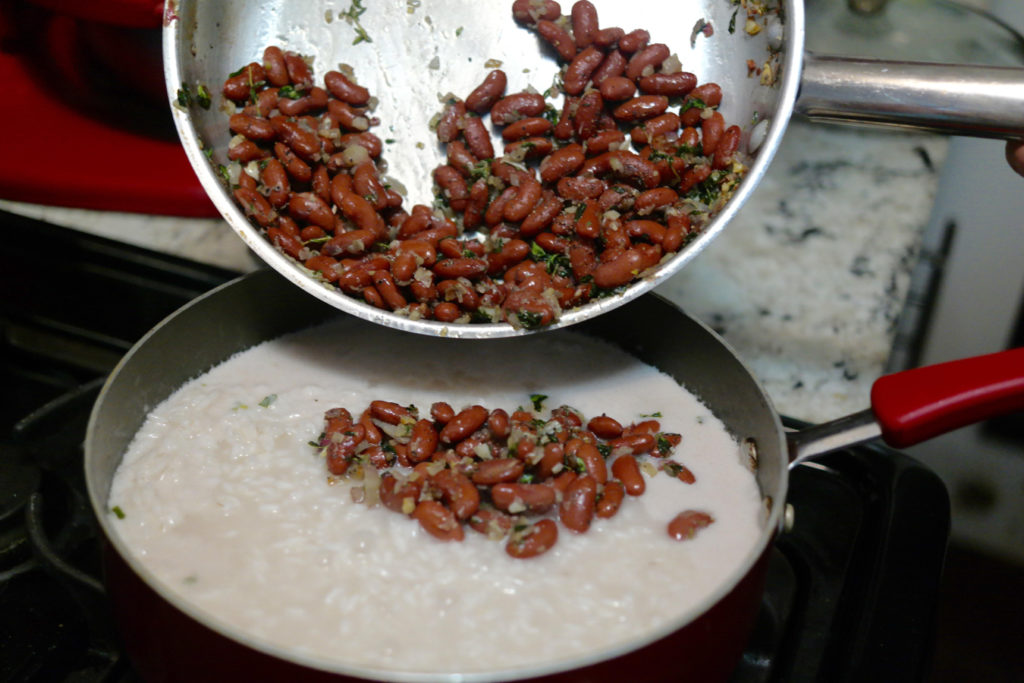 While the rice was cooking, we chopped up all our veggies …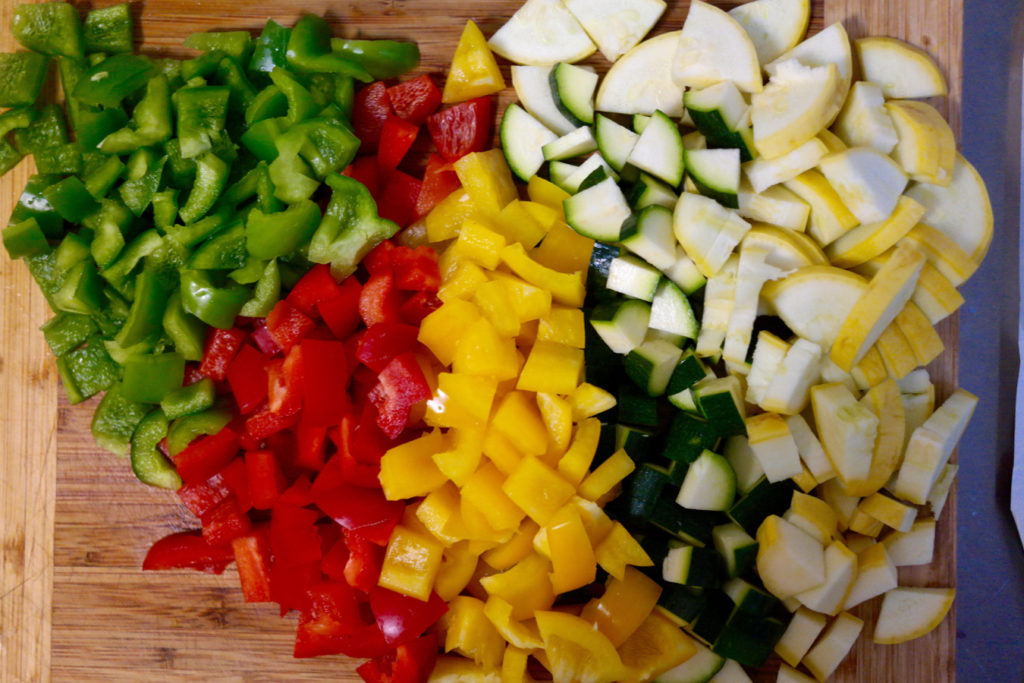 … and then cooked them in our skillet with a little bit of olive oil and a few springs of thyme until they were tender and softened.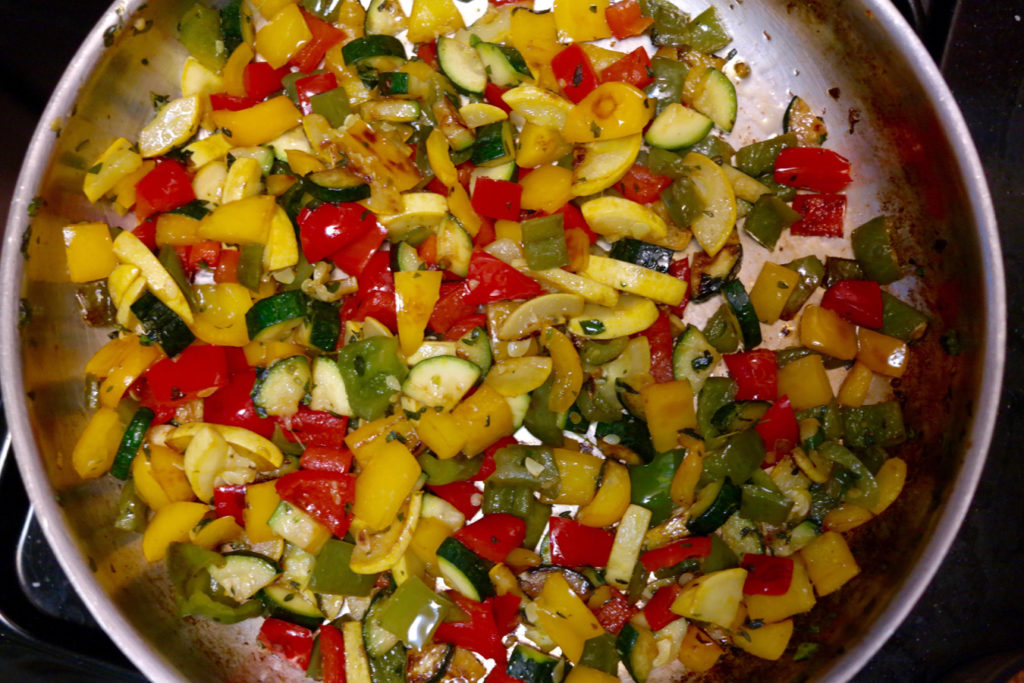 We also made a jerk spice mix of 1 1/2 tablespoons of onion powder, 1 1/2 tablespoons of garlic powder, a tablespoon of ground ginger, a teaspoon of white pepper, 1/2 tablespoon of cinnamon, a tablespoon of allspice, a tablespoon of smoked paprika, 1/2 tablespoon of nutmeg, 2 tablespoons of brown sugar, and a tablespoon of red pepper flakes.  To get a good mixture, we pulsed everything together in a food processor until it was thoroughly combined.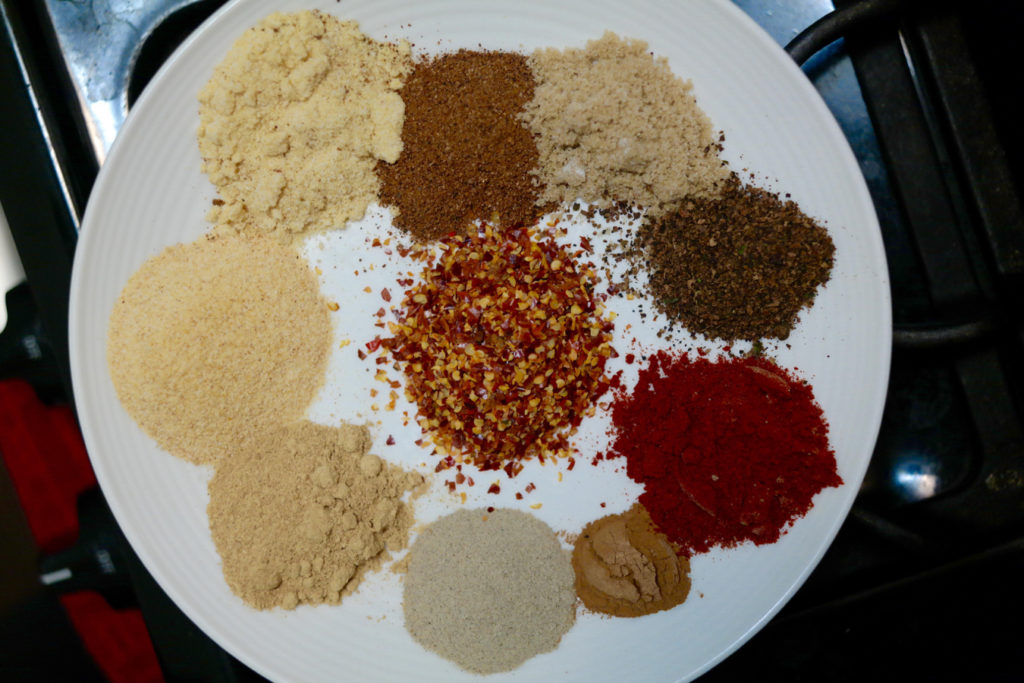 When the vegetables were mostly cooked, we added a few tablespoons of the spice mix to the pan to coat everything and finished sautéing them.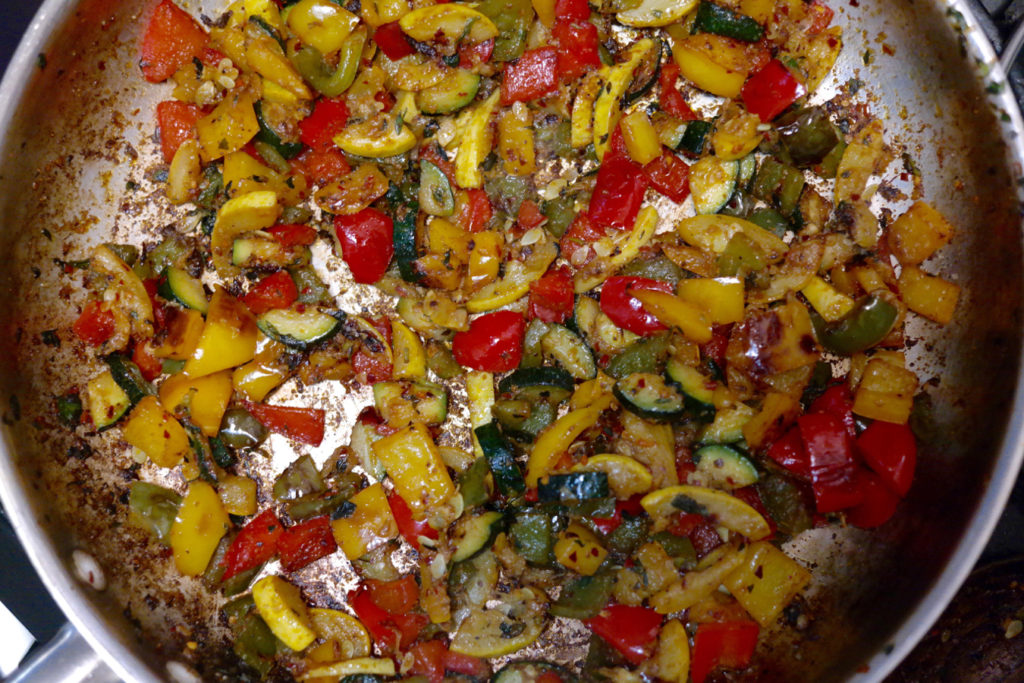 And once the veggies were done, we also topped them with some Walkerswood sauces, which Miriam brought back from Jamaica.  Cyril went with the super-spicy Scotch Bonnet hot sauce, while Miriam used the just-kind-of-spicy Las' Lick jerk sauce.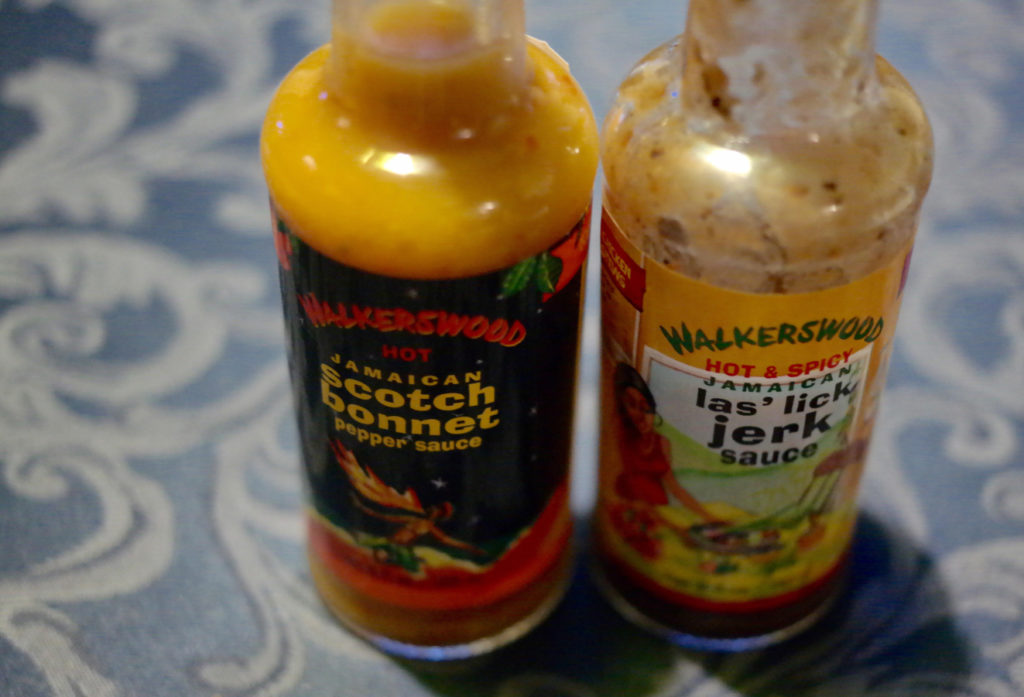 When the rice and peas were ready …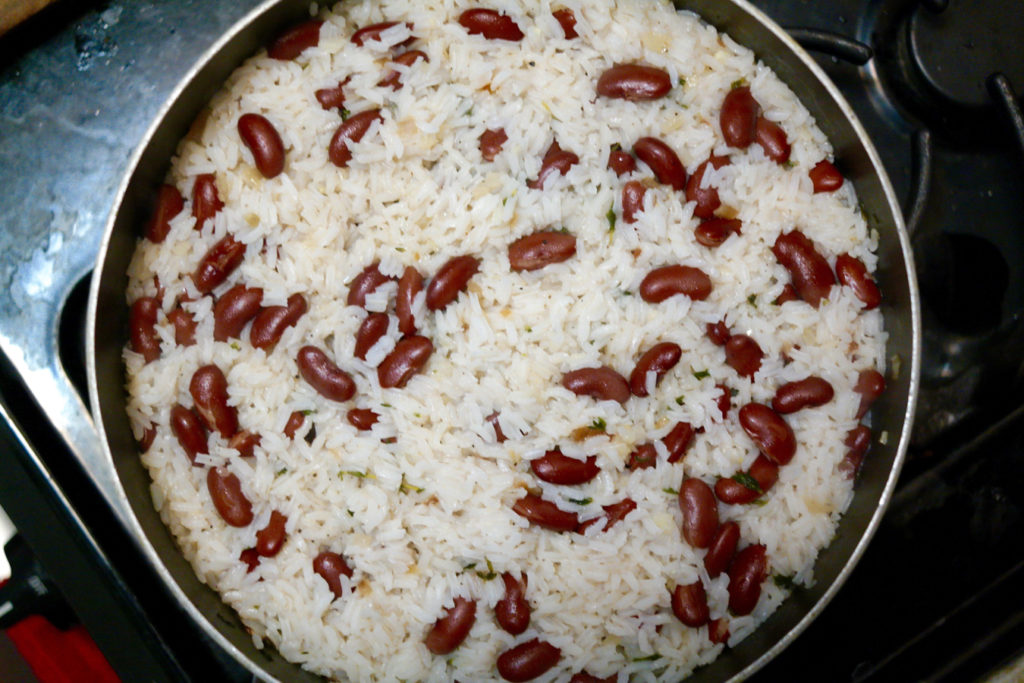 … we served them alongside the jerk vegetables.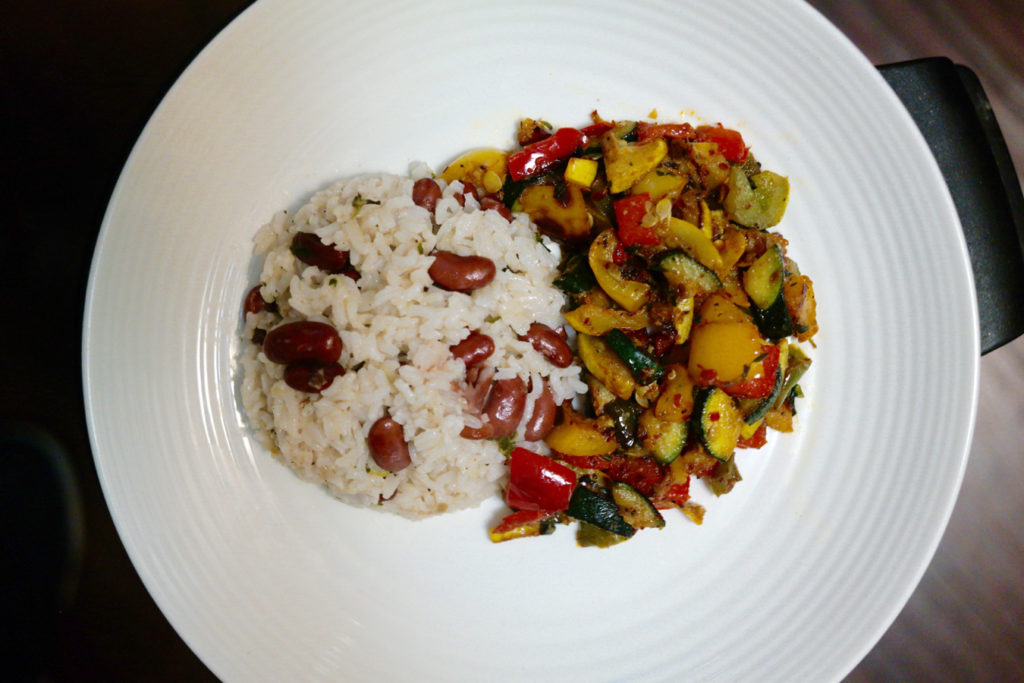 It might look like just your regular veggies, rice, and beans dish, but it most definitely isn't.  The jerk spices bring a ton of different flavors to the vegetables, and the Walkerswood sauces provide some nice heat.  Meanwhile, the rice and peas (which, you've noticed, are not actually peas) turned out very creamy with the addition of the coconut milk during the cooking process.
So it turns out you can, in fact, jerk vegetables, and you can whip up some rice and peas to go along with them to make a tasty vegan dinner.