Miriam had the chance to take another cooking class with Sur La Table recently, this time with dishes centered around cauliflower.  We'll show you here some of what was cooked in the class:  three different foods – grilled cheese, fried cauliflower, and larb – that swap cauliflower in place of more traditional ingredients.
Here's what you'll need to make everything:
3 heads of cauliflower
2 eggs
Parmesan cheese
White cheddar cheese
Butter
Gochujang or another type of hot pepper paste
Garlic
Ginger
11 scallions
Soy sauce
Vinegar
Brown sugar
Honey
Sesame oil
Flour
Cornstarch
Vegetable oil
Rice
Lime juice
Vegetarian fish sauce
2 or 3 Thai chiles
A shallot
Dried lemongrass
Cilantro
Thai basil
Mint
First, to make the grilled cheese as a snack, start by trimming the leaves and stems off one head of cauliflower and then grating the florets with a cheese grater, until they're roughly this texture: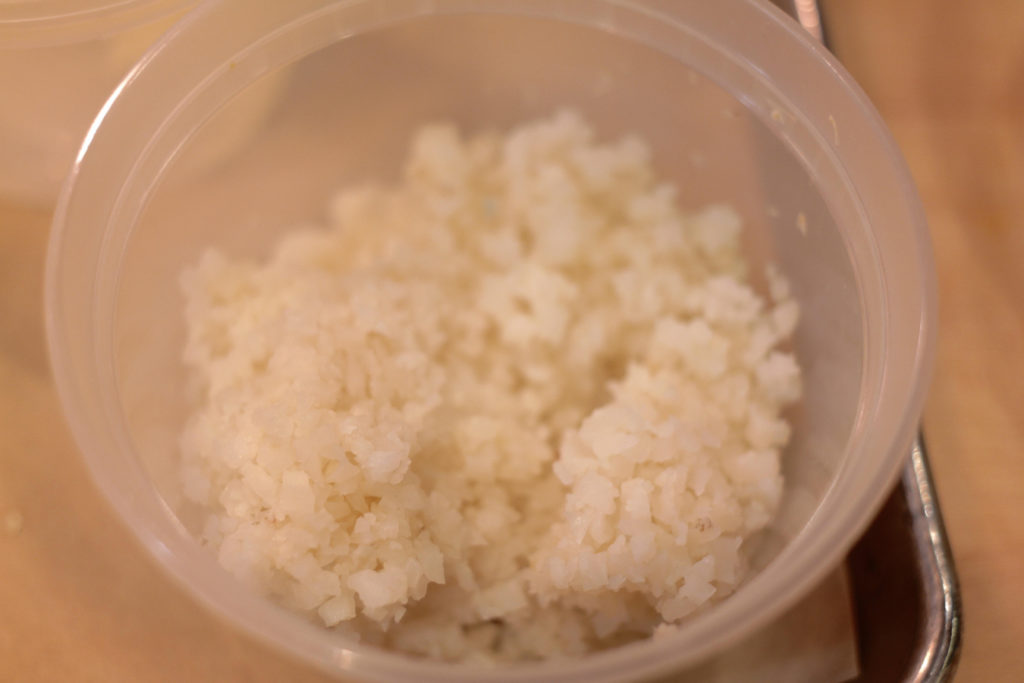 Mix this grated cauliflower with 2 beaten eggs and 1/2 cup of Parmesan cheese.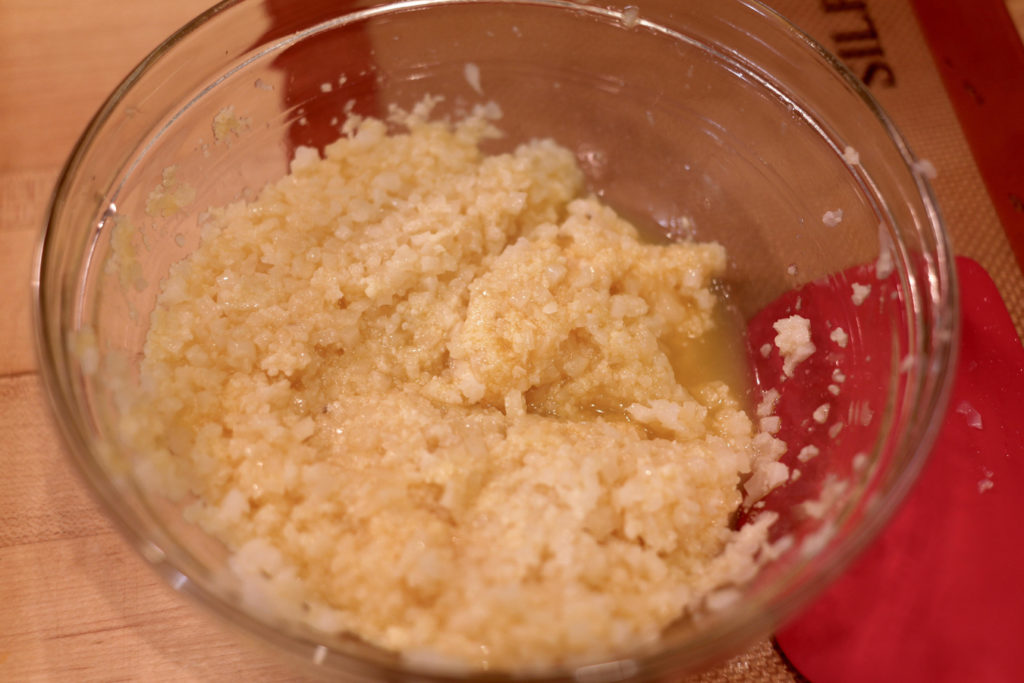 Heat a pat of butter in a cast iron skillet, then use your cauliflower batter to form several patties.  Cook these patties in the skillet until they're golden brown each side.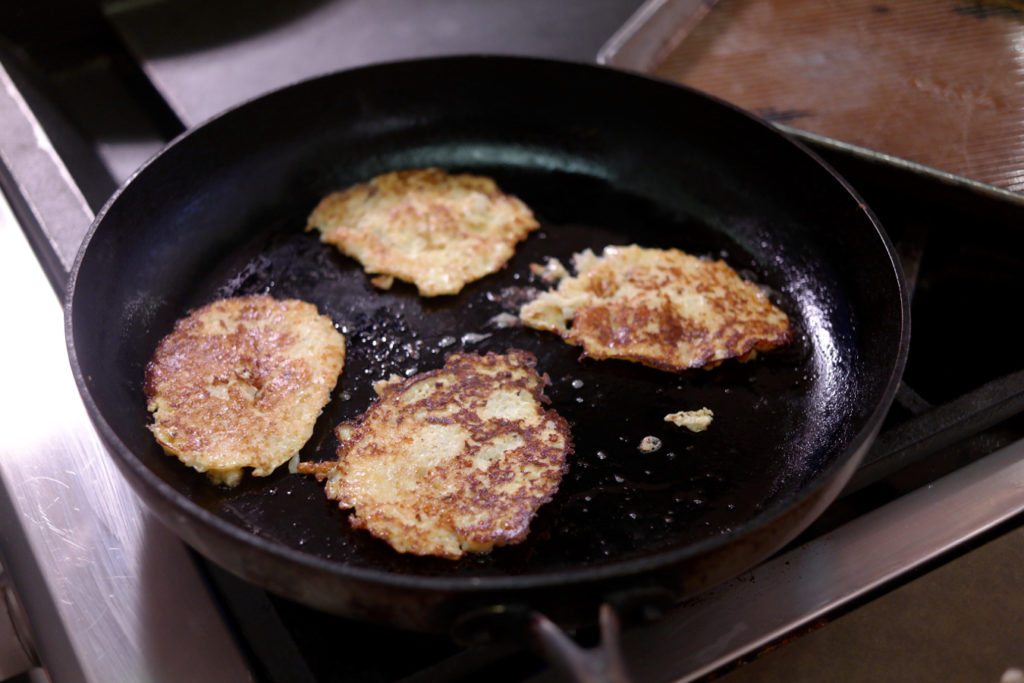 Then top each patty with a handful of grated cheddar cheese and let it melt for 2 minutes.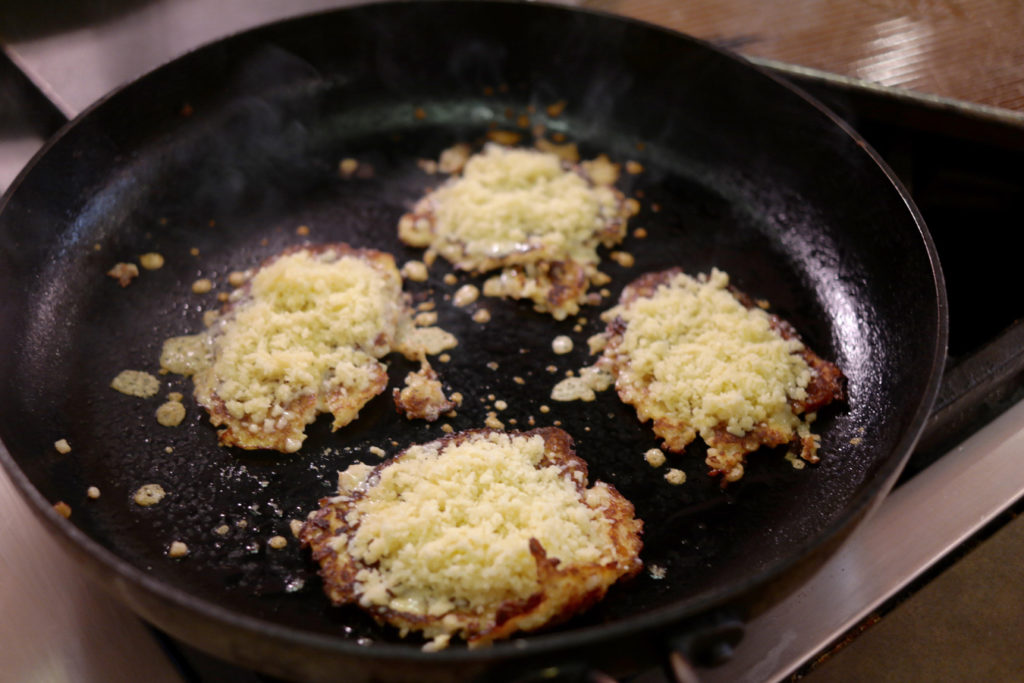 Place two patties together to form a sandwich and continue cooking them in the skillet only until the cheese has fully melted.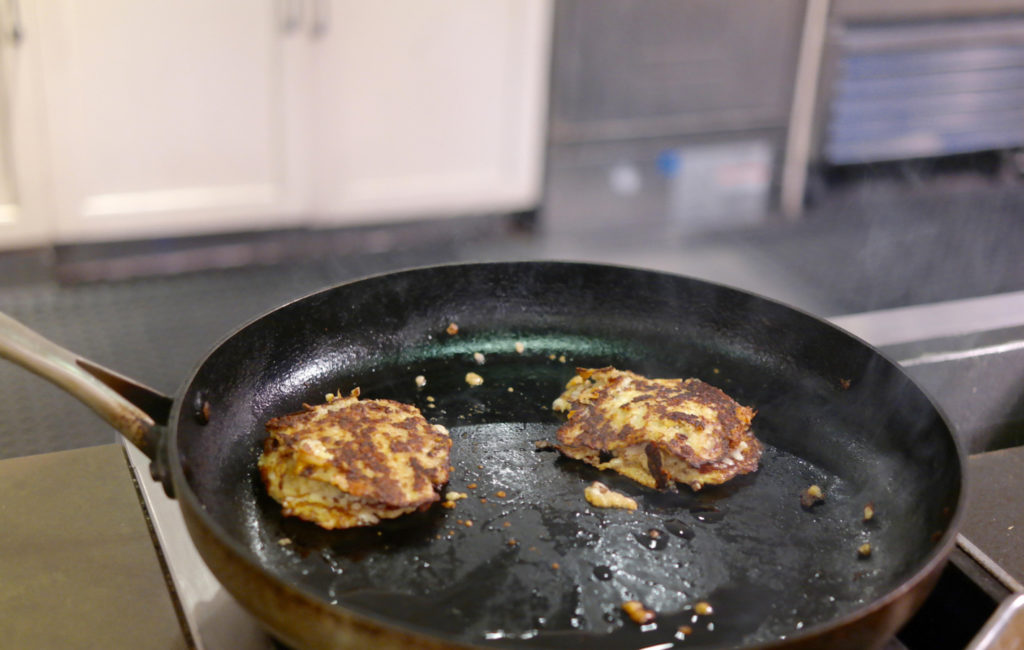 Here's what your sandwiches should look like when they're done: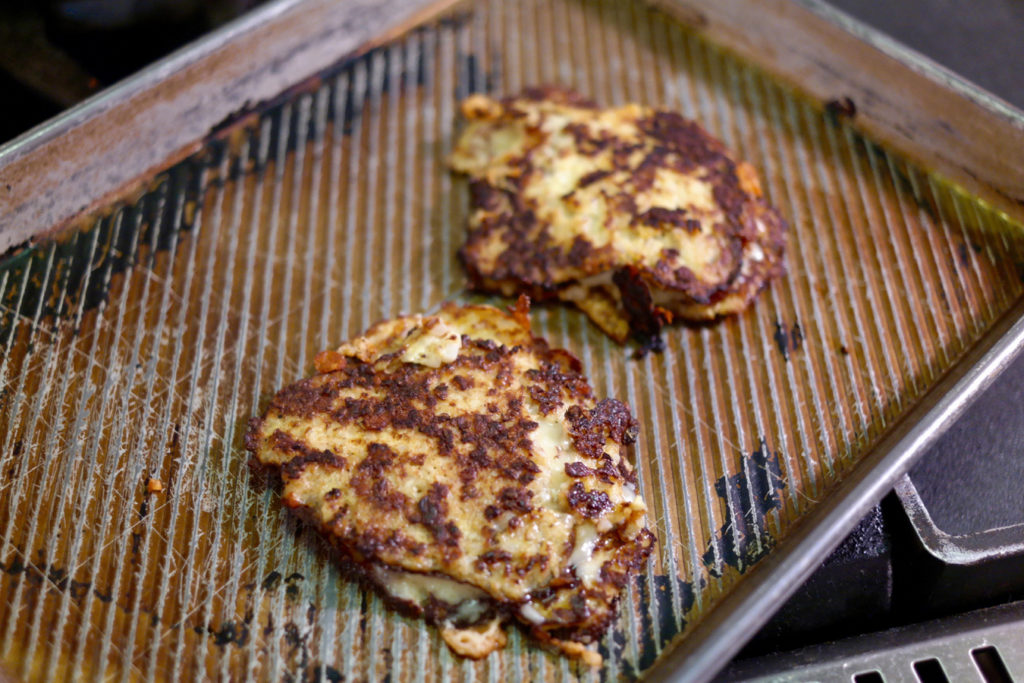 You can snack on your sandwiches while you make your next dish – the fried cauliflower.  Start by cutting a second head of cauliflower into bite-sized florets.  Then mix a batter out of 2 cups of flour, 2 tablespoons of cornstarch, 2 1/2 cups of water and some salt and pepper.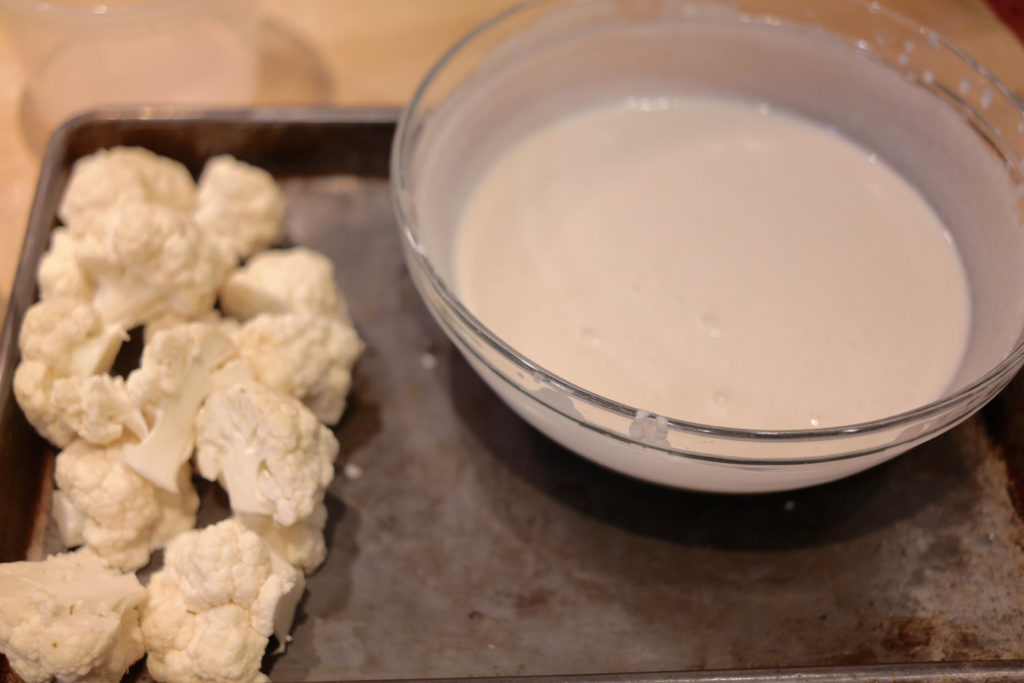 In a large pot, heat 3-4 inches of vegetable oil over medium-high heat until it reaches 350°F (you can use a candy thermometer to measure the temperature).  Dip each floret into batter and then use a metal skimmer to submerge all the cauliflower into the oil.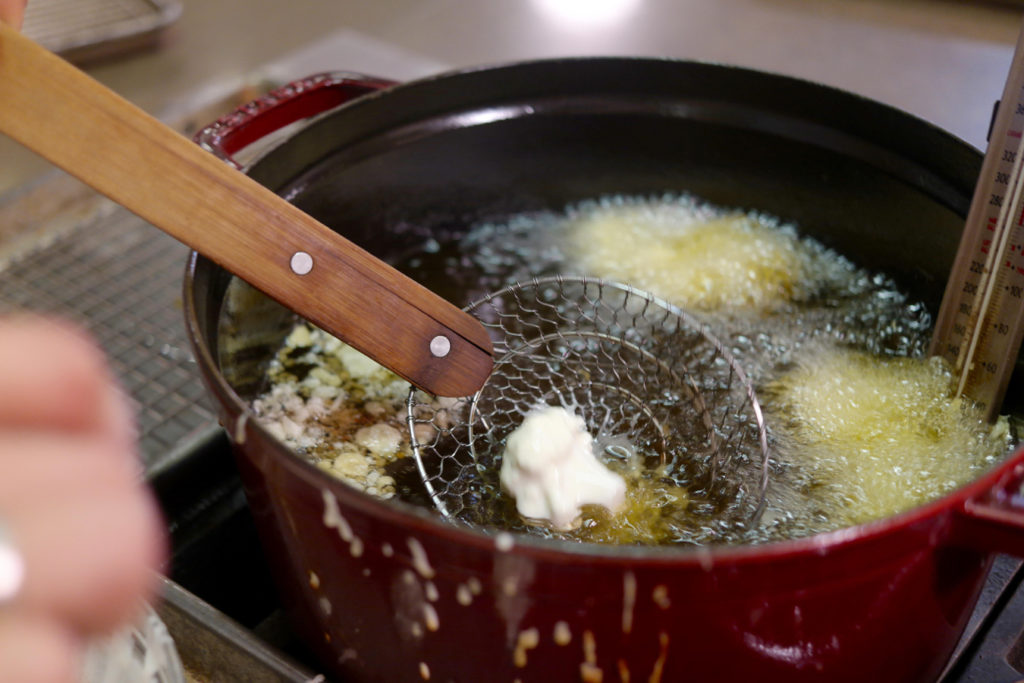 Fry each piece for 1-2 minutes on each side, until the cauliflower is golden brown, then let the florets cool on a wire rack.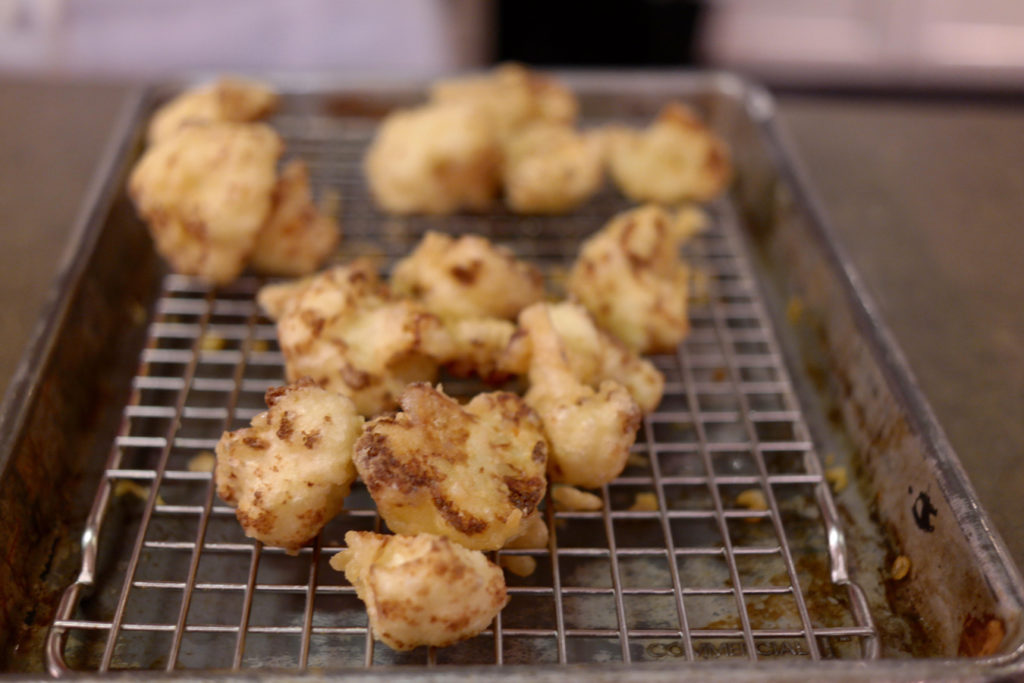 To make a sauce for the cauliflower, whisk together the gochujang with 3 minced garlic cloves, a tablespoon of minced ginger, 8 sliced scallions, 2/3 cup of soy sauce, 2/3 cup of vinegar, 1/4 cup of brown sugar, 1/4 cup of honey, and 2 tablespoons of sesame oil.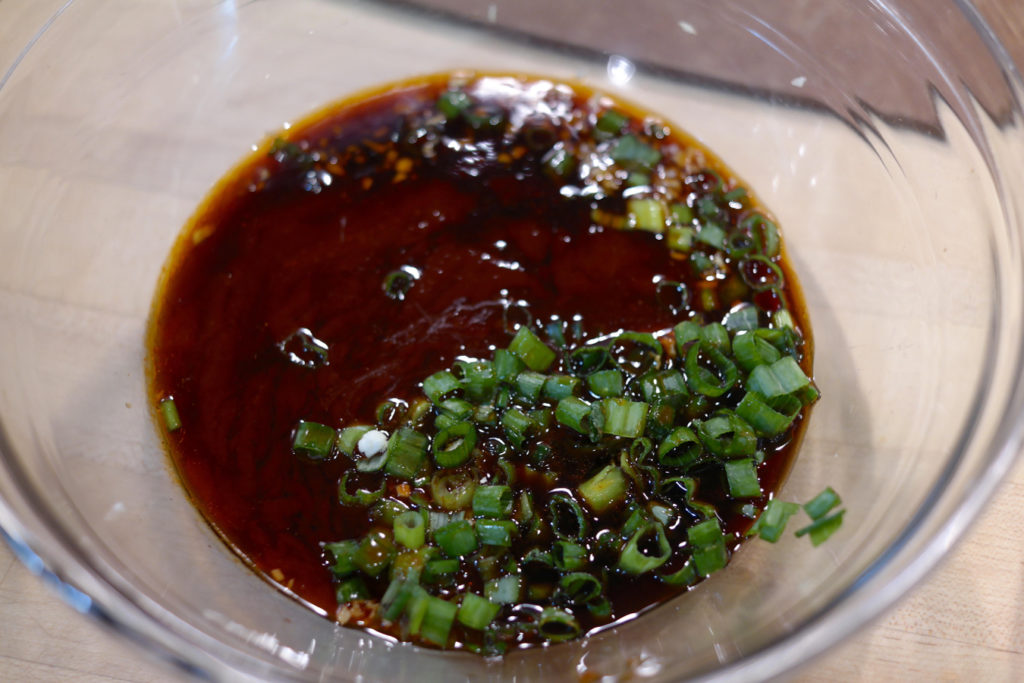 Once the fried cauliflower has cooled enough, mix it with your sauce.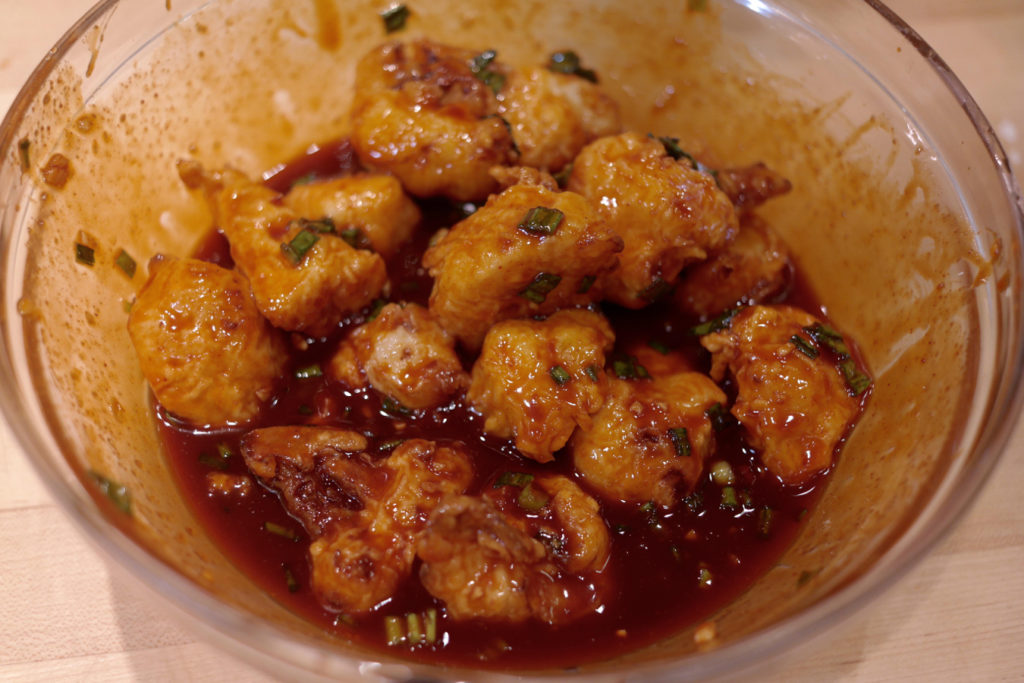 Then you're ready to serve it.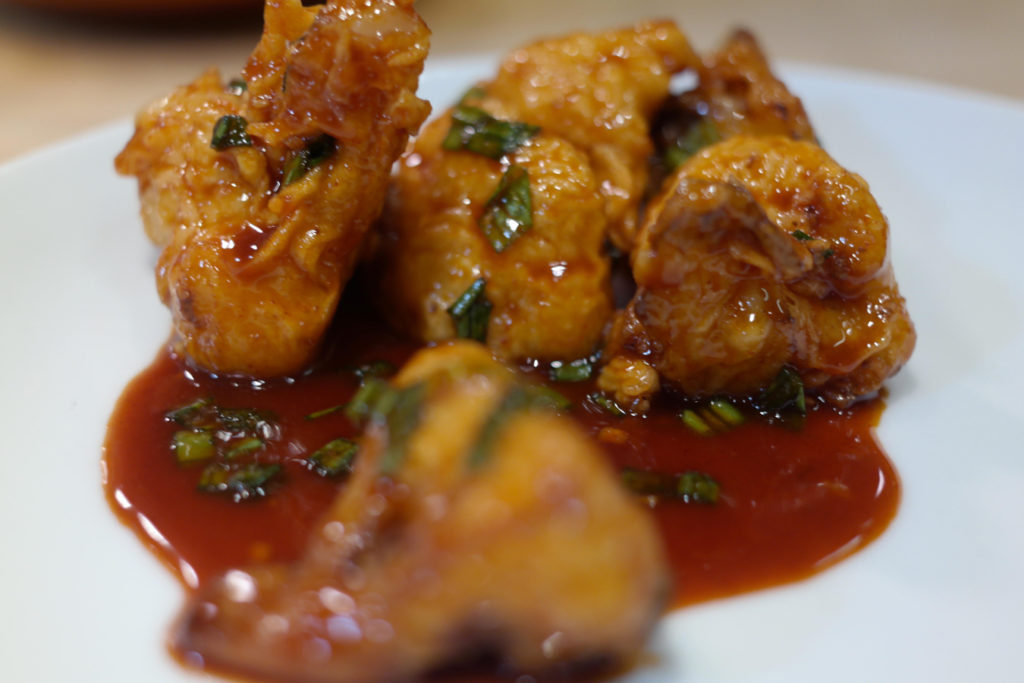 And finally, the larb.  Larb is a Laotian salad that's typically made with minced meat, but here it's we'll sub in cauliflower instead.  To prepare the cauliflower, chop it into evenly-sized pieces and toss them with 2 tablespoons of vegetable oil and a little bit of salt and pepper, then spread everything out on a baking sheet.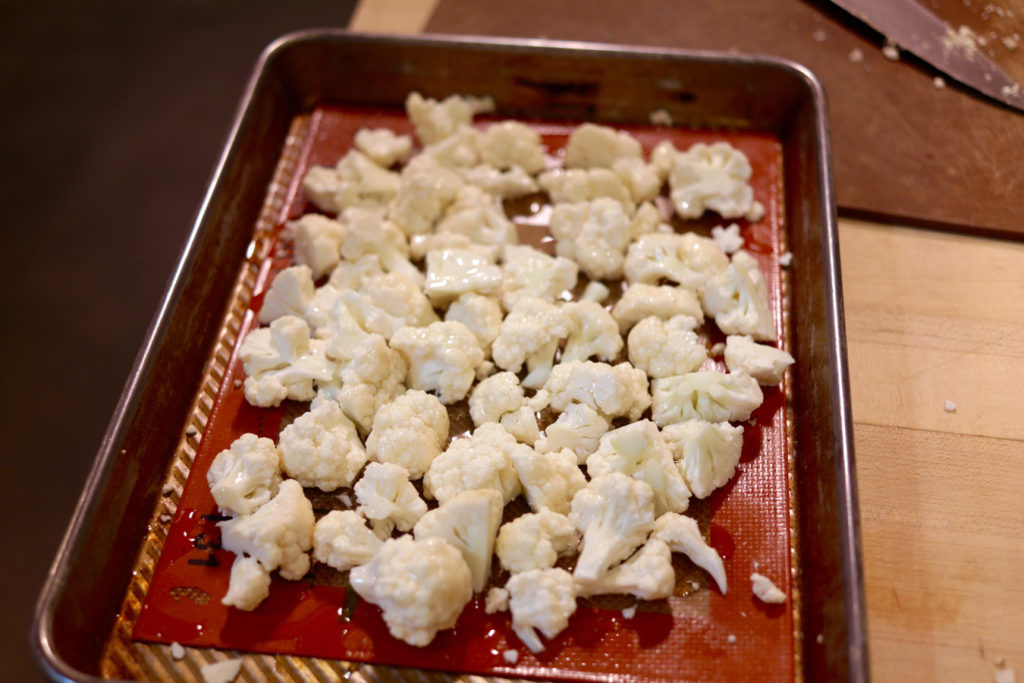 Roast the cauliflower for 30-35 minutes at 425°F until the florets brown …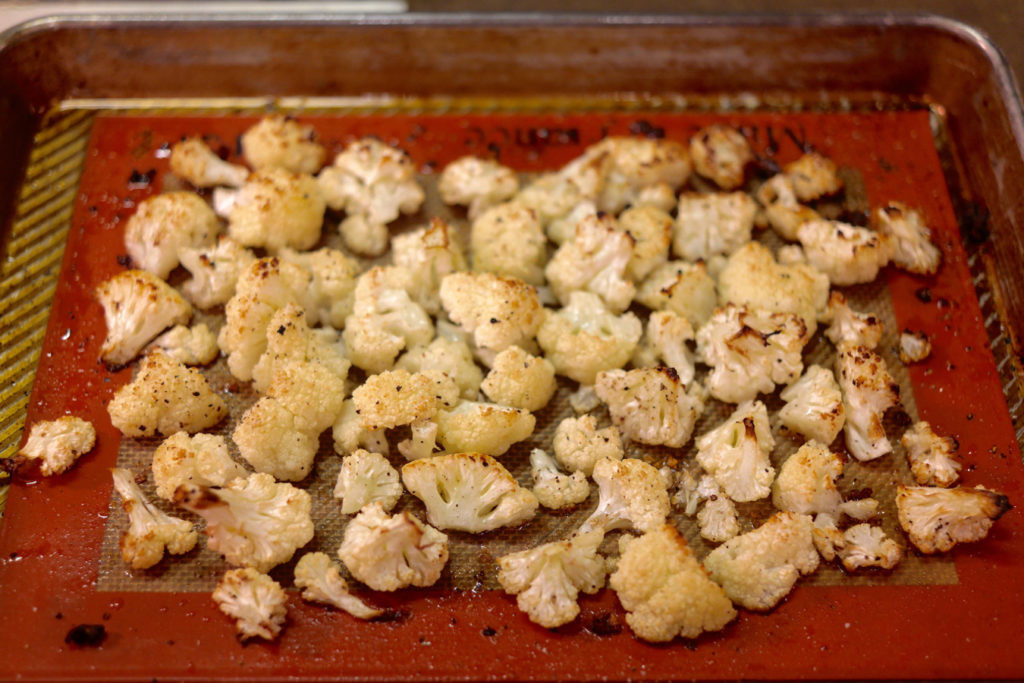 … then mince them into small pieces once they've cooled.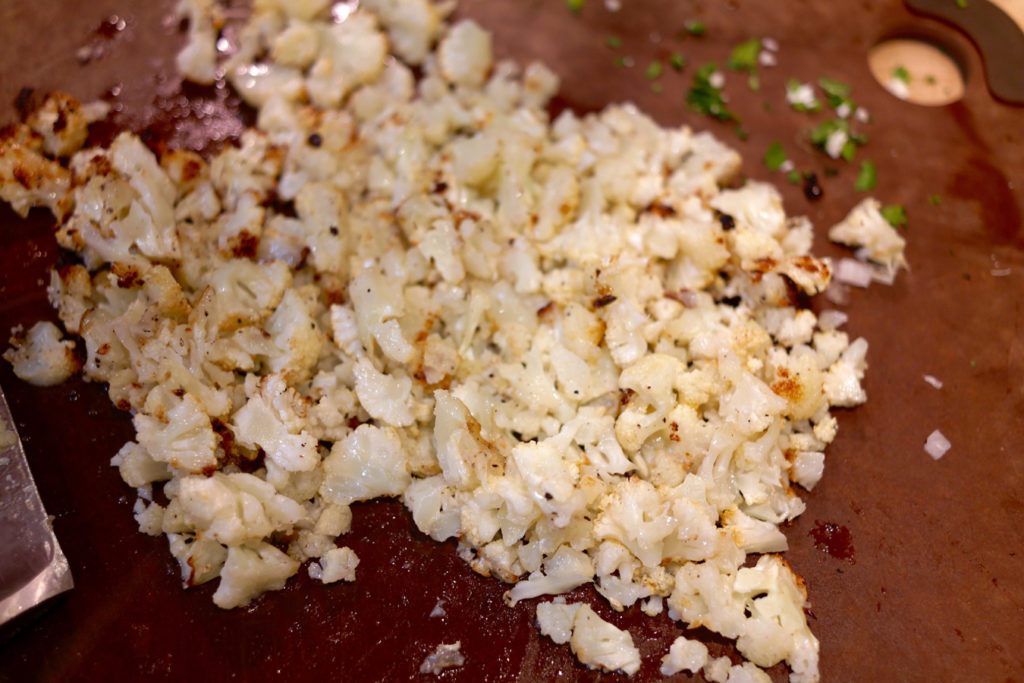 While the cauliflower is in the oven you can make your larb sauce.  Begin by toasting 2 tablespoons of uncooked rice in a dry skillet over medium heat for 5 minutes, until the grains turn golden brown, and then grind them up into a fine powder.  Mix this powder with 2 minced garlic cloves, 1/4 cup lime juice, a teaspoon of brown sugar, 1/4 cup of vegetarian fish sauce, your minced Thai chiles, a thinly sliced scallion, 3 diced green onions, a tablespoon of dried lemongrass, and 1/4 cup each of chopped cilantro, Thai basil, and mint leaves.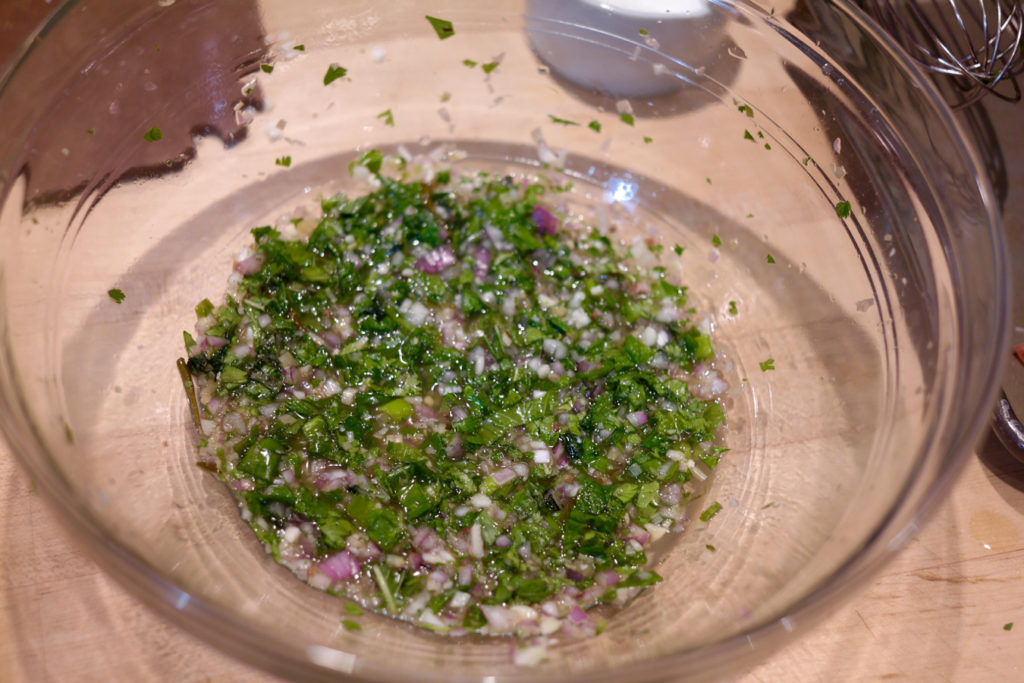 Once you've minced your cauliflower, add this in to the sauce.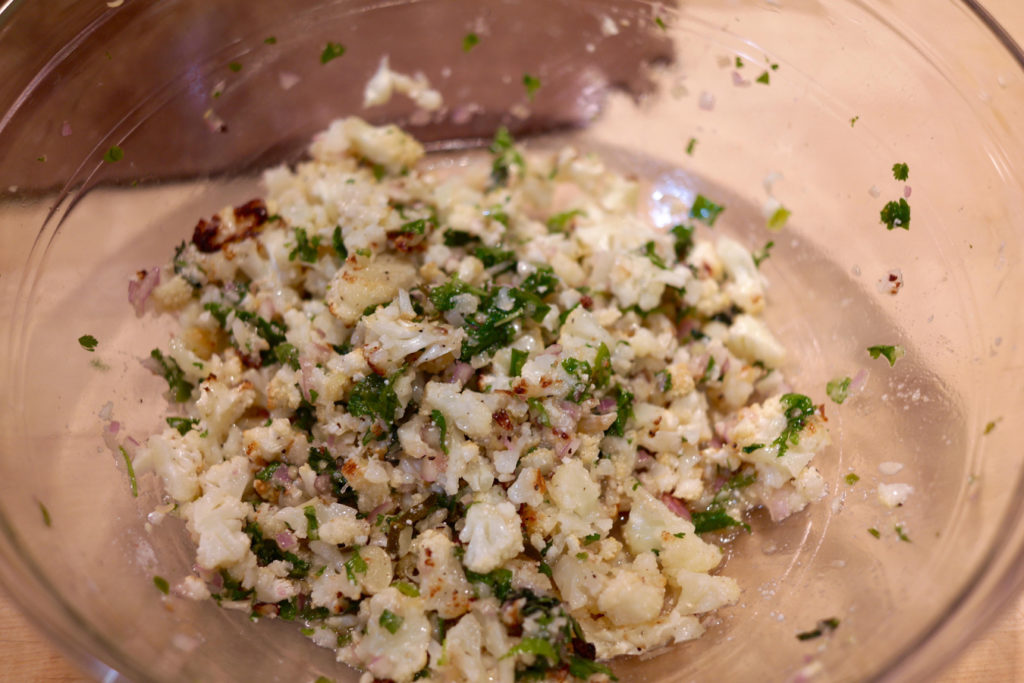 You can serve the larb alongside the fried cauliflower.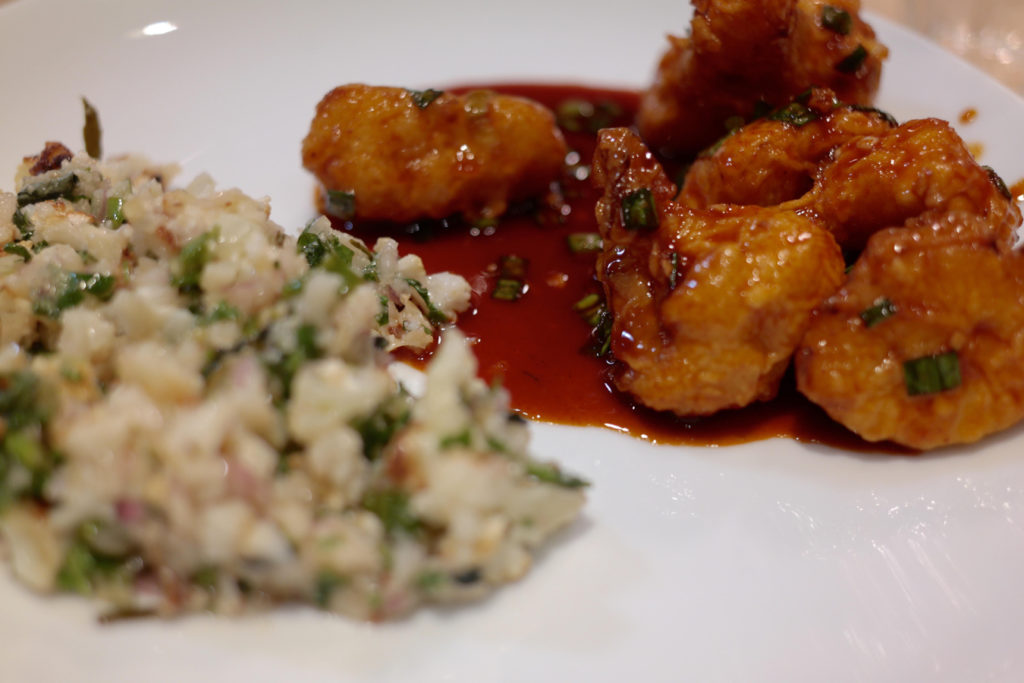 So there you have a snack, a main dish, and a side all made from cauliflower.  There's a lot of ingredients you'll need to source to make these three recipes, but you'll end up with some delicious swaps that replace carbs and meat with veggies.  You can try just one of these dishes, or serve all three together, but definitely give cauliflower a chance!