We're here again dedicating another post to some of the delicious food we've gotten to try around New York.  There's a lot of vegetarian dishes from around Manhattan here, from all different cuisines, although we are also featuring some meat-based dishes.  Check it out:
We heard that Moti Mahal Delux, a chain with restaurants around India, had an outpost in Midtown so we went to see what it was all about.  Our meal started with papadam served with three dips:  a sweet and chunky sauce, a medium green sauce, and a hot red sauce.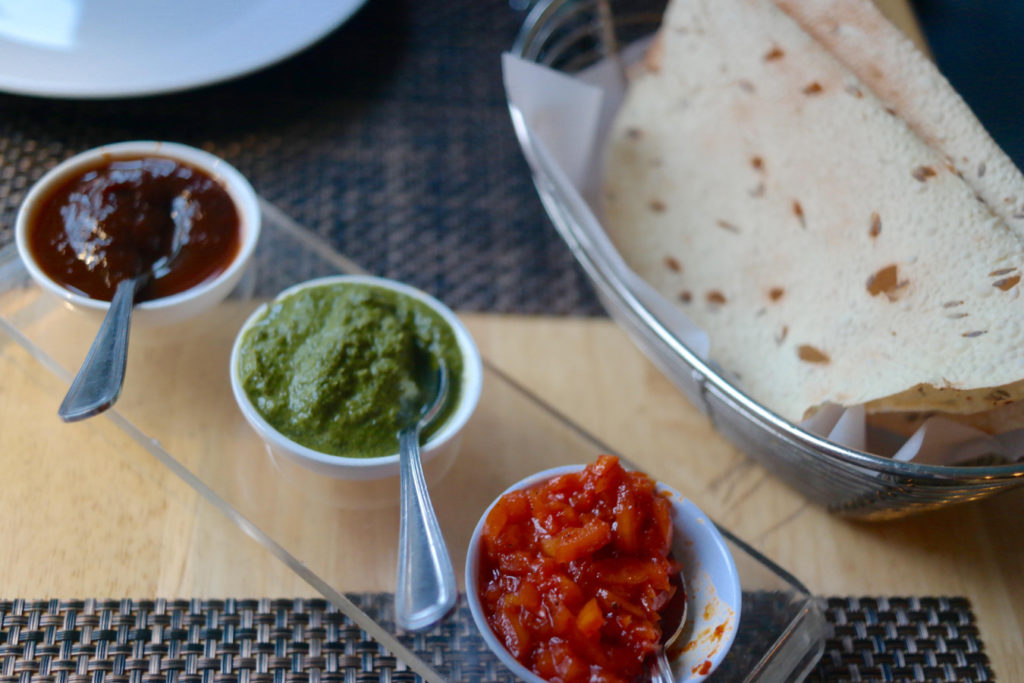 We ordered two appetizers – the first was golgappa shots, which are made from little pastries filled with potatoes and are served on top of some sauces that you chase them with.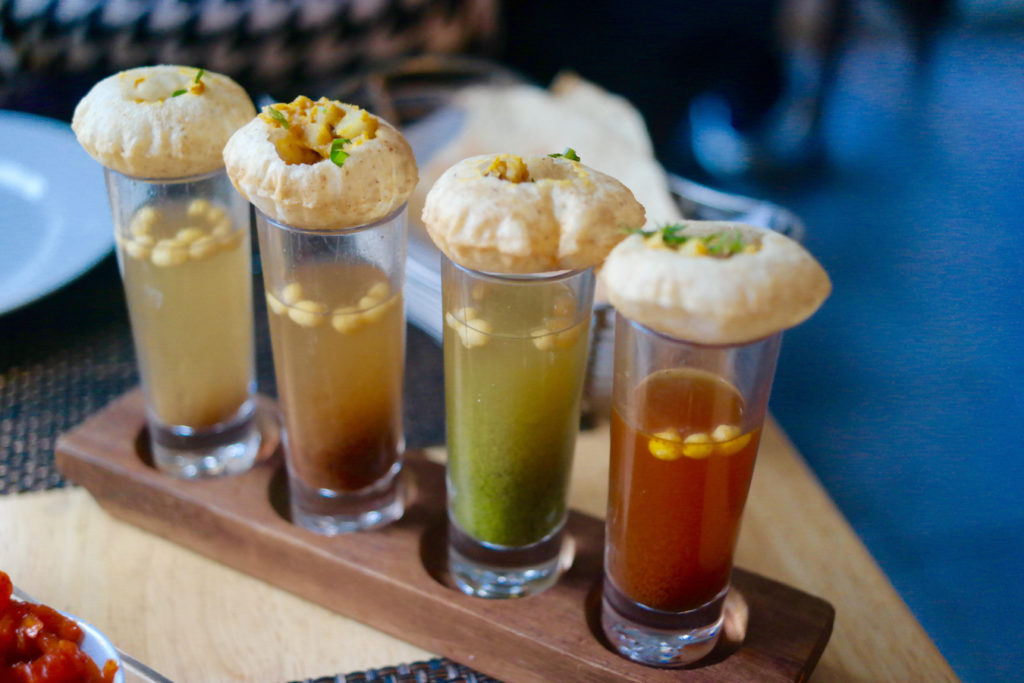 We also got some samosas.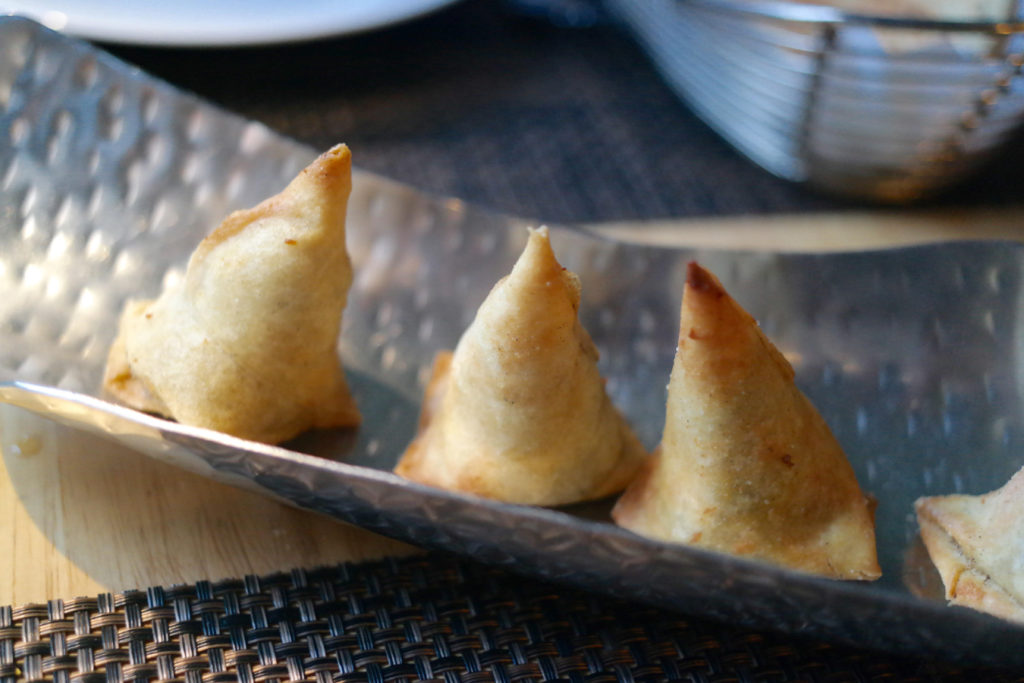 Then we split two vegetarian entrees:  the dum ki gobi aloo, made with cauliflower and baby potatoes in a tomato sauce …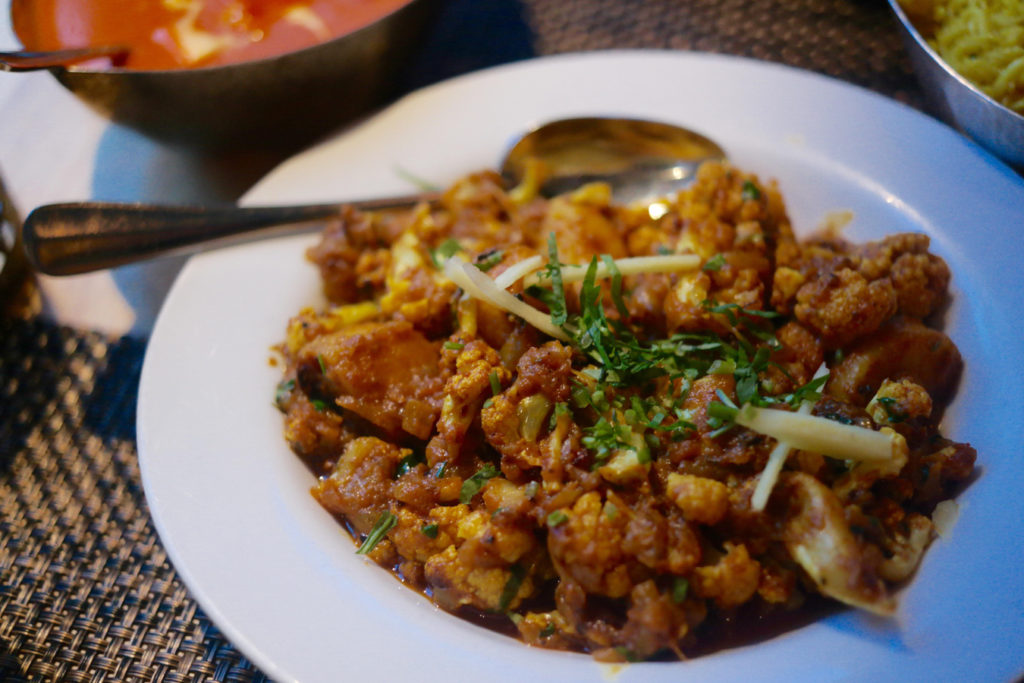 … and the paneer lababdar, which is a variation on Moti Mahal's famous butter chicken that subs in cheese cubes in place of the meat.  We ate the paneer with a side of lemon rice.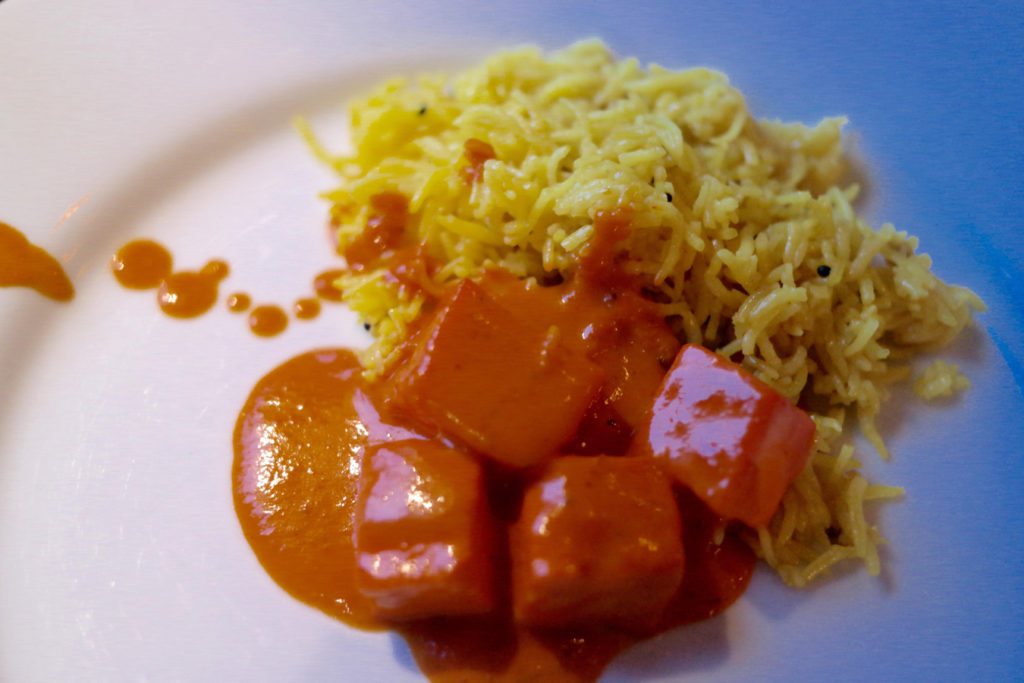 Of course we also had an order of naan.
And for dessert, Cyril got the rose-flavored rice pudding.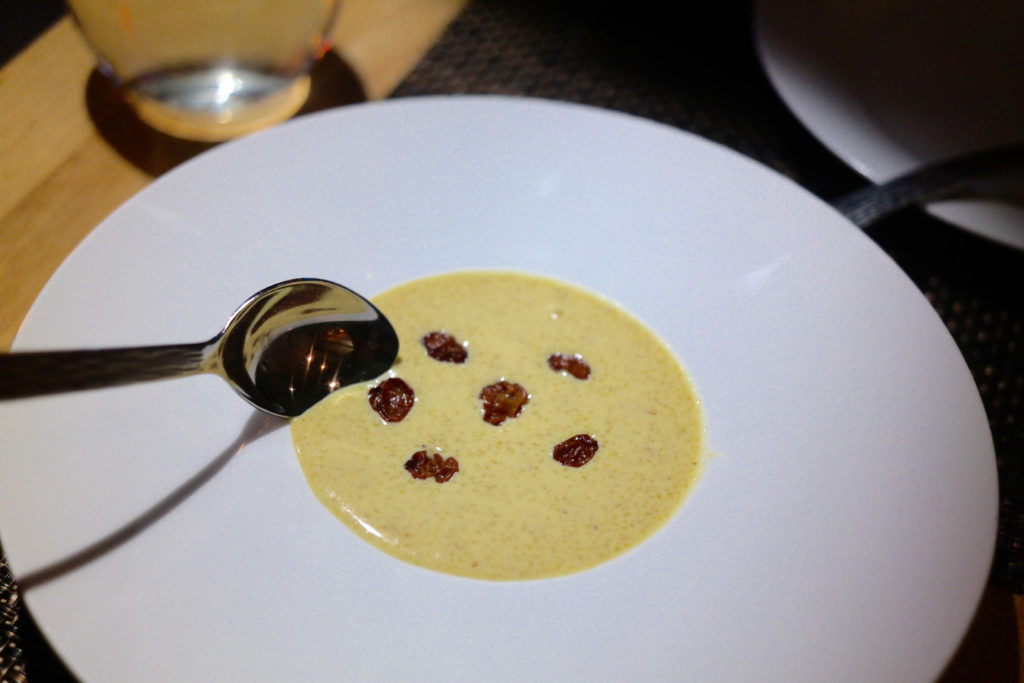 A few weeks later, we decided to go for brunch at Hole in the Wall, a Australian coffee shop in the Financial District that serves a small menu.  Cyril went all in and got the bacon Bloody Mary – which, as you can see, actually has an entire slice of bacon in it.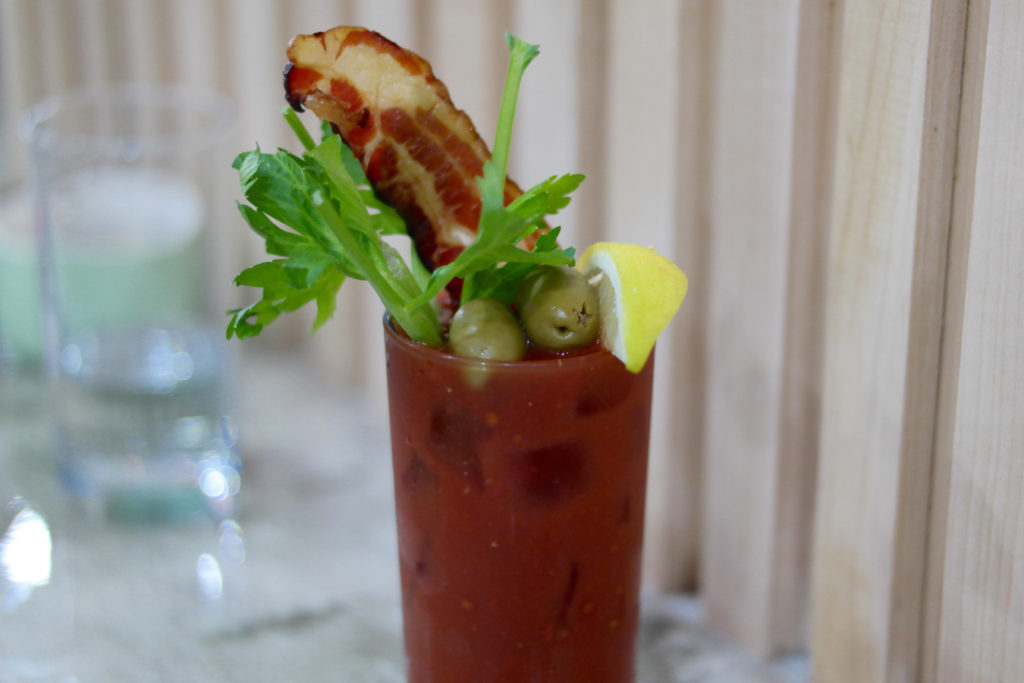 He also ordered the pulled pork on toast, which was topped with poached eggs, apples, and hollandaise sauce.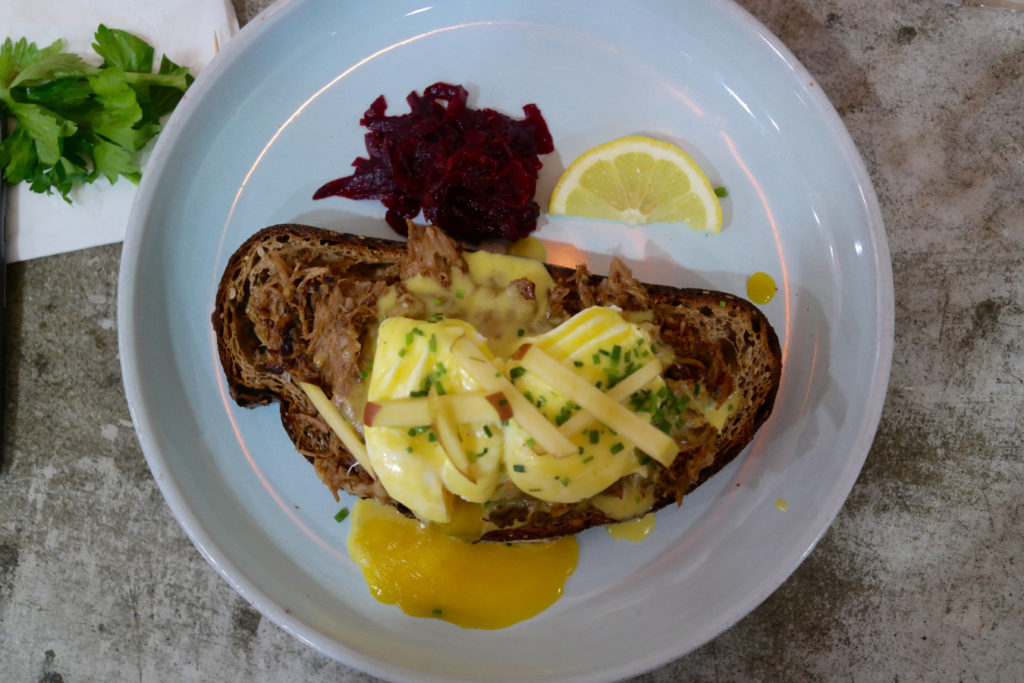 Miriam, in true Millenial fashion, got an order of avocado toast with feta, red pepper flakes, and pumpkin and sunflower seeds on top.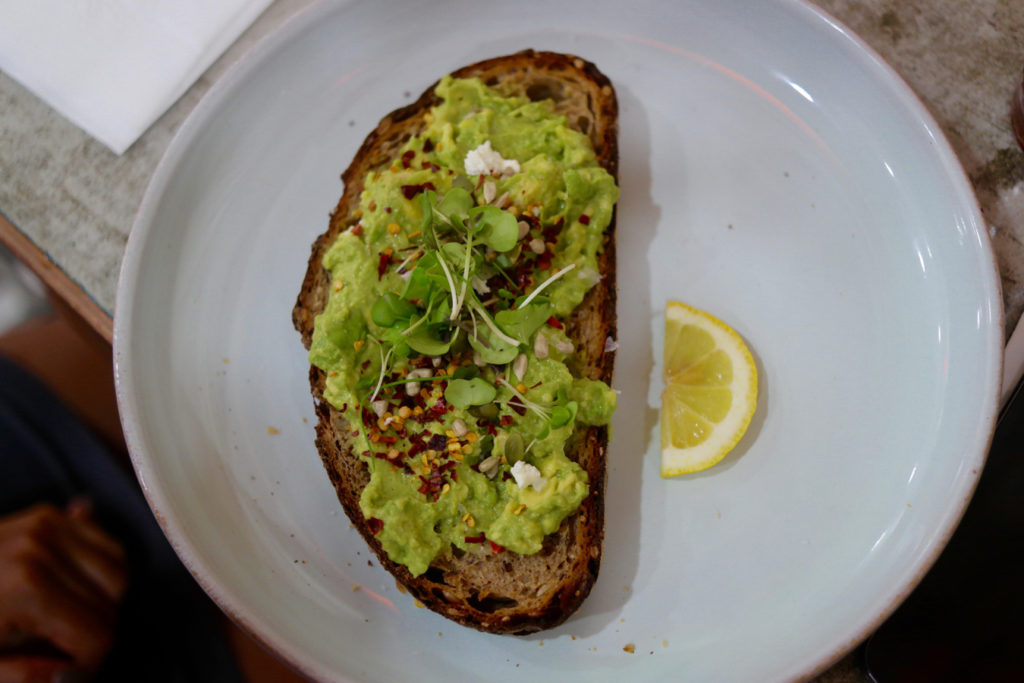 Later we headed over to Little Tong Noodle Shop, which serves a type of noodle soup from China's Yunnan province called mixian.  Miriam had the vegetable mixian there, made with tofu, chives, pea shoots, broccoli, and chili flakes.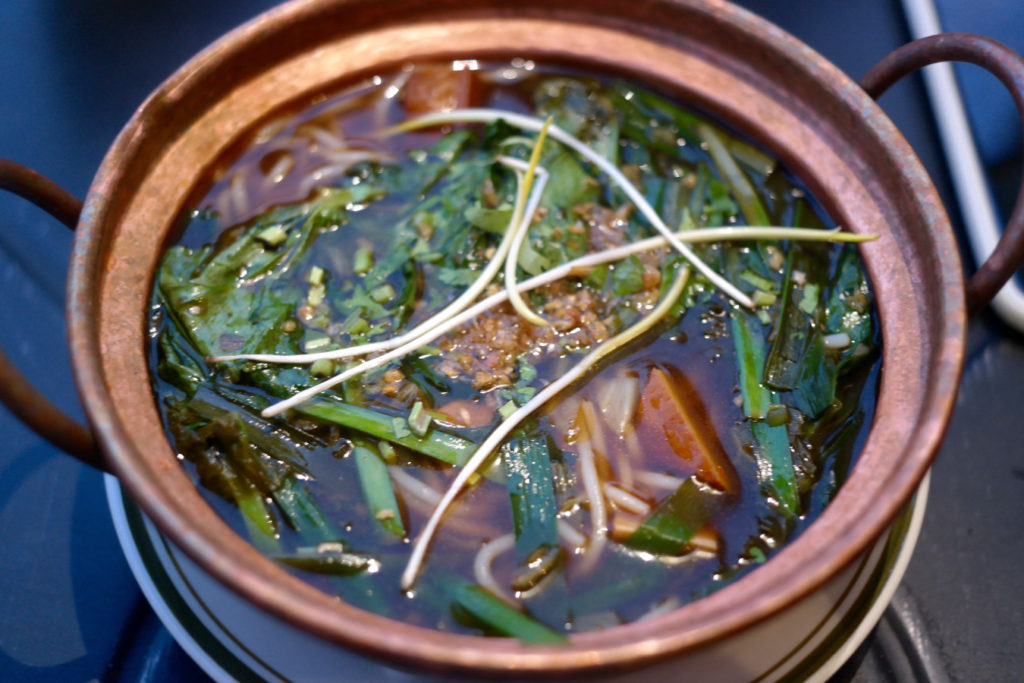 Cyril tried the shrimp mixian, which comes with a tomato shellfish broth and coconut sauce, mint, shallots, and green chili.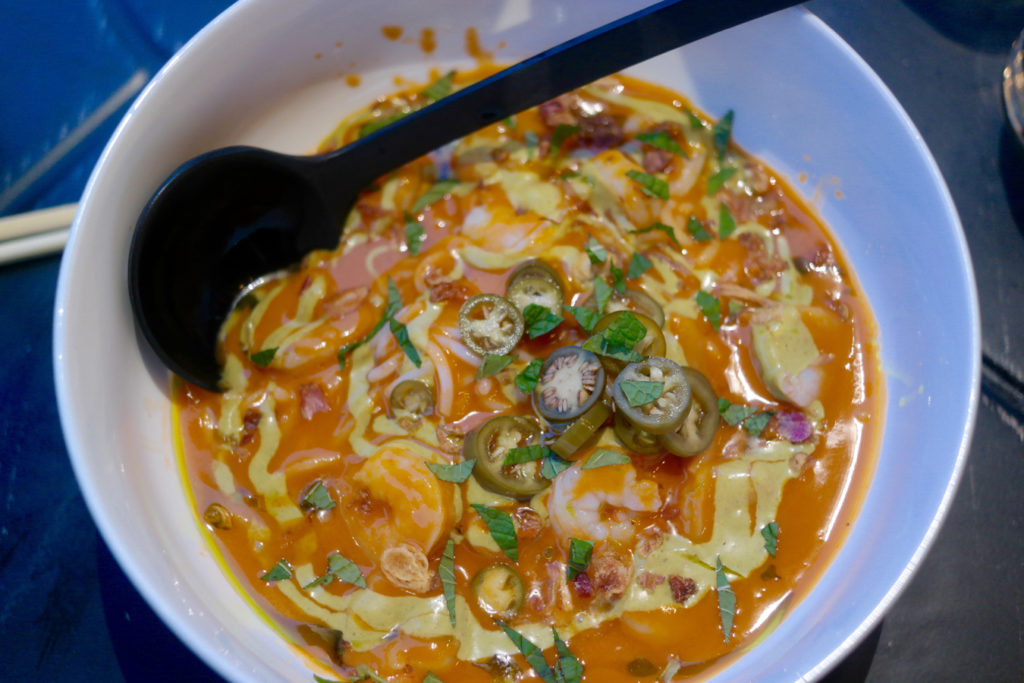 To accompany our mixians, we got an order of spicy pickled vegetables …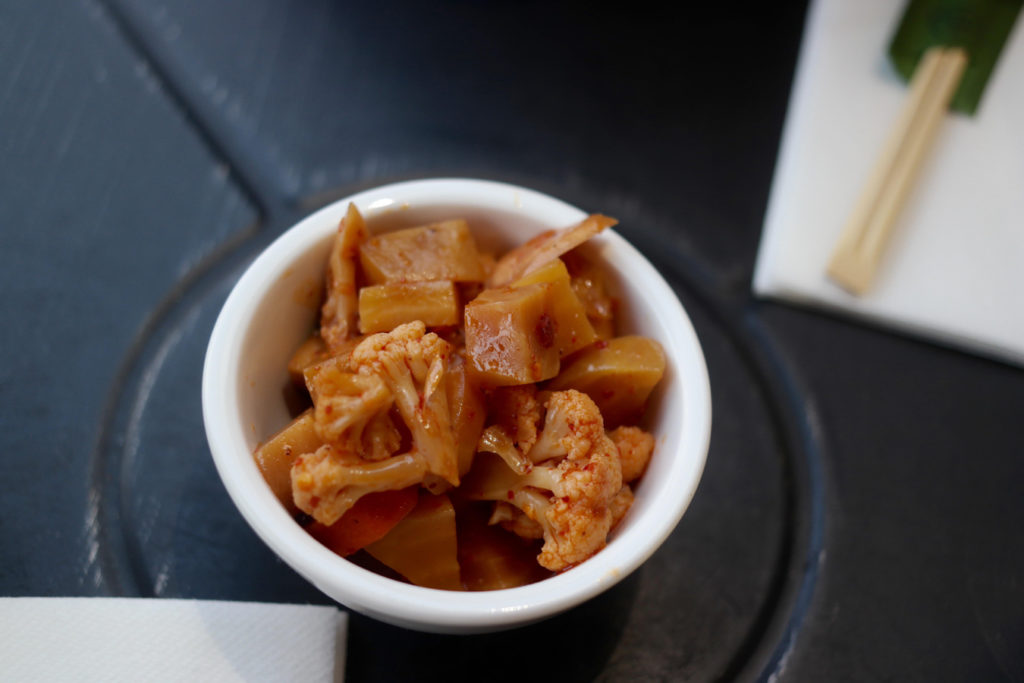 … and the mini stir fry, made with pine nuts and fiddlehead ferns.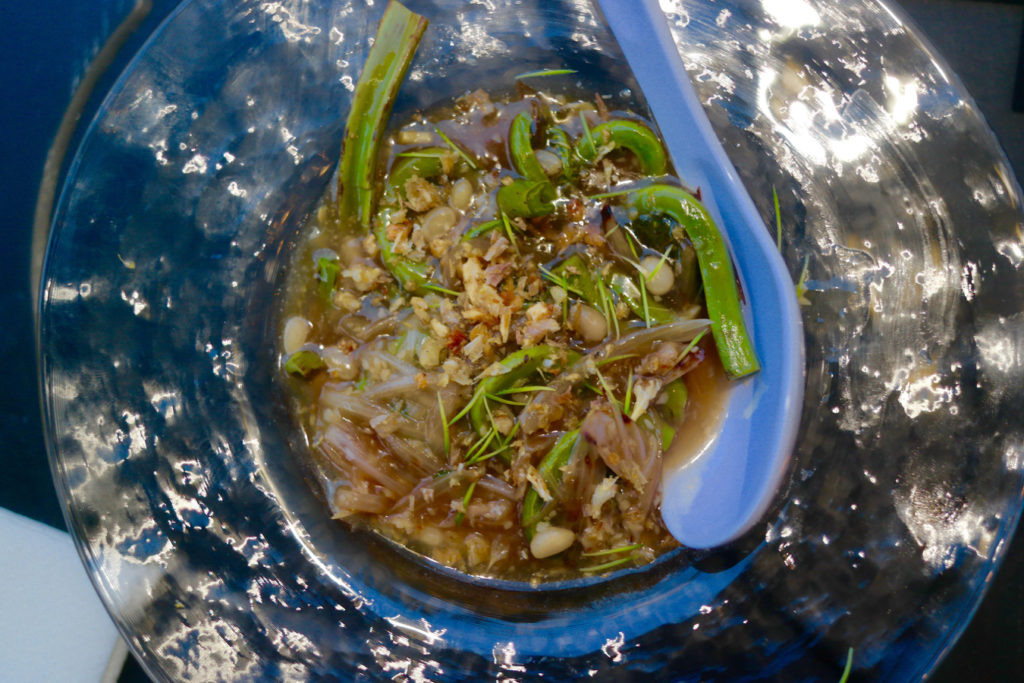 And we split the $1 chili flake-topped peanut butter cookie for dessert.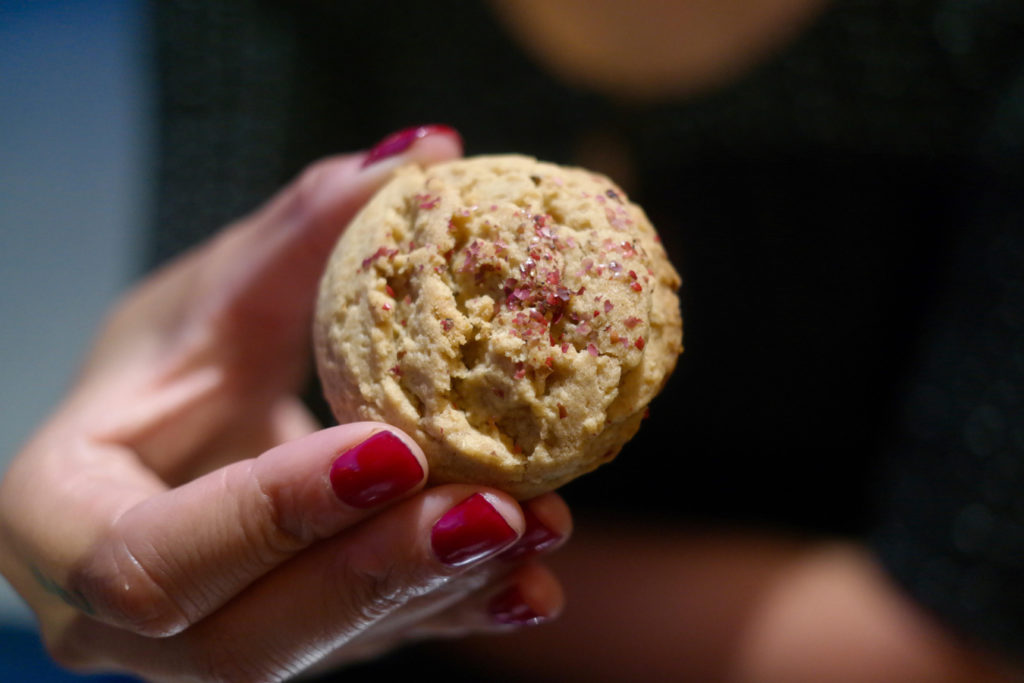 And finally, one Sunday afternoon after walking around all day, we decided to visit the famous Black Tap Burgers.  Not for burgers, though – we were after their crazy shakes.  These shakes have made Black Tap so popular that almost any time you want to visit the restaurant you have to wait in a holding pen outside on the sidewalk.  We did eventually get in, though, and we split the sweet n' salty shake.  You can see just how crazy it is – it's made with vanilla and chocolate ice cream, chocolate-covered pretzels, and M&Ms and peanut butter cups glued onto the side with chocolate frosting, all topped with whipped cream, chocolate sauce, and caramel on and a Sugar Daddy stuffed into the side.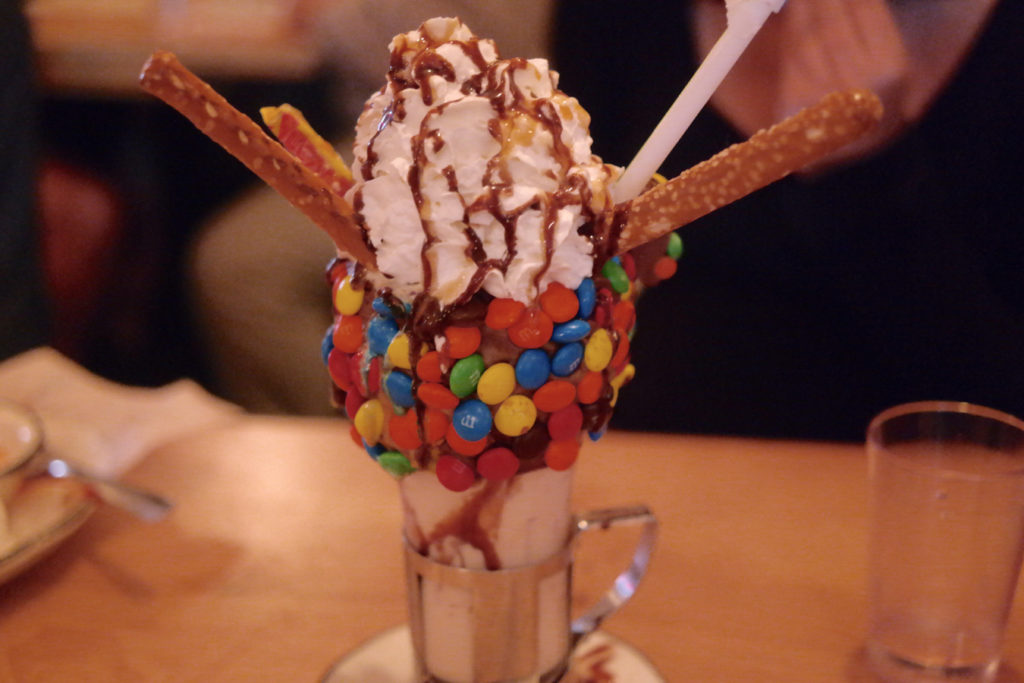 As you can see, these were some really diverse places we visited, serving a lot of different vegetarian and meat-based foods.  We'd recommend any of these places to try out around Manhattan, and make sure you check back soon to see other restaurants where we've gotten to eat.