We're back showing you some delicious food we've been able to try around New York!  We've been visiting a lot of diverse places lately, including a brand new food hall, so we'll share what we've had to eat at these spots.  We will be showing some meat dishes, however, so be forewarned.
First, we got to check out LaRina Pastificio and Vino in Fort Greene, which is a wine bar that also specializes in creative pasta dishes.  We decided to start out our meal there with the burrata, which is served with olive oil, peanuts and olives and focaccia on the side.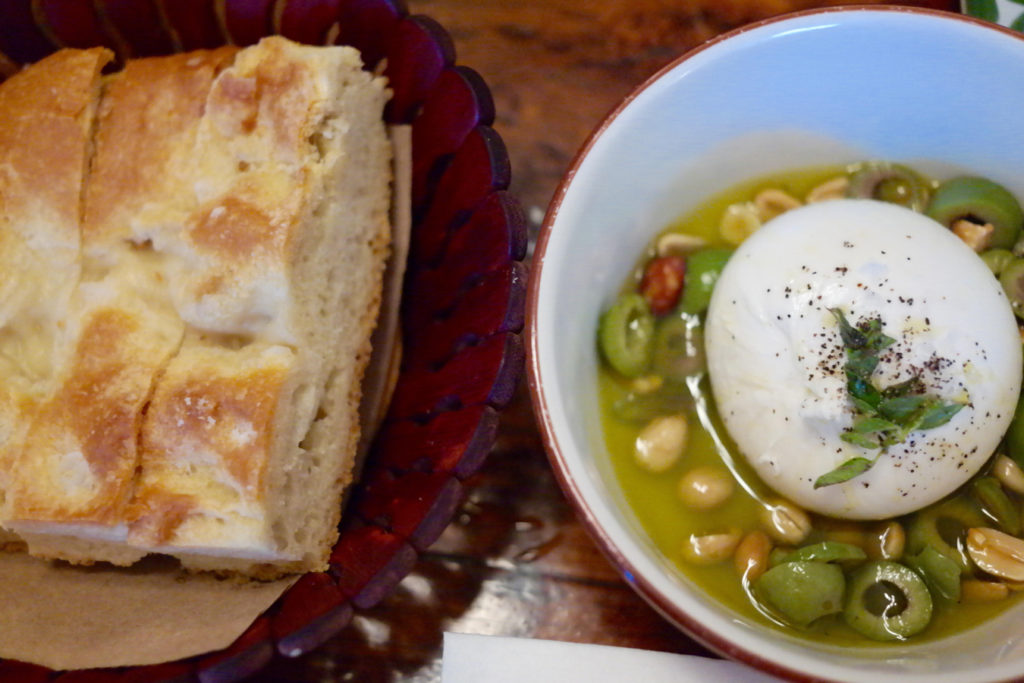 Since we love pasta and LaRina has some great, unique selections, we each got our own pasta dish. Miriam had the gnocchi sorrentina, which comes tossed with a San Marzano tomato sauce and buffalo mozzarella.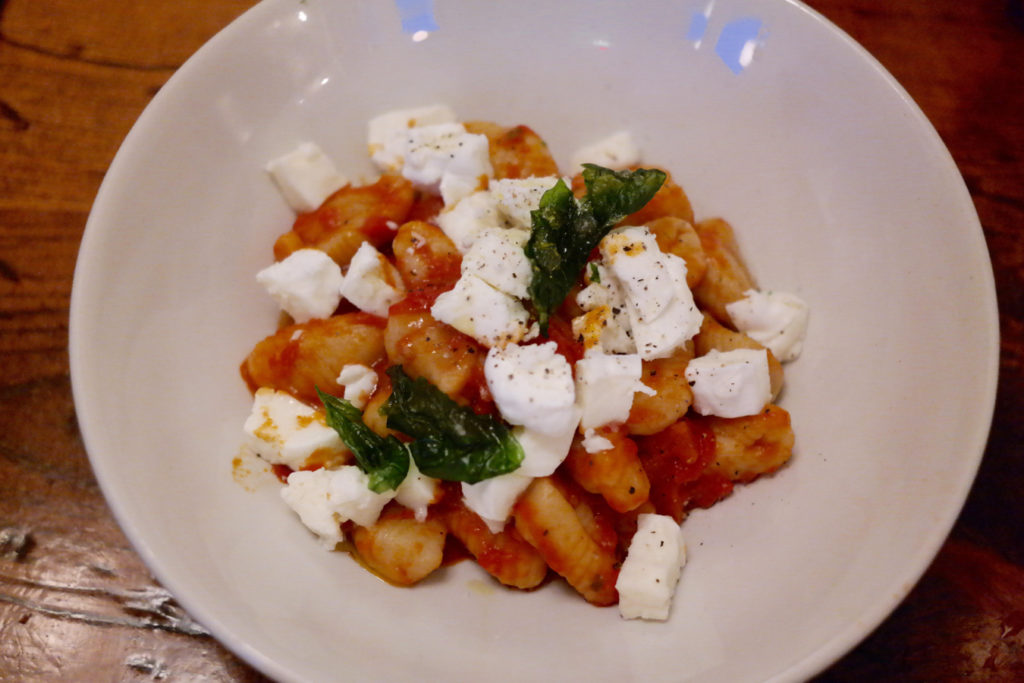 Cyril decided on the chef's pasta preparation of the day, which features three selections of different pastas.  The first was a smoked spaghetti aglio olio with chiles and hazelnuts.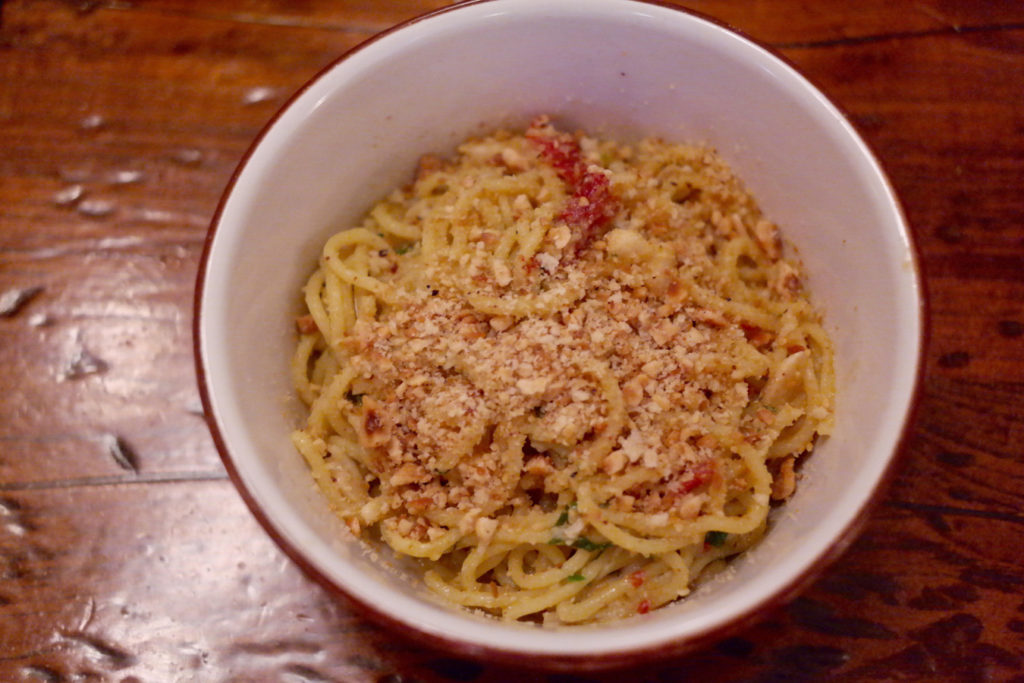 Next came a rigatoni with sausage, broccolini, and a garlic Parmesan butter sauce …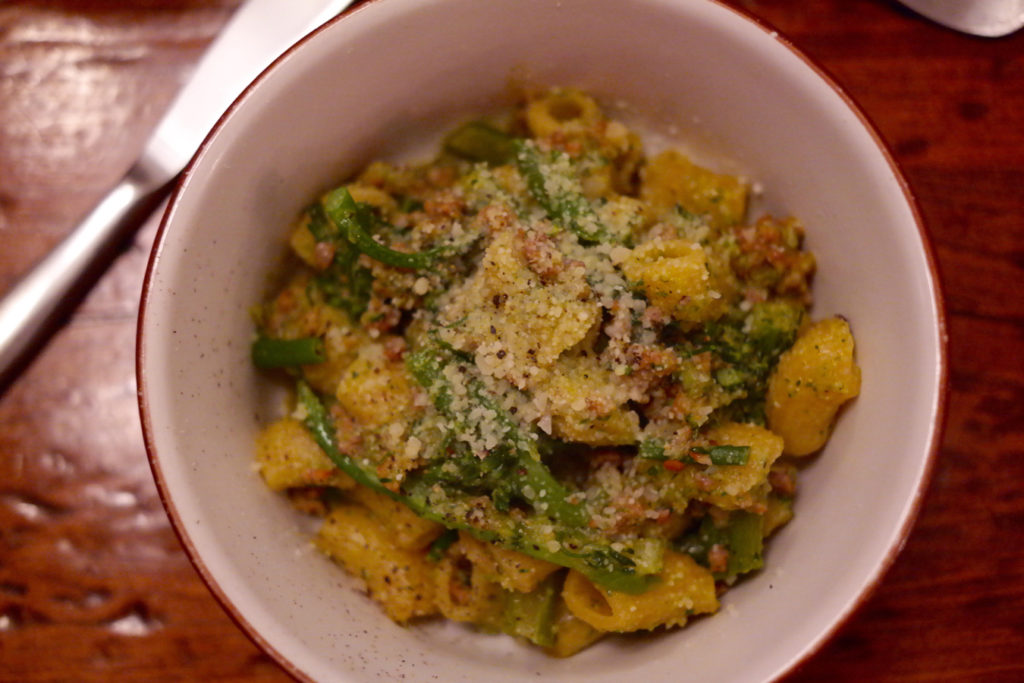 … and then a spinach fettuccine with Bolognese sauce.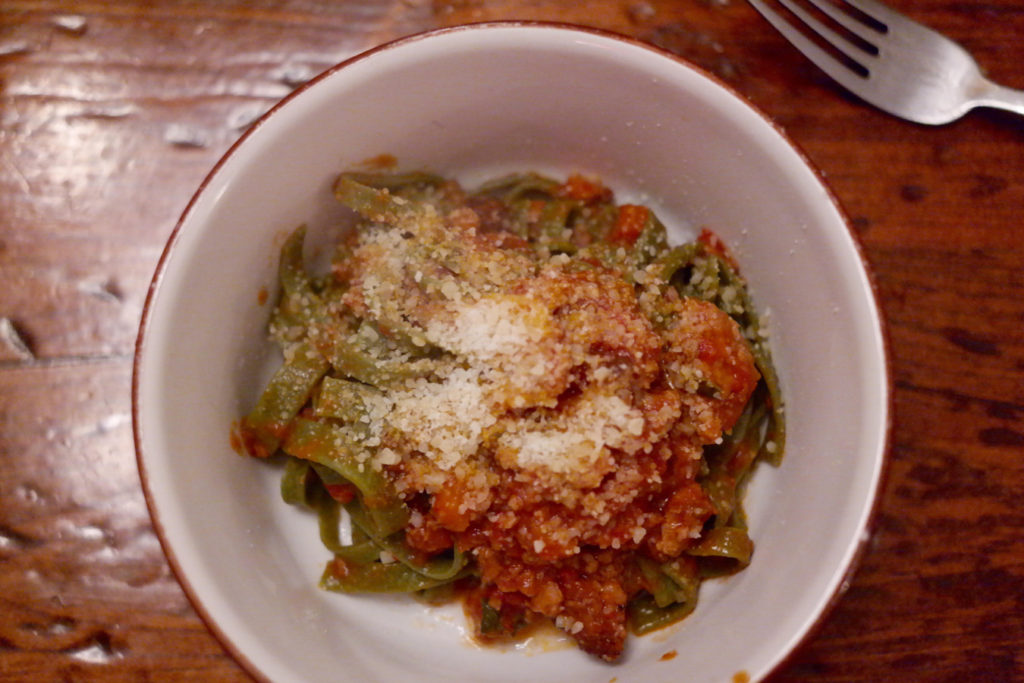 And we finished off our meal with a vanilla panna cotta topped with a salted caramel sauce.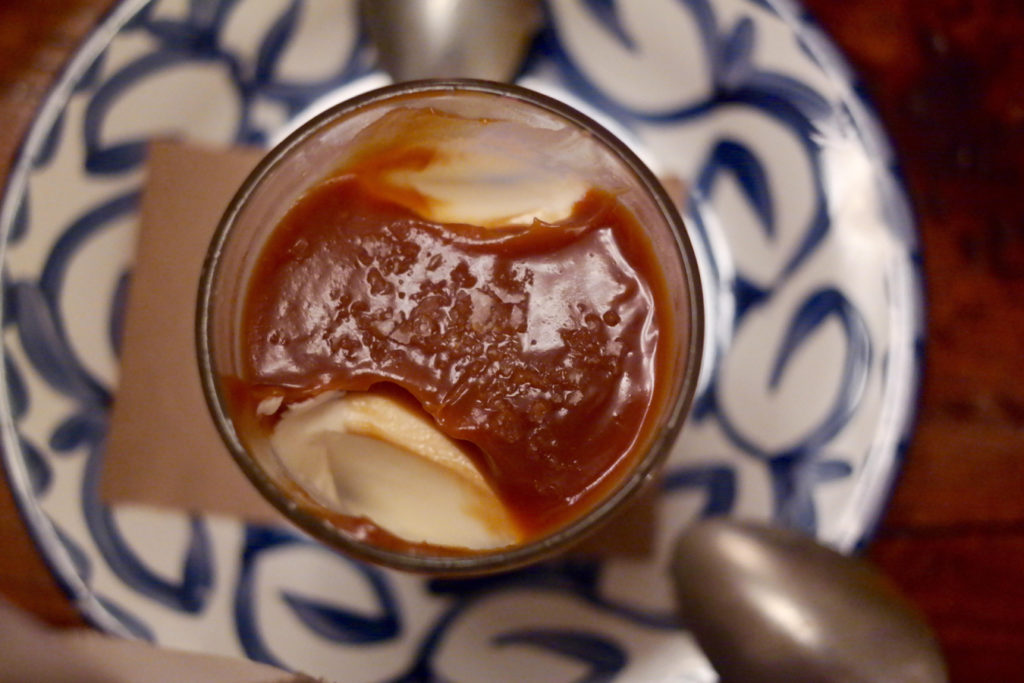 We also decided to visit Bondurants on the Upper East Side.  They're a pub that also happens to serve Southern-style food, so we had a quick bite there one Friday night.  Cyril decided to get their burger, which might sound boring but turned out to be kind of amazing – it's made with a huge patty topped with gruyere cheese on a pretzel bun.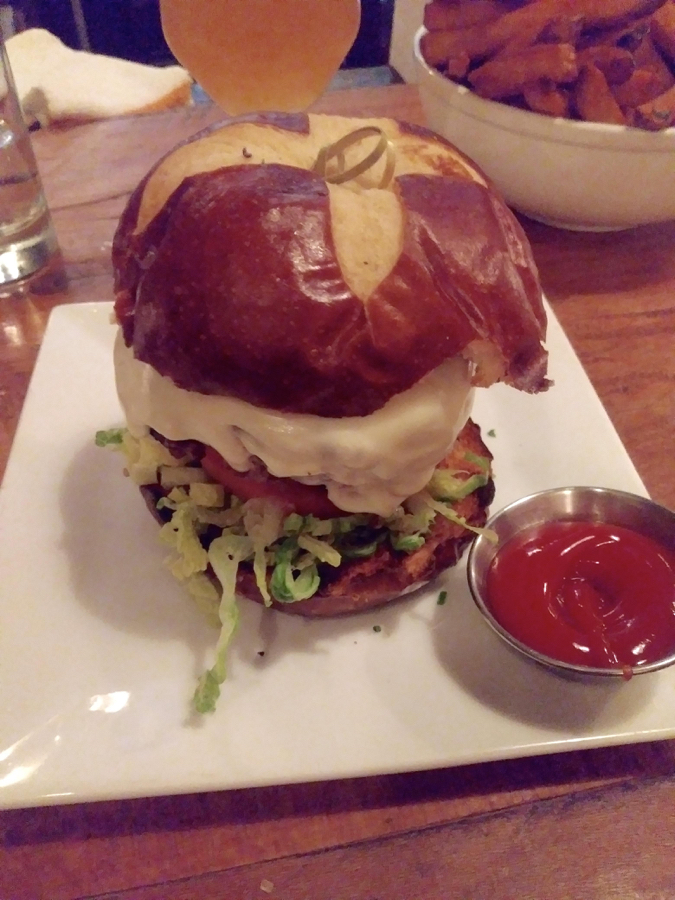 Miriam had their mac and cheese, which is also made with gruyere and comes in it's own little cast iron dish.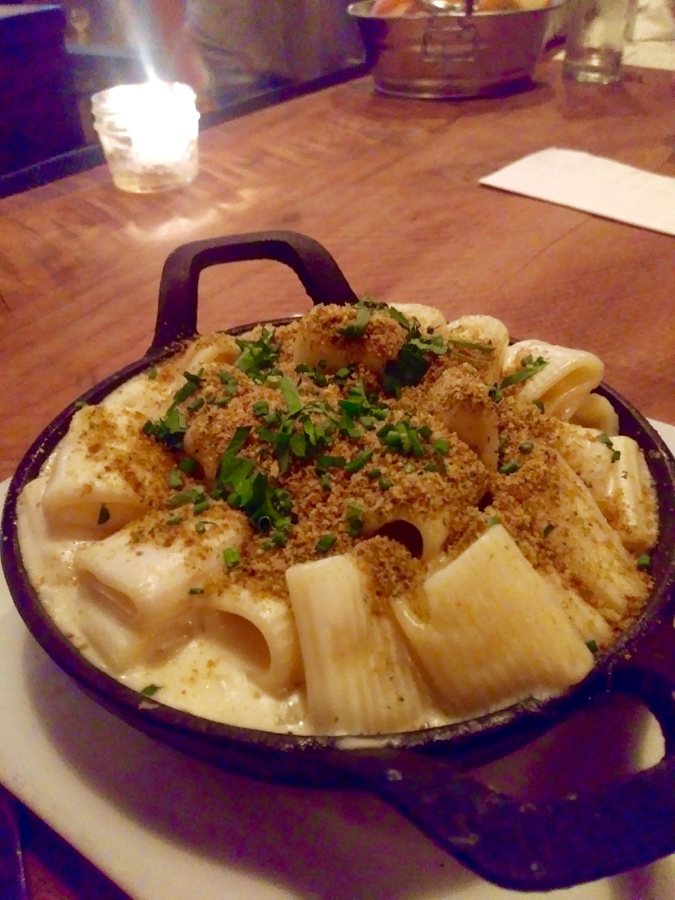 And we split an order of the IPA-brined, herb-topped fries.  This huge bowl was only $6.
Finally, we decided to visit the new DeKalb Market Hall in Downtown Brooklyn on the weekend it opened last month.  It's a new space in the basement of the City Point building that will eventually feature more than 40 food vendors (currently about half of them are open).  There's a wide, diverse selection of interesting food for sale there, so we decided to sample a lot of different things.
First up was Pierogi Boys, where we shared a plate of mushroom and sauerkraut pierogis topped with a mushroom sauce.
Then we swung over to the Arepa Lady stall for an arepa de chocolo, which is made from a sweet corn cake stuffed with cheese and served with creamy avocado and tomato sauces on the side.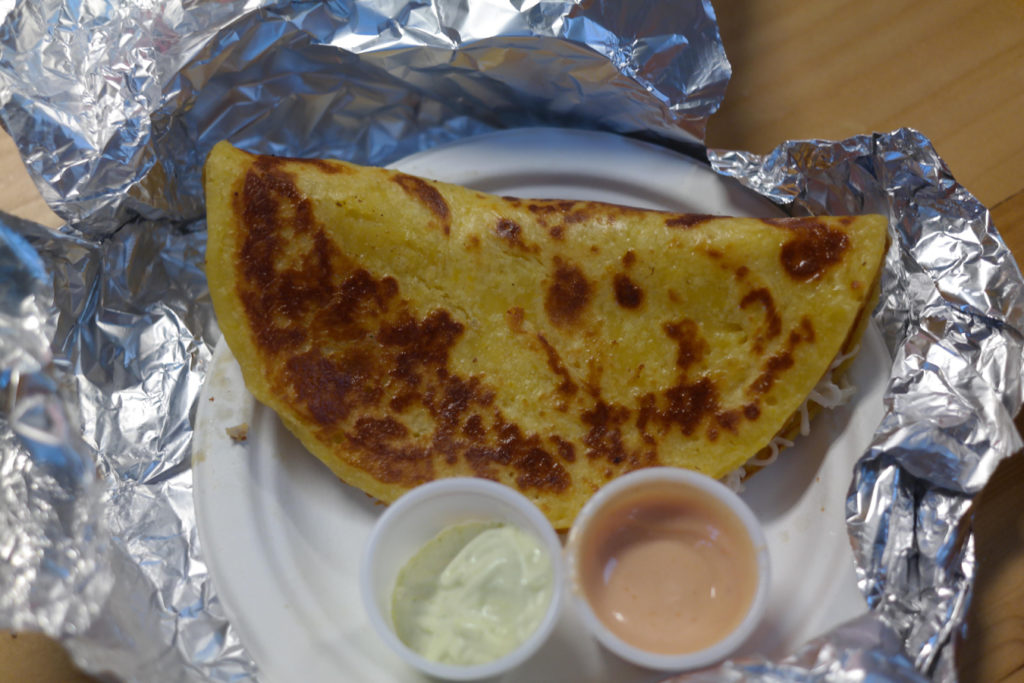 Next we stopped by Lioni Italian Heroes, which originally comes from Bensonhurst and serves about 150 different sandwiches, all named after famous Italian people.  After reading over the entire menu we settled on #88, the Bruno Sammartino, which came with fried eggplant, ricotta cheese, and roasted red peppers.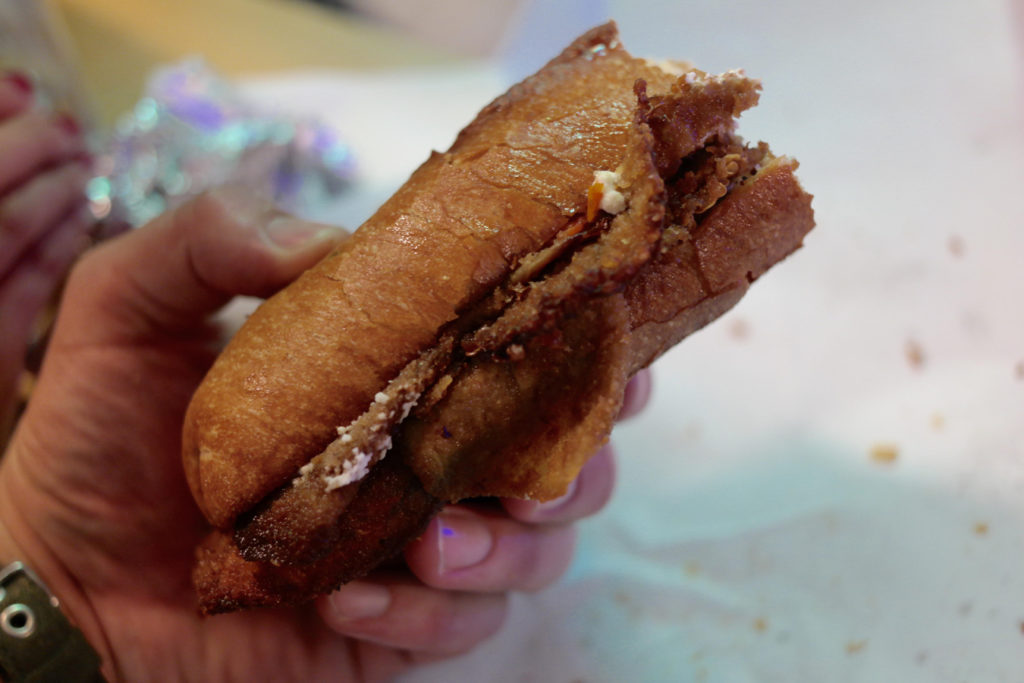 For dessert we decided to try the cake push pops at Pop Cake Shop.  These unique creations are made from mini cakes, frosting, and toppings stacked in a push pop container, which you can eat layer-by-layer like an ice cream pop.  We each got a pop made with vanilla, chocolate, and red velvet cakes and cream cheese frosting.  Cyril got his with strawberry topping and chocolate chips, while Miriam opted for crumbled Oreos and rainbow sprinkles.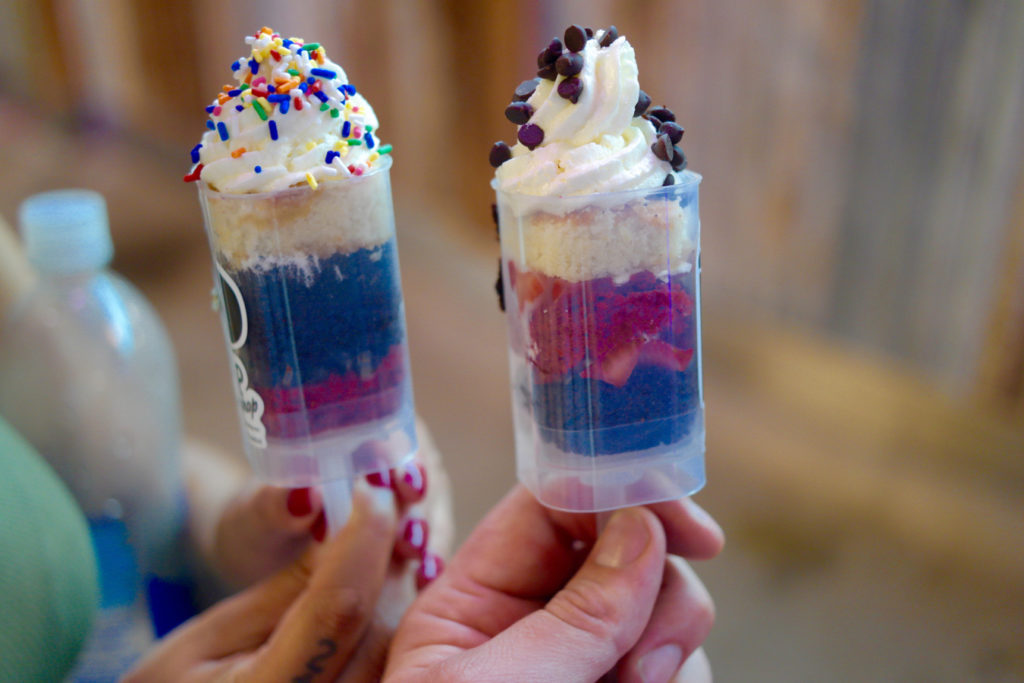 And we also got a mini Key Lime pie from the Steve's Authentic Key Lime Pie stall.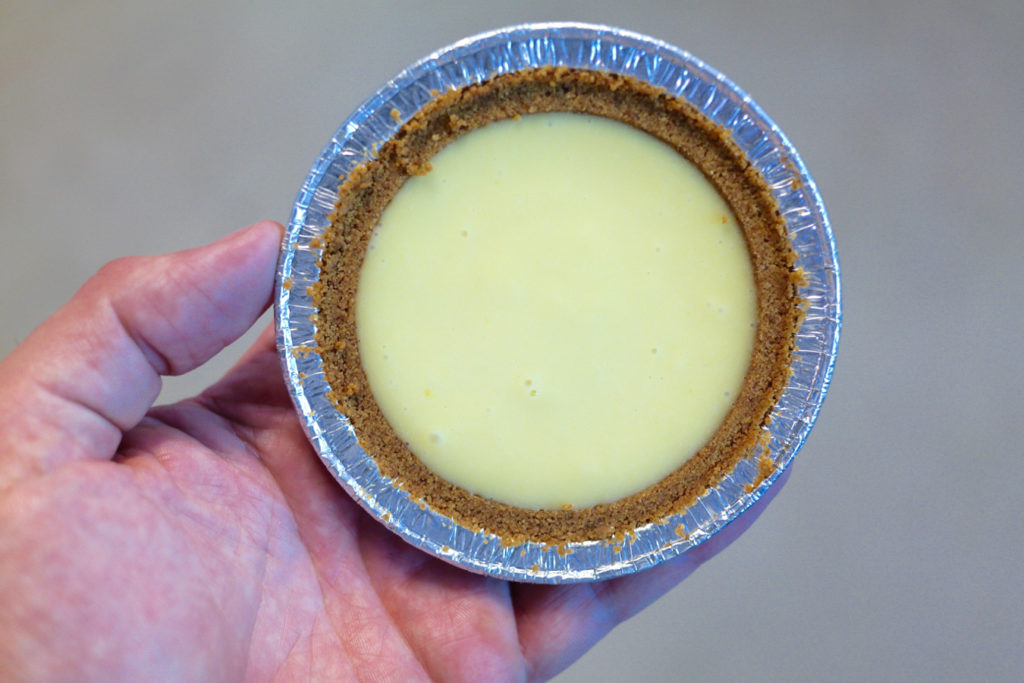 That's all for now, but we're always on the hunt for interesting food around New York.  Check back later for more delicious bites around the city!