Miriam recently came back from a three-week trip to Europe, where she got to see a lot.  Like, a lot:  the statue of David, the Eiffel Tower, Auschwitz, the Berlin Wall, snow in July on top of a Swiss mountain, and a ton other things.  There was also many different foods from many different countries – some of which were brought back home to share with Cyril, and some of which she got to enjoy while traveling.  We figured we'd share some of these delicious things with you.
First, the snacks that Miriam brought back.  From England, here is an Aero mint chocolate bar.  This brand of candy originated in the U.K. and has spread all over the world, but for some reason it's never caught on in the United States.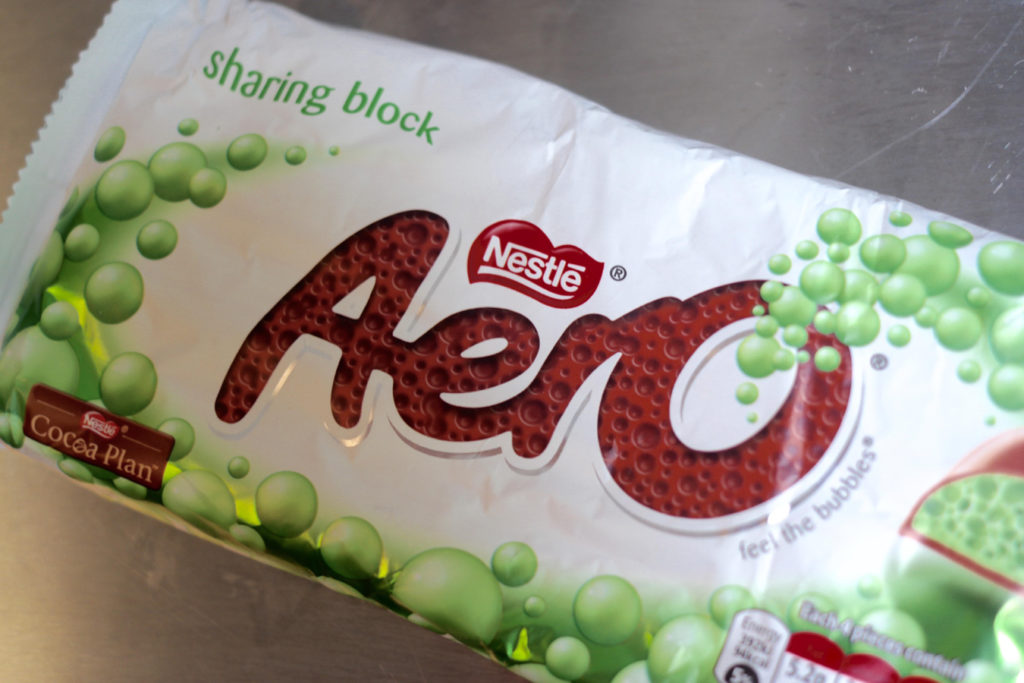 Aero bars get their name from the fact that the chocolate in the middle is aerated, making it bubbly, light, and crispy.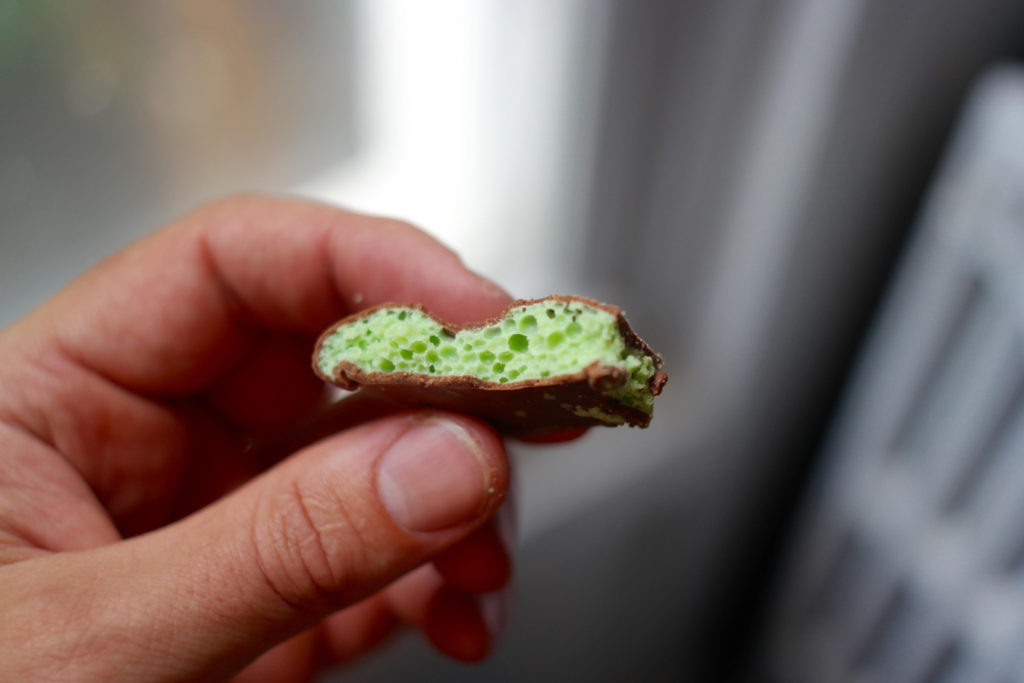 These stroopwafels – made from two waffle cookies with a caramel syrup in between – came from the Netherlands, where they're a popular snack.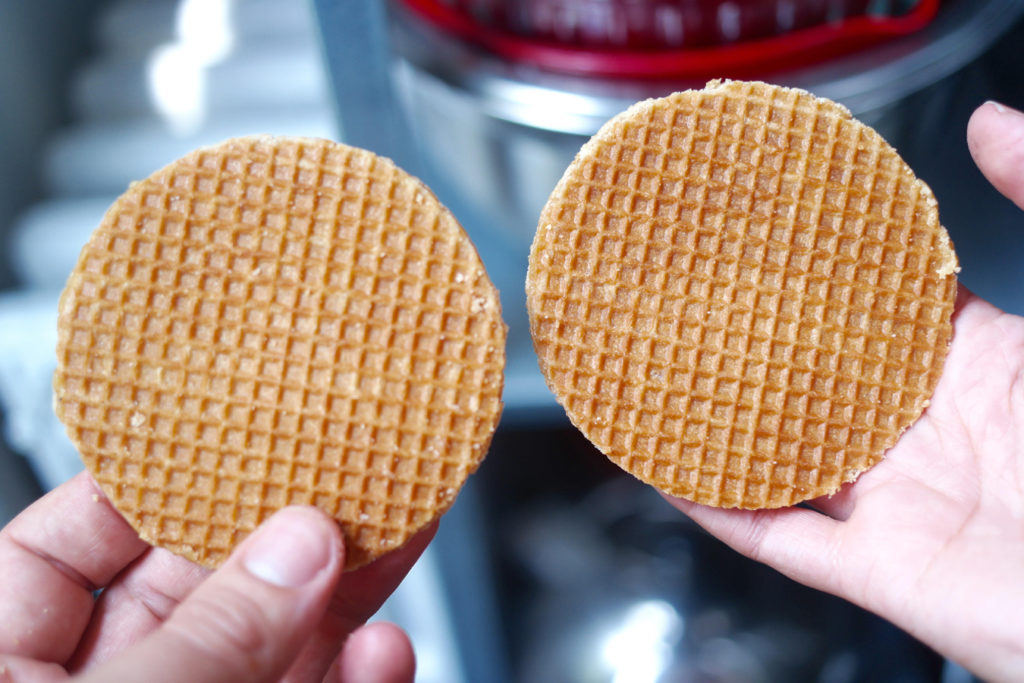 Also from the Netherlands, here is some herbed gouda.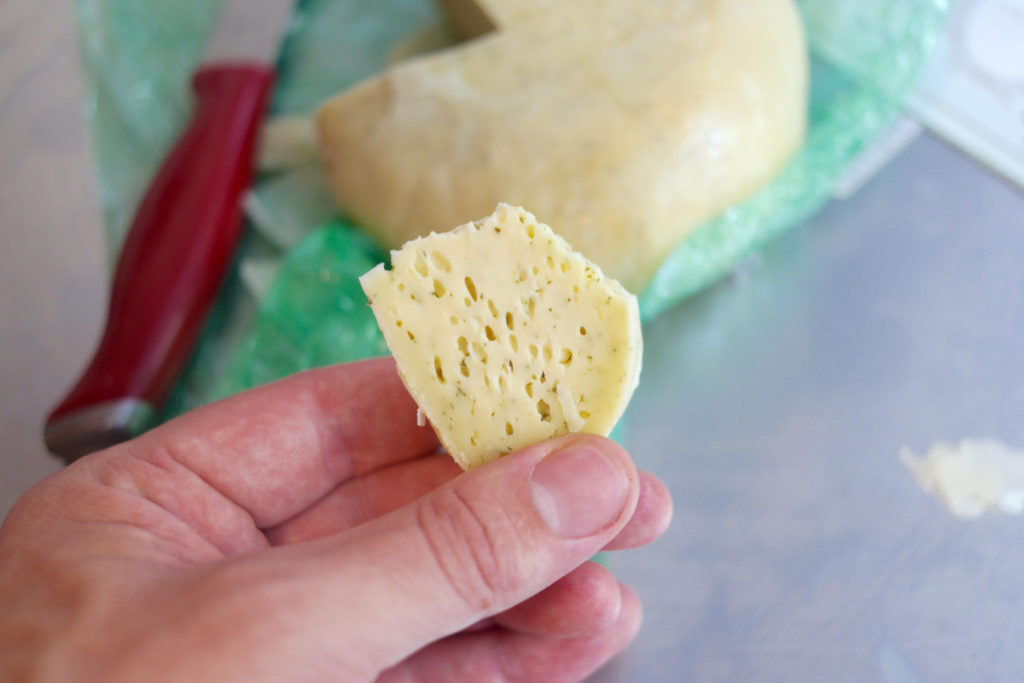 These pernik na figurky came from Czechoslovakia, where they're often made as Christmas cookies.
This is a Sachertorte from the restaurant of the Hotel Sacher in Vienna, which made the first version of this Austrian dessert.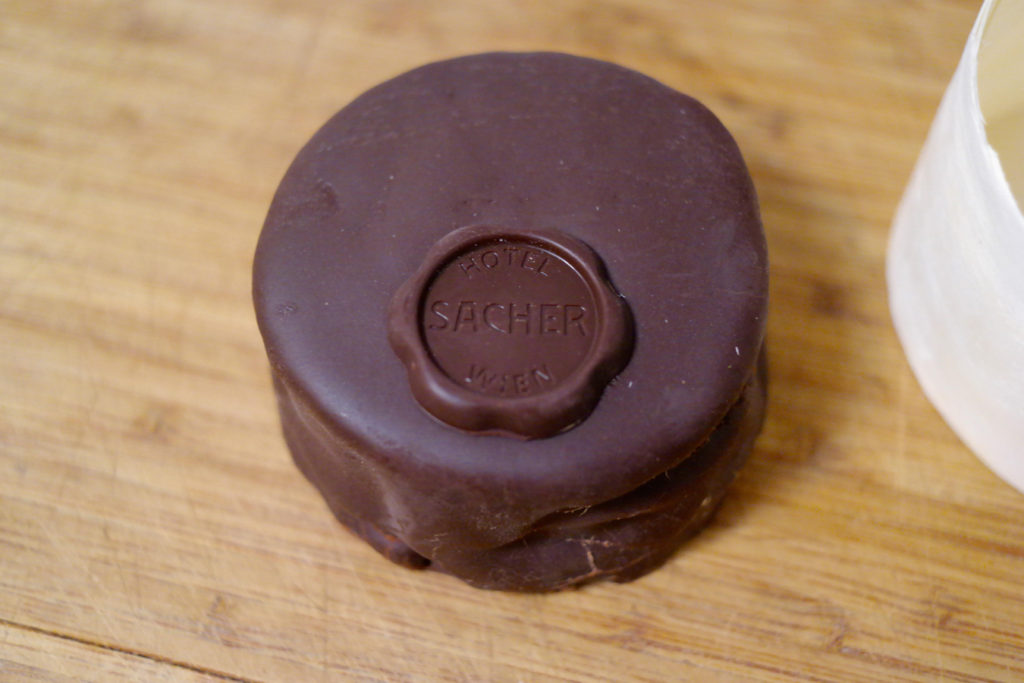 The Sachertorte is made with layers of chocolate cake and apricot jam, all covered in a chocolate ganache.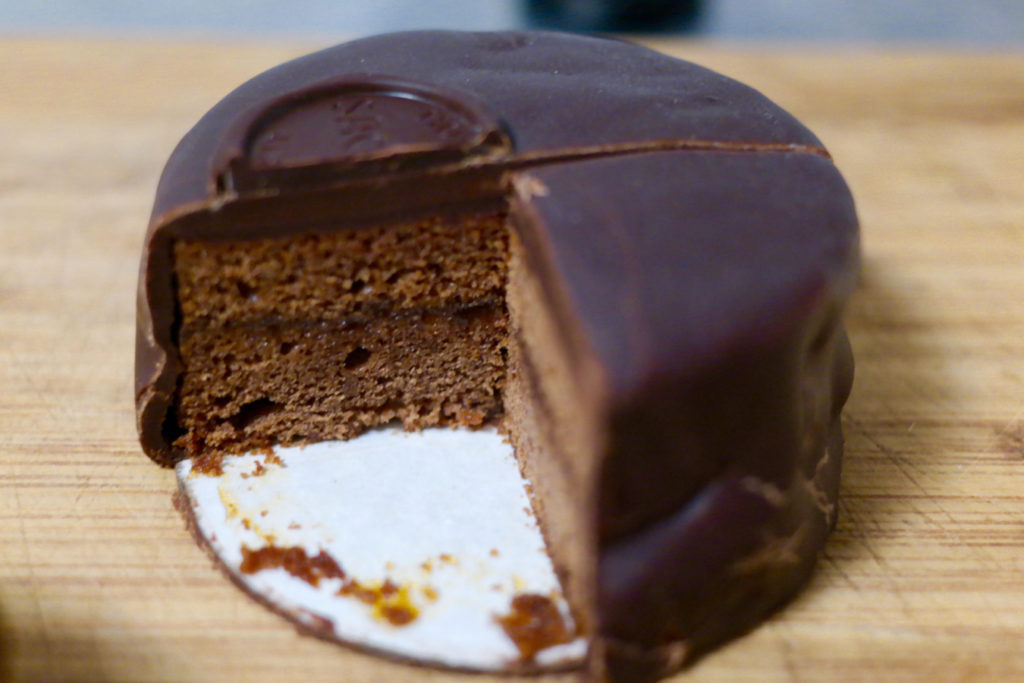 This Mozartkugel – a candy ball of marzipan and nougat coated in dark chocolate – also came from Vienna.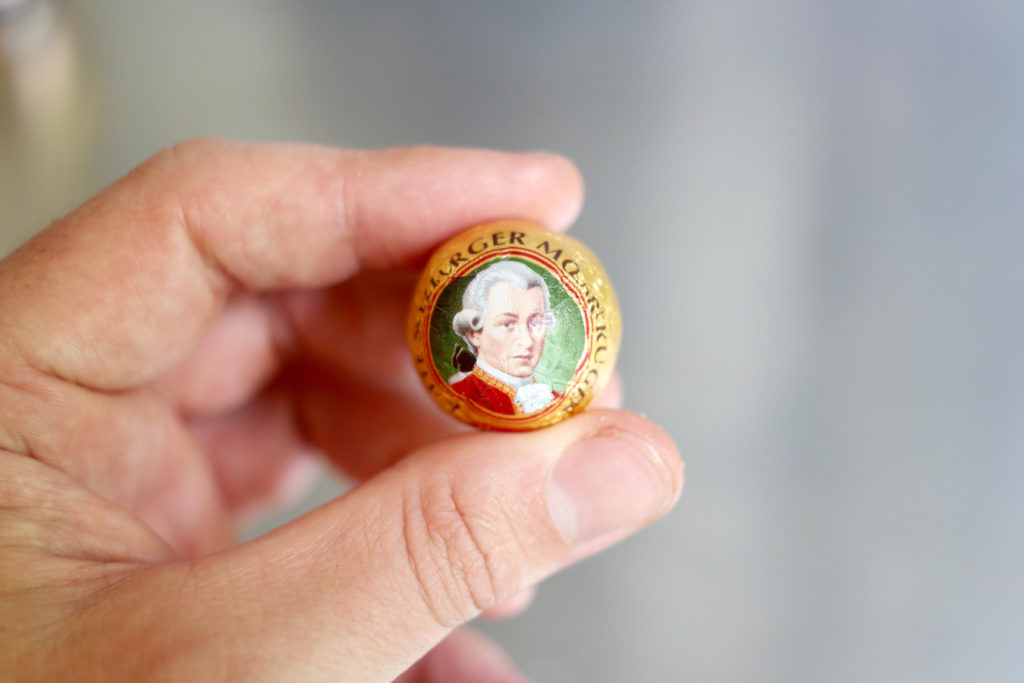 From Italy, Miriam brought back the most unusual pasta she could find.  This is candele, which are ridiculously long pasta tubes – and here's how we cooked them up.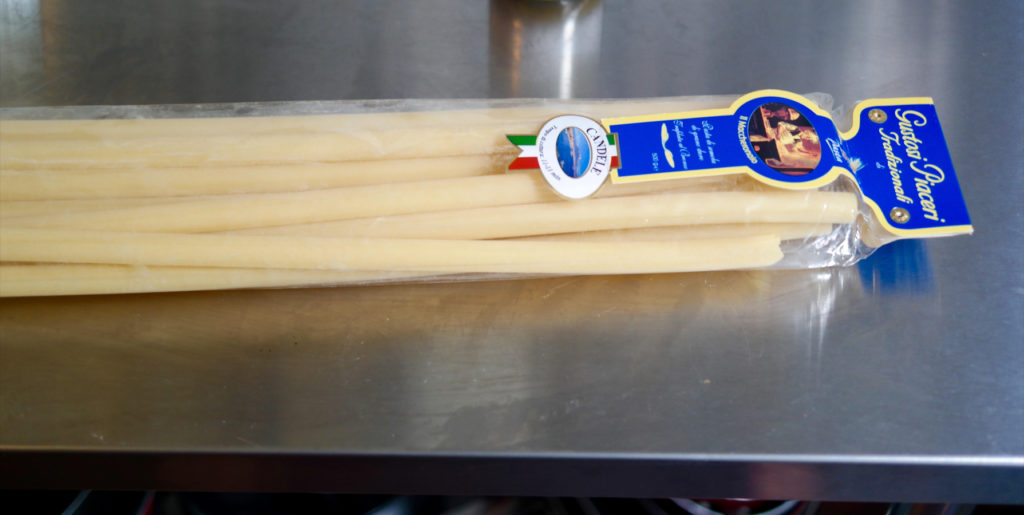 She also bought a 25€ jar of pesto truffle sauce, which almost didn't make it through airport security.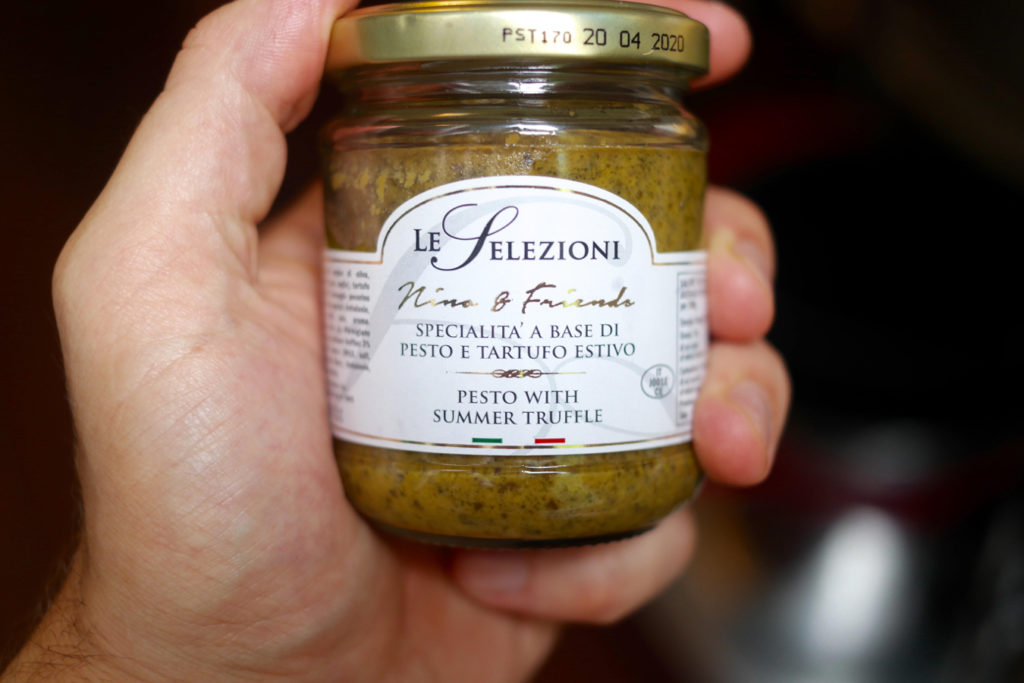 This Lindt chocolate hazelnut spread came from Switzerland – specifically, from the highest chocolate store in the world – because Lindt is a Swiss company.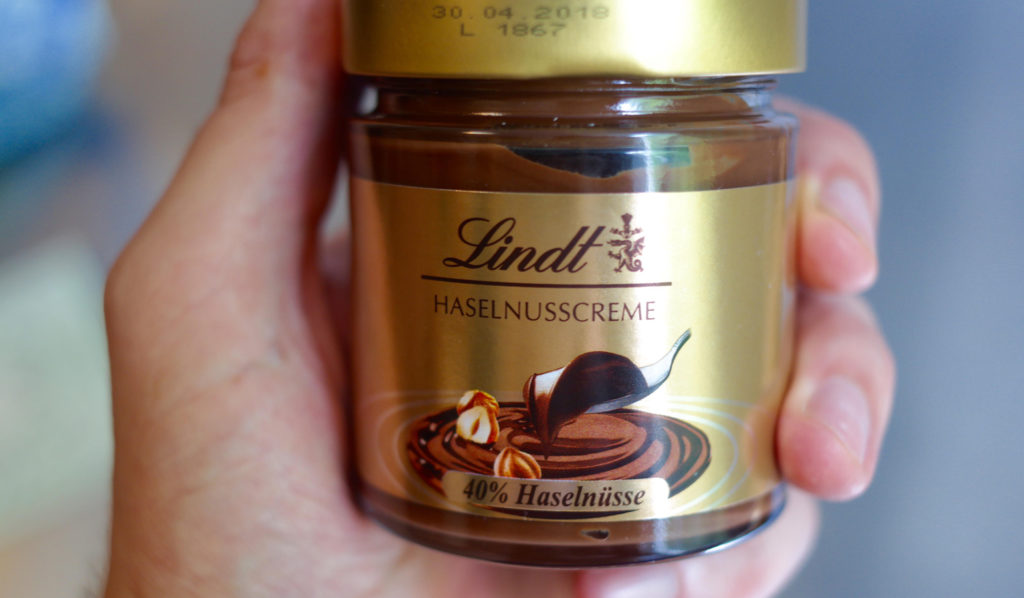 We ate it on Triscuits.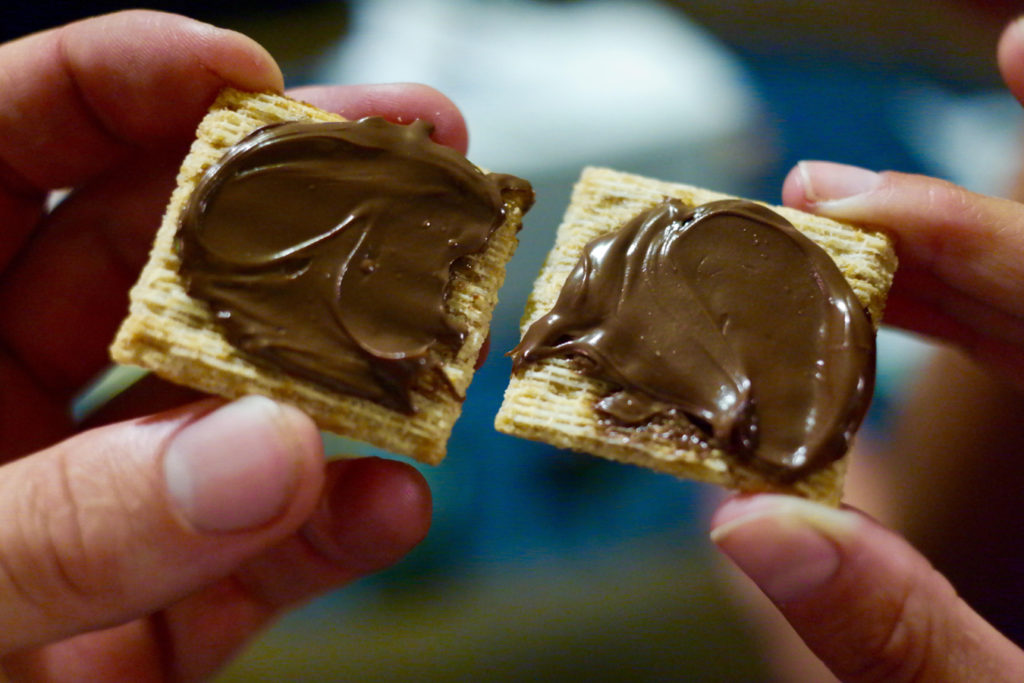 And in Paris Miriam visited Laduree, France's most famous gourmet bakery chain, for macarons.  These flavors are, from left to right:  salted caramel, rose, lavender, mint, pistachio, and raspberry.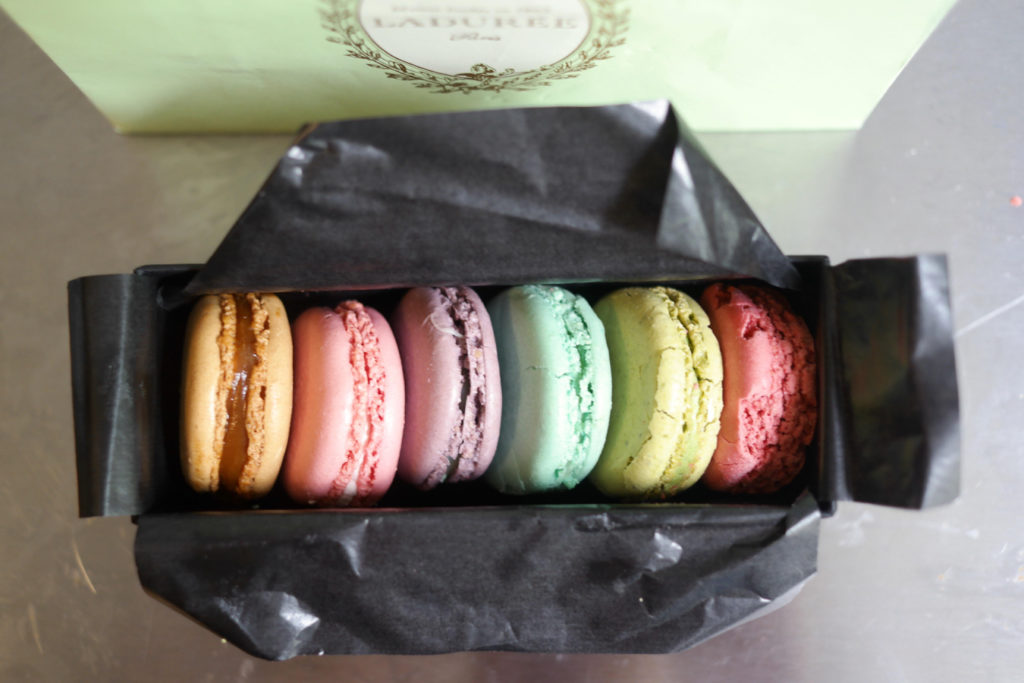 And here are some of the regional dishes Miriam got to eat in the different countries she visited (apologies for the quality of these pictures – these were all taken with her phone).
This kasespatzle is Germany's answer to mac and cheese – it's made with tiny dumplings in a cheddar sauce, topped with crispy onions.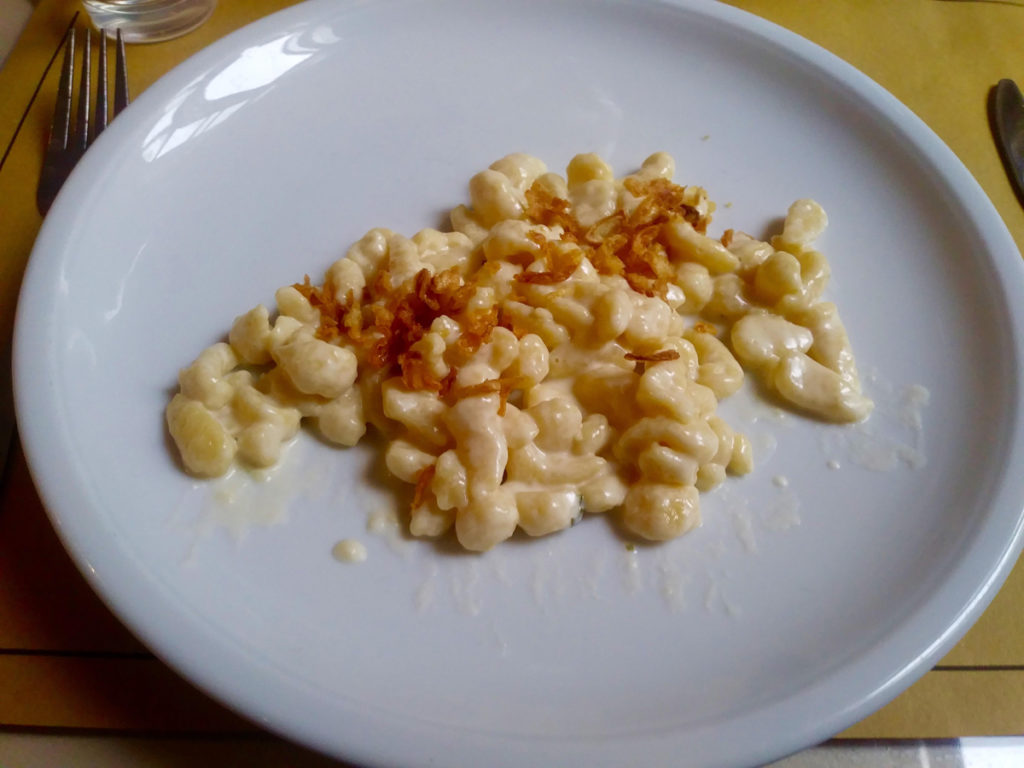 This vegan currywurst came from Curry at the Wall in Berlin:  it's a vegan sausage covered in a tomato and curry sauce.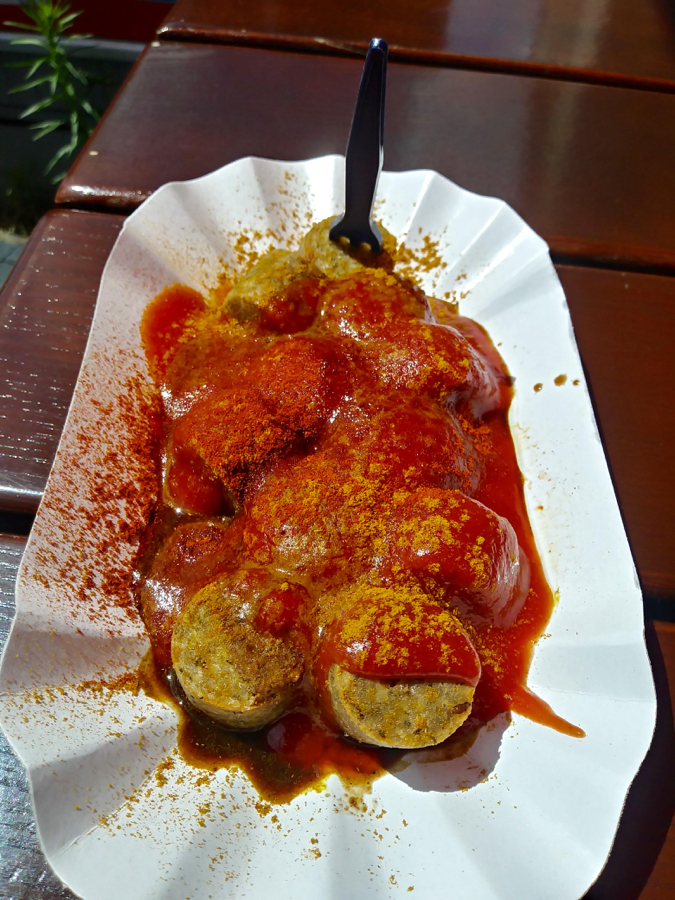 From the Czech Republic there was trdelnik, made from dough twisted into a spiral, grilled, and then sprinkled with sugar.  This version was filled with fruit, ice cream and chocolate sauce.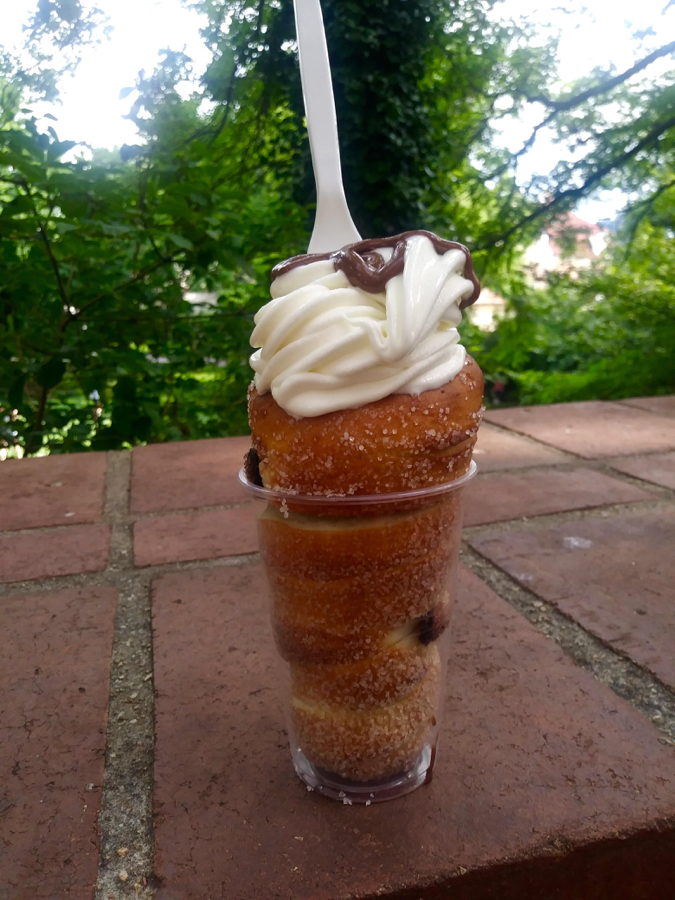 In Poland, Miriam discovered zapiekanka, a type of open-faced sandwich on French bread.  This one had a layer of mushrooms on the bottom topped with three different kinds of cheese and herbs.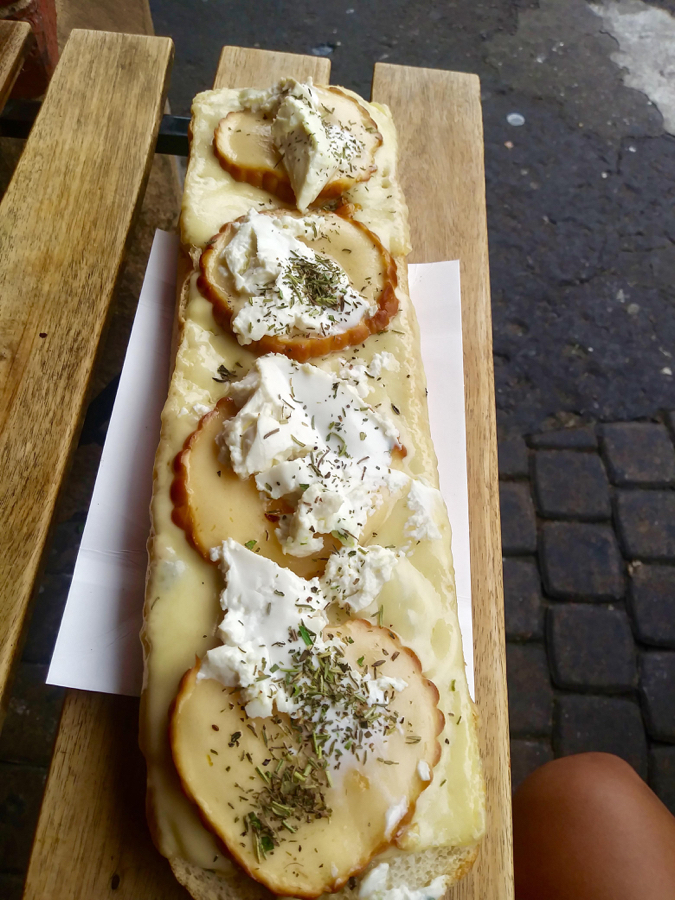 Of course there were also pierogis in Poland – these are a cheese and onion version.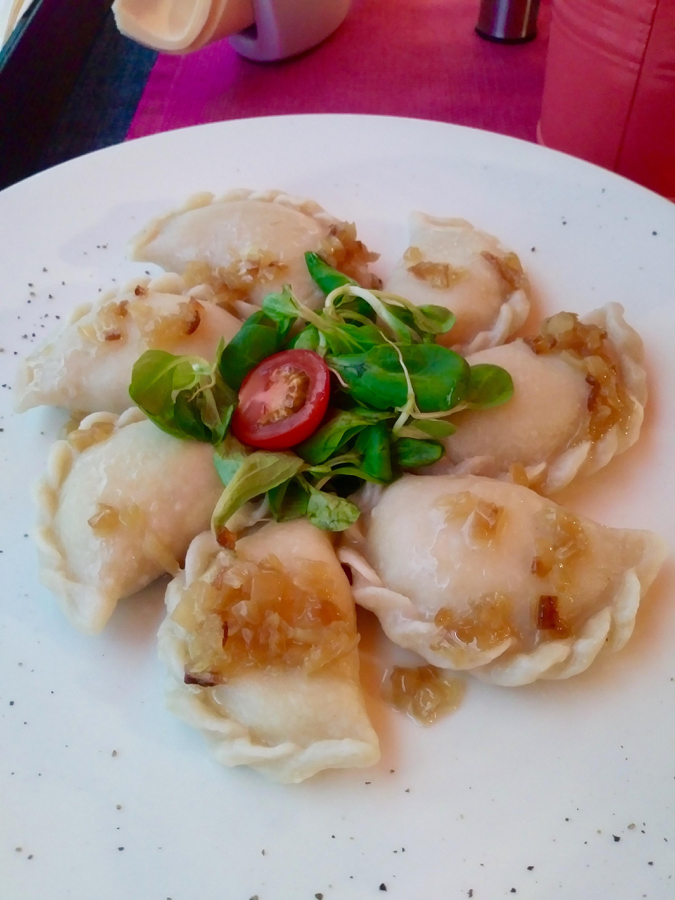 This is a Bled cake from the Lake Bled region of Slovenia, made with a thick layer of vanilla cream, a piece of crisp pastry on top and bottom, and powdered sugar dusted over everything.  It came from the Panorama Restaurant overlooking the lake, which came up with the first version of Bled cake.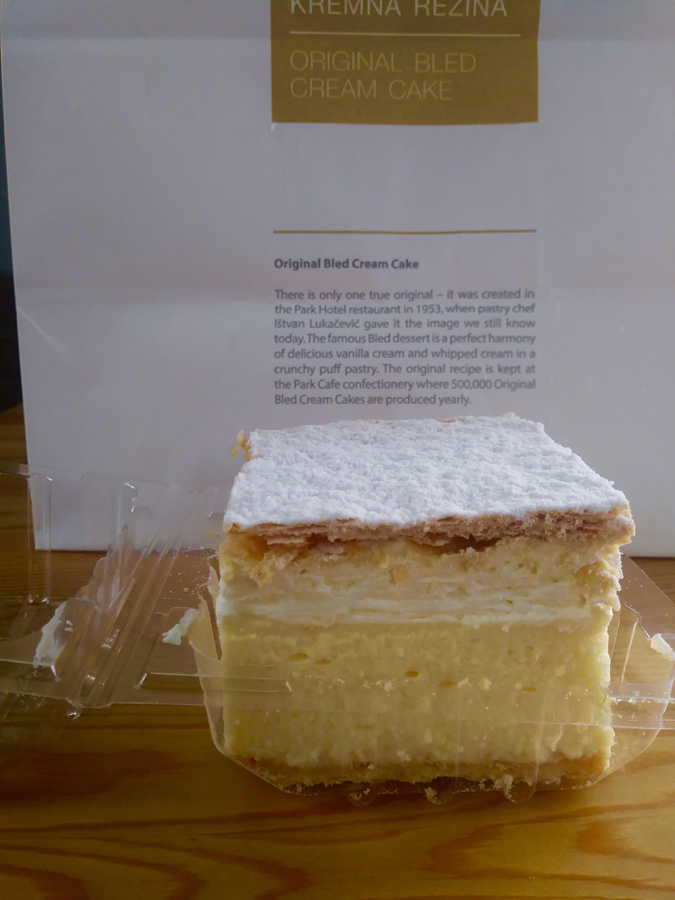 Of course Italy was filled with delicious food, and Miriam ate pasta all the way through the country.  Here is gnocchi ai quattro formaggi …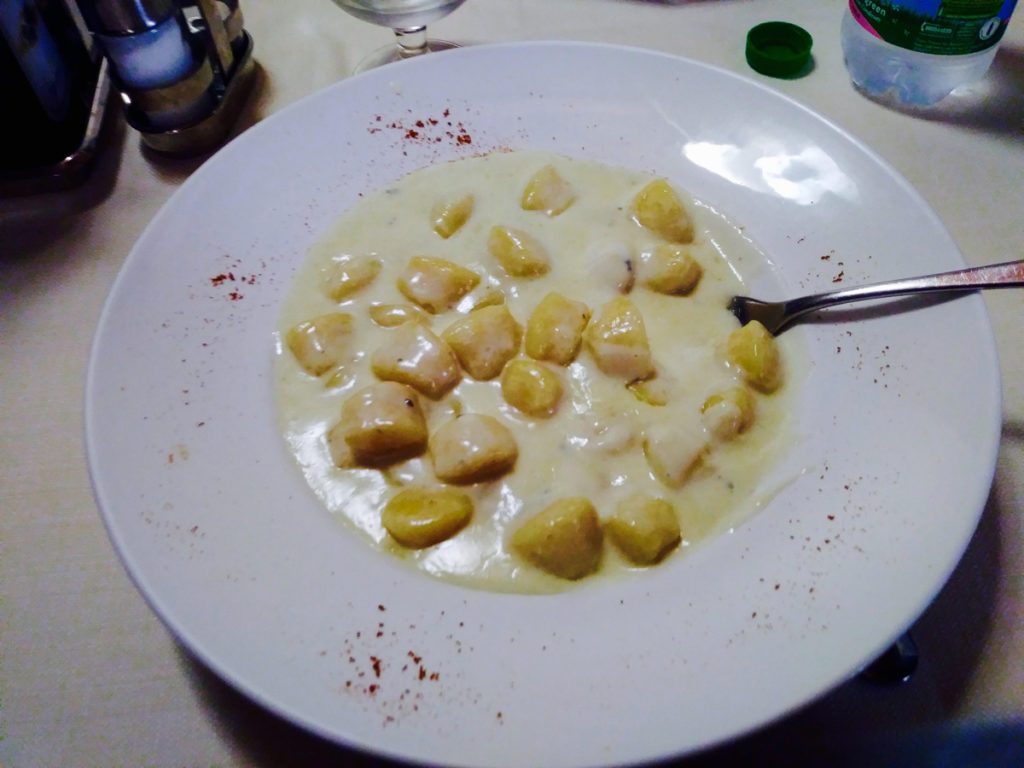 … spaghetti aglio olio with spicy red peppers …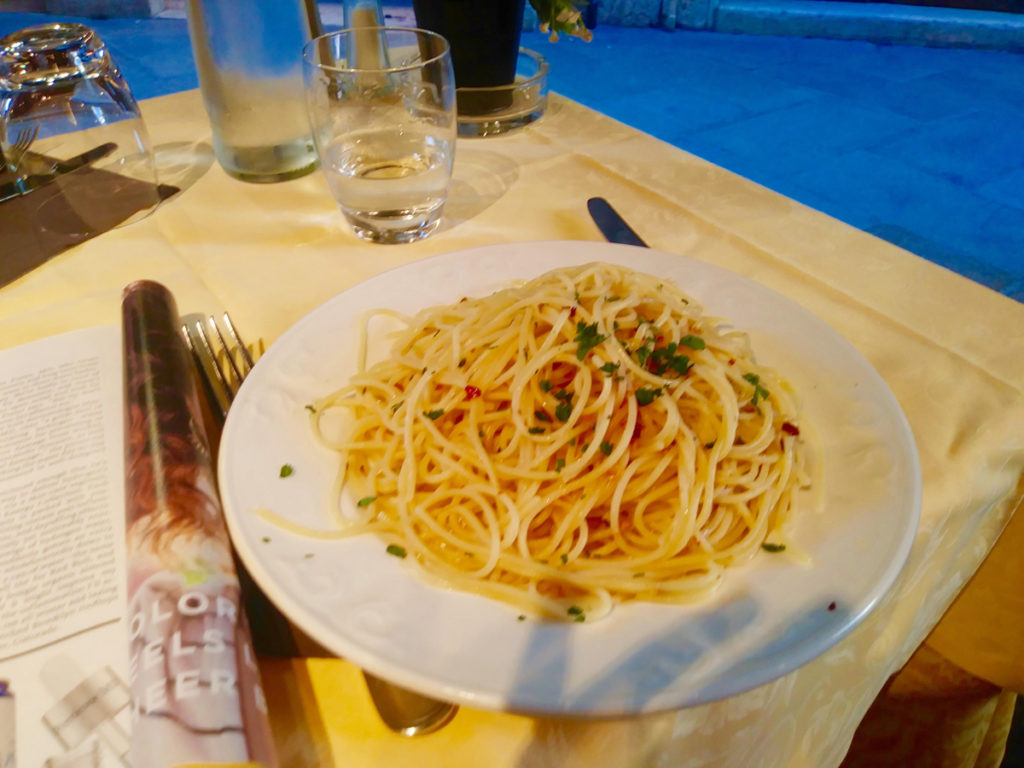 … fettuccine with a pesto sauce …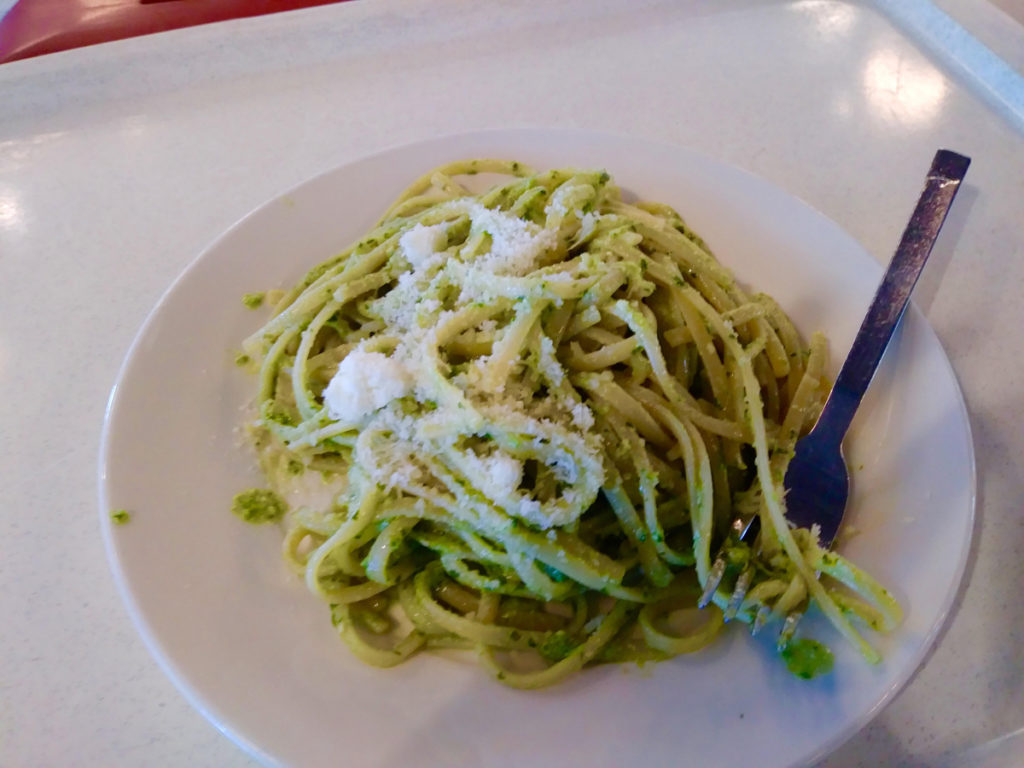 … rigatoni cacio e pepe, which is a specialty in Rome …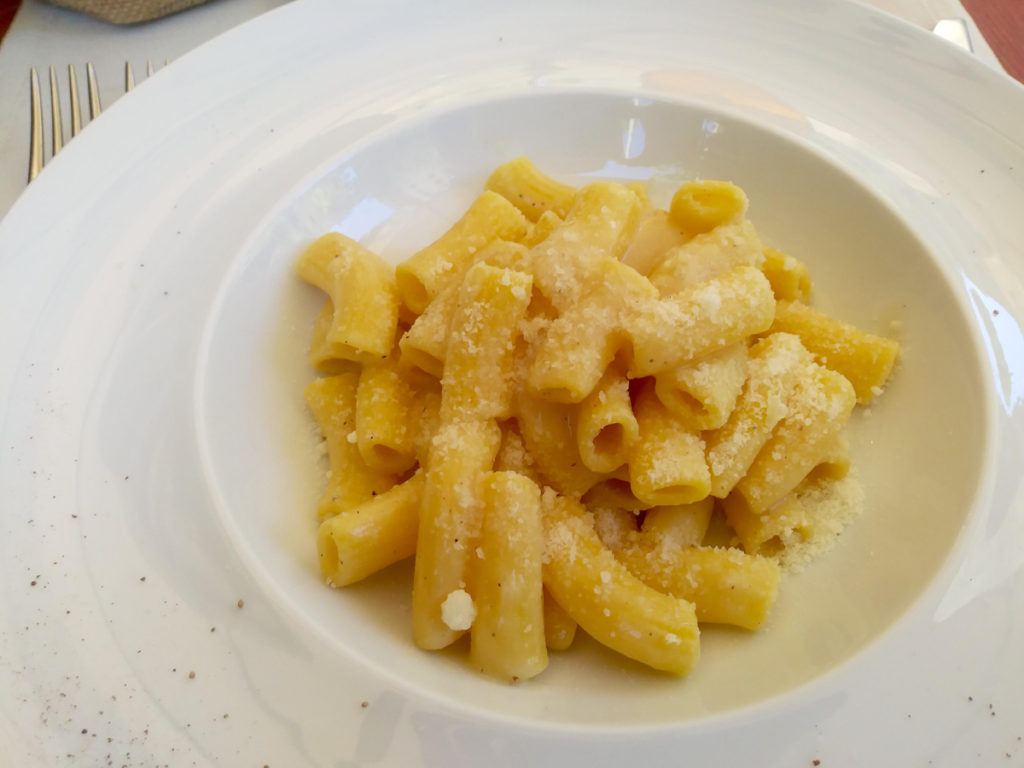 … ravioli in a rosé sauce …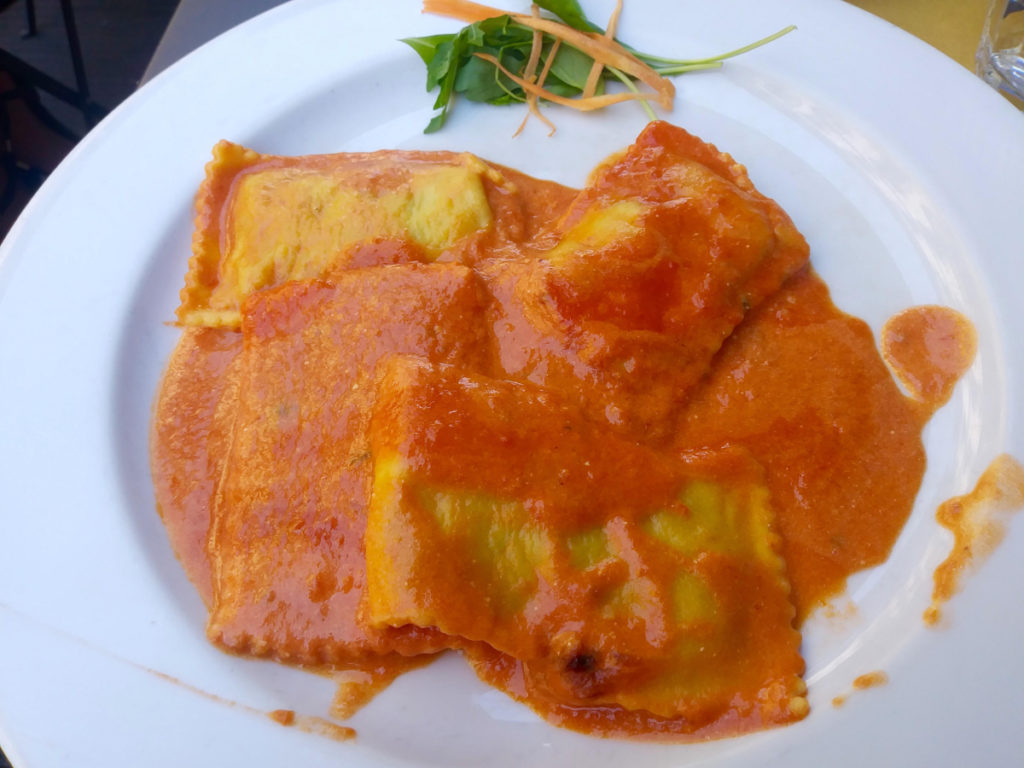 … and fusilli alla norma, made with eggplant in a red sauce with grated ricotta salata on top.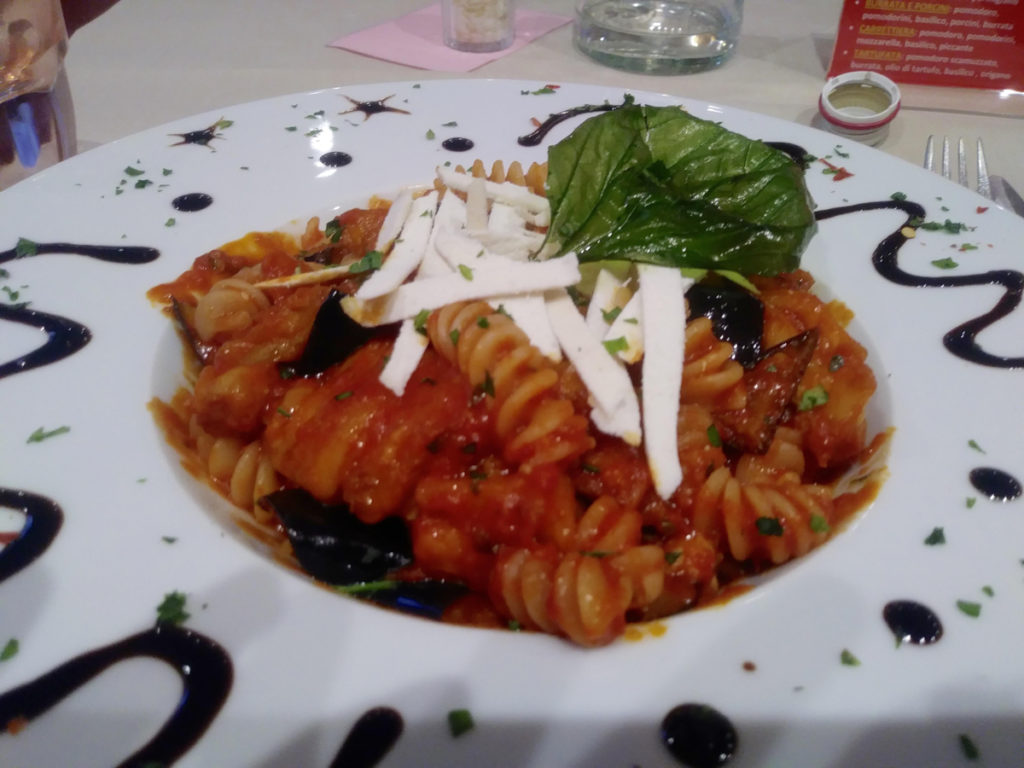 Of course there was also gelato in Italy – this is coffee gelato from SuSo in Venice …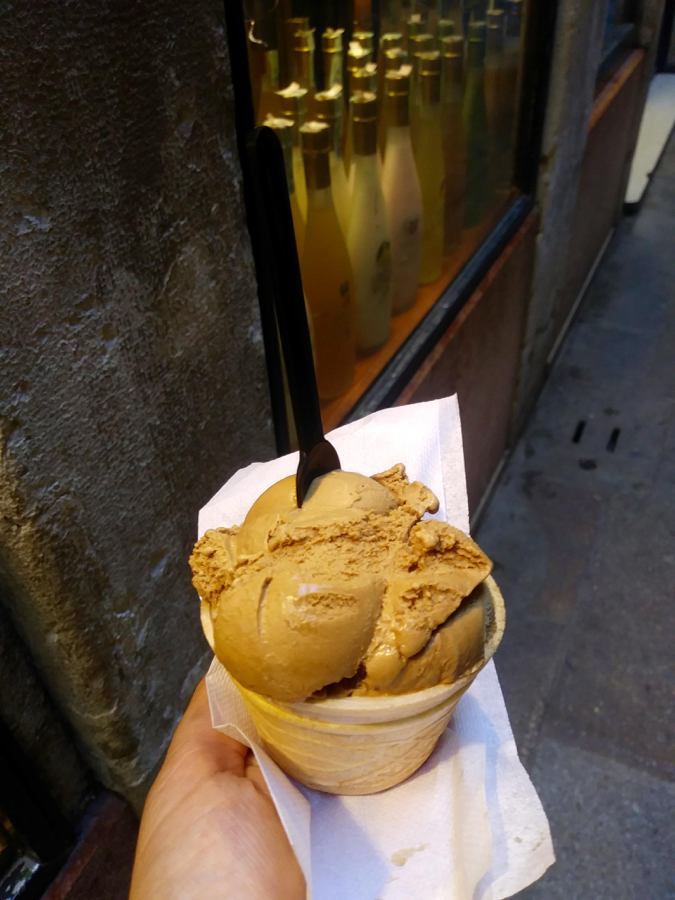 … and this is some peach and wild berry gelato.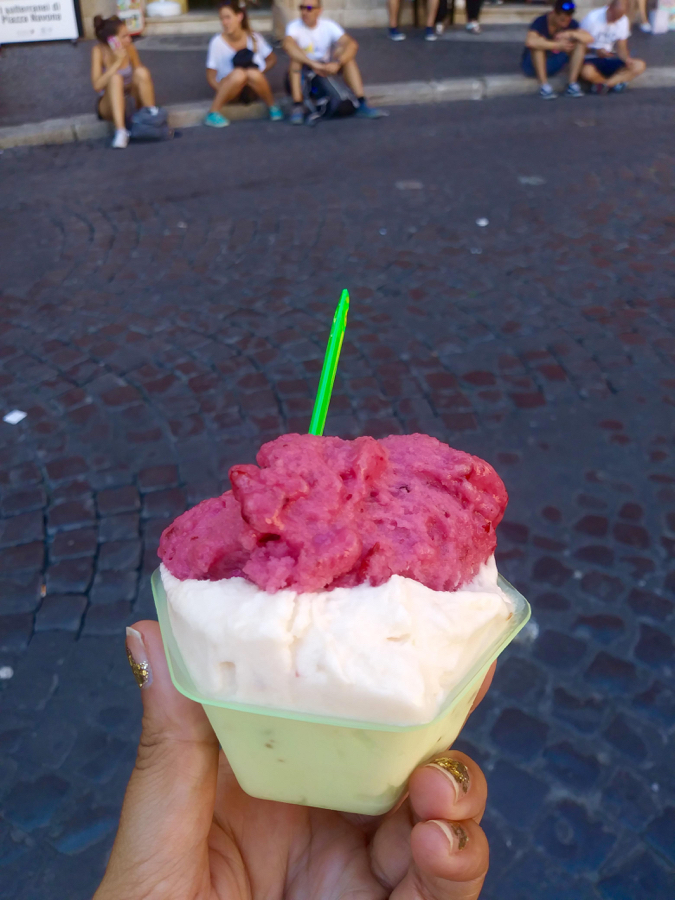 In Switzerland there was cheese fondue.
It was served with bread to dip in …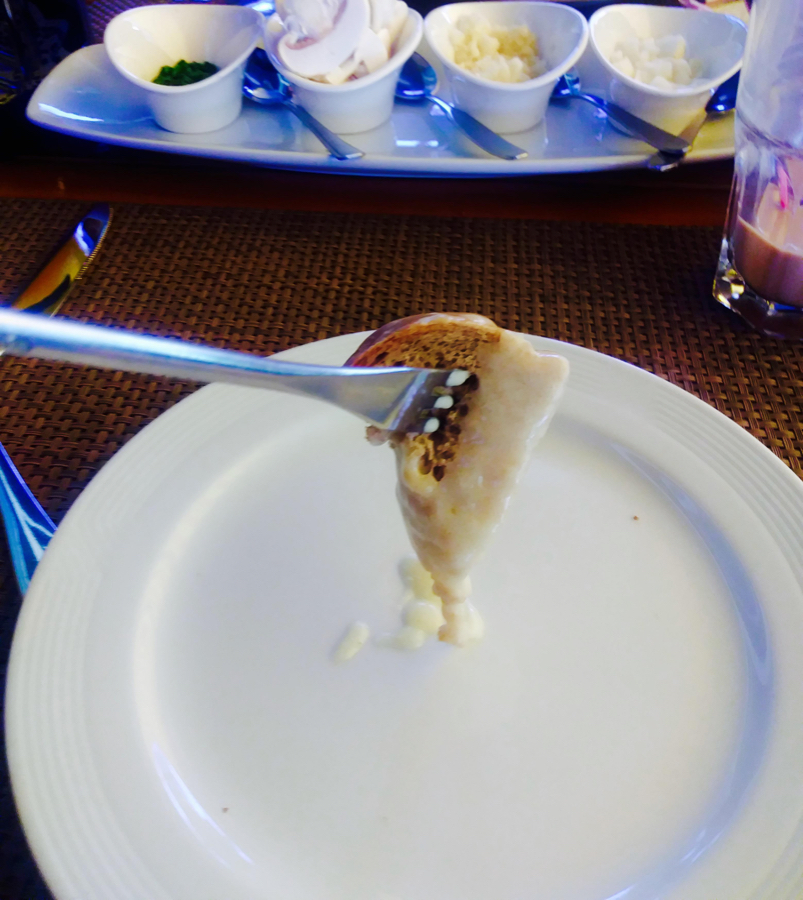 … and also baby potatoes.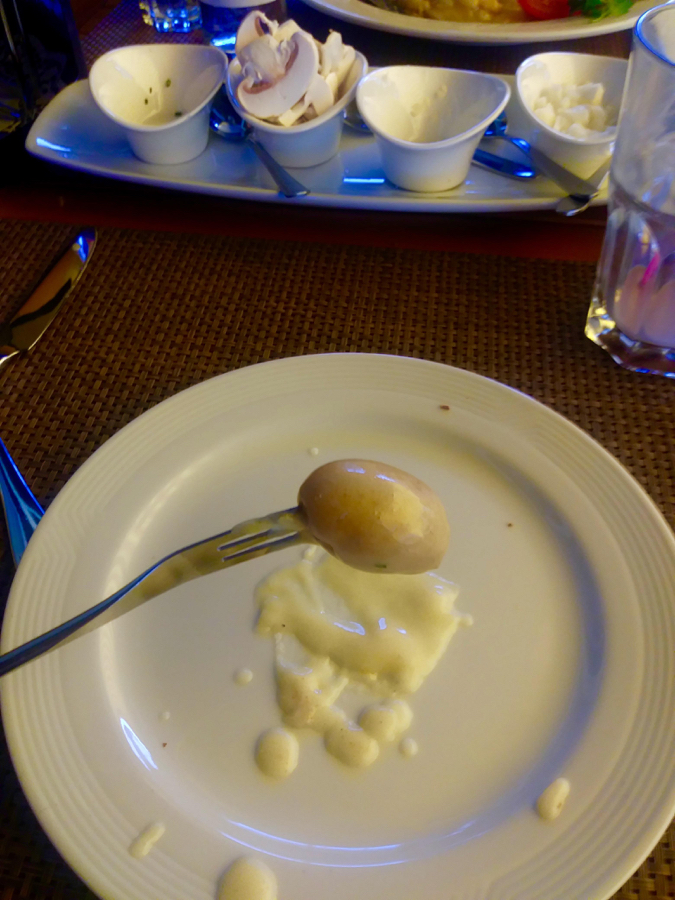 Switzerland is also the home of Ovomaltine, which is the German-speaking world's version of Ovaltine.  Miriam had a glass of this mixed into cold milk.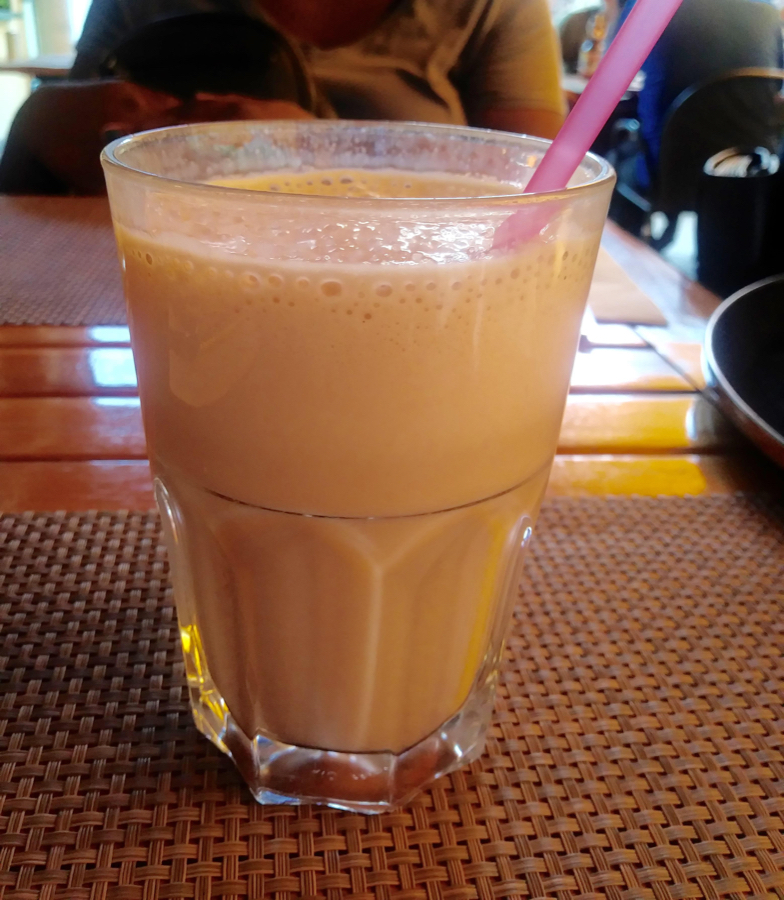 In France there was this amazing cheese board, served with some delicious crusty bread.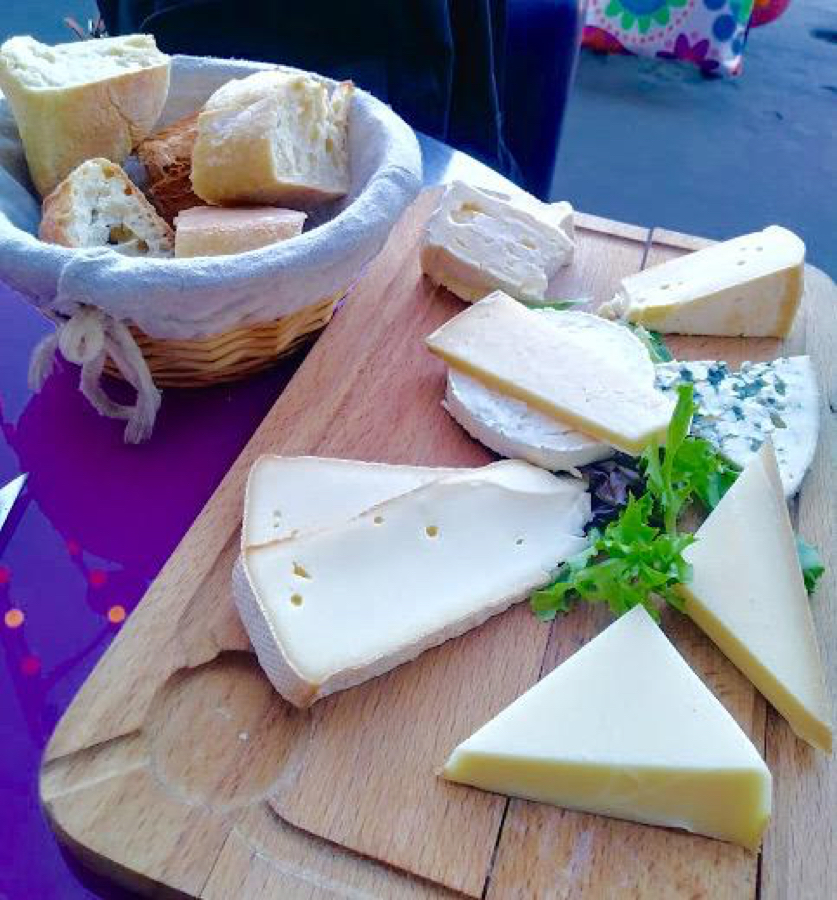 And also this eclair …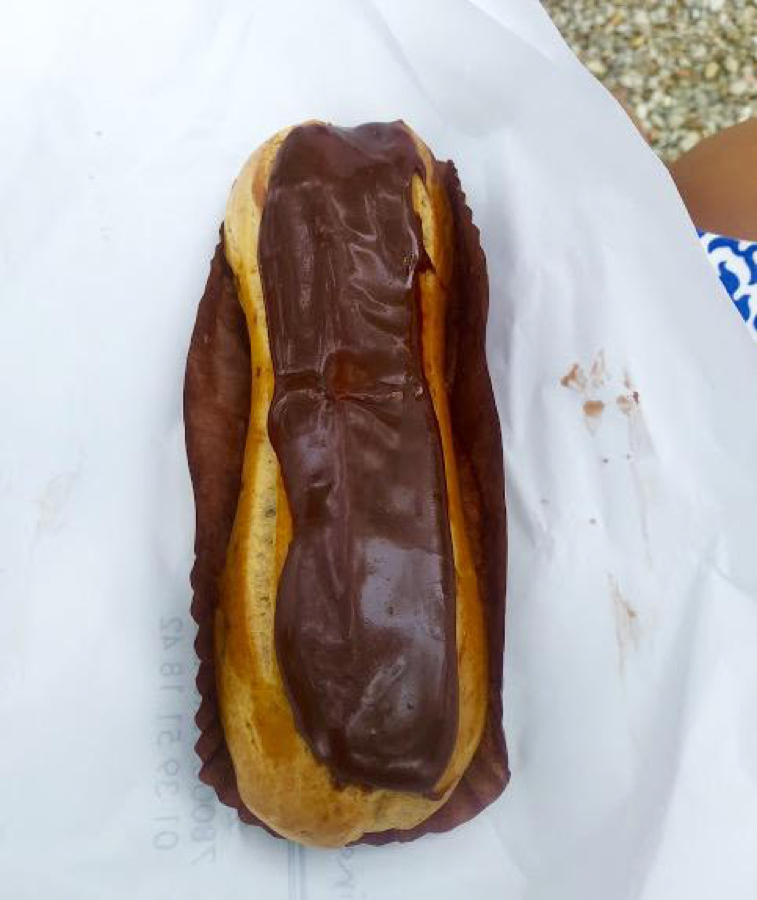 … and a crepe topped with chocolate shavings, chocolate chips, and white chocolate ice cream.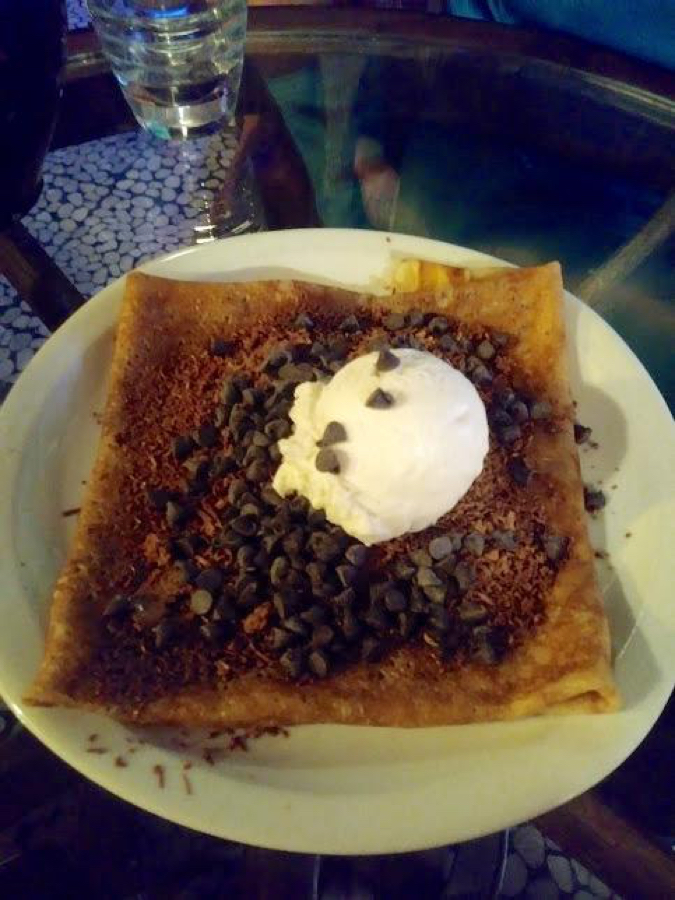 Miriam is still in recovery from this food coma (as well as the jet lag), but she regrets none of it!  If you ever get the chance to travel to any of these countries, use this as a guide to seeking out some tasty dishes all around Europe that just happen to be vegetarian.