We recently found a recipe in the New York Times for kubaneh and thought it sounded interesting.  Kubaneh is a Yemeni bread that's baked in the form of tightly spiraled rolls you can pull apart to eat, and we decided to try this recipe for ourselves.  It took a little bit of effort and technique to make, but the kubaneh turned out delicious.
Here's what we used:
A stick of butter
Instant yeast
Flour
Sugar
2 eggs
Black sesame seeds
A tomato
Olive oil
To make the kubaneh dough, we placed a cup of water, 3 1/2 cups of flour, a tablespoon of yeast, 1/2 cup sugar, one of our eggs, and a pinch or two of salt in our stand mixer.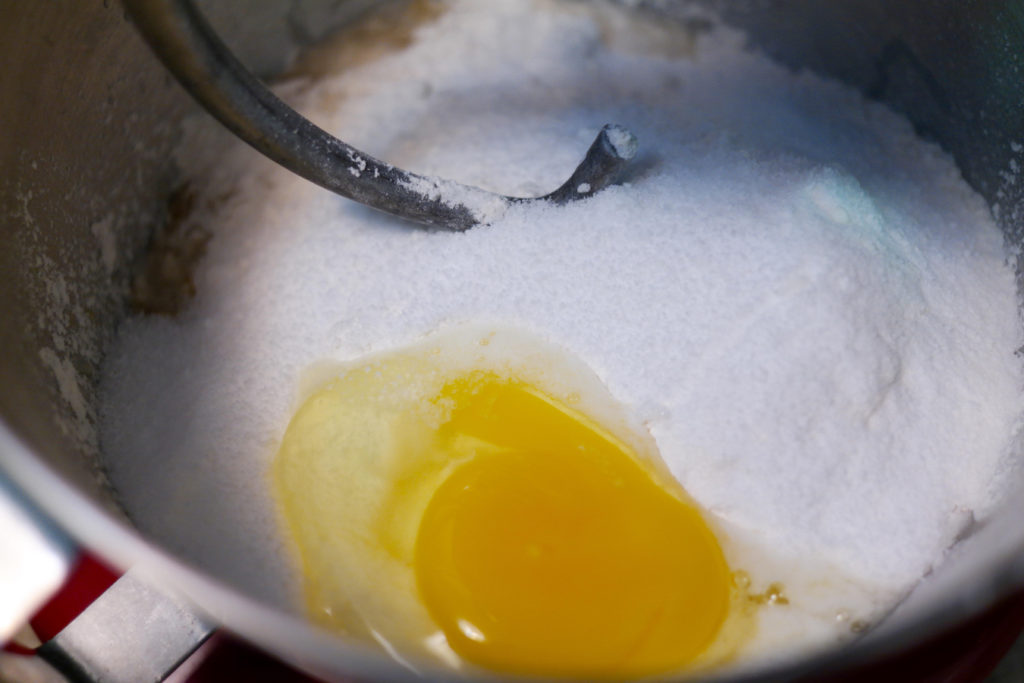 Using a dough hook, we mixed all of these ingredients together on medium to medium-high speed for about 10 minutes, scraping the dough down into the bowl as needed.  Then we cut up 2 tablespoons of butter and added it in, one piece at a time, with the mixer still running.  We let everything blend together for another 5 minutes or so until a nice dough like this had formed: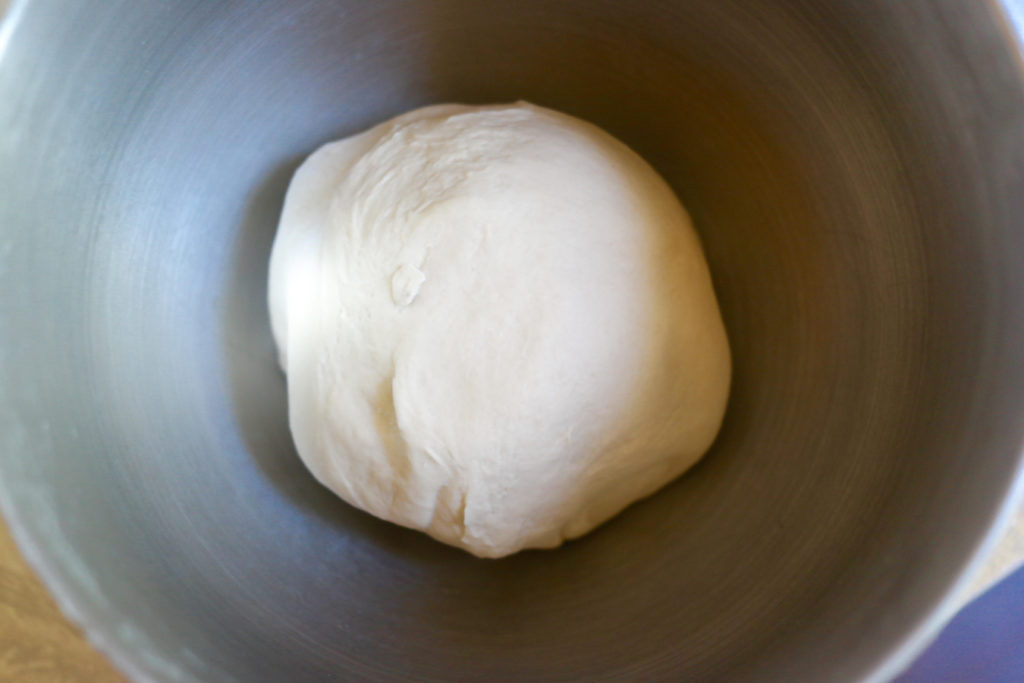 Once the dough had spent 20 minutes covered and resting, we took it out and cut it into 16 pieces.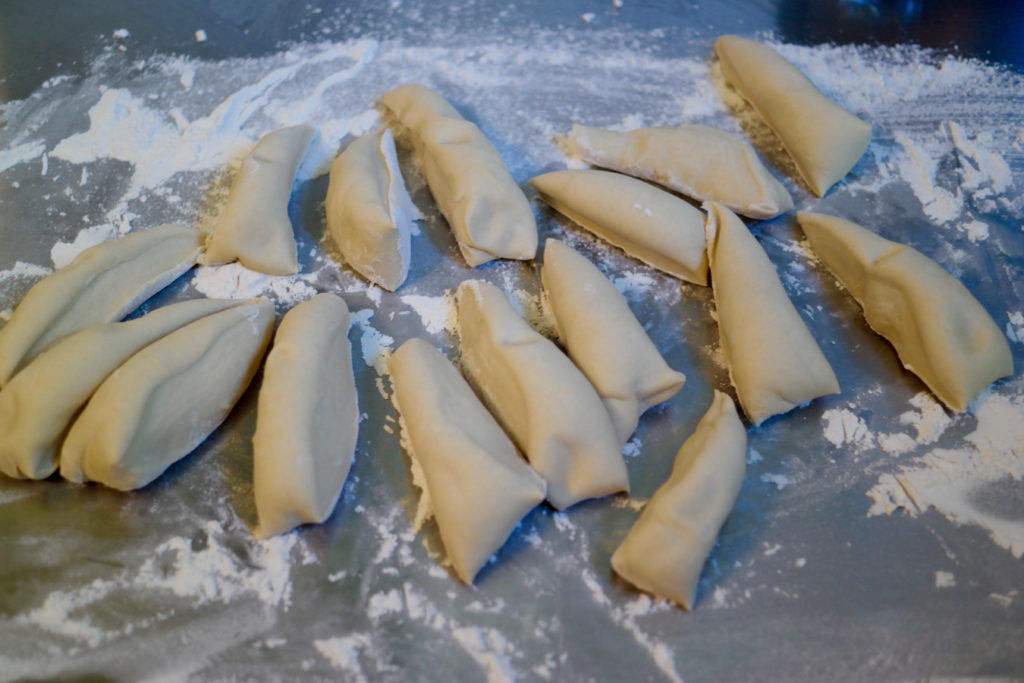 We used a rolling pin to stretch each piece of dough out very thinly into a shape that was about a foot long and several inches wide (you can also use your hands to do this, but we found it easier with a rolling pin).  Don't worry if your pieces of dough look a little misshapen or breaks in spots when it's all stretched out.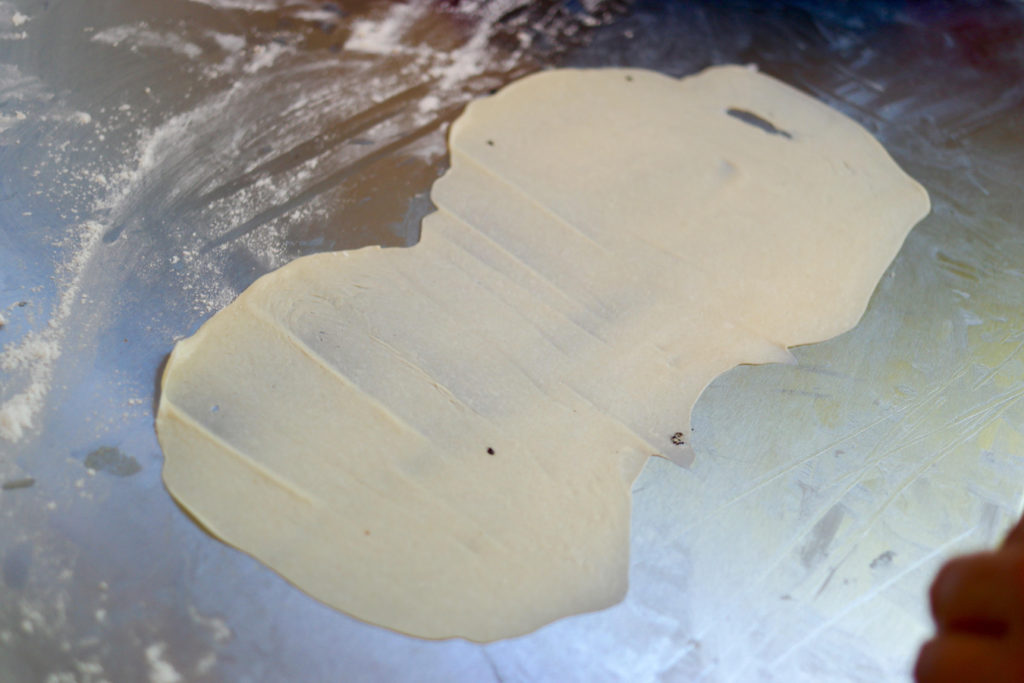 We melted the remaining 6 tablespoons of butter in a small dish in the microwave and then used our fingers to rub the butter on the surface of each piece of dough.  In another dish we measured out 2 tablespoons of black sesame seeds and sprinkled these on top.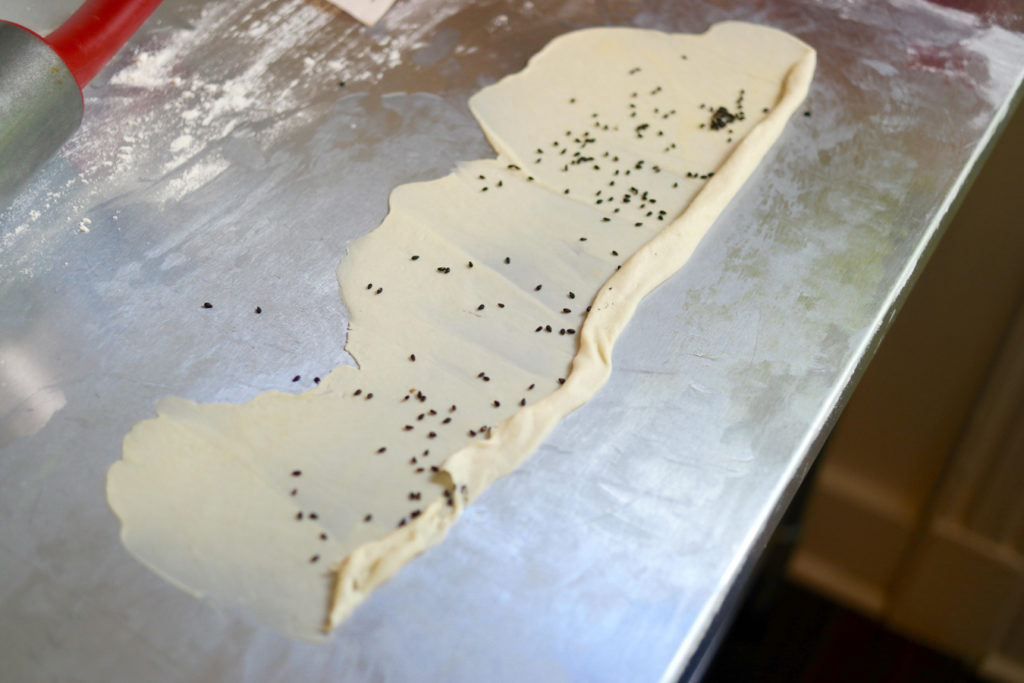 With our fingers still coated in melted butter, we rolled the dough pieces up into a long, skinny rope.
Then we twisted each rope into a spiral and placed the rolls into a greased springform cheesecake pan.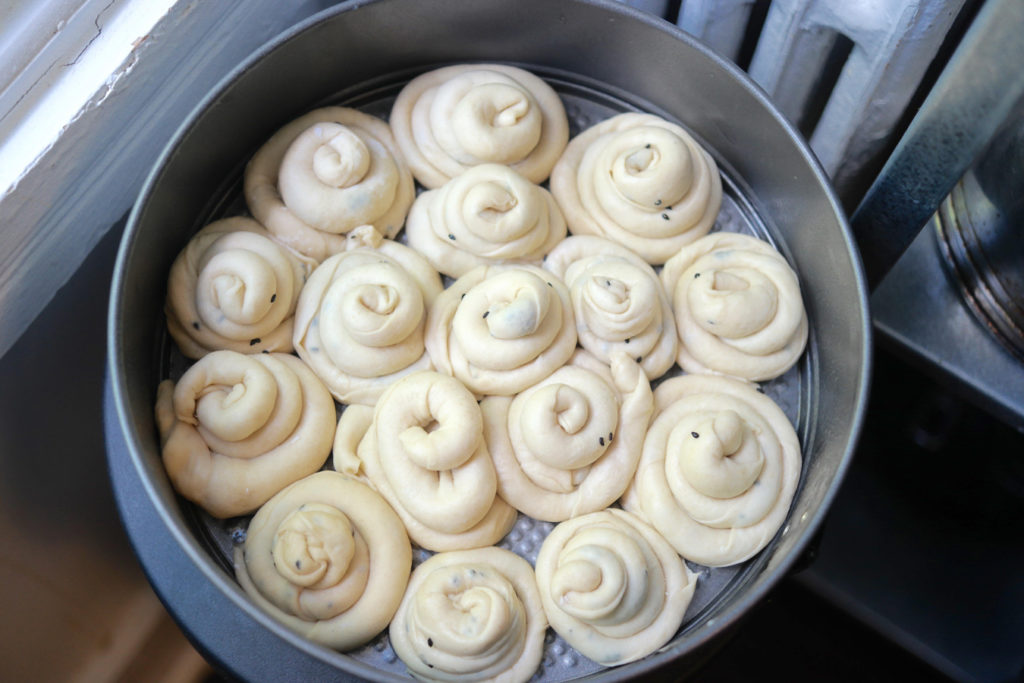 We covered the rolls with a towel and set them in a warm place to rise for an hour.  Then we whisked our other egg with a tablespoon of water to make an egg wash and brushed that over the surface of all the rolls.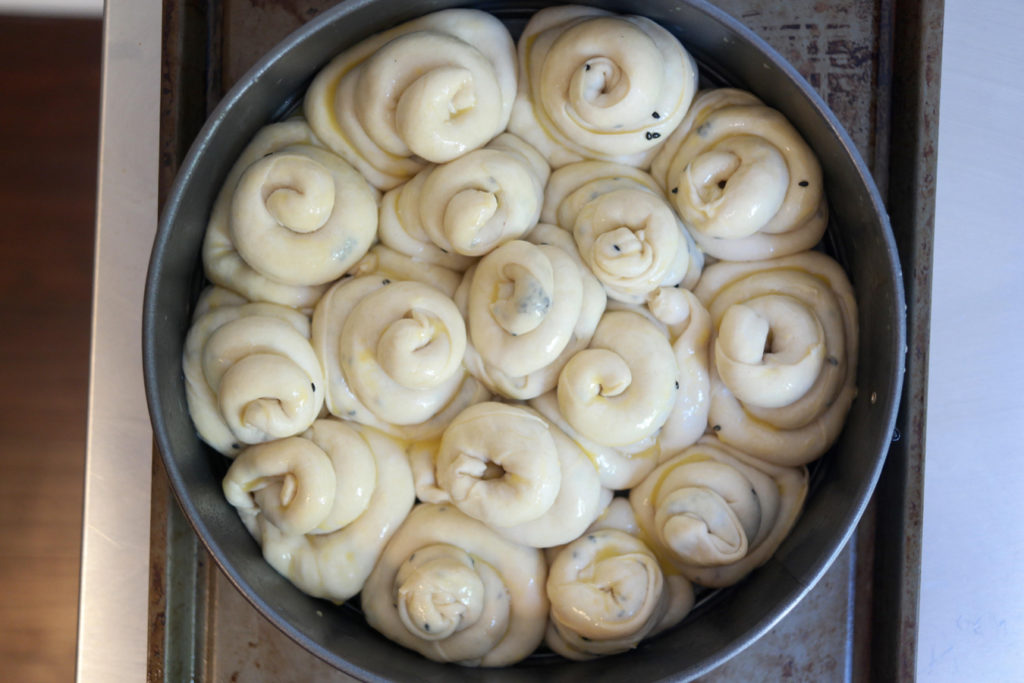 We baked the kubaneh at 350°F for 30 minutes until the tops of the rolls began to brown.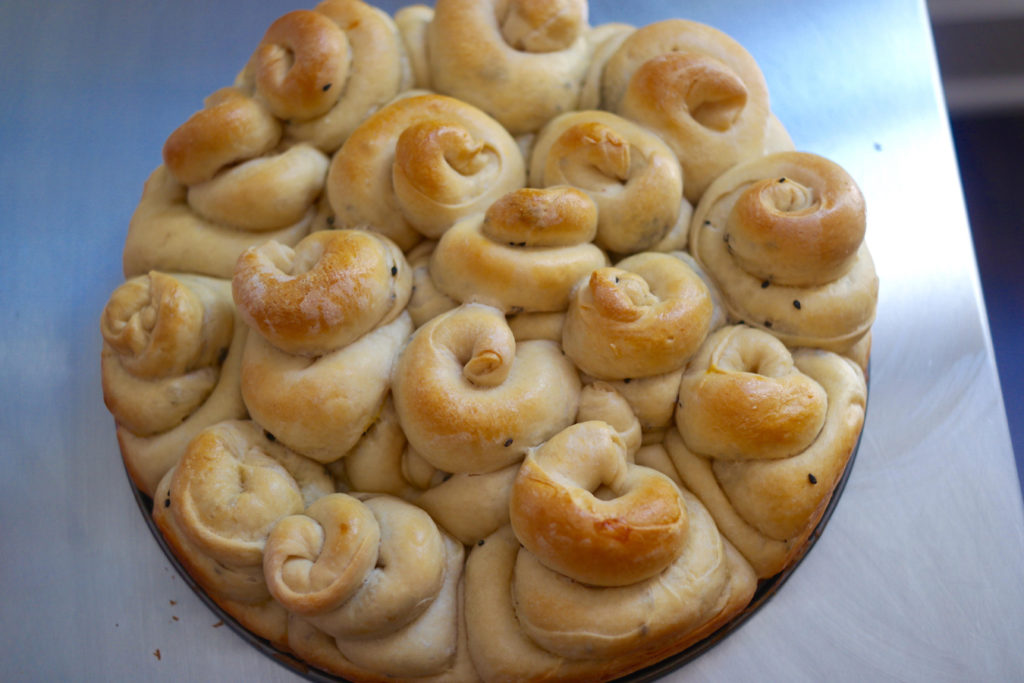 As a relish, we grated our tomato and strained the pulp, then mixed it with a tablespoon of olive oil and a little salt and served it with each roll.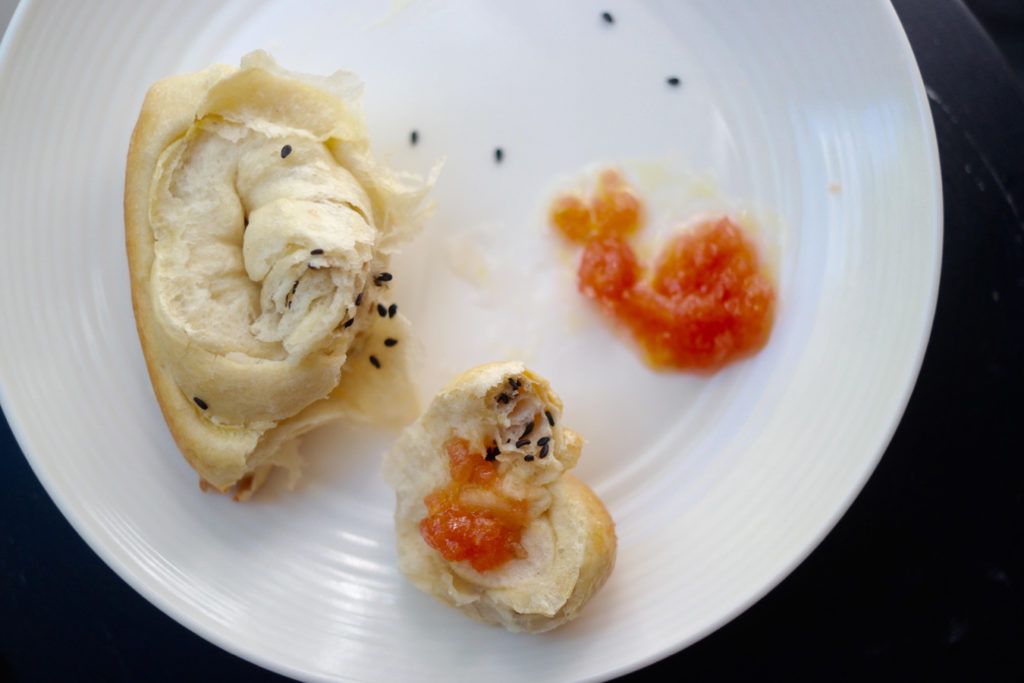 And there's our kubaneh!  The rolls turned out nice and light – the dough was sweet and flaky with the butter rubbed into it and the seeds inside were a nice addition.  Rolling out the dough and then shaping it into spirals did take some effort, but it was fun to make and really tasty.  Try out this kubaneh if you've got some time and want to make a new and interesting kind of bread.