Miriam recently got to take another class at Hudson Table – this time on veggie burgers and other dishes you can make for an all-vegetarian backyard barbecue.  We'll show you here how these burgers were made, as well as three sides to go along with them.
To make everything, you'll need:
1 1/2 pounds mushrooms (small varieties like crimini, shiitake and baby portobello work well)
A white onion
6-7 cloves of garlic
Oats
Shredded parmesan cheese
Breadcrumbs
6 eggs
Parsley
Dried oregano
Lemon juice
Sugar
A can of chipotles in adobo
4 burger buns
3 scallions
Soy sauce
Tahini
Lime juice
Vinegar
Maple syrup
Ginger
Red pepper flakes
A head of red cabbage
A head of napa cabbage
2 carrots
Cilantro
A jalapeño
A head of cauliflower
A red onion
12 ounces orzo pasta
Honey
Raisins
Pine nuts
A pound of green beans
Panko breadcrumbs
Garlic salt
To make the burgers, start by dicing up your white onion and mincing 3 cloves of garlic, then sauté them in a pan over medium heat until they just start to become translucent.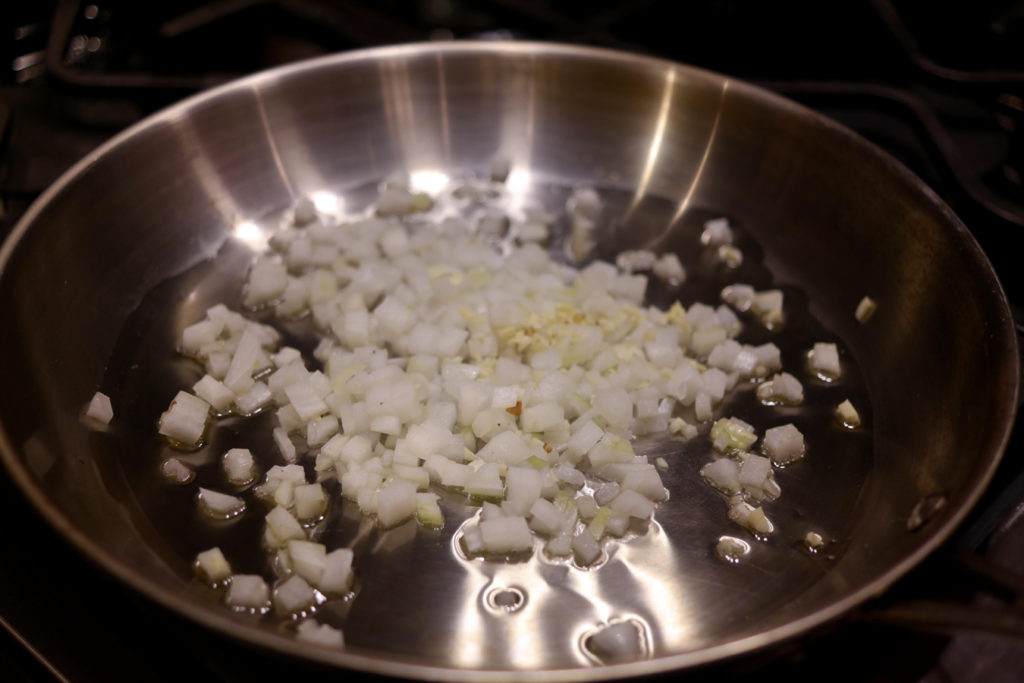 Meanwhile, chop your mushrooms into small, evenly sized pieces.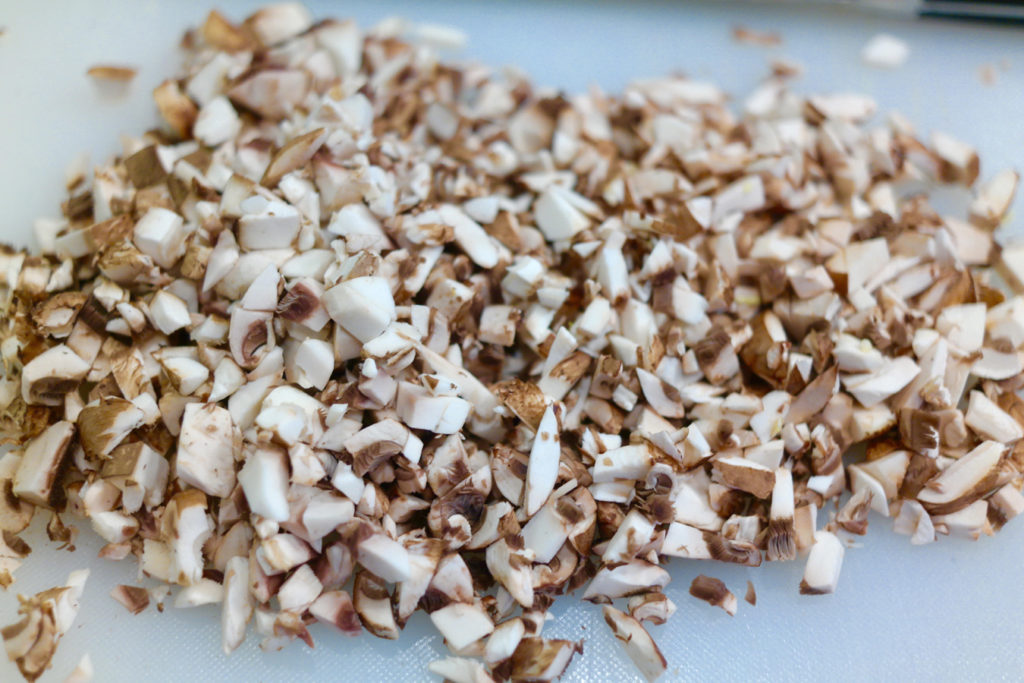 Add them to your pan and cook them until they are reduced and all the water from them has evaporated.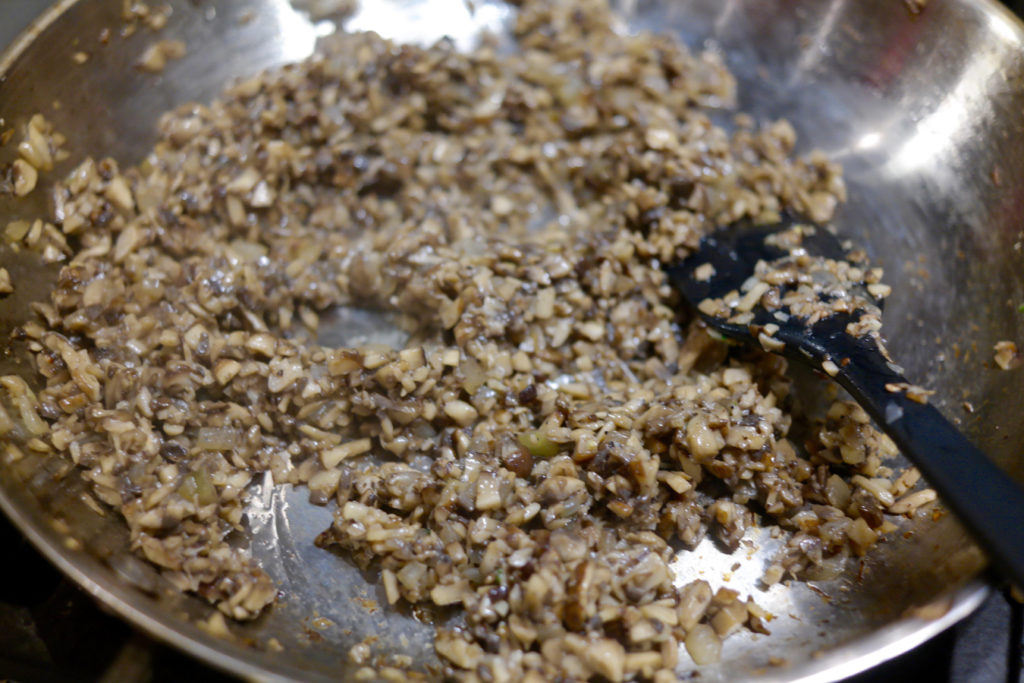 While the mushrooms are cooking, measure out 2/3 cup of oats, 1/3 cup parmesan cheese, and a teaspoon of dried oregano and mix these ingredients in a bowl.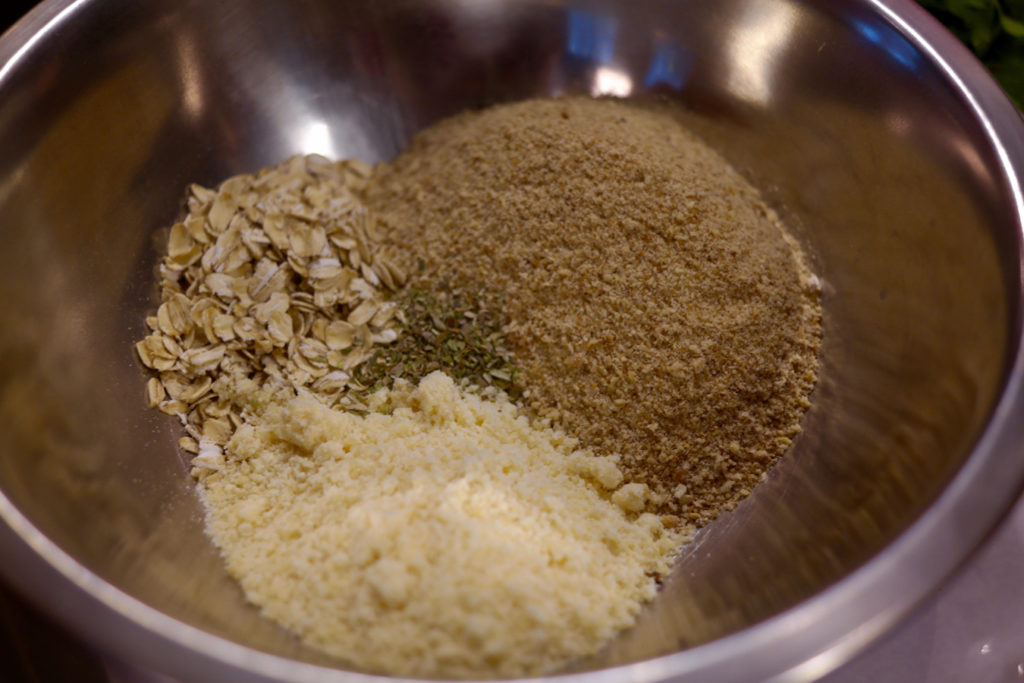 Once the mushrooms have fully cooked and cooled a little, pour them in with the dry ingredients and add a tablespoon of chopped parsley.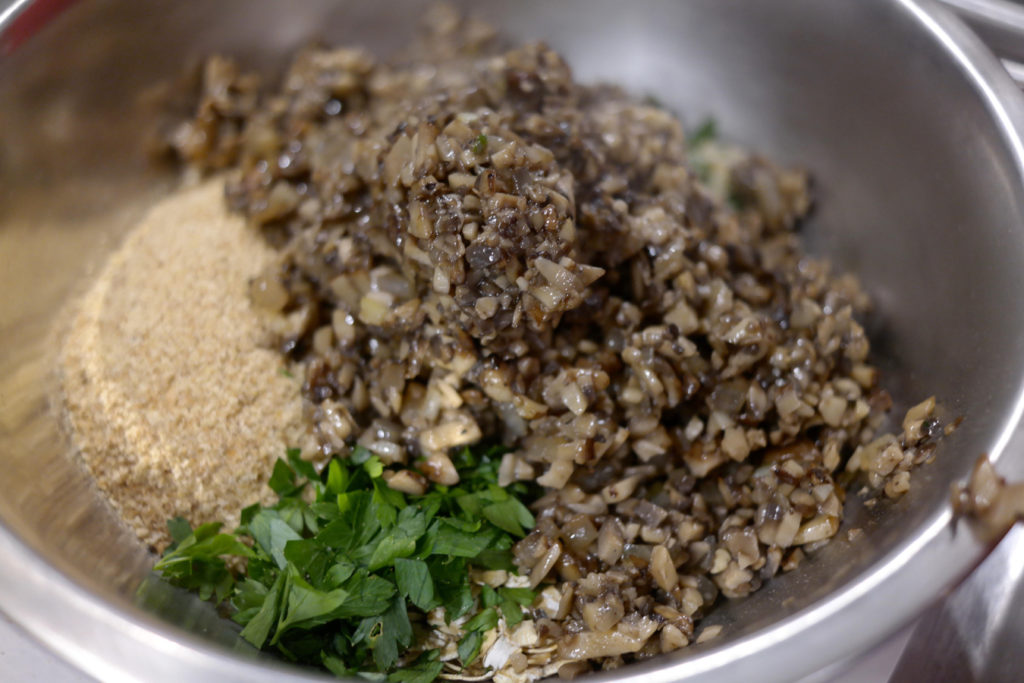 Then stir everything together, along with 2 beaten eggs …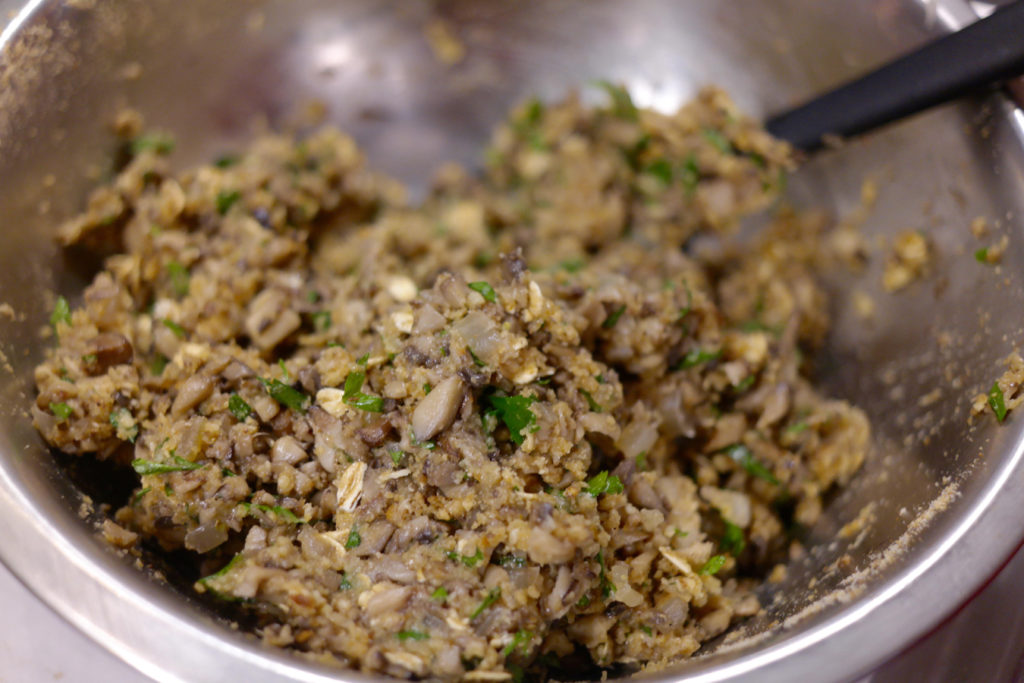 … and form your mixture into patties – you should be able to shape out four fairly large burgers.  Bake these on a sheet pan at 350°F for 20-30 minutes until they're browned and cooked through.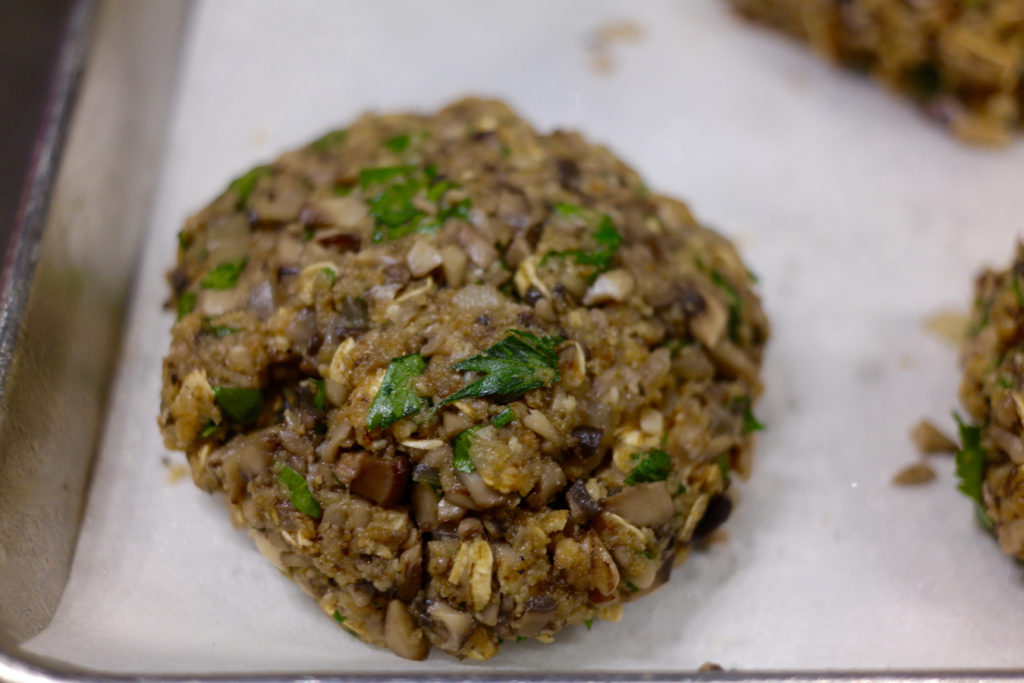 You can whip up an aioli to top your burger by mixing 2 egg yolks, a tablespoon of lemon juice, 2-3 minced garlic cloves, 1/4 teaspoon sugar, 2 tablespoons of your chipotles, and a large pinch of salt in a food processor, then adding in 3/4 cup vegetable oil and letting everything mix together into a smooth sauce.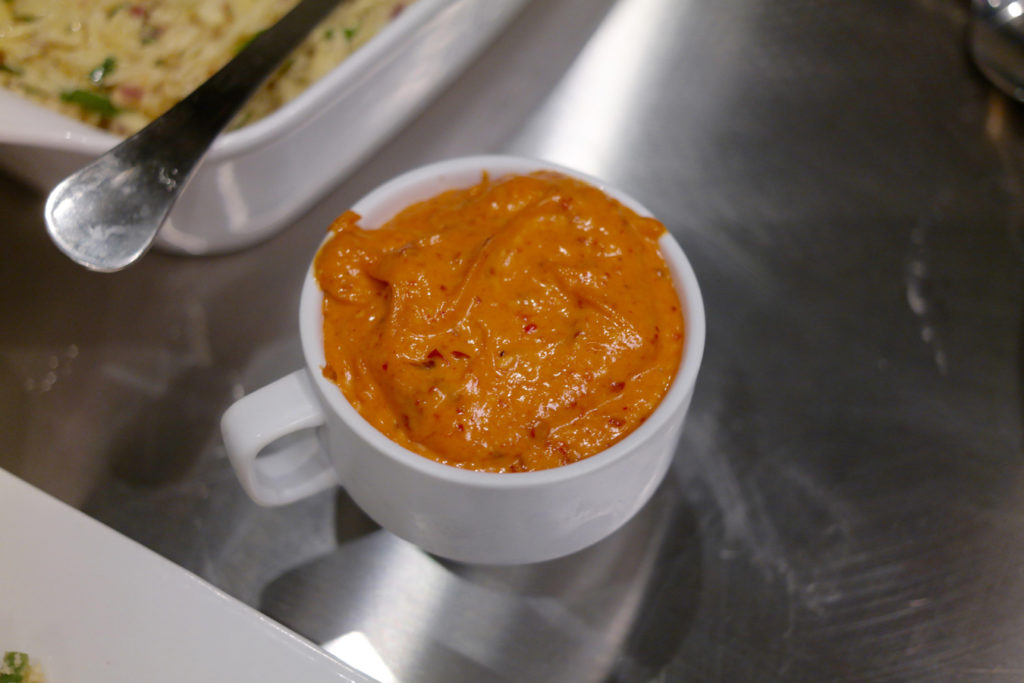 Once the burgers are done, serve them on buns topped with the aioli.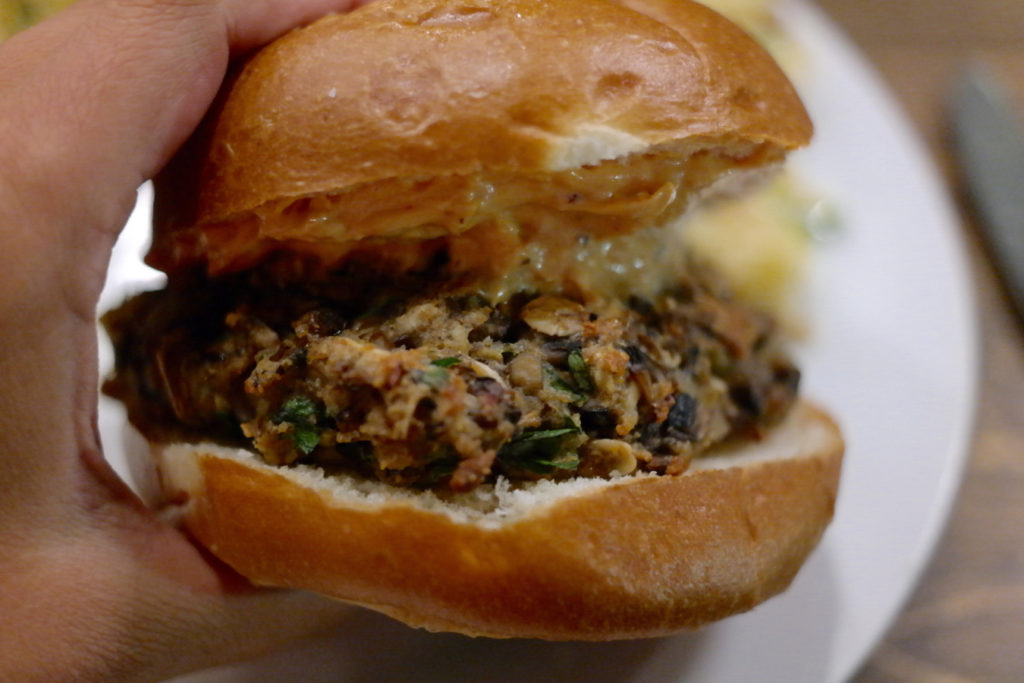 As a side, you can make a cauliflower orzo salad by chopping your cauliflower into florets and scattering it on a baking sheet along with your chopped red onion, salt, pepper, and a drizzle of olive oil over it all.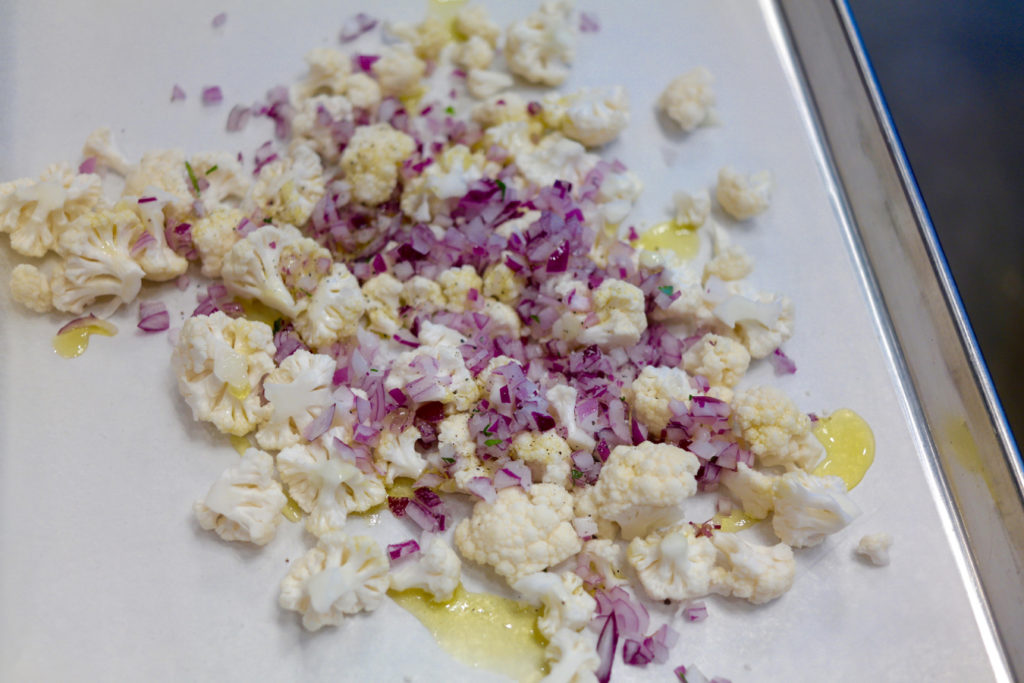 Bake everything for 20-25 minutes at 400°F until the cauliflower begins to brown.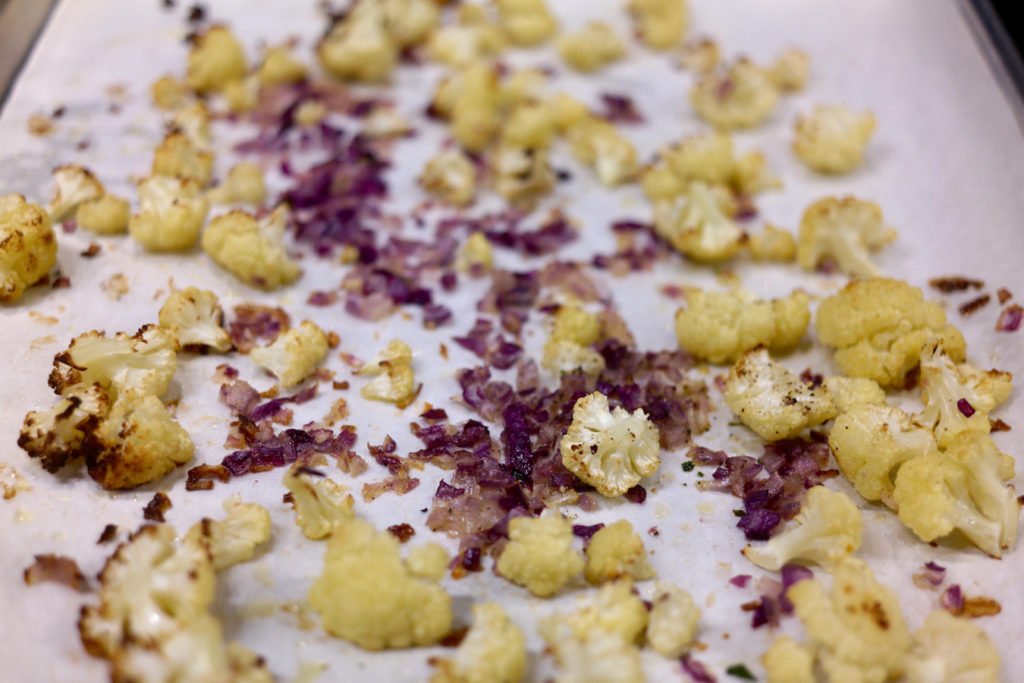 Meanwhile, as a dressing whisk together 1/4 cup vinegar, 1/4 cup olive oil, a tablespoon of lemon juice, a teaspoon of honey, a minced garlic clove, and some salt and pepper.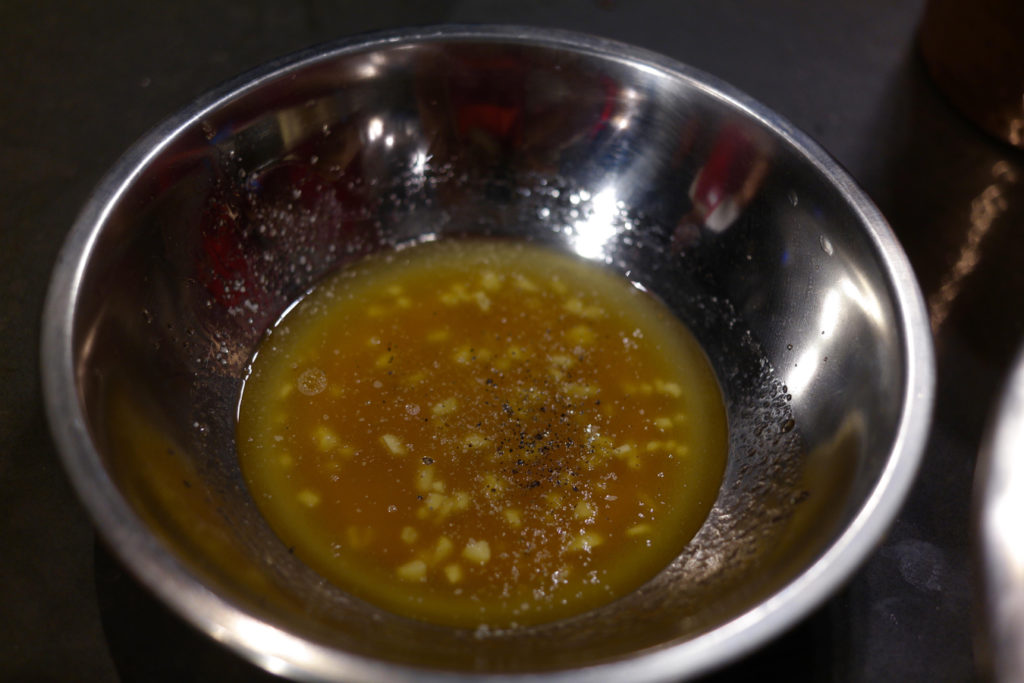 When the veggies are done, mix them into the cooked orzo along with 1/2 cup raisins, 1/4 cup pine nuts, and 3 tablespoons of minced parsley.  Then top everything with your dressing.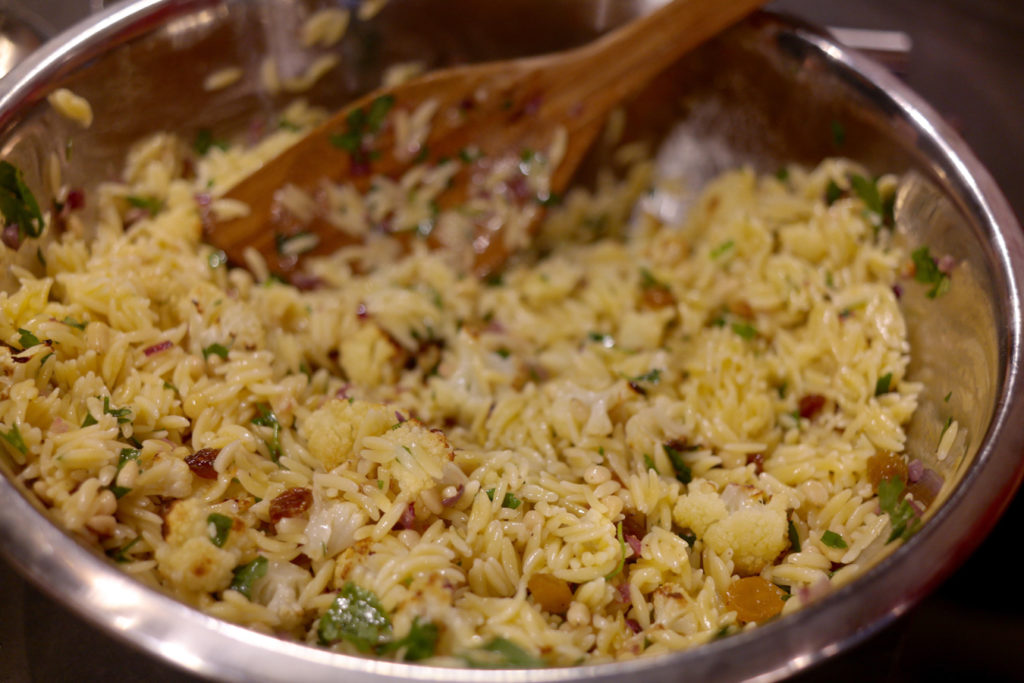 To make a nice slaw to go along with the burgers, chop up 2 cups of your red cabbage and 1/2 cup of the napa cabbage, shred both of your carrots, finely chopped the cilantro, and cut your jalapeño into slivers, then mix all these veggies together.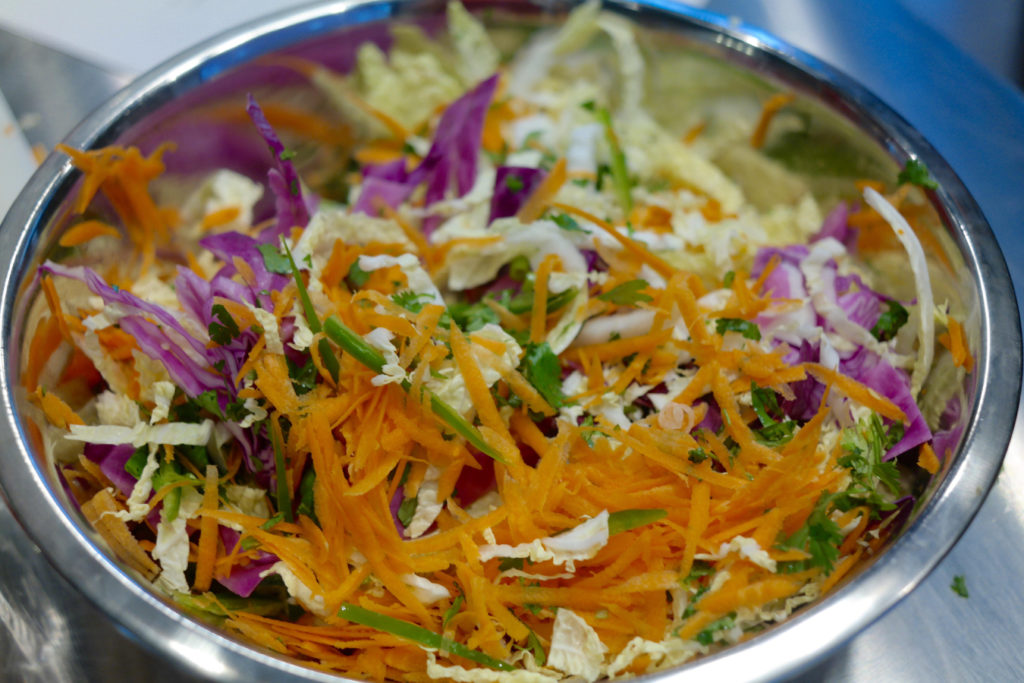 Whisk together a dressing of 3 minced scallions, 1/4 cup soy sauce, 1/4 cup water, 2 tablespoons of tahini, a tablespoon of lime juice, a tablespoon of vinegar, a tablespoon of maple syrup, 1/2 teaspoon of red pepper flakes, and 1 1/2 tablespoons of grated ginger.  Pour this over your slaw.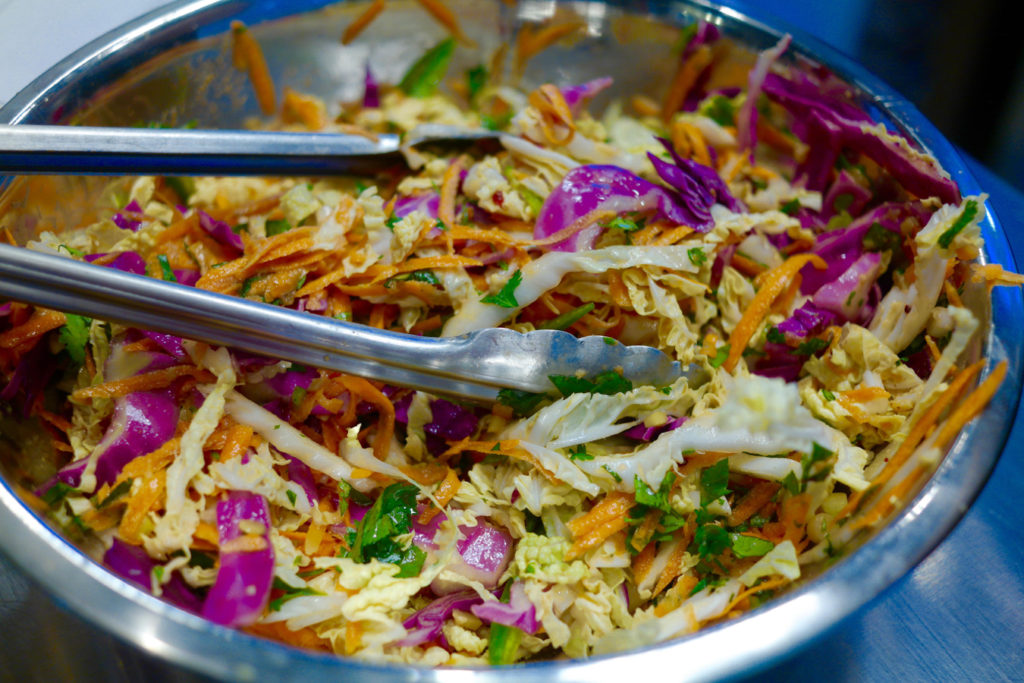 And finally, instead of traditional French fries you can make some baked green bean fries.  Trim the ends off all your green beans and dip them individually into a dish of 1/2 cup of flour, then into 2 beaten eggs, then into a bowl of a cup of panko breadcrumbs mixed with 1/2 cup of Parmesan cheese.  Lay out all the beans on a baking sheet.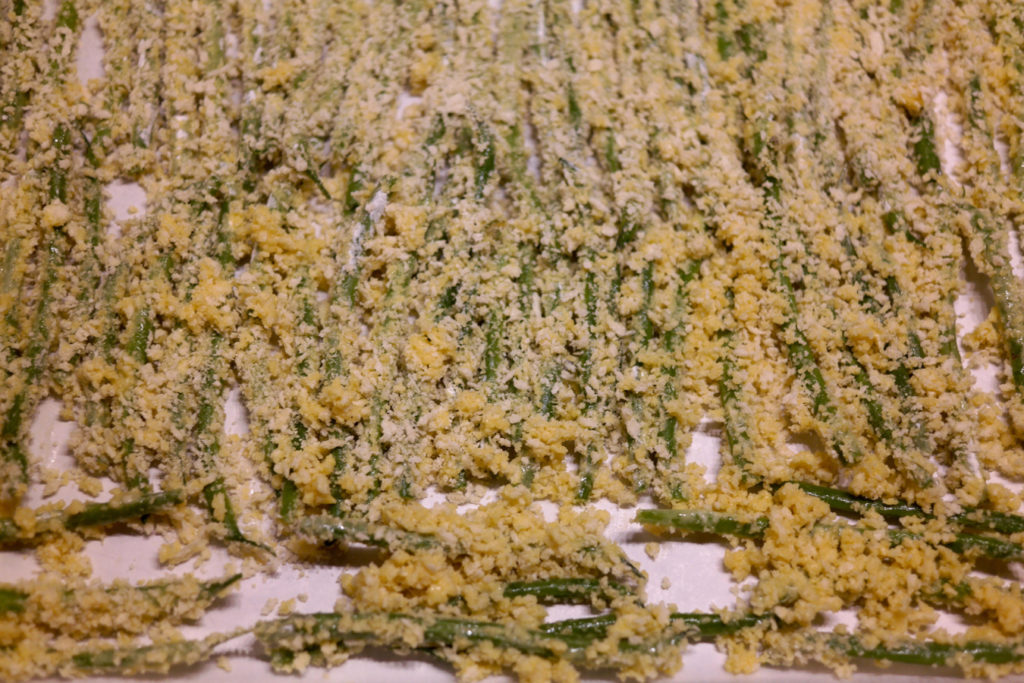 Bake them at 425°F for 10-12 minutes until they crisp up and brown.  This is what they should look like when they're done: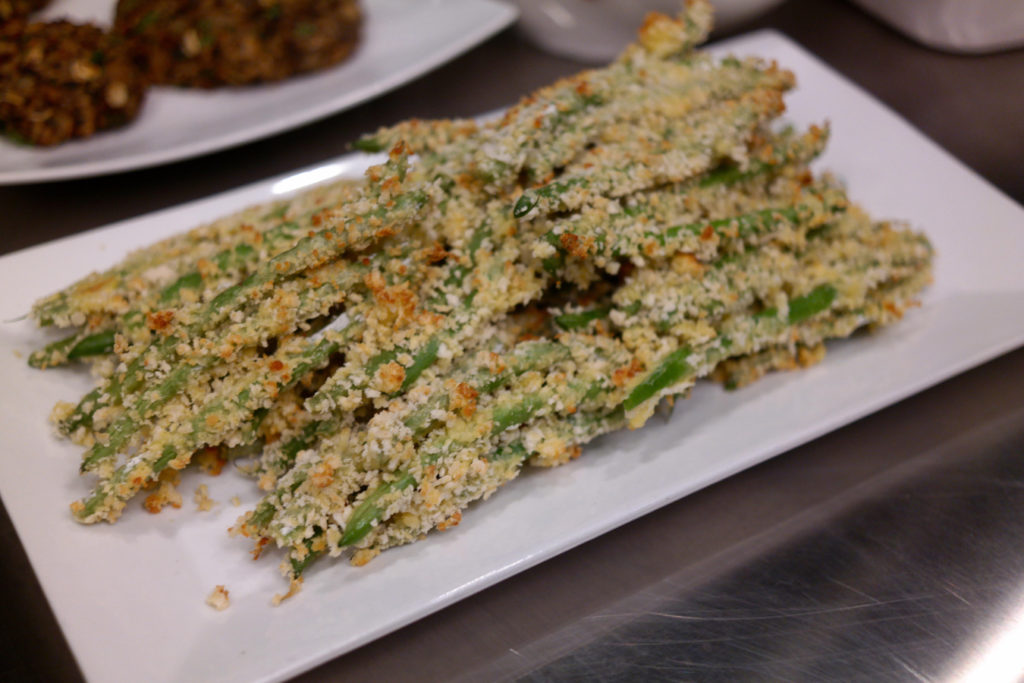 And there you have a burger and three sides, all vegetarian.  It takes a little bit of time and some creative sourcing of ingredients to make everything, but these burgers are delicious and the sides are unique.  If you're invited to a backyard get-together this summer, consider making one or all of these recipes and bringing them along as proof that vegetarians can still enjoy some tasty barbecue-style food.