Continuing on the theme of "fun, tasty, refreshing things to make this summer", we decided to whip up batch of ice cream sandwiches.  Yep, another batch – last month we made these delicious oatmeal cookie ice cream sandwiches and now we're baking up our own version of another recipe from Bon Appetit.   Why not – it's hot and who doesn't love ice cream?  These sandwiches are a little closer to the kind of ice cream bars you can get in the freezer section of your grocery store, but making the cookies yourself adds a nice homemade touch and using interesting flavors of ice cream gives these sandwiches a distinct taste.
To make them, you'll need:
Cocoa powder
Baking powder
Flour
2 sticks of butter
Brown sugar
White sugar
2 eggs
Vanilla extract
2 pints each of 2 different flavors of ice cream
To make the chocolate cookies, we first whisked together 3/4 cup cocoa powder, a teaspoon of baking powder, 2 1/2 cups of flour, and 1 1/2 teaspoons of salt.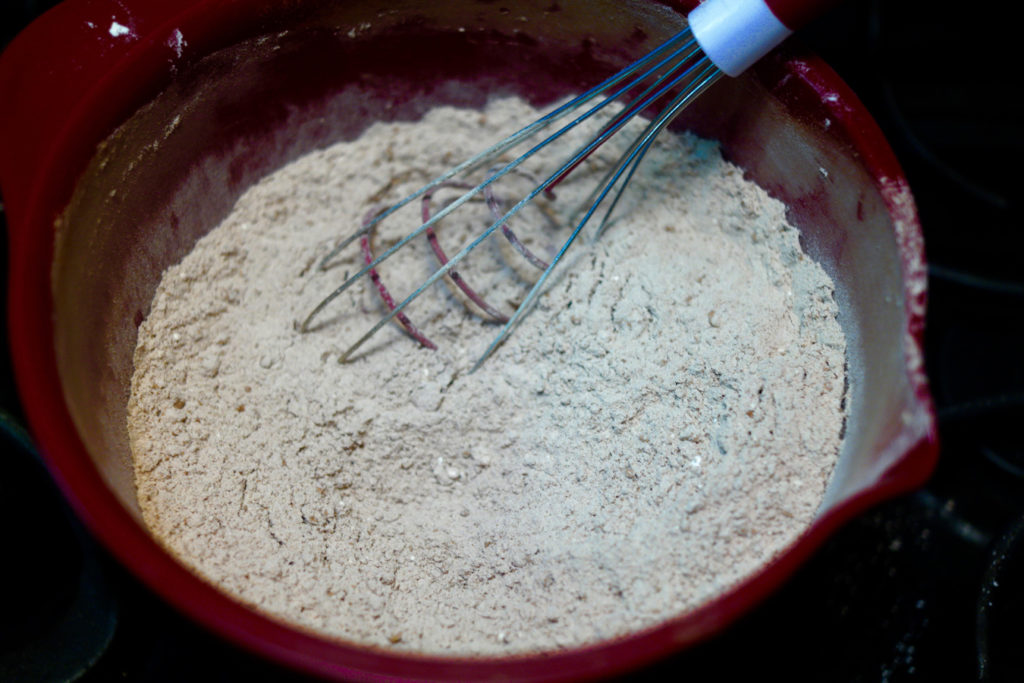 Then we placed a cup of brown sugar, 3/4 cup white sugar, and both sticks of butter in the bowl of our stand mixer and creamed everything together for about 4 minutes, until the mixture was fluffy.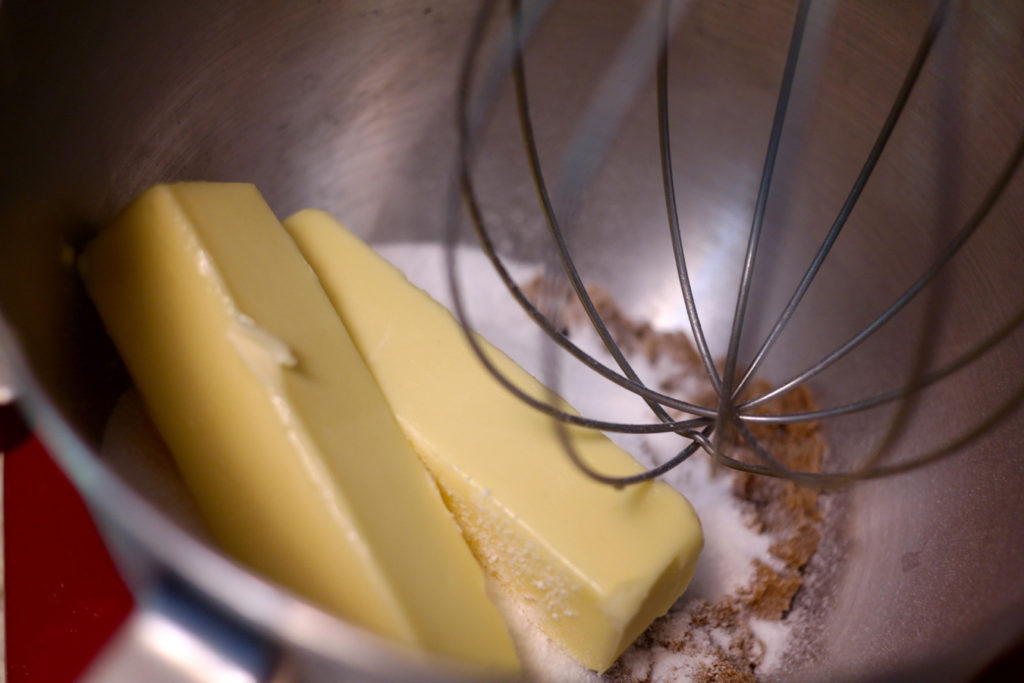 We beat in the 2 eggs and 2 teaspoons of vanilla extract for around 30 seconds, then slowly poured in the dry ingredients and mixed everything until it all came together.  Then we used our hands to knead and form a nice, even dough.  We cut the dough in half, wrapped both pieces in plastic wrap, and refrigerated it for 2 hours.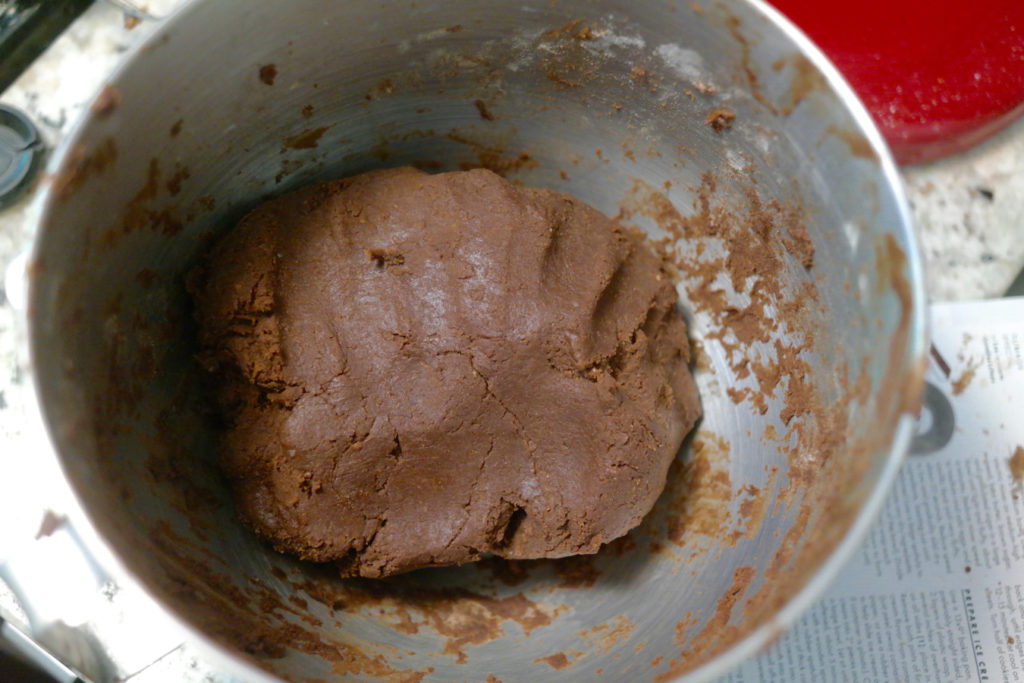 While the dough was chilling, we prepared the ice cream.  Lucky for us, Talenti gelato was on sale so we bought 4 pints of it for these sandwiches:  2 pints of chocolate chip and 2 pints of raspberry cheesecake.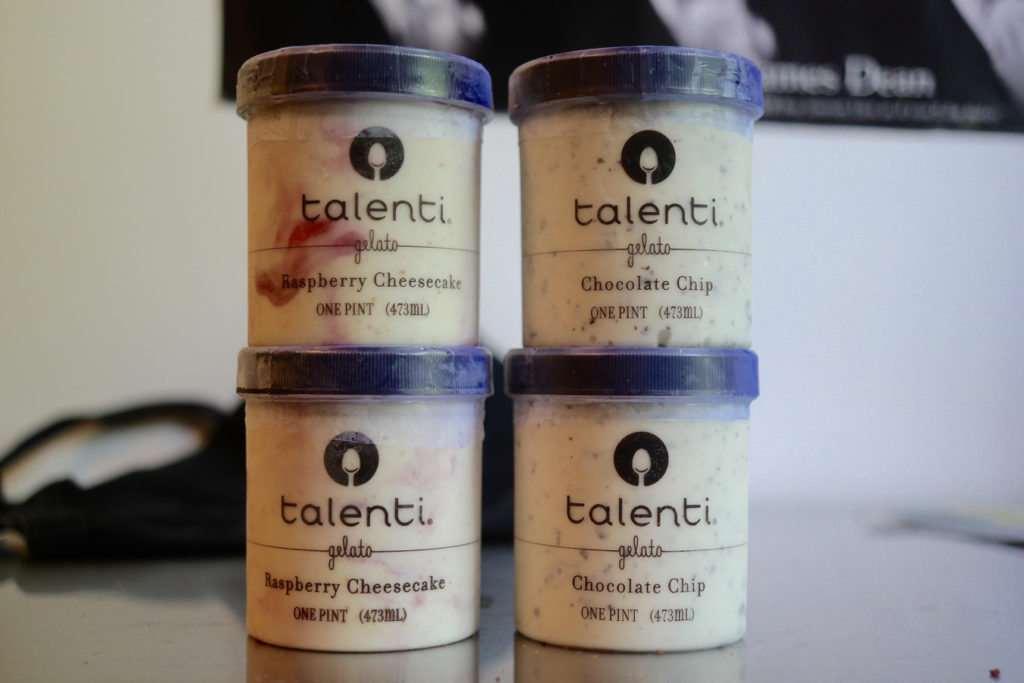 We scooped out all of the raspberry cheesecake flavor into a bowl and let it sit for a few minutes to soften, then stirred it with a rubber spatula until it was all a smooth consistency.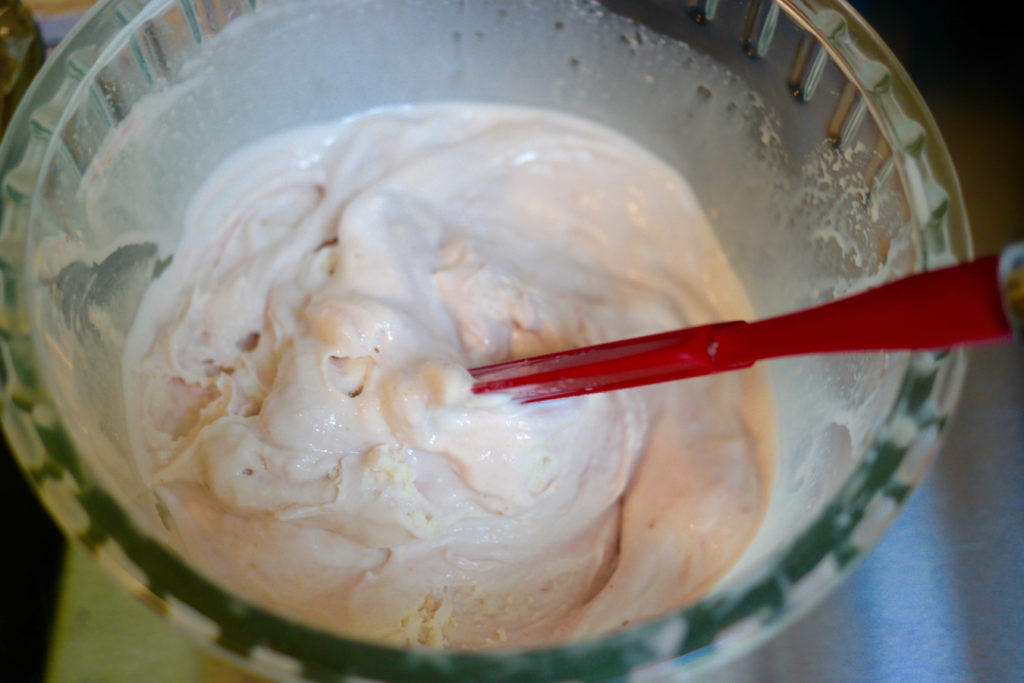 We lined a baking pan with two layers of plastic wrap and poured in the ice cream, then used the spatula to smooth the top into an even layer.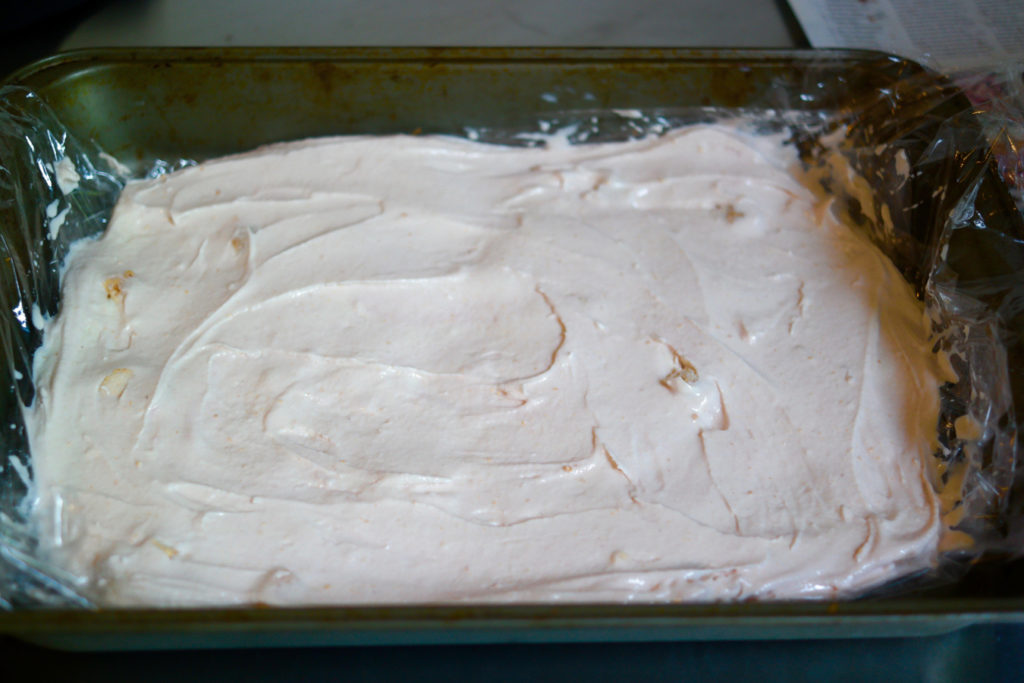 We stuck the pan in the freezer and repeated this process with the chocolate chip flavor, softening and stirring it together …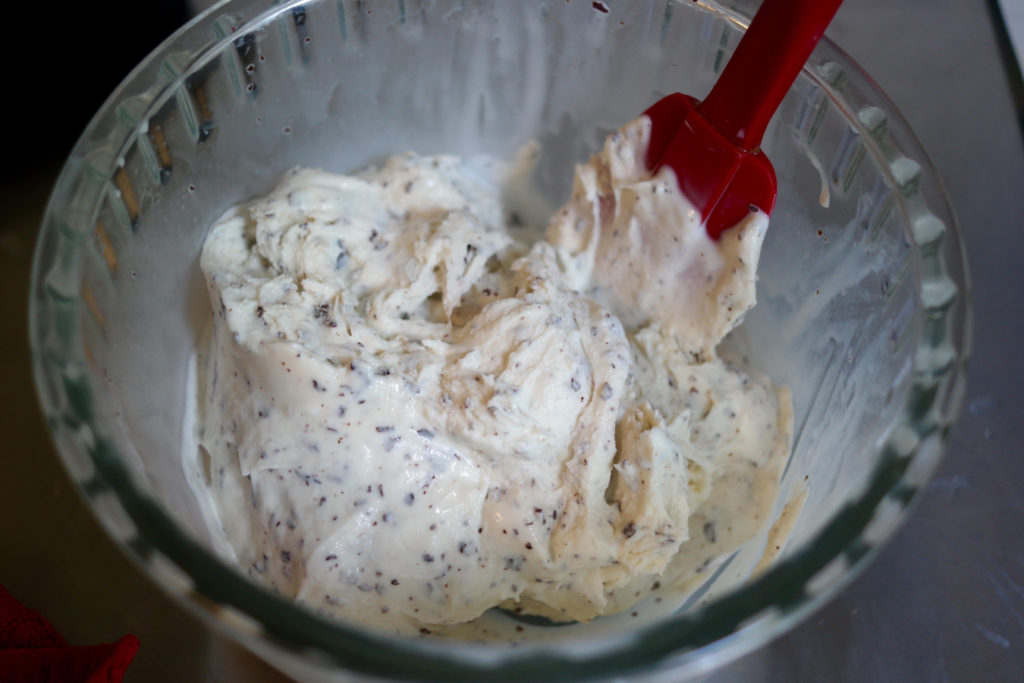 … then spreading it on top of the raspberry cheesecake ice cream in our pan to make a second layer.  Then we covered the pan in more plastic wrap, popped it back in the freezer, and let it sit for 8 hours.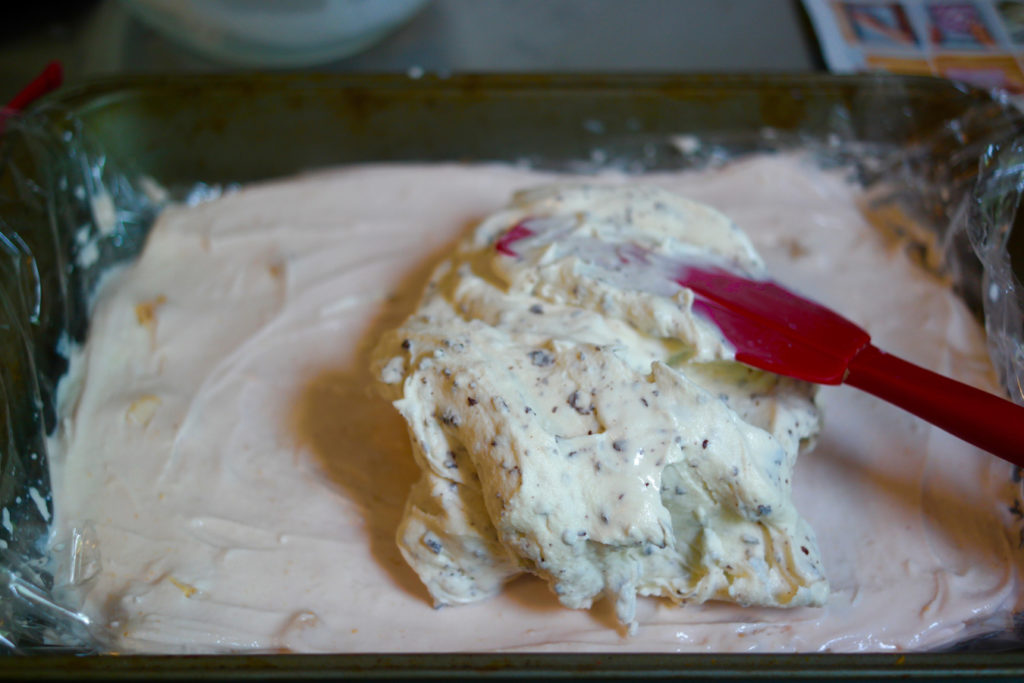 Once our dough was ready to come out of the refrigerator, we rolled it very thin – to about 1/8-inch thickness – on a floured surface.  Then we used a knife to cut it into evenly-sized rectangles and trimmed off any scraps and ragged edges.  You can make these rectangles whatever size you want – in our case, we made 28 so we would have 14 individual sandwiches.  We placed these on parchment-lined baking sheets and pricked then with the tines of a fork, then baked them for 12-15 minutes at 350°F.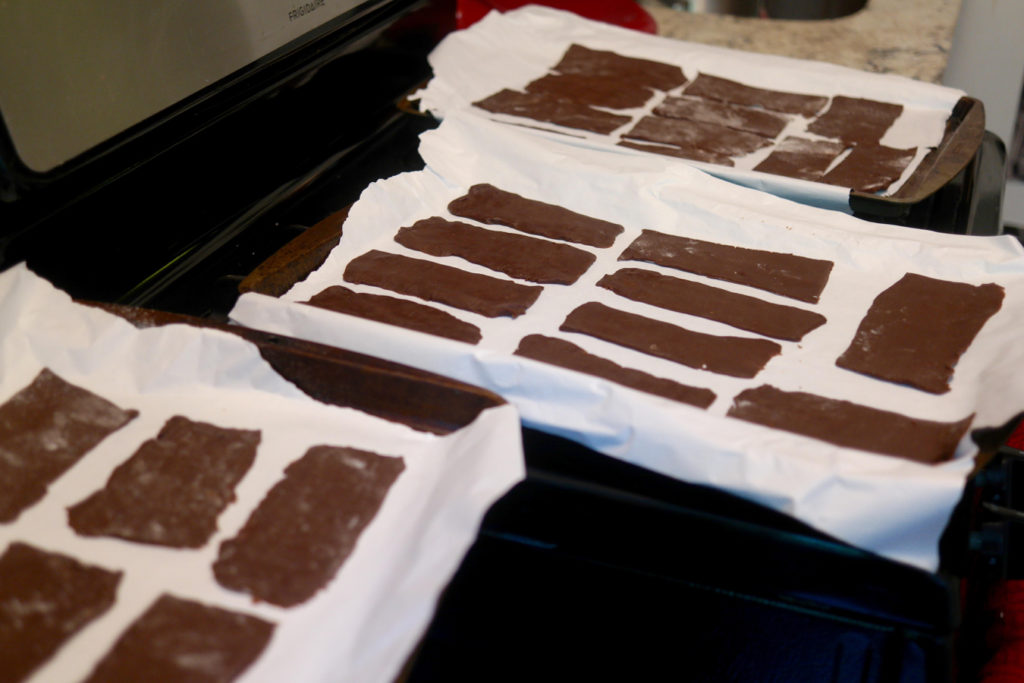 Once the ice cream was done freezing, we turned the pan upside down over a cutting board, peeled away all the plastic wrap, and cut it into 14 pieces, one for each of our sandwiches.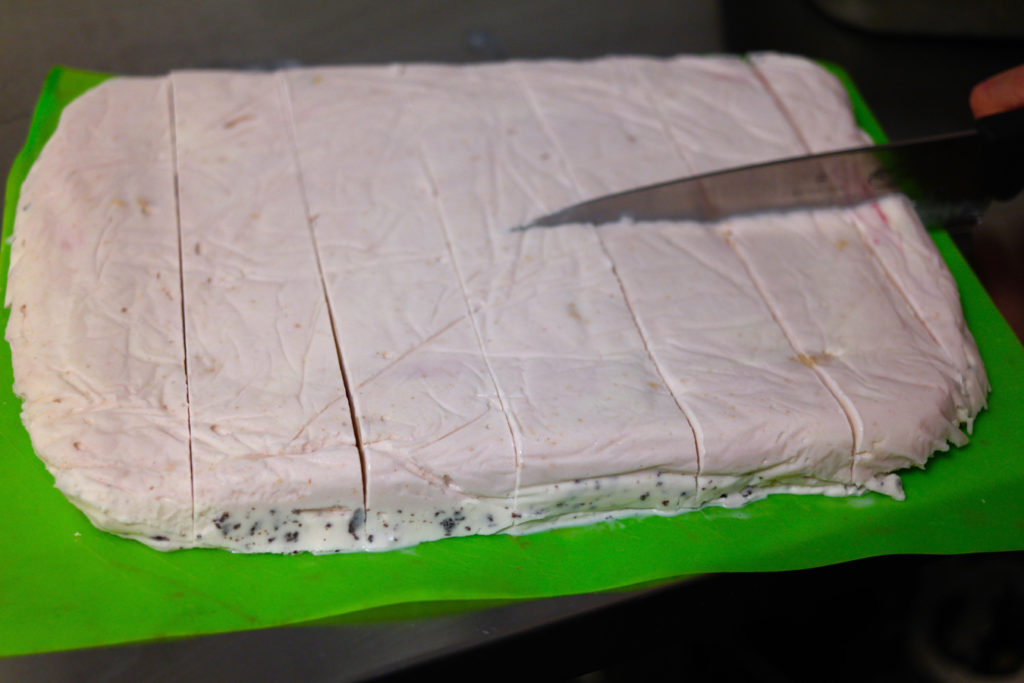 Then we placed one piece of ice cream between two cookies and voilà, there's our sandwiches!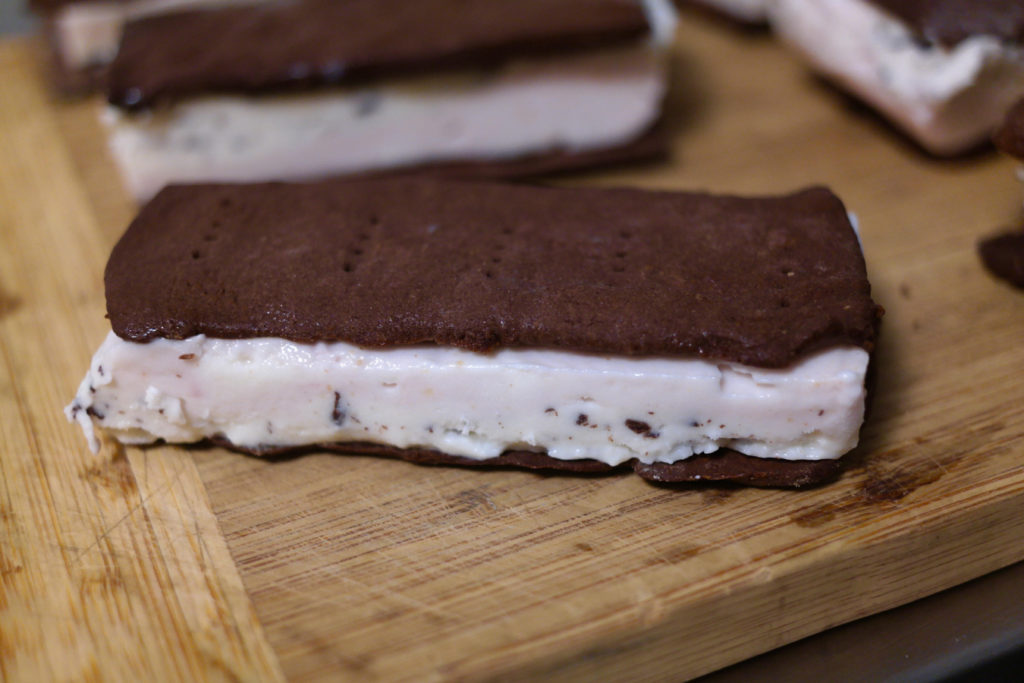 OK, so these aren't as easy as simply buying a box of Nestlé bars at the store.  The hardest part was rolling out the dough so thinly and then cutting it into cookies of the same size.  However, these taste much better than the boring packaged kind that have been sitting in an industrial freezer for who knows how long – especially because you get to create your own flavor combination.  So go out and buy some delicious ice cream and spend some time making your own ice cream sandwiches.