We recently went for a weekend getaway to Syracuse, New York to attend a baby shower hosted for Cyril's college friends.  While we were there, we decided to check out some of the city's iconic food and delicious restaurants.  We'll share with you where we ended up going:
Our first stop was Pastabilities which, as the name suggests, is a pasta-centered restaurant that's famous for its spicy hot tomato oil.  What is spicy hot tomato oil?  It's like a slightly more olive oil-y arrabbiata sauce that has a surprising kick to it.  Here's a dish of it, served with some nice crusty bread to dip in: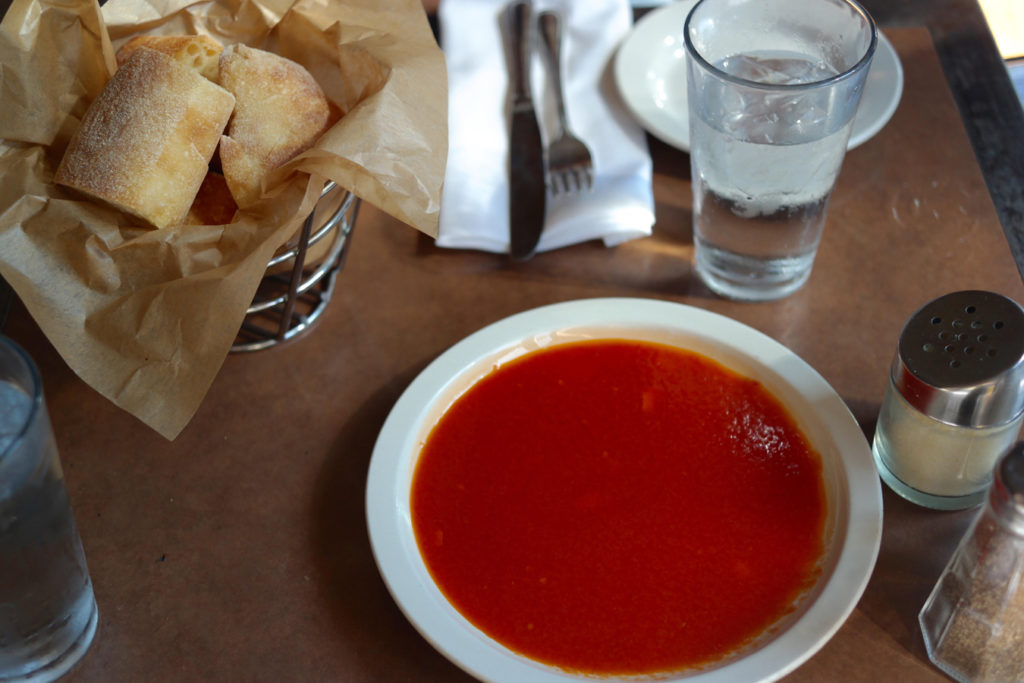 You can also have the spicy hot tomato oil as a pasta sauce – which is what Miriam got on some homemade pappardelle.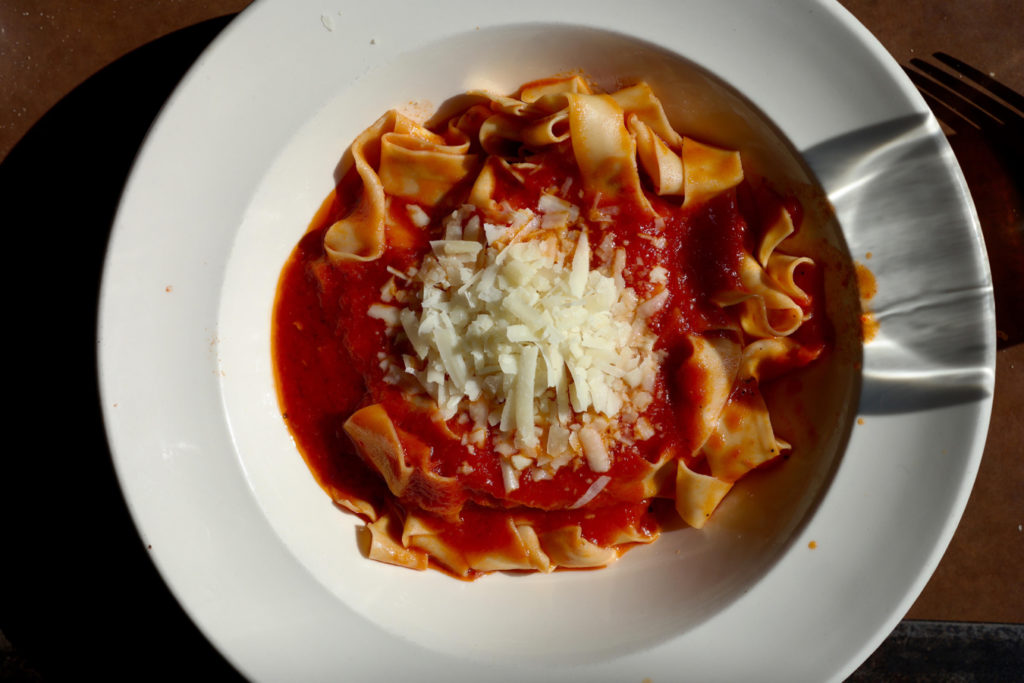 Cyril decided on the lobster-corn ravioli, which is made with corn-stuffed ravioli and fresh lobster with a spicy pink sauce over everything.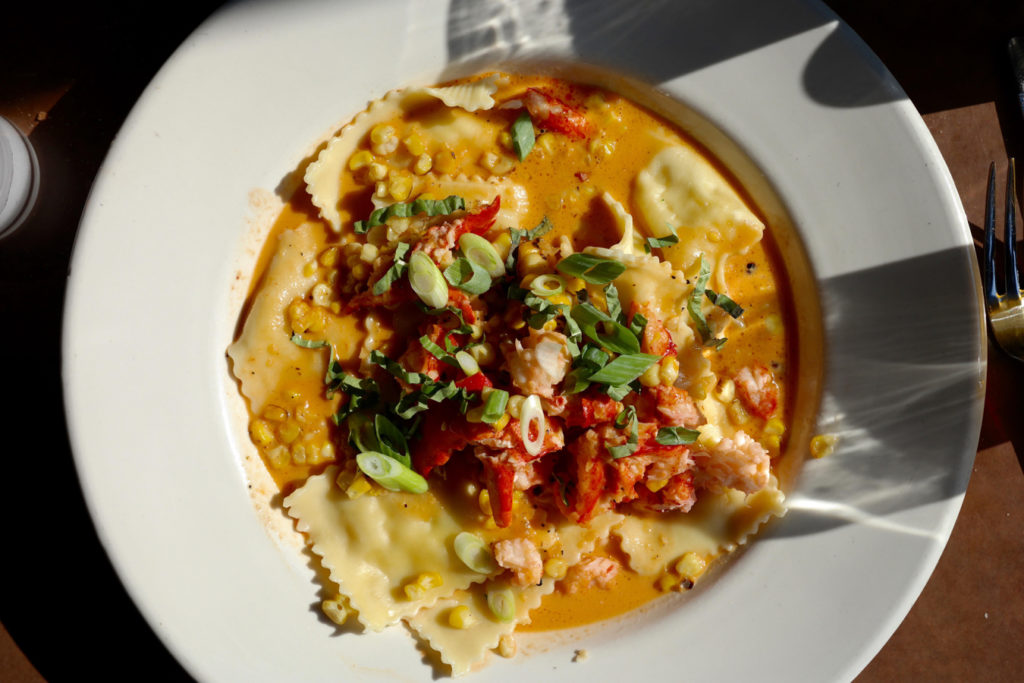 The next morning we went to check out Funk 'N Waffles, which serves up all kinds of creative combinations of waffles and toppings.  Miriam had the James Brownie, which is a waffle made from brownie batter and served with two scoops of vanilla ice cream, whipped cream, and chocolate sauce.  Thankfully you can order this as a half-waffle, because a whole James Brownie is so decadent it probably would have been deadly.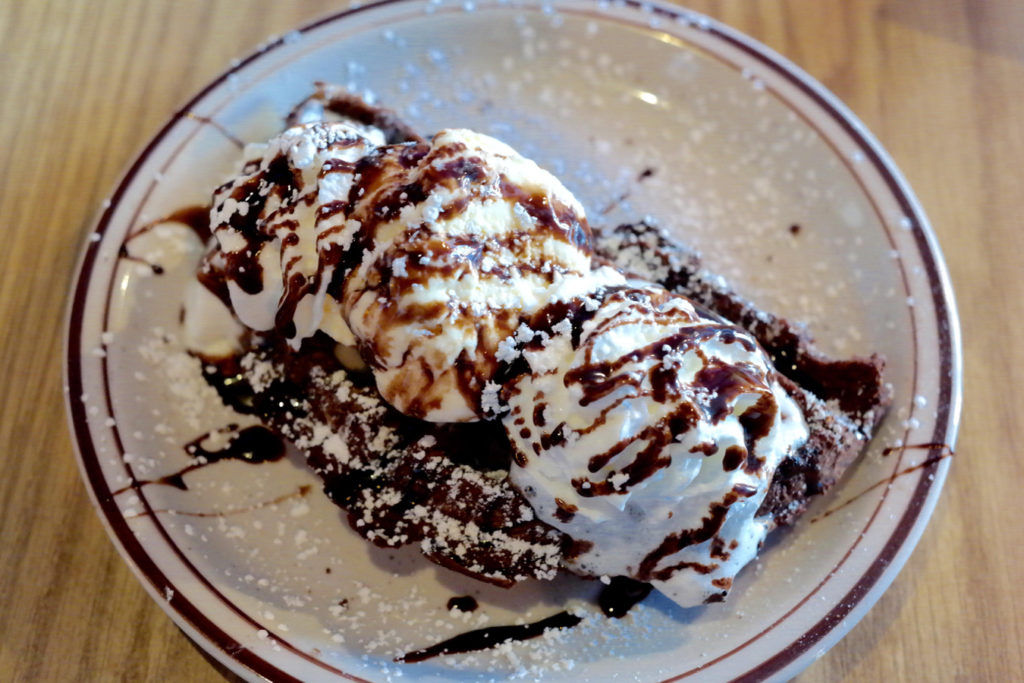 Cyril got the chicken and waffles with tenders on top (or you can sub in chicken wings instead), which comes drizzled with a spicy maple syrup.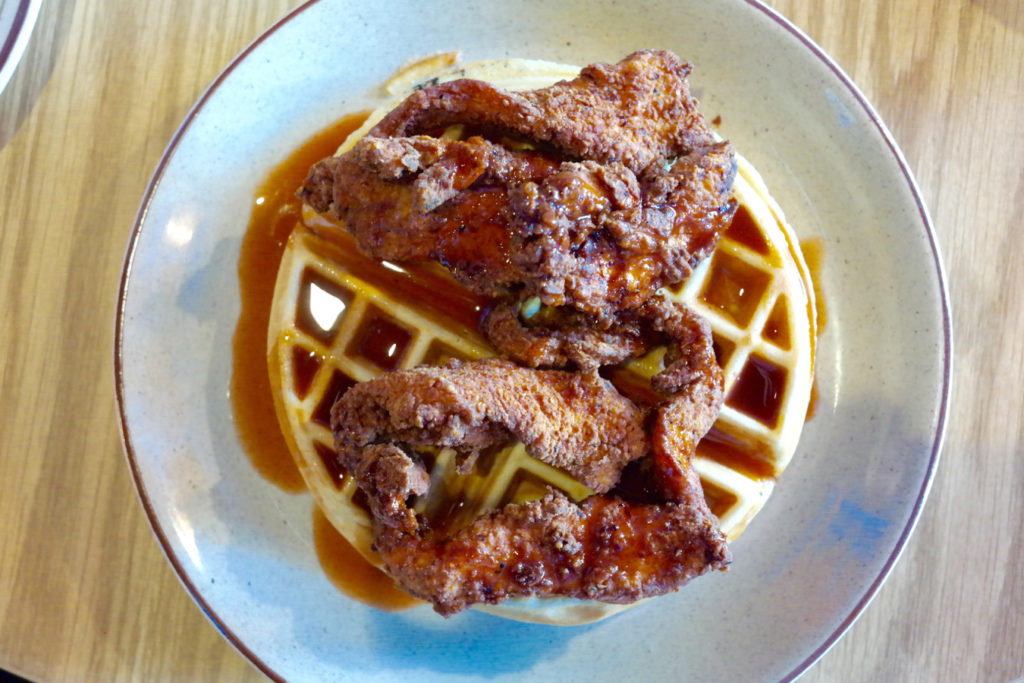 The baby shower – the whole reason we were in Syracuse – was held at the famous Dinosaur Bar-B-Que, whose original location is in the city (it's now a small chain of northern-style barbecue restaurants spread across the east coast).  You might not think a barbecue place would be vegetarian friendly, but Miriam was able to get a plate of meat-free sides:  mac and cheese, cornbread, and Syracuse's well-known salt potatoes.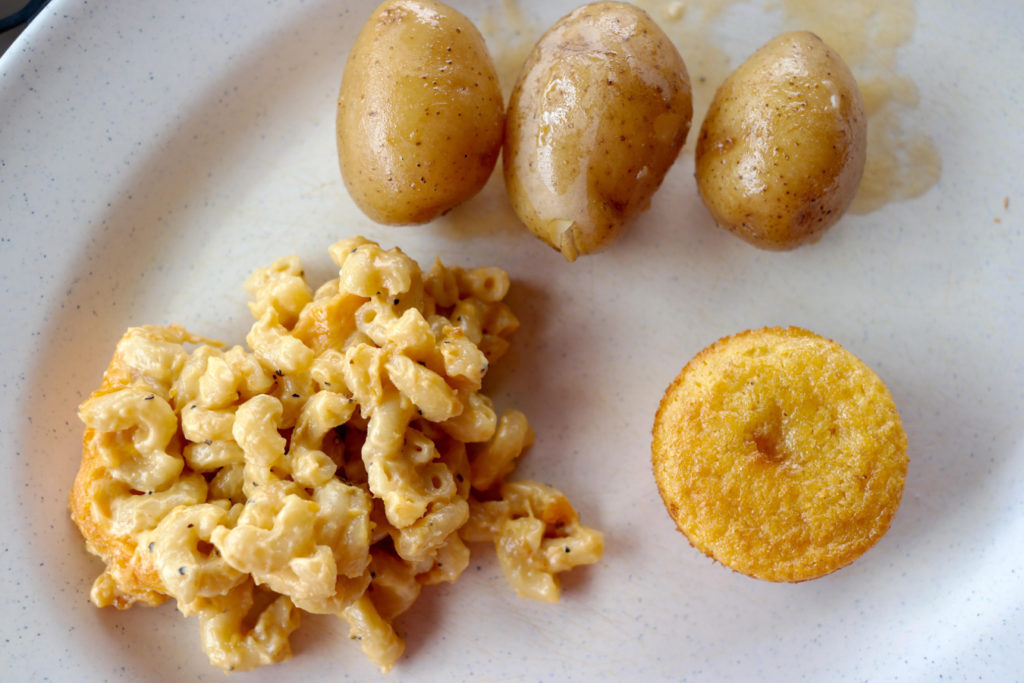 Cyril got all that plus beef brisket, pulled pork, and a side of baked beans.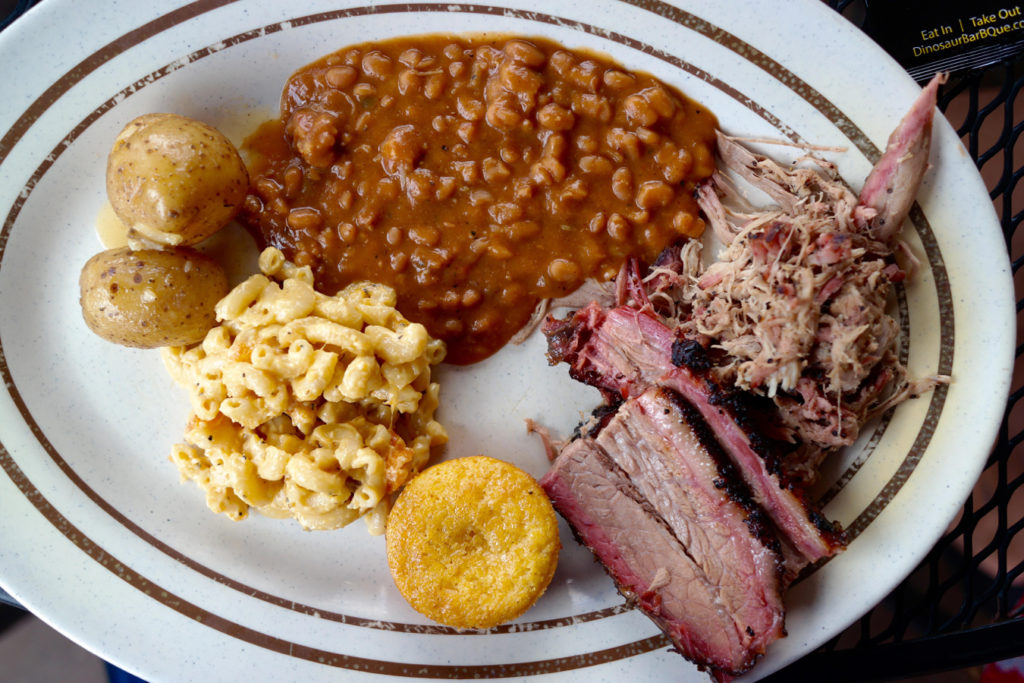 And for dessert, there were cheesecake bites from Big MaMa's Cheesecakes.  We tried a selection of the key lime, strawberry, Oreo, and Reese's flavors.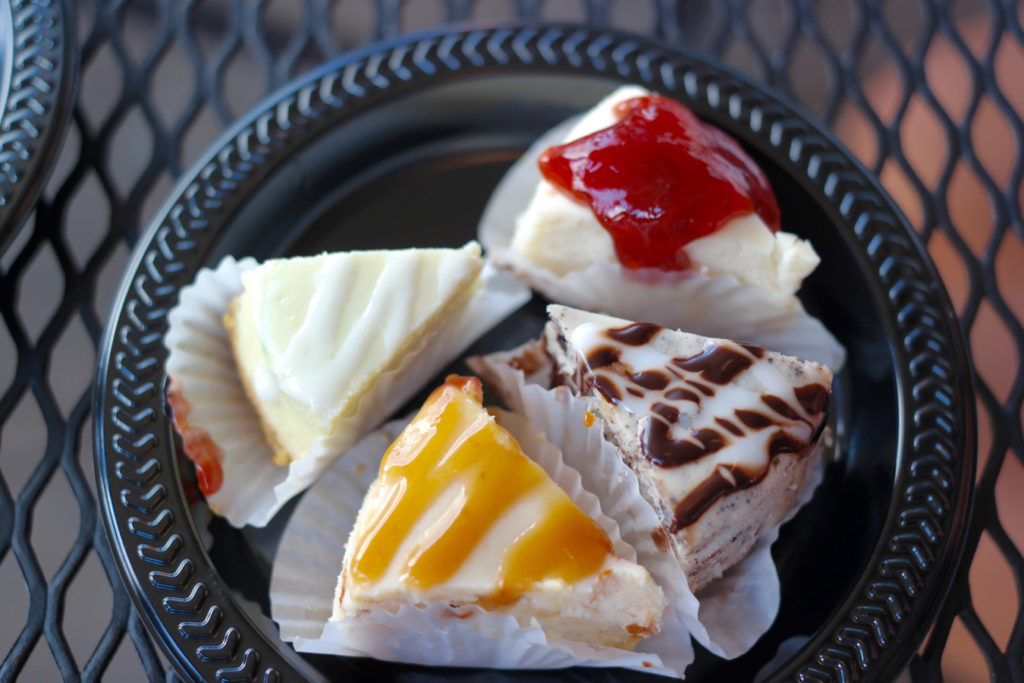 You might not associate Syracuse with good barbecue, or waffles, or pasta, but as you can see we found excellent examples of all these types of dishes, all in one weekend.  We would recommend any of these places, so if you're ever in upstate New York, try out some of this delicious food!