Pretty much everyone likes biscuits – they're tasty because they're so buttery and rich.  Here's a veggie-loaded yet still delicious version of this comfort classic that combines zucchini and Gruyère cheese with a classic biscuit dough, which we based on a recent recipe from Bon Appétit.  You can think of these as an upscale, slightly more healthy version of those famous biscuits you get at Red Lobster.
To make these, you'll need:
Baking powder
Sugar
Thyme
Flour
1 1/2 sticks of butter
1 cup of heavy cream
2 zucchini
6 ounces of Gruyère cheese
First, combine 3 tablespoons of baking powder, 3 tablespoons of sugar, a tablespoon of salt, a sprinkling of pepper, a teaspoon of chopped thyme, and 3 1/2 cups of flour in a bowl and whisk everything together.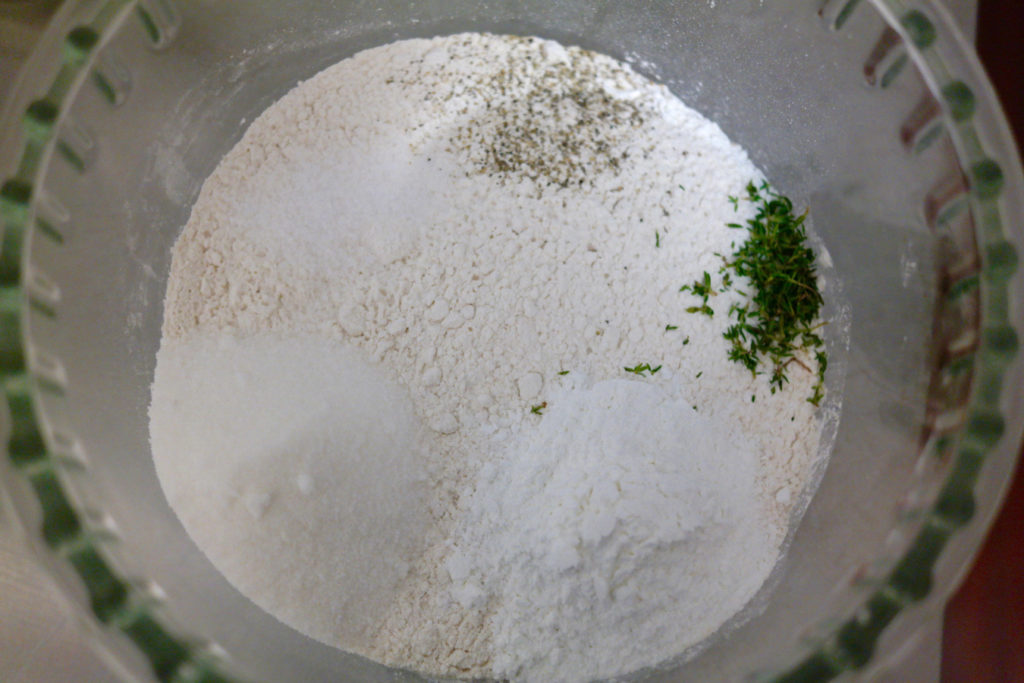 Next, cut your butter into pieces, add it to the dry ingredients, and work it in with your fingers until you have a mixture that consists of pea-sized crumbs.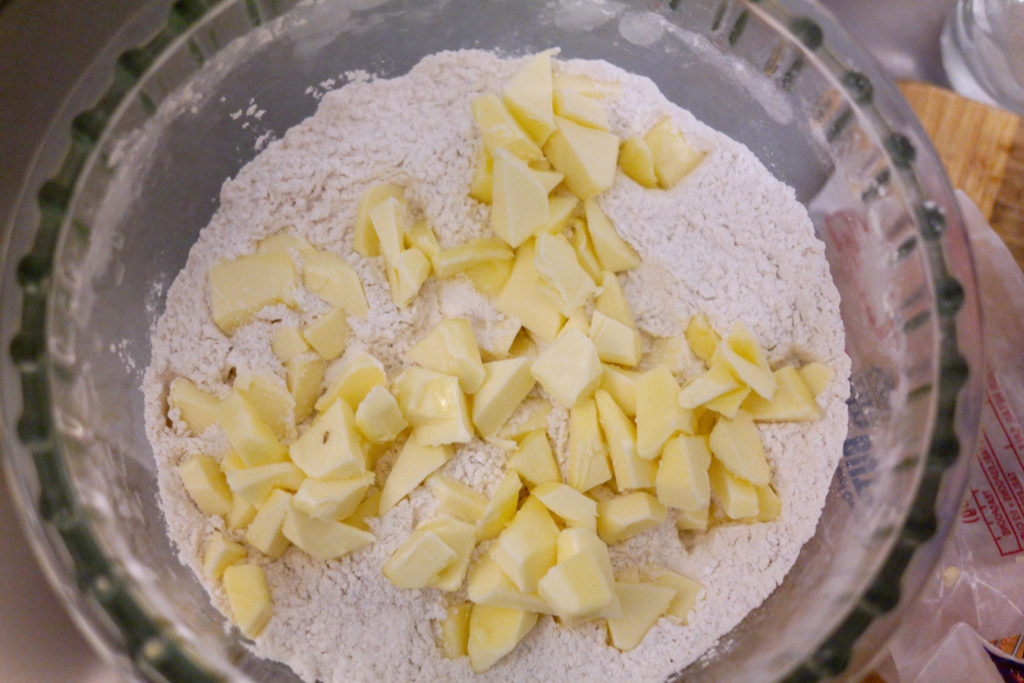 Use a box grater to shred both of your zucchini …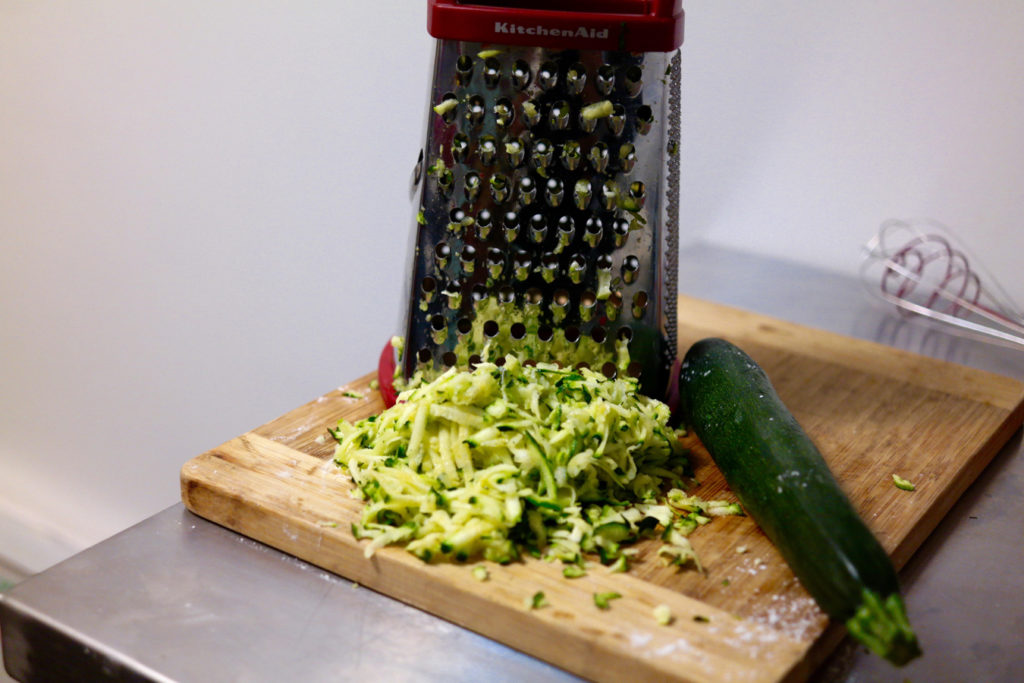 … then drizzle in 1 cup of heavy cream, add the zucchini, and mix these in by hand until you get a moist and even dough.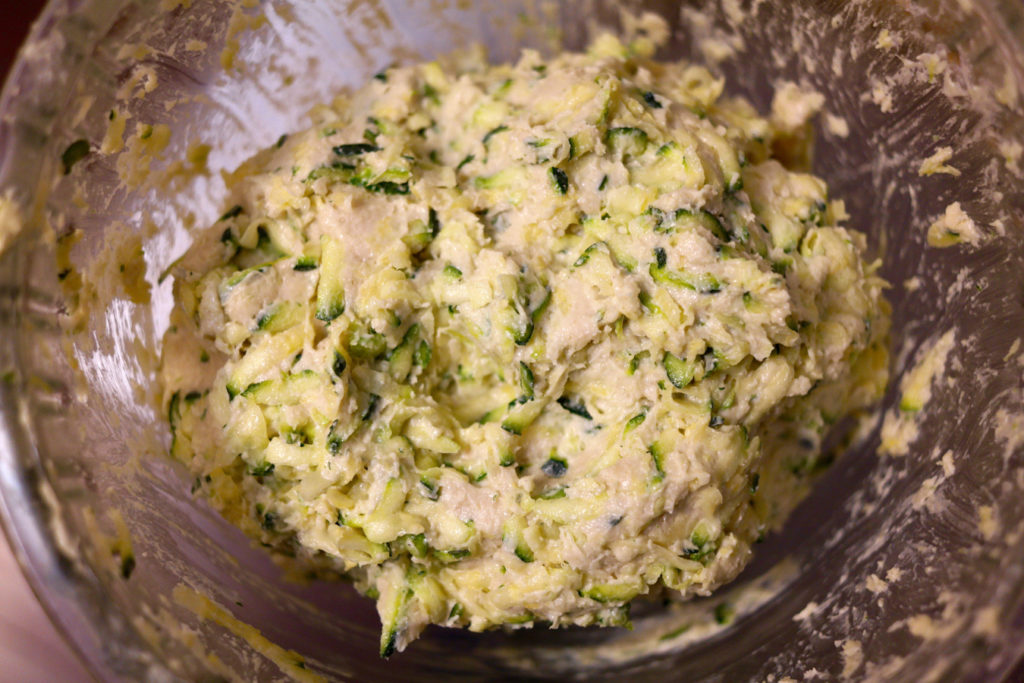 Cut your cheese into tiny pieces and mix this in too, until the Gruyère is distributed throughout the dough.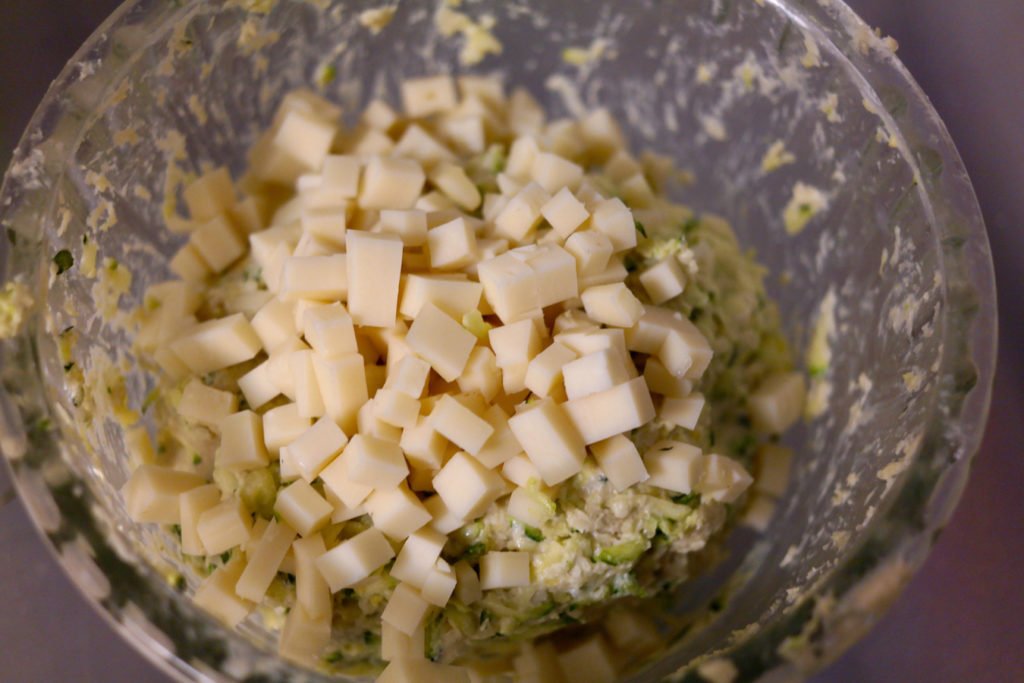 Since this is a wet dough, generously flour a surface and press the dough out until it's about 2 inches thick.  Sprinkle more flour on the surface of the dough and roll it out until it's about 1 inch thick.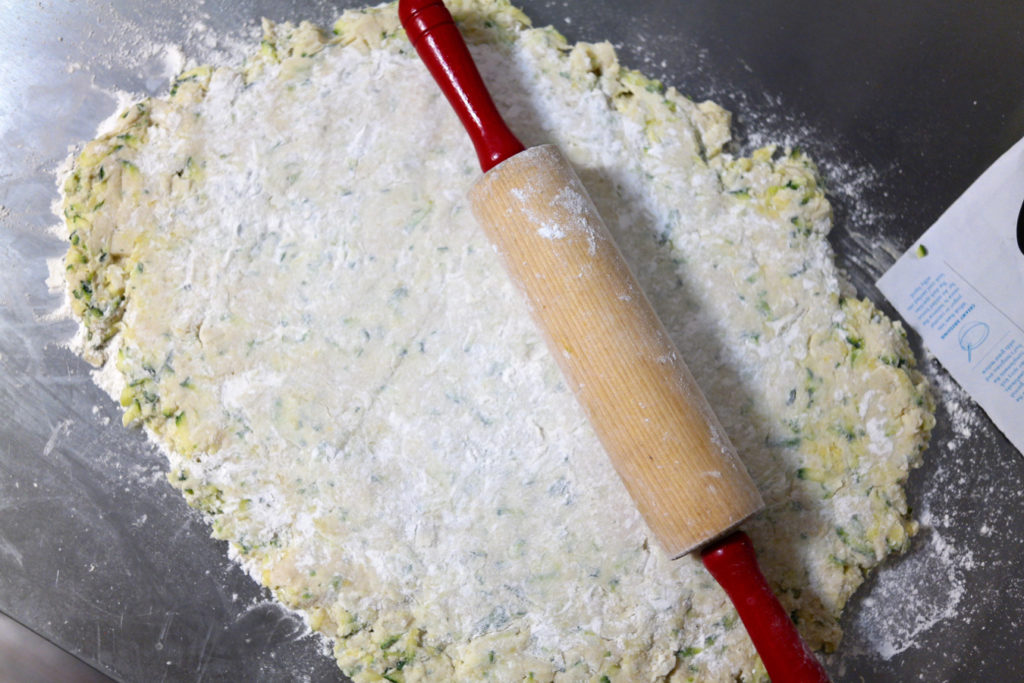 Then use a glass to cut the dough into rounds and lay them out about 2 inches apart on baking sheets that are either lined with parchment paper or coated with cooking spray.  Sprinkle extra salt on top of each biscuit.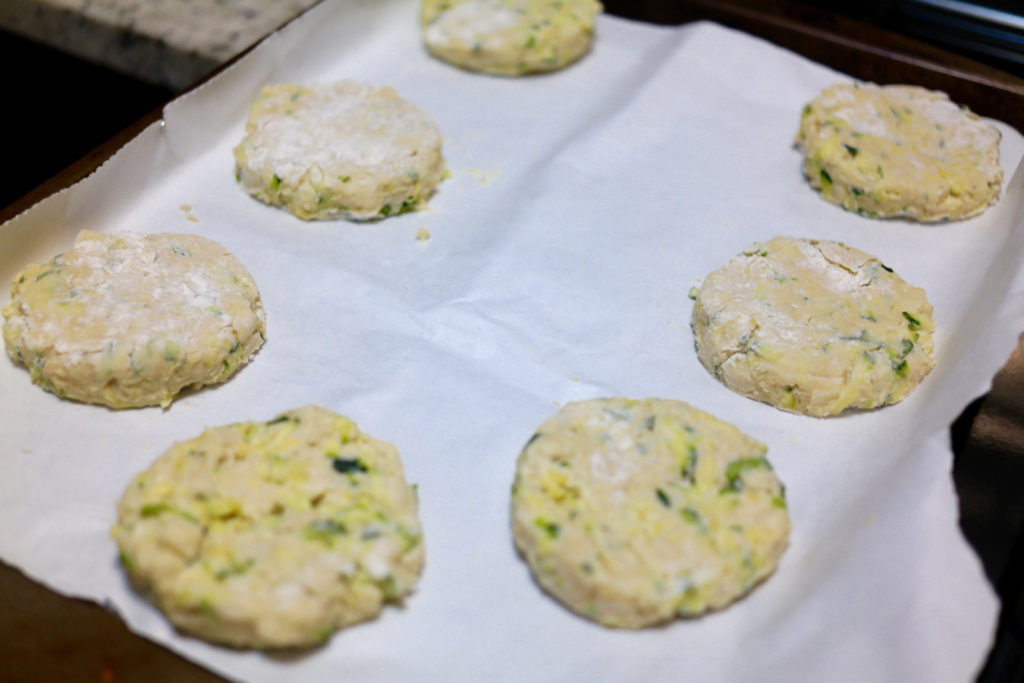 Bake your biscuits at 350°F for 30-40 minutes, making sure that the biscuits begin to brown but don't burn.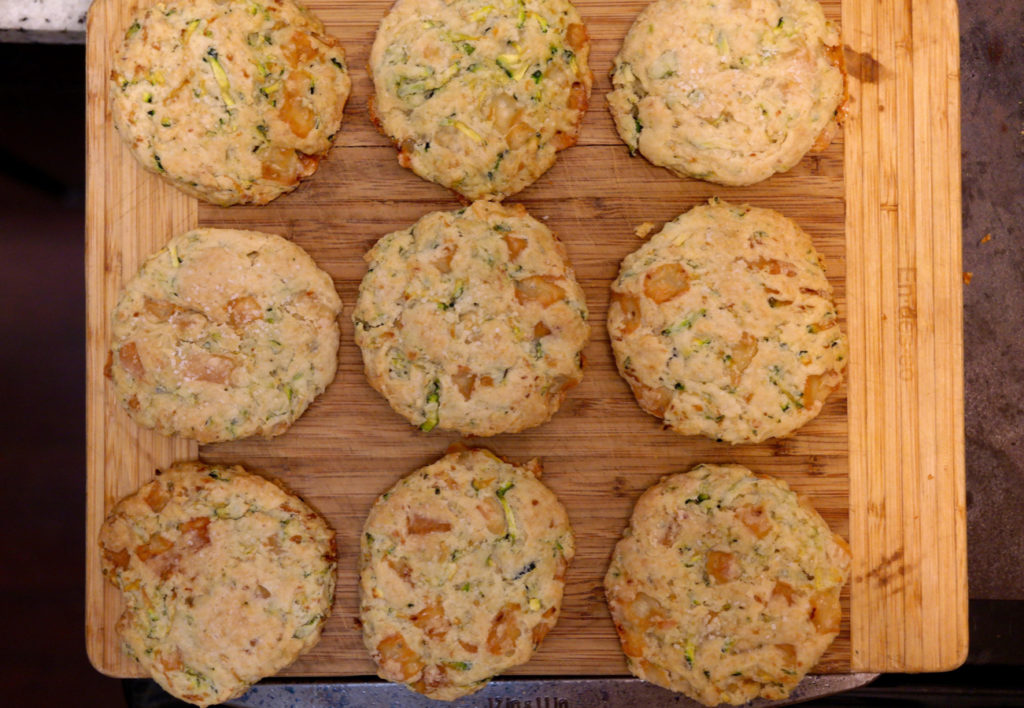 These biscuits were delicious!  They're just as good as normal biscuits, with the Gruyere providing an interesting cheesy flavor and the zucchini adding in some color and veggie goodness.  And, as a bonus, they're not too difficult to make.  We shared these while visiting family and everyone loved them, so we're sure you will too!