We like getting out of the city and going to do things in other parts of New York, and luckily Cyril's family lives near to where the Dutchess County Fair takes place every summer.  It's one of the largest fairs in the entire state, so we really enjoy going and checking out everything there is to offer at the fairgrounds – including all the weird, bizarre, not-entirely-healthy food on offer.  We're not alone in this – plenty of people, including some we met while waiting in line for tickets, go to fairs at least i part to chow down on food you can't (or shouldn't) get any other time during the year.
So, here's what we had:
First we started off with some John's Famous Fries, which everyone swears are the best fries at the fair.  If you get a sharing size, which we split with some of Cyril's family, they give it to you in what looks like a doggie bowl.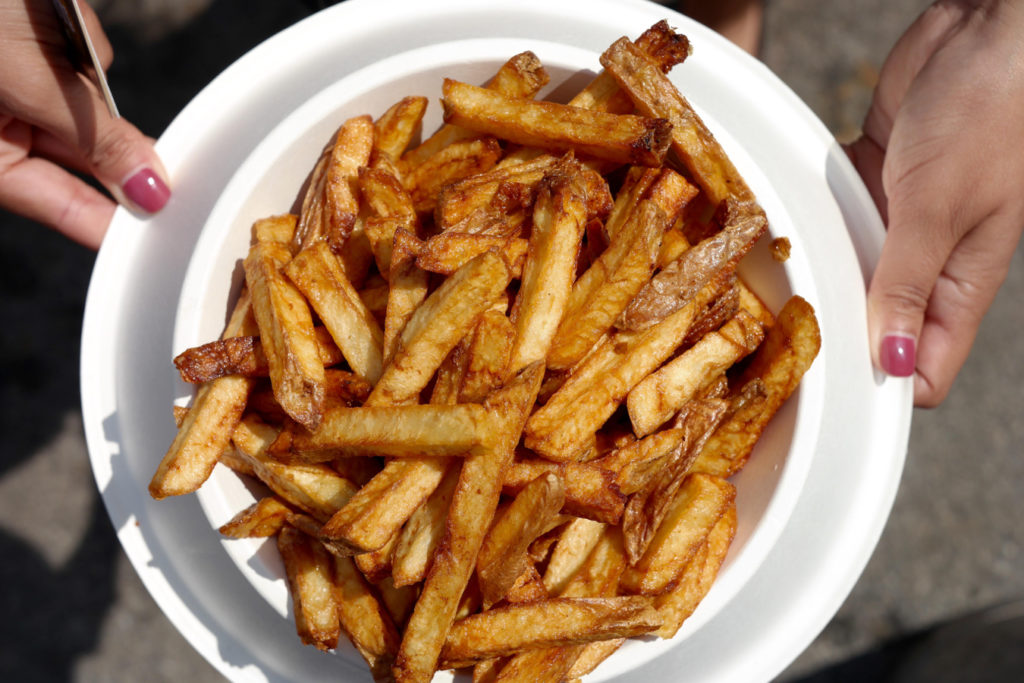 Cyril and his brother went and got some snacks from a place called Chomps, which specializes in frying food in ball form.  These are the fried meatballs: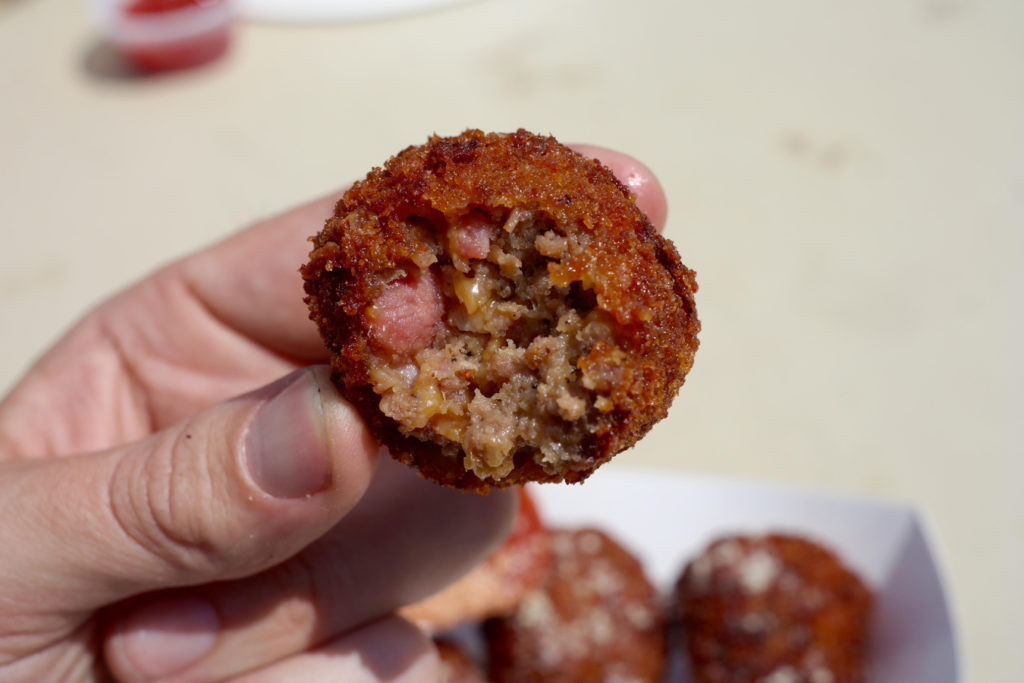 This is fried chicken parm …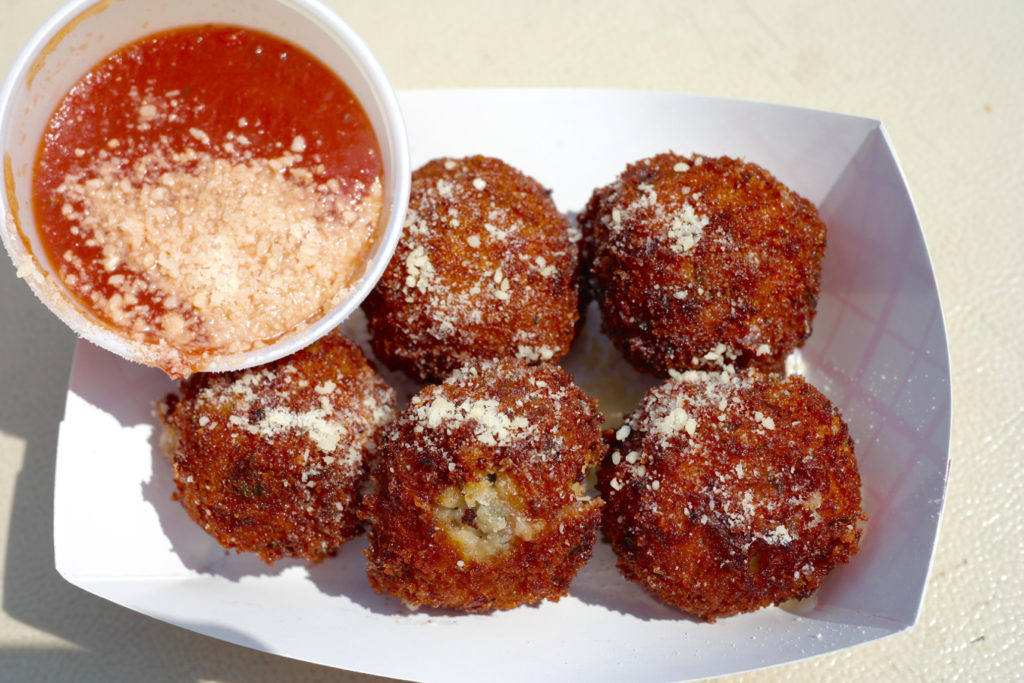 … and what it looks like on the inside.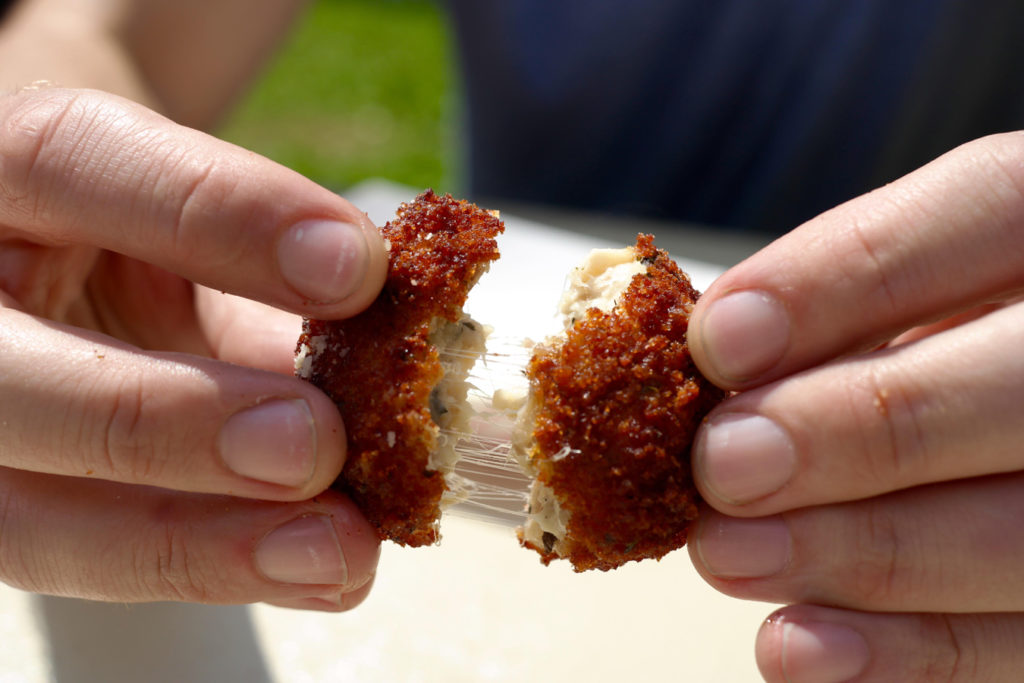 We then got ourselves some cheese and potato pierogis, which many people told us was the most delicious dish at the fair.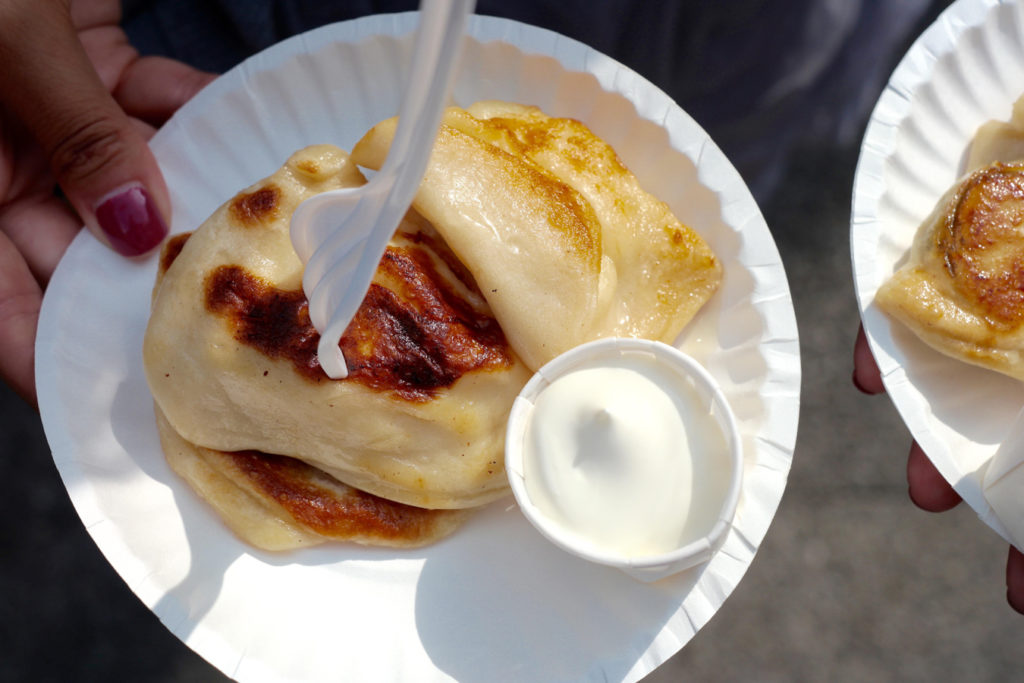 We followed that up with some roasted buttered corn, which we covered in chili powder.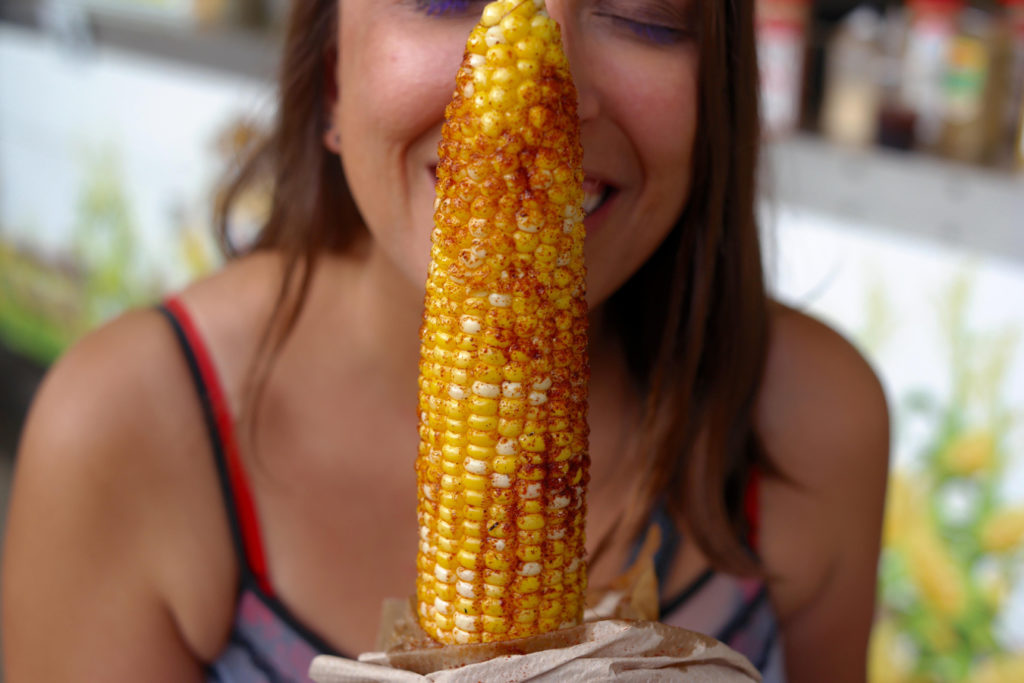 Cyril later decided to try the fried buffalo chicken ravioli, served with blue cheese dressing, which was a new food item this year.
And then, to try and get some veggies in for the day, we split a platter of fried vegetables (are you noticing a theme here?).  This one came with crispy broccoli, cauliflower, onions, carrots, sweet potato, mushrooms, and zucchini.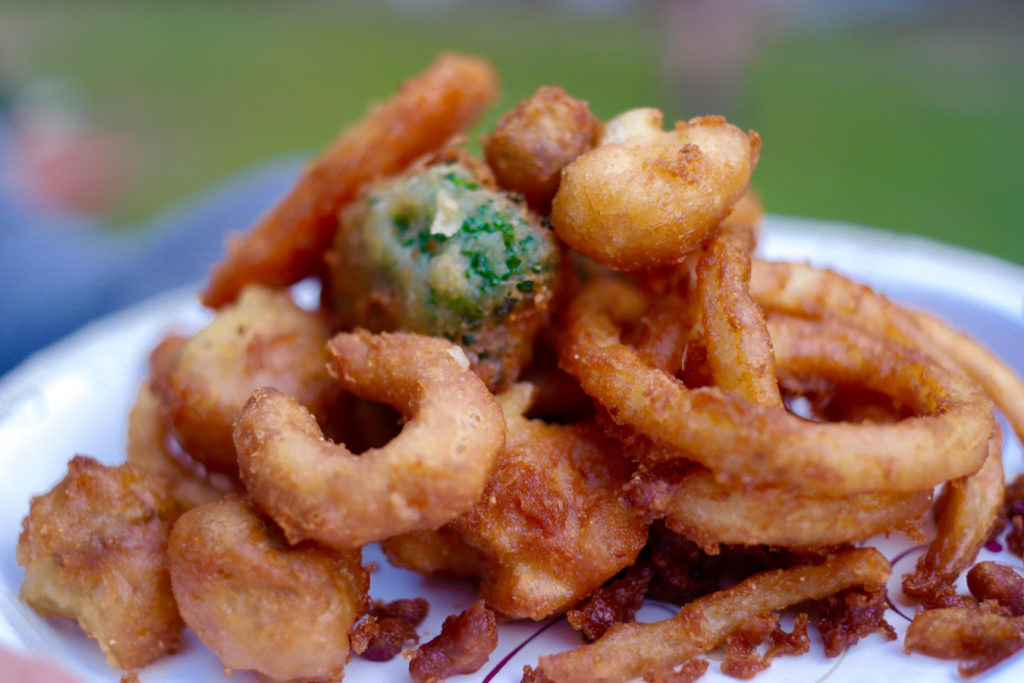 The most unique food we came across this year was the grilled cheesecake sandwich, made with cheesecake filling between two slices of toasted poundcake and strawberry dipping sauce on the side.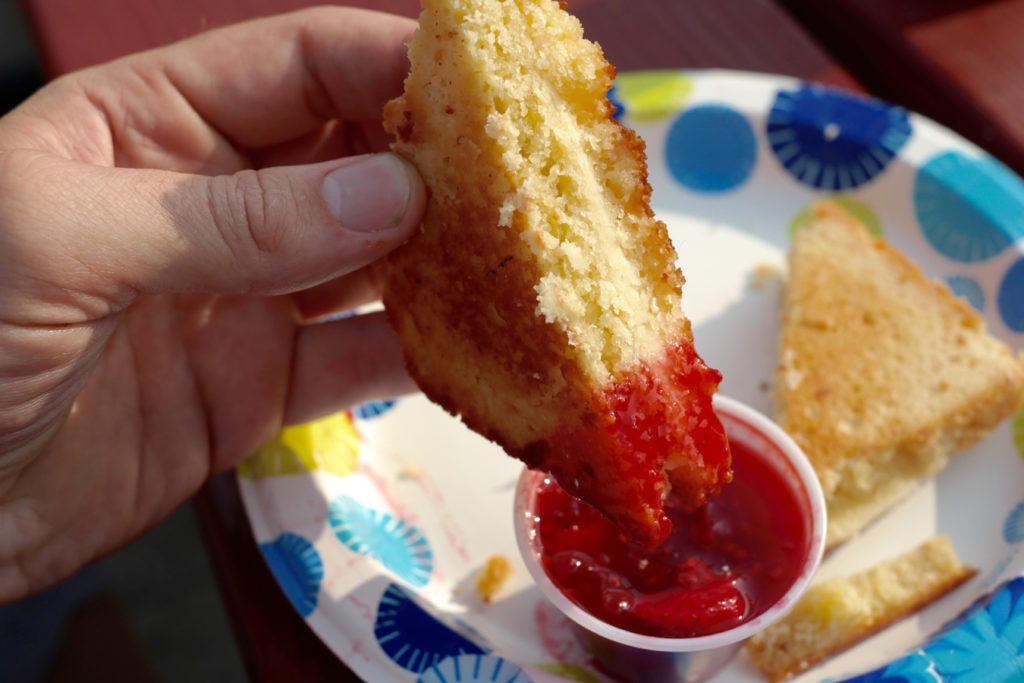 And finally, we couldn't leave without a Walk Away Sundae, which is a staple of the Dutchess County Fair.  It's a block of vanilla ice cream dipped in chocolate, sprinkled with chopped peanuts, and topped with a cherry, all on a cone.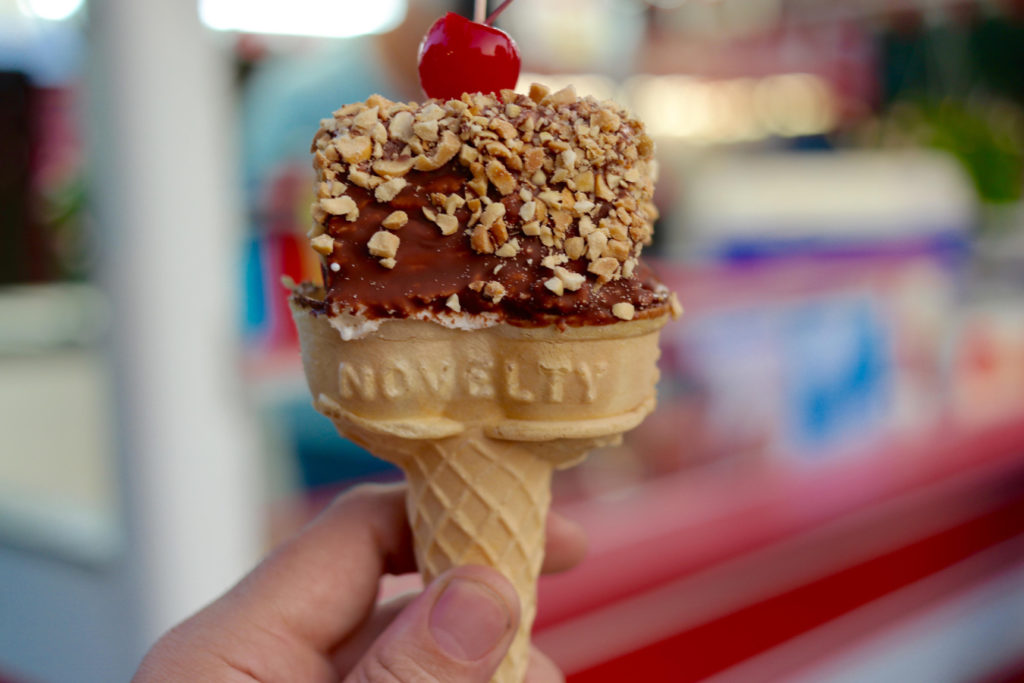 Not exactly a day of healthy eating, but the fair only comes once a year so why not?  We love sampling fried goodies, classic fair food, and the esoteric creations that food vendors always come up with, and this year we got a try a wide variety of tasty things.  Hopefully next year we'll be able to go back and eat more!