Stuffed shells are a classic Italian-American dish and they're absolutely delicious – because who wouldn't love pasta stuffed with cheese, covered in red sauce, and baked with more cheese?  It's a whole meal unto itself!  We recently found a recipe for stuffed shells and the homemade marinara sauce the dish is baked in, and we decided to adapt it for ourselves.
To make these, you'll need:
A 12-ounce package of large pasta shells
3 eggs
2 cups of ricotta cheese
3 ounces of Parmesan cheese
Parsley
8 ounces of mozzarella cheese
An onion
Garlic
Basil
2 28-ounce cans of whole peeled tomatoes
To get started on the sauce, dice your onion and cook it in a large pot in about 1/4 cup olive oil until it's completely softened (this should take about 8-10 minutes).  Then slice 4 cloves of garlic as thin as you can, cook them with the onion for another five minutes, and add in a handful of basil leaves.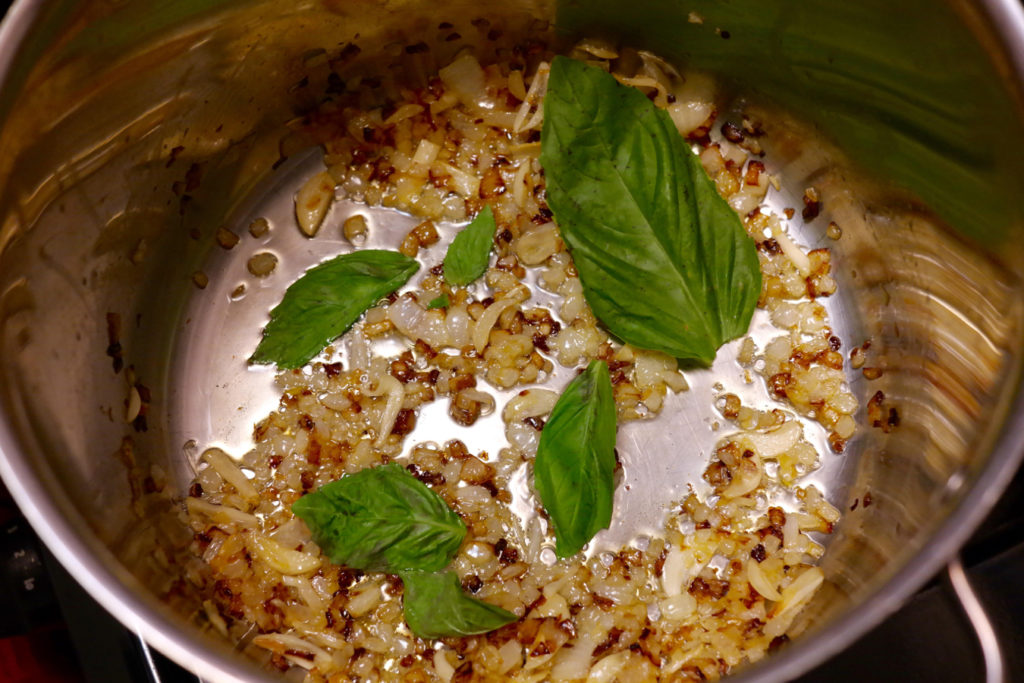 Next, fish out all the tomatoes from your cans and use your hands to squeeze them into the pot, then pour all the extra liquid in too.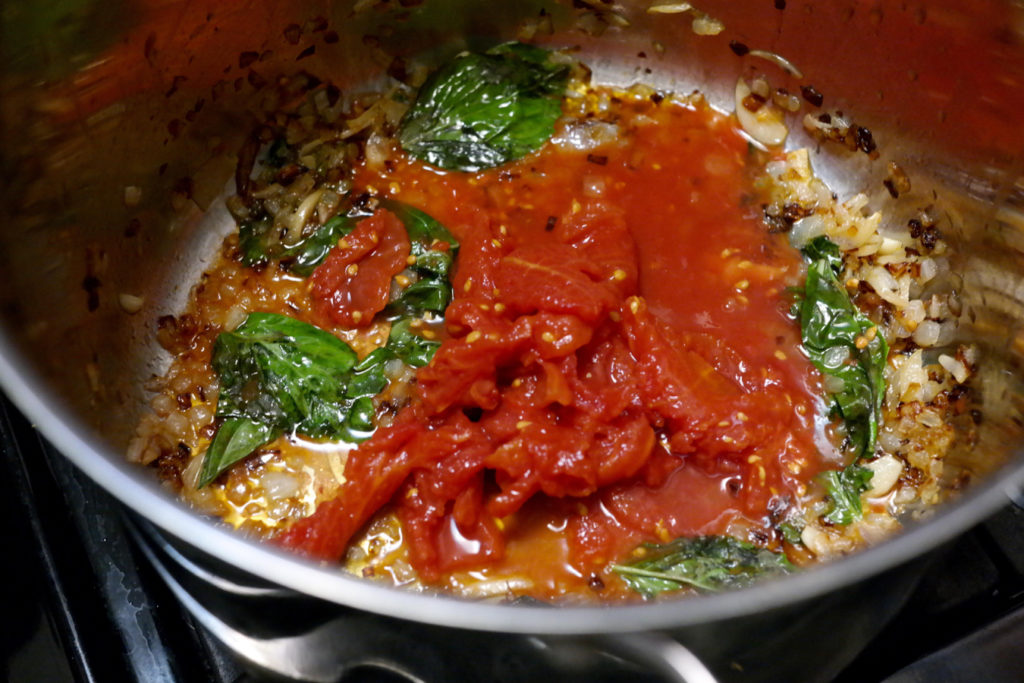 Bring everything to a simmer, then turn the heat down and let the sauce very gently cook for an hour, making sure you stir it every so often.  It should look like this once you're done: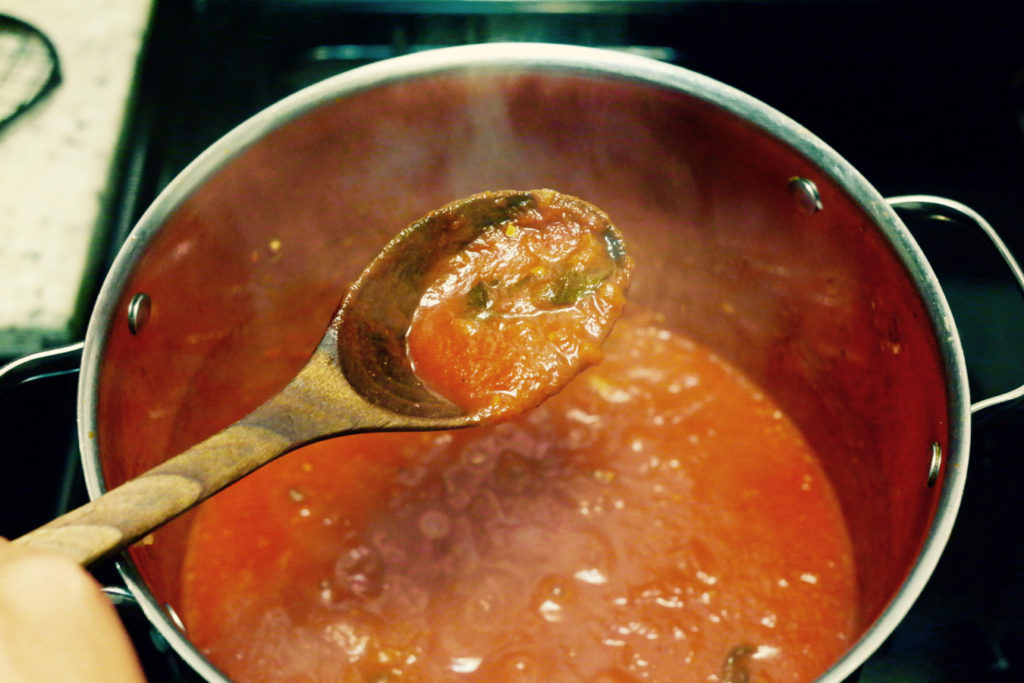 While your sauce is simmering, you can get started on the shells.  Boil the pasta for only about six minutes and rinse it in cold water once you drain it.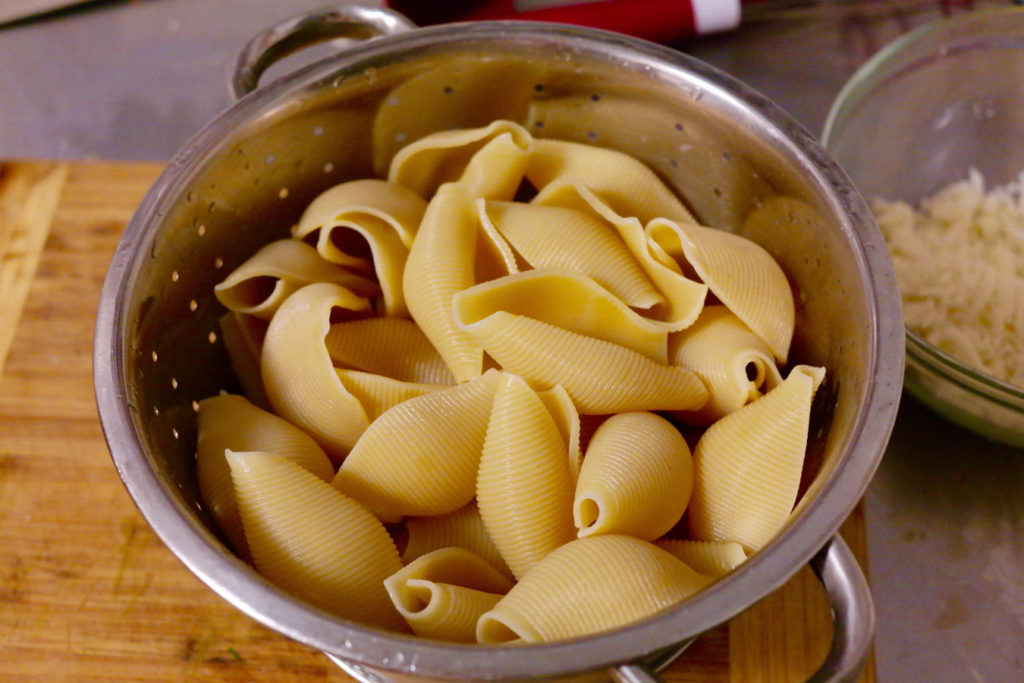 Meanwhile, grate your mozzarella and Parmesan cheeses.  Whisk 2 egg yolks with 1 whole egg and then stir in all of the ricotta and Parmesan, 1 1/2 cups of the mozzarella, and about 1/4 cup of chopped parsley.  Just to change things up, we also decided to add in a little bit of pesto we had lying around.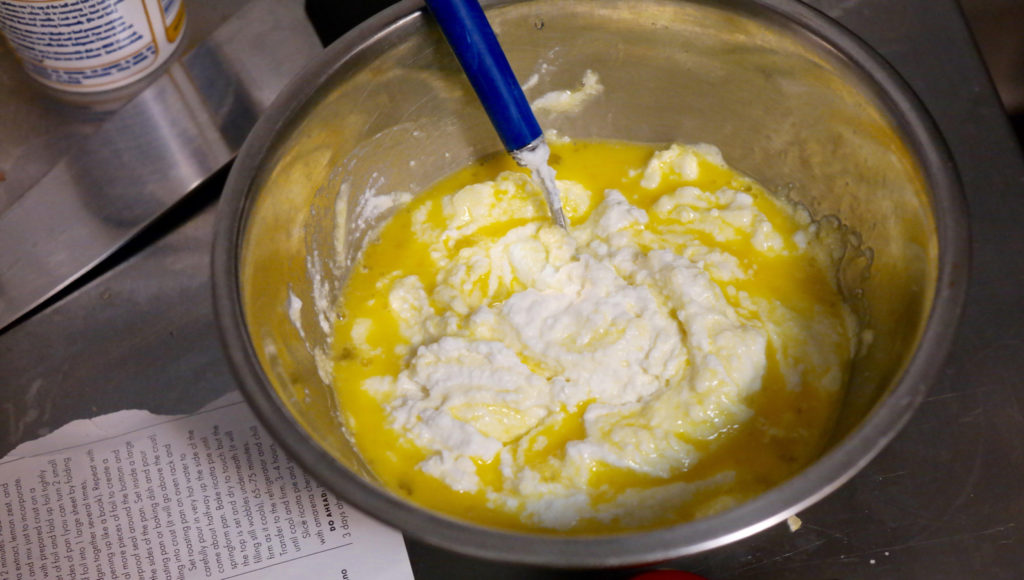 Use a spatula to transfer this mixture into a large resealable plastic bag and cut off one corner of the bag so you can squeeze out the cheese filling.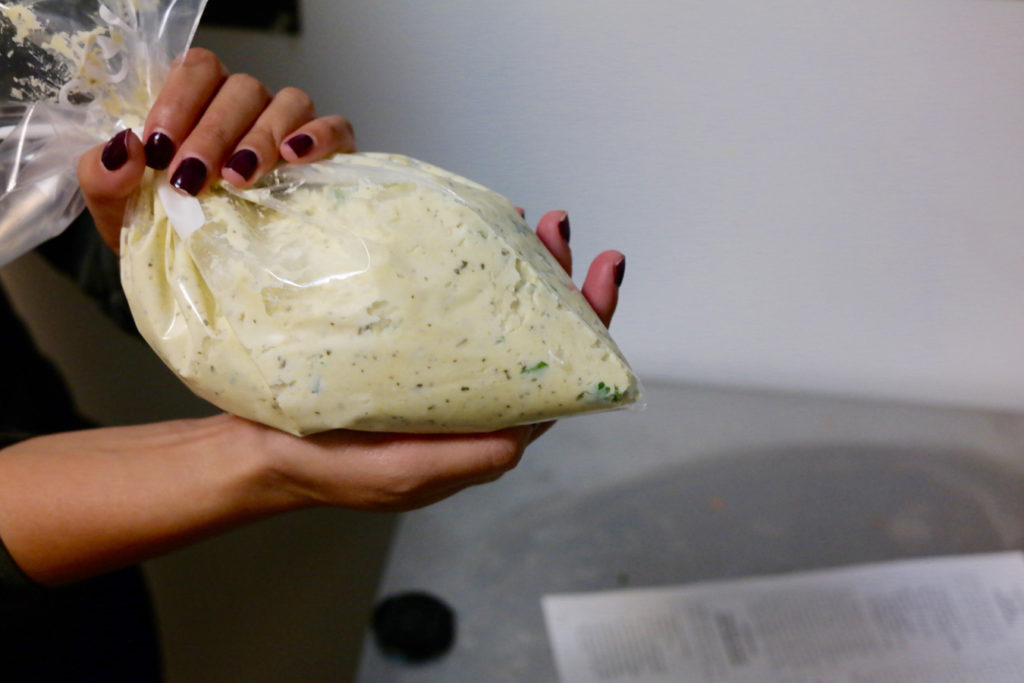 Once your sauce is done, pour a layer of it into the bottom of a large casserole dish and place the pasta shells on top in rows.  Then start filling each shell generously with your cheese mixture.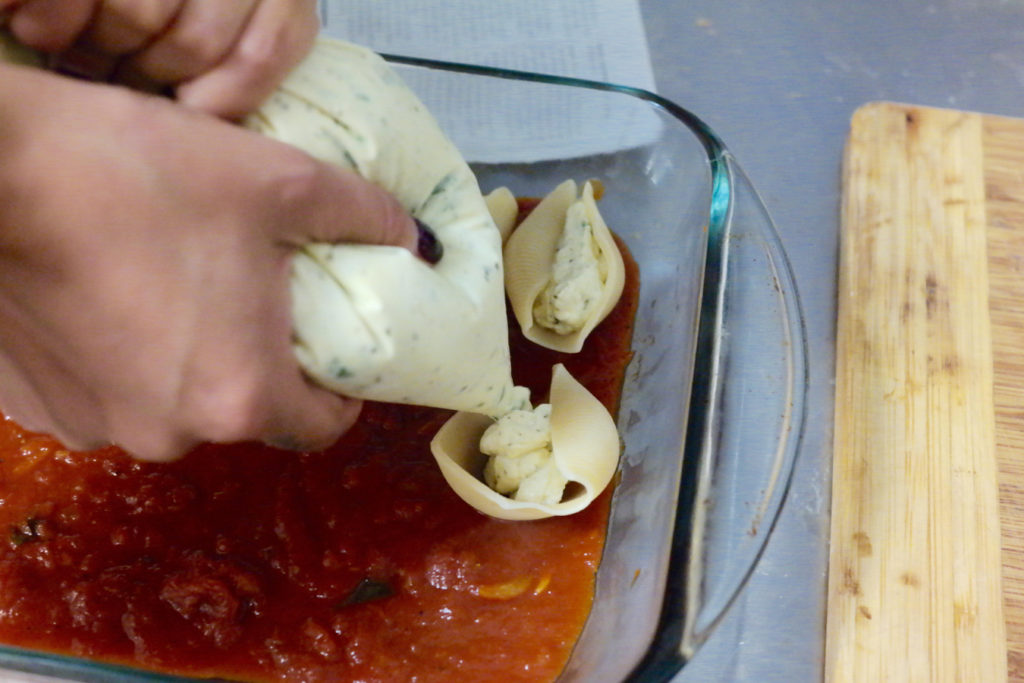 When you're done, your shells should look like this: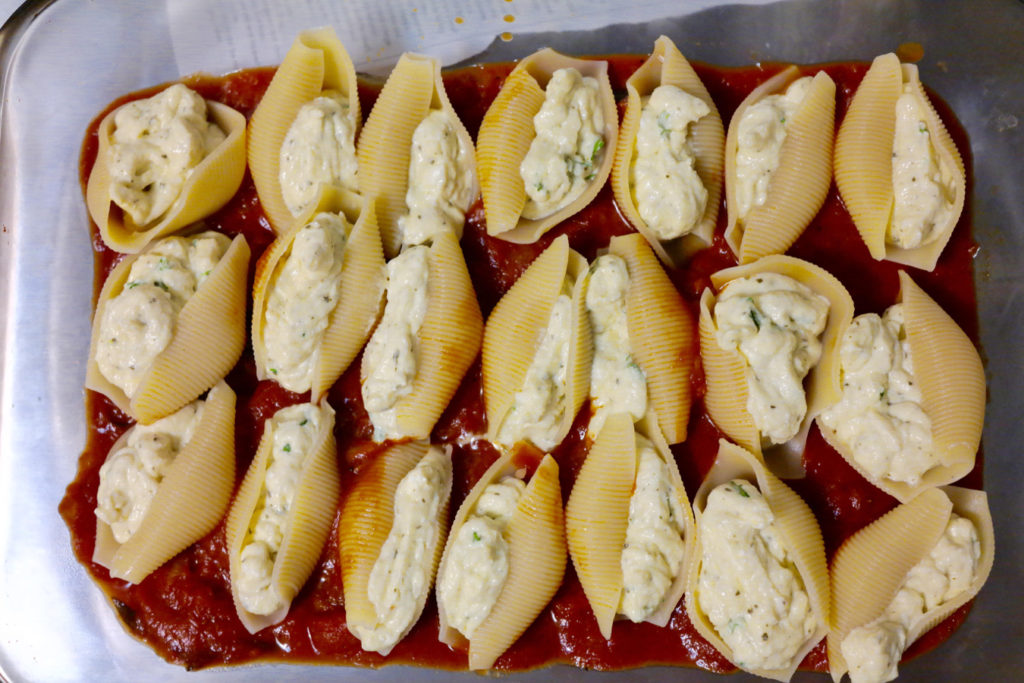 Top them with another layer of sauce and the rest of your mozzarella cheese.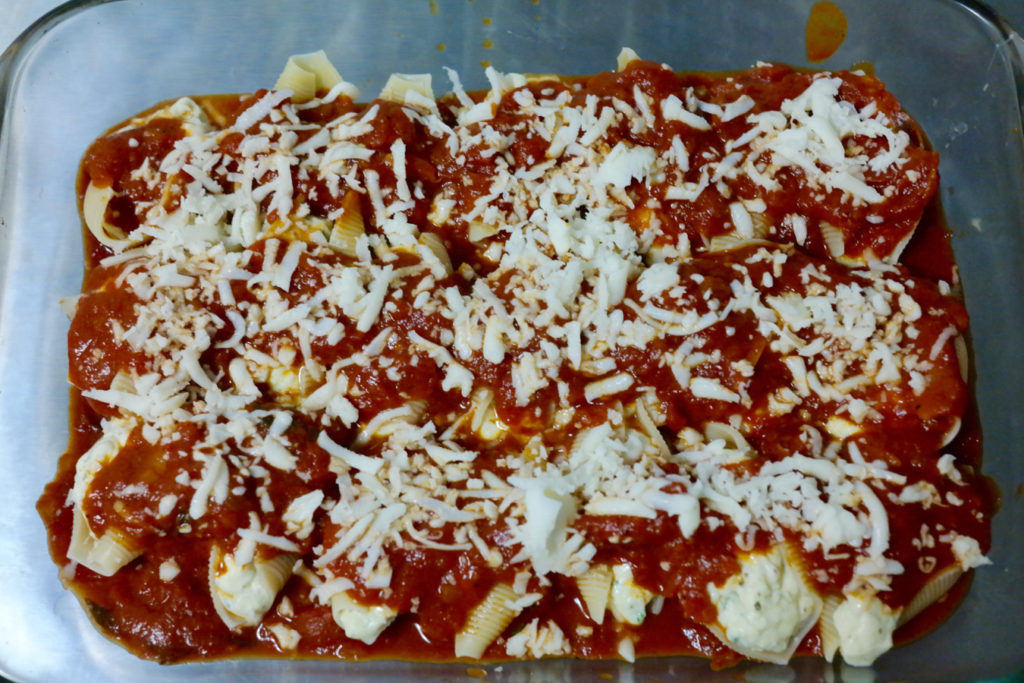 Cover your shells in foil and bake at 375°F for 35-40 minutes until the sauce is bubbling, then take the casserole out and let it cool for 5 minutes.
To finish, place the shells in your broiler to bake for another 2 minutes – making sure not to leave them in too long and burn – and then grate some extra Parmesan cheese on top.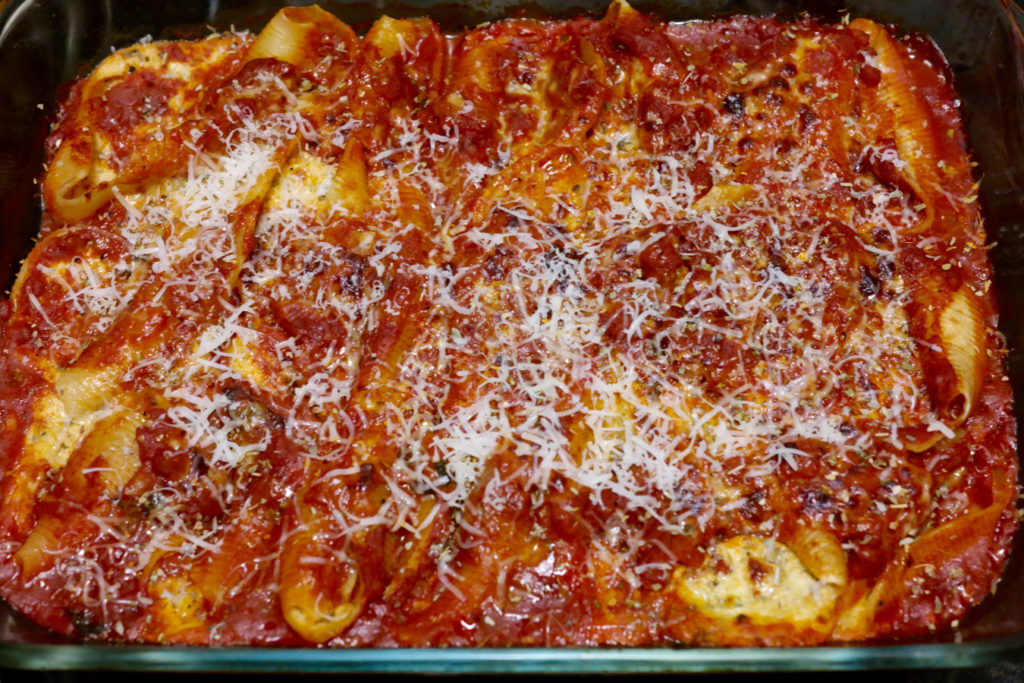 Now you can serve up your shells and eat them!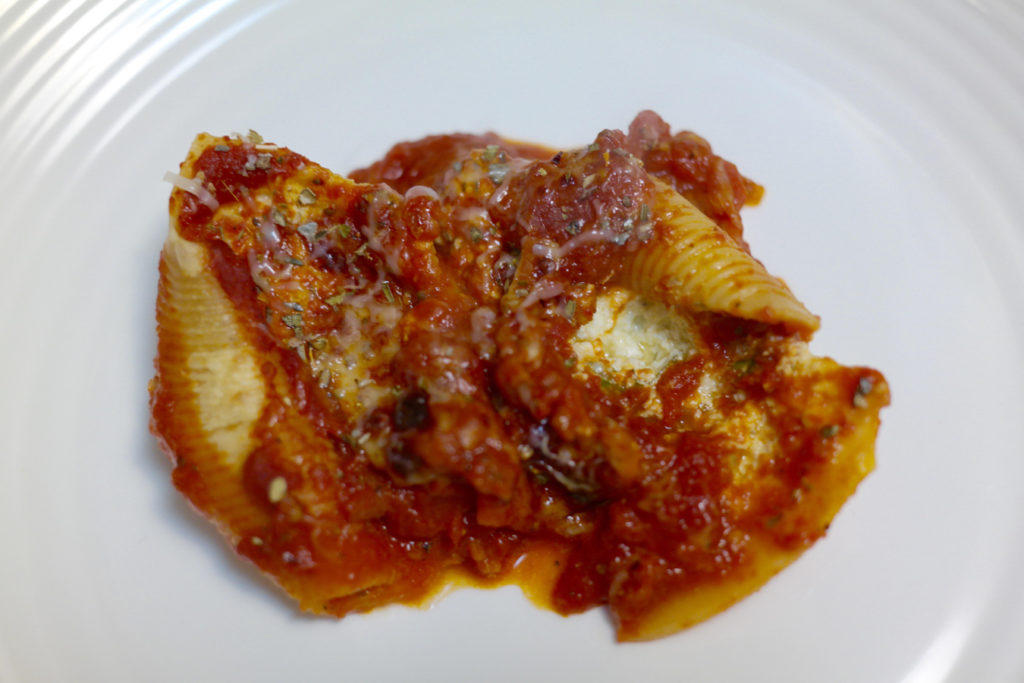 Absolutely tasty!  The three cheeses come together as an awesomely creamy filling for the pasta, and the sauce on top is a rich, flavorful addition.  These stuffed shells are a hearty, warm meal for when you're craving some classic Italian food, and making the marinara sauce yourself adds a nice homemade touch.  If you've got a few hours to make these shells from scratch, try this recipe out for a delicious, cheesy dinner.