We came across this recipe, from Bon Appétit, for a variation on cinnamon buns.  These are a little different from what you might usually get in a store or at a Cinnabon:  they're glazed, not covered in goopy white icing, which makes them less tooth-achingly sweet than you might be used to.  Don't confuse these cinnamon buns for a health food, though, because they have a lot of butter in them.  That's what makes them so tasty!
To make these, you'll need:
An envelope of yeast
Milk
Honey
5 eggs
Flour
Whole wheat flour
Vanilla extract
3 1/2 sticks of butter
Brown sugar
Cinnamon
Ground cardamom
Raw sugar
We started making the dough for the buns by fitting a paddle attachment to our stand mixer and using it to whisk together our yeast, a teaspoon of honey, and a cup of milk that we warmed for 30 seconds in the microwave.  We let that sit for 5 minutes, until it started to foam, then beat in 4 egg whites (make sure you save the yolks), 2 cups of flour, and another 1/4 cup honey at a medium speed.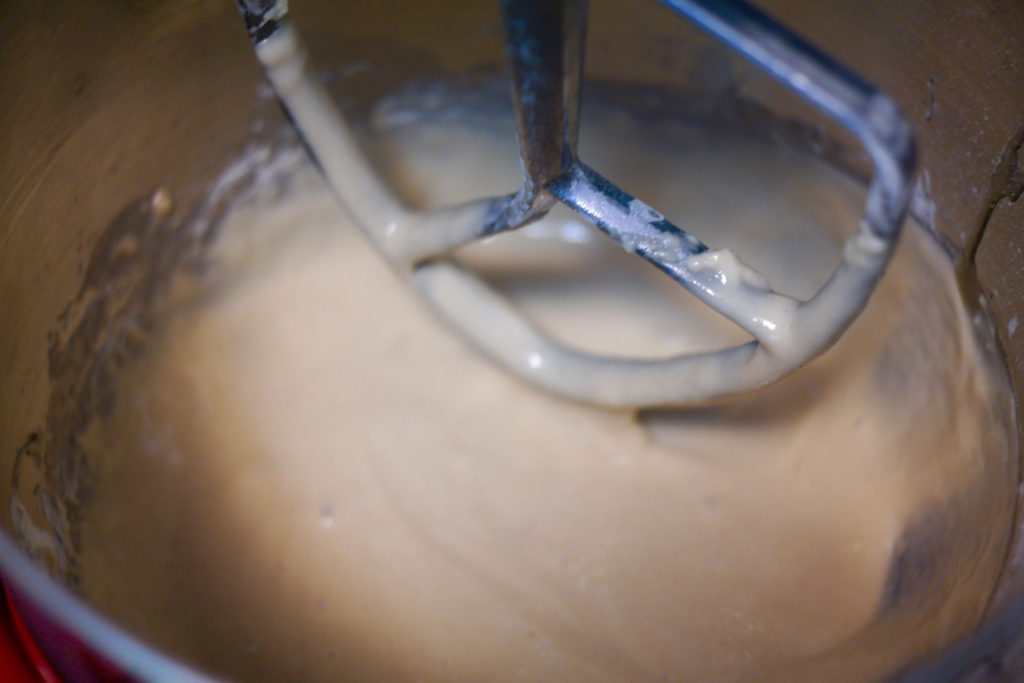 We placed an additional 1 1/2 cups of flour and a cup of whole wheat flour on top of our mixture and let this all sit for 30-40 minutes in a warm spot.  Then we switched out the paddle attachment for a dough hook and used it to incorporated the flours in along with 5 egg yolks, a pinch of salt, 2 teaspoons of vanilla extract, and 1/4 cup of milk.  We let everything combine at a medium speed, then cut our butter into pieces and added them in one at a time.  We made sure to let the dough mix until the butter was fully blended with everything else – which took a while – then covered it, stuck it in the fridge, and let it rise for 8 hours until it looked like this: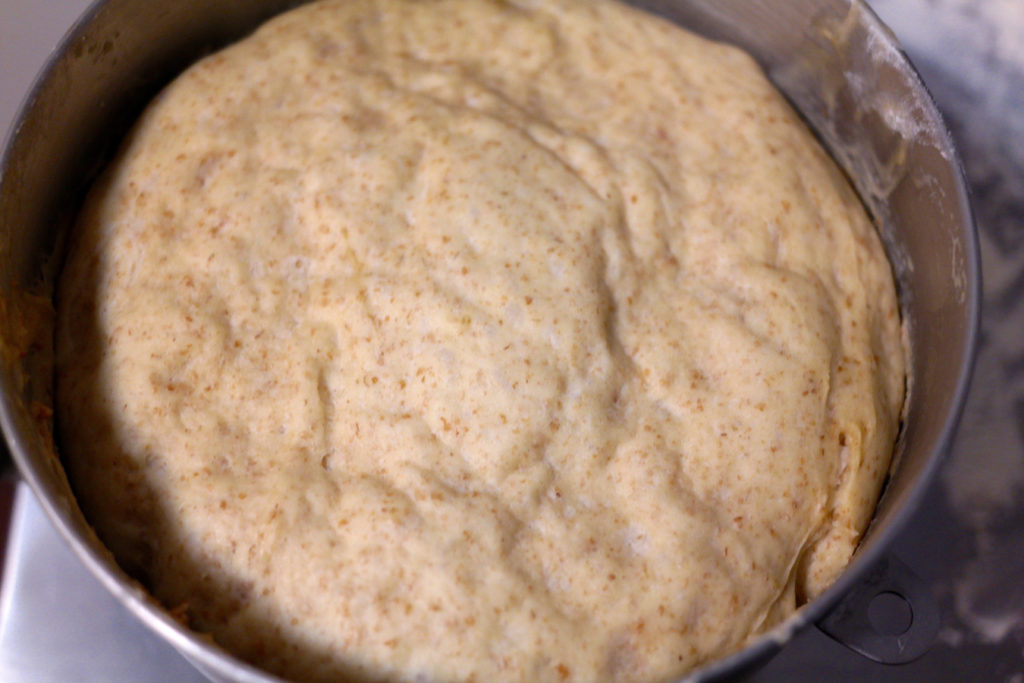 When the dough was ready, we divided it in half and rolled each half out on a floured surface into a rough rectangle, about 12 inches wide and 16 inches long.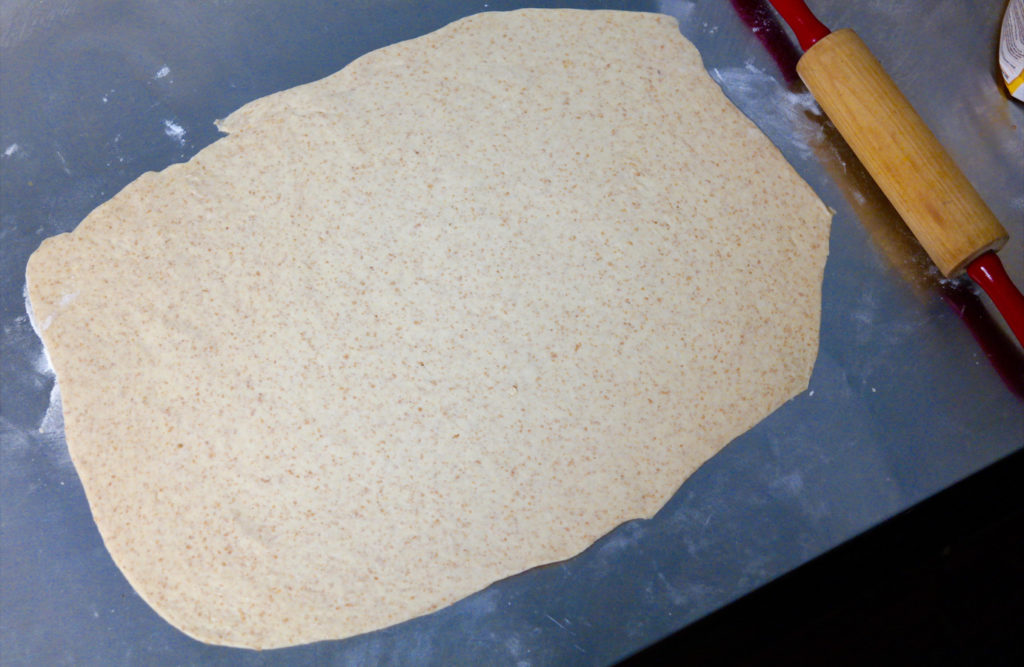 To make the filling, we melted a stick of butter over low heat in a saucepan with 3/4 cup of brown sugar, a tablespoon of cinnamon, 3/4 teaspoon of cardamom, and 1/4 cup honey.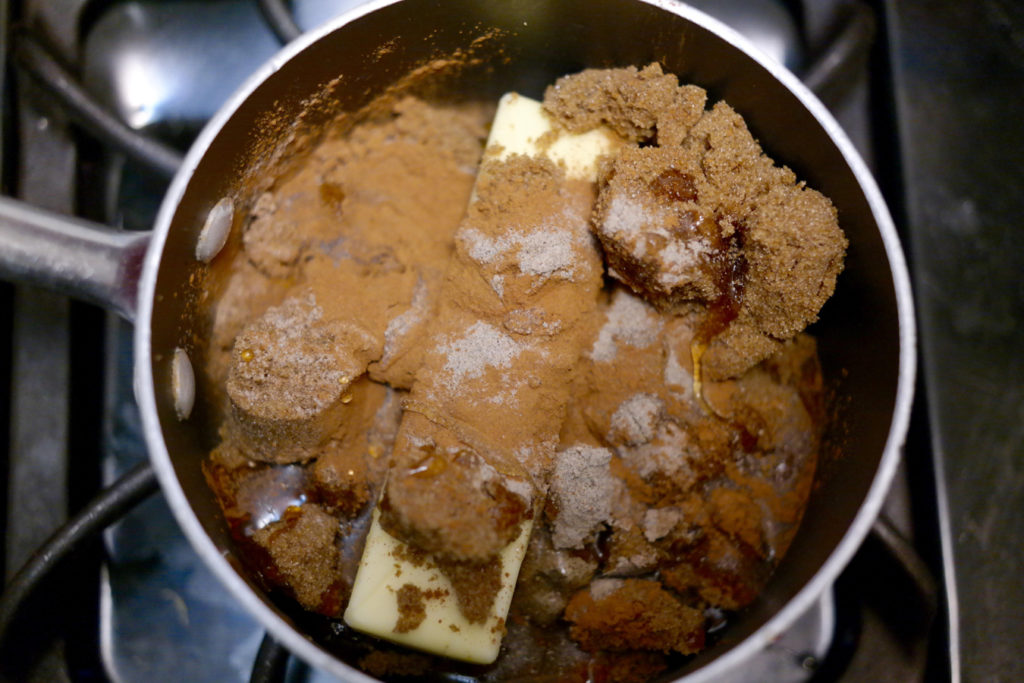 We stirred all this together continuously, until it formed a smooth sauce.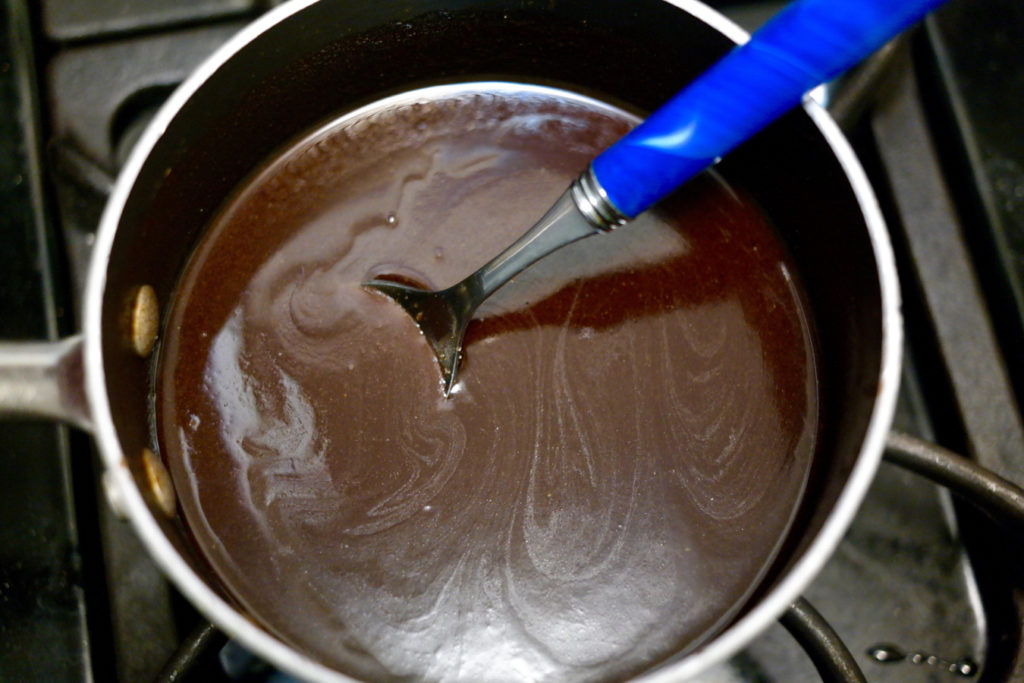 We divided the sauce between the two pieces of rolled-out dough and spread it to cover each surface.
Then we rolled up each piece of dough along the long side.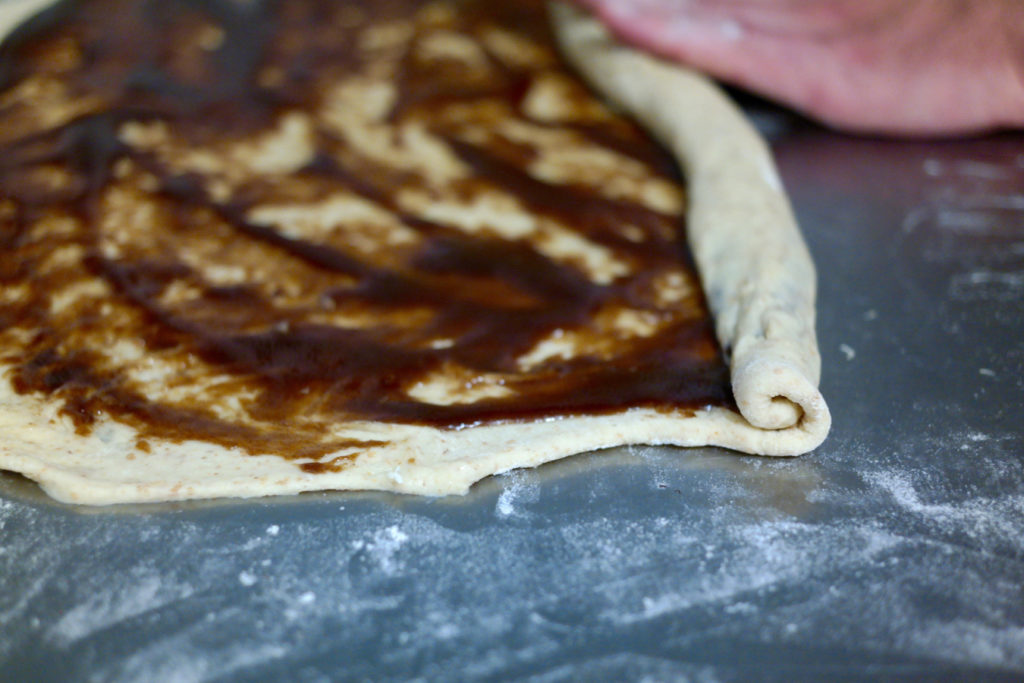 When we had two tightly rolled logs of dough, we placed them on a baking sheet and let them chill in the fridge for half an hour.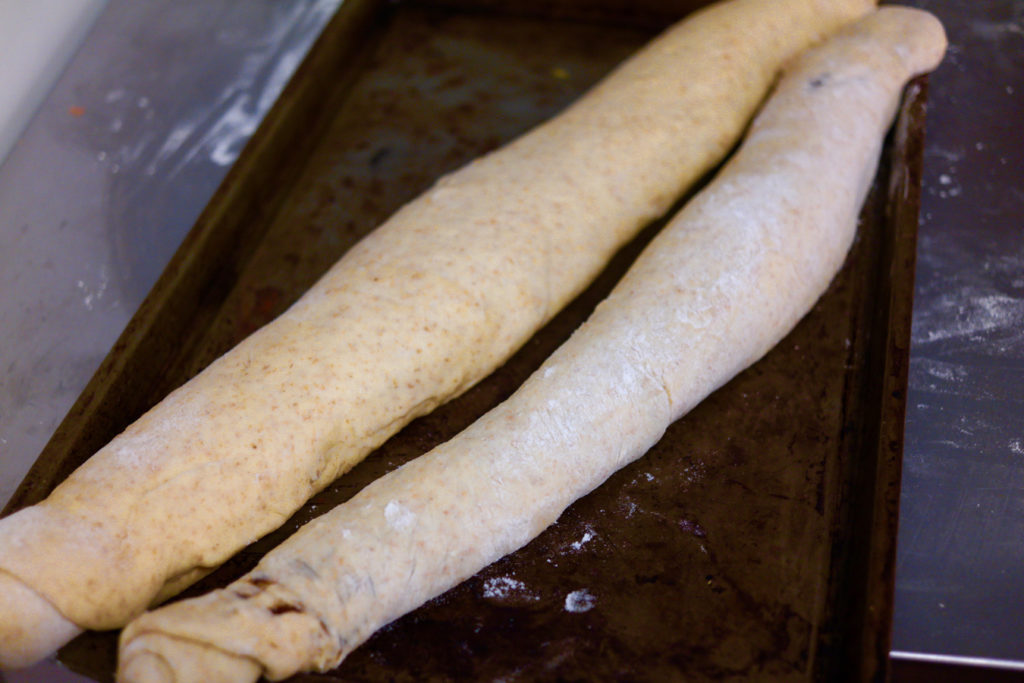 Once the dough came out of the fridge again, we cut each log into 12 pieces and placed them spiral side up into the cups of a greased muffin tin.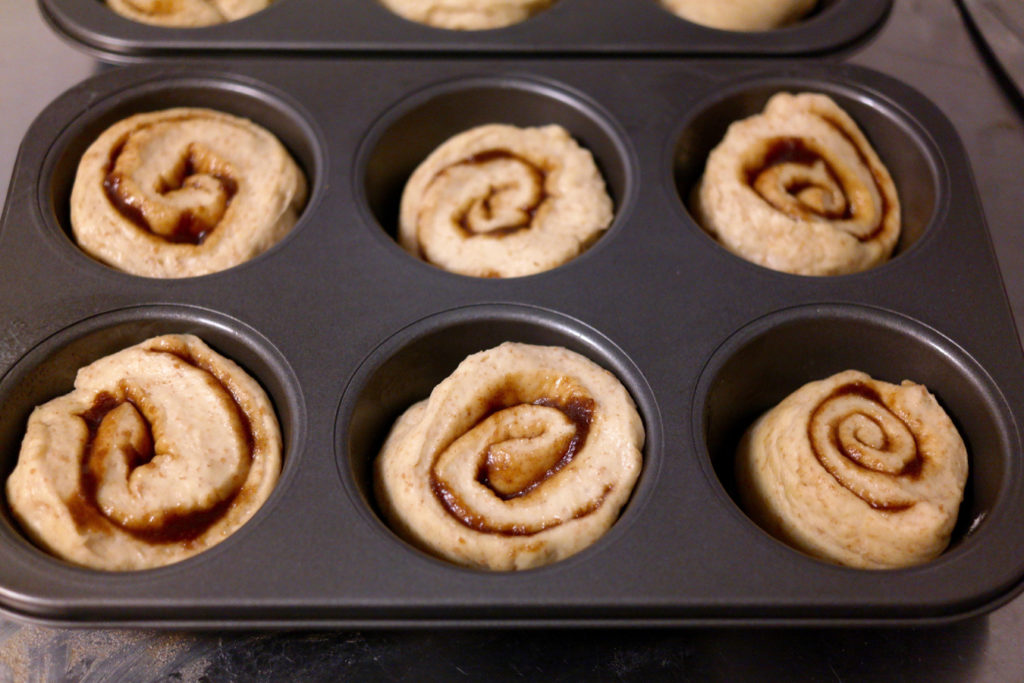 We covered our muffin tins in plastic wrap to let the buns rise for 25-35 minutes, then baked them at 350°F for 15-18 minutes, until they just began to brown.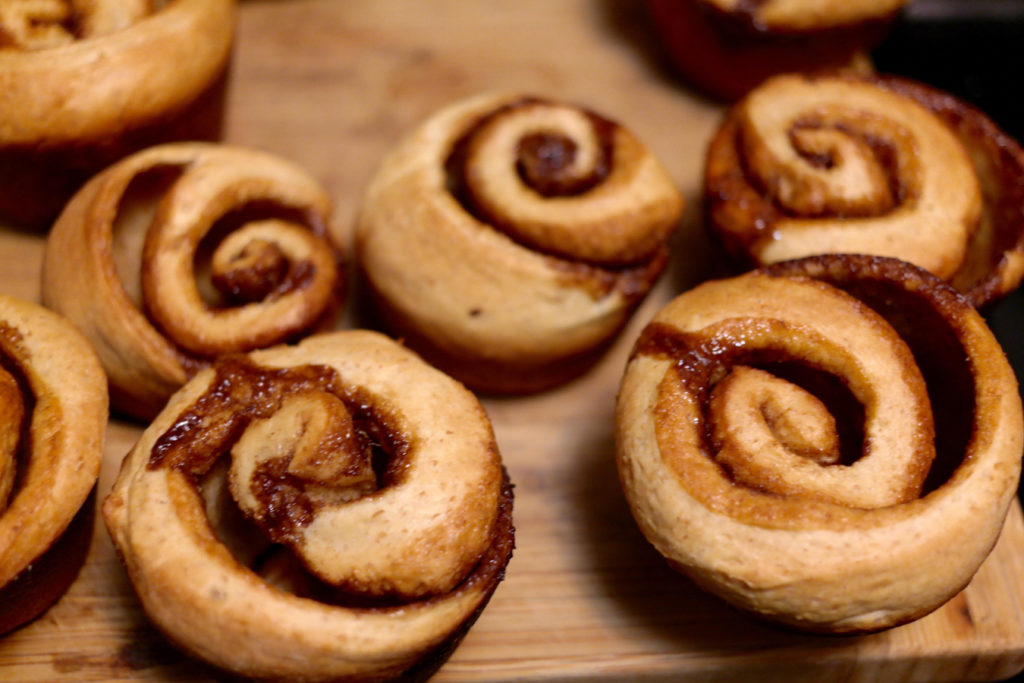 To make a glaze, we melted half a stick of butter with 1/4 cup honey in a saucepan over low heat and stirred this mixture together until it was smooth, then brushed it on the tops of our buns.  We finished by sprinkling each bun with a little bit of raw sugar.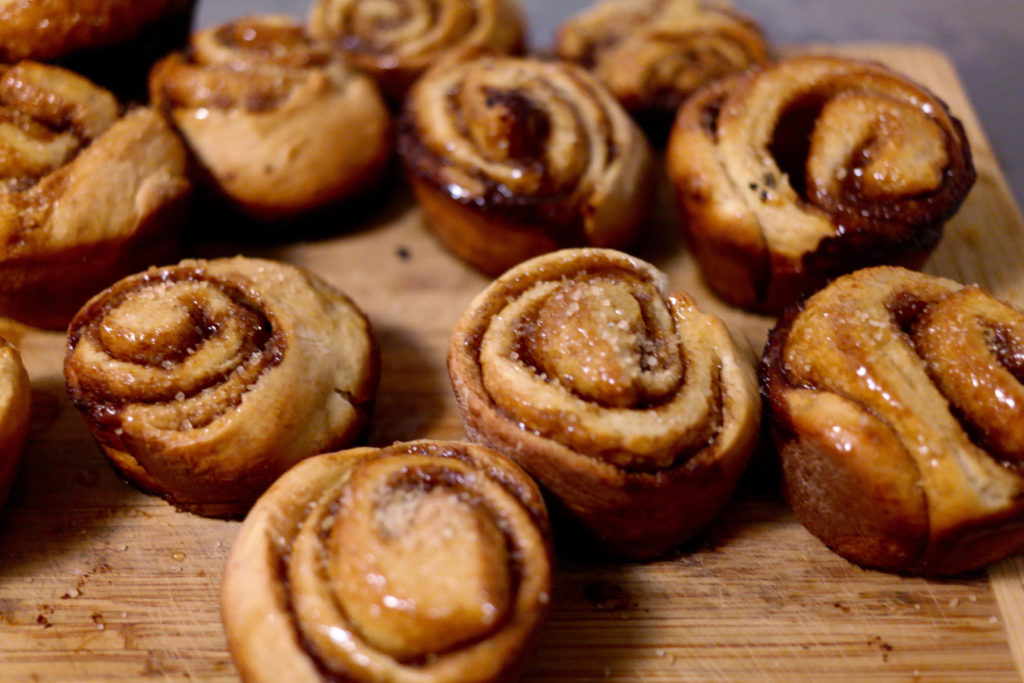 You can see that making these cinnamon buns takes some time:  you have to be patient while blending the ingredients together into a smooth dough, then you have to let the dough chill for the better part of a day, then you have to skillfully roll the dough out and roll it up and cut it into buns.  So while this recipe isn't exactly easy, it's fun watching your cinnamon buns take form.  These are cool to make if you've got the time, and they taste amazing after taking the effort to cook them up from scratch.