We're back showing you some of the awesome food – mostly, but not entirely, vegetarian – that we've had a chance to sample from different places around New York.  These are a variety of different cuisines we've tried from all around the city, and we'd recommend any of these places.  Check out where we've been, but be warned that we are going to show a few meat-based dishes here.
First, we decided to go the outpost of Jane in Soho, which is known for being a fantastic brunch restaurant.  Although we went for dinner instead, we really enjoyed all the different things we got to try, including this appetizer of crispy cauliflower in a sweet and spicy sauce with black sesame seeds: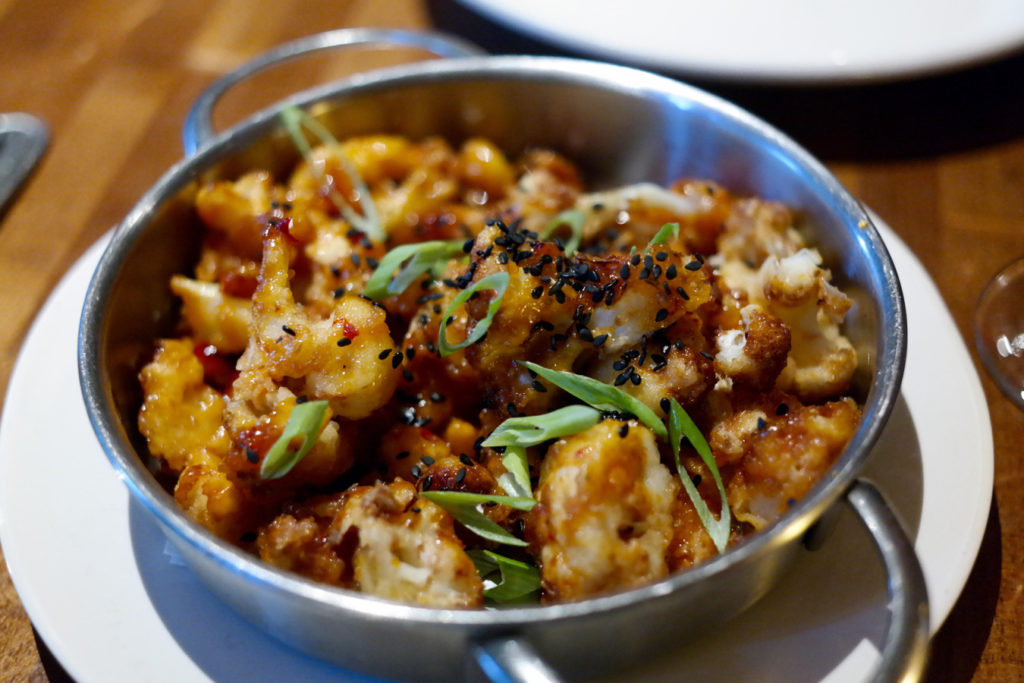 We also split an order of the corn grits.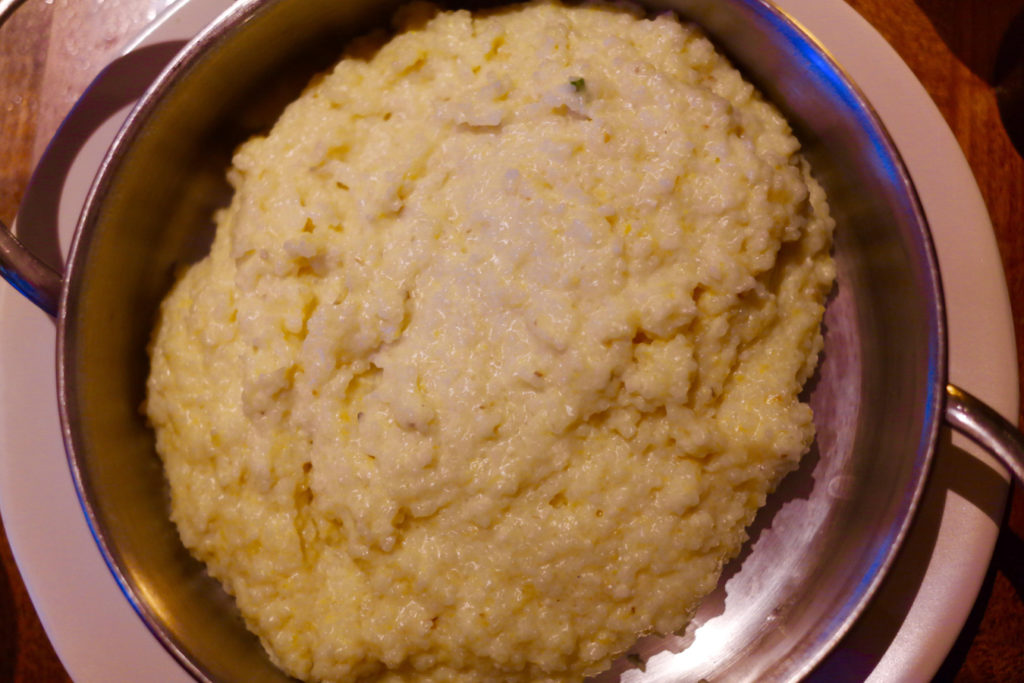 For entrees, Miriam decided on the toasted ricotta gnocchi in a truffle cream sauce …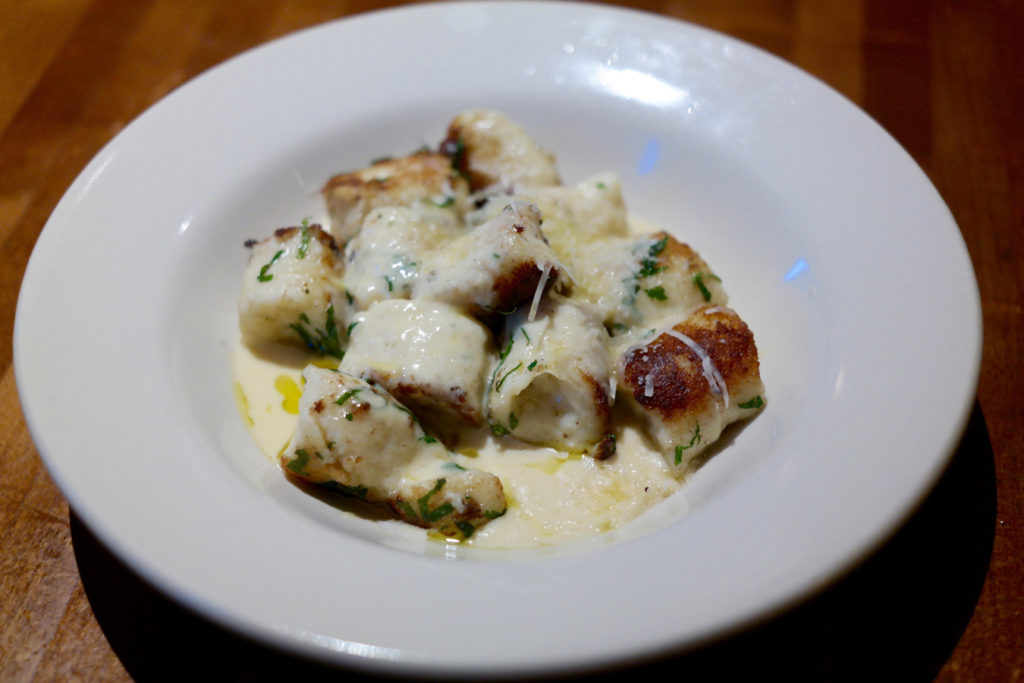 … while Cyril went with Jane's signature burger, topped with white cheddar cheese, bacon, and a jalapeño marmalade.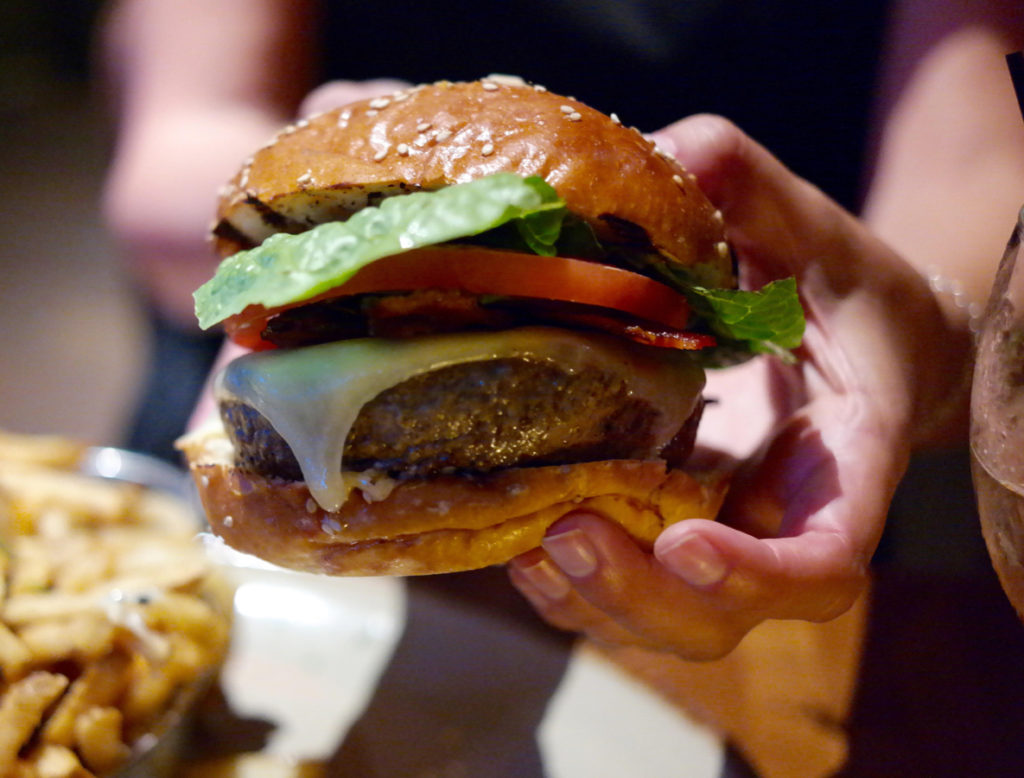 The burger comes with a huge side of rosemary fries, which Cyril was kind enough to share.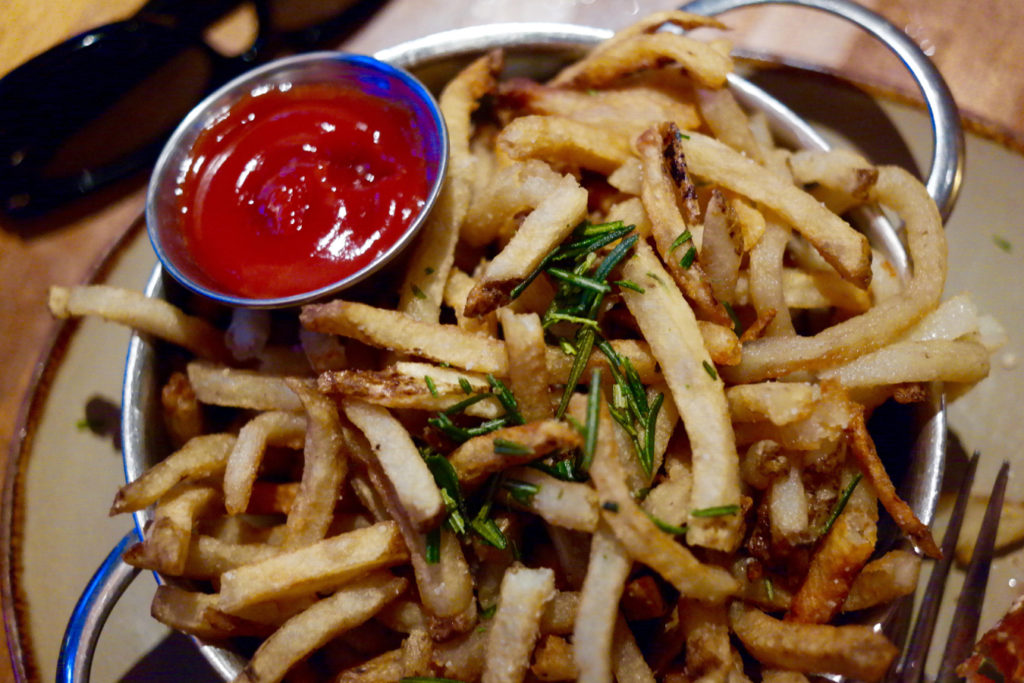 We also had a chance to visit the carnival-themed ice cream pop-up that OddFellows Ice Cream opened for the summer at Chef's Club Counter.  We brought Cyril's sister with us to try out the unusual flavors of ice cream they were serving, including a vanilla and tangerine soft serve twist ..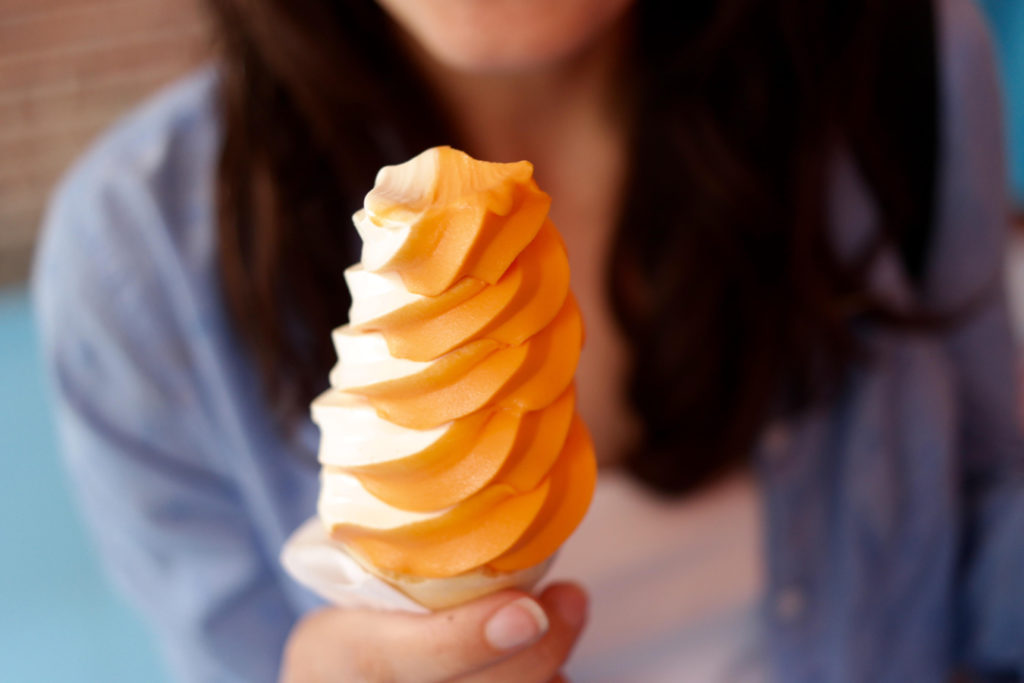 … chocolate soft serve in a pink chocolate dip …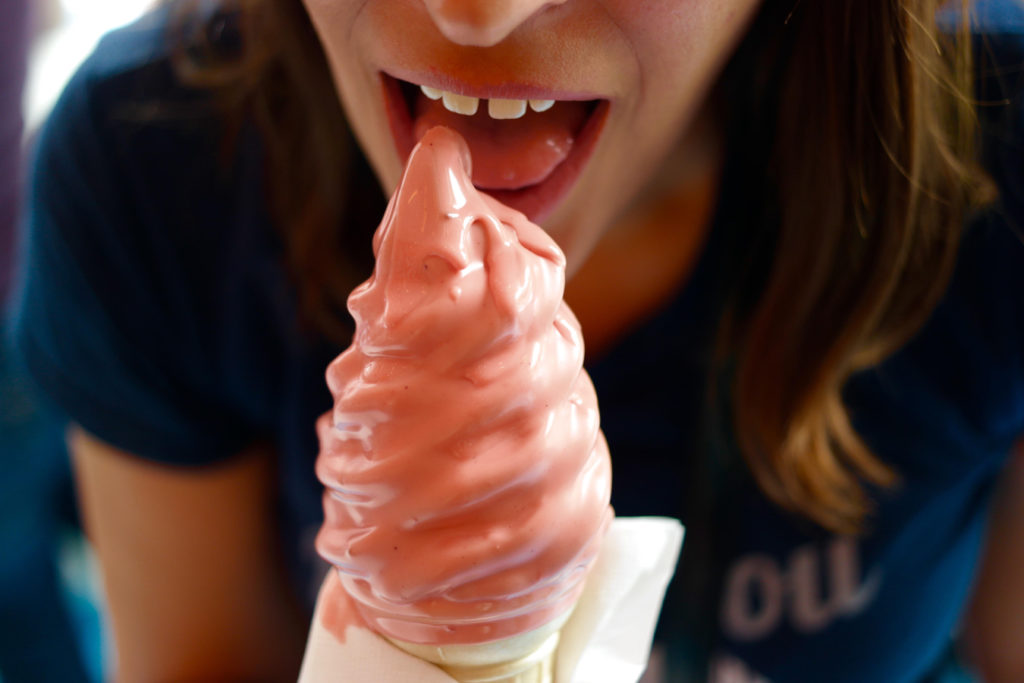 … and the Concession Stand, which was made with caramel soft serve topped with salted caramel popcorn, chocolate beads, and more caramel injected inside.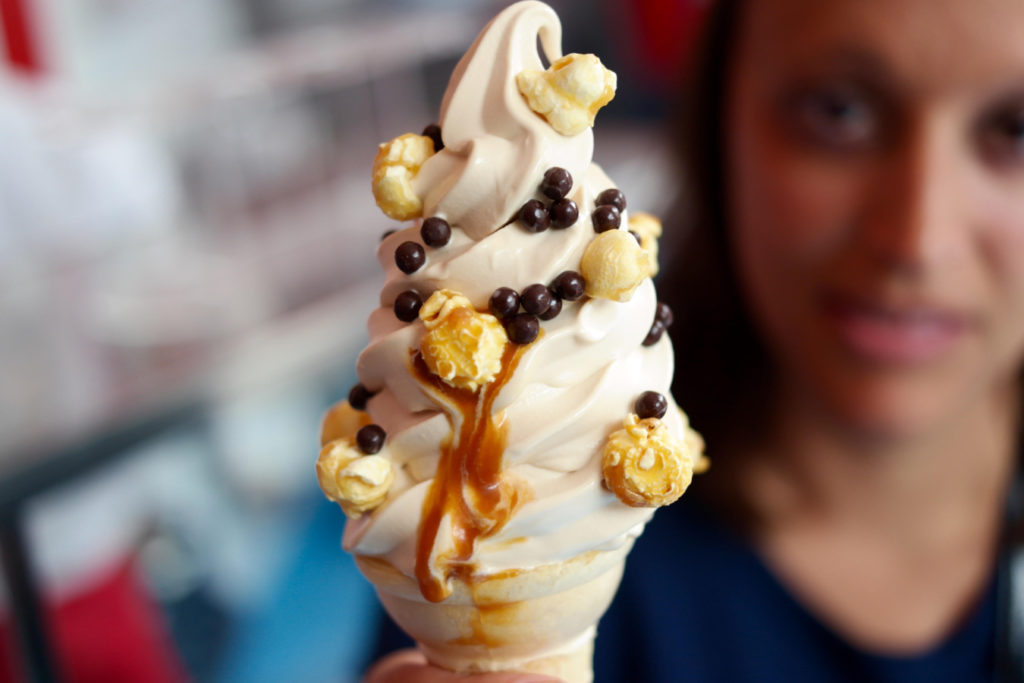 We also discovered that a new lunch counter-type restaurant called Molly's Milk Truck had opened near us, so we decided to check it out.  As the name suggests, this place started out as a food truck before moving to a permanent location that specializes in homemade comfort food classics.  Miriam decided to have the grilled cheese sandwich, served with a side of crispy chickpeas.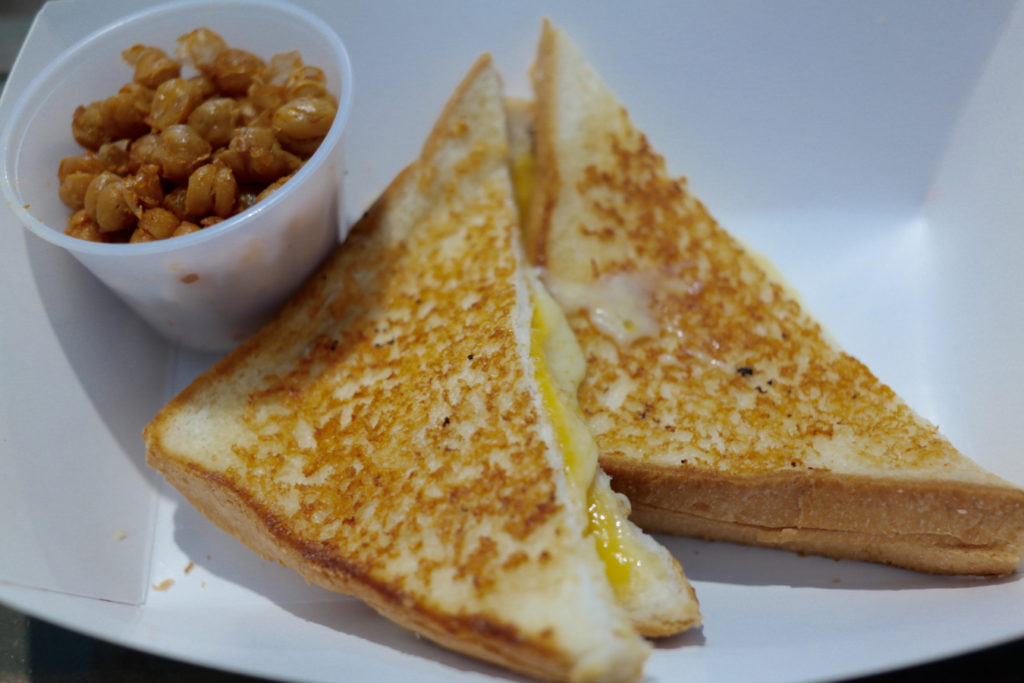 Cyril had their Hot Chick sandwich:  a spicy fried chicken breast topped with scallion salad on a black sesame seed bun, also with crispy chickpeas on the side.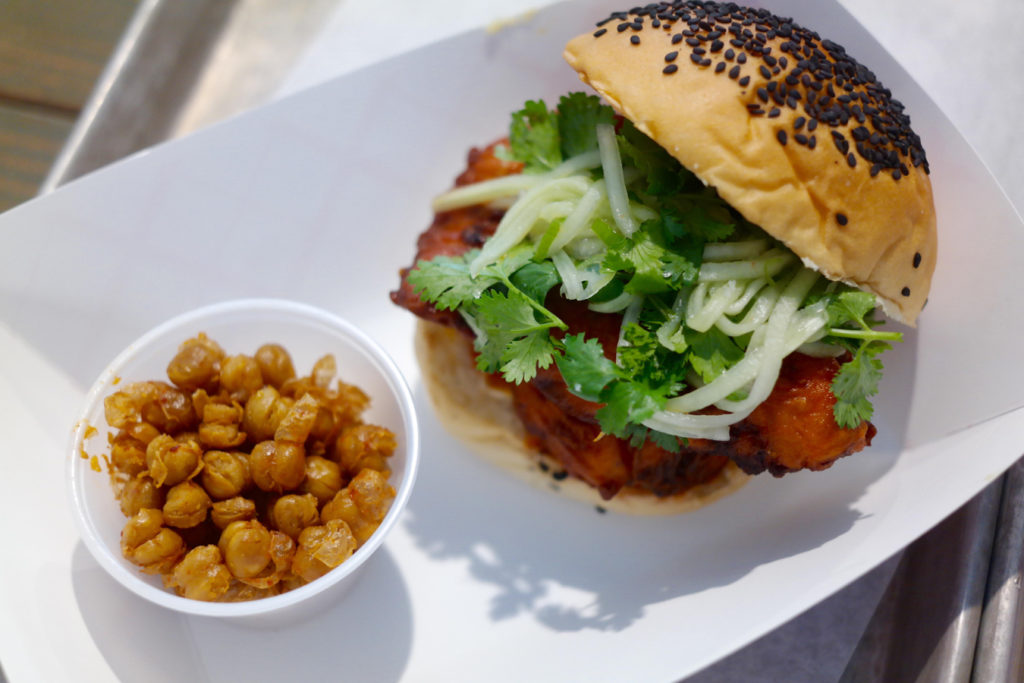 And we shared a side of fries topped with a beer cheese sauce.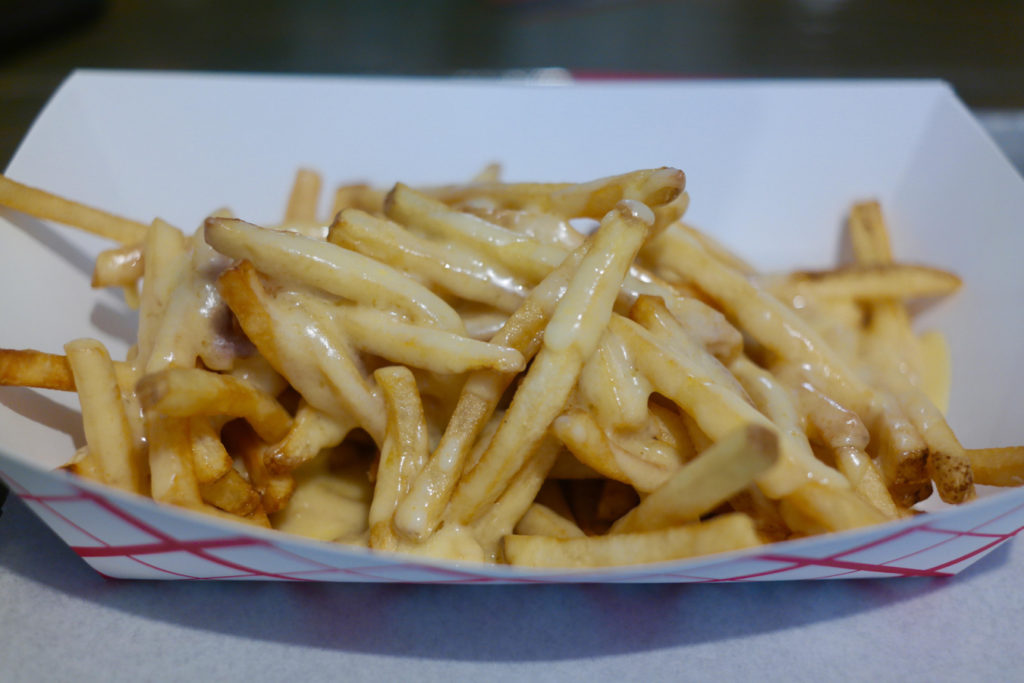 And finally, we spent one Saturday trekking all the way out to Ozone Park, Queens to visit the famous Don Peppe.  Don Peppe is a seriously old-school Italian restaurant:  they don't have a website or take reservations, they do have a dress code (no hats or tank tops), and don't expect to find a menu anywhere on the premises – instead, you have to order off a board posted to the wall in the dining room.  With all that being said, there's a reason this place has survived for over fifty years and was namechecked on an episode of Entourage.  Check out some of their delicious food, like the peppers and onions fried in olive oil we had as an appetizer: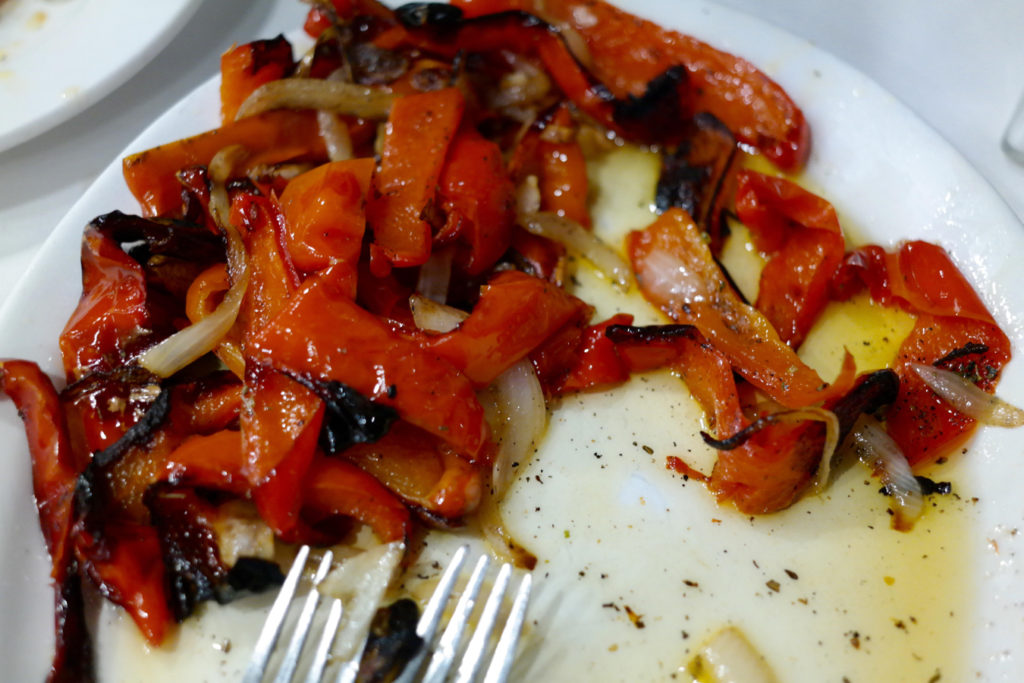 This went well with the crusty Italian bread we were served.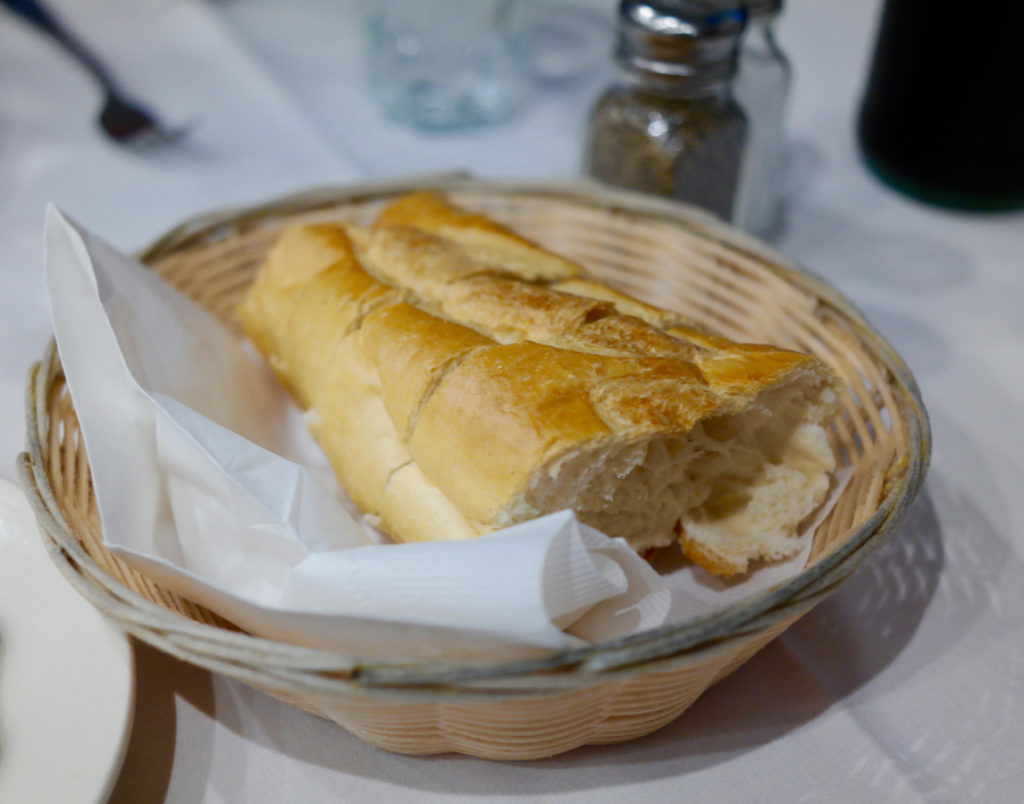 Miriam had the stuffed shells, which are made with Don Peppe's amazing red sauce.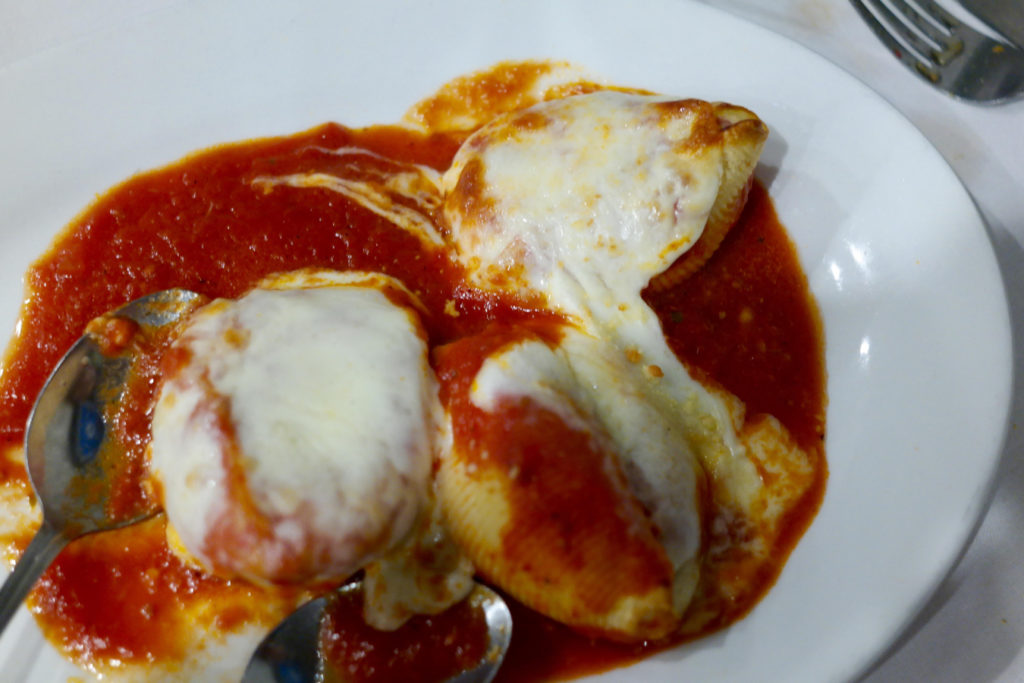 Meanwhile, Cyril ordered the Shrimp Luciano, which comes in a huge platter on top of linguine in a rich buttery sauce and was some of the best pasta he said he's ever had.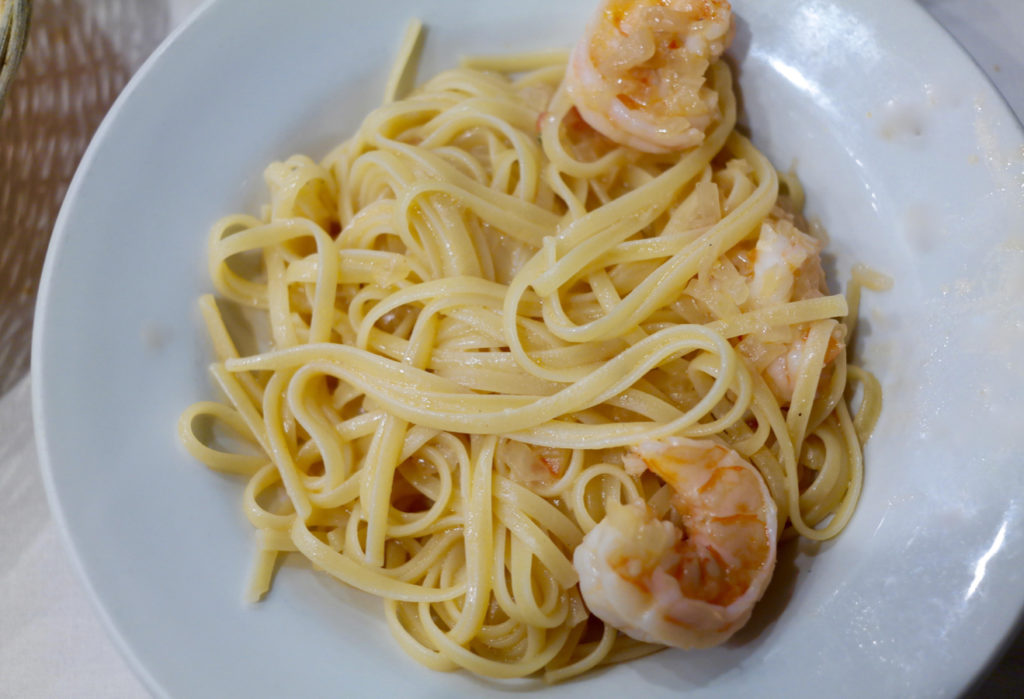 And we finished our meal with a slice of cheesecake.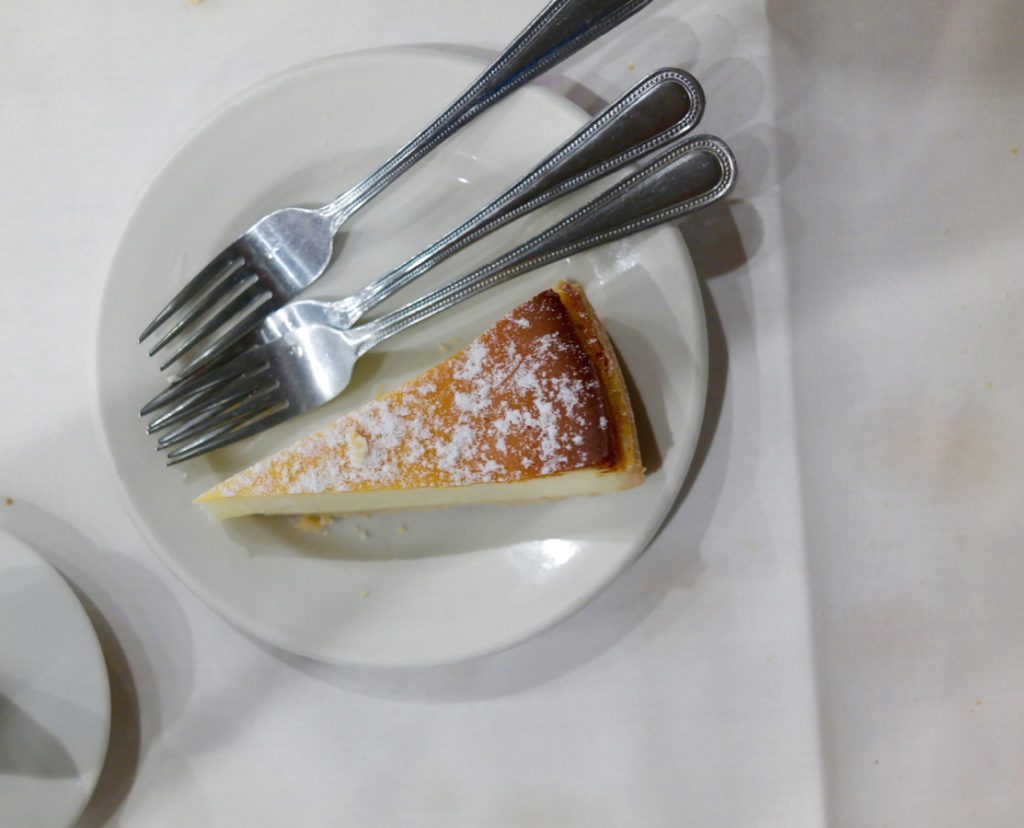 As you can see, all of this food was amazing, and we're glad we got the chance to roam all around New York to try everything.  Check out any one – or all! – of these restaurants for food that both vegetarians and meat eaters will love.  And check back soon to see some other places we've tried!