Prior to making this recipe, Miriam had never gotten a chance to have French onion soup because it's usually made with a beef broth.  When she was in France, however, everyone talked about how delicious the soup there was, and she became determined to make a vegetarian version she could enjoy.  Luckily, Cyril is creative, and together we came up with a meat-free French onion soup recipe.  This is the result.
To make this, you'll need:
A 3 1/2 to 4 pound bag of white or yellow onions
Butter
Olive oil
Sugar
Dry sherry
Bay leaves
A small baguette
Garlic
Sliced Swiss cheese
First, we cut our entire bag of onions into thin slices and piled them all into out Dutch oven along with 3 tablespoons of butter and 2 tablespoons of olive oil.  With the lid on, we cooked the onions over medium heat for 15-20 minutes, until they had reduced somewhat.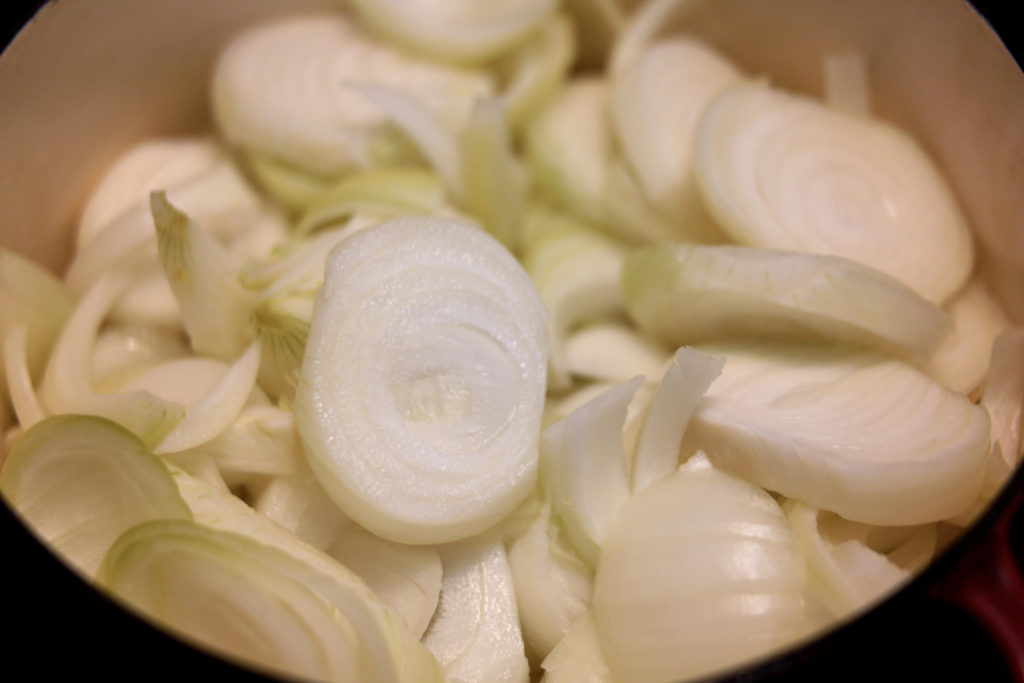 Then we took the lid off the Dutch oven, added in a pinch of salt and pepper and 1/2 teaspoon of sugar, and continued cooking the onions for another 20-30 minutes until they had reduced further and caramelized to a golden brown.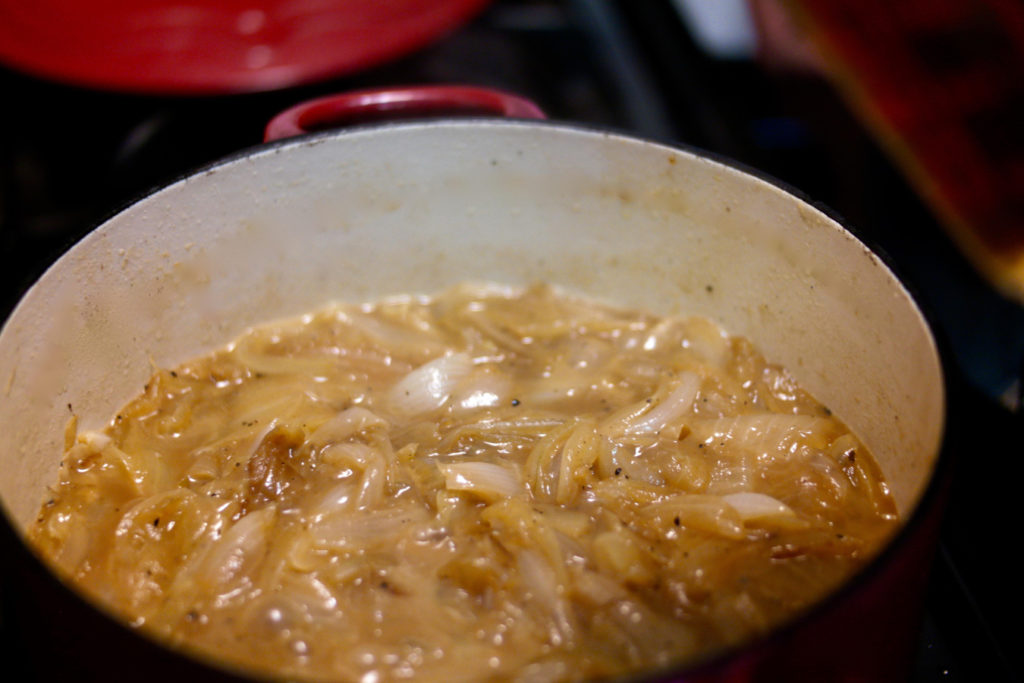 Next, we added in 1 1/2 cups of dry sherry and cooked this mixture for 10 more minutes.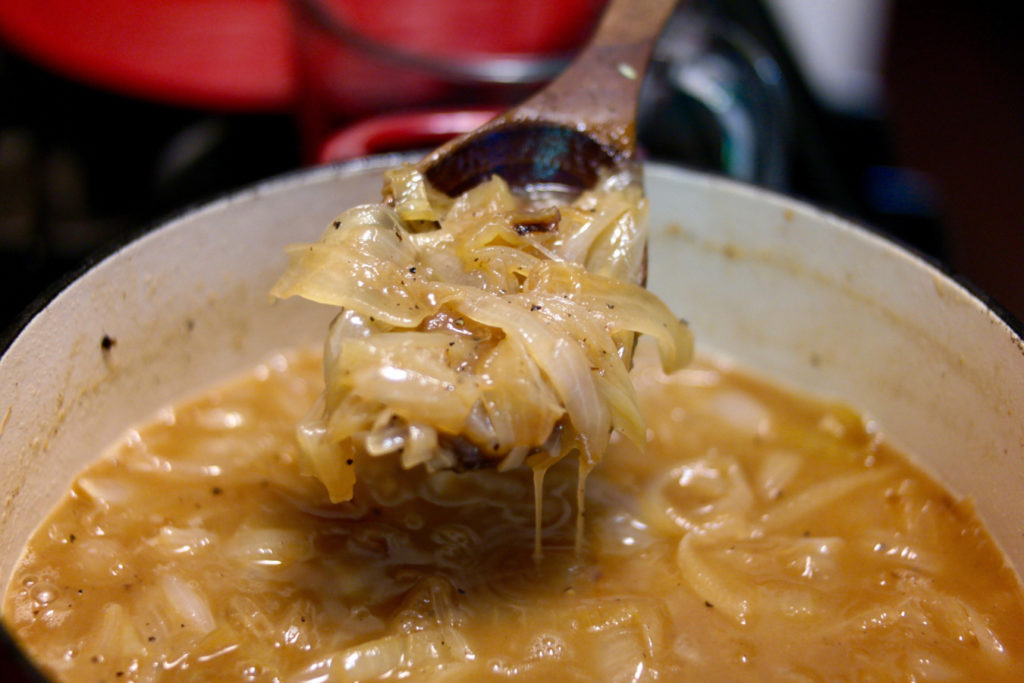 While the onions were cooking, we dissolved six Massel 7's bouillon cubes in six cups of boiling water to make a broth, then added that to the onions along with 2 or 3 bay leaves and simmered the soup for 20 minutes.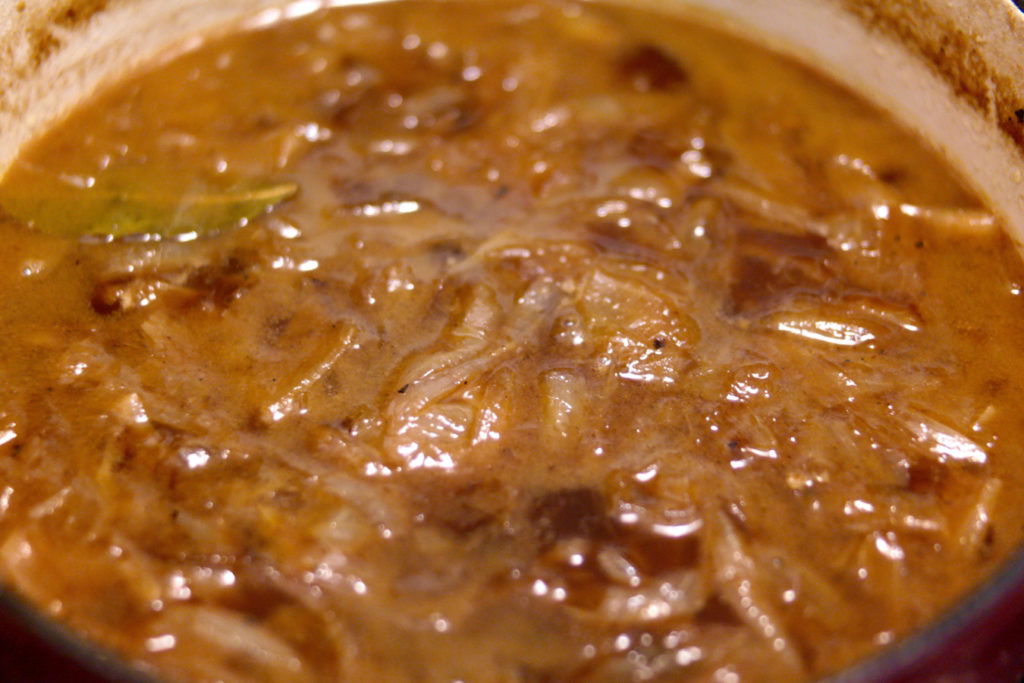 We then cut 1/2-inch slices from our baguette and placed them on a baking sheet – you'll need two slices for each bowl of soup and we ended up with six servings, so that's 12 slices of bread.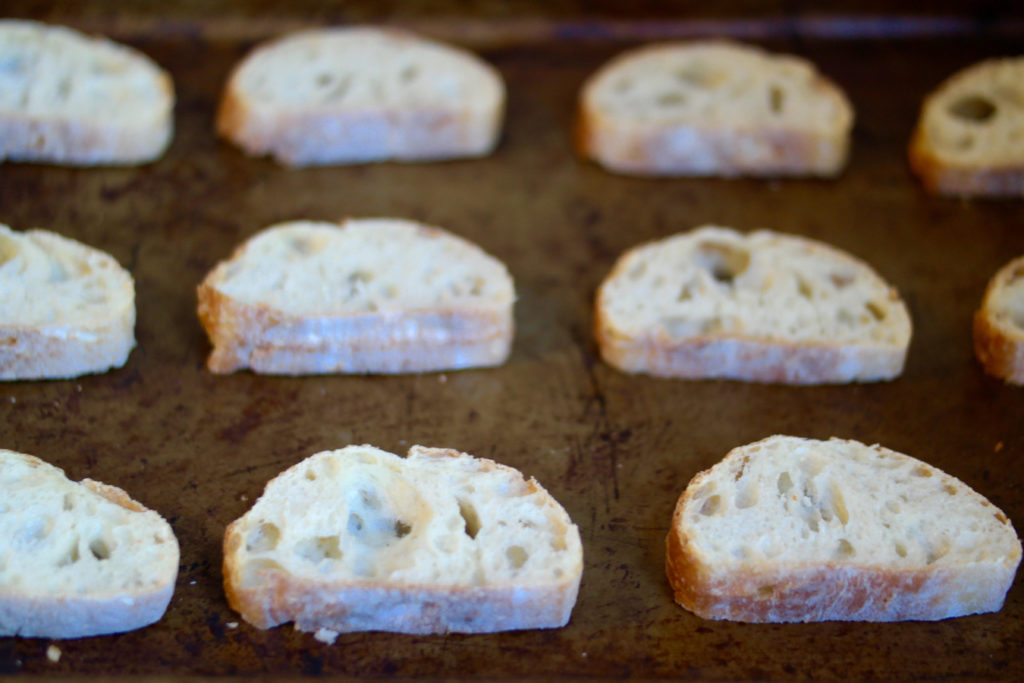 We placed the baking sheet in our broiler and toasted the bread for a minute on each side until it had just begun to brown.  When they came out of the oven, we sprinkled some minced garlic on each slice.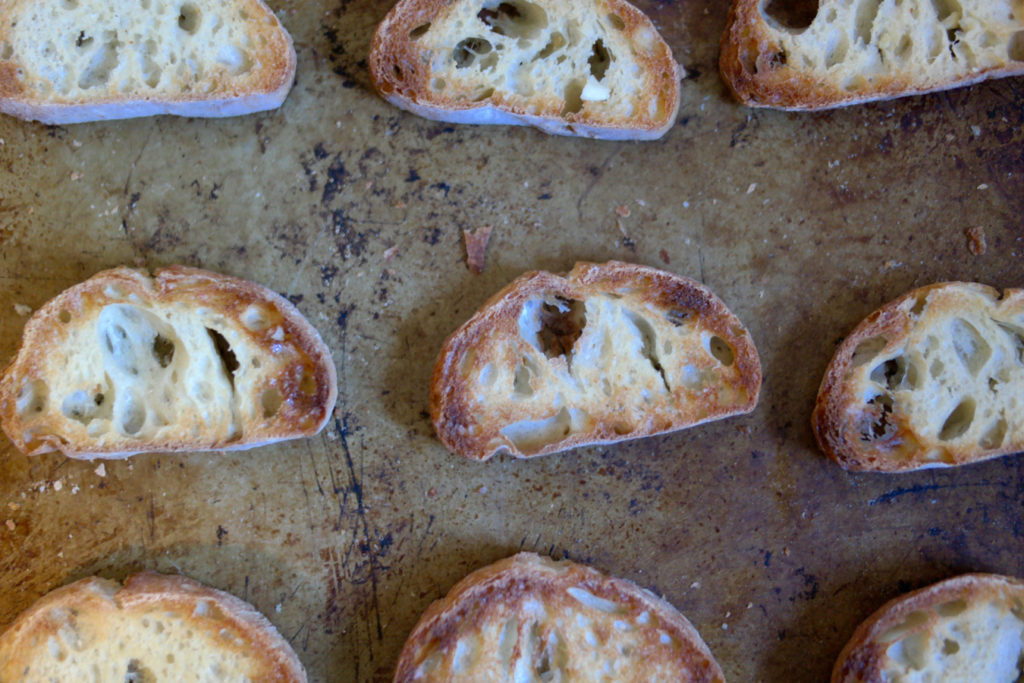 Once the soup was ready, we poured it into oven-safe crocks.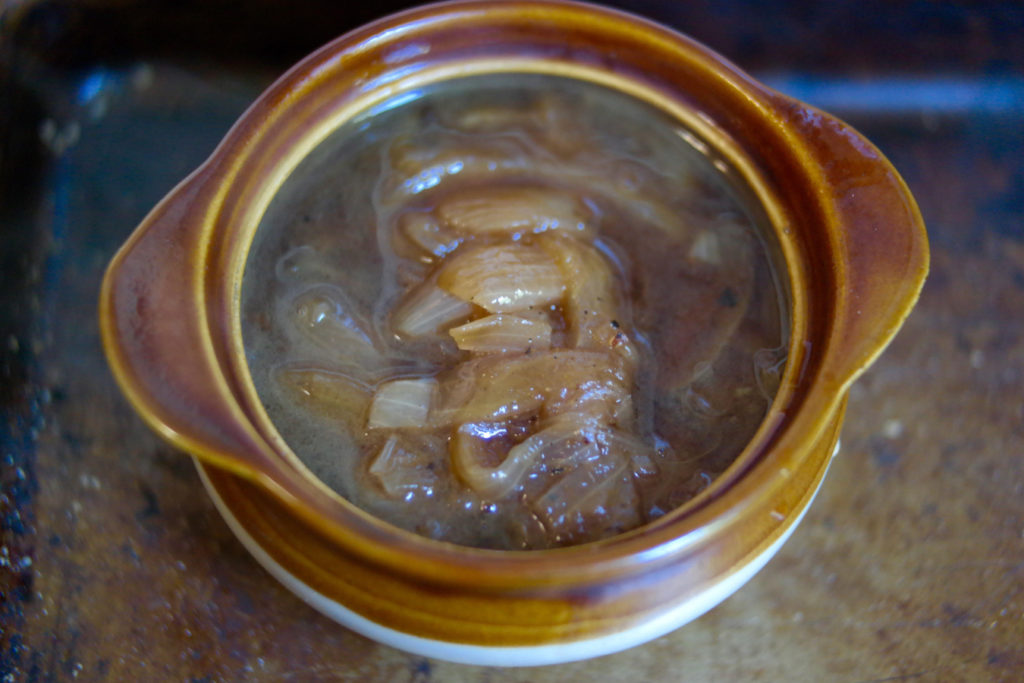 Then we placed two slices of bread just under the surface of the soup …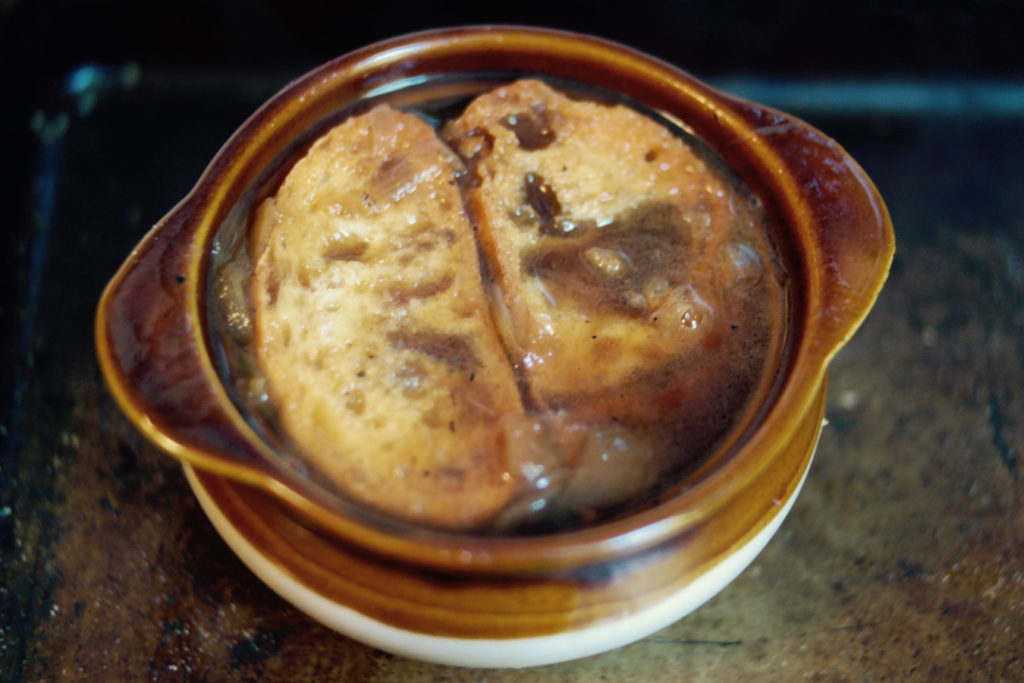 … and topped everything with two slices of Swiss cheese.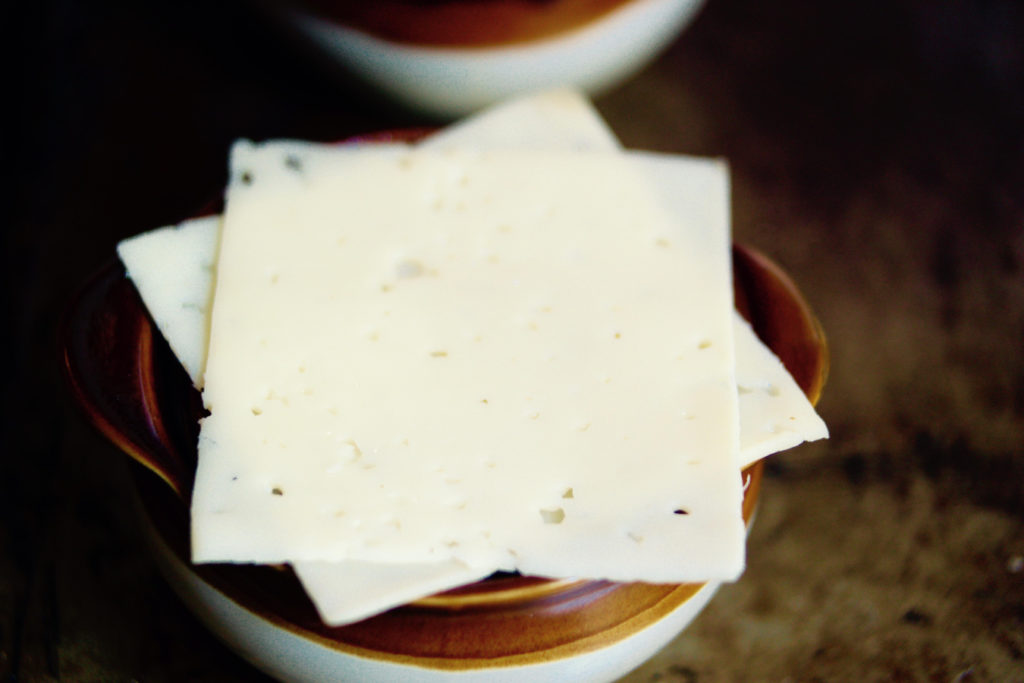 We placed the crocks on a baking sheet and put them in the broiler for 4 minutes, and when they were done they looked like this: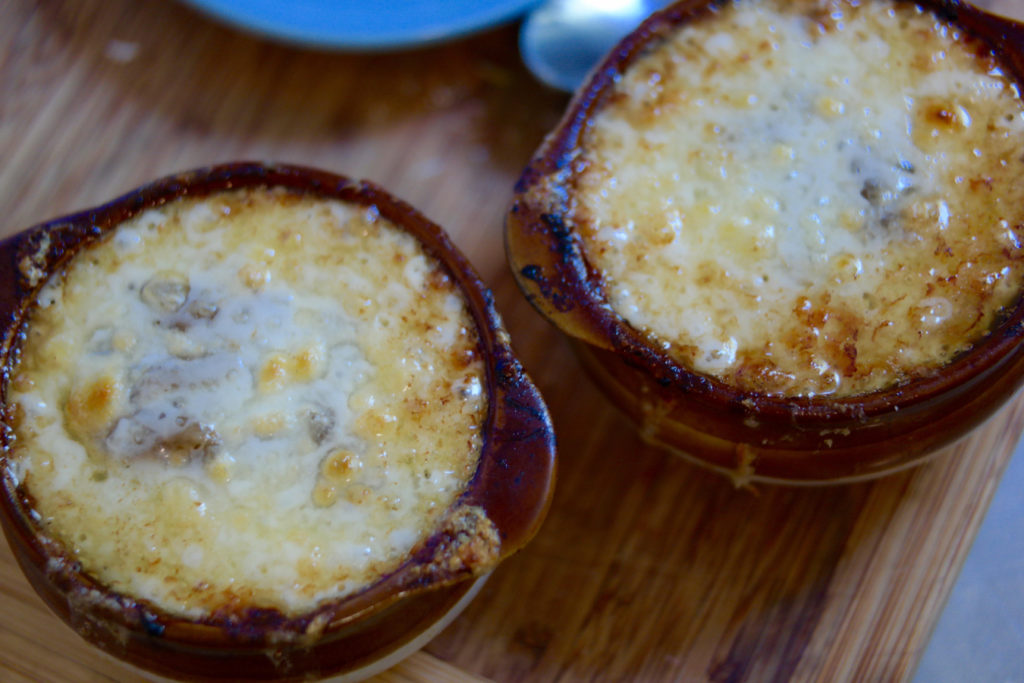 And this soup was amazing!  The sherry added a nice, rich flavor to the onions and the beef-flavored broth, and with bread and lots of melted cheese added on top this soup was incredibly delicious.  You can see it takes quite a bit of time for the onions to cook, so don't attempt to start this soup while you're already hungry, but do try it out sometime.  It makes for a delicious, hearty lunch and a completely vegetarian version of a comfort food classic.