Tamales are a unique staple of Mexican and Central American cuisine.  Typically they're made with some kind of meat inside and have lard in the recipe, so they're not usually vegetarian, but we came up with our own version that has peppers as a filling and uses shortening instead.  So here it is – although be warned that these take a long time to make.  As in, if you want these for dinner you should start making them in the early afternoon.  Our recipe makes about 20 tamales, so adjust the ingredient amounts up if you'd like to make more.
You'll need:
Masa harina
Massel 7's Chicken Style bouillon cubes
Shortening
Baking powder
2 poblano peppers
6 jalapeños
A one-pound package of Oaxacan cheese
20 dried corn husks
6 tomatillos
1 onion
Garlic
Cilantro
Dried oregano
Cumin
You'll also need a tamale steamer, which we found for $16 at our local supermarket or you can buy one on Amazon (or in a pinch you can place a colander with a lid on top over a pot of boiling water, but we'd recommend a steamer).
Start by putting your corn husks in the largest pot you have and immersing them in water – you can place something heavy on top of them to keep them weighted down.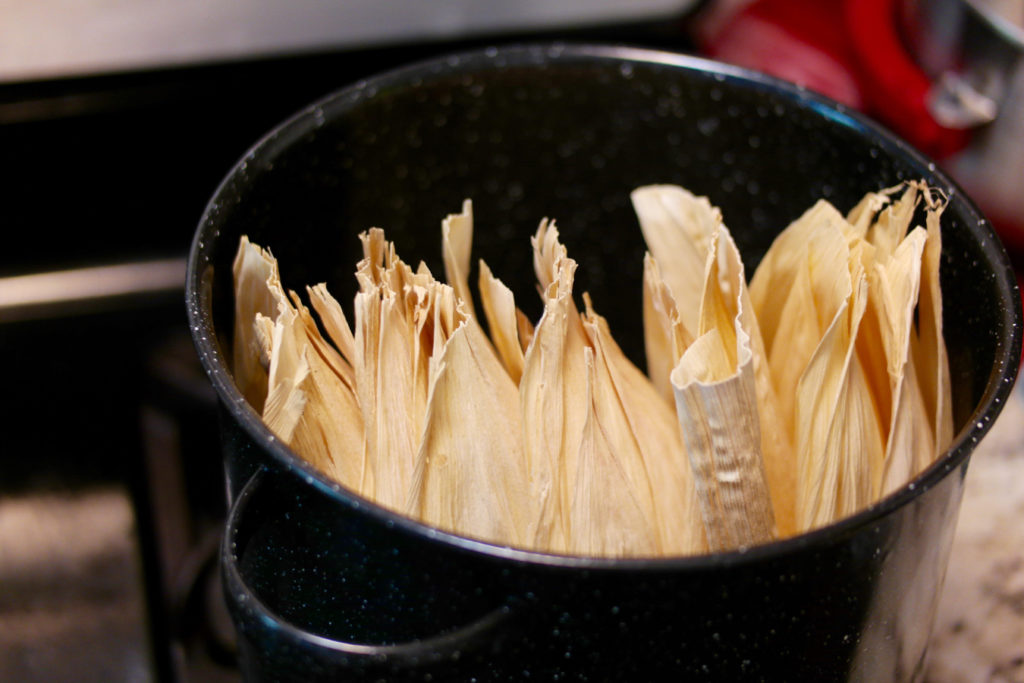 While the husks are soaking, make your tamale dough by mixing 2 cups of masa marina with 2 Massel 7's bouillon cubes dissolved in 1 1/3 cup of boiling water.  Cover this and let it sit for 15 minutes.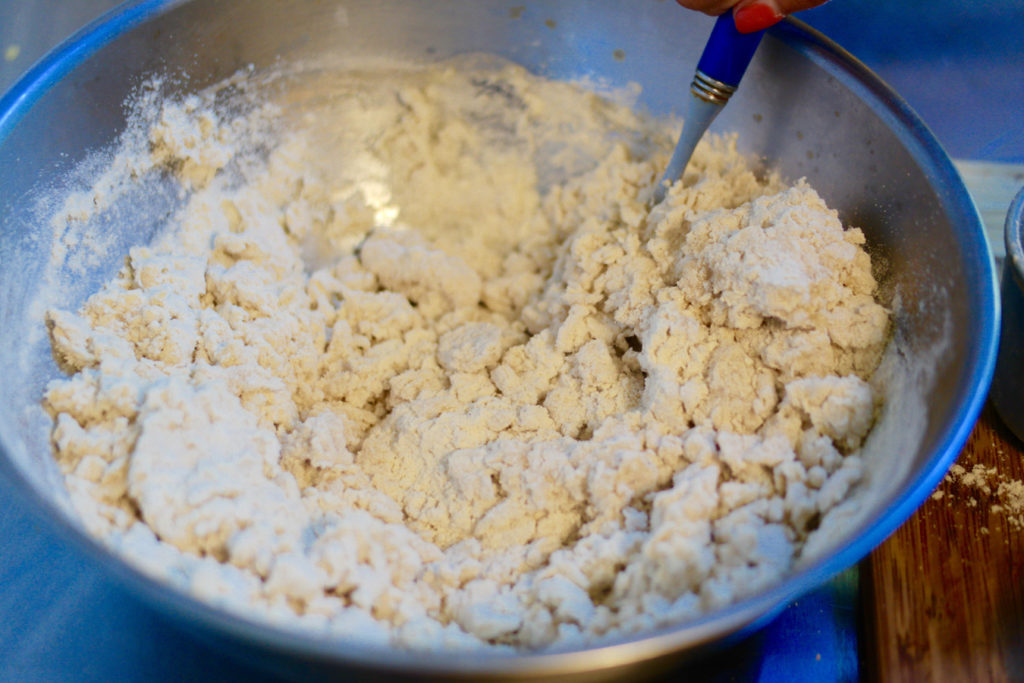 Meanwhile, place a rounded cup of shortening into an electric mixer along with 2 pinches of salt and 2 teaspoons of baking powder and beat everything at a medium-high speed until the shortening is whipped.  Once the masa is ready, add it in a little bit at a time and then pour in another cup of boiling water with a Massel 7's bouillon cube dissolved in.  When the dough has been mixed to a spreadable consistency, take the bowl off of the mixer, cover it in plastic wrap, and stick it in the fridge for an hour.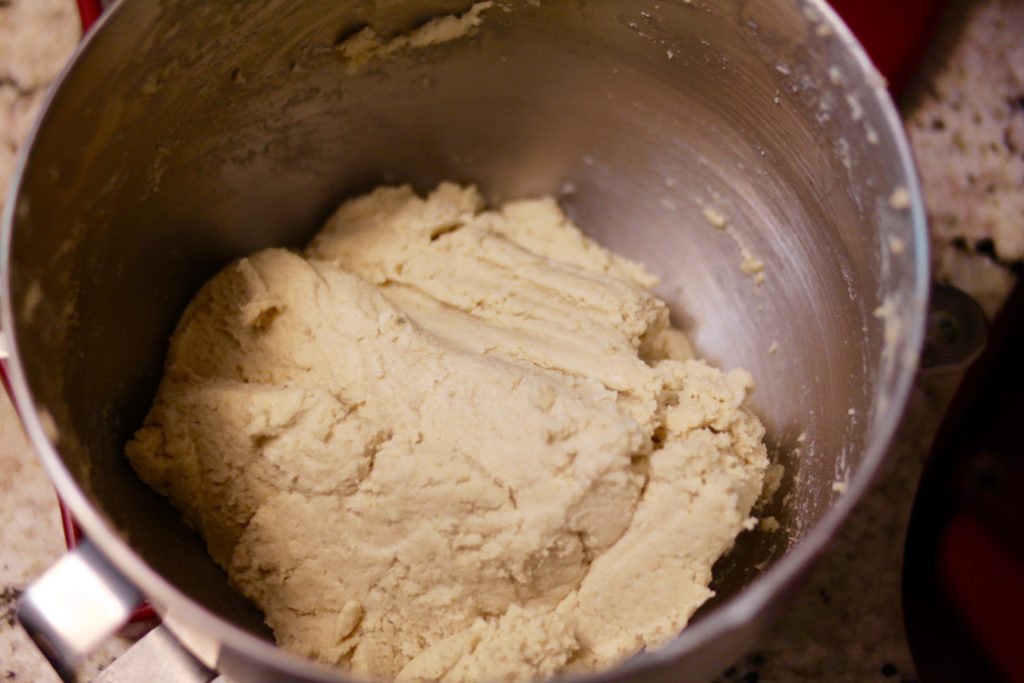 Next, put your poblanos and 4 jalapeños over a flame on your stovetop.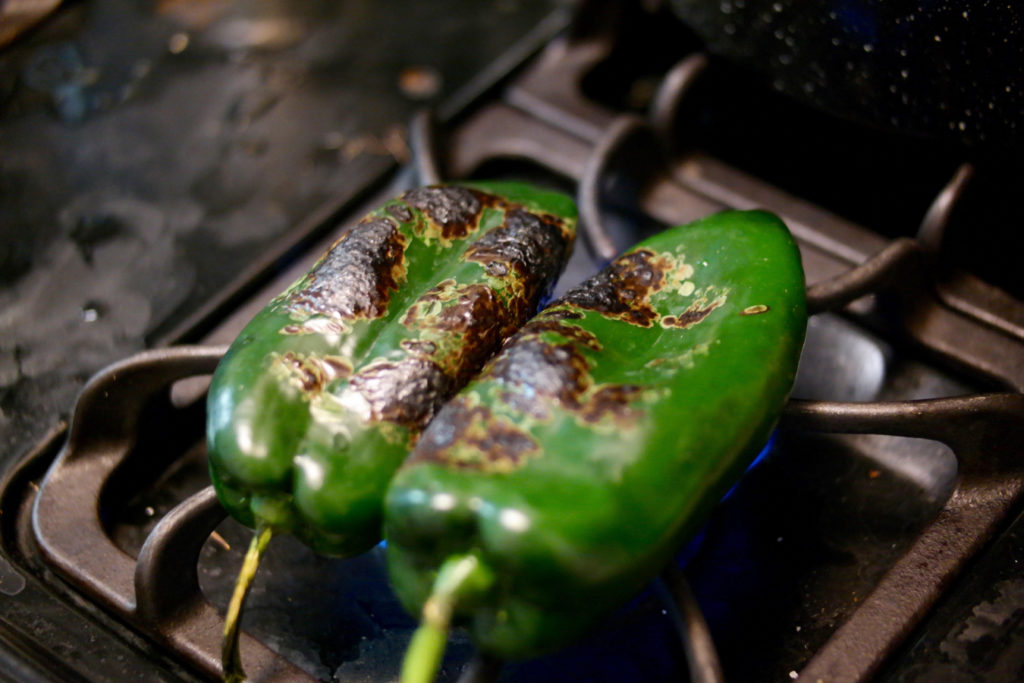 Let the peppers char all over, turning as needed, until they're completely blackened.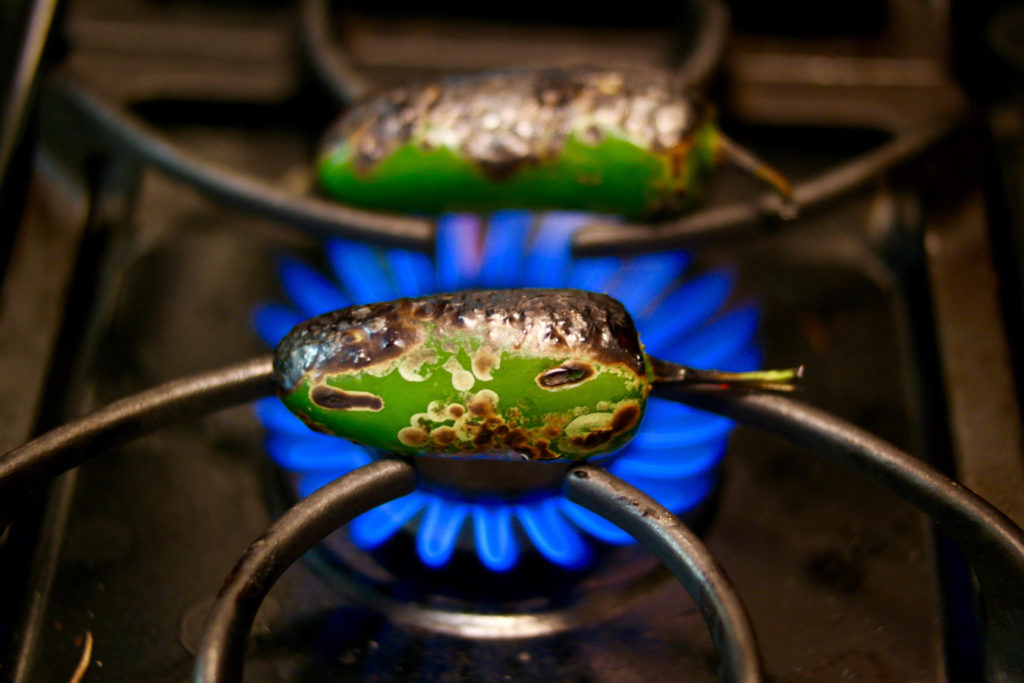 Place the charred peppers in separate plastic bags, tie the bags closed, and let them steam for at least 20 minutes.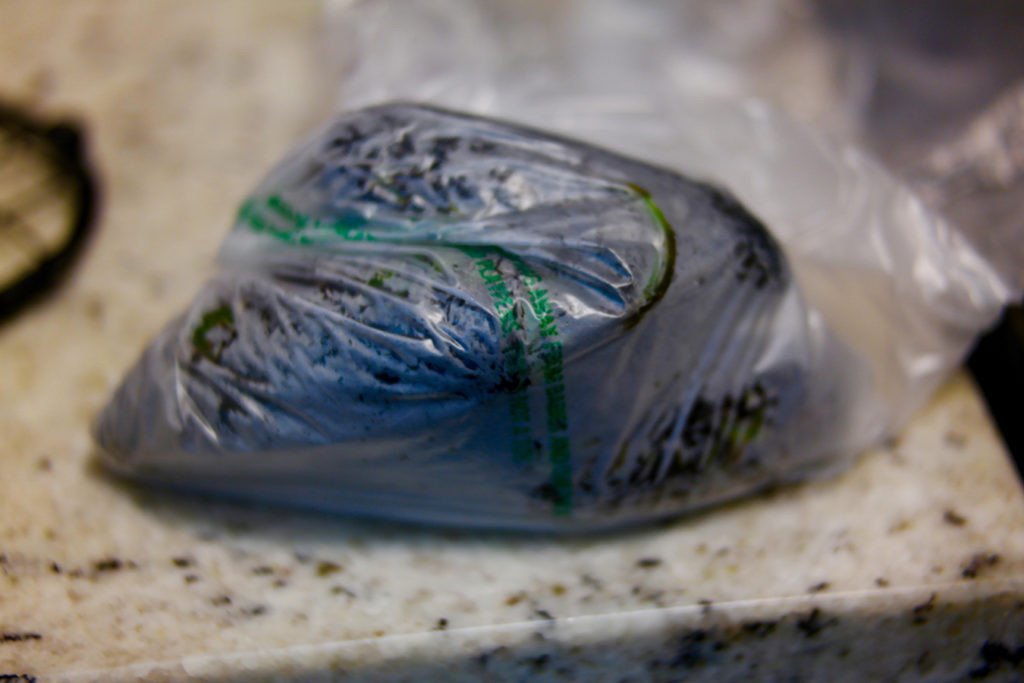 Then take them out and use a knife to scrape off the blackened skin.  Split the peppers open and cut them into strips.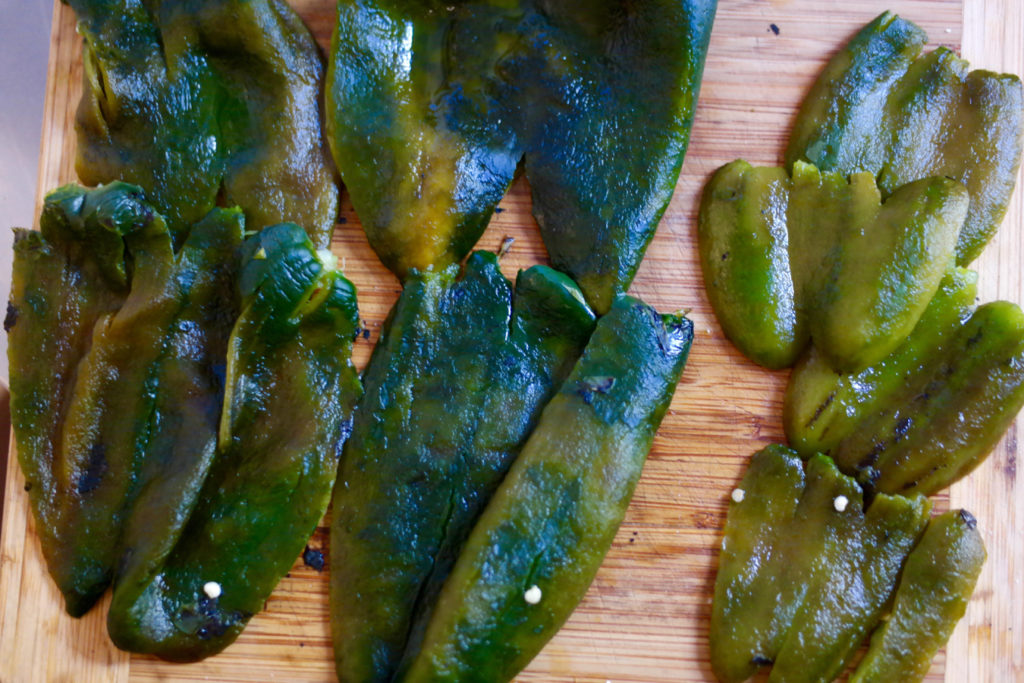 Unwrap your cheese and fully unspool it …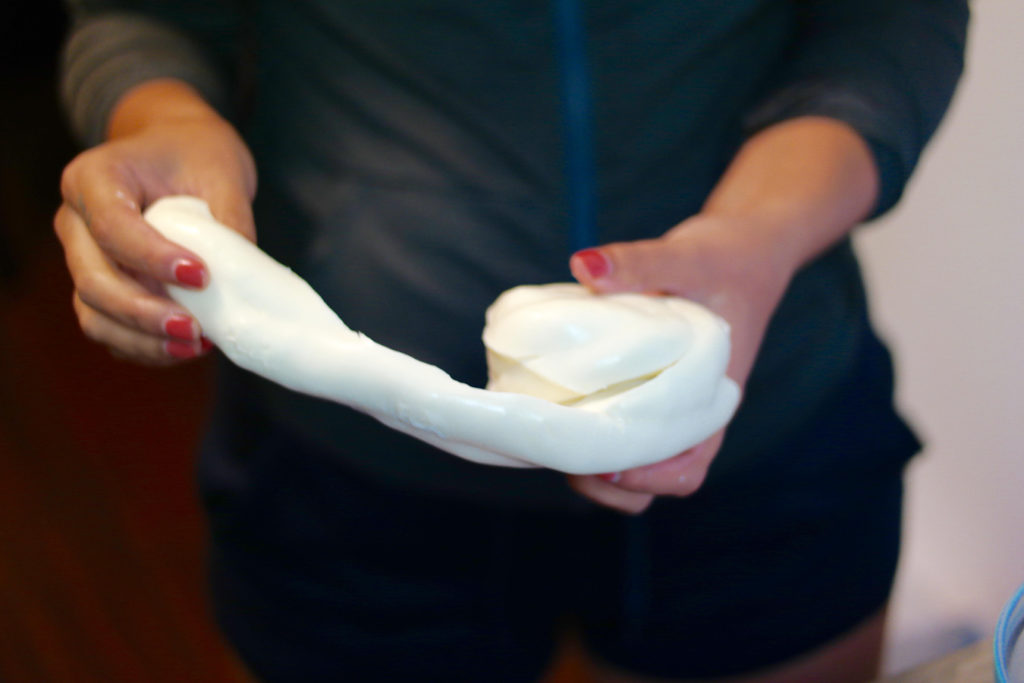 … then tear it into strips as well.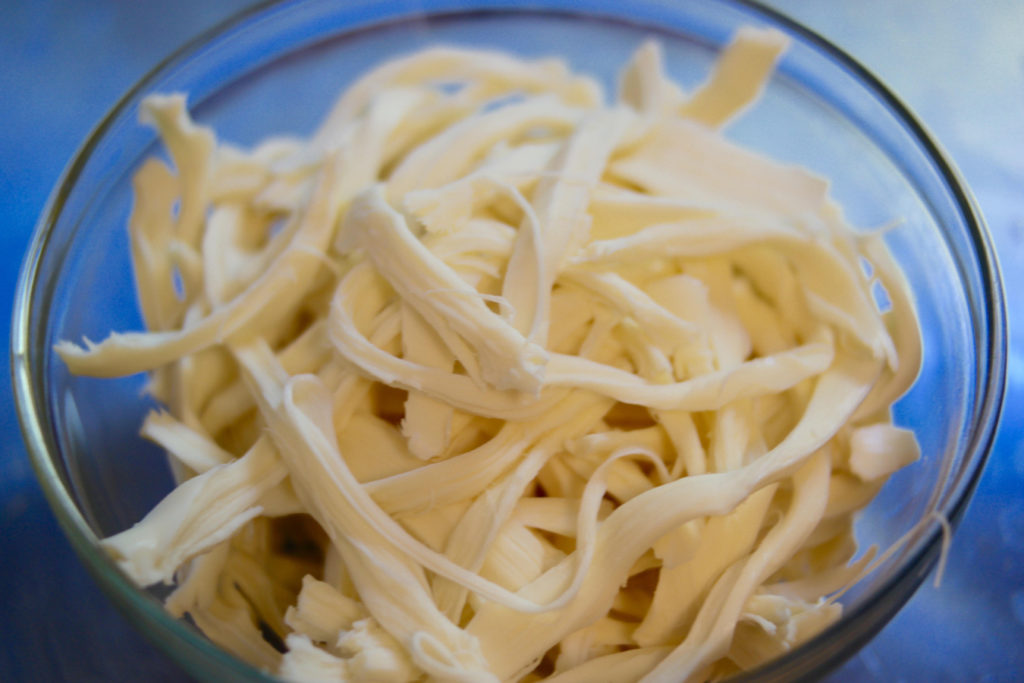 Take your corn husks out of the water and pat them dry.  Place your dough back on your mixer and beat it again until it reaches a spreadable texture once more.  Place a heaping tablespoon of masa in the middle of one husk and use a square cut from a plastic bag to smooth the the dough down into a flattened rectangle.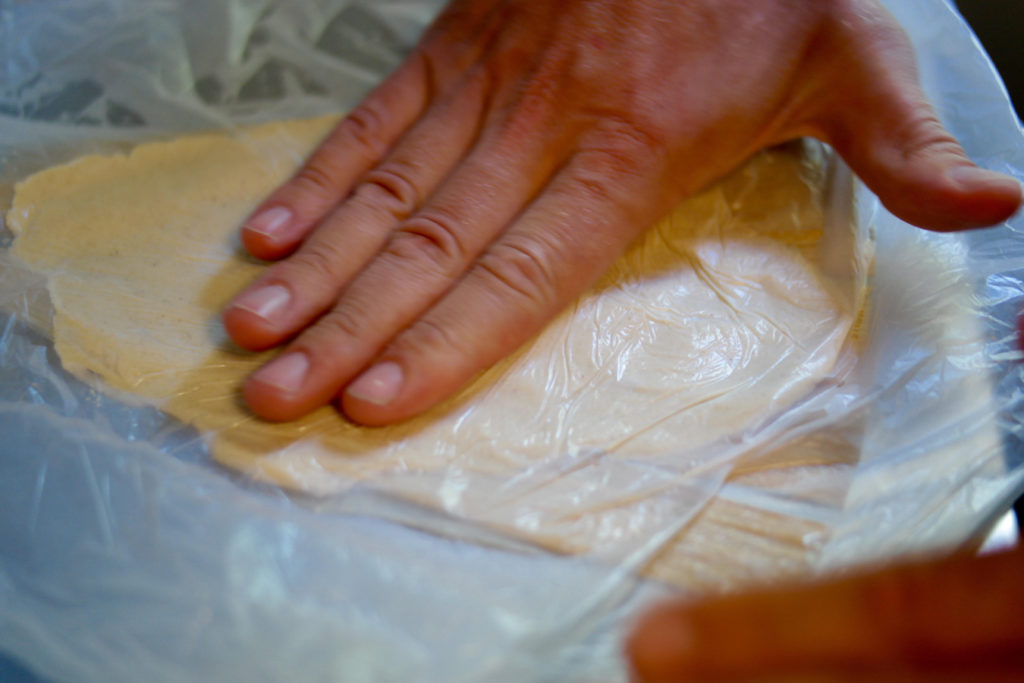 Put a few poblano and jalapeño strips on the masa along with some cheese.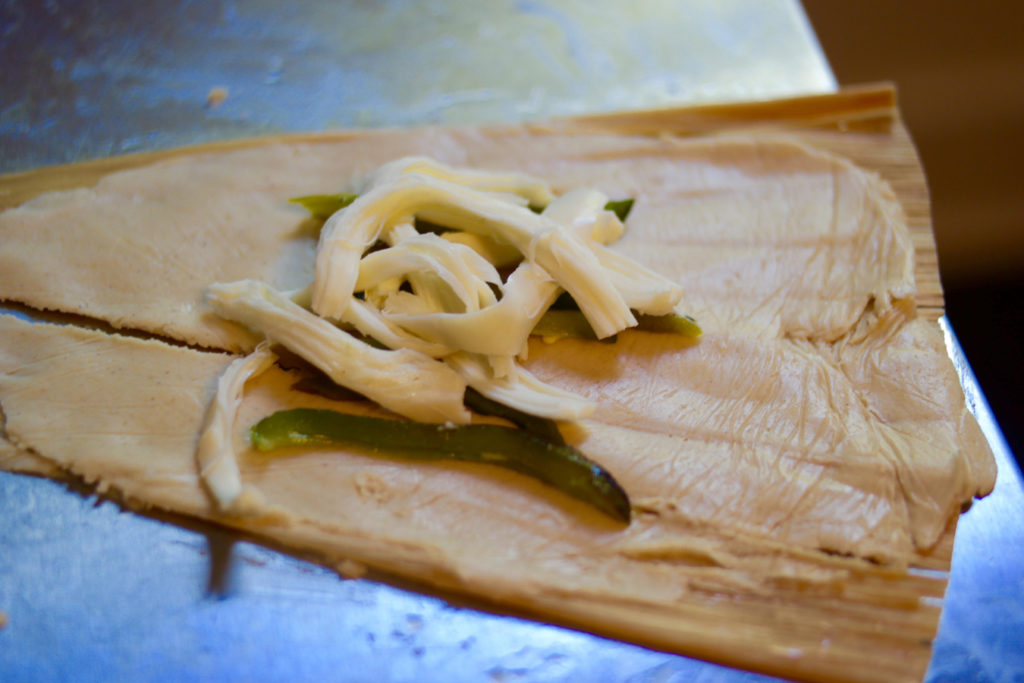 Fold the sides of the corn husk closed and then fold up the bottom to tuck the filling inside.  Repeat this process with all of the rest of the husks.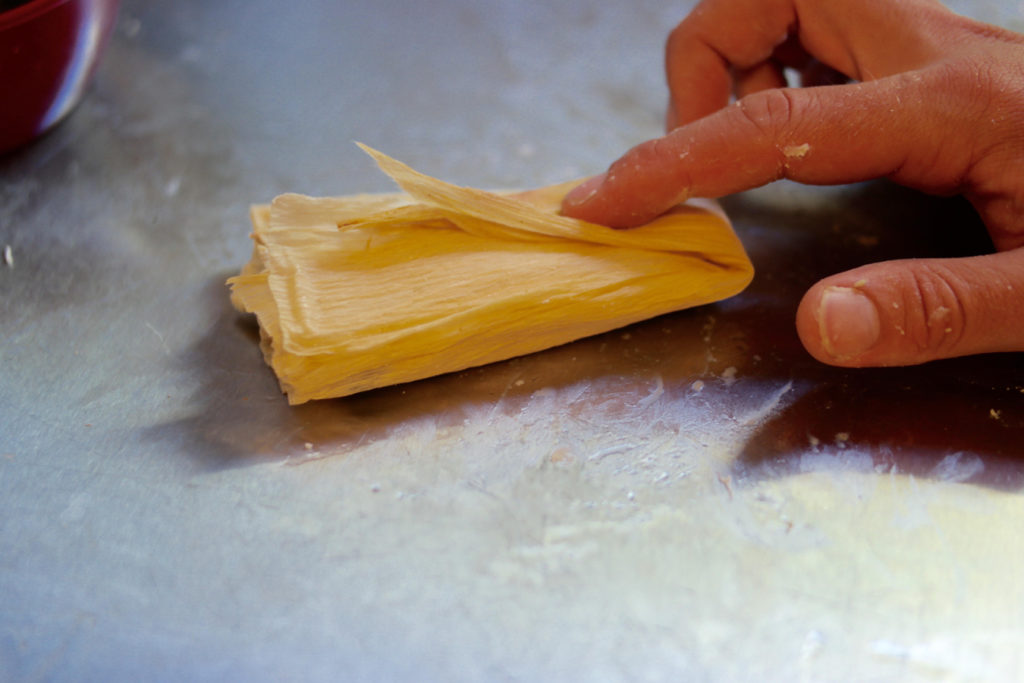 Put at least an inch of water in the bottom of your steamer and place all the corn husks vertically on top of the steamer's insert so they're standing upright.  Place the lid on top and steam the tamales for an hour.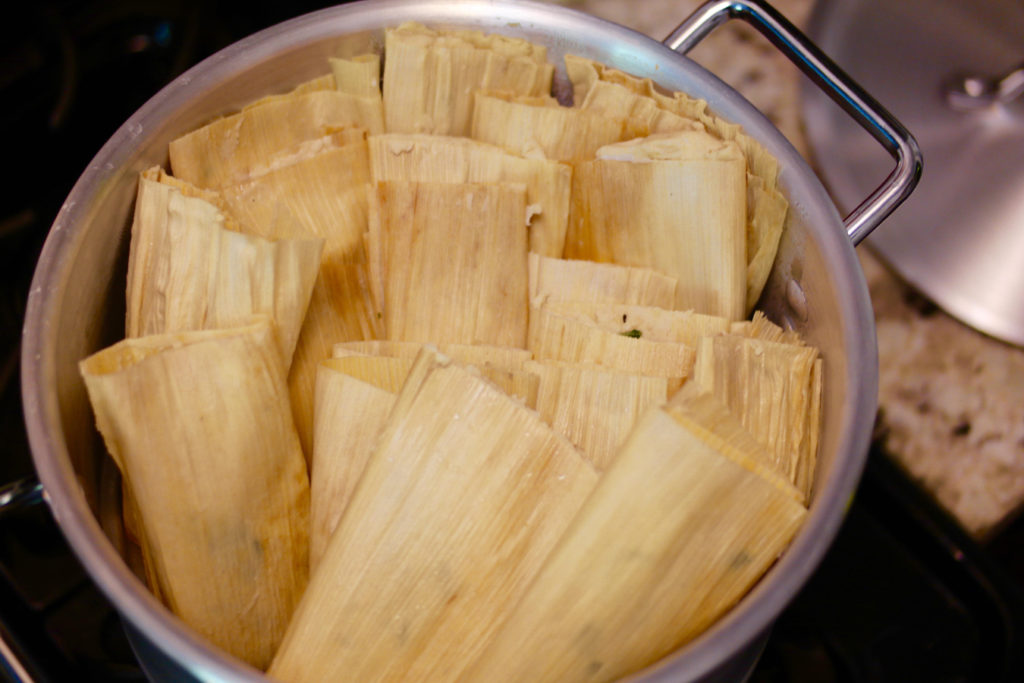 While the tamales are cooking, make a salsa by putting all the tomatillos – husked and cut in half – in a blender with 2 sliced jalapeños, 2 minced garlic cloves, a tablespoon of dried oregano, 1/2 teaspoon of cumin, a handful of cilantro leaves, and salt.  Blend everything into a smooth liquid.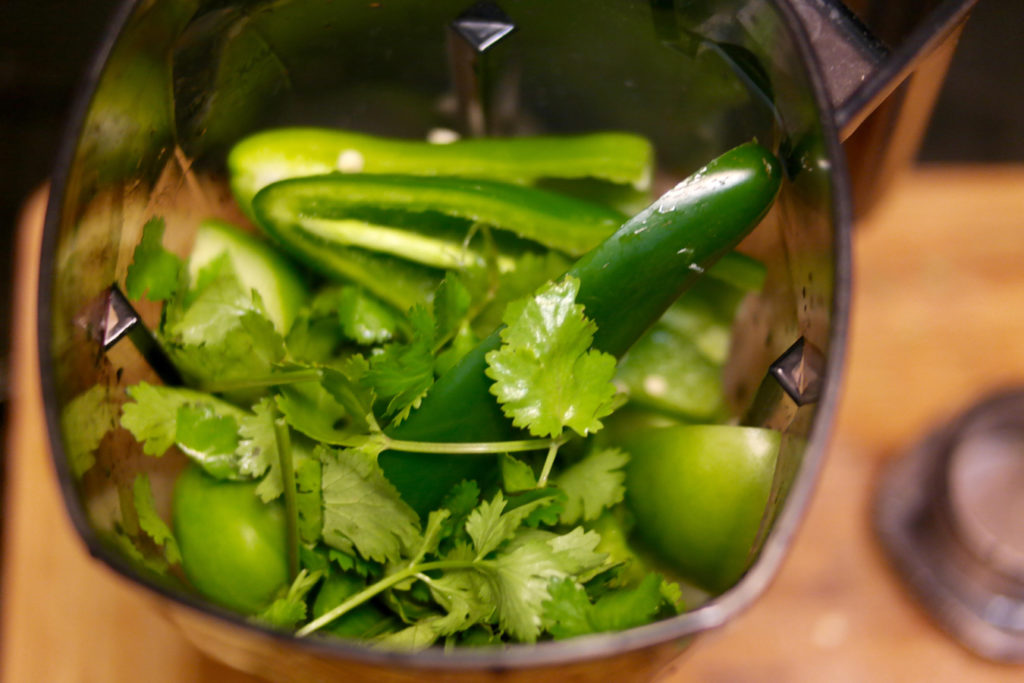 Then dice an onion and cook it in a large pan with a tablespoon of olive oil until it just becomes translucent.  Pour the tomatillo mixture into the pan and cook it until it starts to heat and everything melds into a smooth salsa.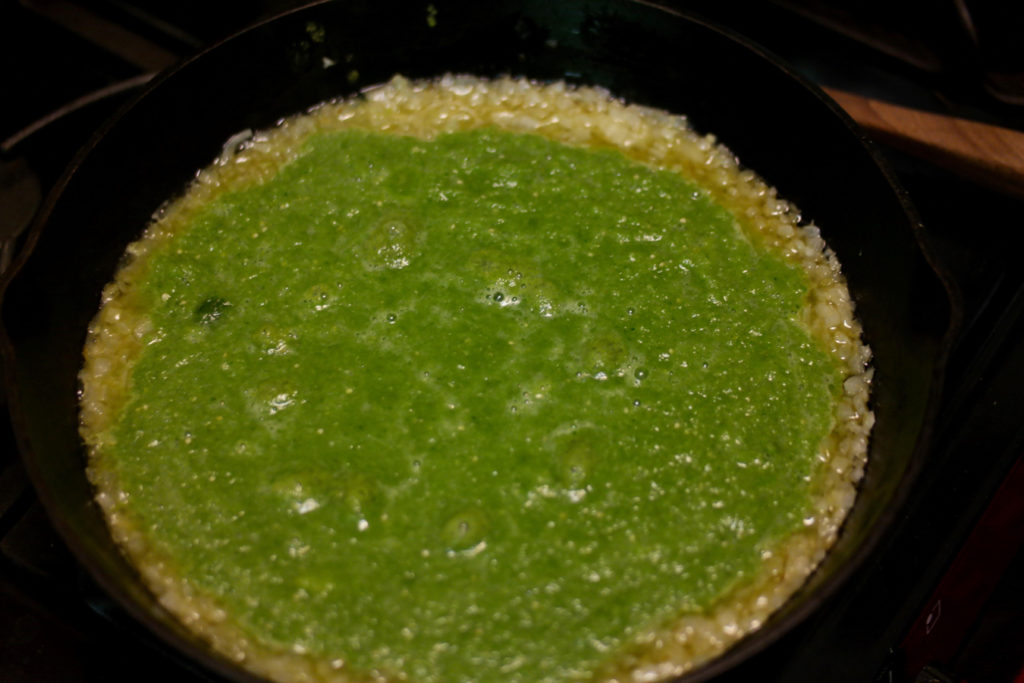 This is what the salsa should look like when it's fully cooked: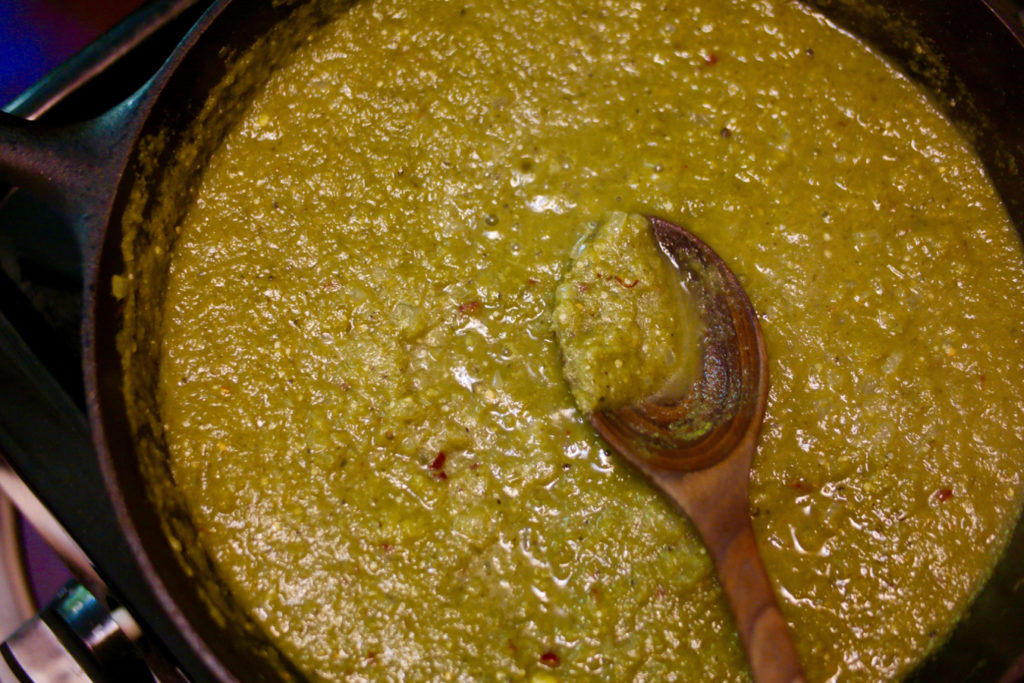 Once the tamales are done steaming, let them rest and cool for 15 minutes, then unwrap them and serve them with the salsa on top.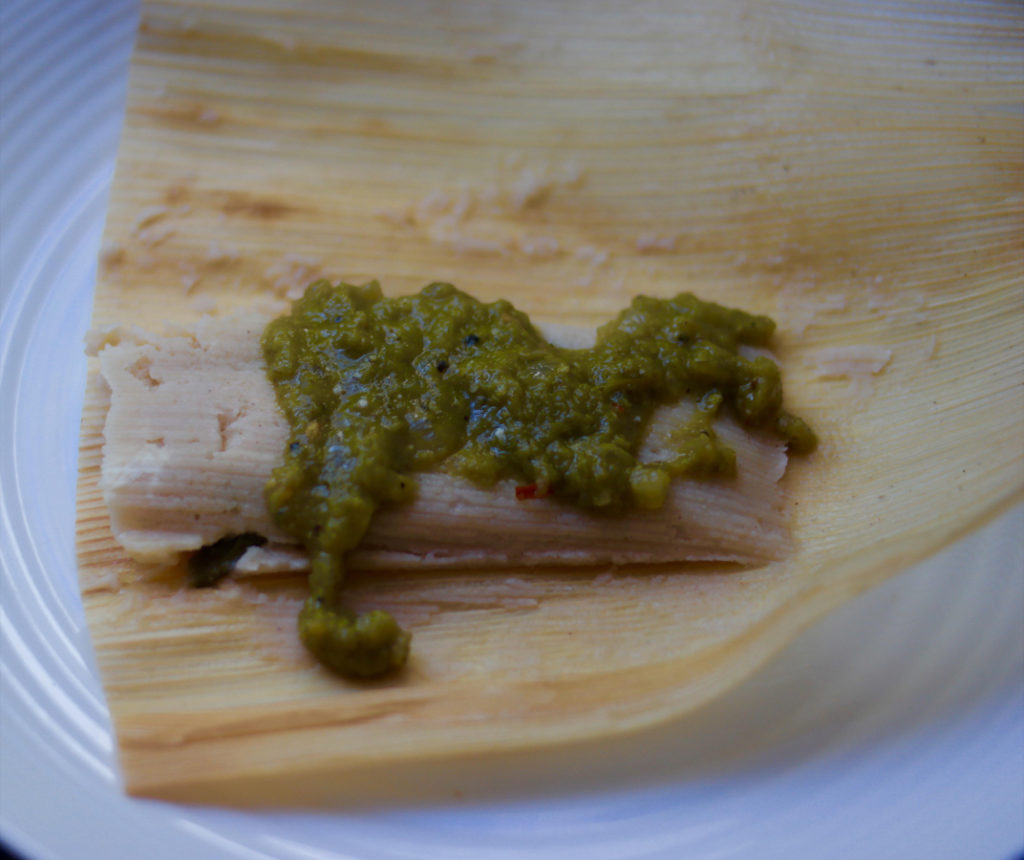 Like we said, these take quite a bit of time.  But in the end you get a rich, cheesy, and somewhat spicy meal that's 100% vegetarian.  The masa mix makes the tamales creamy and corn-y, and the cheese and peppers inside add in some good flavors – plus, steaming everything cooks the tamales to a nice texture.  This is a perfect recipe for a day when you've got the time to make tamales from start to finish and you want to try something interesting, new, and really tasty.