Here are a few more cool and unique placed around New York that we've gotten to try recently.  We'll show you here several restaurants from different parts of the city offering a variety of foods, and we'd recommend any of these places.  Just be warned – there is one burger in the mix here, along with a bunch of vegetarian food.
First, we decided to check out Casita, a new Spanish restaurant in the West Village.  We started off our meal there with some patatas bravas, a classic tapas dish of fried potatoes served with an aioli.  This version of patatas bravas came with the potatoes shaped as cups with the aioli as a filling inside.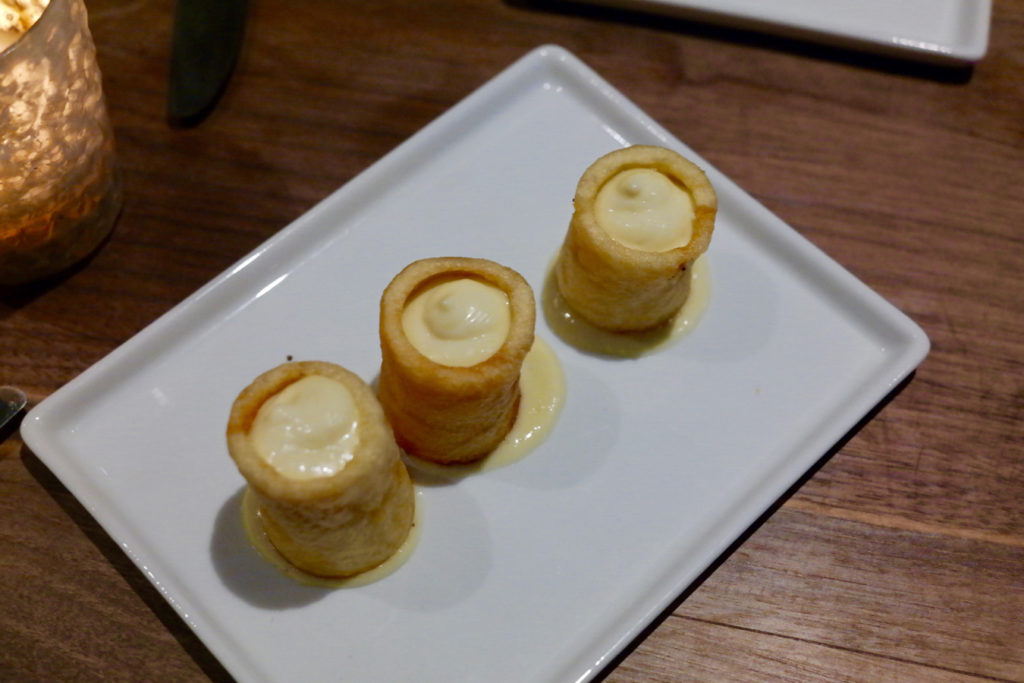 We also got a plate of three cheeses – including a Spanish manchego – with fruits and olives as accompaniments.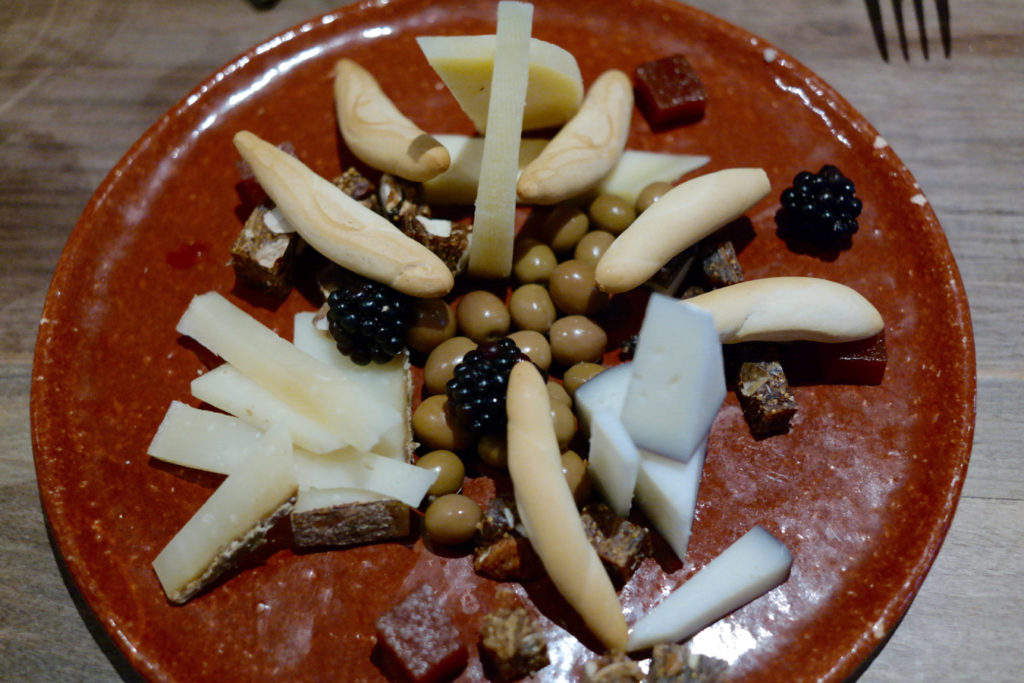 And for an entree we split a delicious vegetarian paella – with some sangria on the side, of course.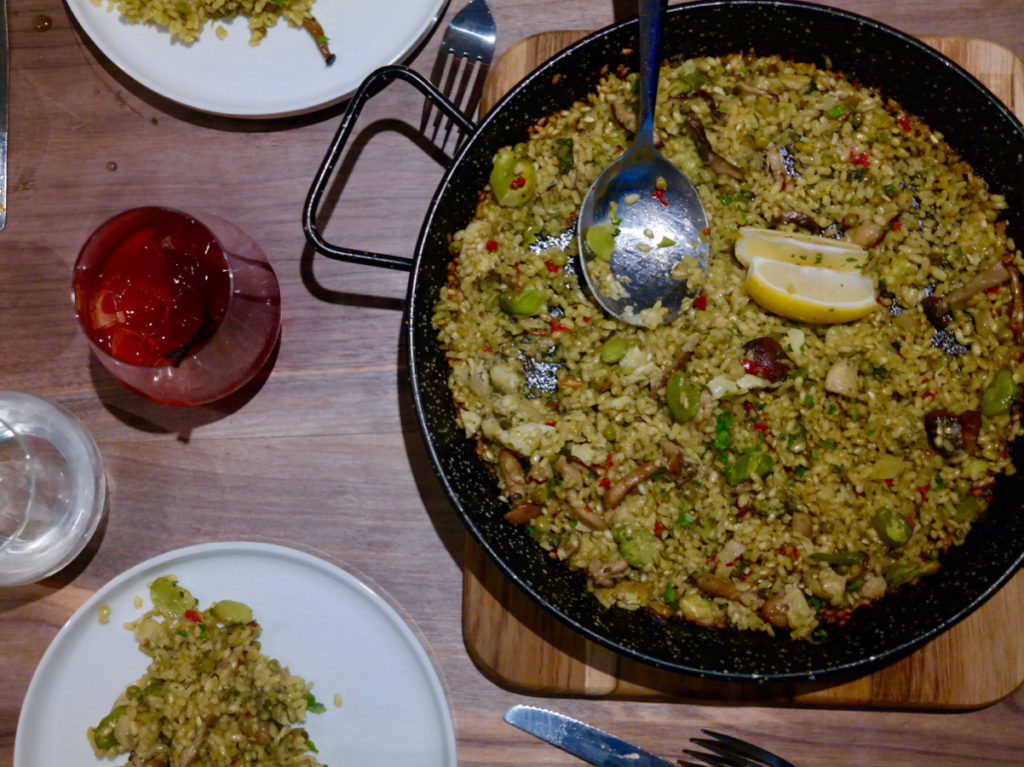 We also decided to check out Tramonti La Pizza in the East Village, which serves food from the Amalfi coast region of Italy.  There, for an appetizer, we had the eggplant parmigiana.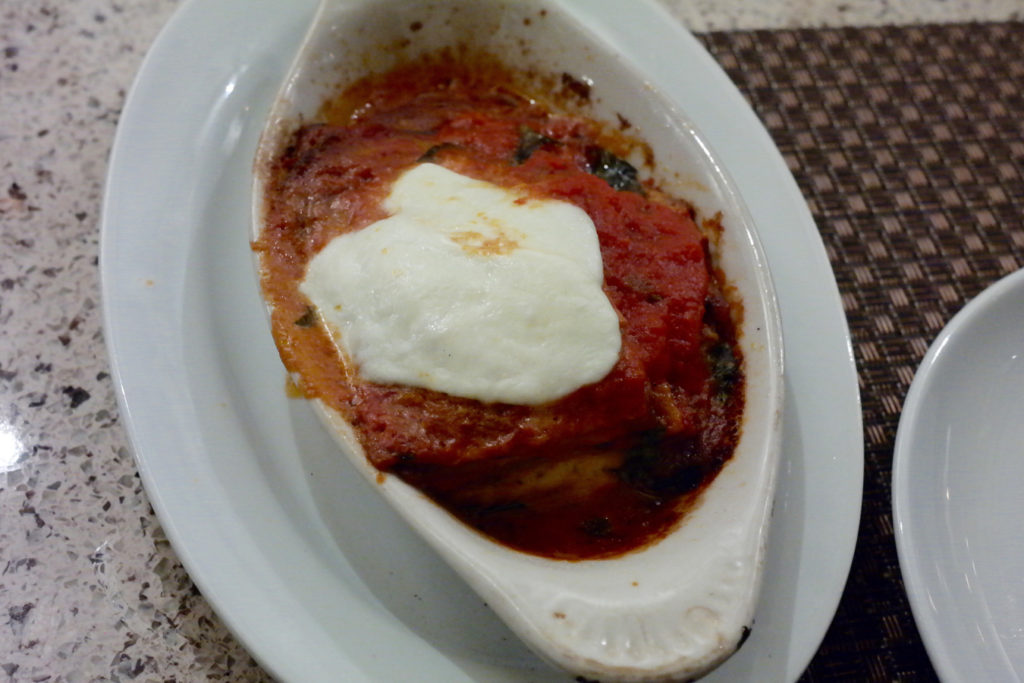 We also split a Genovese pizza, topped with cherry tomatoes, pesto, pine nuts, and smoked provolone cheese …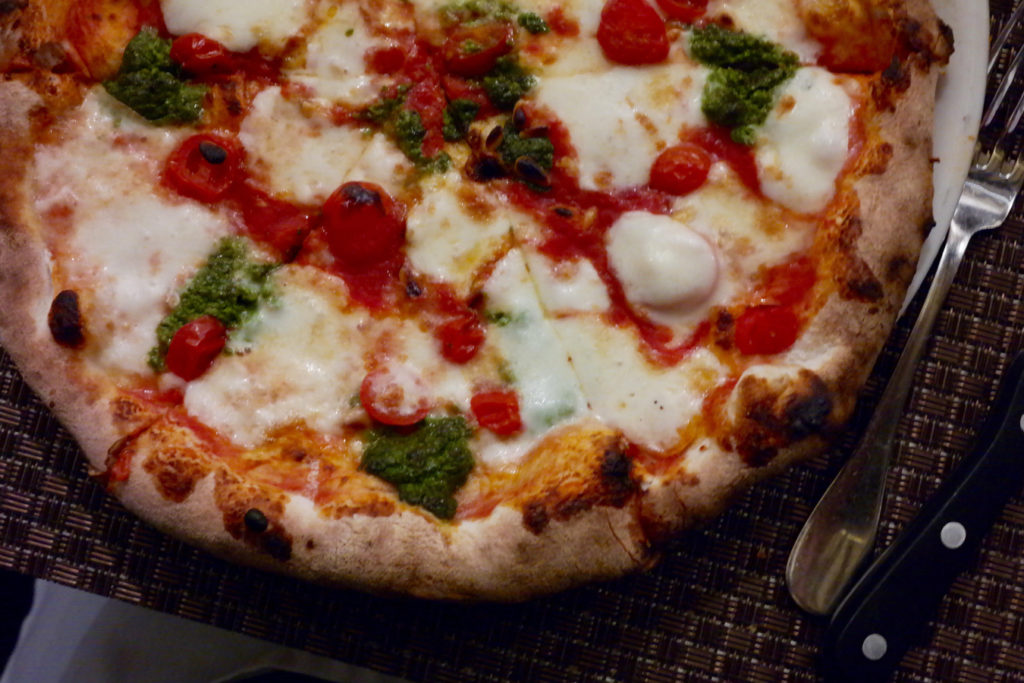 … and the past' e patane, a signature pasta dish from Naples that's made with spaghetti, potatoes, olive oil, garlic, and basil.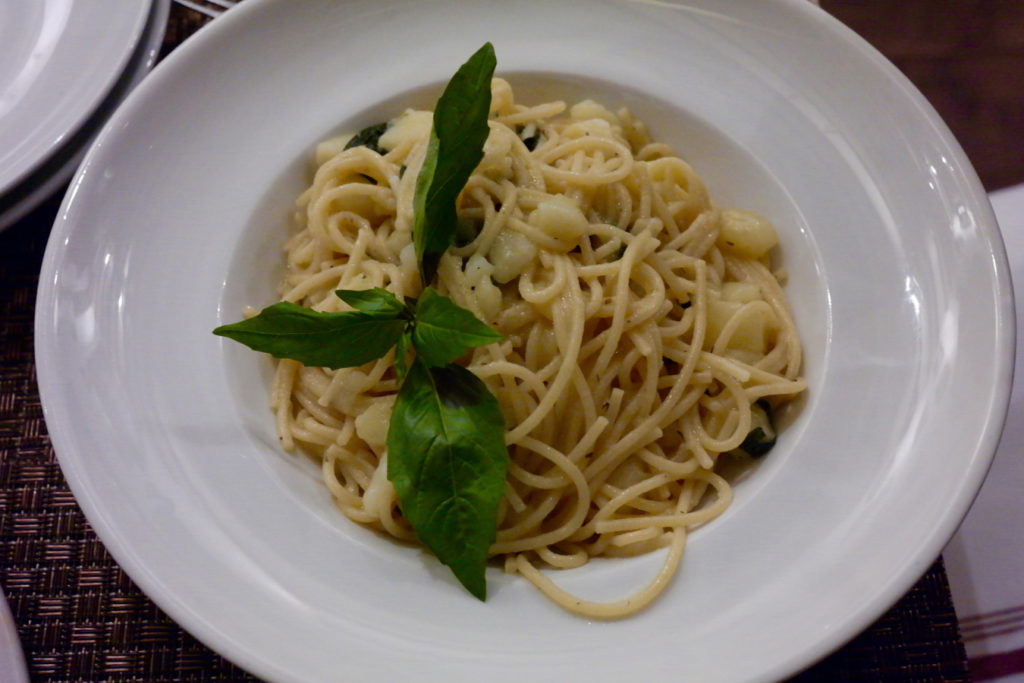 And for dessert, we shared a slice of mascarpone cheesecake topped with blueberries and strawberries, with vanilla gelato and raspberry sauce on the side.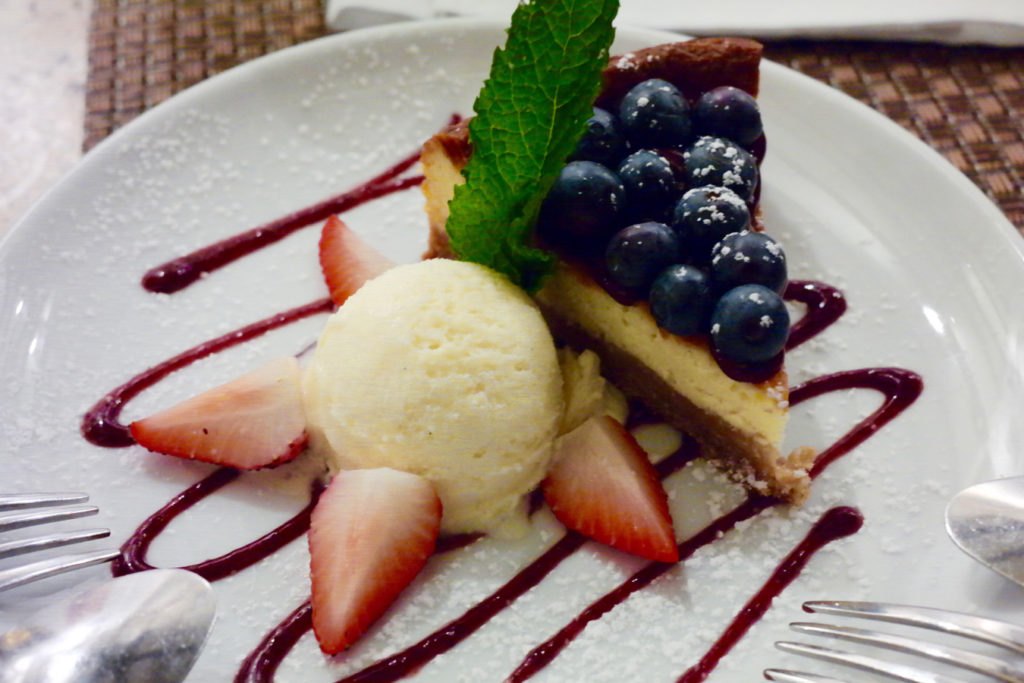 And finally:  before baseball season ended, we went up to Yankees stadium to get in a game and cheer for our favorite team.  Sports arenas aren't usually known for having great food – it's typically just hot dogs, nachos, peanuts, and pretzels – but in more recent years the Yankees have been brining in interesting New York restaurants to open up outposts in the stadium.  So while we were there we decided to check out the Bareburger stand, where Miriam got a vegan burger topped with guacamole …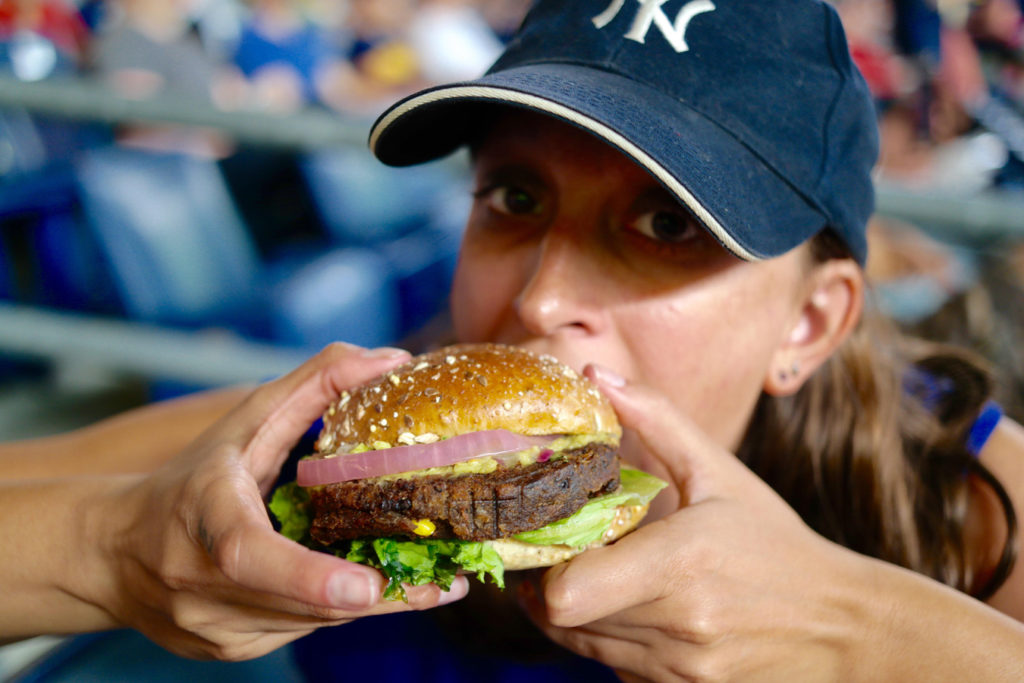 … while Cyril had a beef burger with fried pickles, pepper jack cheese, jalapeños, spicy slaw, and sriracho mayo.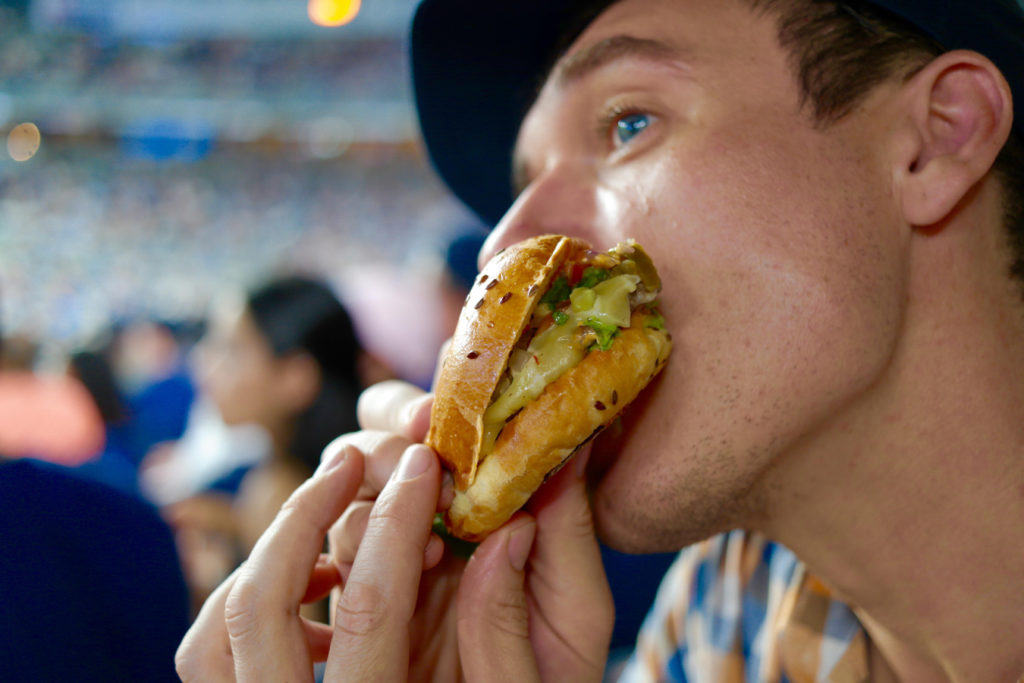 We also shared Bareburger's jumbo onion rings, which come with a side of paprika mayo.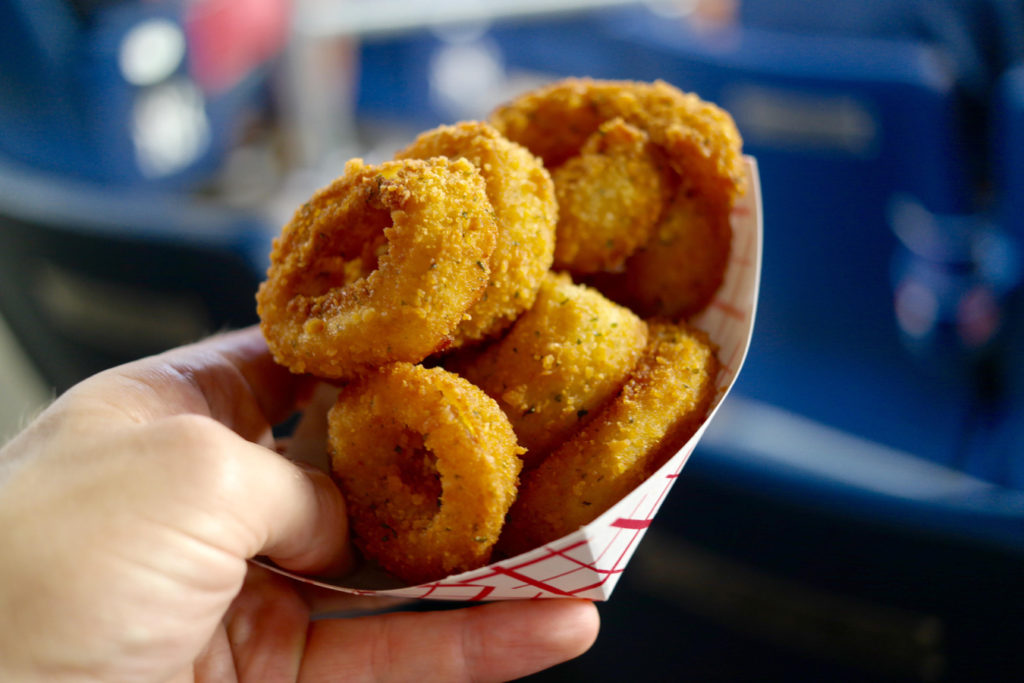 And later in the game, we had some sweet corn fritters – served with a side of honey chili sauce – from the Mighty Quinn's stand in the stadium.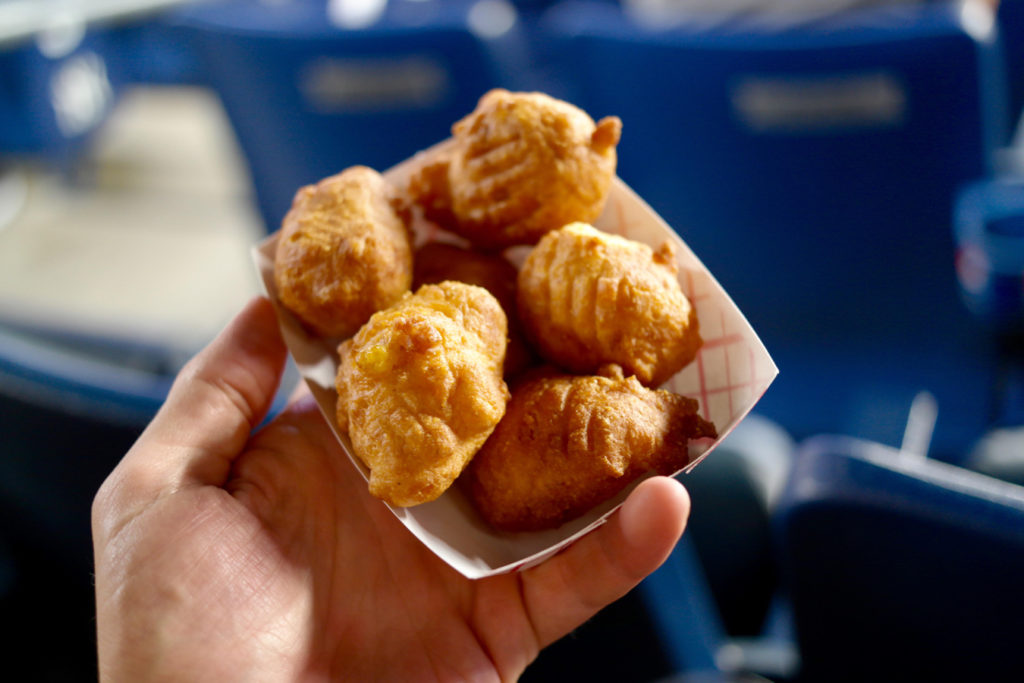 All these different foods were unique and tasty, and we'd recommend any of these restaurants – or stadium food, as the case may be – for you to try.  We enjoyed eating all this diverse food, and we'll be back soon showing you some of the other places we've had the pleasure of checking out.