As you can see, this isn't your mama's eggplant parm.  It's made with everything you'd expect –  red sauce, mozzarella cheese, and breaded eggplant – but then put together in an interesting way.  We were inspired to try it like this based on this New York Times recipe, although we added some of our own touches to make this our eggplant unique.  Try it out, and we think you'll like this cool-looking version of an Italian classic.
To make it, you'll need:
A 28-ounce can of crushed tomatoes
An onion
A carrot
Celery
Basil
4 small-ish eggplants
Flour
3 eggs
Panko breadcrumbs
Garlic powder
Dried oregano
Vegetable oil
An 8-ounce block of mozzarella cheese
First, make your sauce:  dice your onion, carrot, and one stalk of celery.  Sauté the onion in a small stockpot in a little bit of olive oil until it just begins to turn translucent, then add in the carrot and celery and cook them until all the vegetables are softened.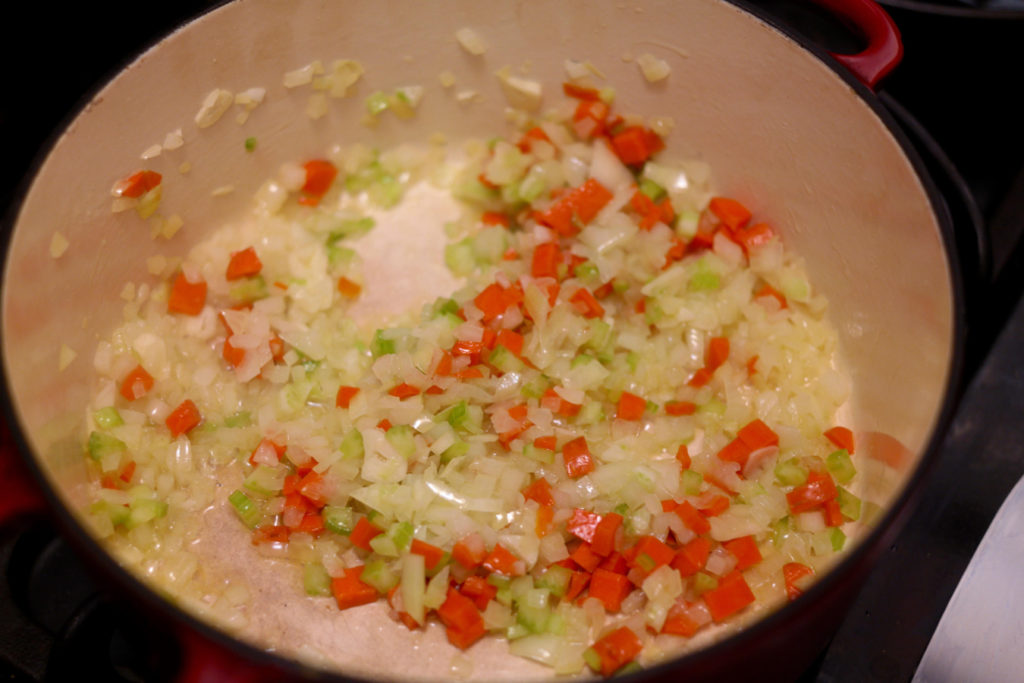 Next, pour in the entire can of crushed tomatoes and add a handful of basil leaves.  Let this sauce simmer on low heat while you prepare everything else.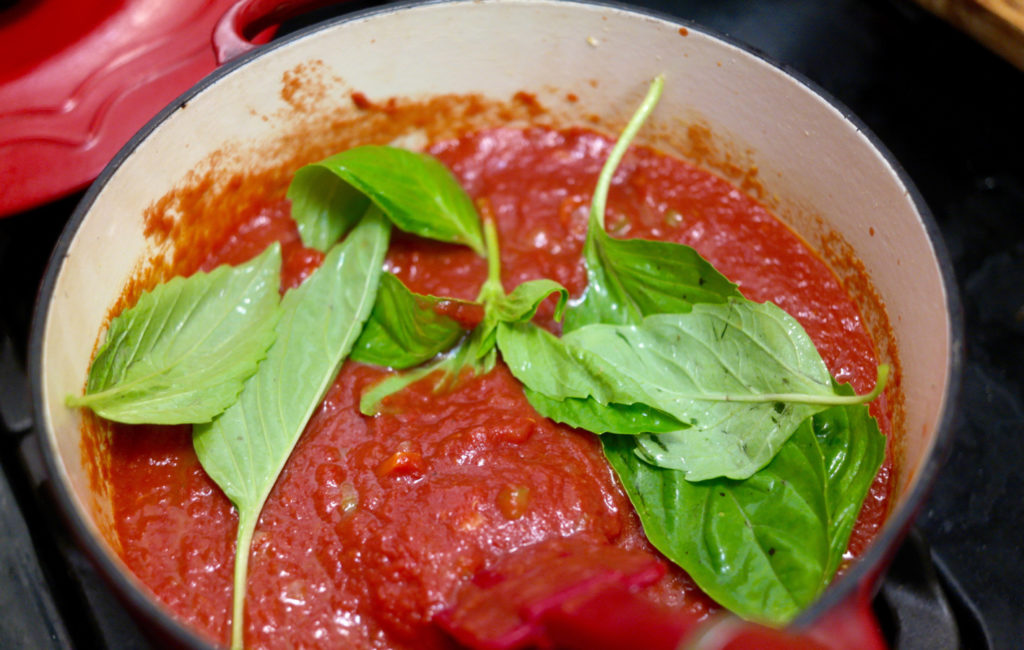 Now take your eggplants and carve 1/4-inch slices into them but don't cut through all the way – leave the slices attached at the stem.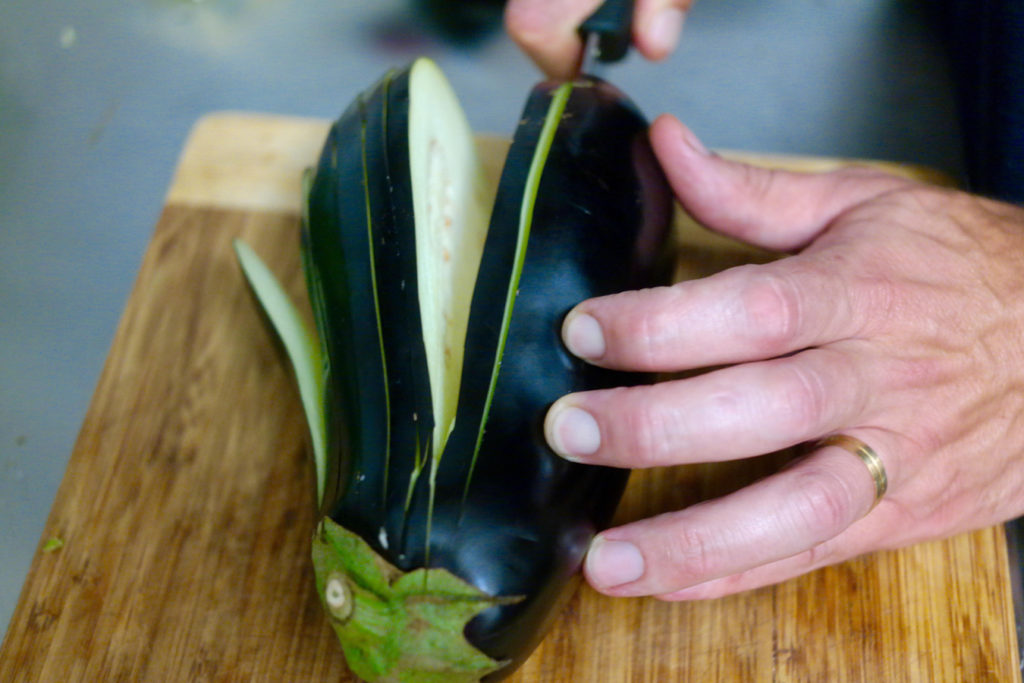 Fan out the eggplants, lay them down on paper towels, and sprinkle each slice with salt to help release the water inside.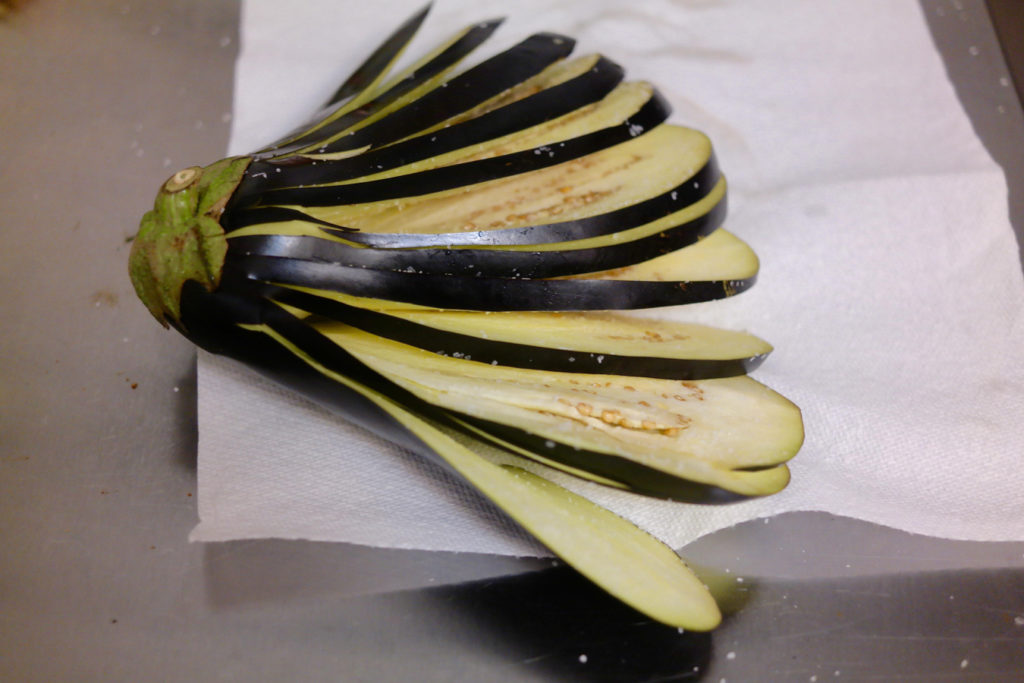 In a bowl, whisk together 2 cups of flour, 3 egg yolks, and a cup of ice water until you have a smooth mixture.  Then add in another cup of ice water and whisk until you have a runny batter.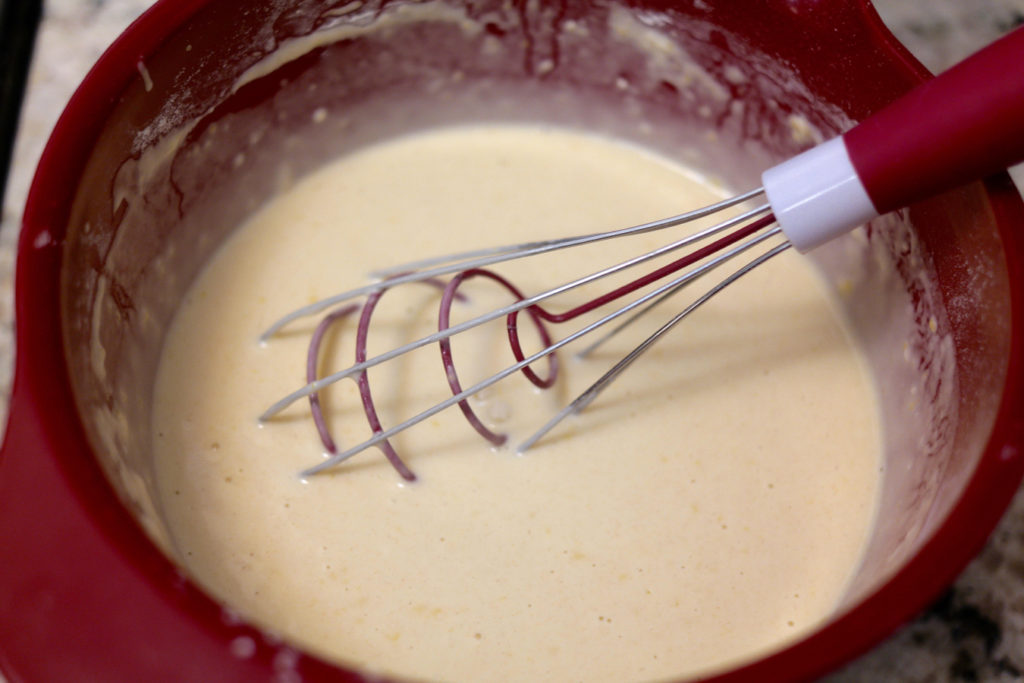 In another bowl, measure out 2 1/2 cups of panko breadcrumbs, 1 teaspoon of garlic powder, 1 teaspoon of dried oregano, and a sprinkling of salt and pepper.  Use your hands to combine everything and crush the panko into finer breadcrumbs.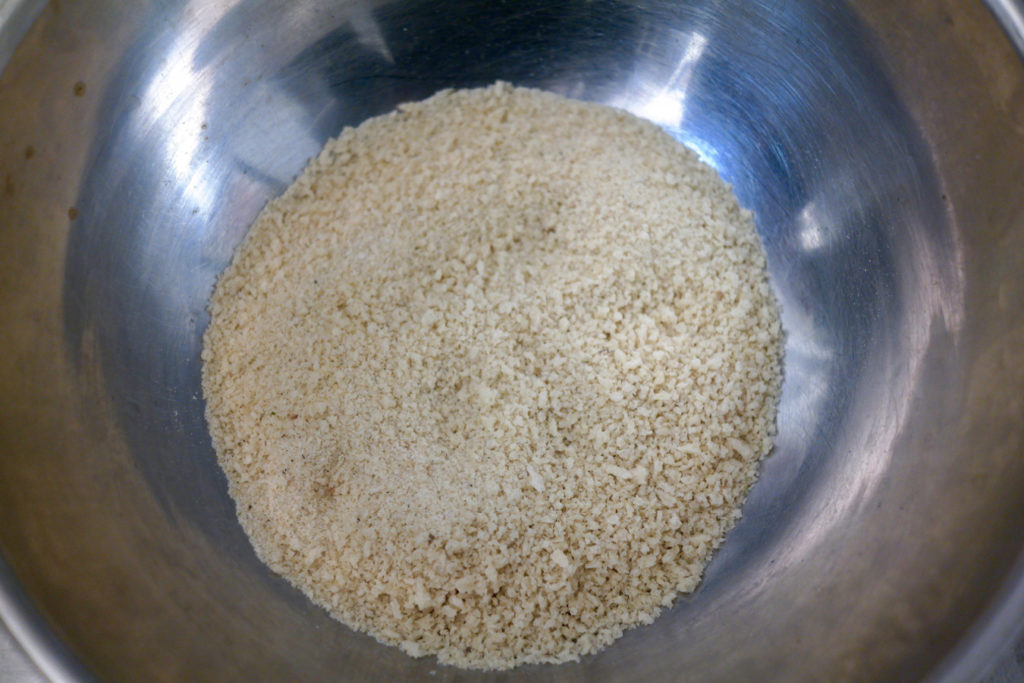 Dip the eggplants into the batter, making sure to coat each slice …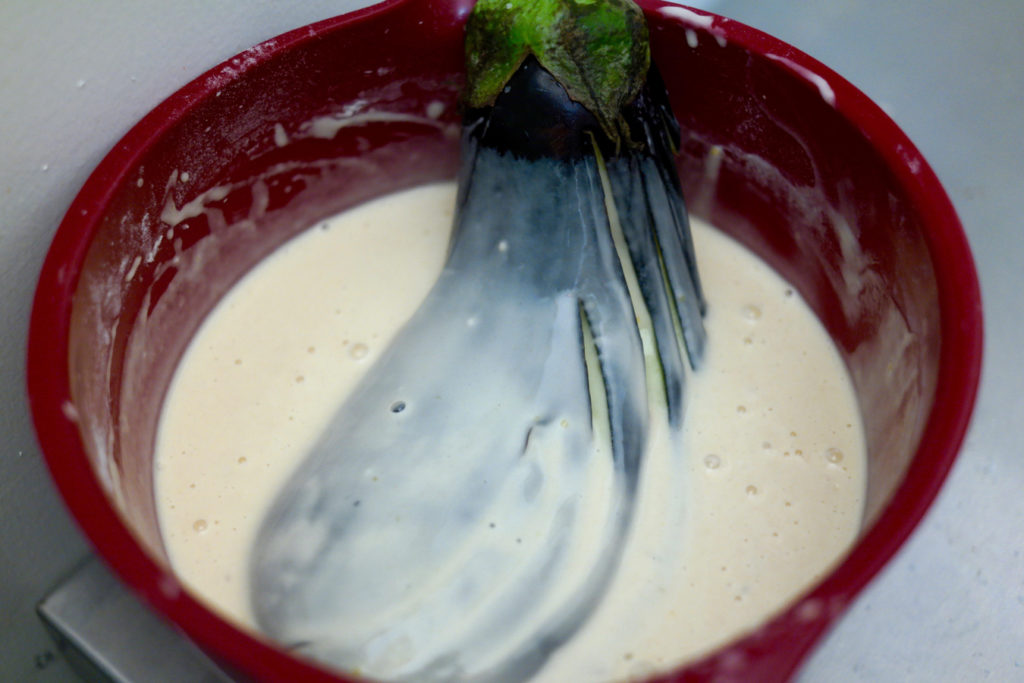 … then cover them in panko.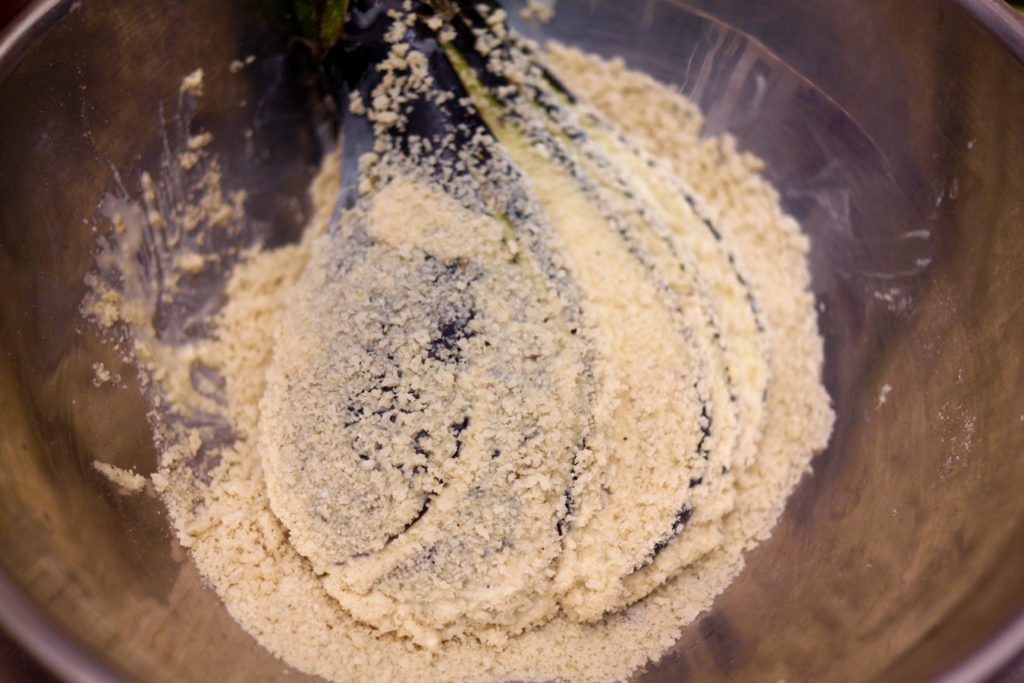 Heat a half-inch of vegetable oil in a large, deep skillet and start frying the eggplants.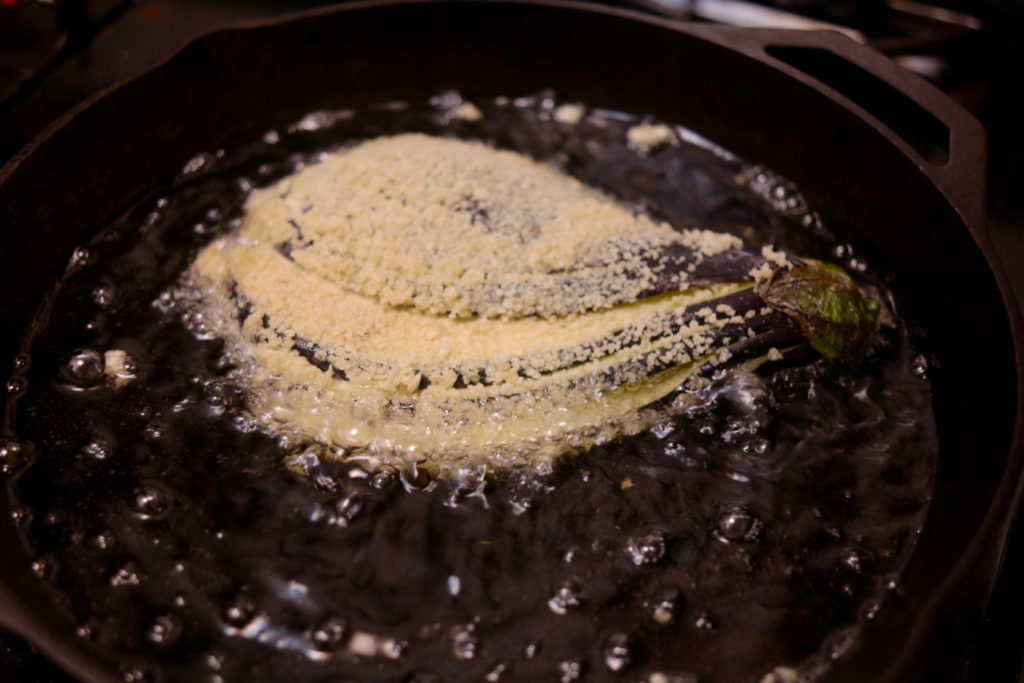 Let them cook for about 3 minutes on each side, until they're browned.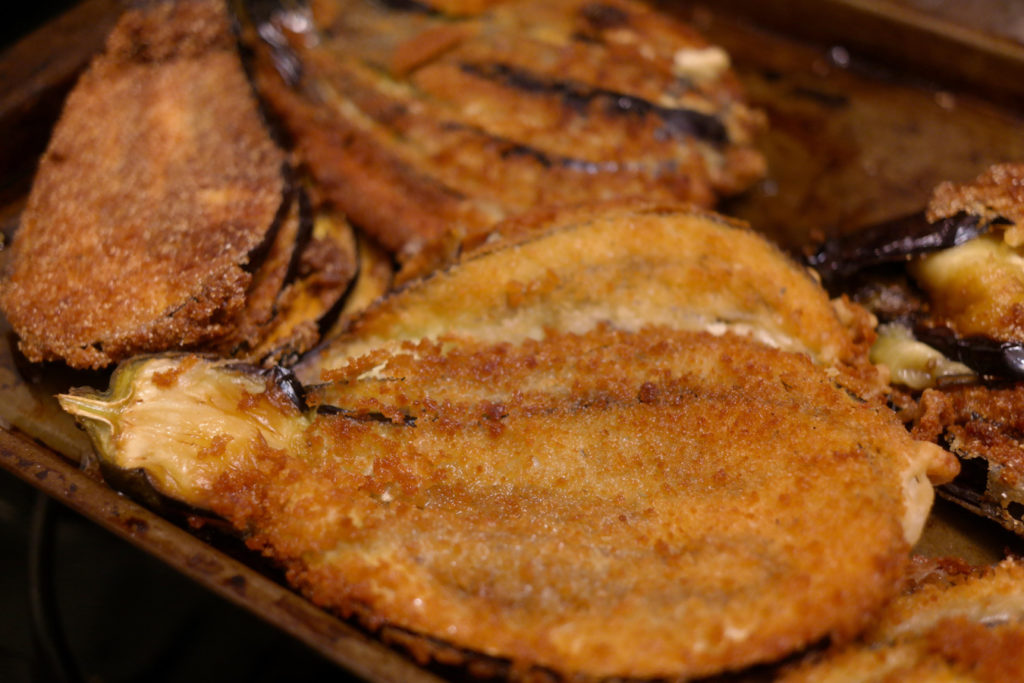 Set your oven at 325°F and put a baking sheet on the bottom.  As you finish frying each eggplant, keep them warm in the oven by placing them on the lowest rack so any excess oil drips onto the baking sheet.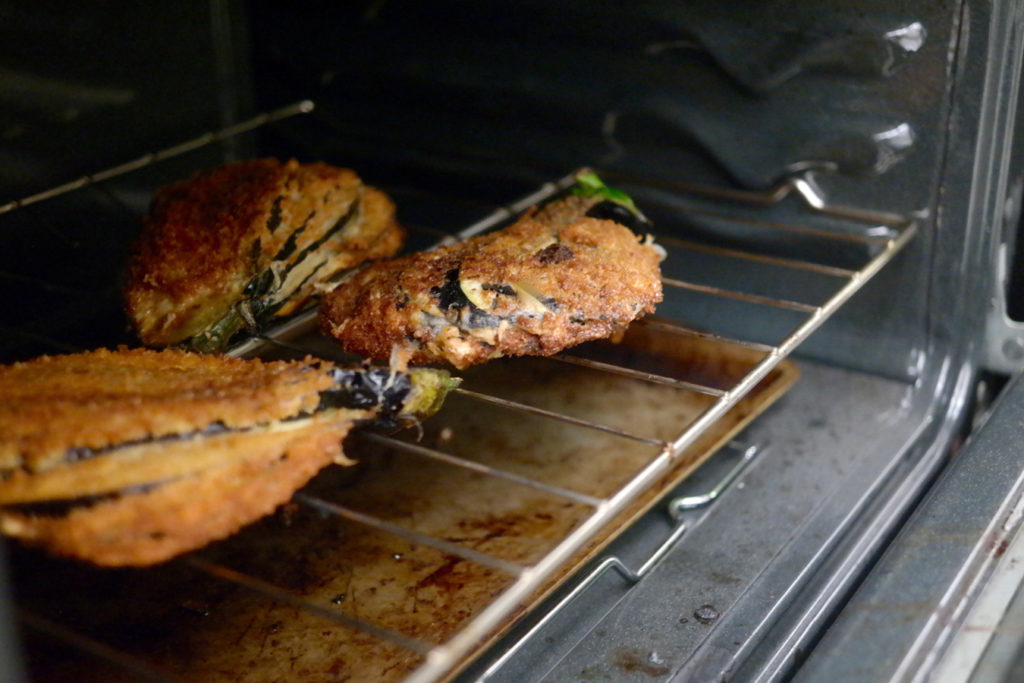 Once you're done with the eggplants, tear all your mozzarella into pieces and divide it into four piles.  Pick up one pile and place it in your sauce.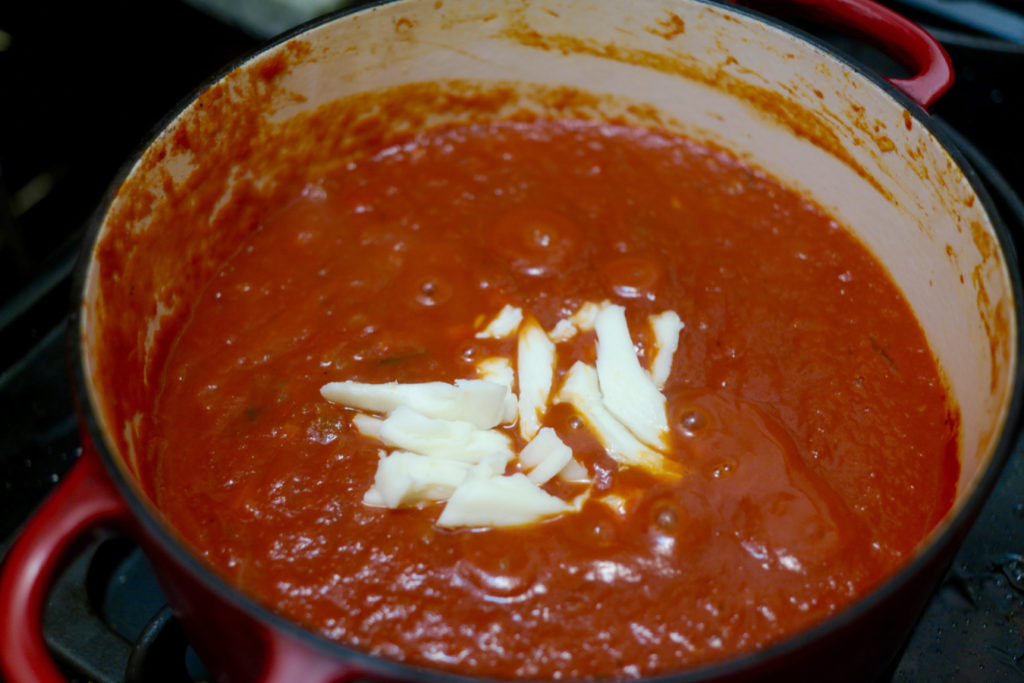 Let the cheese sit in the sauce only until it begins to melt, then take one eggplant and put it on a plate.  Use a large cooking spoon or soup ladle to pick up the cheese and a generous portion of sauce and serve it alongside the eggplant.  Repeat this with all of the other eggplants, sprinkling any extra basil you have over everything.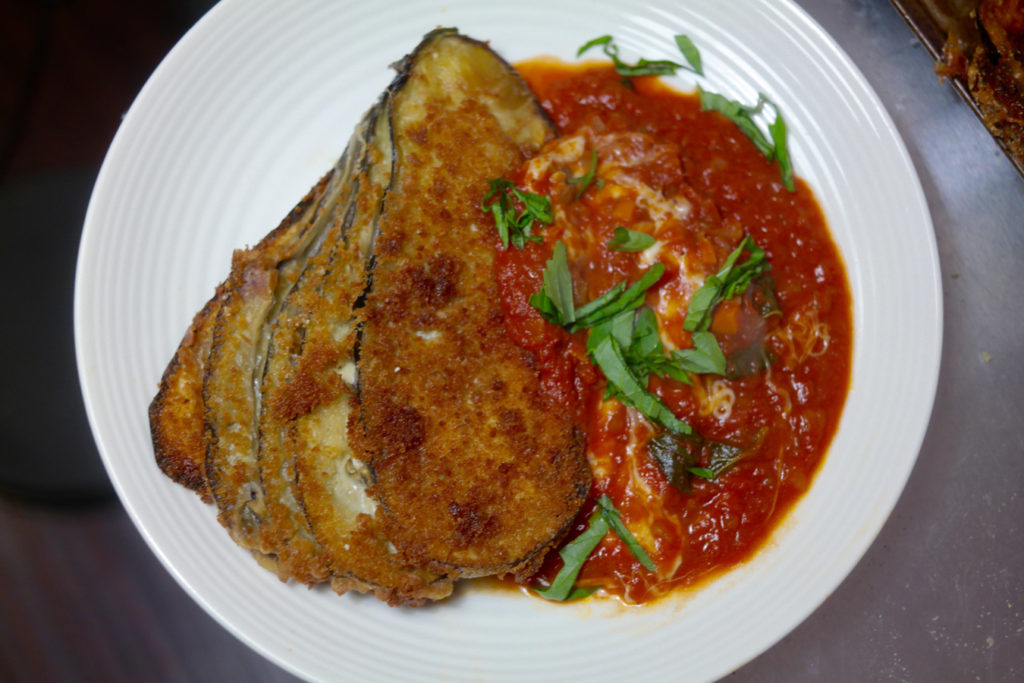 If you doubted how this would turn out, you can see that it looks delicious.  The sauce has a rich tomato flavor, the eggplants are fried so of course they're tasty, and the cheese is what makes it a parm.  It's different, but it looks pretty cool and it tastes as great as any other, more boring version you've had in the past.  Eggplant parm is a well-known vegetarian-friendly Italian recipe, and making it this way is a interesting variation on a classic.