Earlier this week we featured our signature mashed potato recipe, which we served for Thanksgiving this year, and now we'll show you some of the awesome vegetable dishes we made too.  There's three here:  one made with broccoli, one with cauliflower, and one version of sweet potatoes.  We show you how to make each of them, so you can try out one or all – we thought they were all pretty good.  And as a side note, the cauliflower and sweet potatoes can both easily be made vegan.
For the broccoli, you'll need:
3 heads of broccoli
An 8-ounce package of cream cheese
A small container of Greek yogurt
Ground cardamom
Nutmeg
Almonds
Lemon juice
For the cauliflower, you'll need:
A whole cauliflower
A half-gallon of milk
Butter, or non-dairy spread to make this vegan
Cumin seeds
Coriander
Cinnamon
Turmeric
Paprika
Ginger powder
Black peppercorns
And for the sweet potatoes, you'll need:
5 pounds of sweet potatoes
Canned coconut milk
Thai red curry paste
Brown sugar
1/2 stick of butter or non-dairy spread (for vegan potatoes)
First, the broccoli, which we based on this recipe.  We started by taking 3/4 cup of almonds and finely grinding them with a large knife.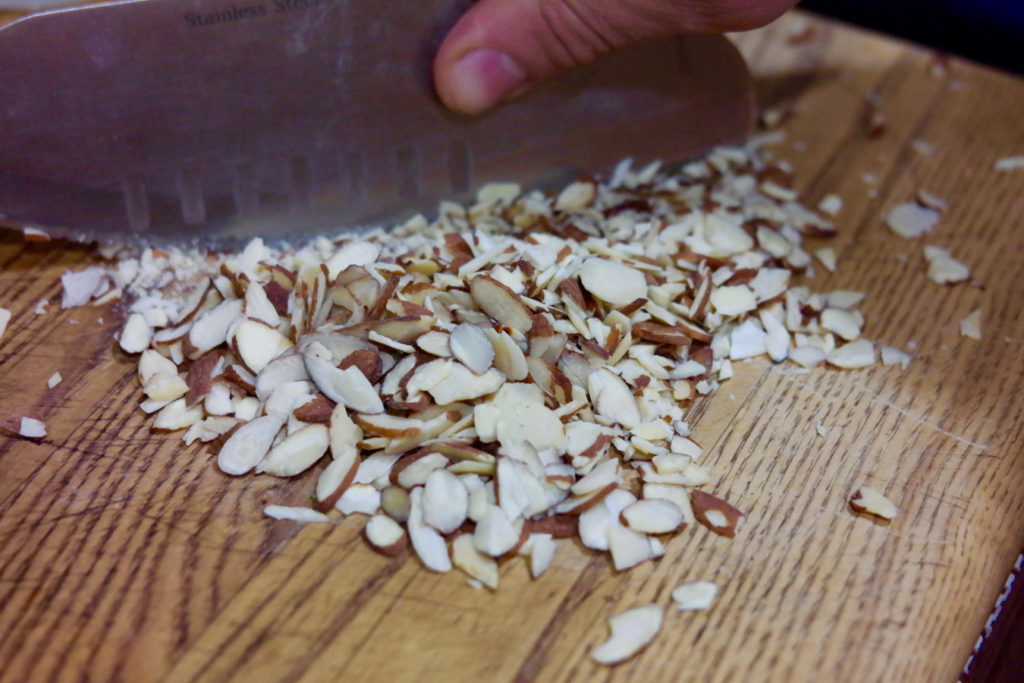 Then in a bowl we combined the cream cheese, 4 tablespoons of Greek yogurt, 1/2 teaspoon of cardamom, 1/4 teaspoon of nutmeg, a pinch of salt and pepper, and 3 tablespoons of lemon juice.  Once that was a smooth mixture, we added in the almonds.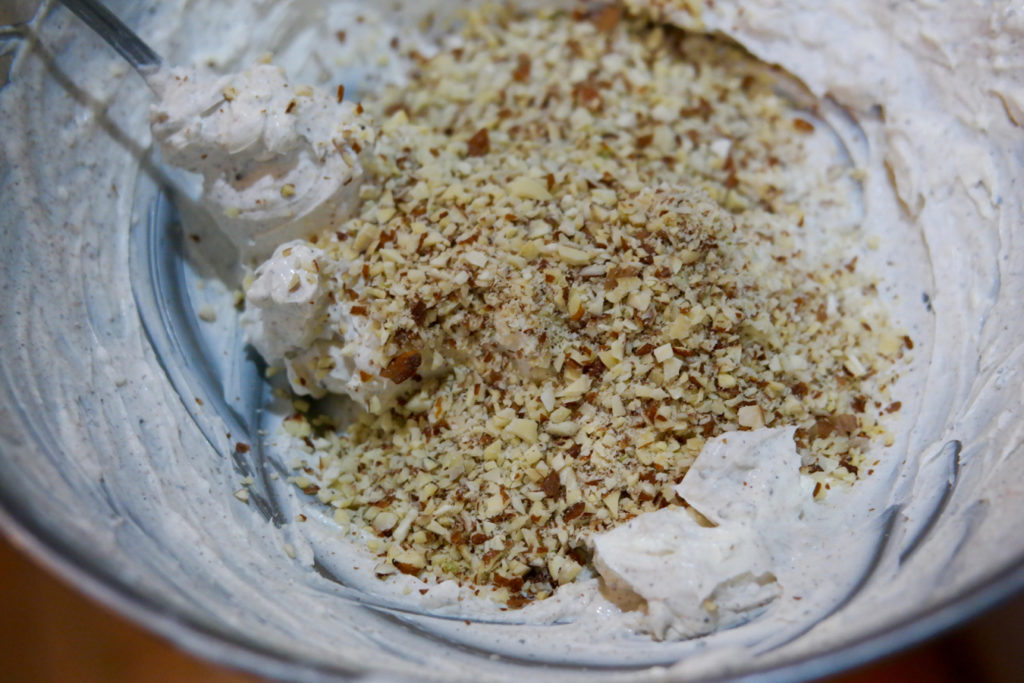 We cut the broccoli into bite-sized florets and stirred those in so that they were all evenly coated with our cream cheese mixture, then turned our broccoli into a small casserole dish.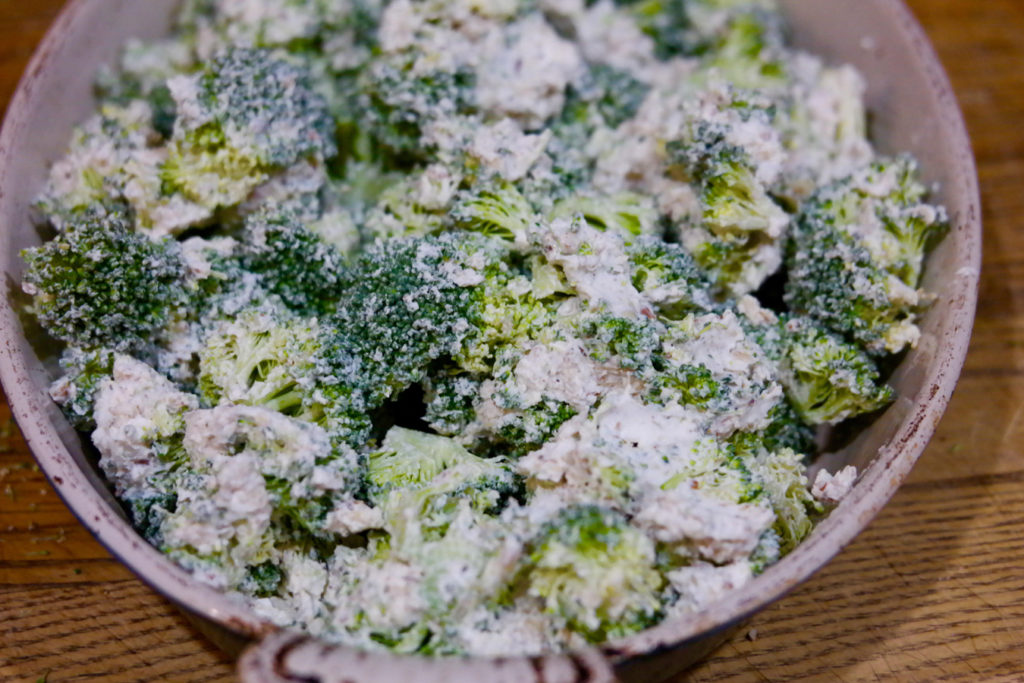 We baked our dish at 400°F for 10 minutes, then used a spatula to turn the broccoli over and baked it for another 10 minutes.  And here's what it looked like once it was done: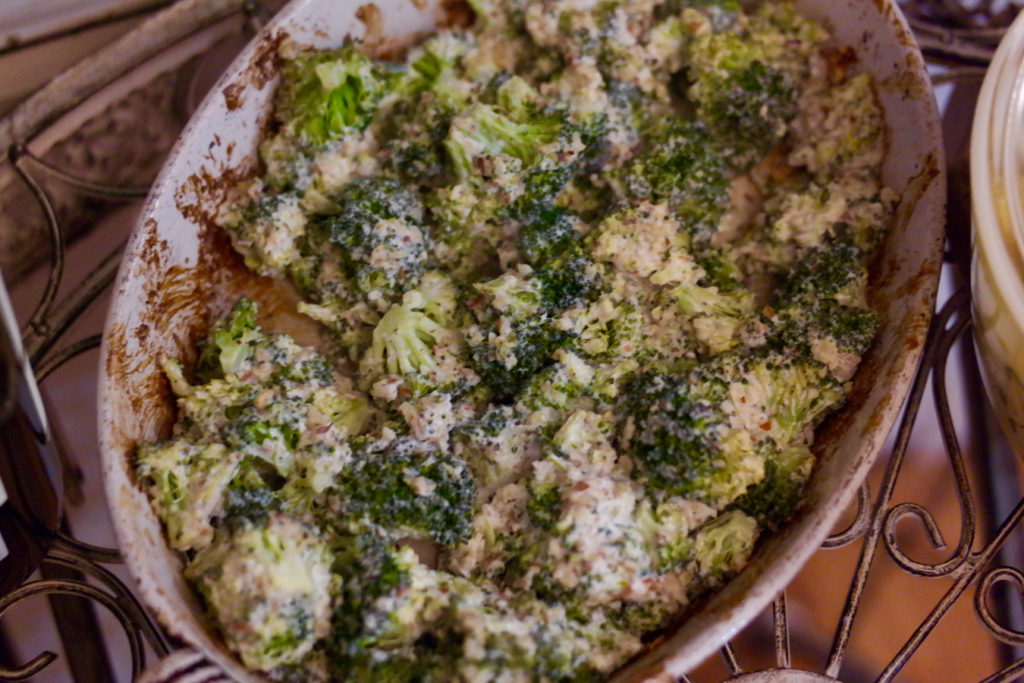 Now for the cauliflower, which we adapted from this recipe.  You'll have to do some prep work for this one: the night before you want to serve it, place the whole cauliflower (with the green stem still attached) in a large stock pot and pour an entire half-gallon of milk over it.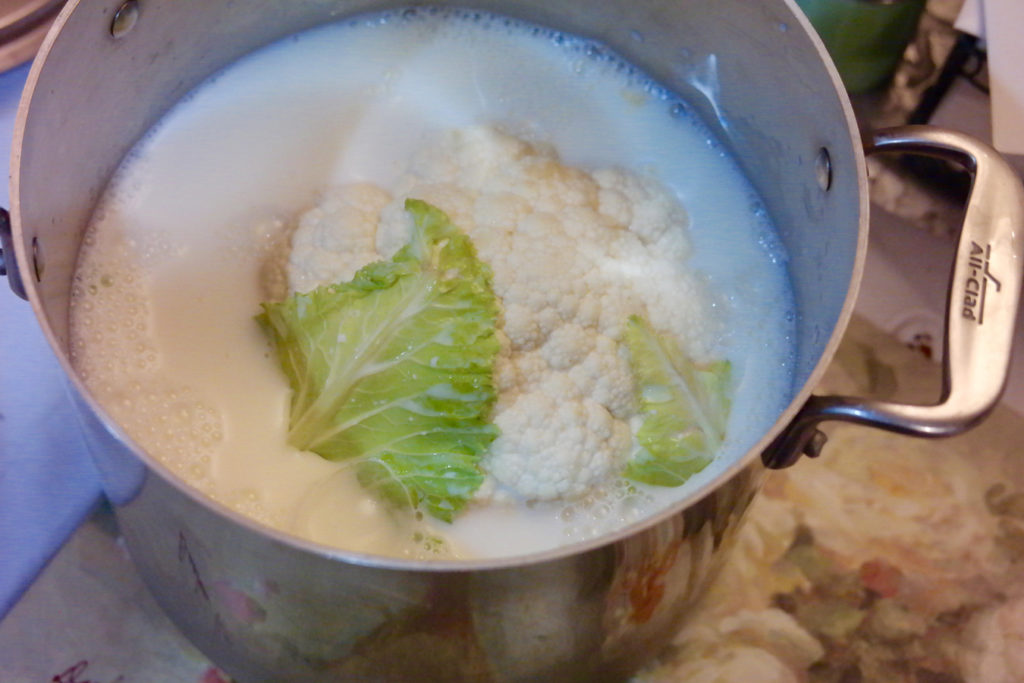 Top the pot off with just enough water to submerge the cauliflower and bring all the liquid to a boil on the stove.  Let everything simmer at medium-low heat for 45 minutes, then take the pot off the stove to cool and transfer it to a fridge overnight.
The next day, when you're ready to start cooking the cauliflower, measure out 1 teaspoon of cumin seeds, 1 teaspoon of coriander, 1/2 teaspoon of cinnamon, 1/2 teaspoon of turmeric, 1/2 teaspoon of paprika, 1/2 teaspoon of ginger powder, and 10 peppercorns.  Place all these spices on a large sheet of parchment paper, fold it in half, and use a small rolling pin to crush everything together until you have a fine powder.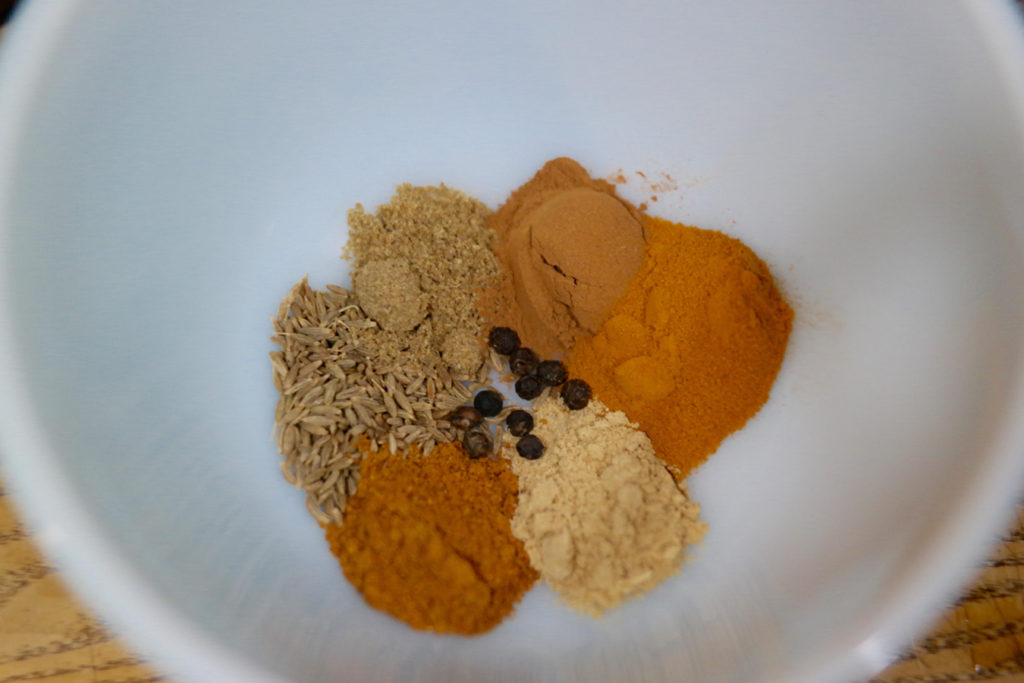 Take the cauliflower out of the pot and pat it dry.  Melt 1/3 cup of butter in a microwave and drizzle it over the entire surface of the cauliflower.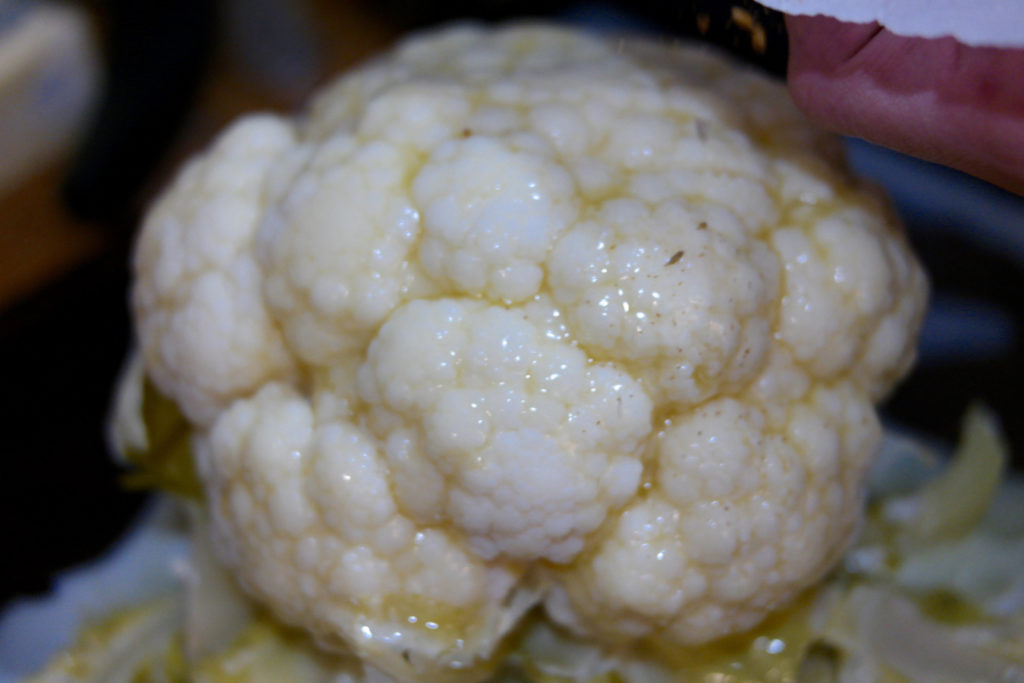 Then use your hands to rub the spice mix all over.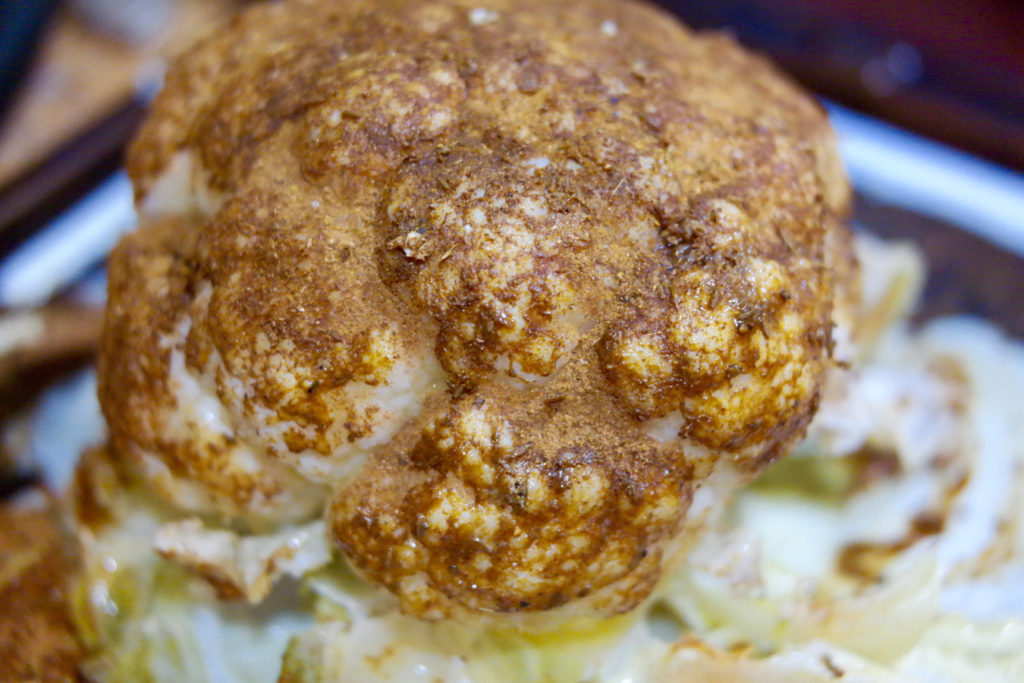 Take some more parchment paper and wrap it around the green stem at the base of the cauliflower, then put it on a baking sheet.  Bake the cauliflower at 450°F for 30-40 minutes until the outside is browned.  The cauliflower will be softened enough from soaking and baking that you'll easily be able to cut into it to serve.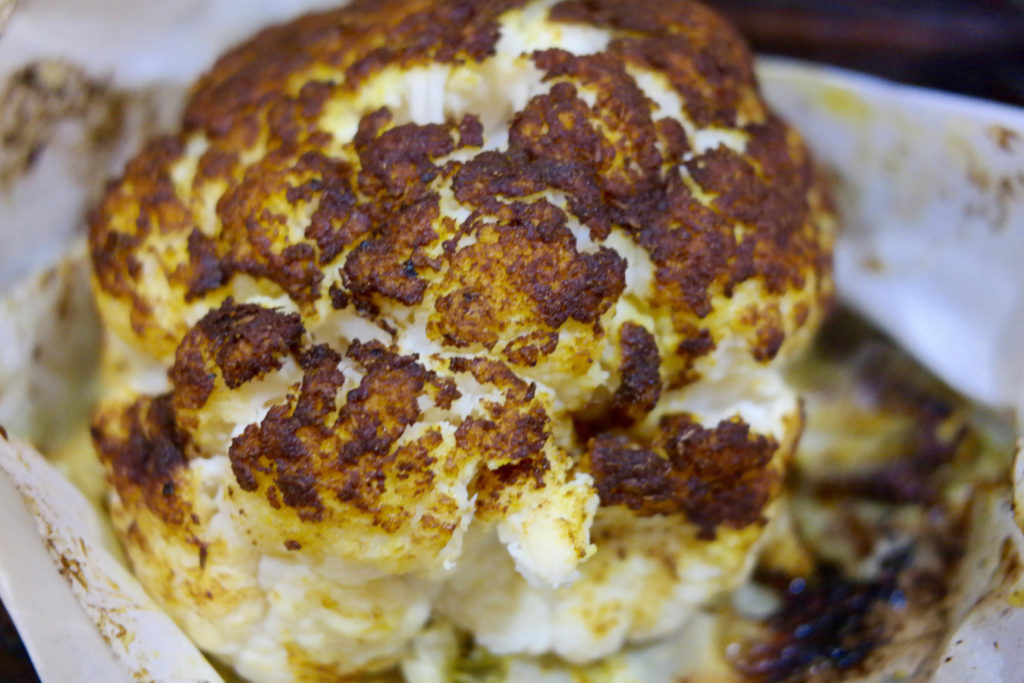 And finally, the sweet potatoes we served were based on this recipe.  To begin making them, place all of your sweet potatoes on a baking sheet and roast them in the oven at 375°F for 75 minutes.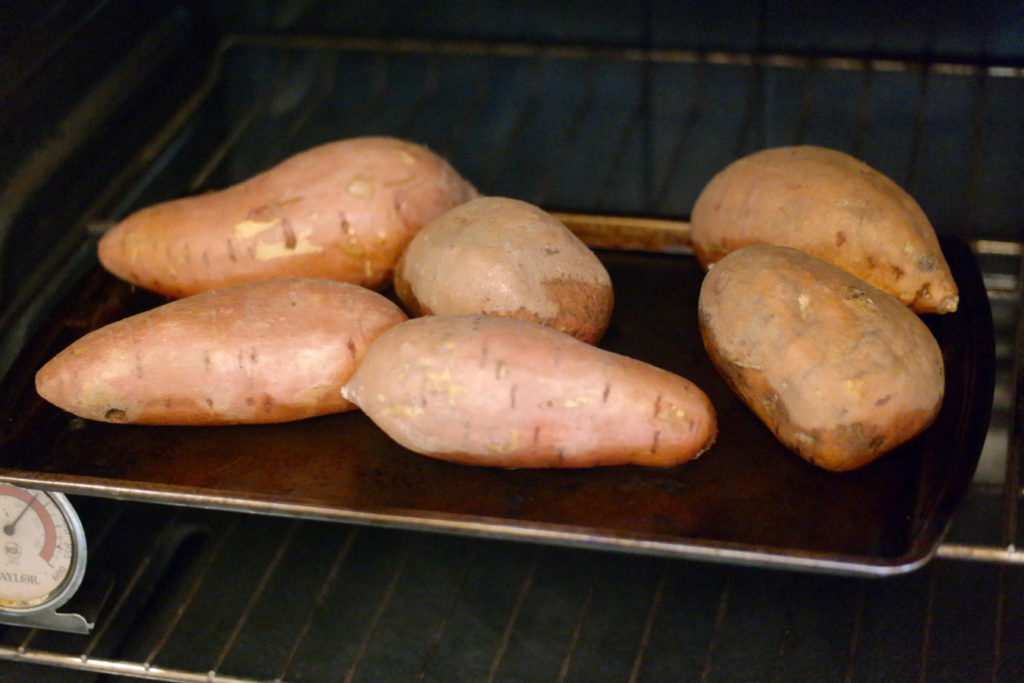 Once they're done, let them cool and then peel and mash them.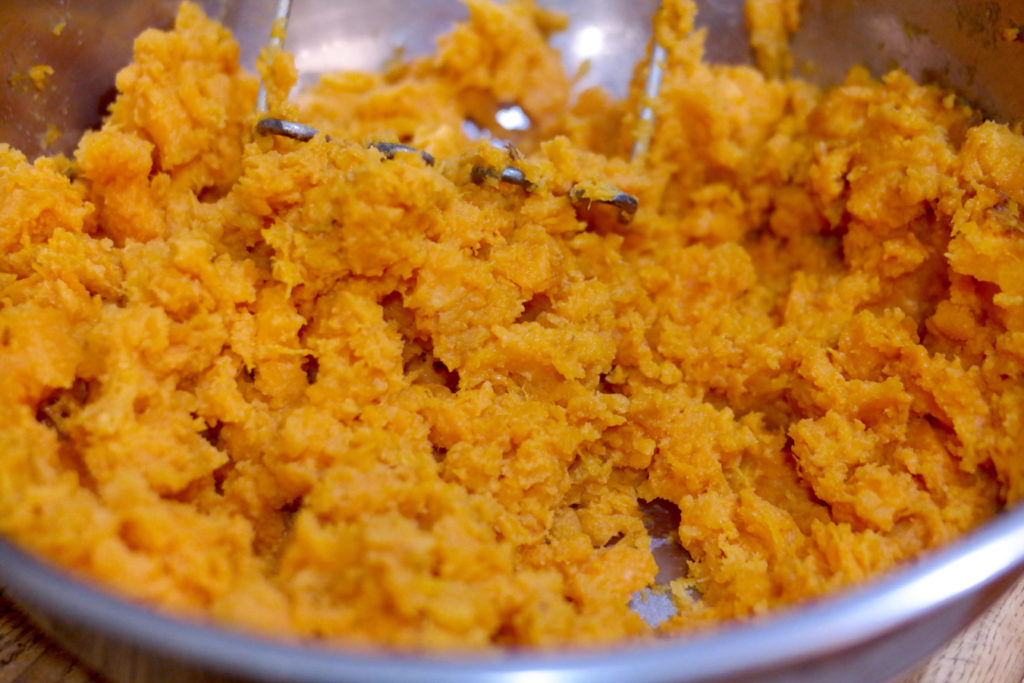 Meanwhile, in a pot on the stove warm a cup of coconut milk over low heat and mix in 2 tablespoons of butter, 1/4 cup brown sugar, a pinch of salt, and a tablespoon of the red curry paste.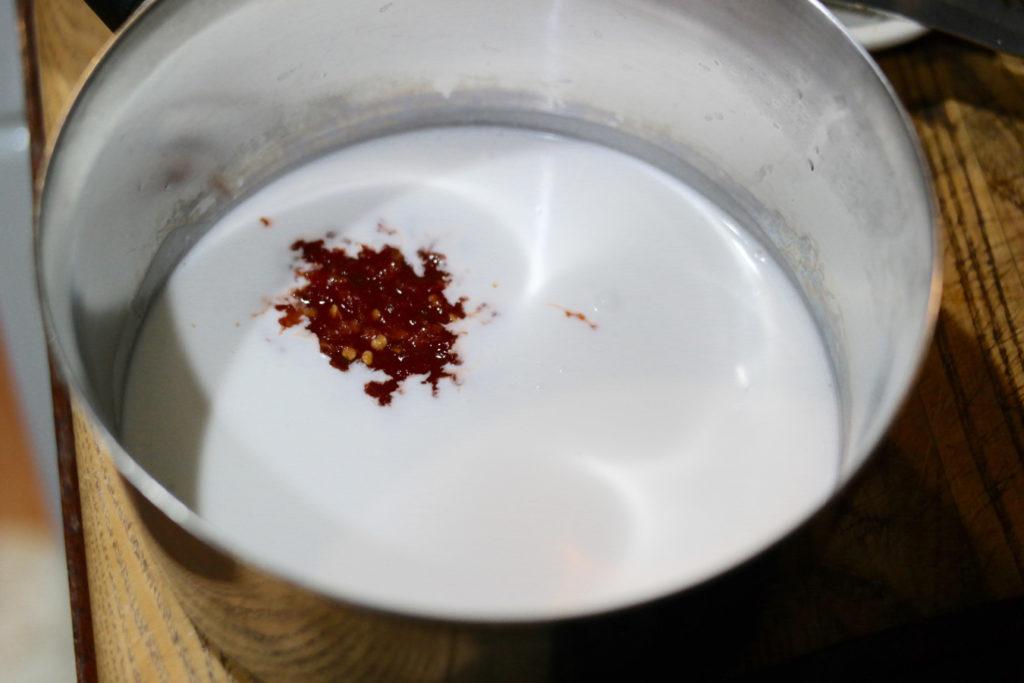 Pour this into the potatoes and stir everything together.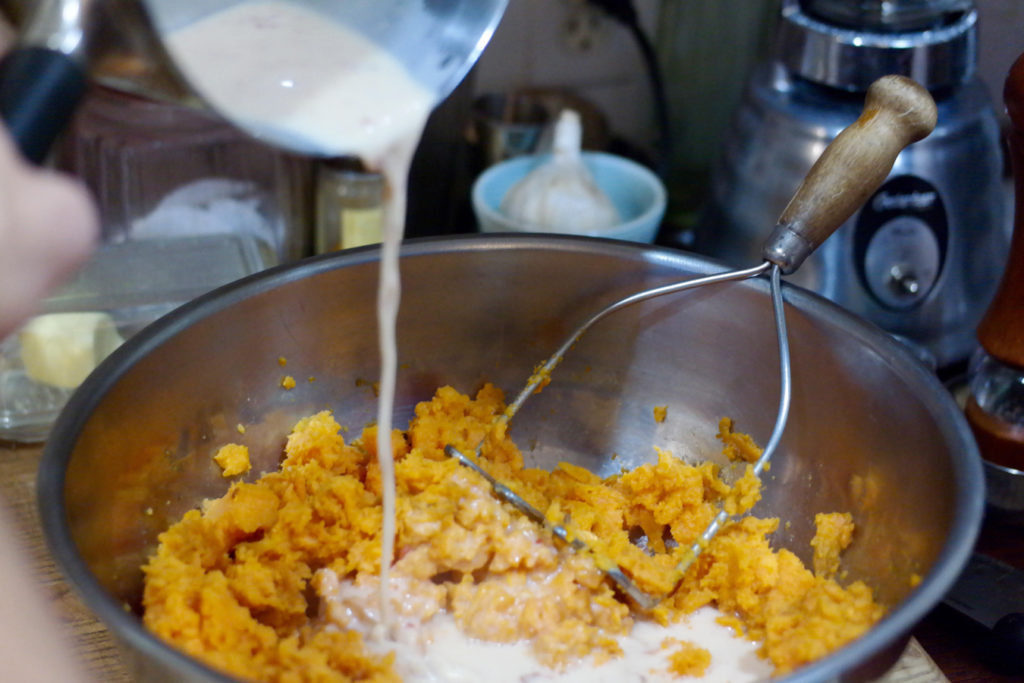 Put this mixture into a casserole dish and bake it at 425°F for 20 minutes.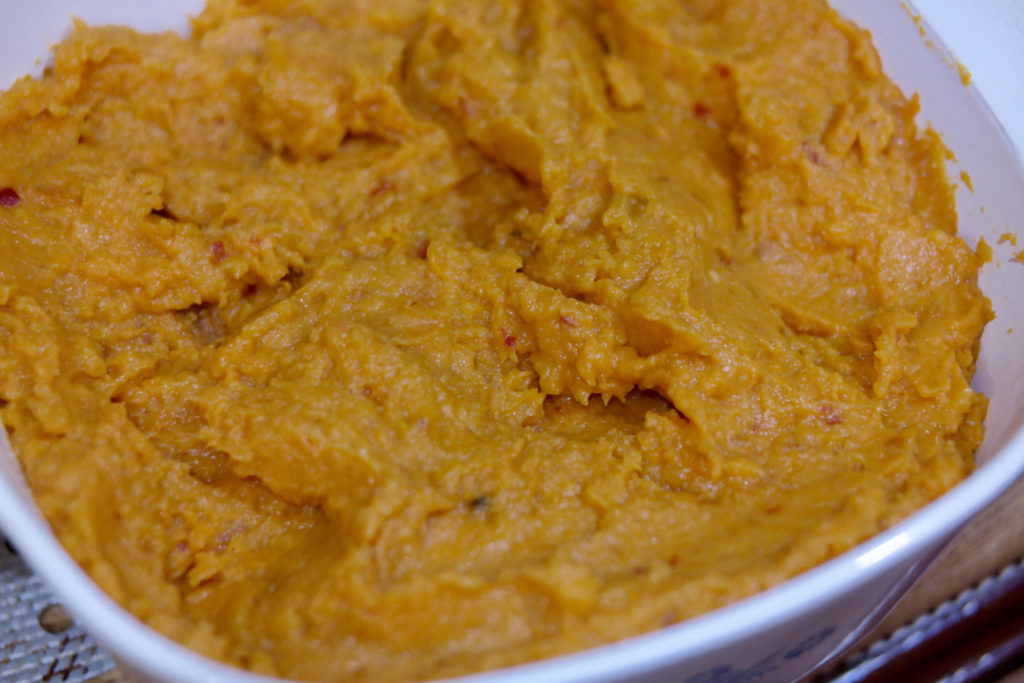 Cut up another 2 tablespoons of butter into small pieces and place them all over the sweet potatoes when they come out of the oven.  Sprinkle 1/4 cup brown sugar over all the potatoes as well.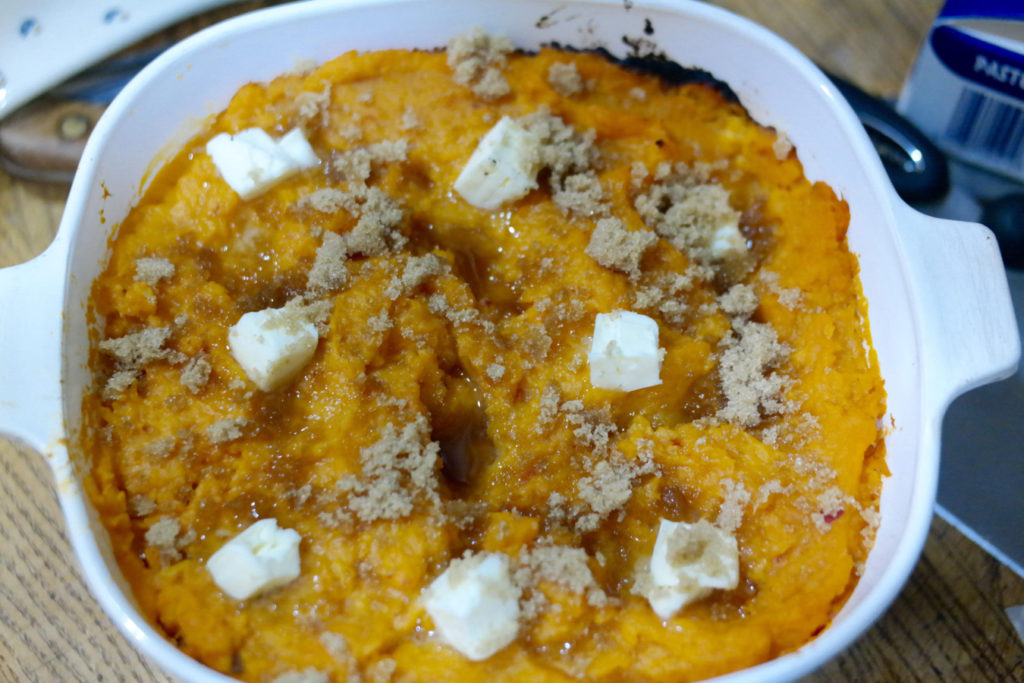 Place the dish in the broiler and cook the potatoes just long enough to brown.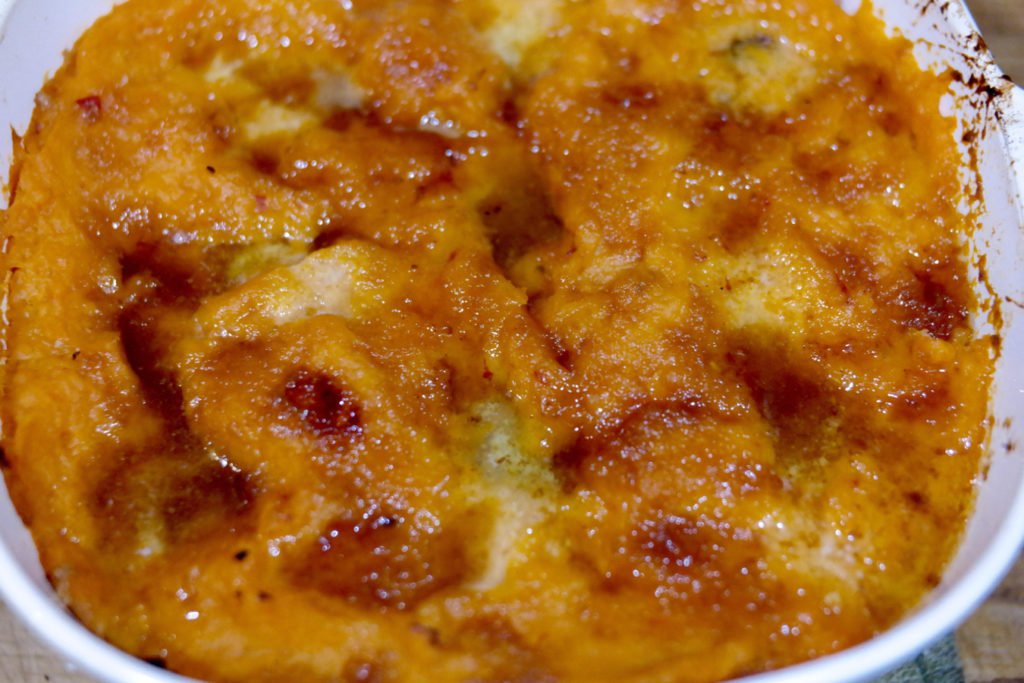 And when all your vegetable are done, you can serve them up: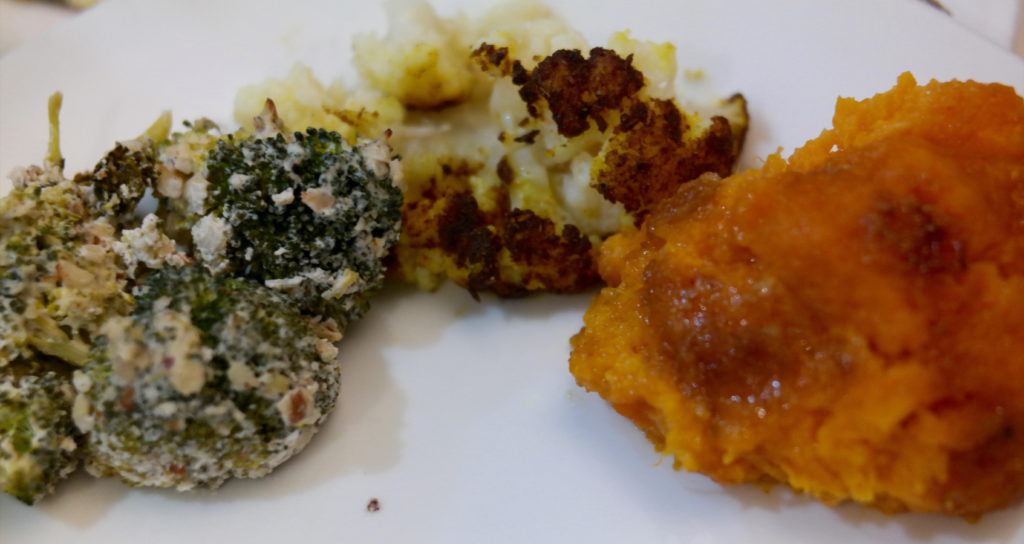 We were really happy about how all these dishes turned out.  The broccoli was creamy and lightly spiced, the cauliflower had tons of different flavors and came out very tender, and the curry paste, coconut milk, and brown sugar in the sweet potatoes made them really unique.  All of these were a big hit with our family, so the next time you're cooking up a big meal, why not try one of these variations on the vegetables we all love for the holidays?