This year for the holidays we made some classic Christmas cookies – velvet and spritz cookies – and we thought we'd also try a new cookie recipe.  So we decided to make these chocolate blackout cookies from Bon Appétit, because who doesn't love chocolate on chocolate?  As you can see, they come out looking festive with some white sprinkles dusted on top, like the snow we've already gotten this year.  We loved these, and so did the coworkers that Cyril shared them with, so we think you will too this season.
To make the cookies, you'll need:
4 eggs
Powdered sugar
2 bars of semisweet baking chocolate
A stick of butter
Flour
Cocoa powder
Baking powder
Instant espresso powder
Baking soda
Brown sugar
Vanilla extract
Heavy cream
Light corn syrup
You'll need to make the sprinkles for your cookies first, a day ahead of time.  Whisk together an egg white, 1 3/4 cup of powdered sugar, and 1/2 teaspoon of water until you have a smooth, thick, and glossy mixture.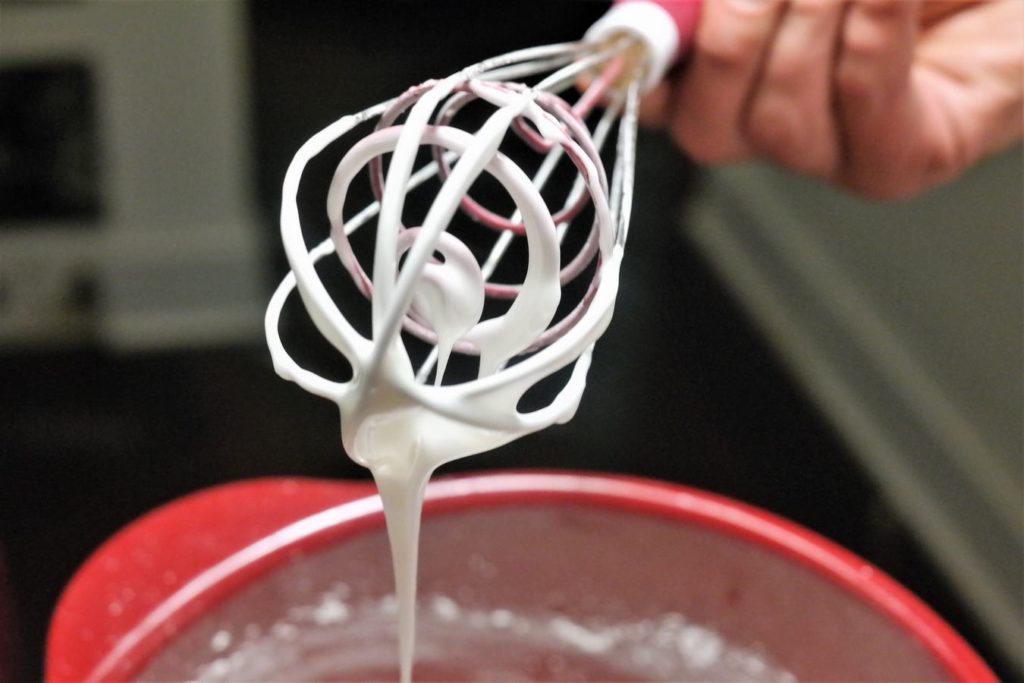 Pour this mixture into a plastic bag, push it all into one corner of the bag, and snip a small piece off that corner to make yourself a pastry bag.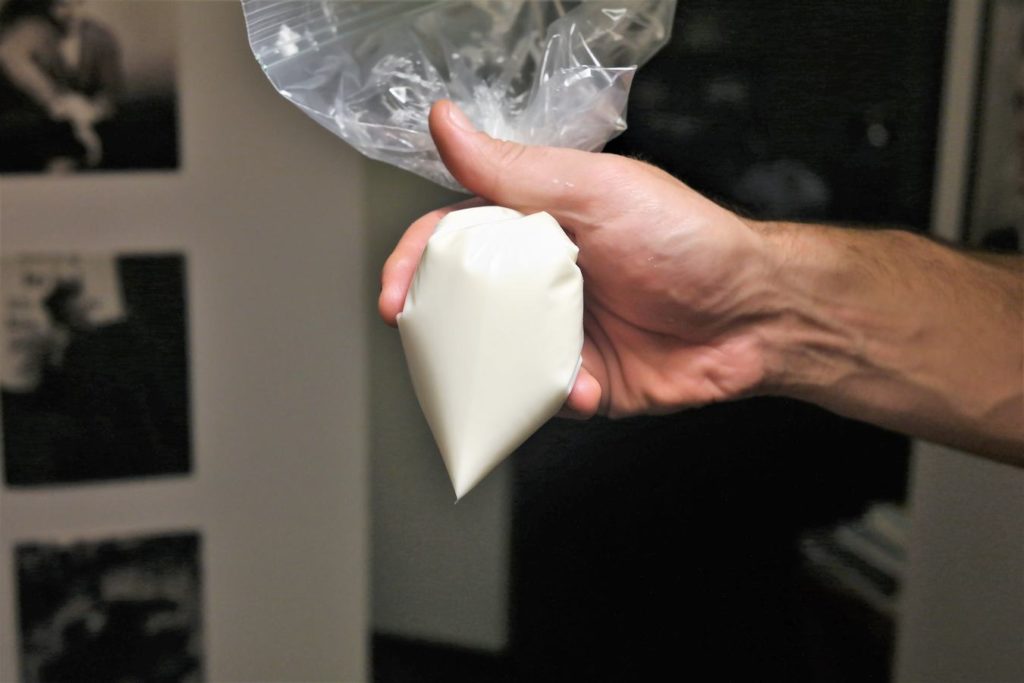 Then pipe this icing in lines on two baking sheets covered with wax paper or parchment paper.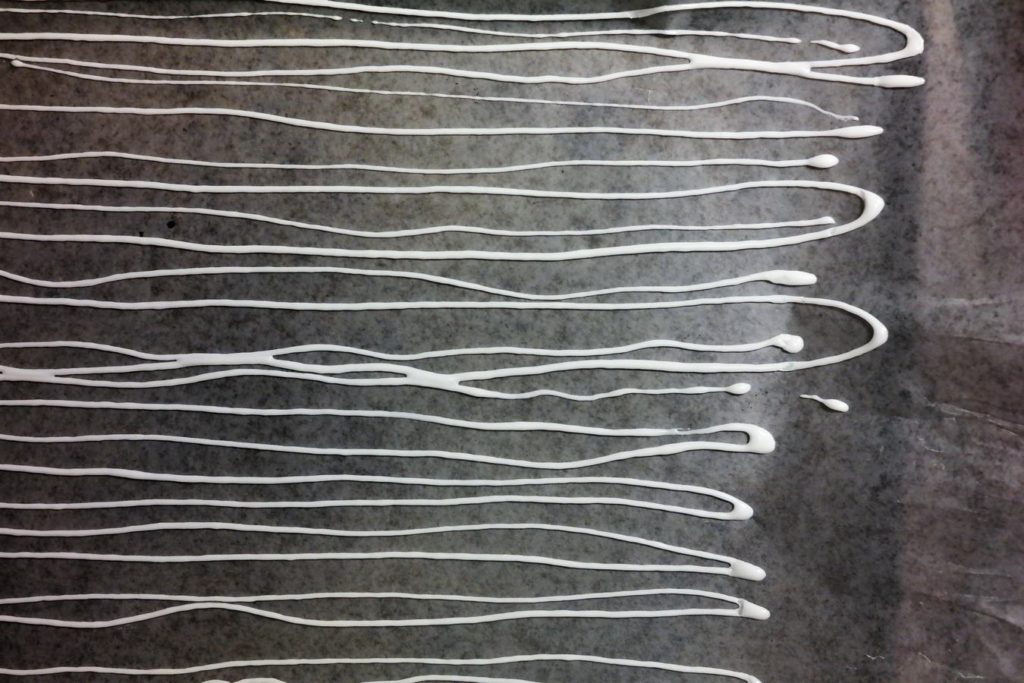 Let this sit overnight, then break up the hardened icing into sprinkles.  Place them in a plastic bag until you're ready to use them.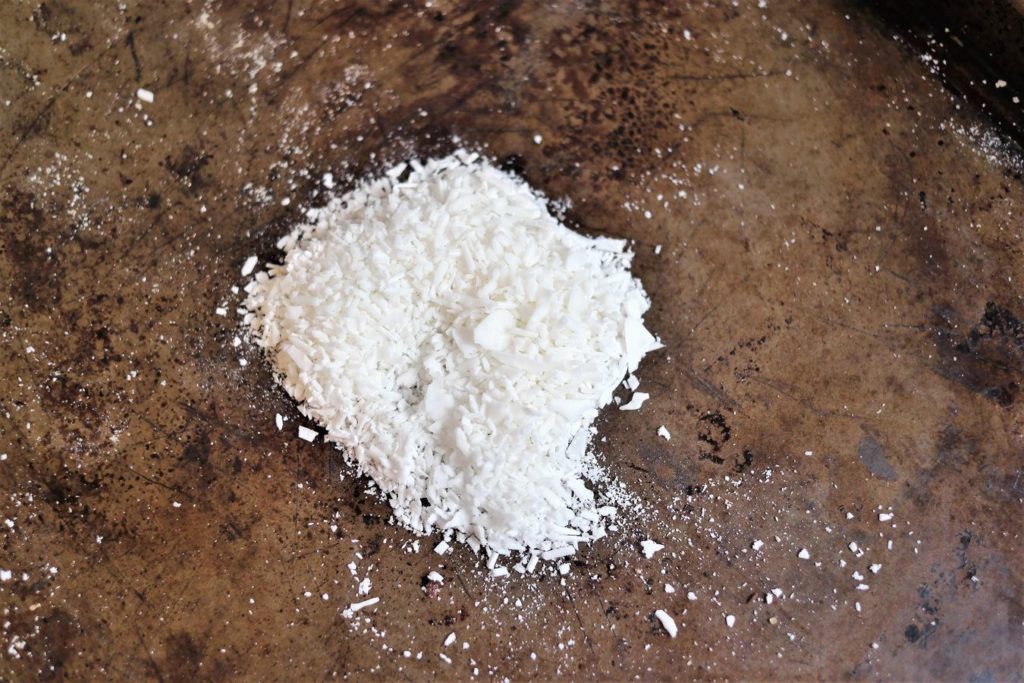 To make the cookie dough, chop 4 ounces (or one bar) of the chocolate up.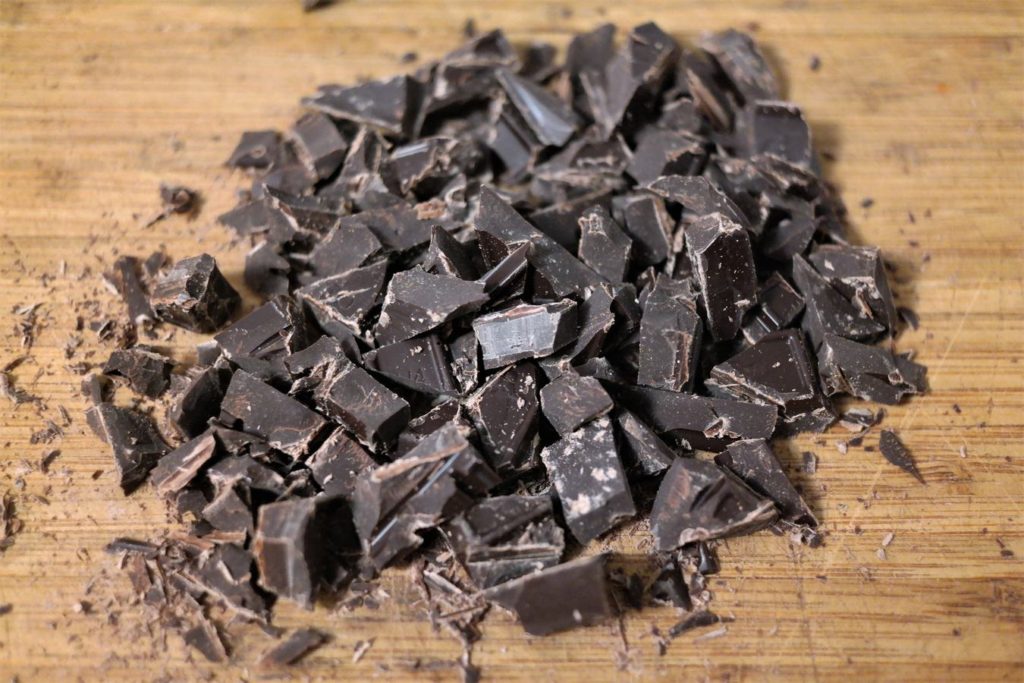 Place it in a small metal bowl along with 4 tablespoons of butter, and put the bowl over a small saucepan half-filled with boiling water.  Stir the butter and chocolate together continuously, while the water stays boiling, until the mixture is smooth and totally melted, then set it aside to cool.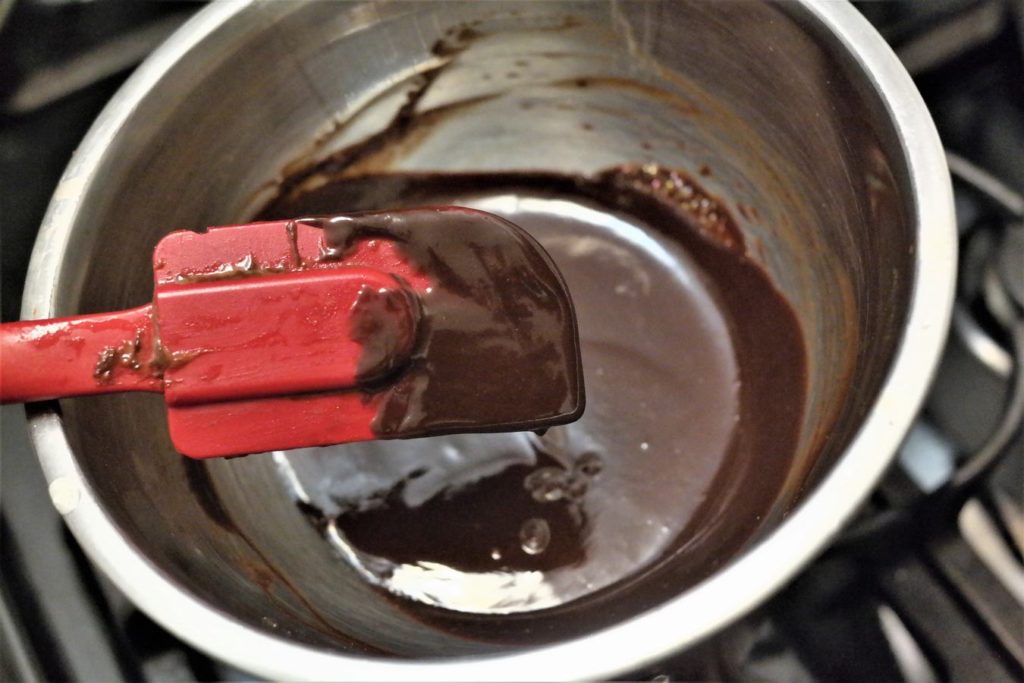 In a stand mixer, beat together 3 eggs, 1 1/4 cup of brown sugar, 2 teaspoons of vanilla extract, and a pinch of salt at a medium-high speed for about 3 minutes, until everything has a light and thickly fluffy texture.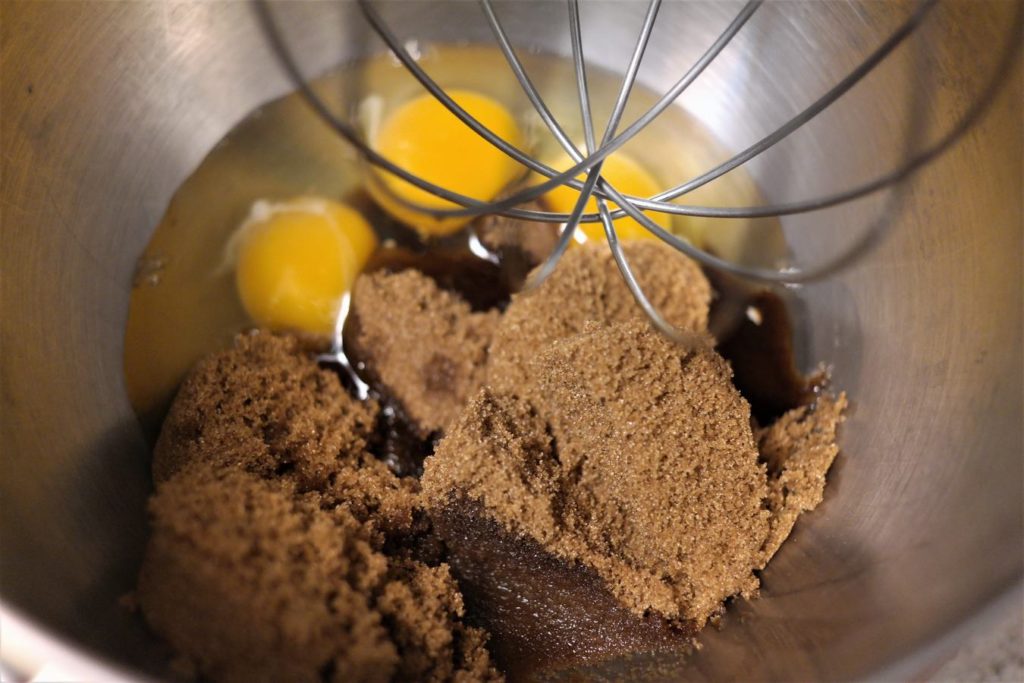 Turn the mixer down to a low speed and pour in the chocolate mixture, then beat it in until it's combined with everything else.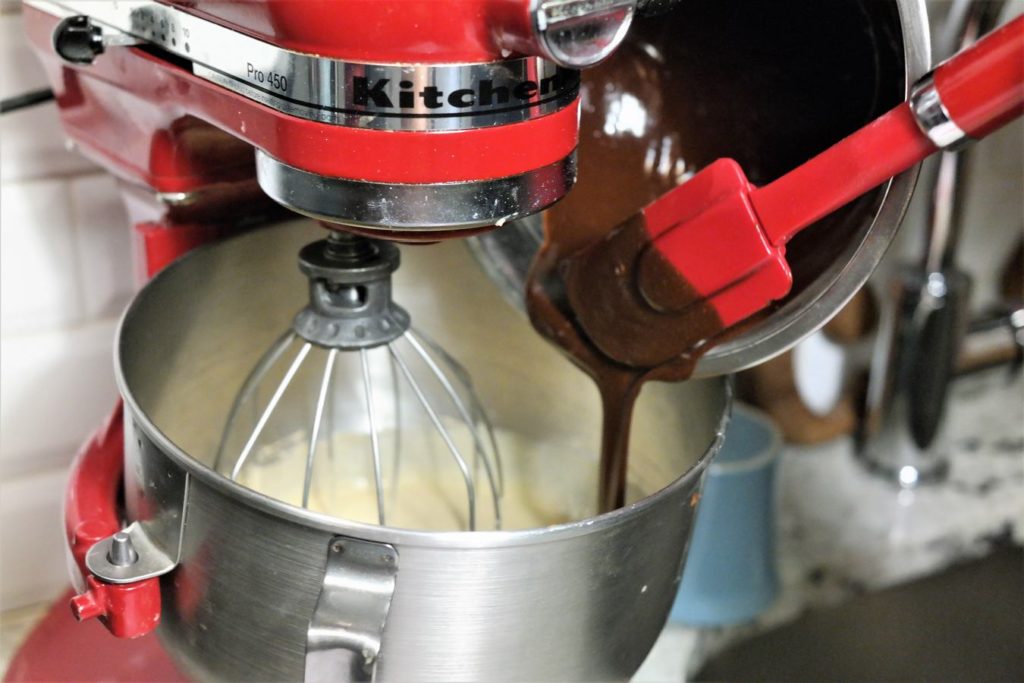 In a separate bowl, stir together 1 cup and 2 tablespoons of flour, 1/2 cup of cocoa powder, 3/4 cup of baking powder, 1/2 teaspoon of espresso powder, and 1/4 teaspoon of baking soda.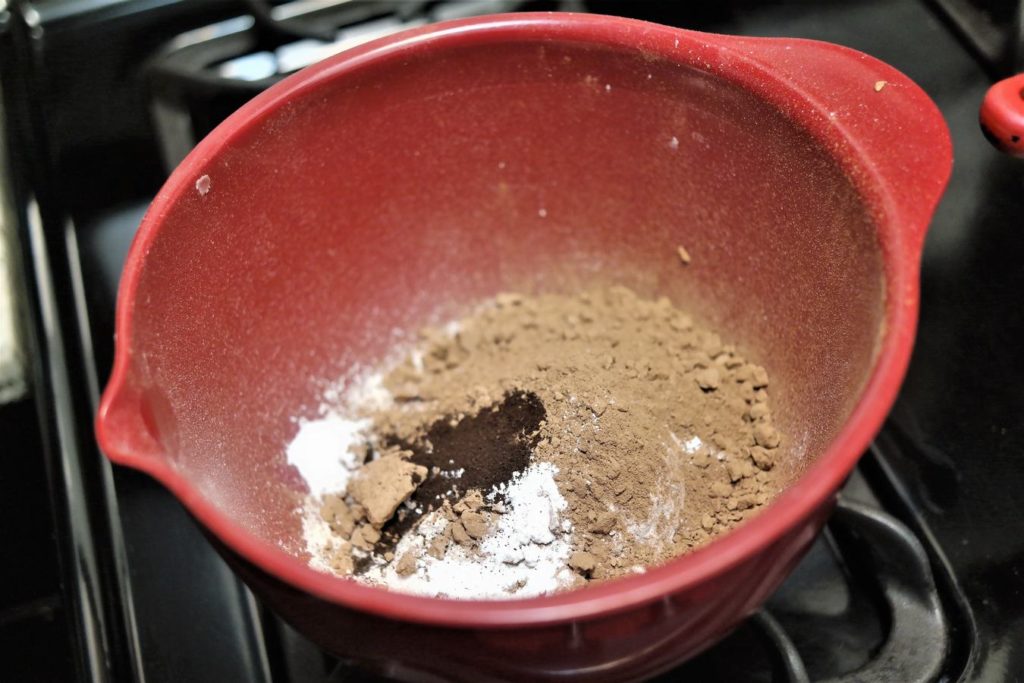 Add all of this in to the stand mixer and beat everything together until you have an evenly combined dough.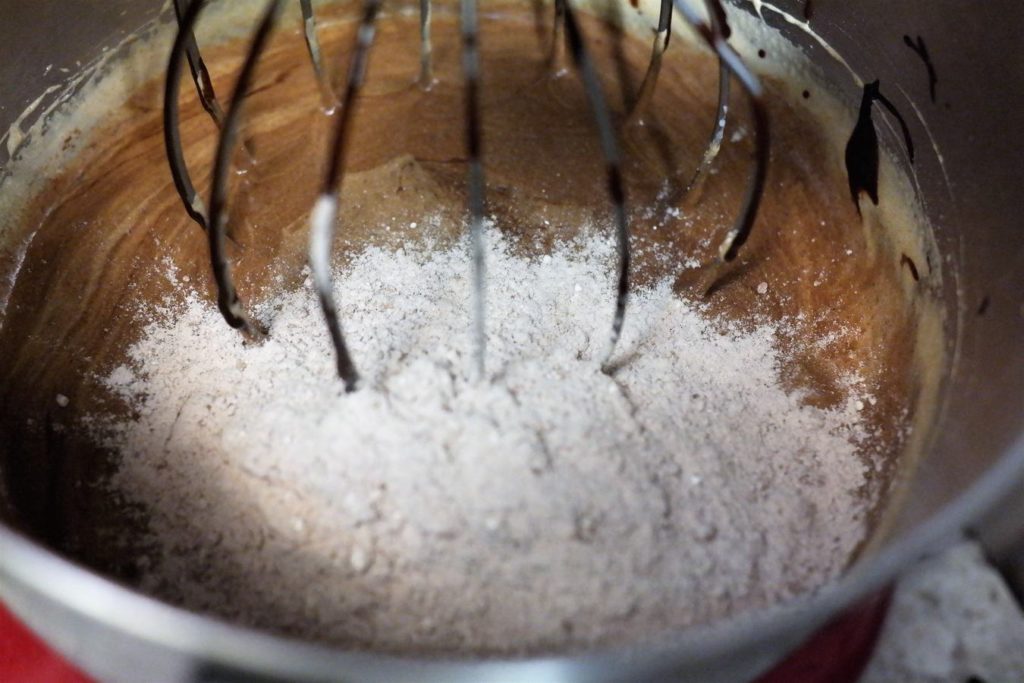 Cover the dough and let it chill in your fridge for at least 30 minutes, until it's very firm.  Then take it out and use an ice cream scoop to portion out enough dough for each cookie.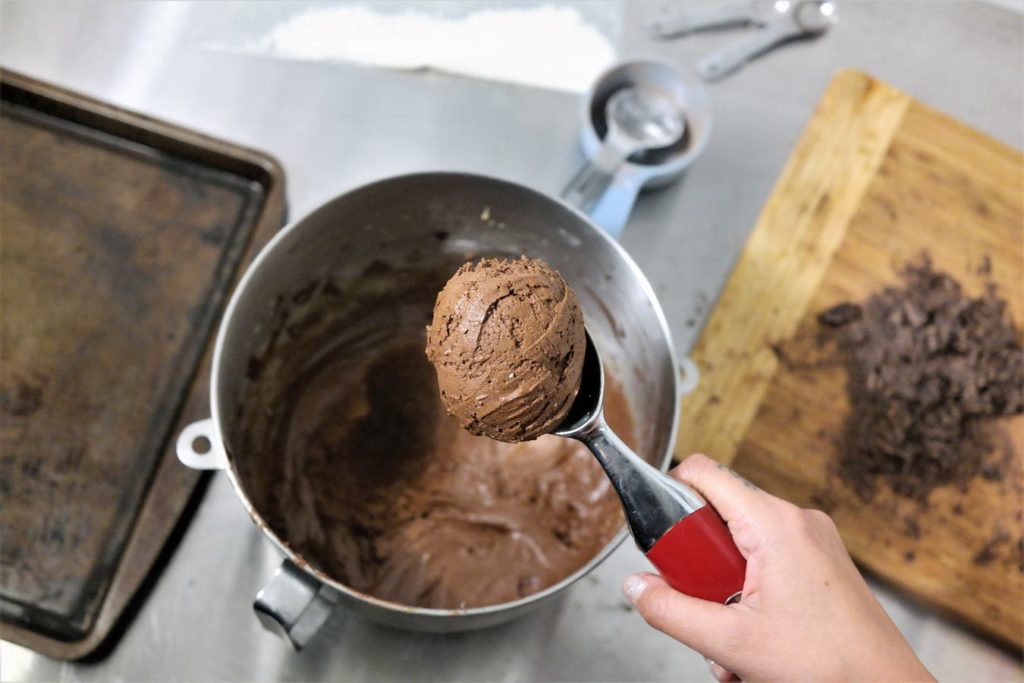 Place the scoops of dough on greased baking sheets, in rows of two, and smooth them down slightly with the palm of your hand.  Bake the cookies for 7 minutes at 350°F, then rotate the baking sheets in your oven and bake for another 7 minutes.  Once they're done, let them fully cool.
Meanwhile, make the frosting for the cookies by chopping up another 3 ounces of chocolate and placing this in your small metal bowl along with 1/4 cup of heavy cream, a tablespoon of corn syrup, and a small pinch of salt.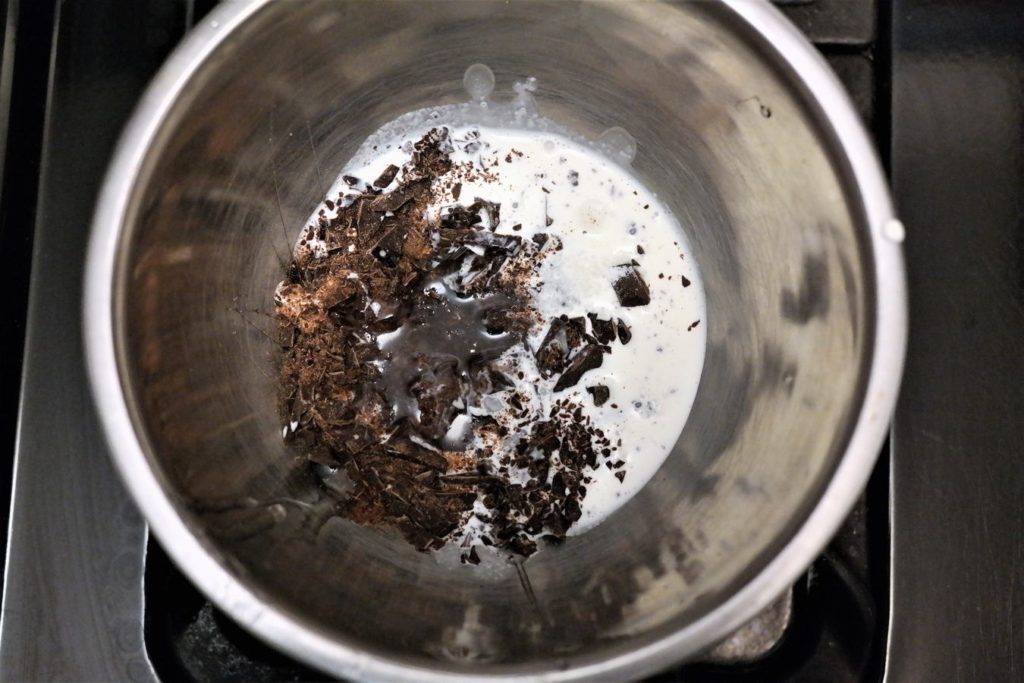 Heat this bowl again over your saucepan of boiling water and stir everything together …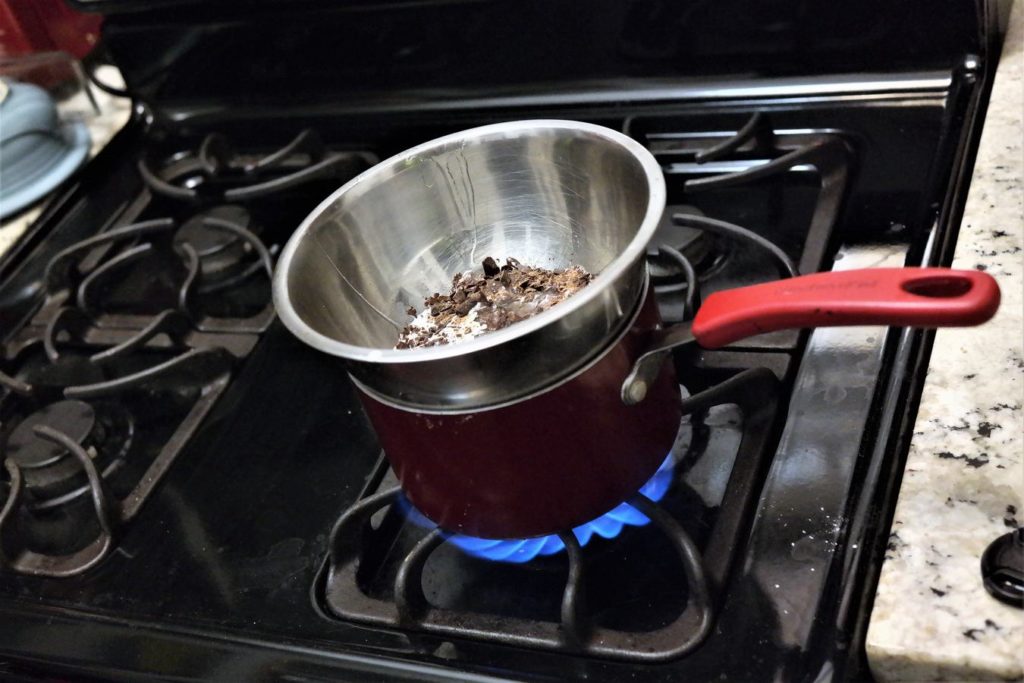 … until you have a smooth mixture.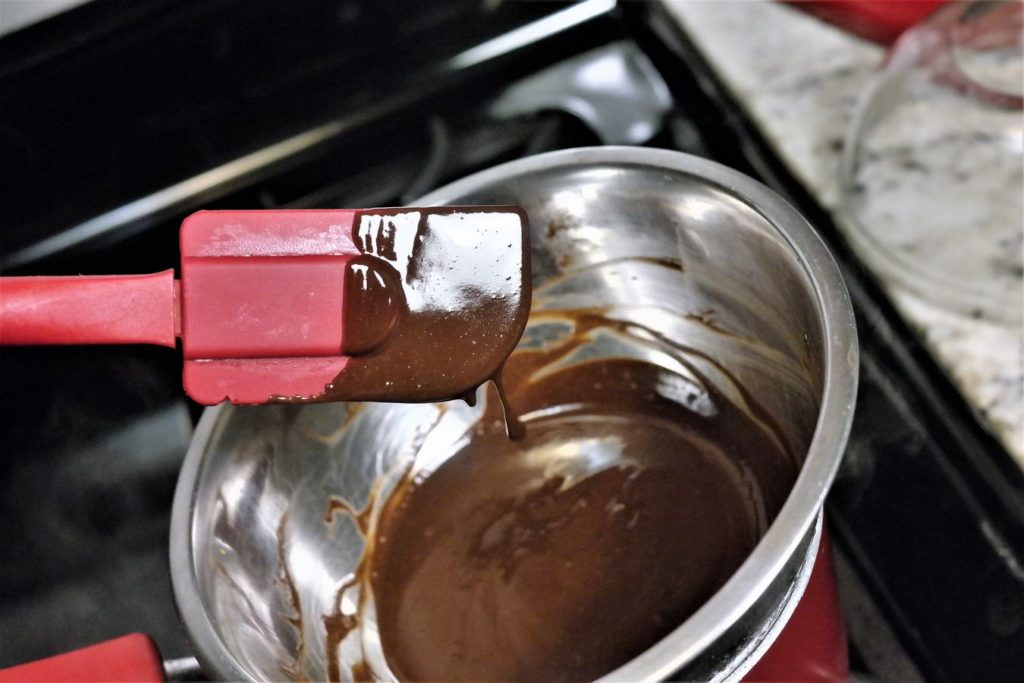 Let this cool, then whisk in 1/2 cup of powdered sugar.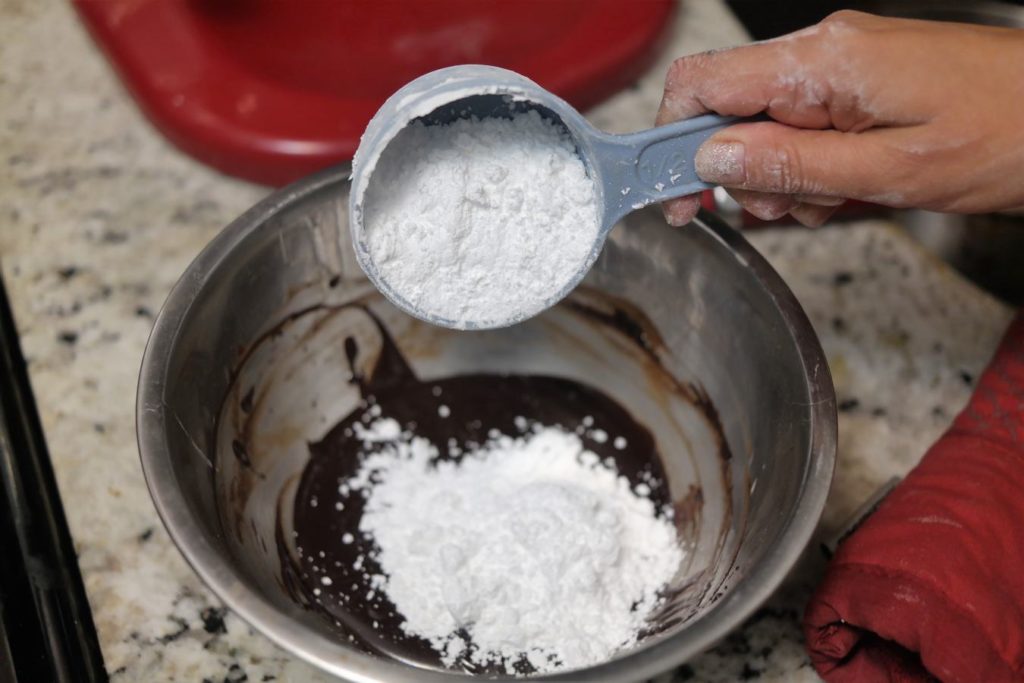 Cut up 4 tablespoons of room-temperature butter and whisk these in too until you have a mixture that's the texture of frosting (just as a warning, this part requires a lot of arm strength).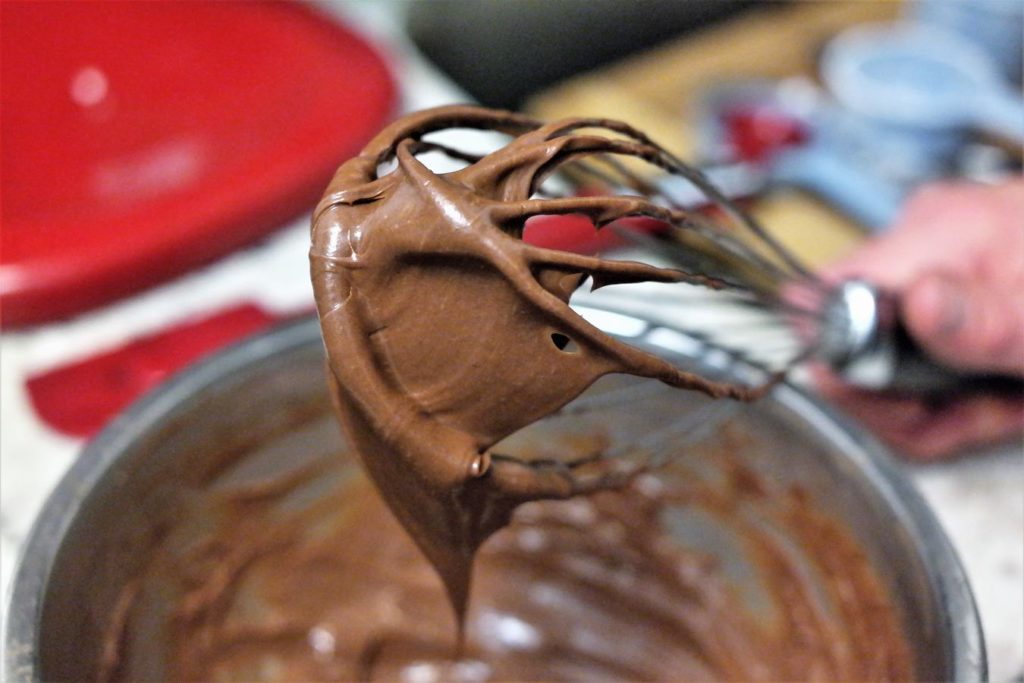 Once the cookies are cooled, use an offset spatula to spread the frosting on the cookies.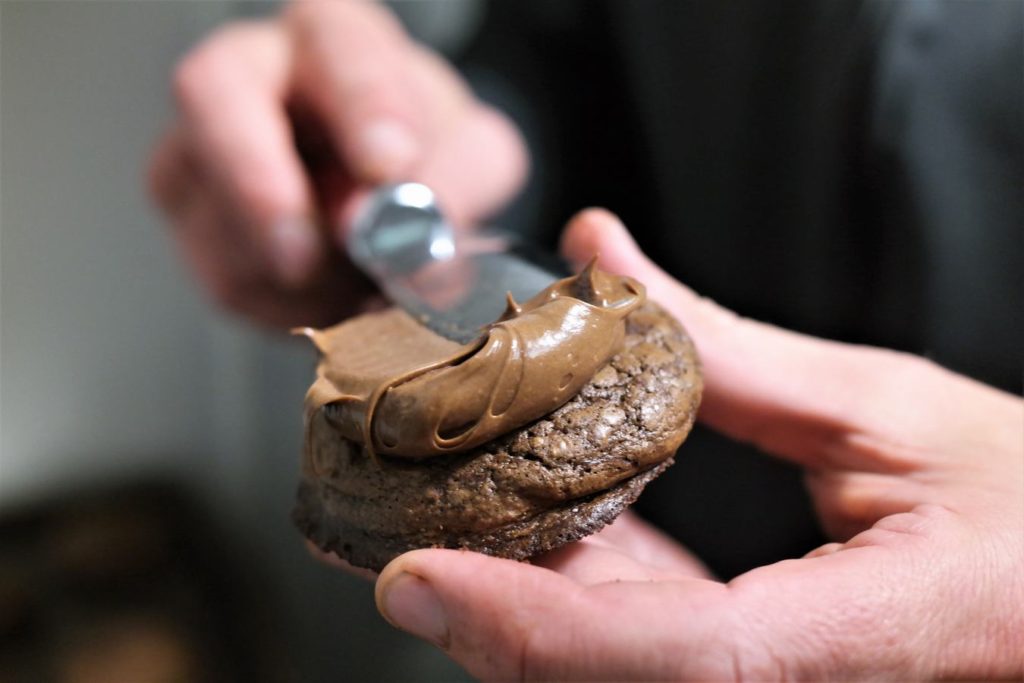 Then scatter the sprinkles on top.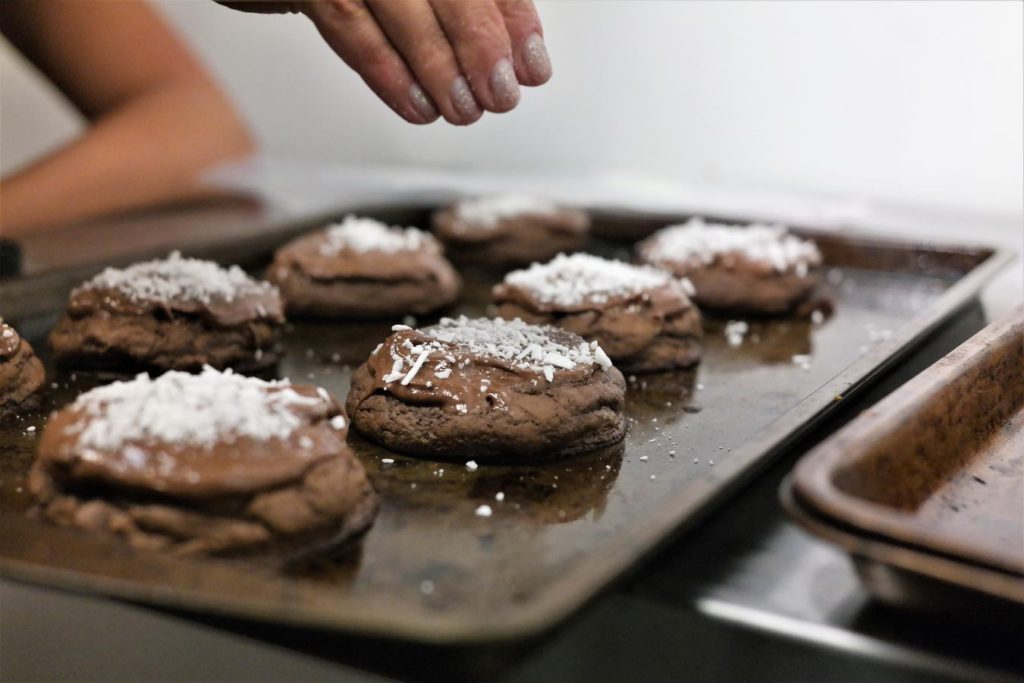 And there's your cookies!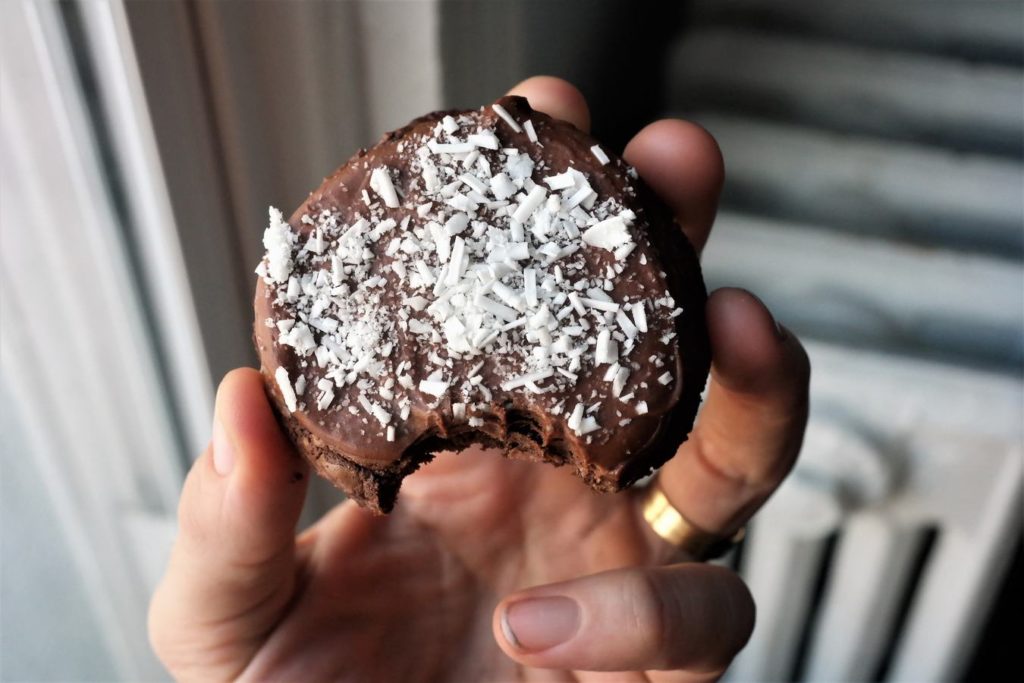 These do take some time and advanced planning to make, but they turn out amazing!  The dough is chocolate-y with a hint of espresso, the frosting is more gooey chocolate, and the sprinkles add a nice touch of sweetness to everything.  Plus, they look pretty cool.  These were a nice addition to our Christmas cookie arsenal, and we're glad we put in the effort to make and assemble them.