We've gotten to chow down on some truly interesting and highly diverse food around New York lately, and we want to share it with you!  What we're featuring today comes from two boroughs and a variety of different cuisines, and it was all pretty darn delicious.  Check out some of these cool eats from around the city, but note that while a lot of what we're showing you here is vegetarian, there is some meat involved.
First, we had a chance to check out Playground, a Thai restaurant (and karaoke bar) in Jackson Heights, Queens.  Playground is known for its very inventive menu items – for example, you can sample several different types of insects if you so desire.  We did not; instead, we stayed away from the six-legged dishes in favor of things like these fried taro cakes with a side of sweet chili and peanut sauce: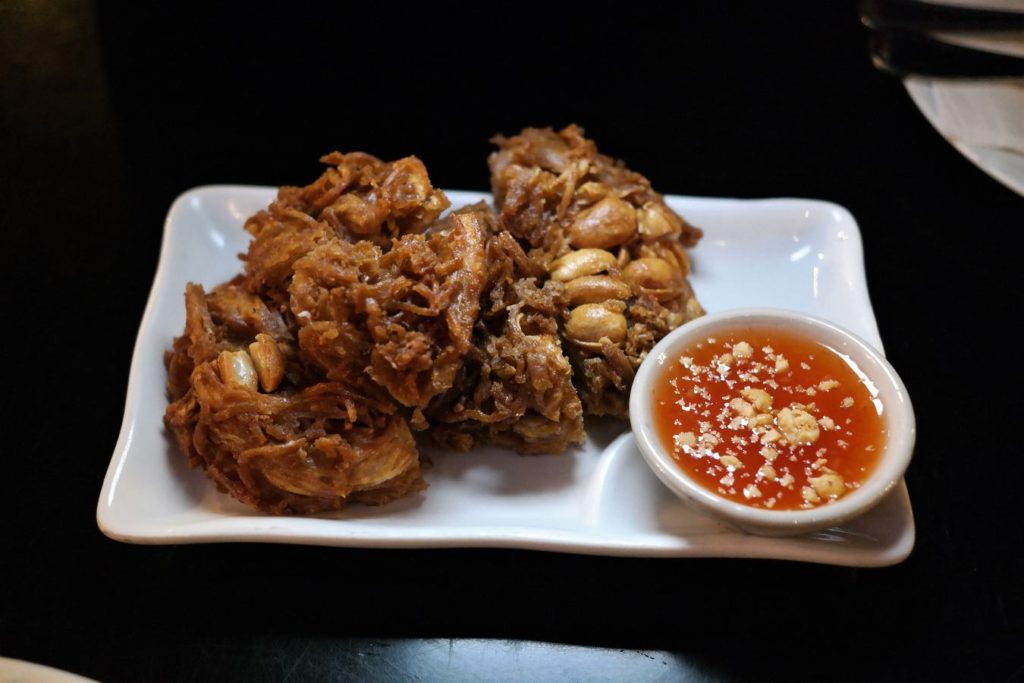 Miriam got an order of the Playground noodles, made with tofu and bean sprouts served in a hot sauce.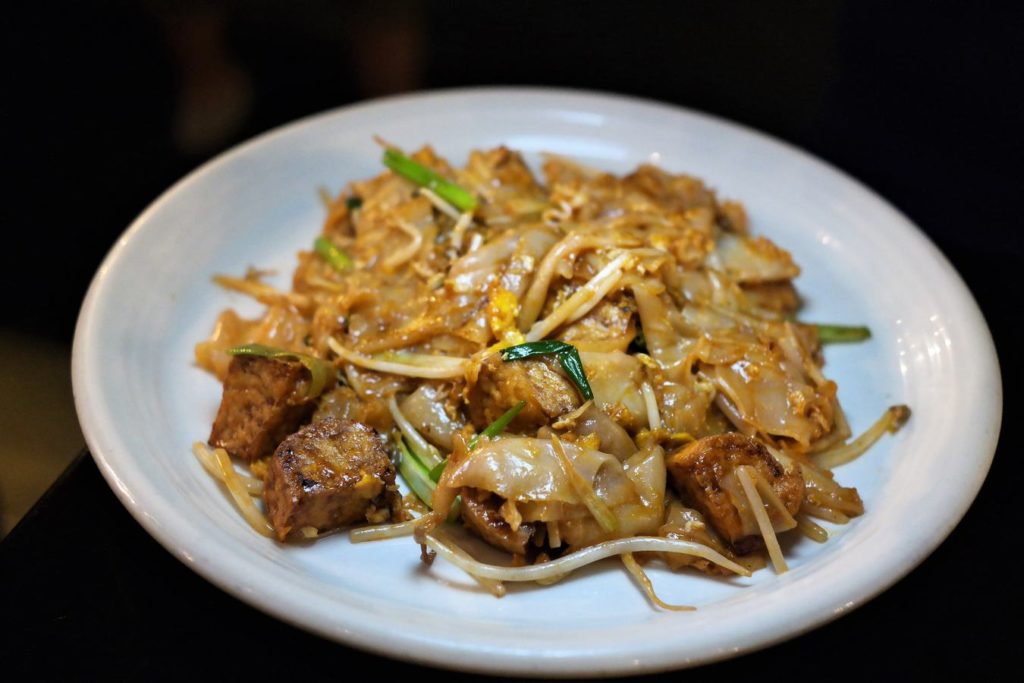 Cyril had the crab and shrimp paste papaya salad …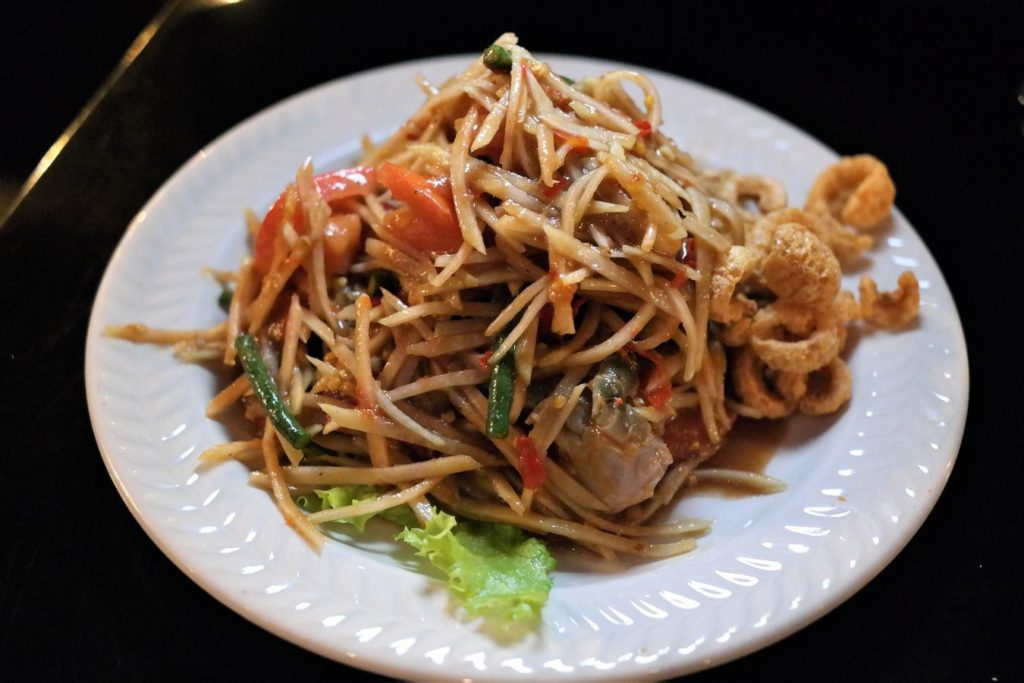 … and the pit sa nu lok:  a soup with two different kinds of pork, fish balls, vegetables, peanuts, and thin rice noodles.
On a completely different note, we also got the chance to check out the new outpost of Mani in Pasta, which originally opened in Midtown Manhattan but just recently set up a second location near Union Square.  They specialize in Roman-style Italian food like this appetizer of suppli, which is a combination of arancini, a potato croquette, a ham and potato croquette, and a fried zucchini blossom.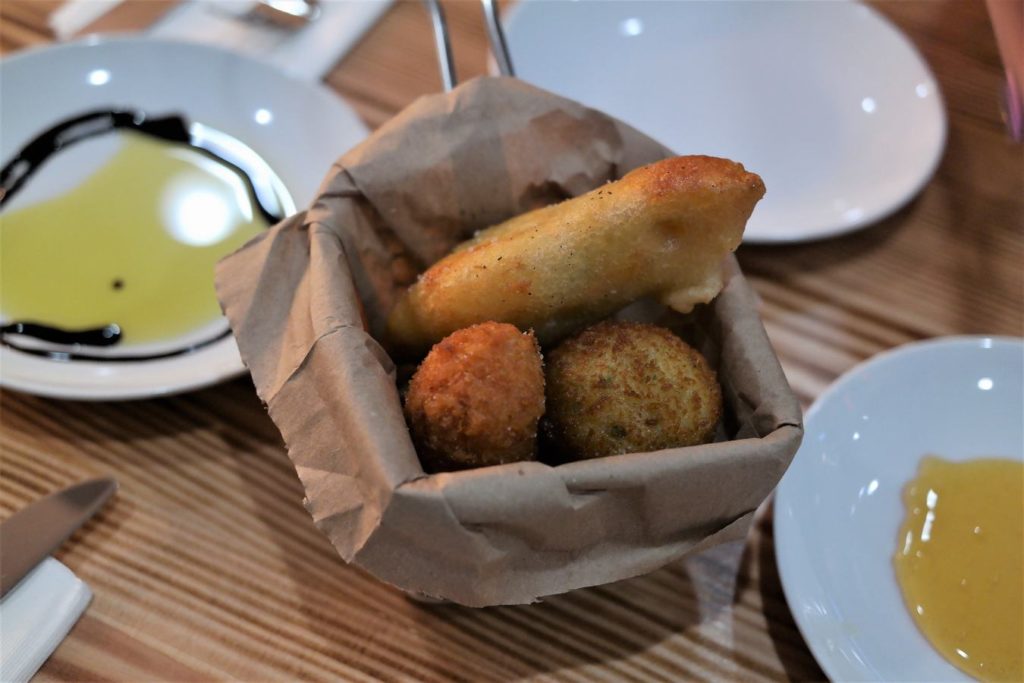 We also split a salad of beets, blue cheese, and candied walnuts with a balsamic dressing …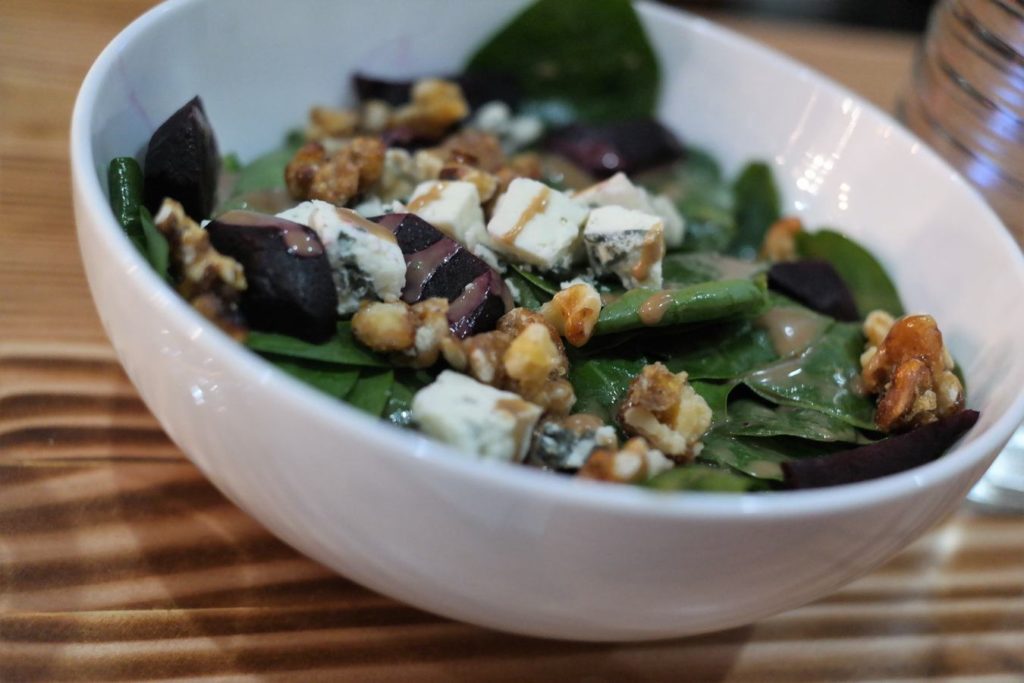 … and the amazingly tasty Regina pizza, topped with red sauce, buffalo mozzarella, creamy goat cheese, basil, and sliced cherry tomatoes.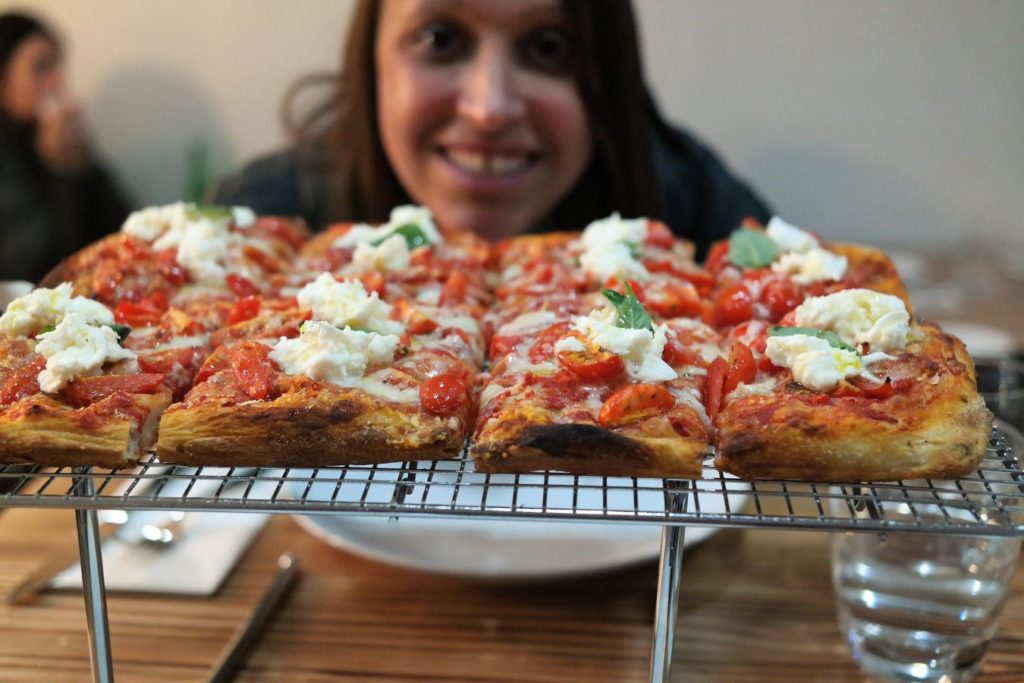 And also, check out their delicious basket of bread!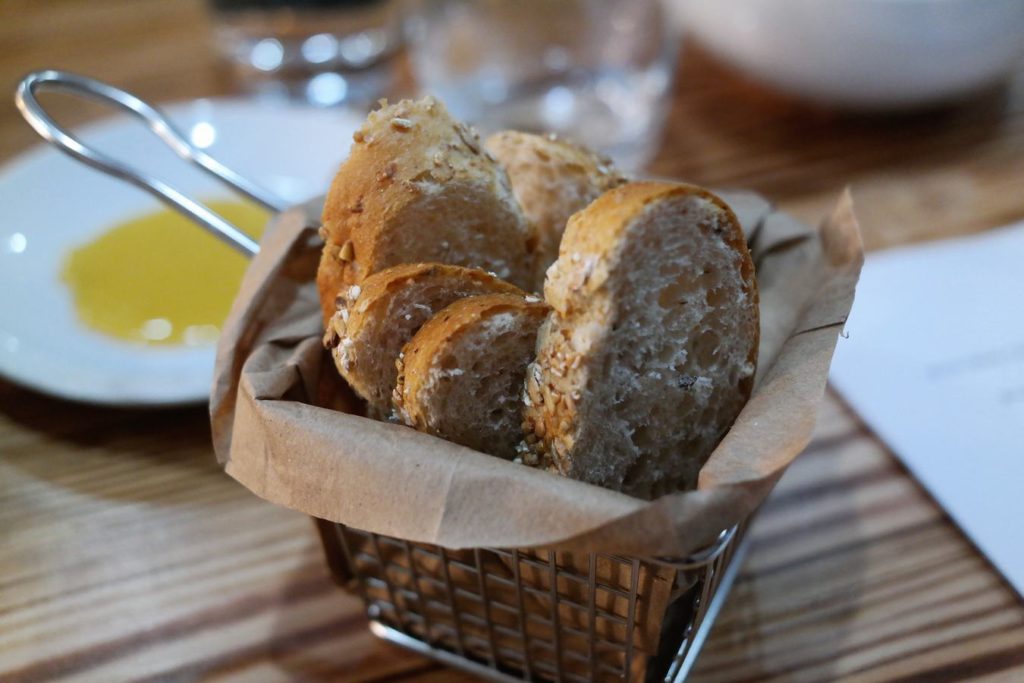 Finally, we trekked deep into Chinatown to visit what is probably one of the most unique restaurants in all of New York City:  Buddha Bodai, a 100% vegetarian, kosher, mostly (but not fully) vegan Chinese place.  They feature a full menu of all the typical dishes you're used to seeing in a Chinese restaurant, except that they're made entirely with imitation meat.  They also have an extensive dim sum menu which you can order from until 4pm, so we went early in the day and tried a bunch of different stuff.
To start, we got the pumpkin mushroom seafood soup.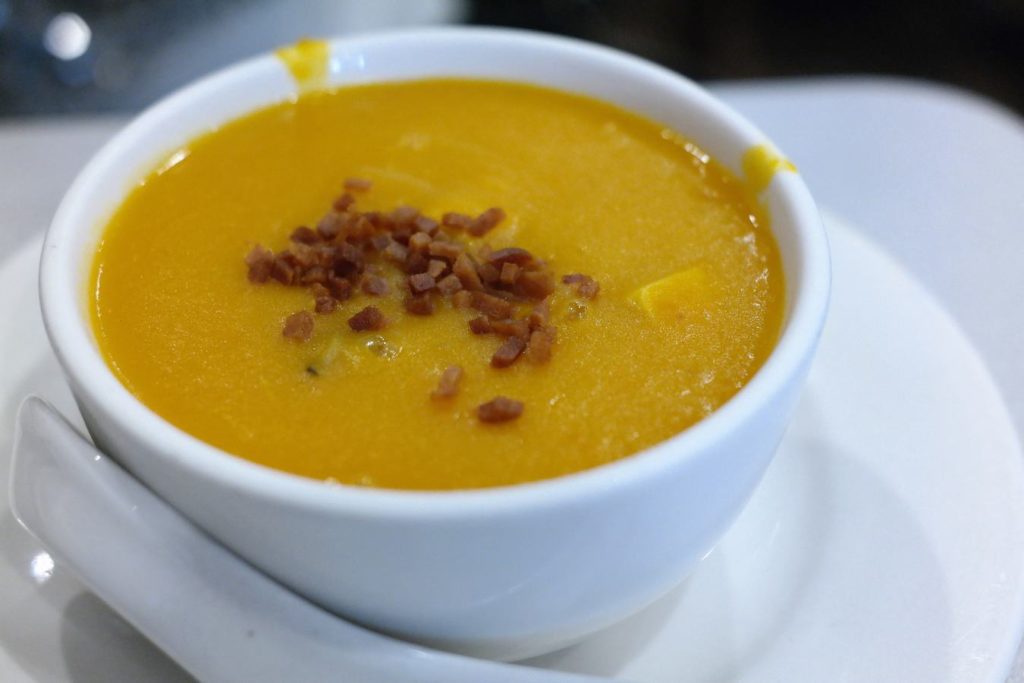 Then we shared the pea pod leaf rice roll: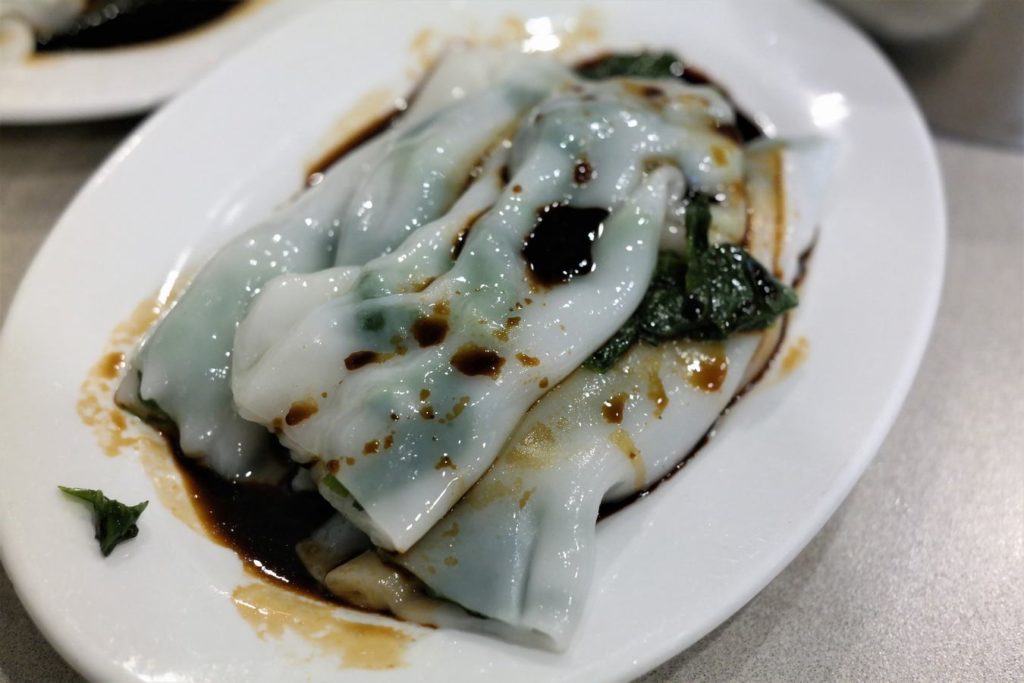 The vegetarian beef rice roll: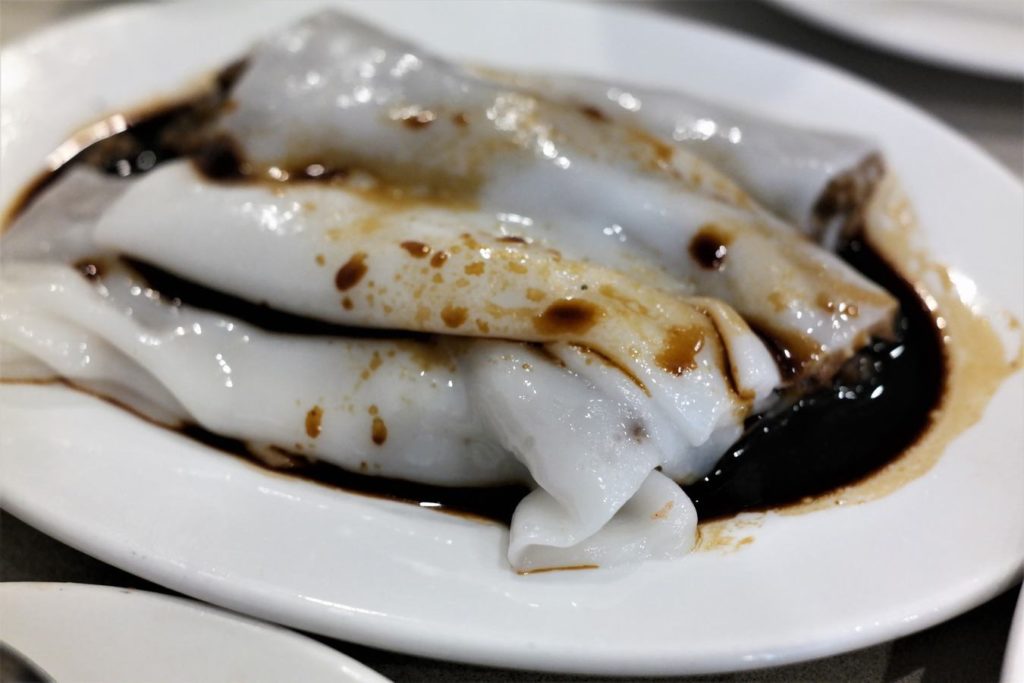 The fried turnip cakes: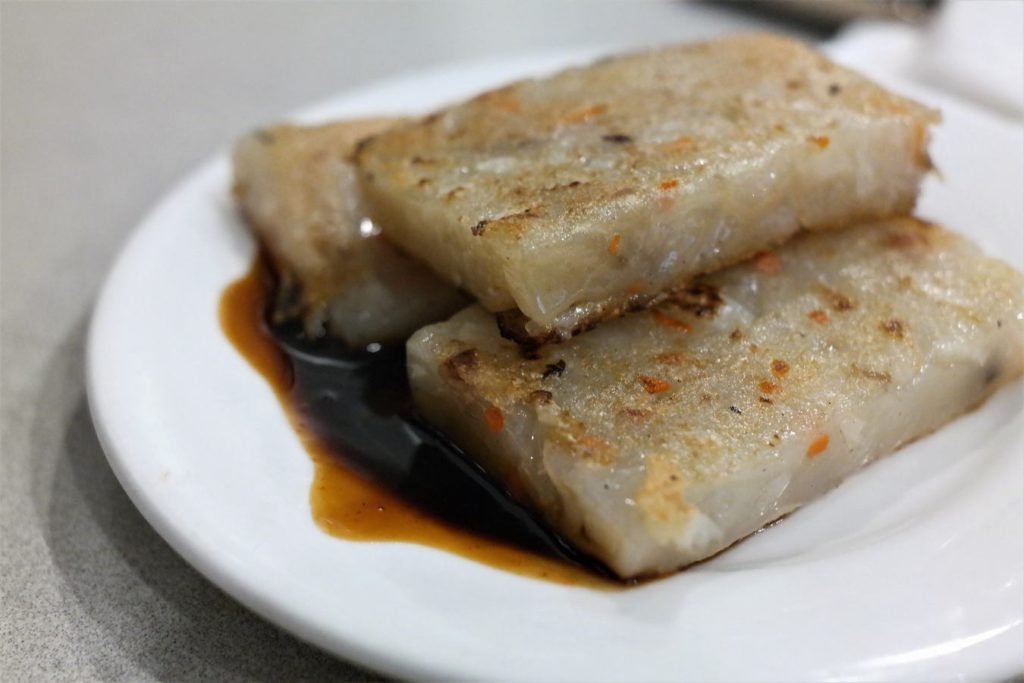 The mushroom and bean sprout pancakes: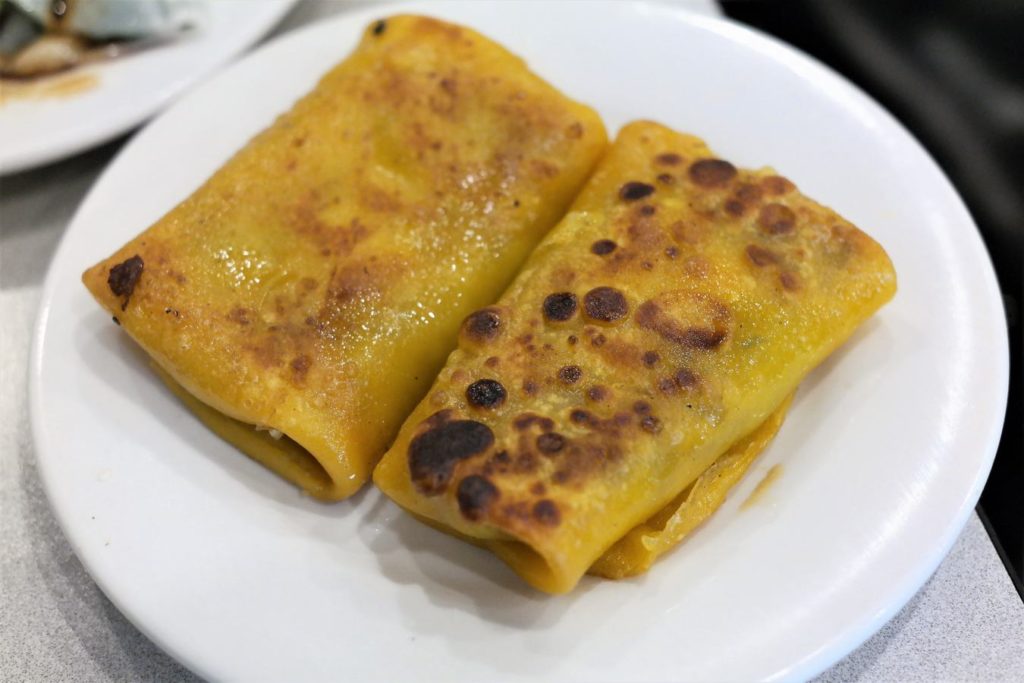 The fried vegetarian oysters (made with mushrooms instead of seafood):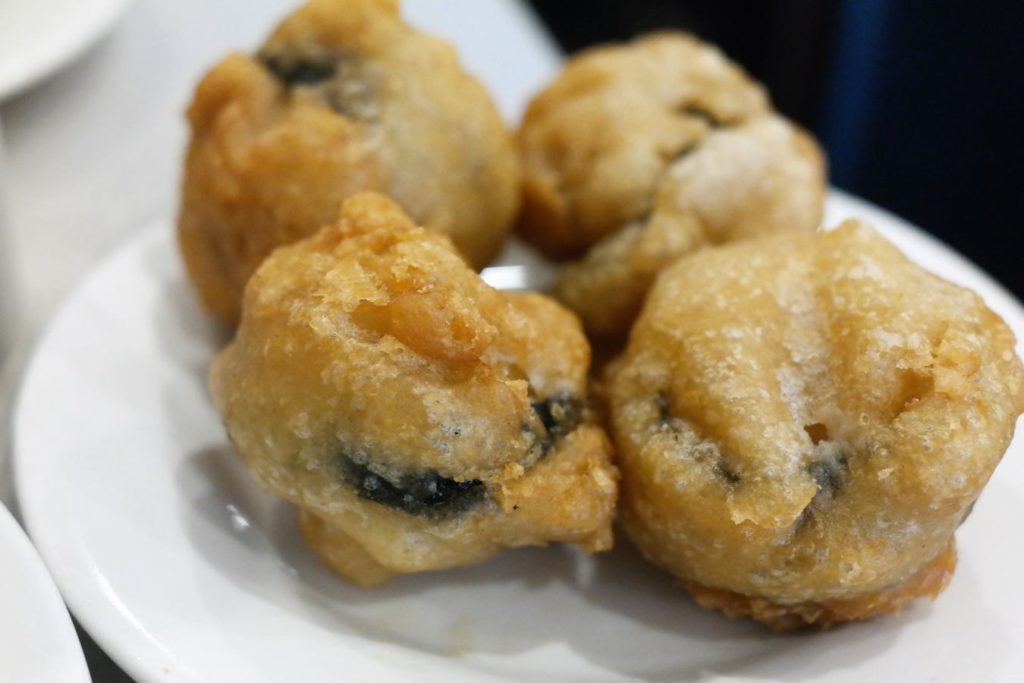 An order of fried sticky rice: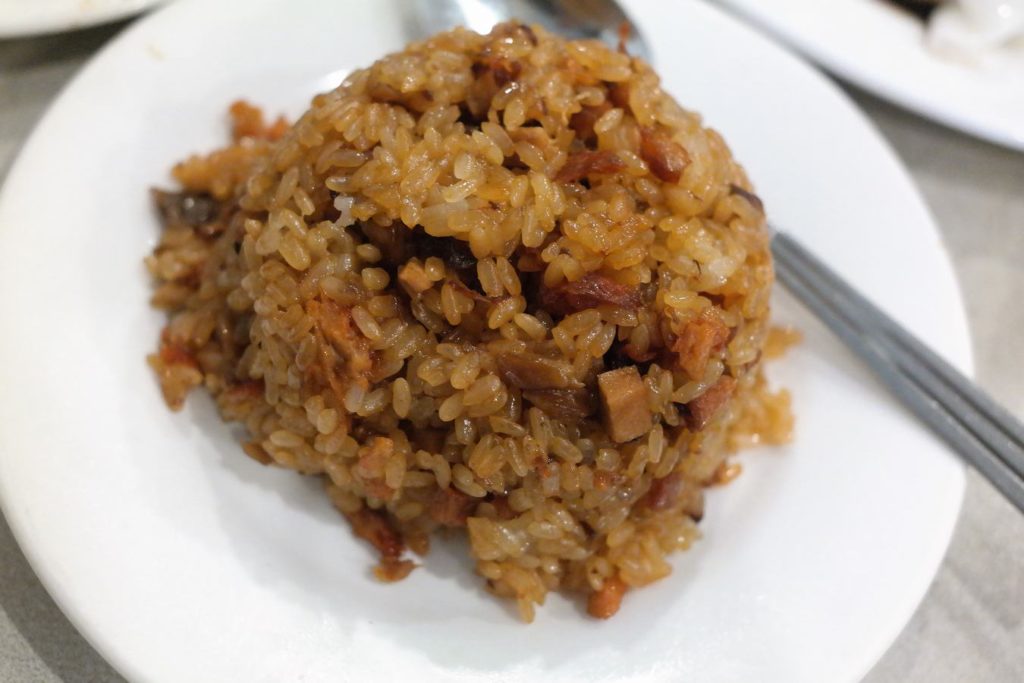 An order of Cantonese dumplings: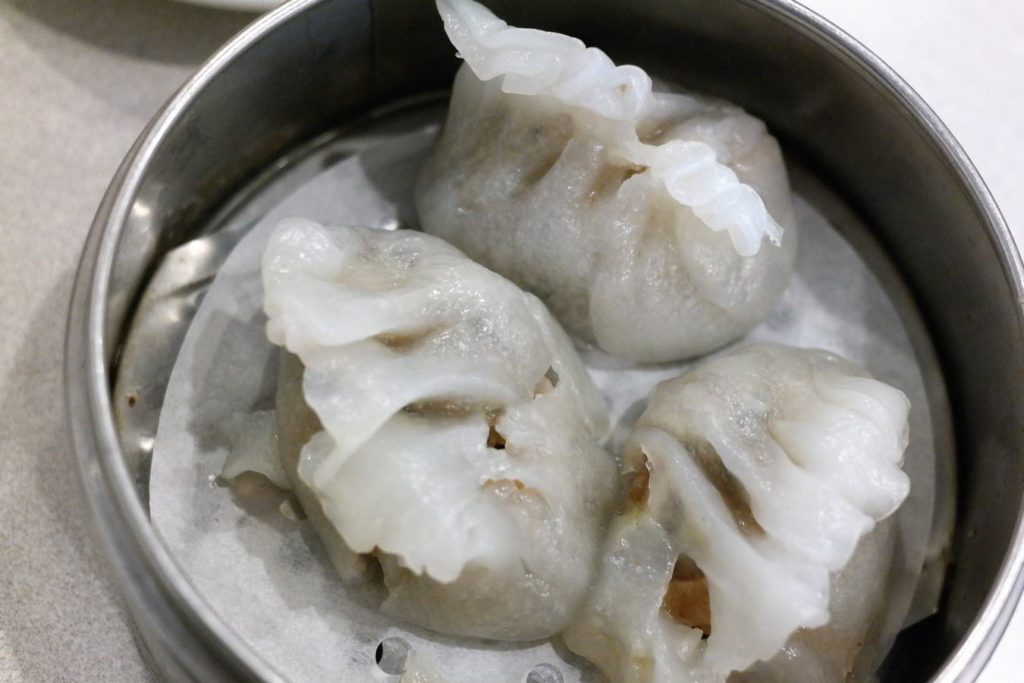 And our two favorite dishes:  barbecue vegetarian pork …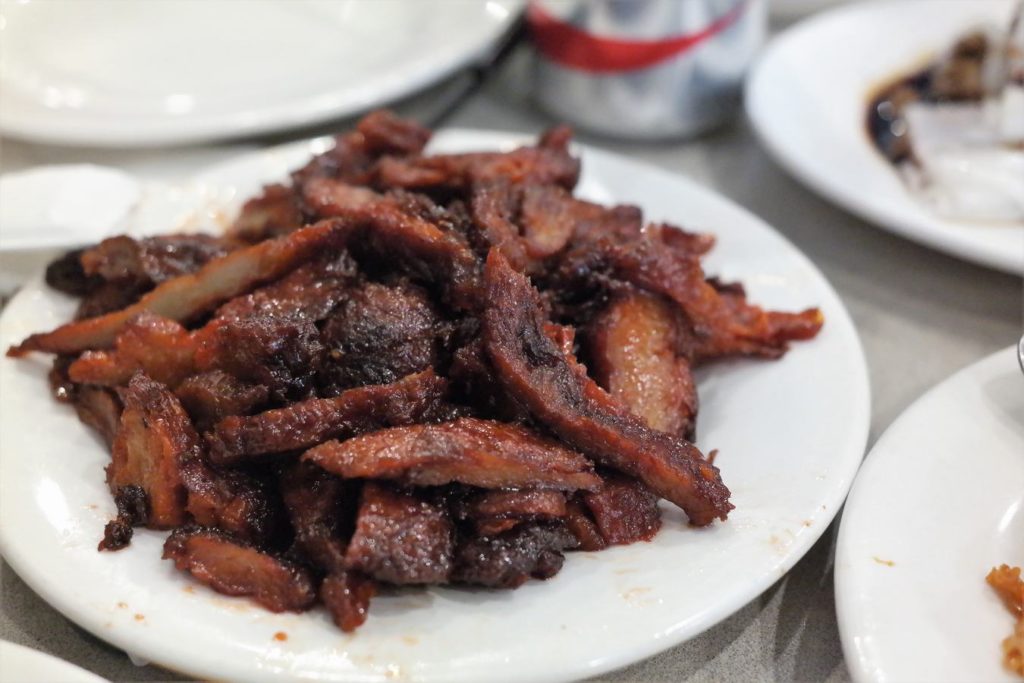 … and vegetarian pork buns.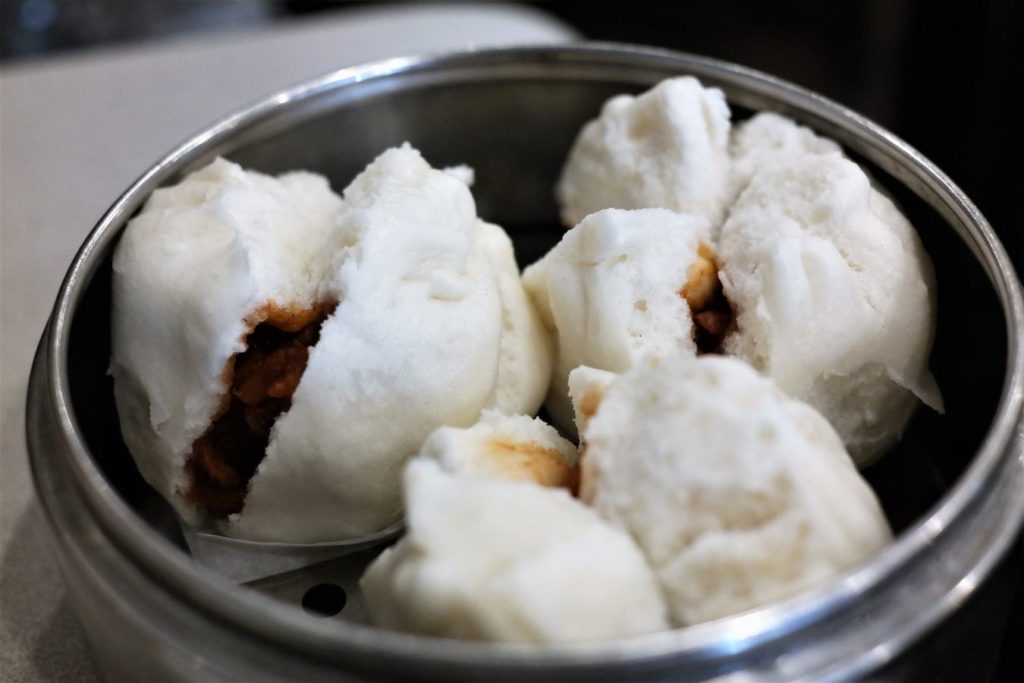 We though it was very cool that we were able to put together a fully vegetarian and almost vegan Chinese meal, a meat-free Italian dinner, and a night out with Thai food to please both vegetarians and meat eaters.  We got to travel all around Queens and Manhattan to try these restaurants, and they were all amazingly tasty.  Check back later to see some of the other cool places in New York we'd recommend, alongside our recipes!