Étouffée is a classic Cajun/Creole dish (gumbo is another).  In French, "étouffée" means smothered, and that's exactly what you do with the meat and veggies in this dish:  you smother them by cooking them in liquid over low heat.  And unlike gumbo or jambalaya, where rice is mixed right in to the dish, étouffée is served over rice instead.
Typically an étouffée involves shellfish or chicken, but we recently spotted this vegan étouffée recipe in the New York Times and decided to adapt it for ourselves (we used butter at the beginning, but you can swap in a non-dairy substitute instead).  It's filled with veggies, which makes it very hearty, and because if its origins it's also stuffed with interesting spices.
To make it, you'll need:
Butter or a nondairy spread
Flour
An onion
Garlic
A green bell pepper
Celery
A small can of diced tomatoes
Bay leaves
Paprika
Thyme
Old Bay seasoning
1 pound of oyster mushrooms
Rice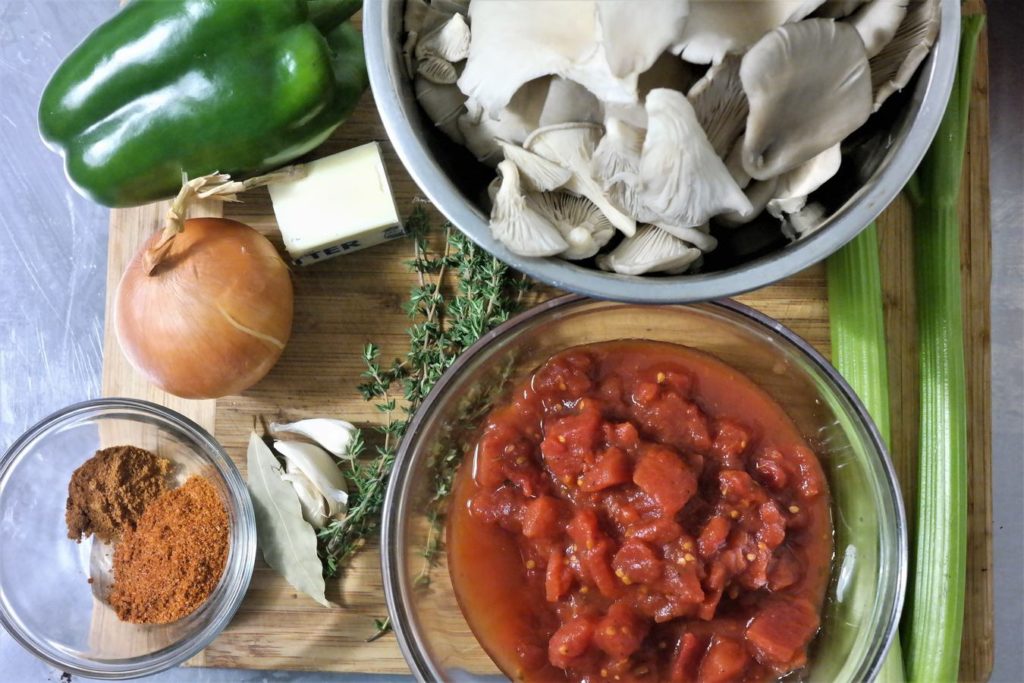 Before you start making the étouffée, prepare 2 servings of rice and make a stock with 3 Massel 7's bouillon cubes dissolved in 2 1/2 cups of boiling water.  Then begin by melting 3 tablespoons of butter or nondairy spread over medium heat in a Dutch oven or another heavy pot.  Once it starts bubbling, add in 3 tablespoons of flour and whisk continuously until the mixture browns.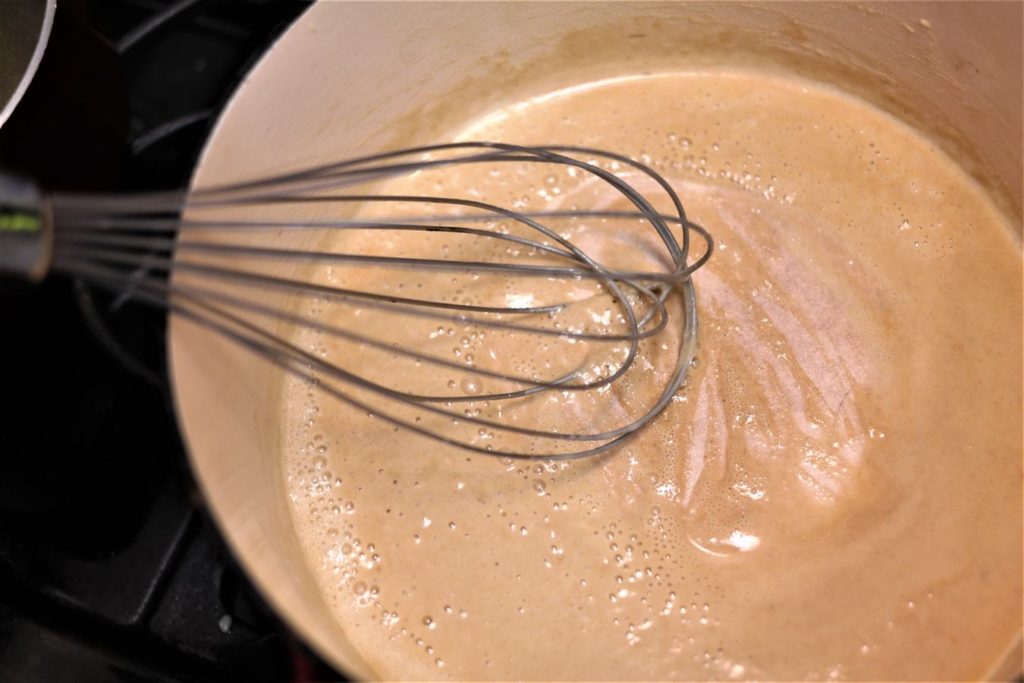 Dice your onion, 2 garlic cloves, 2 celery stalks, and the bell pepper and stir all this in with a sprinkling of salt.  Cook everything for 3 minutes until the onion starts to turn translucent.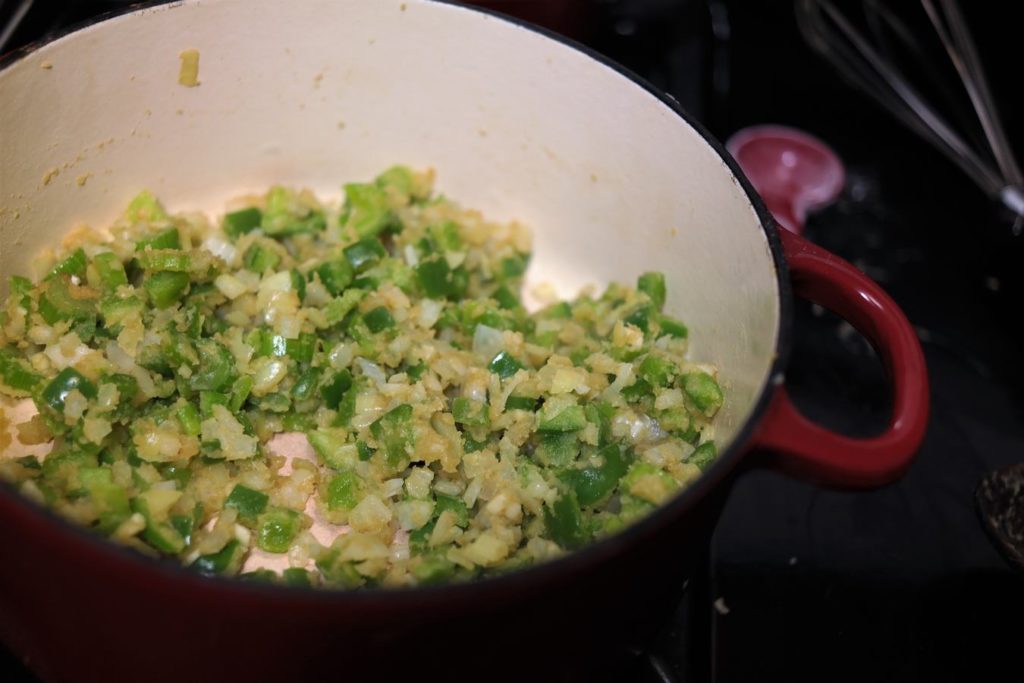 Then pour in a cup of diced tomatoes …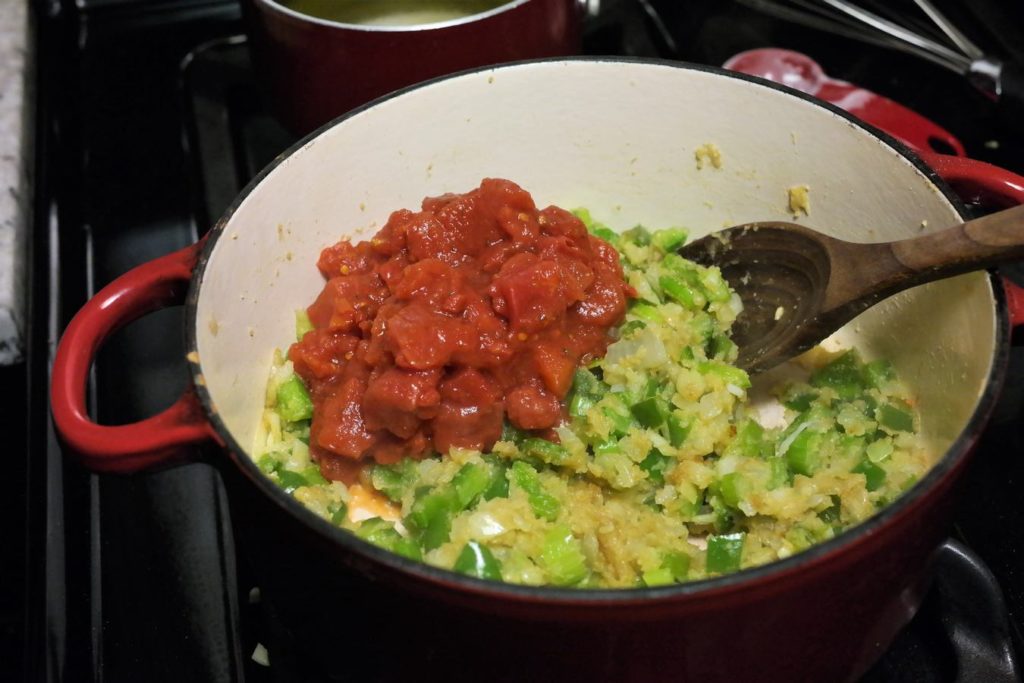 … along with all the stock you made, 2 bay leaves, a teaspoon of paprika, a teaspoon of thyme leaves, and a tablespoon of Old Bay.  Top everything with a generous sprinkling of pepper.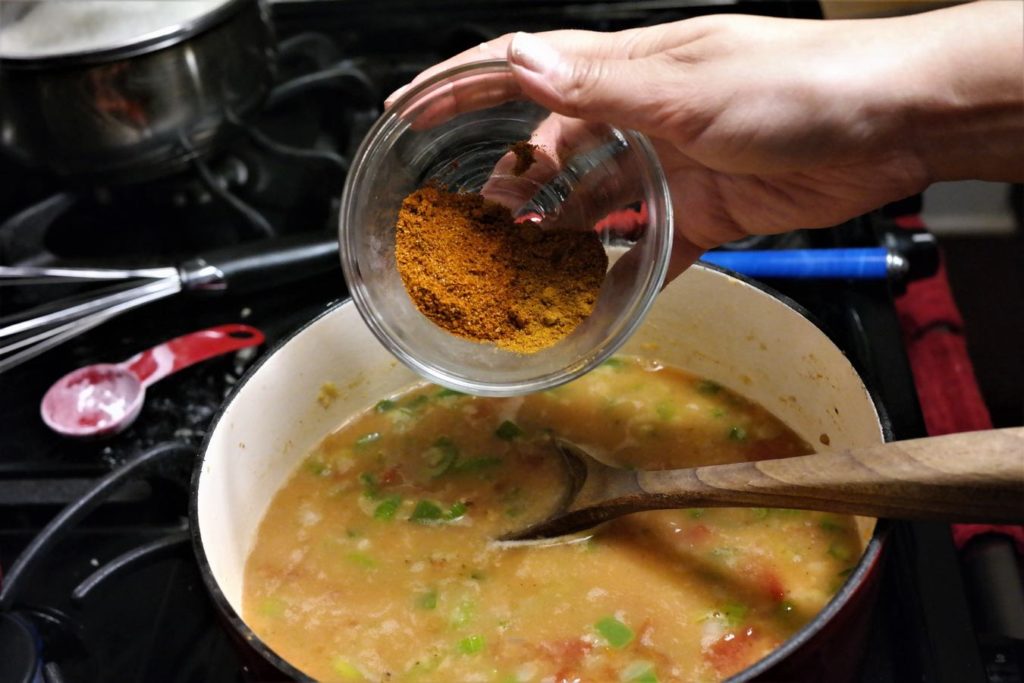 Then let this come to a simmer.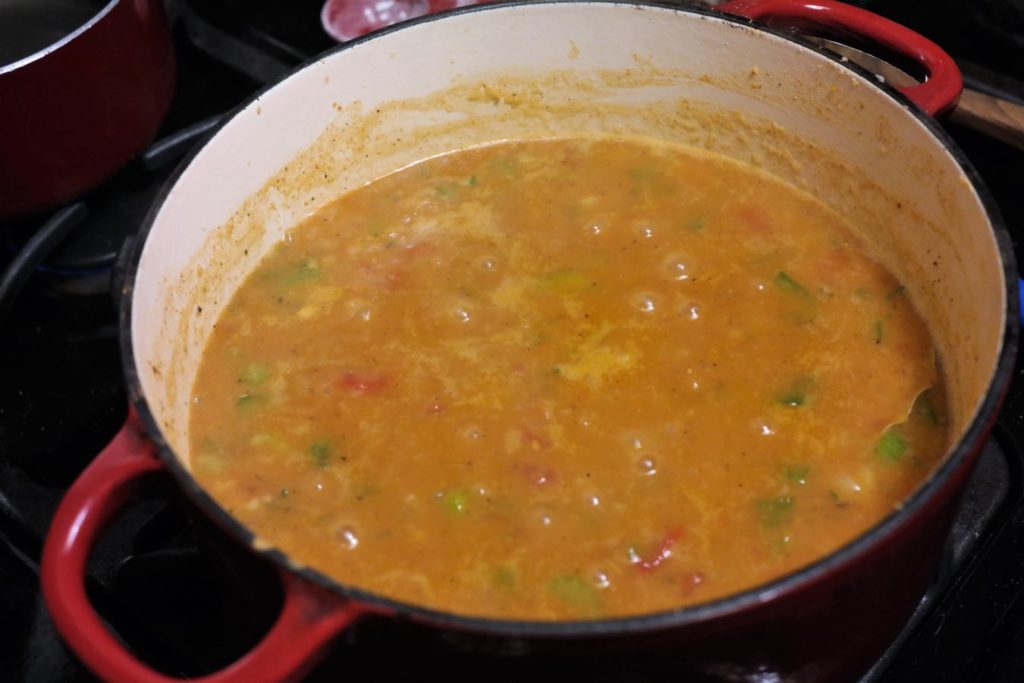 Meanwhile, de-stem and roughly chop all your mushrooms, and once your mixture is lightly boiling add them in.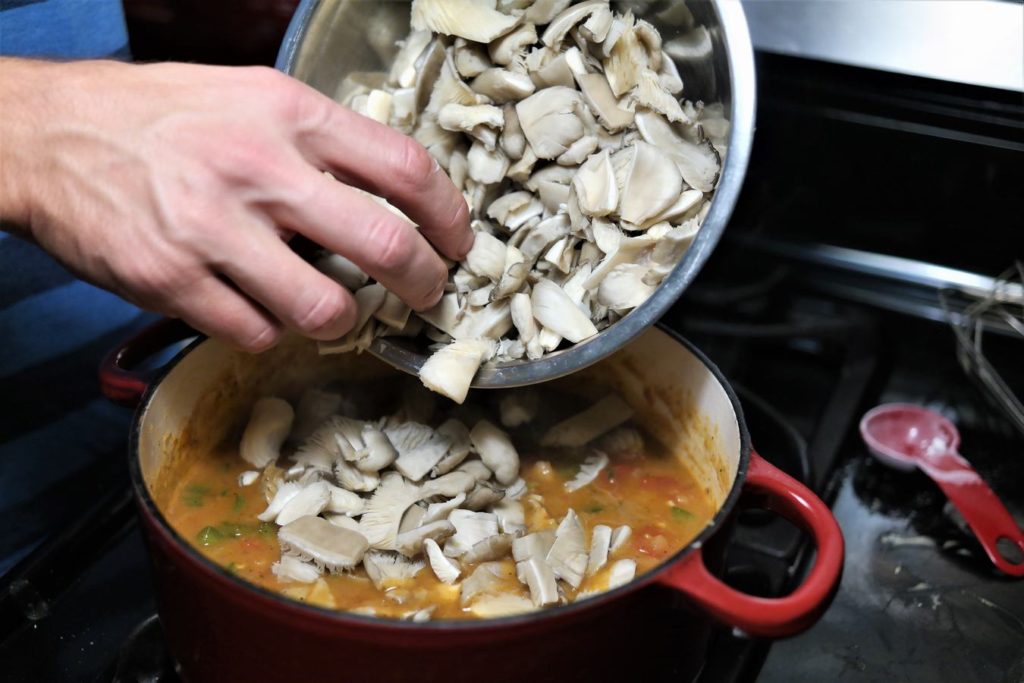 Simmer everything for about 20 minutes until the mushrooms are very soft.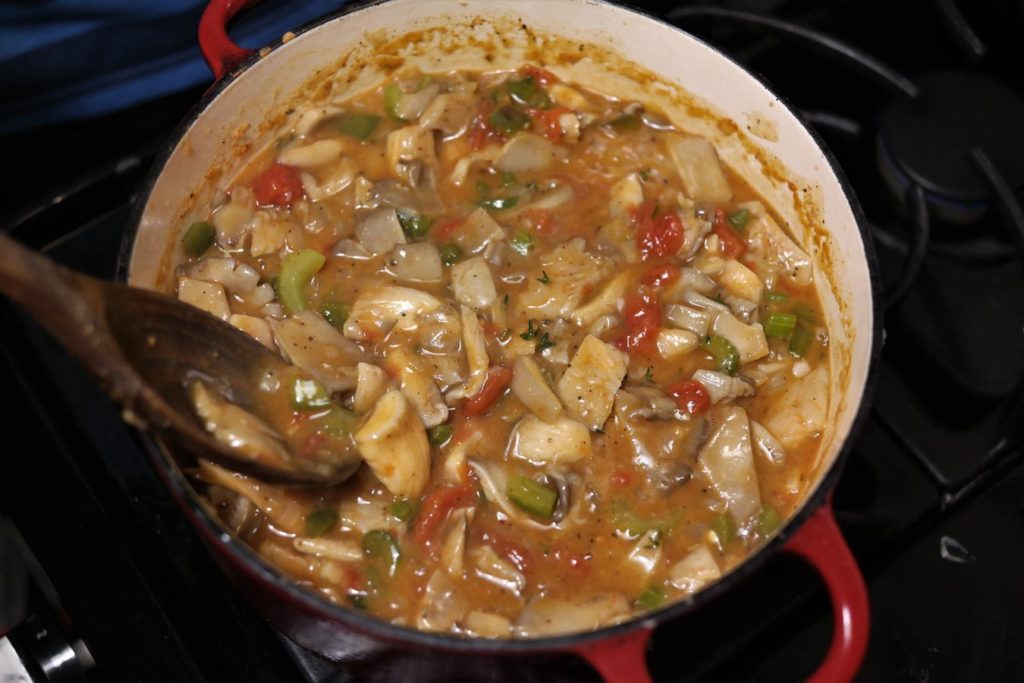 Pick out your bay leaves, then serve your étouffée over rice.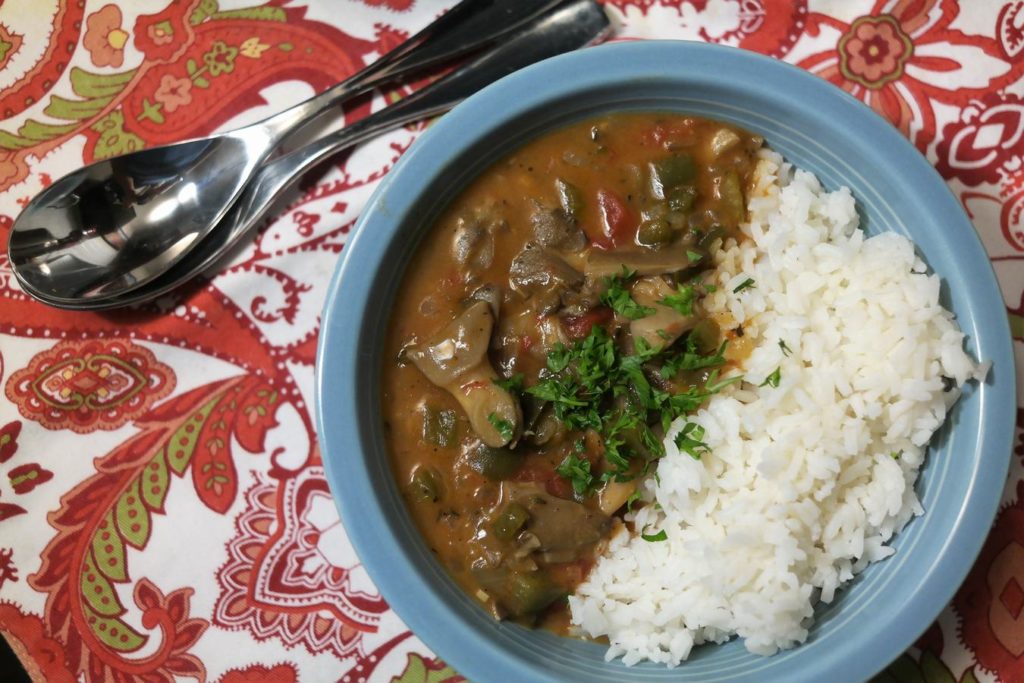 This is a really tasty way to get in your vegetables.  You've got mushrooms, tomatoes, celery, peppers, and an onion here to fill you up, with rice rounding everything out.  Plus, the stock and all the different spices add some great flavors, and the smothering makes everything nice and tender.  There's some amount of veggie chopping to do beforehand, but once you've got all your ingredients ready this dish is pretty easy to make.  So go ahead and try it out on one of these chilly winter days – we guarantee it'll warm you up, deliciously!