For last year's Super Bowl, we made Cyril's classic stromboli as well as some vegetarian fried chick'n sliders.  This year, we decided to run with the faux-chicken theme and made several different types of meat-free wings.  These cauliflower wings were one version, so we'll show you how to make them (but also check out the buffalo jackfruit bites we came up with too).
You'll need:
A head of cauliflower
Butter
Flour
Cayenne
Paprika
Garlic powder
Cornstarch
Vegetable oil
Blue cheese dressing and celery (for dipping and garnishing)
Start by cutting your cauliflower into bite-sized florets.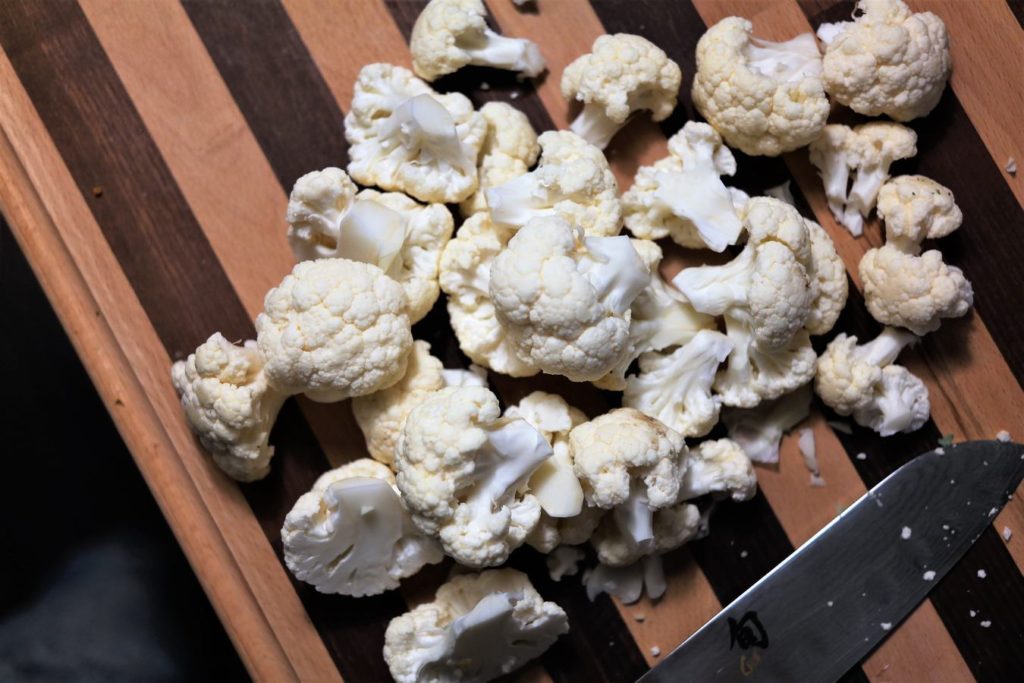 Then in a small bowl, measure out 1/2 cup of flour, a teaspoon of garlic powder, a teaspoon of cayenne, and a teaspoon of paprika.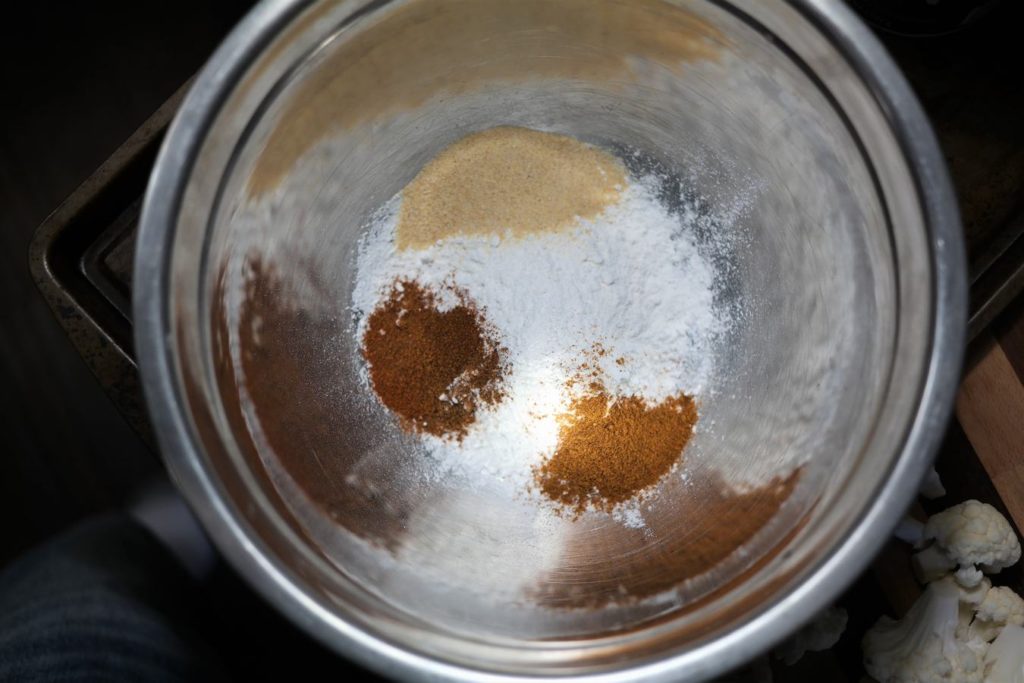 Whisk these ingredients together along with 1/2 cup of water until you have a mixture resembling a paste – if it's too thick add a little more water, or sprinkle in some extra flour if it's too runny.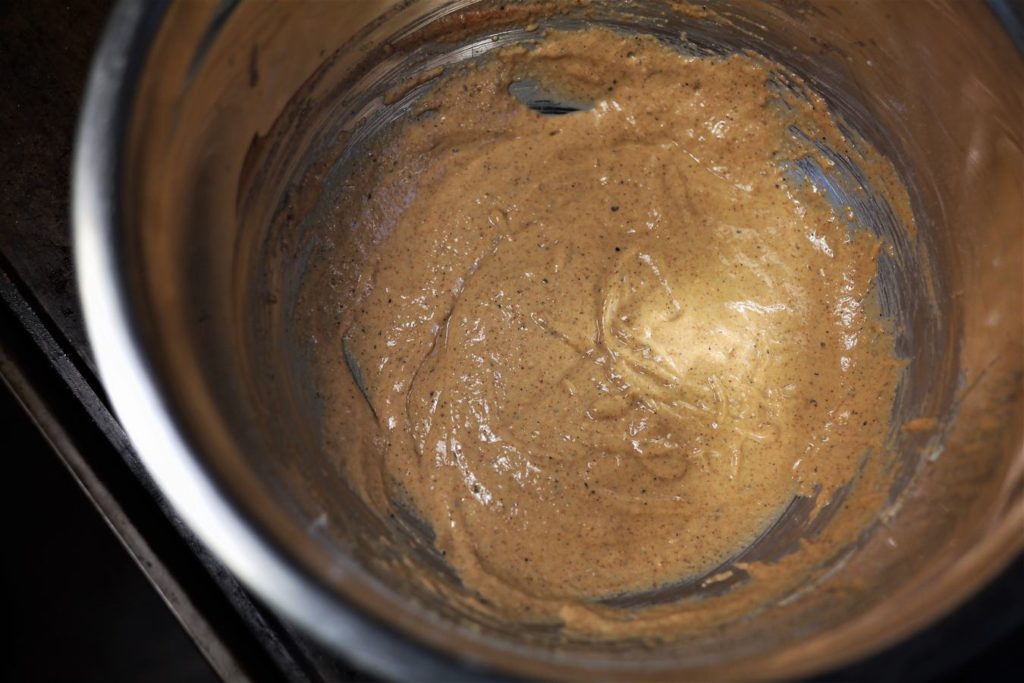 Add in your cauliflower and stir until all the florets are evenly coated.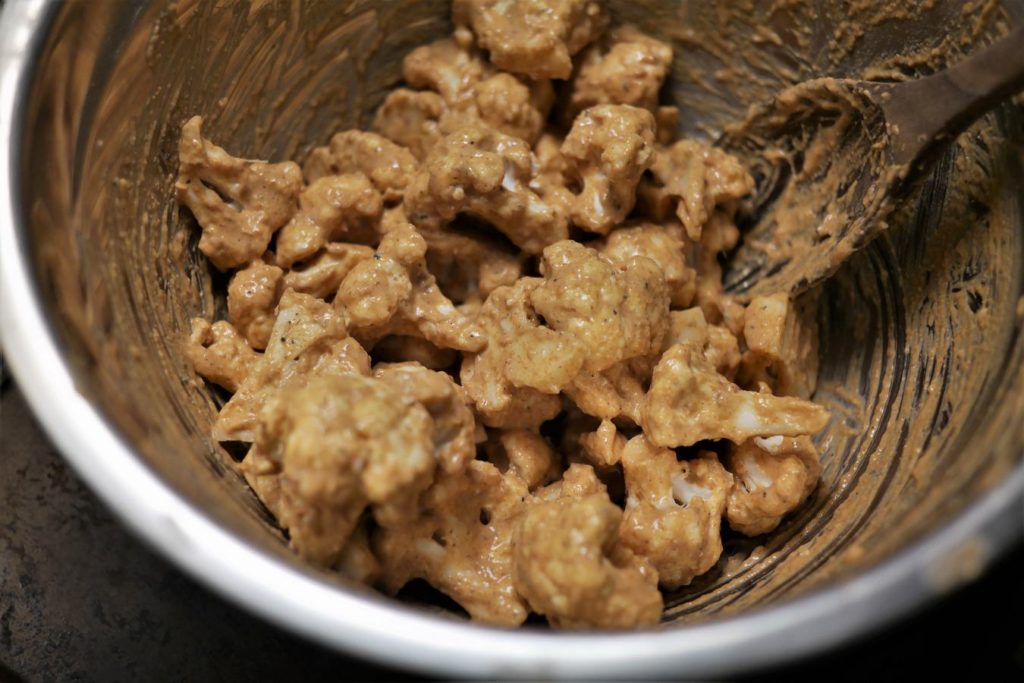 Heat your oven to 450°F.  Spread the cauliflower out on a baking sheet and cook for 20 minutes, then flip each piece over and cook for another 15-20 minutes until you have roasted (but not burned) florets.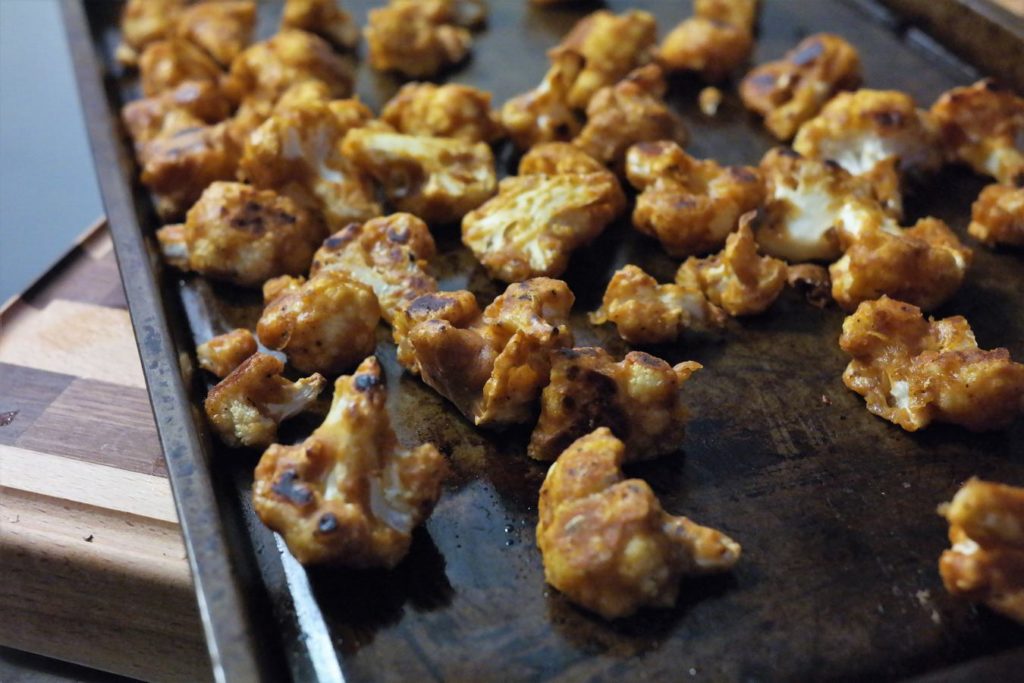 Once the cauliflower come out of the oven, let them cool slightly.  In a new bowl combine 1/3 cup of cornstarch with enough water – about 1/2 cup – to make a runny batter, then coat your cauliflower in this mixture.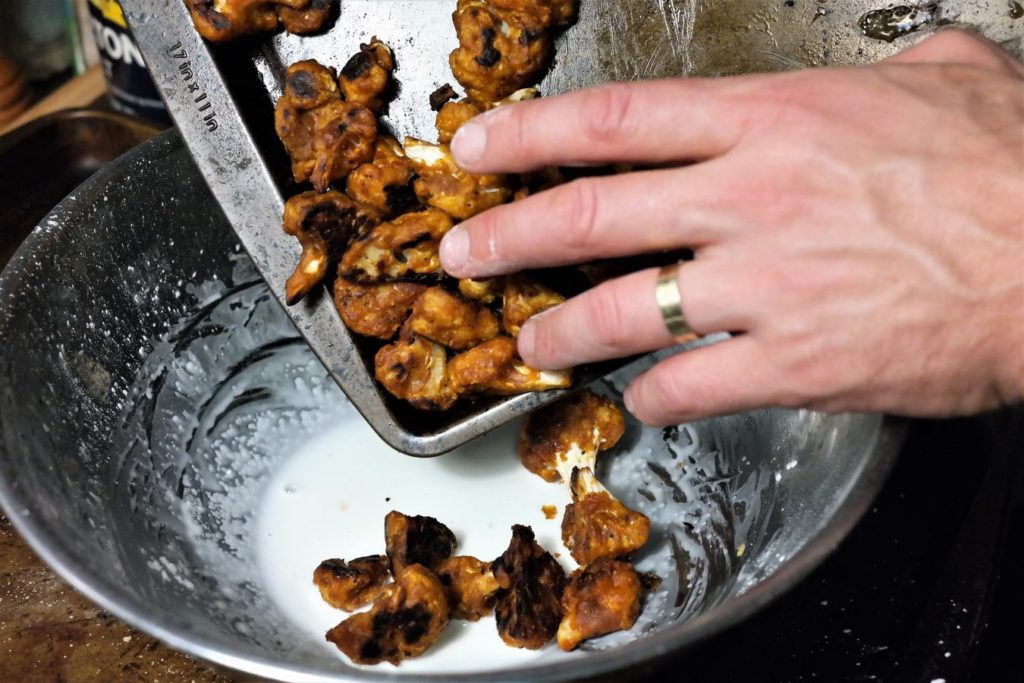 In a Dutch oven, or another heavy and deep pot, heat 2 inches of vegetable oil over medium-high heat until it reaches about 350°F.  Drop in your cauliflower, making sure not to crowd the pot by adding too many at once, and fry them until they turn golden brown.  When they're done, set them aside on paper towels to absorb the extra oil and cool slightly.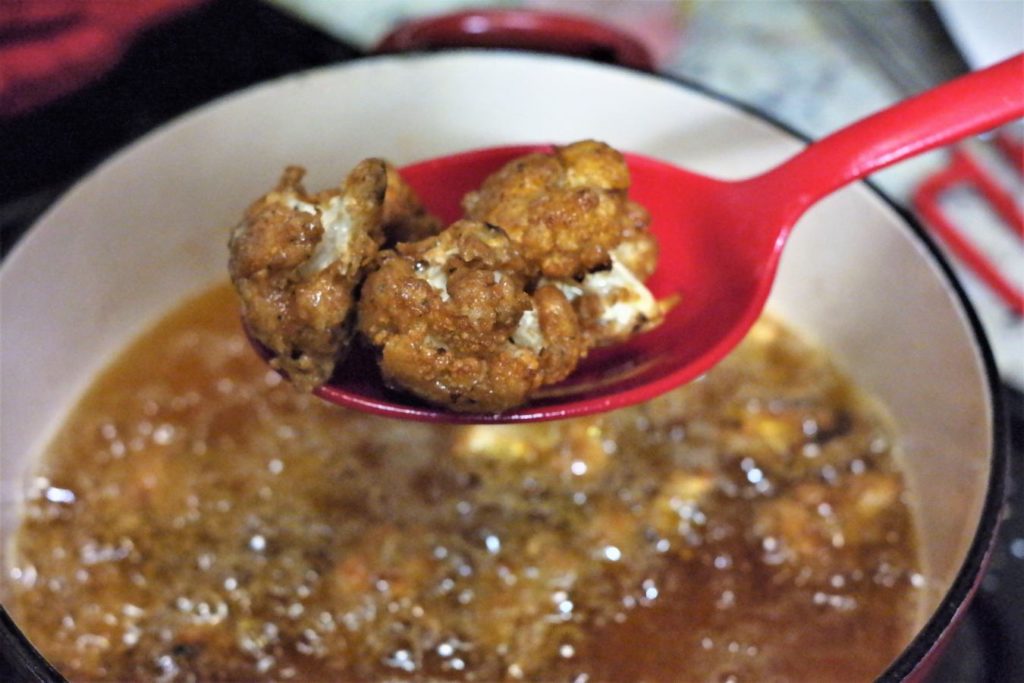 Mix up a quick buffalo sauce by melting 2 tablespoons of butter with 2 tablespoons of Frank's Red Hot sauce in a small pan over medium heat.  Drizzle this over your cauliflower wings and serve everything with celery and blue cheese dressing.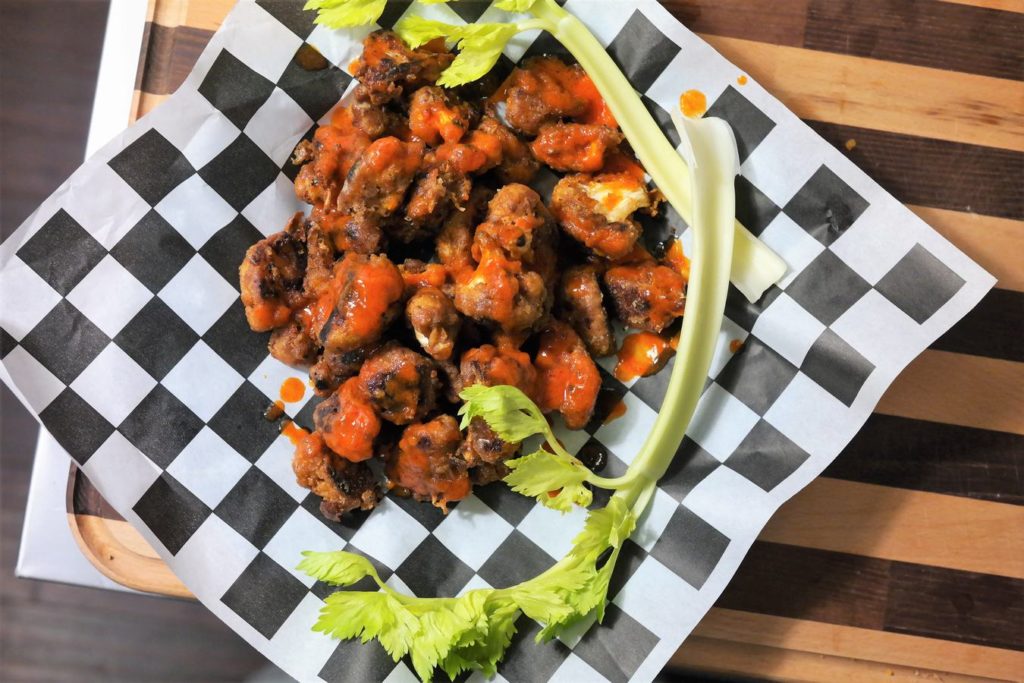 These are some amazing spicy, crispy, 100% meat-free wings!  Coating them in spices and flour before roasting them adds some heat and crunch before you batter the cauliflower and then deep fry it – and putting some homemade buffalo sauce on top brings even more deliciousness and spice to game.  These do take some time to make, and you have to be vigilant in frying the cauliflower lest you burn your house down, but we think all the extra steps and ingredients really make these a great wing substitute that actually competes well with the real thing.  Next time it's game day or some other event where people expect fried things, break out these veggie wings as a way to show that delicious junk food doesn't need meat!