The weather here in New York can't make up it's mind right now – it's been close to 60 degrees for several days in the past week – but since it's still technically winter we're going to keep on making soups.  We saw this recipe for a cauliflower soup in Bon Appétit and we decided to put our own spin on it – we did some swaps to make it vegetarian and also changed up some of the ingredients to add in some different flavors.  This was the result, and we thought it came out as an awesome soup.
To make this, you'll need:
A head of cauliflower
Slivered almonds
2 onions
Garlic
Heavy cream
Bay leaves
We first measured out 1/2 cup of almonds and spread them out on a baking sheet.  We put them in the oven at 350°F for 6 minutes, tossed them, and toasted them for another 6 minutes.  Once they were done, we set them aside to cool.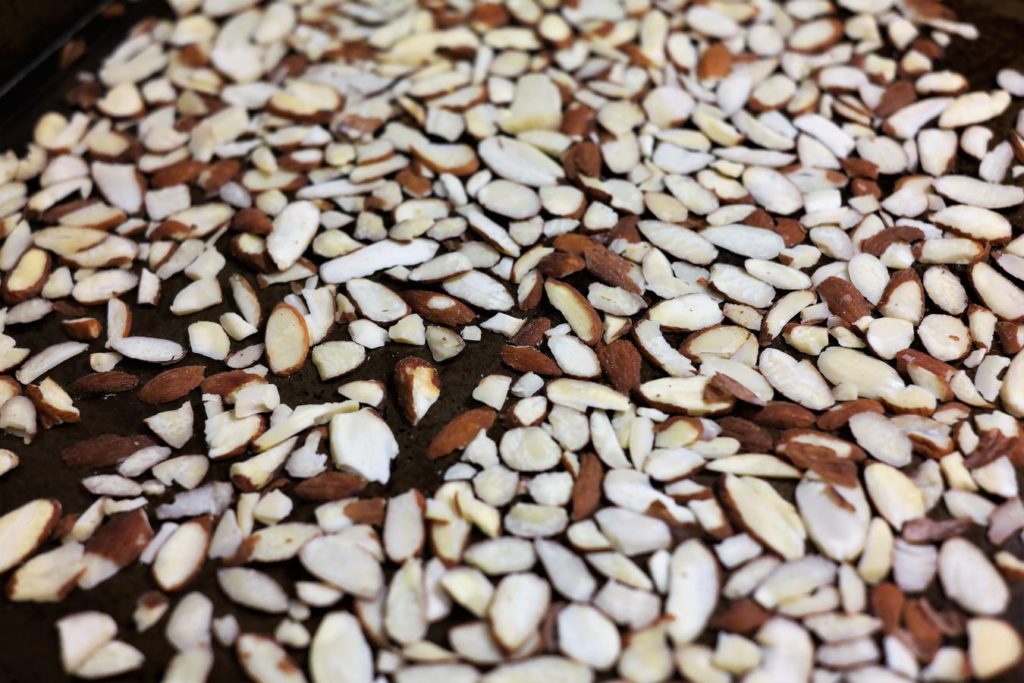 Next, we cut our cauliflower up into florets and mixed these with 2 tablespoons of olive oil.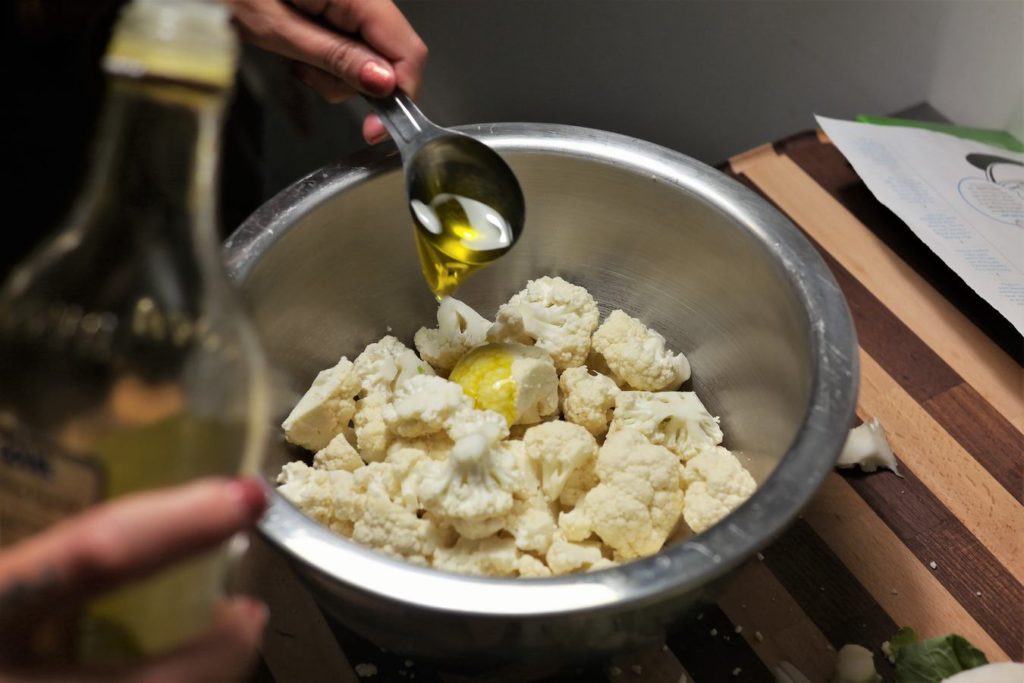 Then we spread them out on another baking sheet and roasted them for 30-35 minutes at 400°F.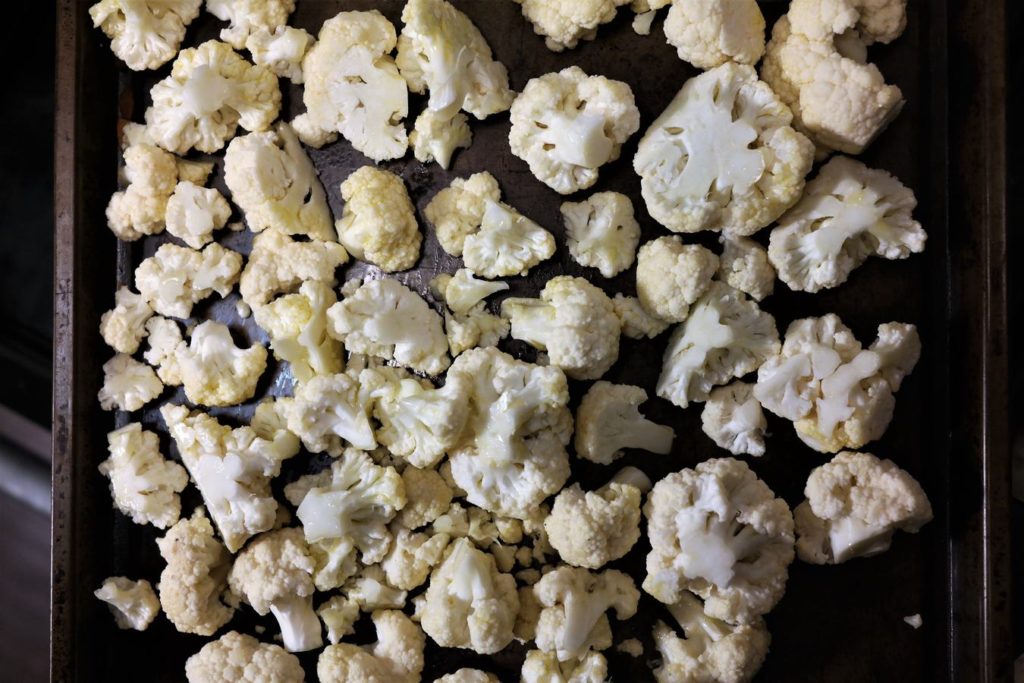 You'll know they're done when they're browned but not burnt.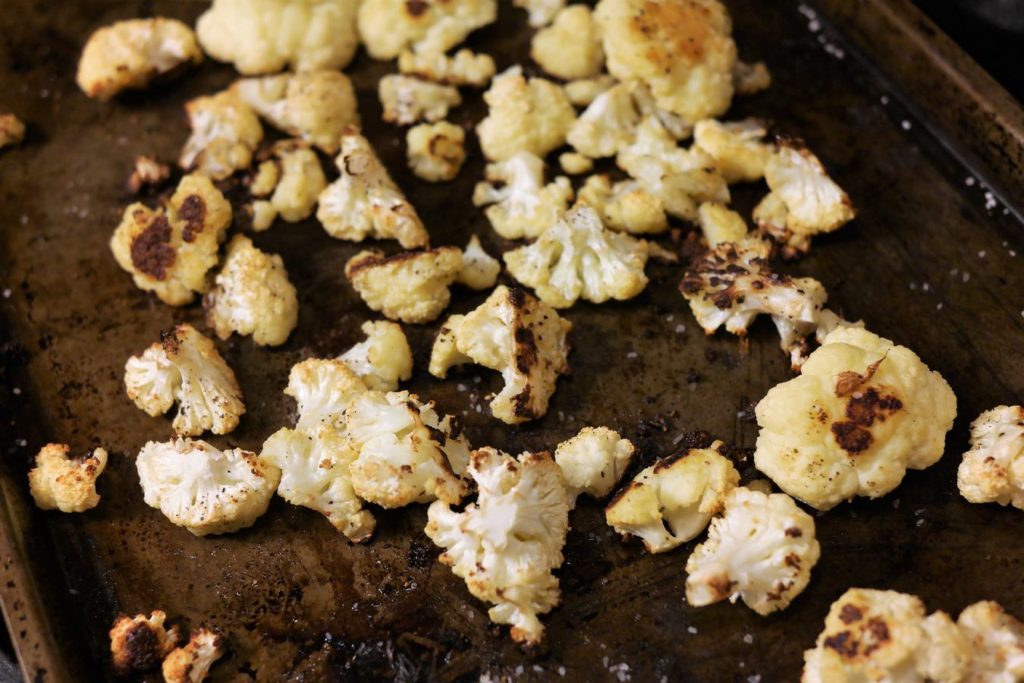 Meanwhile, we took 8 veggie bacon strips and cooked them in a cast iron pan over medium heat for 3-4 minutes on each side, until they were crisp and slightly brown.  Once they were done, we set them aside on a plate lined with paper towels.
Then we finely chopped our onions and placed them in the same pan, along with 2 chopped garlic cloves.  We cooked these for 8-10 minutes, until the onion had softened.  Then we added in 1/3 cup of water and continued cooking everything until the water had mostly evaporated.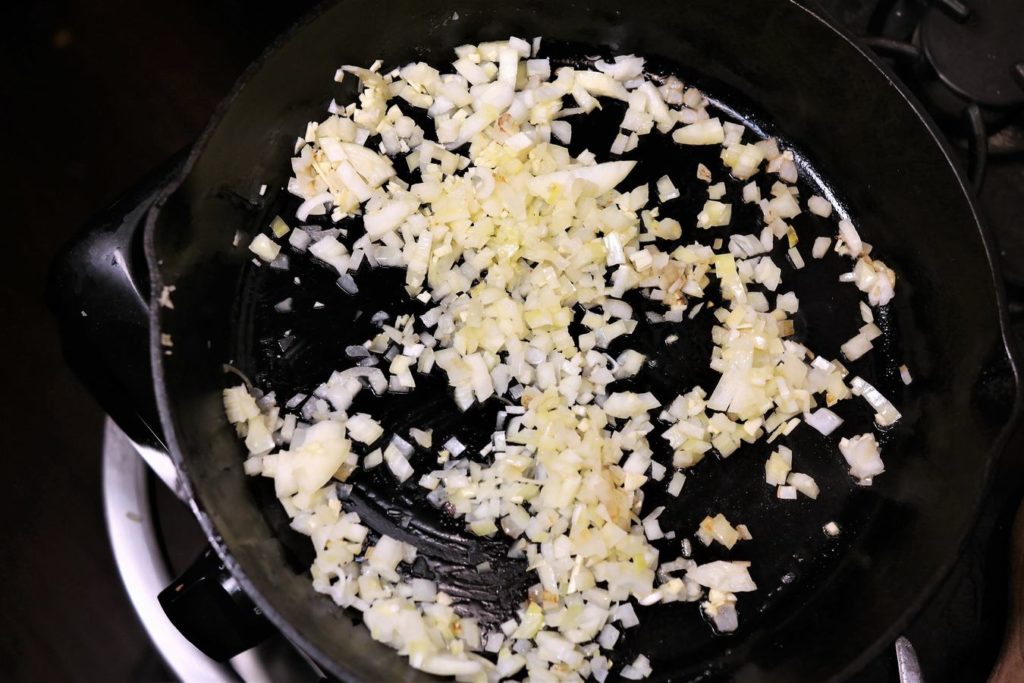 In a large stock pot, we boiled 6 cups of water and then dissolved in 6 Massel 7's bouillon cubes.  We placed the onions and garlic in the broth along with the cauliflower once it came out of the oven.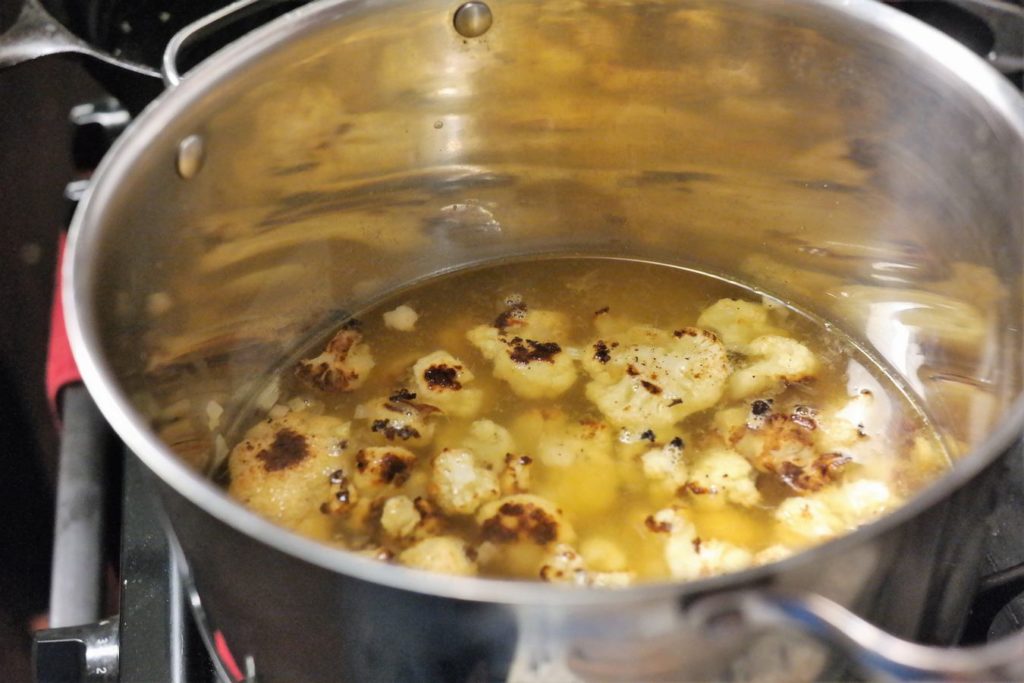 We also poured in 3/4 cup of heavy cream and added 2 bay leaves, plus some salt and pepper.  We let all these ingredients come back to a boil, then simmered our soup for 20-25 minutes until the cauliflower was tender.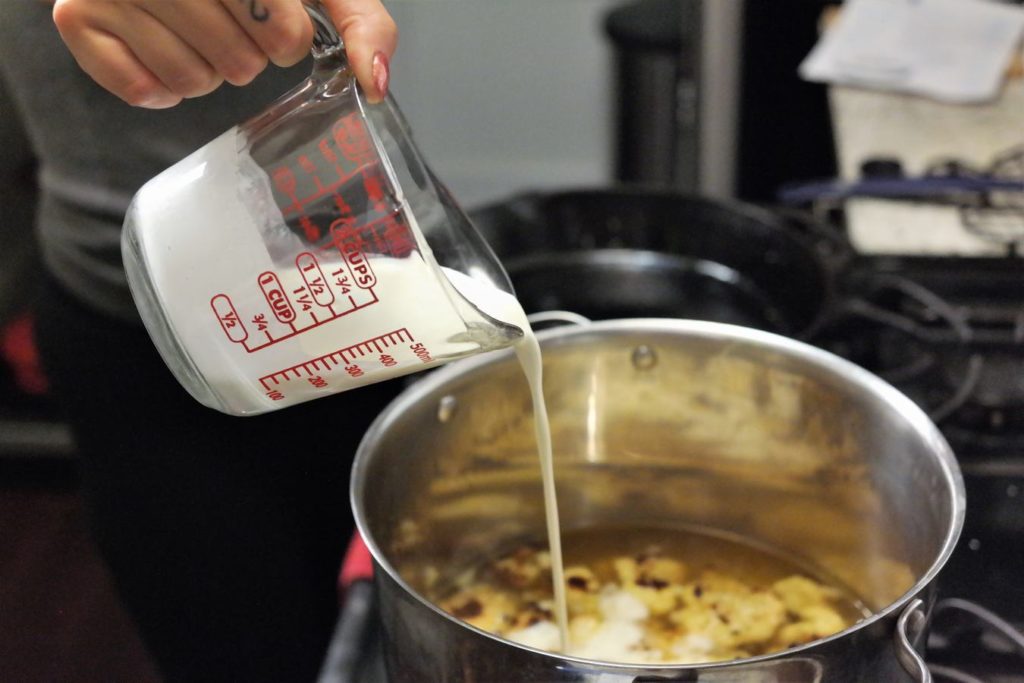 We let this mixture cool a little, then we used an immersion blender to puree it into a smooth soup.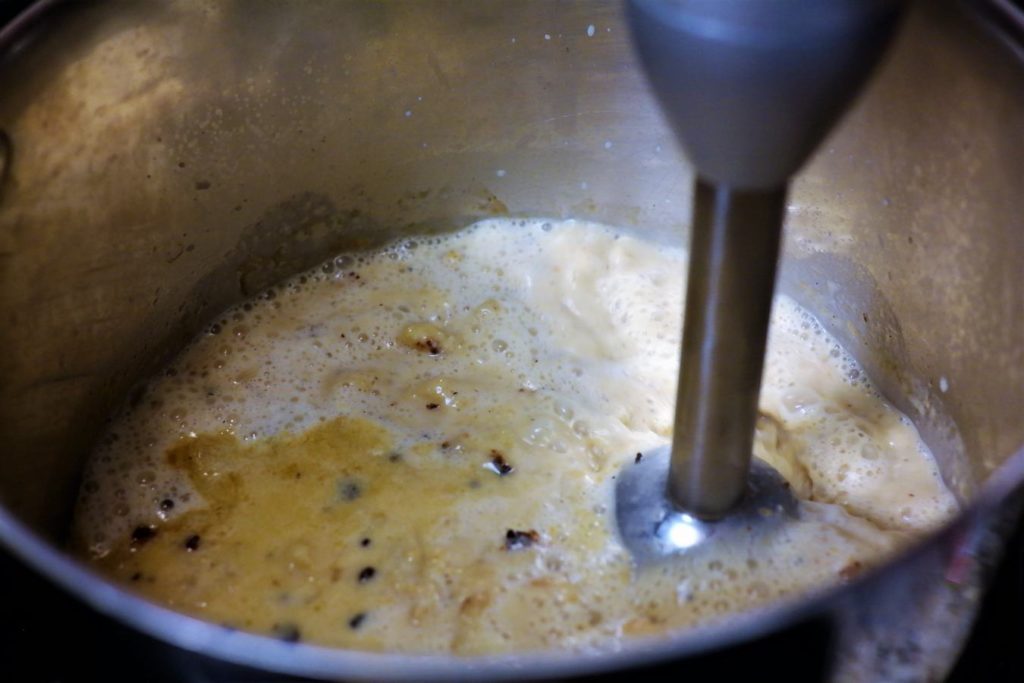 Like so: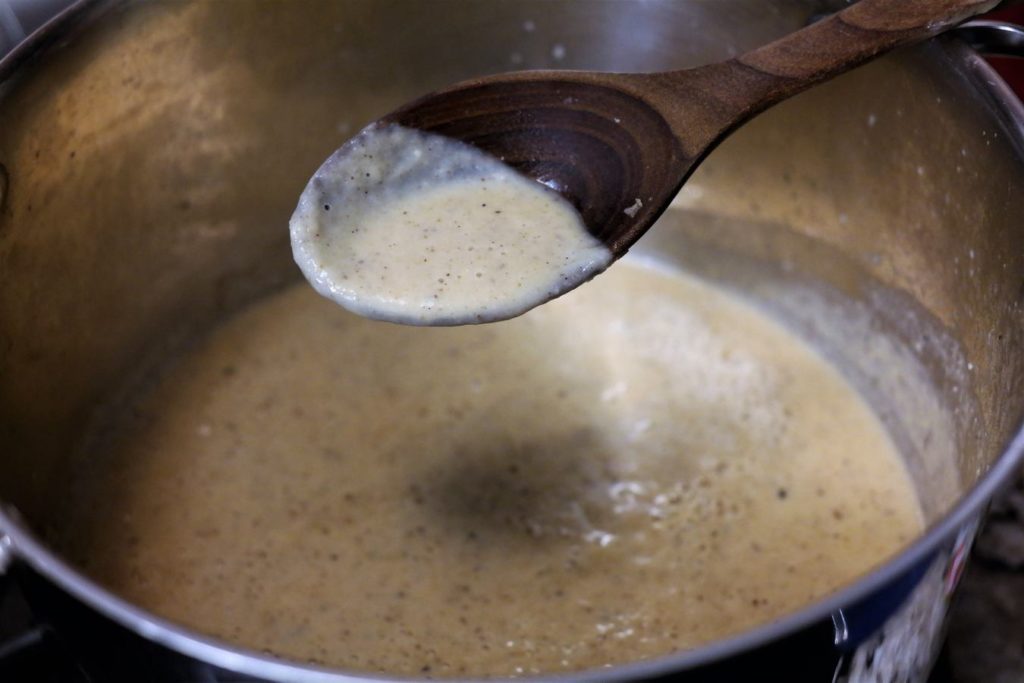 We ladled the soup out, then topped it with the almonds, some crumbled bacon, a sprinkling of pepper, and a drizzle of olive oil.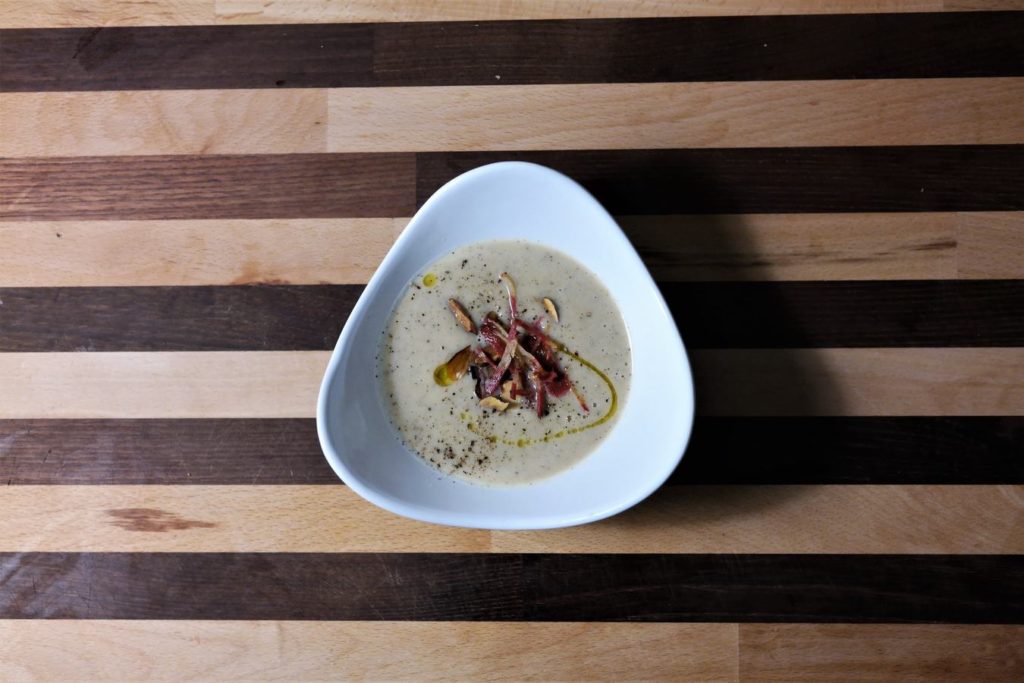 This soup comes out incredibly creamy – not just because we added in dairy, but because the immersion blender works really well to give you a nice, smooth texture.  Plus, the toasted almonds and the veggie bacon add some great, rich flavors to the mix.  It'll take some time to roast the cauliflower and almonds, cook the bacon, and let the cauliflower simmer to tenderness, but overall this soup isn't hard to make and it's really warm and nourishing on a cold night.  Hurry up and get it cooking before this winter runs out!