It's almost spring here in New York, just about the time you'd think it would starting to get warmer – but winter still wants to assert its dominance.  Yesterday we were hit with falling temperatures and several inches of awful slushy snow and ice, and on days like that all you want is some warm food to help you forget the weather.  Luckily, we had this recipe (from the New York Times) for a curry made with some vegetables you might not expect to see in Indian food:  butternut squash and mushrooms.  This was an excellent way to ward off the chill of a late-winter storm – plus, it's vegan.  We'll show you how we made it for ourselves.
You'll need:
A small butternut squash
2 hot green chiles
A small onion
Black sesame seeds
Cumin seeds
Garlic
Coriander
Cayenne
Turmeric
A pound of mushrooms
A 13.5-ounce can of coconut milk
Lime juice
The first thing you'll want to do is take your two chiles and cut a slit down the middle of each – this will help spread the flavor and spice into the curry once you add them in.  Set them aside for now.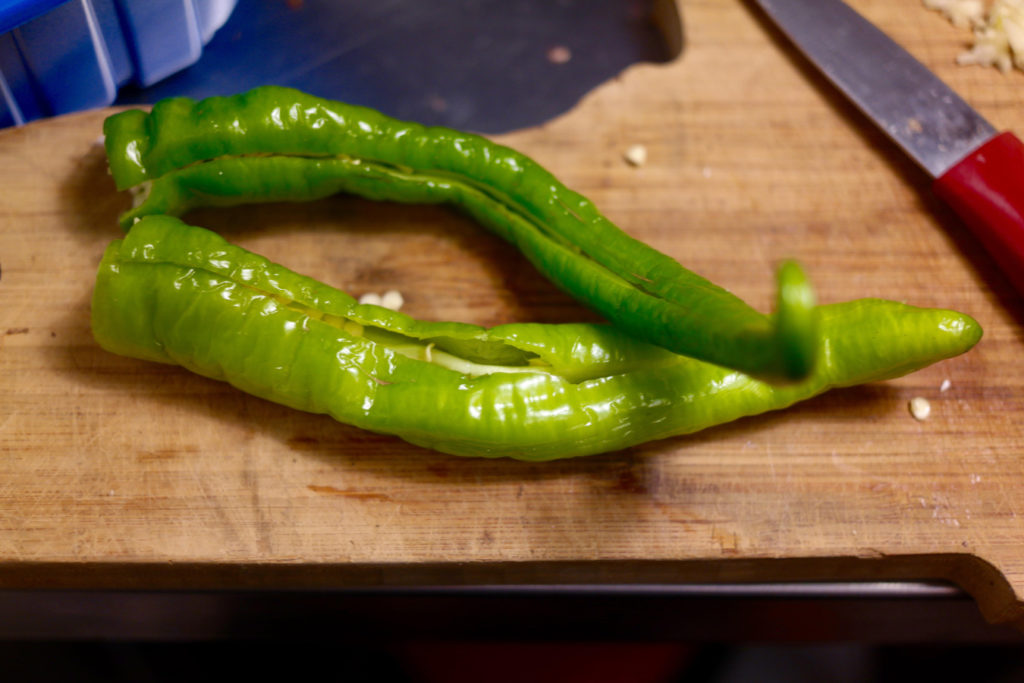 Take a large skillet and add a few tablespoons of vegetable oil over medium-high heat.  Peel your squash, then cut it open, scoop out the seeds, and dice it into cubes.  Season these cubes with salt and pepper and cook them in the skillet for two minutes on each side, then take them off the heat.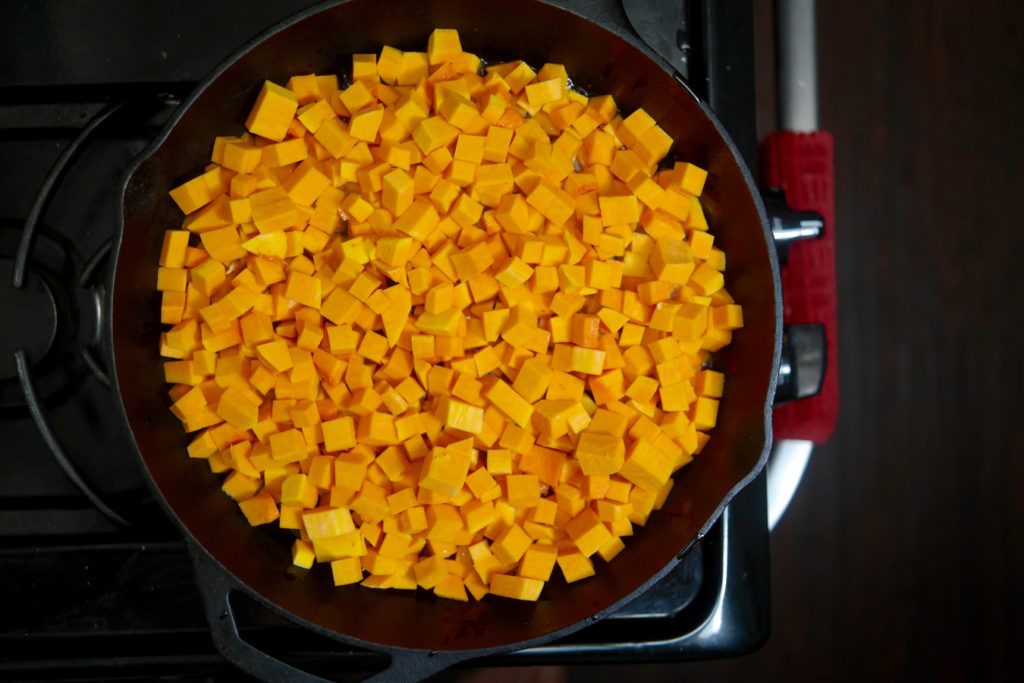 Now measure out 1/2 teaspoon each of black sesame seeds and cumin seeds …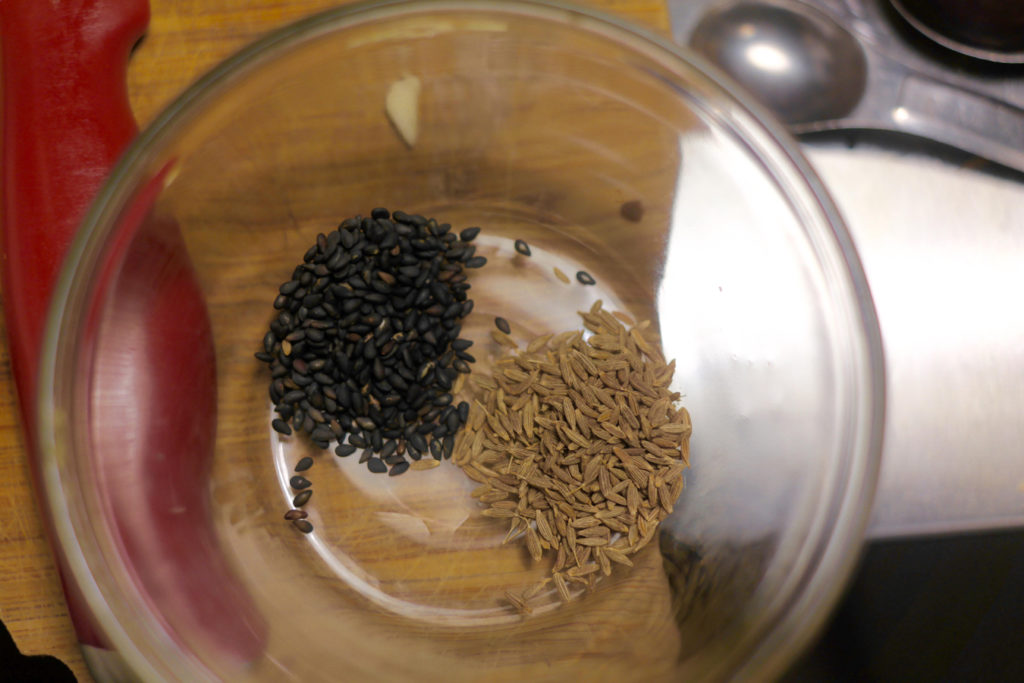 … along with a teaspoon of coriander, a teaspoon of cayenne, and 1/2 teaspoon of turmeric, plus mince 2 garlic cloves.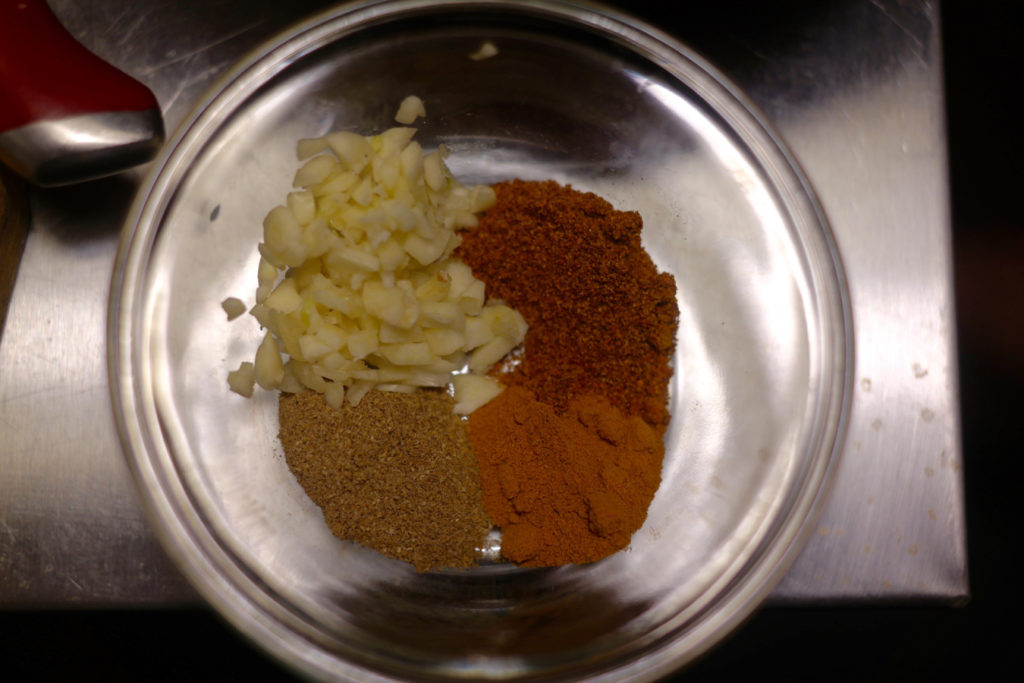 Take another large skillet and put a few more tablespoons of oil in over medium-high heat, then finely dice your onion and cook it for just a minute.  Add in your two types of seeds and cook everything for another minute.
Then mix in the spices and the garlic and cook for one minute more.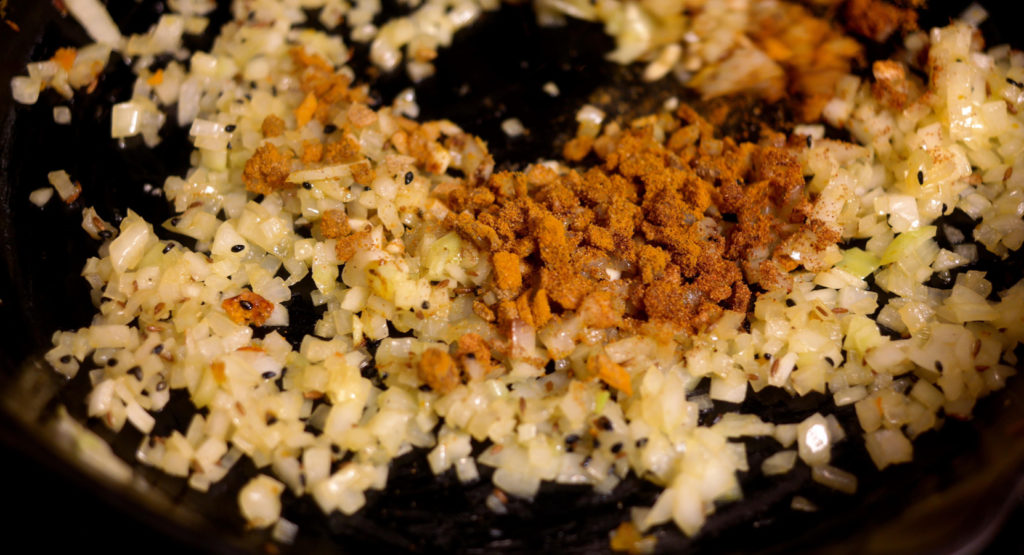 Add the chiles on top …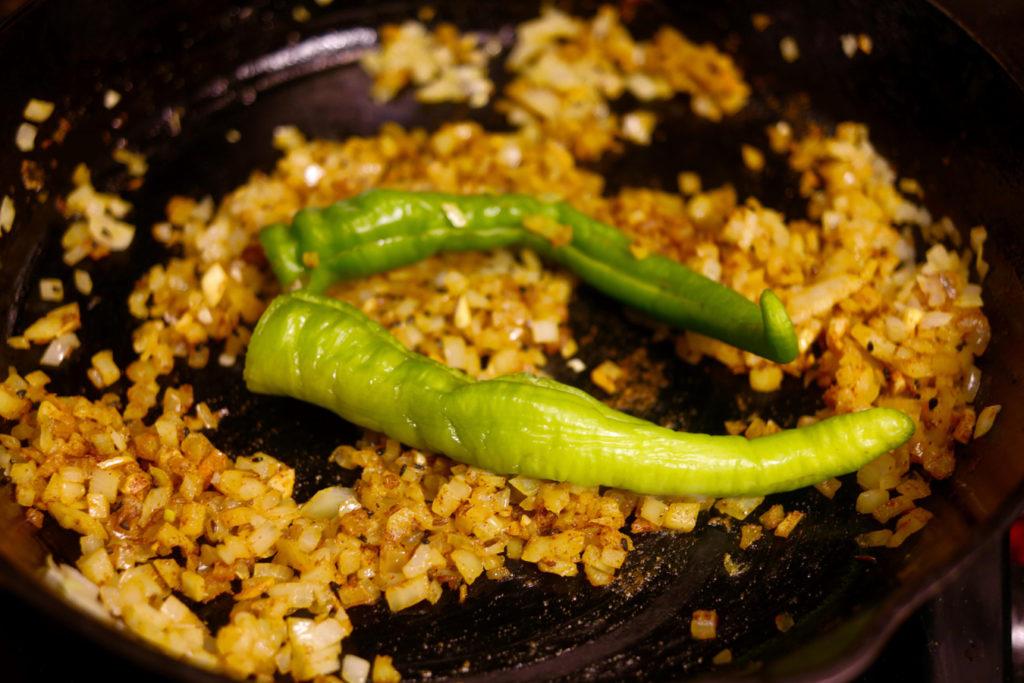 … then slice up all your mushrooms and place those in the skillet as well.  Season your veggies with more salt and pepper and cook for about 5 minutes, until the mushrooms begin to soften.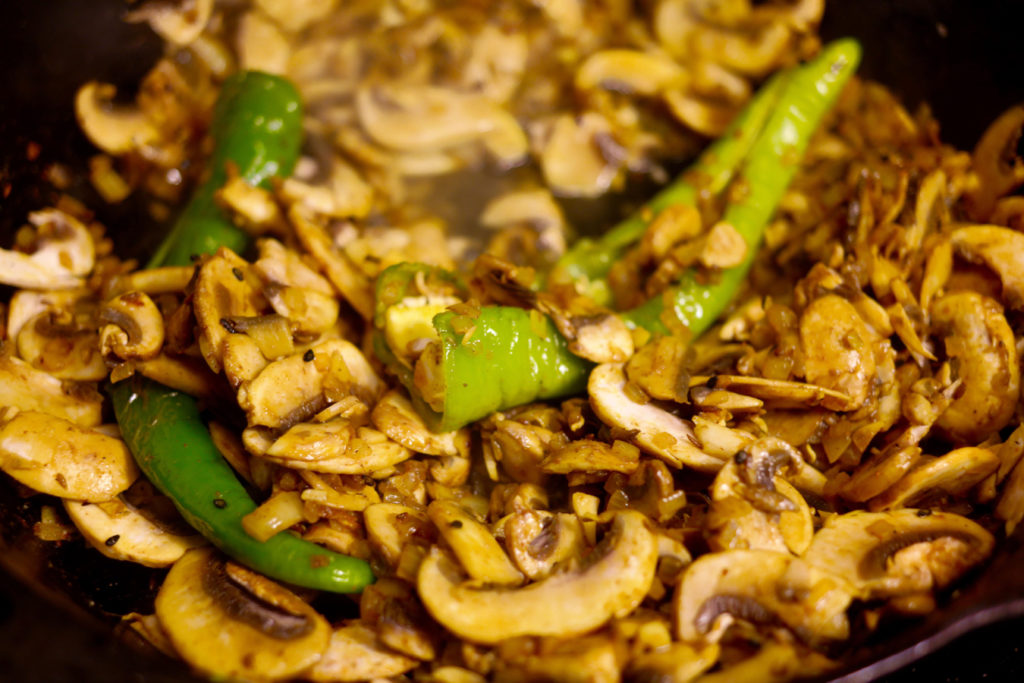 Now put your squash in the skillet along with the entire can of coconut milk (make sure you stir it well before pouring it in) and bring the curry to a simmer, then cook it on medium heat for 5 minutes more.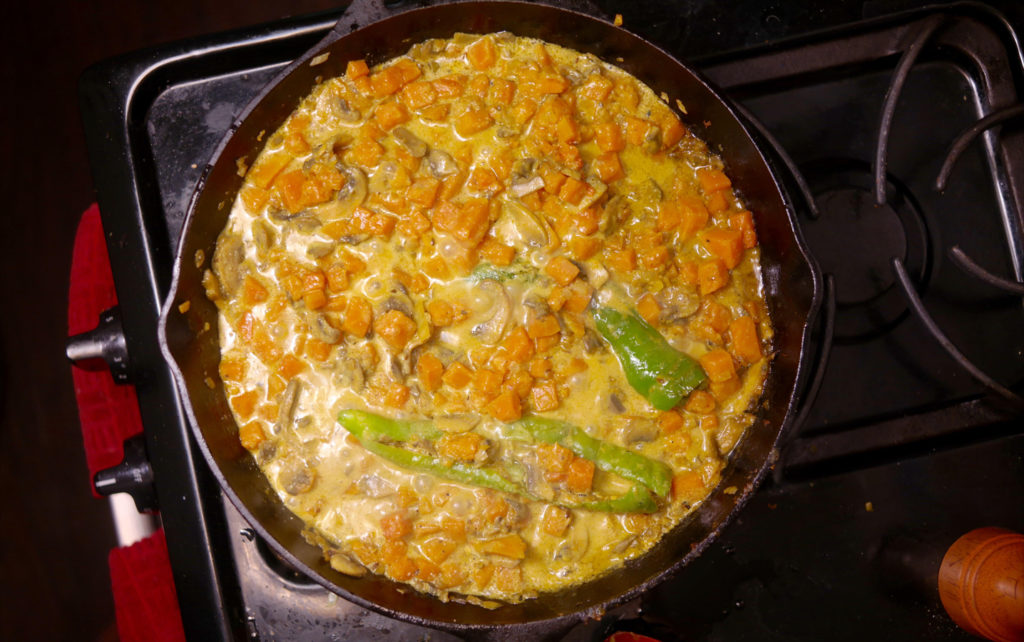 Once all the veggies are tender, stir in 2 tablespoons of lime juice, then dish your awesome curry out.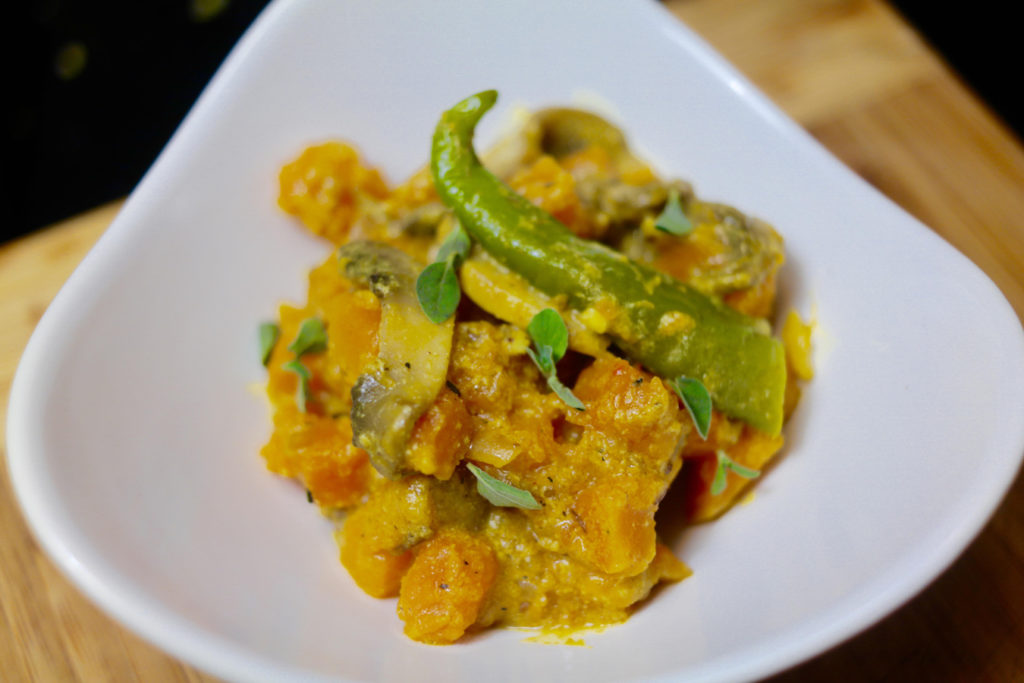 We thought this was a really good curry.  The squash and mushrooms add in some amazing color to this dish, and they come out really tender from all the sautéing and simmering.  The seeds, the spices, and the chiles add some great flavors, and the coconut milk makes everything creamy without dairy.  And if you're in the mood for something light and healthy, this dish is mostly just vegetables.  We liked that this curry was warm and nourishing, and it proves that getting in your veggies can be delicious!