Our inspiration for this recipe came from having some food lying around that we needed to use:  a wedge of raclette cheese we got at Olsson's Fine Foods in Princeton, and a loaf of multigrain bread from Sullivan Street Bakery (more on both of these places in later posts).  Cyril decided to combine these two ingredients, plus a few others, into a muffuletta like the ones he had seen in some cooking videos online.  Most muffulettas – which are a hugely popular type of sandwich in New Orleans – are typically made with cold cuts, but we wanted to make a vegetarian version.  And since the raclette we had is used in a lot of dishes from Switzerland, we decided to stuff this muffuletta with some of the veggies you might see in Swiss foods.  This is our result, which we thought came out pretty tasty.
To make this muffuletta, you'll need:
A thick, hearty loaf of bread
A 1 1/2 pound bag of baby potatoes
A green bell pepper
A red bell pepper
1/2 pound raclette cheese
Thyme
Start by prepping your vegetables:  cut your baby potatoes into quarters and boil them in a pot of water with salt and 1/2 teaspoon of baking soda in it.  Take the potatoes out after 10 minutes, when they're tender, and drain them.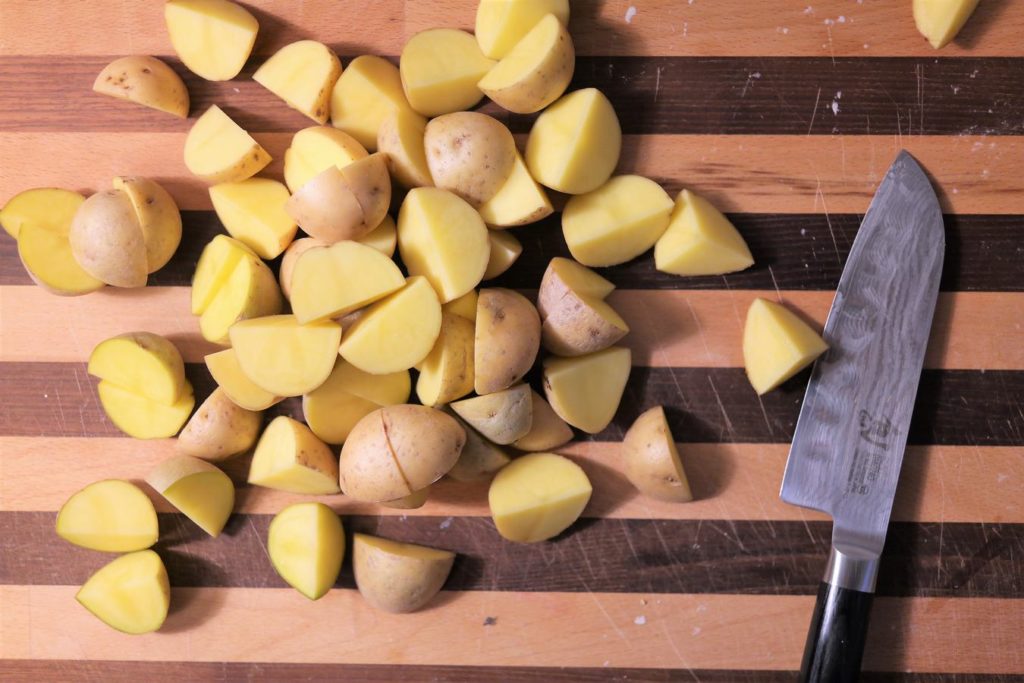 Also take your whole peppers and placed them on a baking sheet, then roast them in the oven at 450°F for about 30 minutes, until the outside starts to char.  When the potatoes are done boiling, stick them on another pan, drizzle them in olive oil, and roast them in the oven for 20-30 minutes, until they turn golden on the outside.  When the peppers are done let them cool a little, then peel their skins off, pull out the stem and seeds, and tear them into large strips.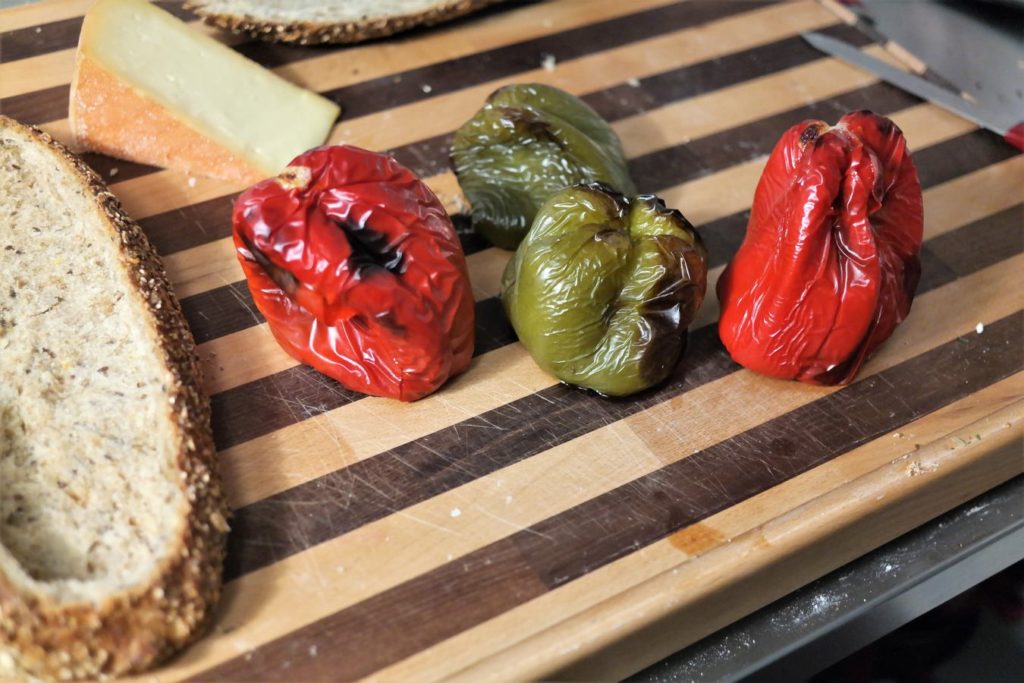 While we were waiting on the vegetables, we used a serrated knife to cut the very top off the loaf of bread …
… then we cut out the middle of the loaf and scooped out everything inside, until we had a thick shell of bread (you can snack on all of the delicious innards).  We cut the raclette into triangles and lined the bottom of this loaf with a layer of cheese.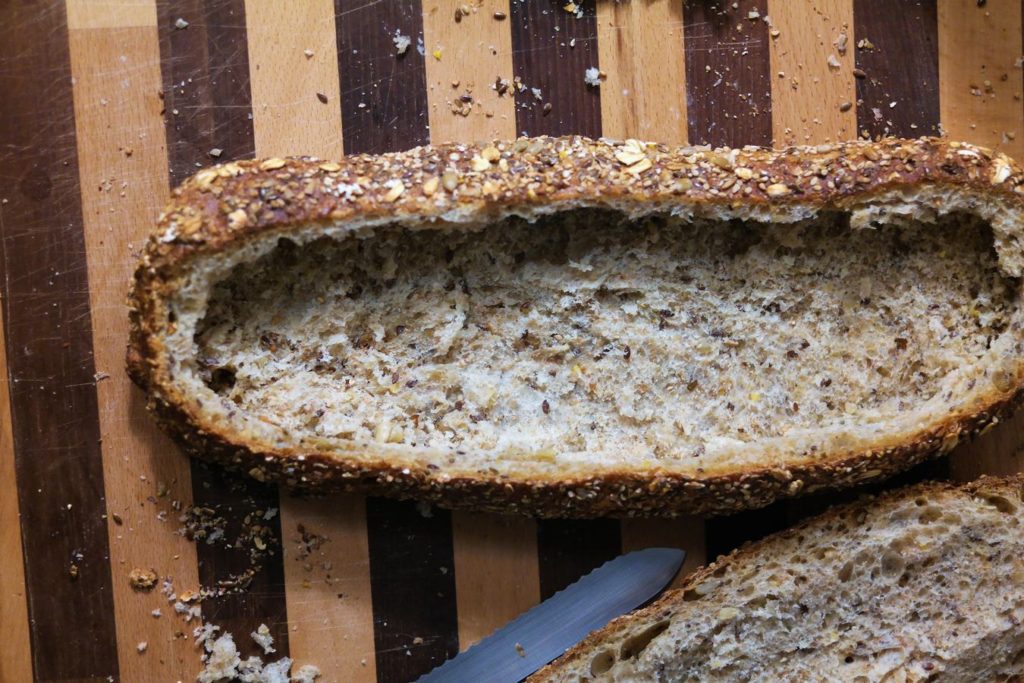 Once the potatoes came out of the oven, we shoved them all into the bottom of our bread loaf and covered them with some sprigs of thyme.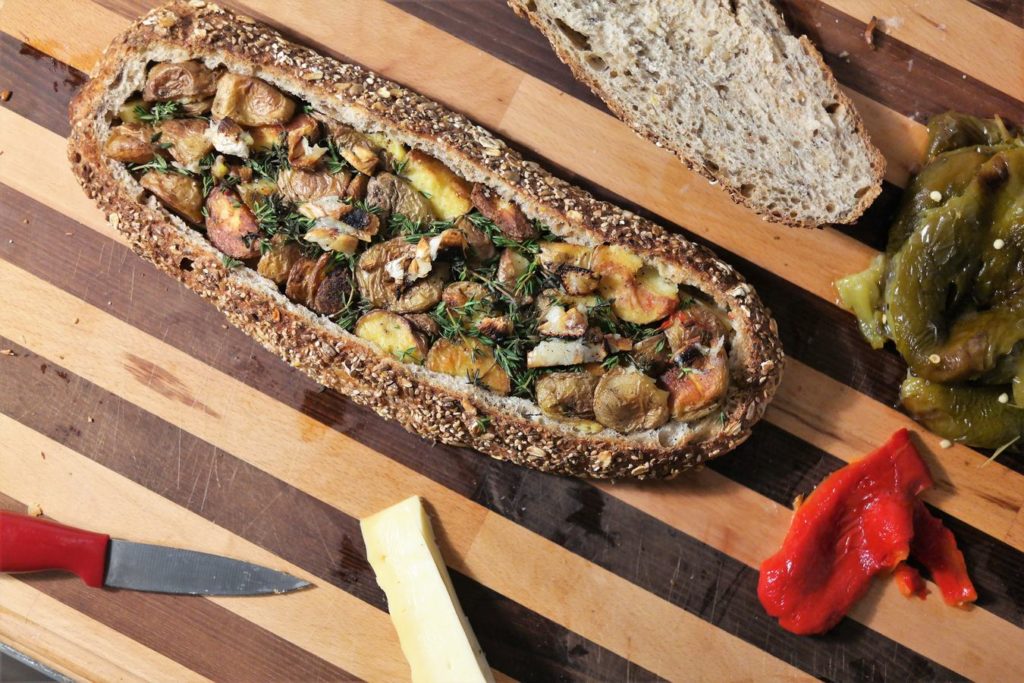 Then we covered the potatoes with red pepper strips and more cheese.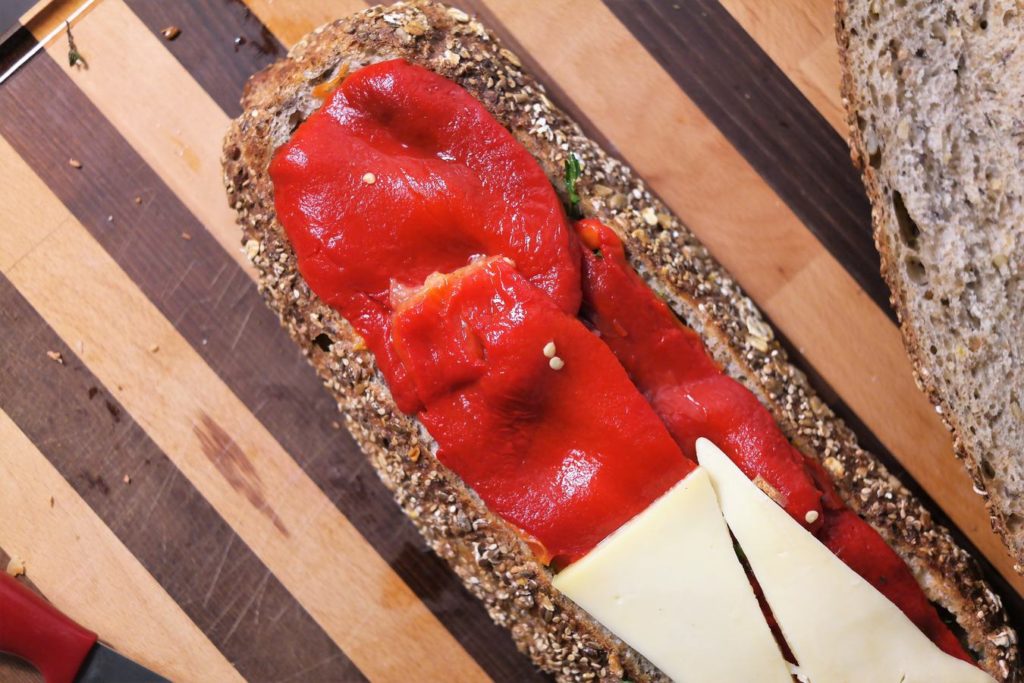 You're going to have to really work to get all the cheese, peppers, and potatoes stuffed into the bread.  Once you're done layering everything, top it off with some more thyme.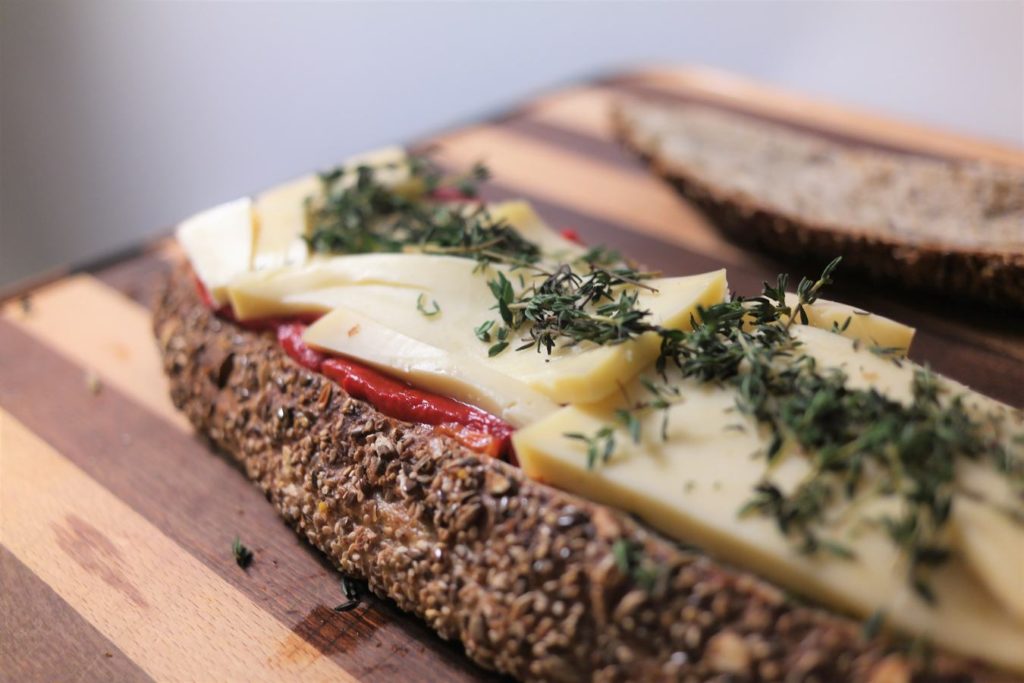 Then put the top back on your bread loaf.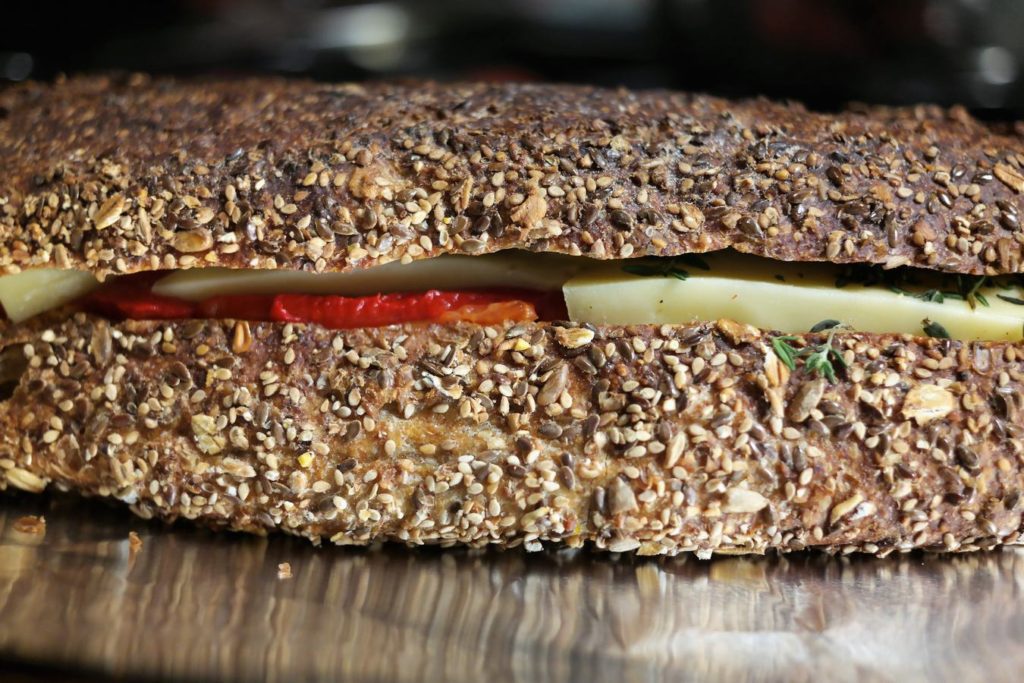 Wrap the muffuletta in foil, turn your oven down to 425°F, and bake your sandwich for 20 minutes. We placed two large cast iron pans on top to make sure that all those ingredients got smushed into place.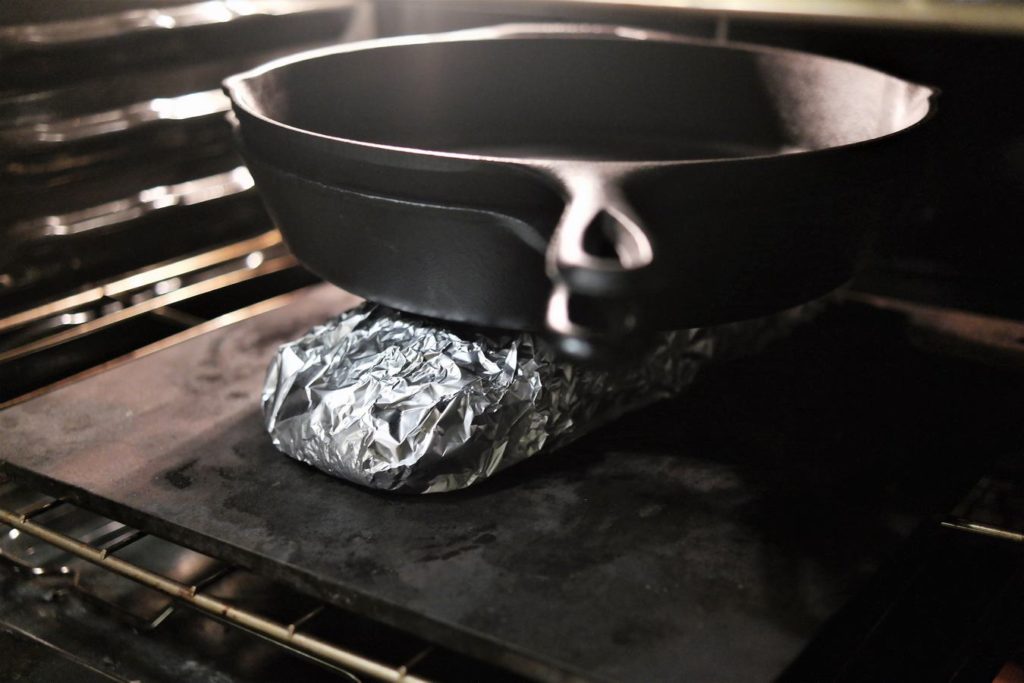 This is what it should look like once it's baked and unwrapped: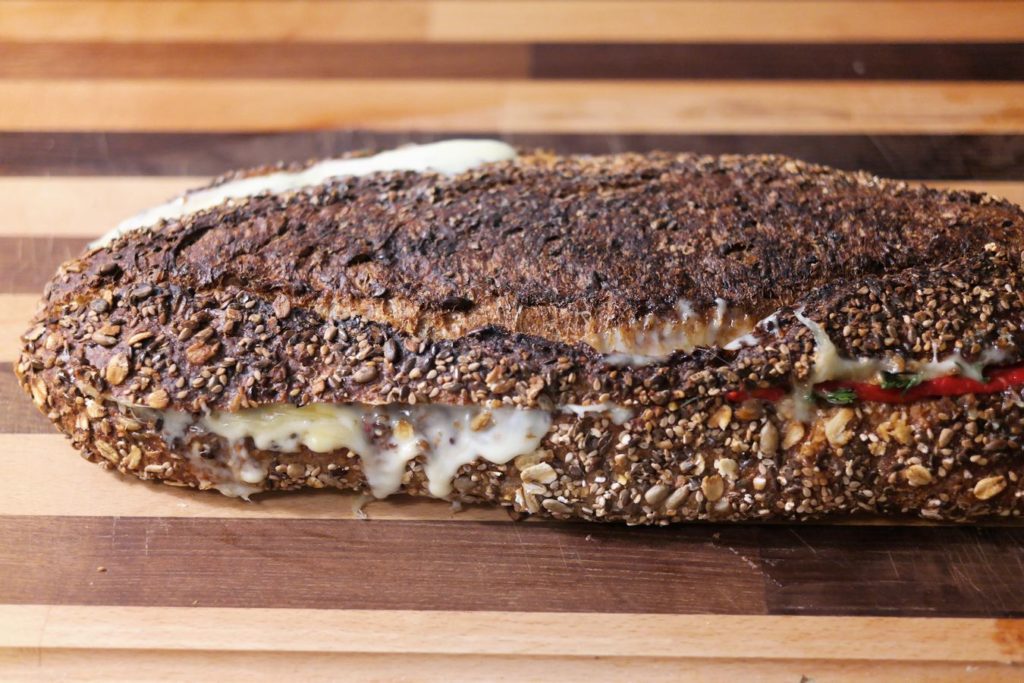 Now you can cut into it, slice it up into individual servings, and enjoy!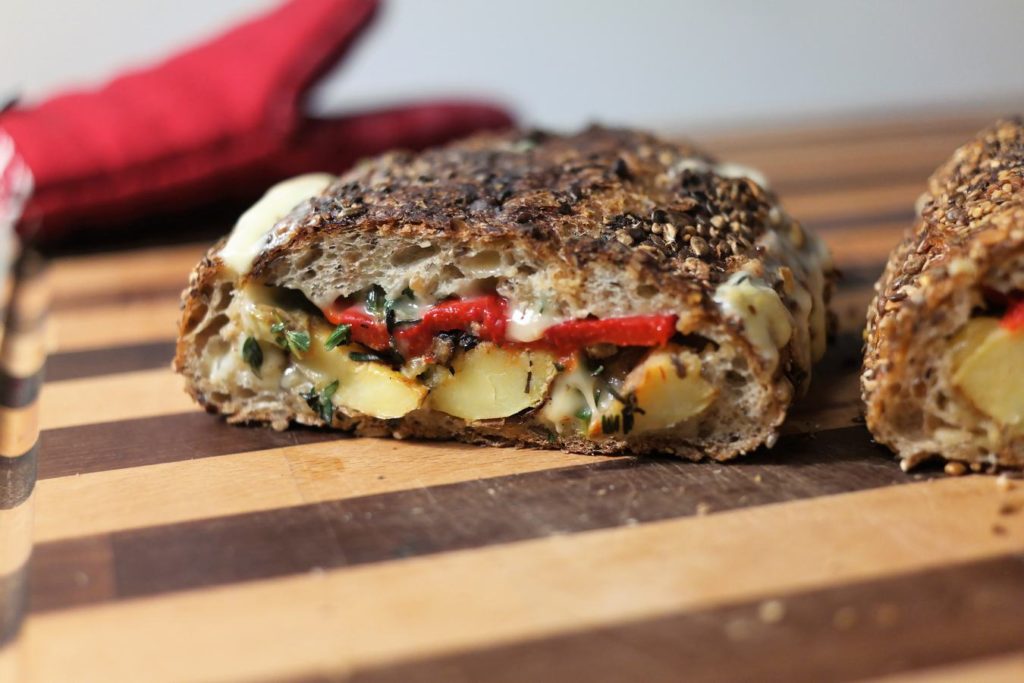 As you can probably see, this is a pretty substantial sandwich:  cheese plus veggies plus potatoes in a whole loaf of bread is enough to make a meal for several people.  But sometimes you need a warm dish like this to bite into, you know?  This particular cheese comes out very gooey and delicious, and it goes well with the roasted peppers and potatoes.  And all of it tastes amazing stuffed inside some good bread.  If you've been envious of the muffulettas down in New Orleans before but never felt like you could eat them because of their tendency toward meat, we think you'll like this vegetarian substitute.