We know this sounds odd:  sweet potatoes on sandwiches?  Isn't that kind of weird?  Well, we've had other odd vegetables on sandwiches before, courtesy of Byggyz, so we were eager to try something new.  And here, the key to these delicious little sammies (which we based on a recipe we saw on Bon Appétit) is to use lots of spices on the sweet potatoes and cook them well, and then pile some flavorful cheese and veggies on top and smash it all between some good bread.  We served these as finger food before a big meal with family, and they were excellent to nosh on while we all waited for the rest of the food.  We'll show you how we made these, and we think you'll be inspired to try them for yourself.
To make the sandwiches, you'll need:
2 medium-sized sweet potatoes
Chile powder
Cumin
A beet
A small red onion
Vinegar
Mayo
Garlic
A lemon
Parsley
Mint
5 ounces of feta cheese
A loaf of nice, crusty bread
You'll want to prepare the sweet potatoes first, by peeling them and then cutting them into slices no more than a half-inch thick.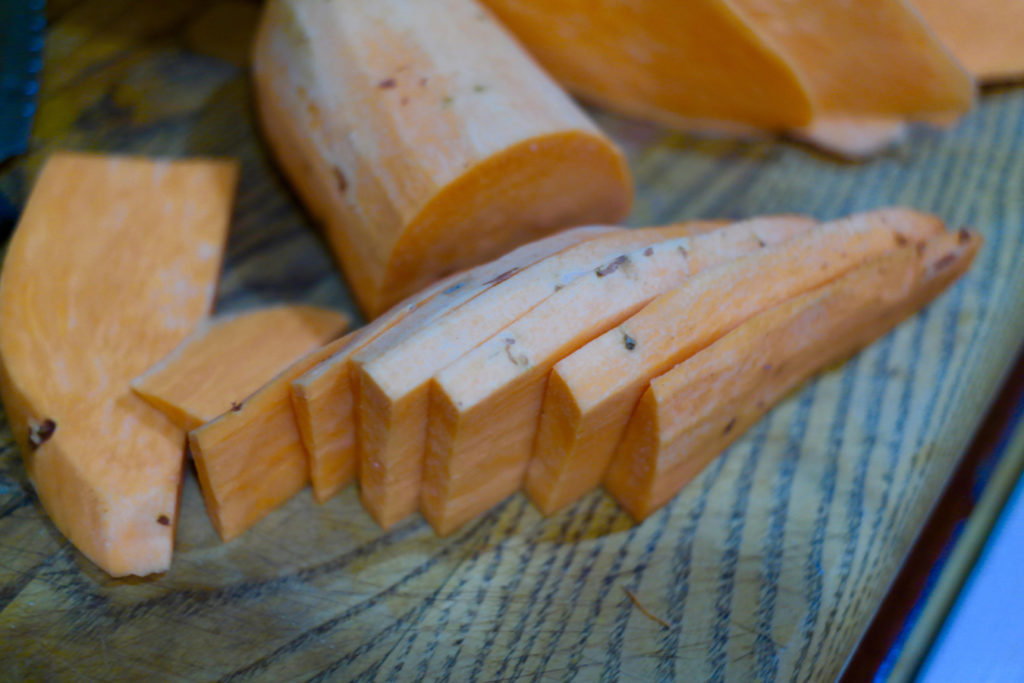 Place all of the sweet potato pieces into a bowl and mix them with 3 tablespoons of olive oil, a teaspoon of chile powder, and 1/2 teaspoon of cumin.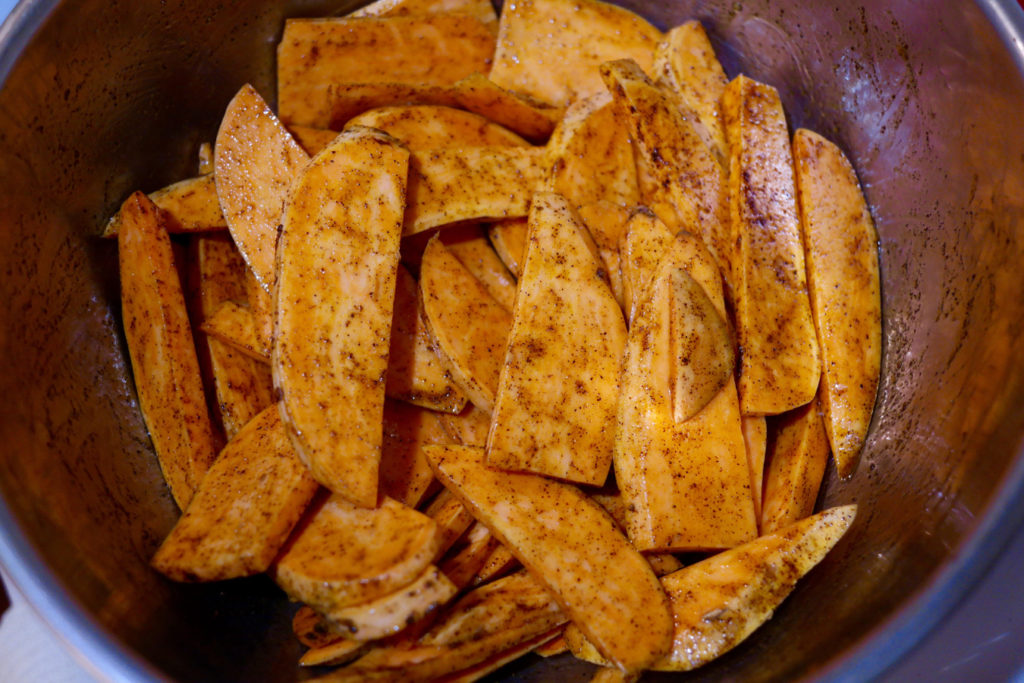 Then in a cast iron pan over medium-high heat, place the slices in a single layer and cook them until they're lightly blackened on each side – this should take 5-10 minutes, and you'll have to do it in several batches to get all of the sweet potato done.  Once they come out of the pan, arrange the slices on a baking sheet and then roast them all together in your oven for another 15 minutes at 400°F.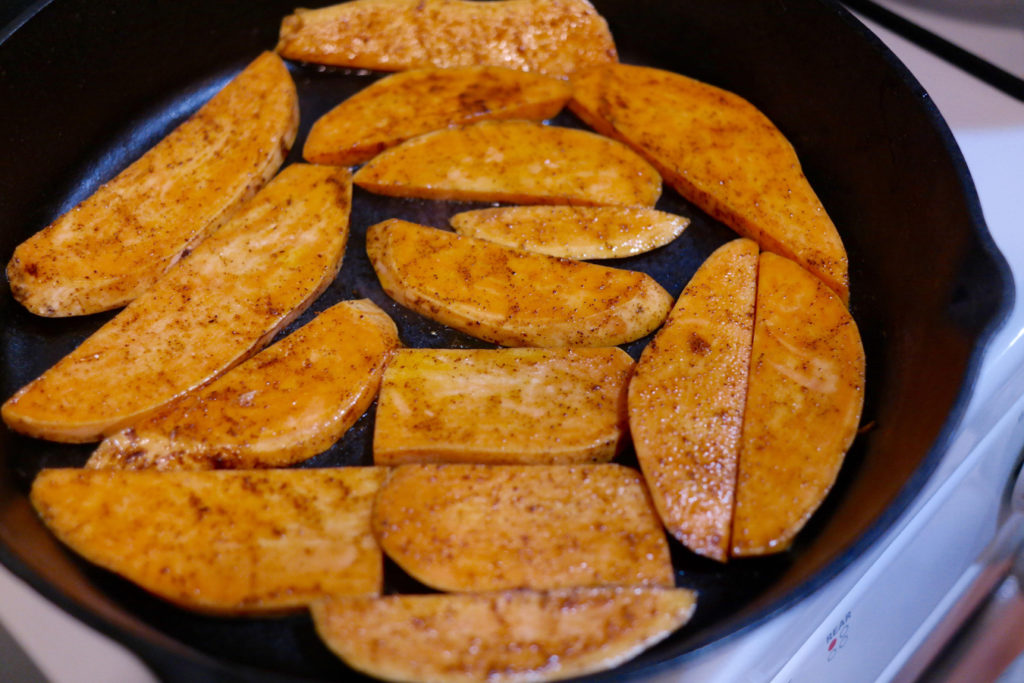 While your sweet potato is cooking you can prepare the rest of the sandwich ingredients:  slice your beet thinly …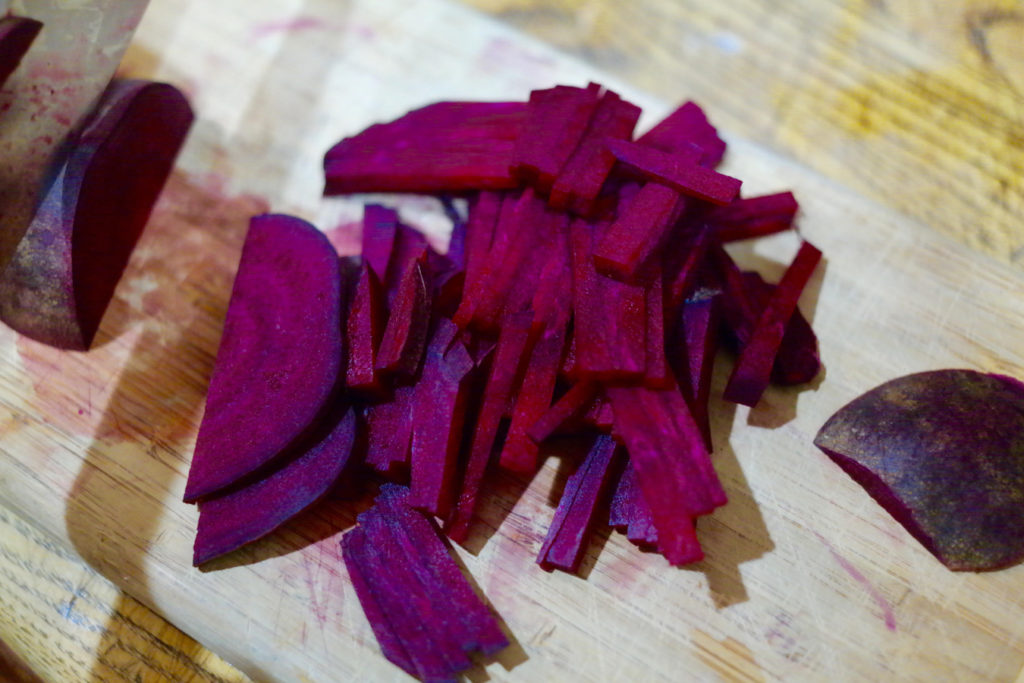 … and mix it in a bowl with half your onion, diced, and 3 tablespoons of vinegar, along with some salt and pepper.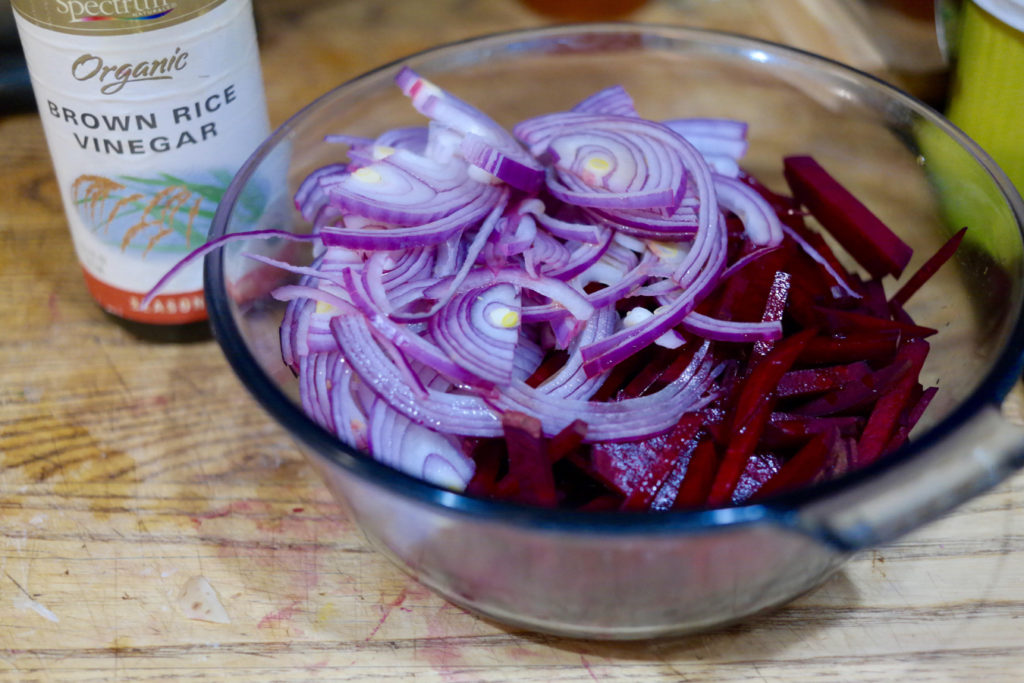 Make a spread for the sandwiches by combining 1/2 cup of mayo with a grated garlic clove and the juice from half a lemon.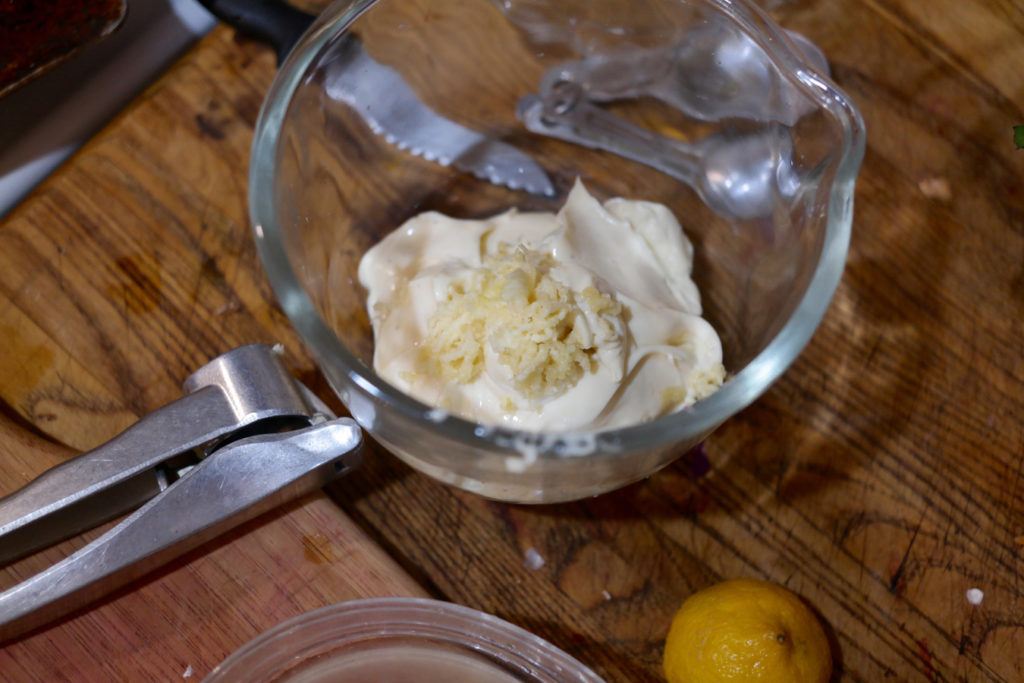 Mix a few large handful of parsley leaves with a whole bunch of mint leaves and the juice from the other half of your lemon.
Cut the feta into planks.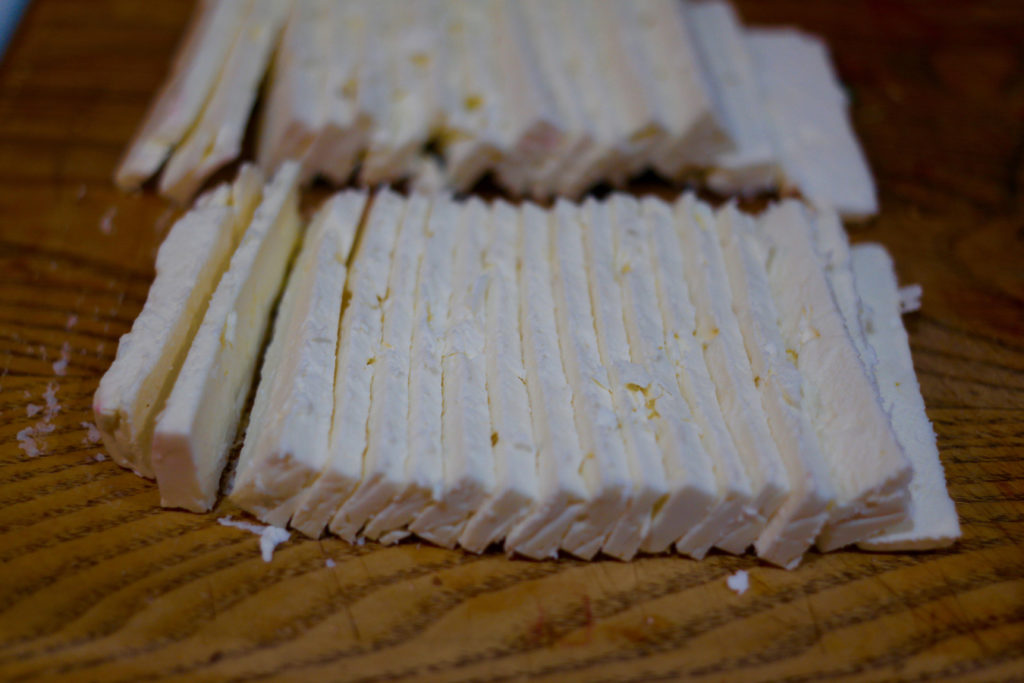 And finally, cut your loaf into slices (ours came from Sullivan Street Bakery, whose bread we also used to make our muffuletta).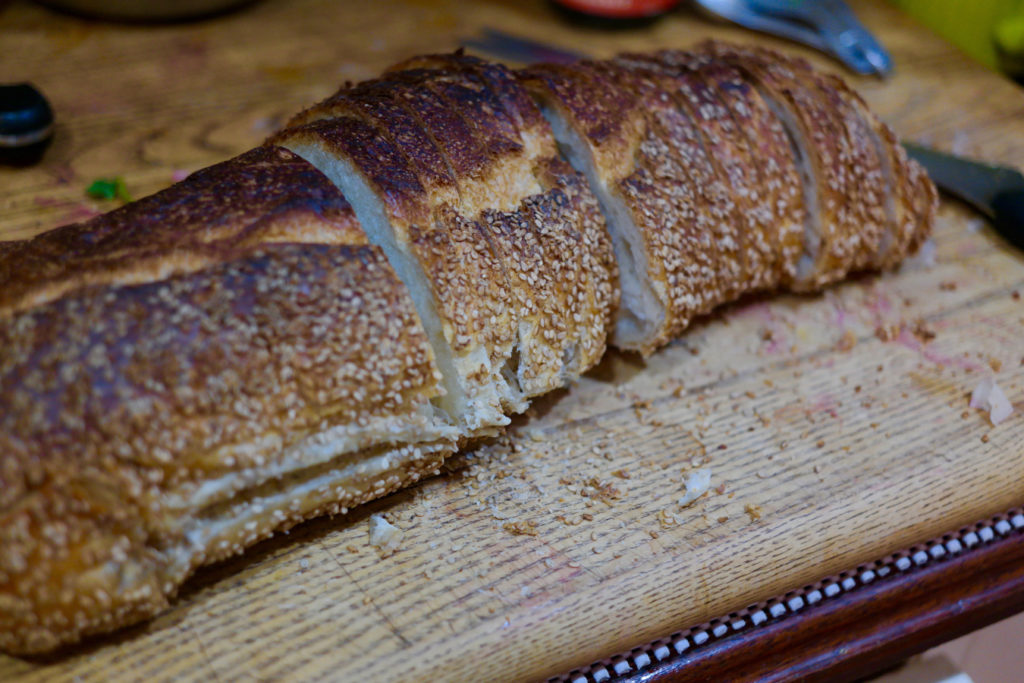 Once everything is ready, spread the mayo mixture on a piece of bread, then layer on a slice of cheese and some sweet potato.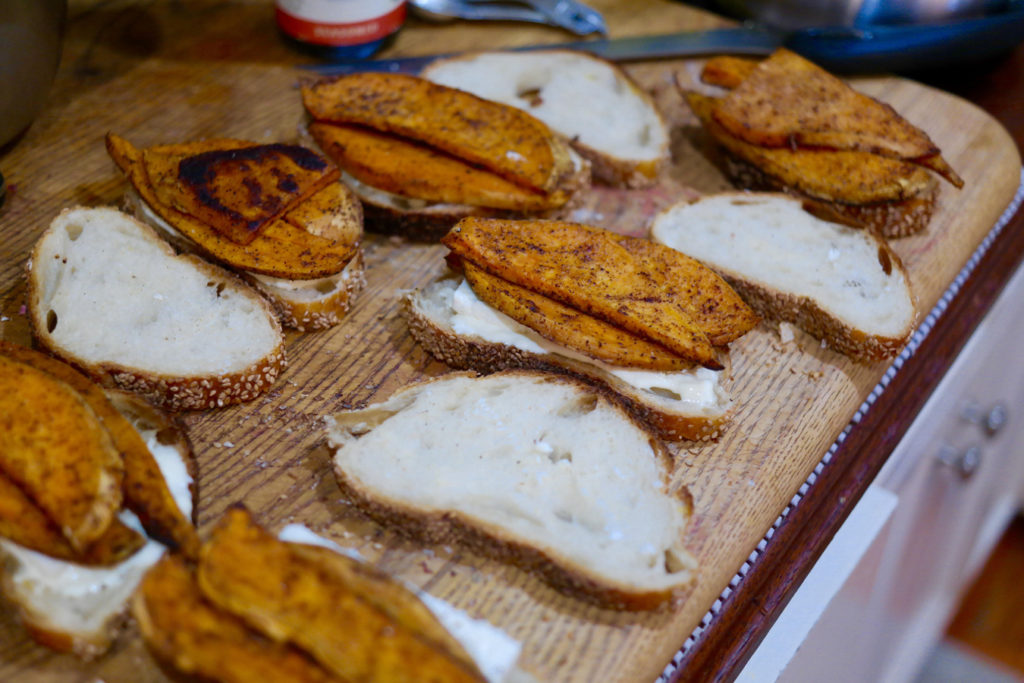 Top this with the beets and some herbs.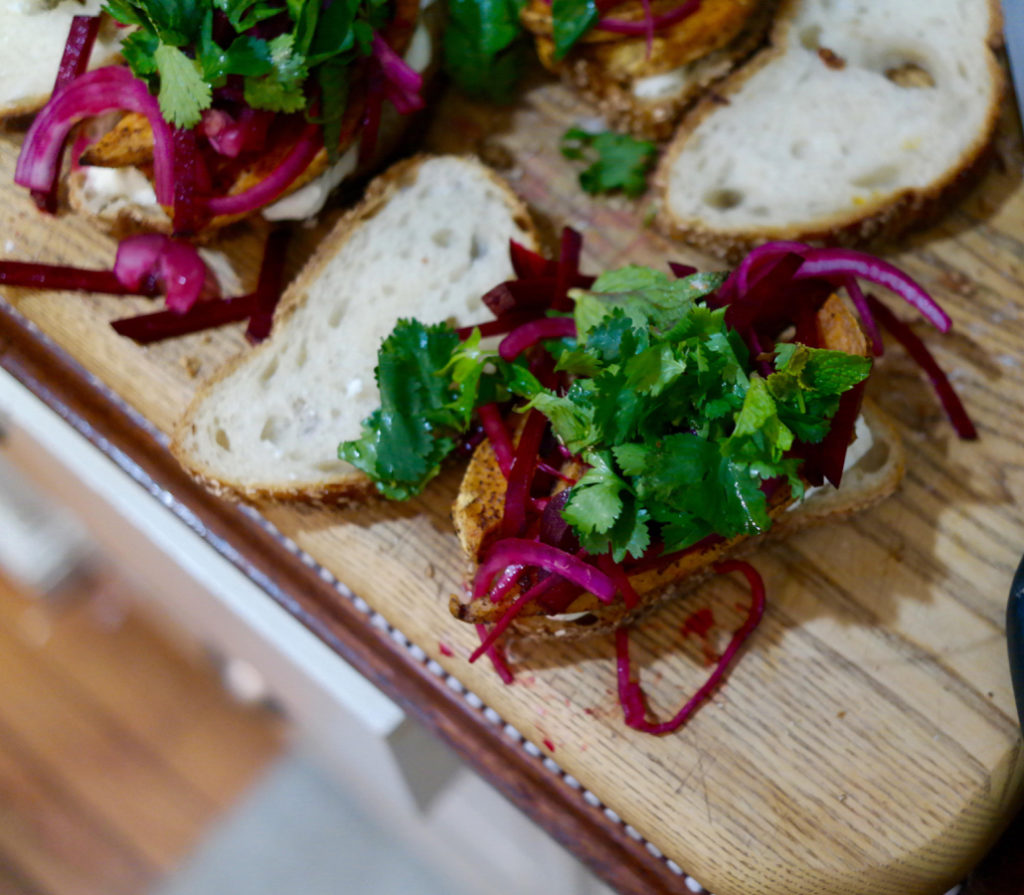 Place another slice of bread on top to complete your sandwich.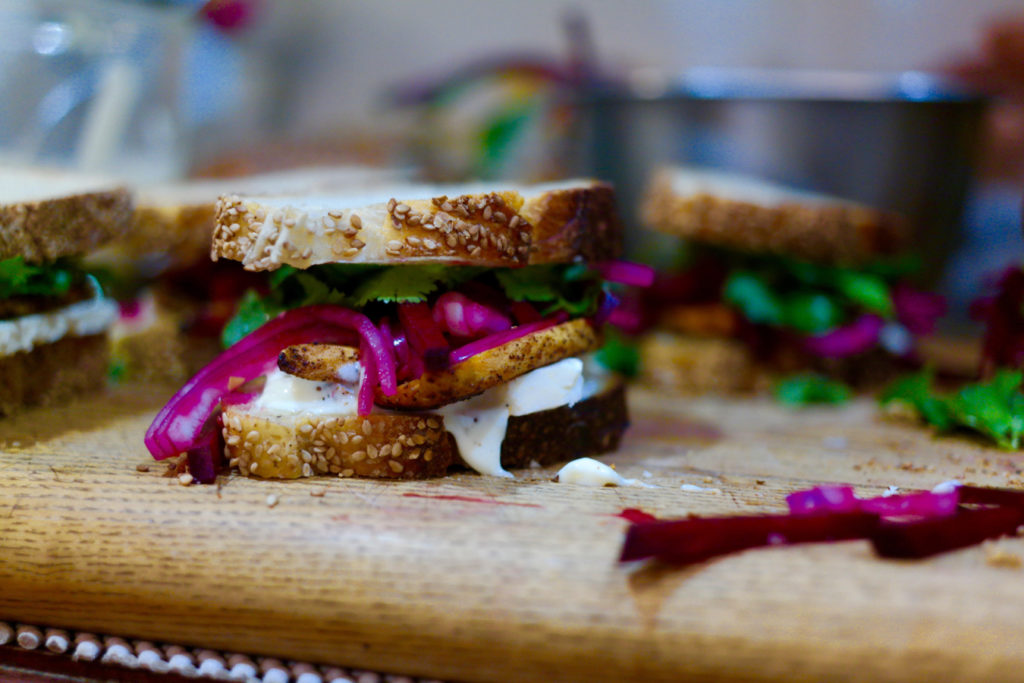 That looks pretty tasty, doesn't it?  There's so many different flavors going on in this one sandwich, and they all enhance each other:  the sweet potatoes are nicely spiced, the beets and onions provide some crunch, both the cheese and mayo are creamy, the herbs add in some rich greens, and of course the bread makes the sandwich.  And, if you've got people with varying tastes, you can leave off one ingredient or another and still have a really interesting and colorful finger food.  Sweet potatoes are definitely an unusual sandwich filling, but we think this recipe proves that they can be totally delicious in between two slices of bread.