Jackson Heights is a neighborhood in Queens that's known for being incredibly diverse:  about half the people living there were born outside of the United States, and there are large populations of people from south and southeast Asia.  So, as you can imagine, there's lots of interesting and delicious food to be had there!  On one recent weekend we visited two very different places serving up very different food, and we wanted to highlight the amazing things we got to eat (just be aware that we there are some meat-based foods featured here).
First, we got a chance to visit Potala, a food truck that sits right at the intersection of Broadway and 37th Road in Queens.  In case you have trouble finding it, here's what it looks like: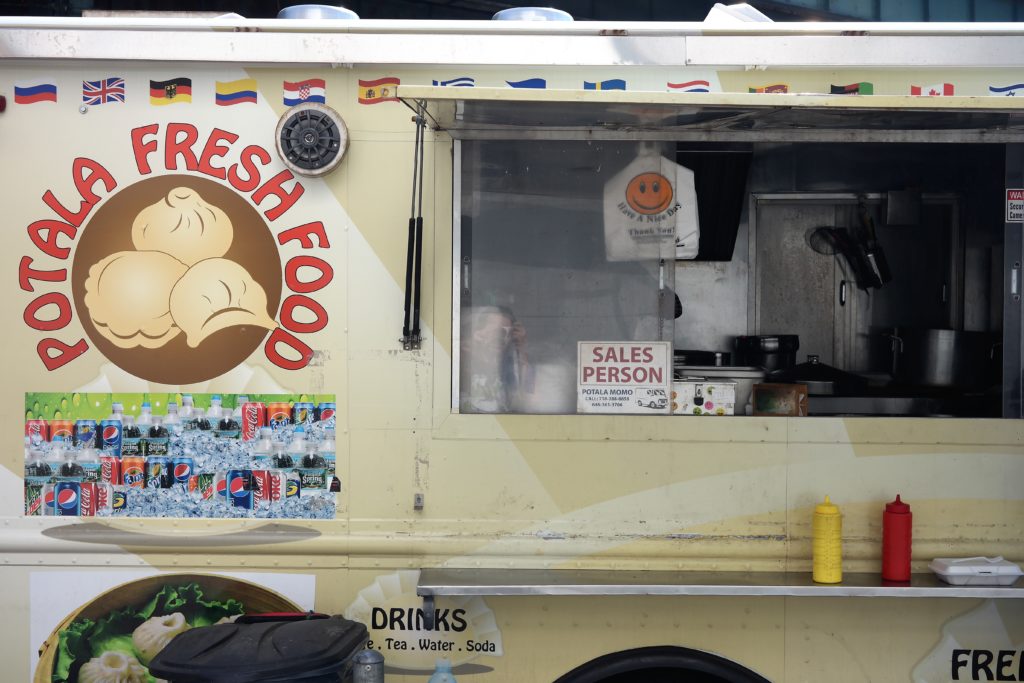 Potala serves up momos, which are steamed dumplings from Tibet filled with either ground meat or vegetables.  Here's one from Potala, covered in the nicely spicy red sauce the truck provides.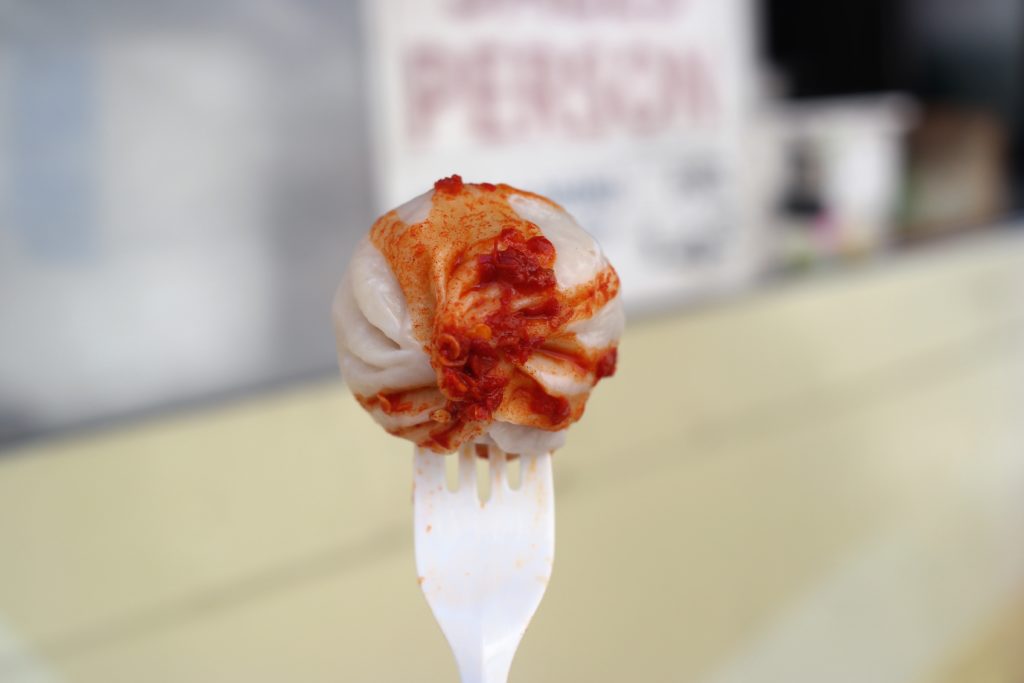 And here's all the momos we got that day – on the bottom are 8 with beef and on the top are 9 with mixed vegetables and one with potato (because it was the last one left when we got there).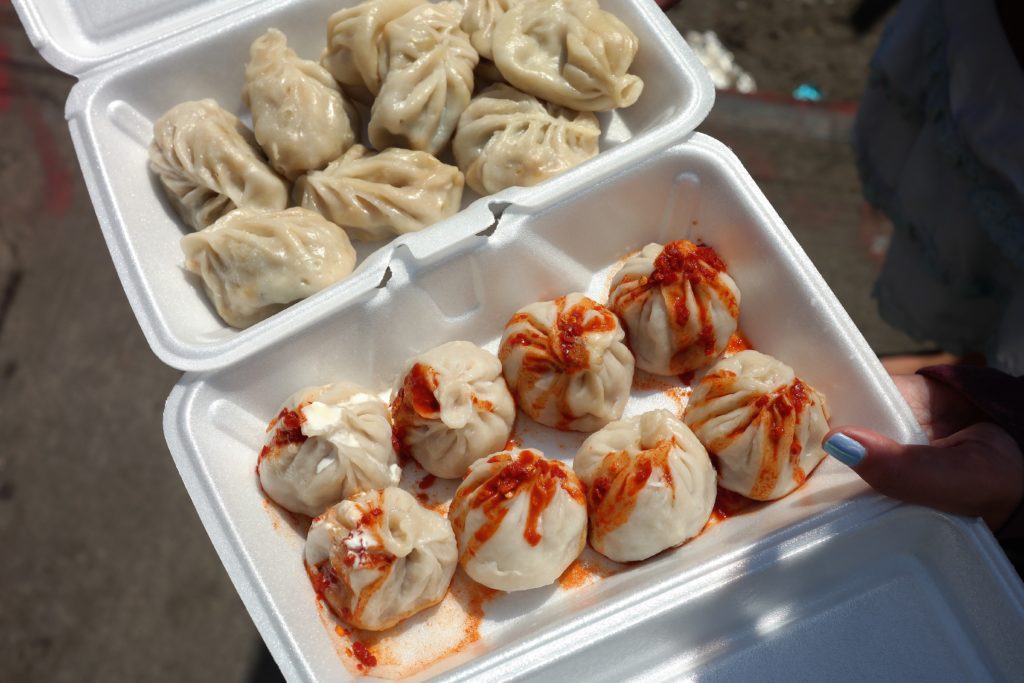 Less than half a mile from Potala is SriPraPhai, one of the most popular Thai restaurants in all of New York.  The restaurant is huge, and yet it's still packed every weekend because the food is so good and the menu is so wide ranging.  They also have an extensive selection of vegetarian food, so there was a lot for Miriam to choose from.  We started our meal there with the fried taro and peanut fritters, which come with a sweet chili sauce for dipping.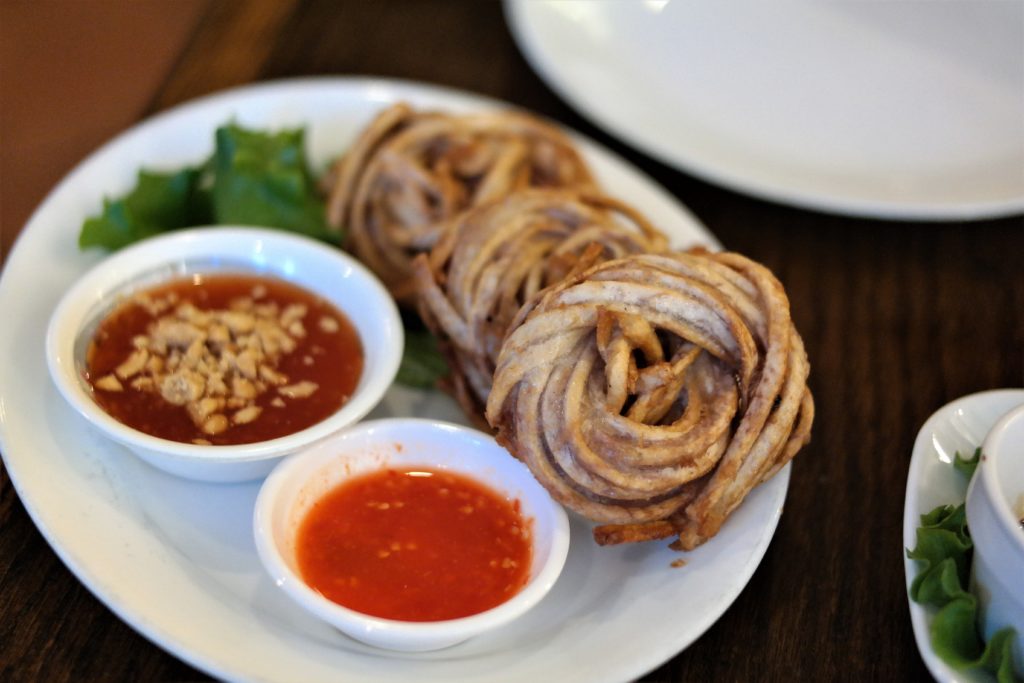 And we had an order of the chive dumplings as well, with soy sauce on the side.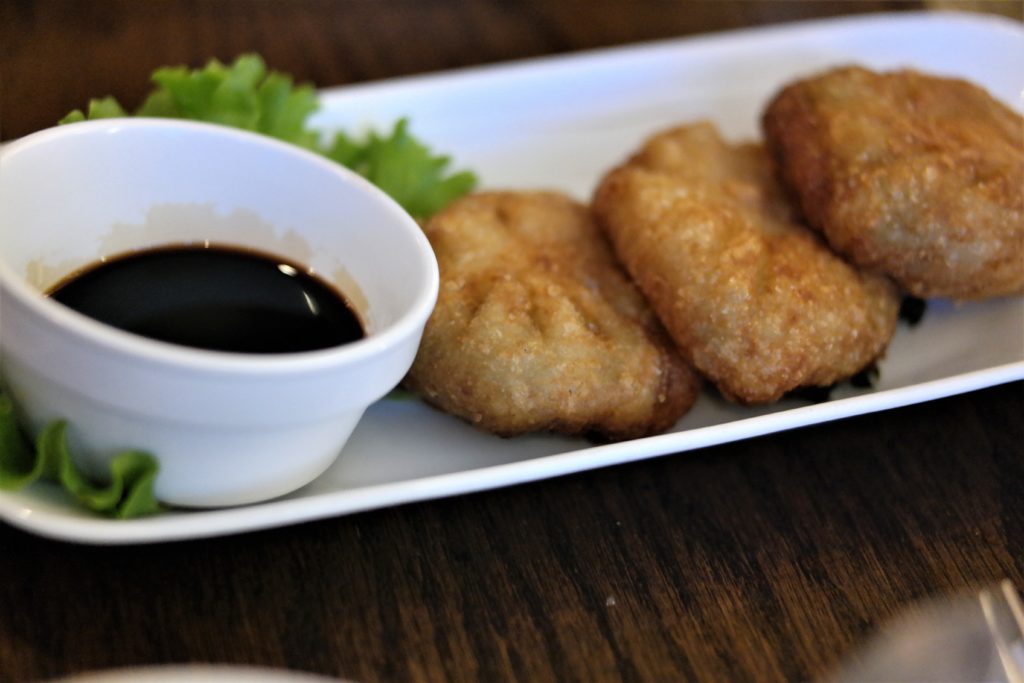 We also both got soups:  for Miriam, a vegetarian Tom Yum made with mushrooms, tofu, lemongrass, and snow peas in a spicy coconut milk broth.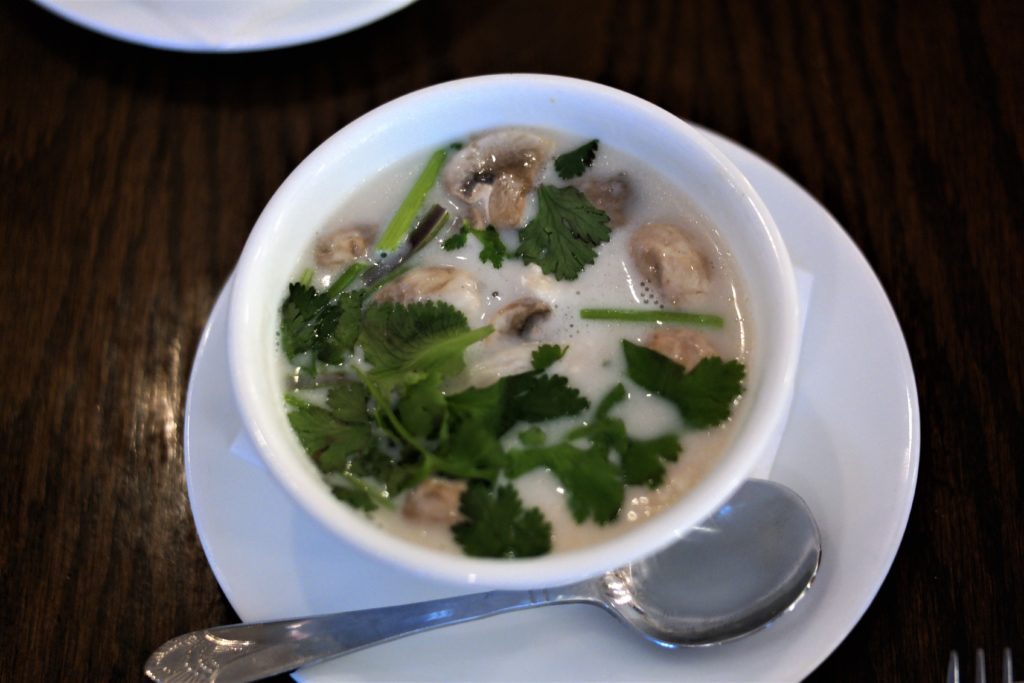 And for Cyril, the non-vegetarian Tom Yum, with pork and mushrooms in a hot and sour broth.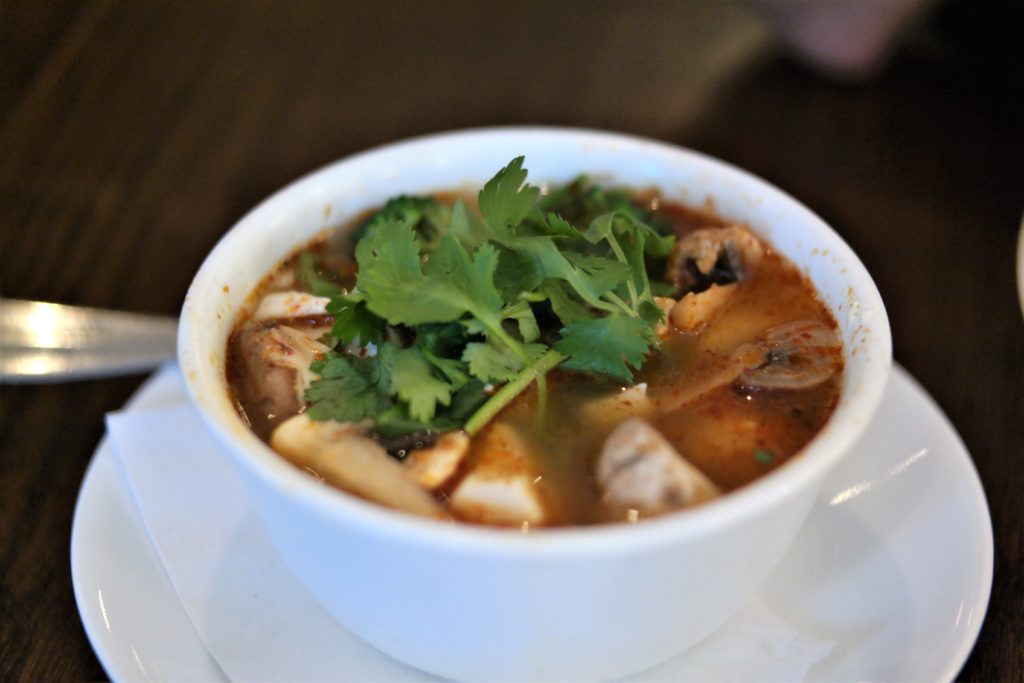 Miriam also had the vegetarian green curry, which SriPraPhai is famous for – it comes with tofu, eggplant, bamboo shoots, and noodles in a coconut milk sauce.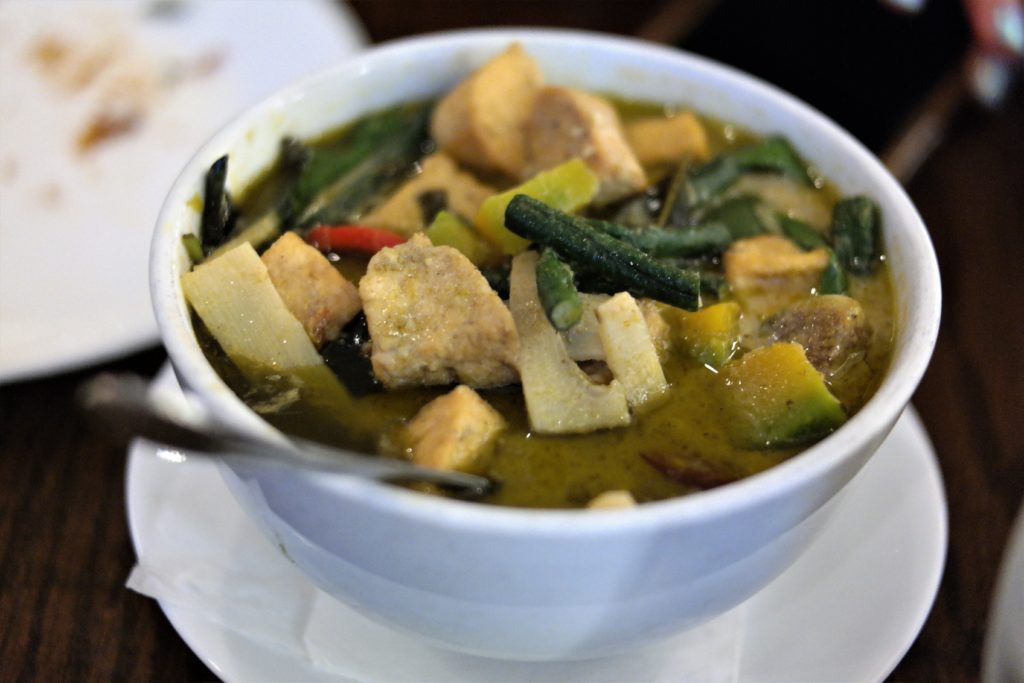 And Cyril got the Gai Yang Combo, which consists of a papaya salad made with dried shrimp, some barbecue chicken, and a side of coconut rice.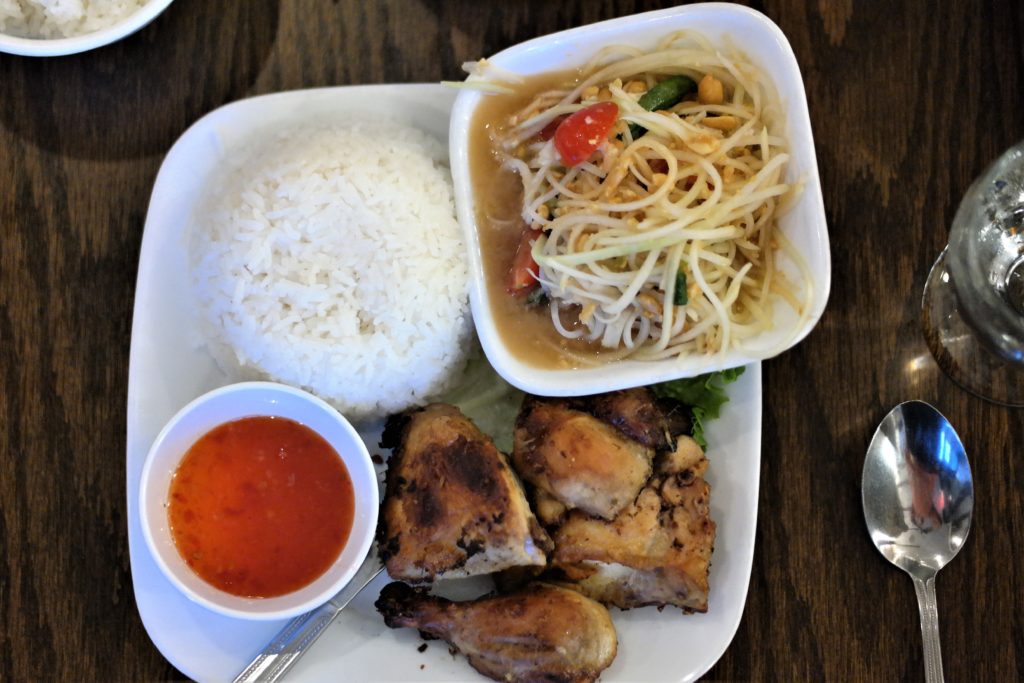 If you ever find yourself in Jackson Heights, these are two places we would definitely recommend.  Or, if you're feeling adventurous and you want some delicious Thai or Tibetan food, make the journey to this neighborhood – which is easy to get to, because the E, F, M, R and 7 trains run nearby – and check these places out.  It's definitely worth a trip to this interesting area of Queens.