By now it should be no secret that we love mac and cheese:  it's a cheesy, creamy, carb-loaded comfort food classic, so what's not to like?  We recently came across a mac and cheese recipe in the New York Times that seemed promising, but we decided to get creative with it.  We altered the recipe a little to make it with five – yes, five – different cheeses, plus we incorporated the Patti Labelle method of using cubed cheddar as one variety of cheese.  The result?  Absolutely delicious, and so rich that you'll be having leftovers for days.  We'll walk you through how we made it.
You'll need:
16 ounces of pasta
Butter
Flour
Milk
Garlic
Paprika
8 ounces of cheddar cheese cubes (or 8 ounces of cheddar cheese sticks, cut into cubes)
4 ounces of white cheddar cheese
6 ounces of fontina cheese
6 ounces of Gruyère cheese
Bread crumbs
1 ounce of Parmesan cheese
Start off by cooking your pasta, and in the meantime grate up your white cheddar, fontina, Gruyère, and Parmesan cheeses.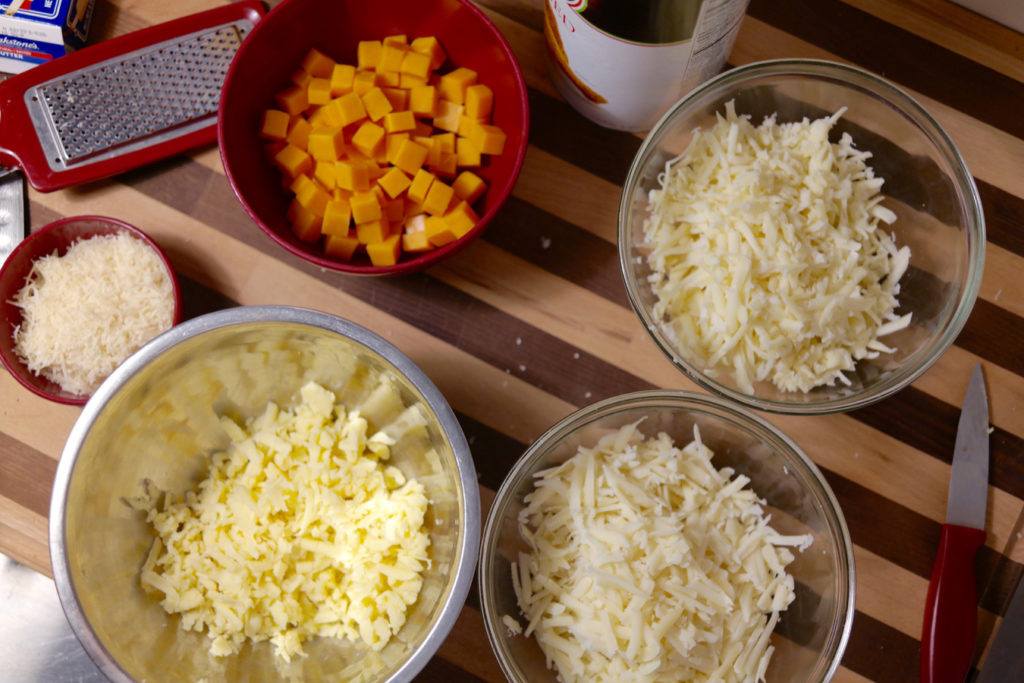 Next, melt 4 tablespoons of butter in a large pot over medium heat and whisk in 1/4 cup of flour.  Once the flour begins to foam, slowly whisk in 4 cups of milk, a grated garlic clove, and 1-2 teaspoons of paprika until you have a smooth mixture.  Bring everything to simmer, then add in the fontina, Gruyère, and white cheddar cheeses one at a time.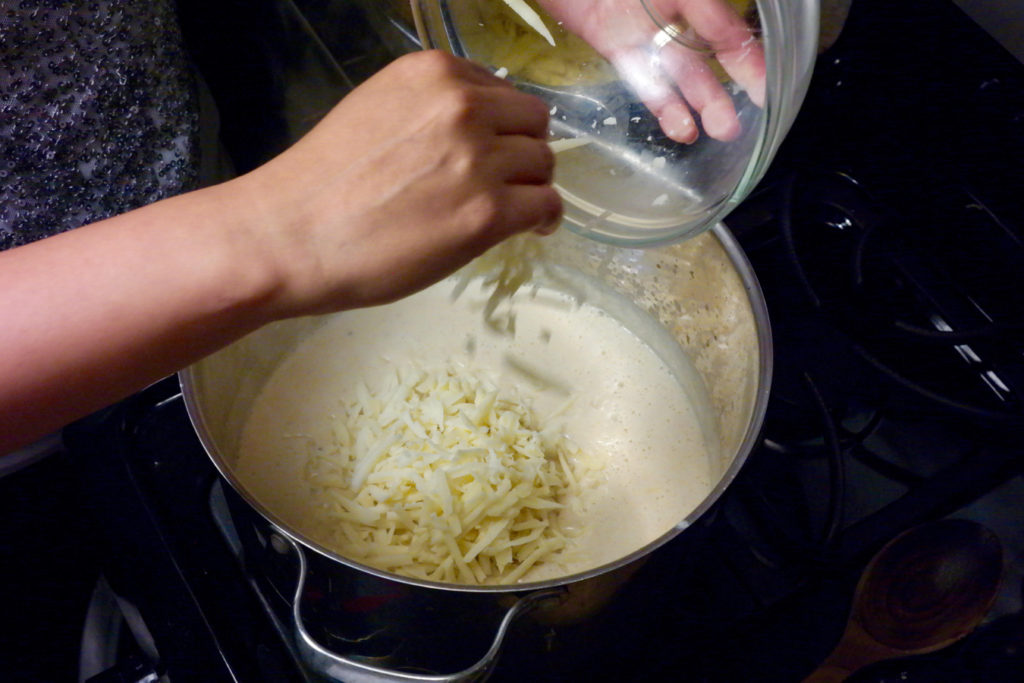 This is what your sauce should look like when it's done: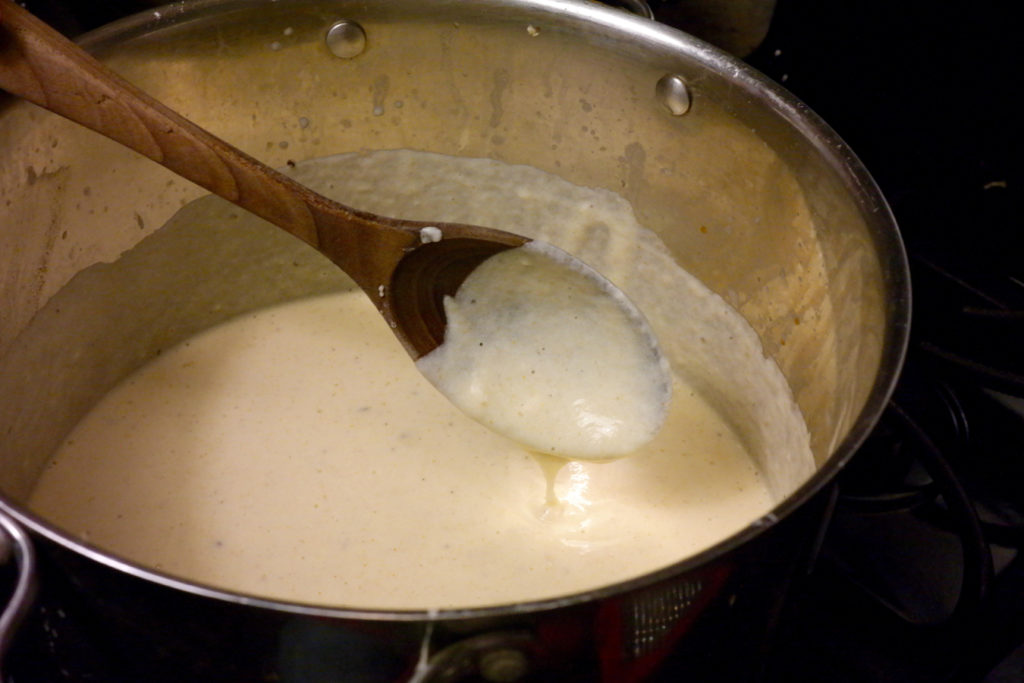 Then mix in the pasta.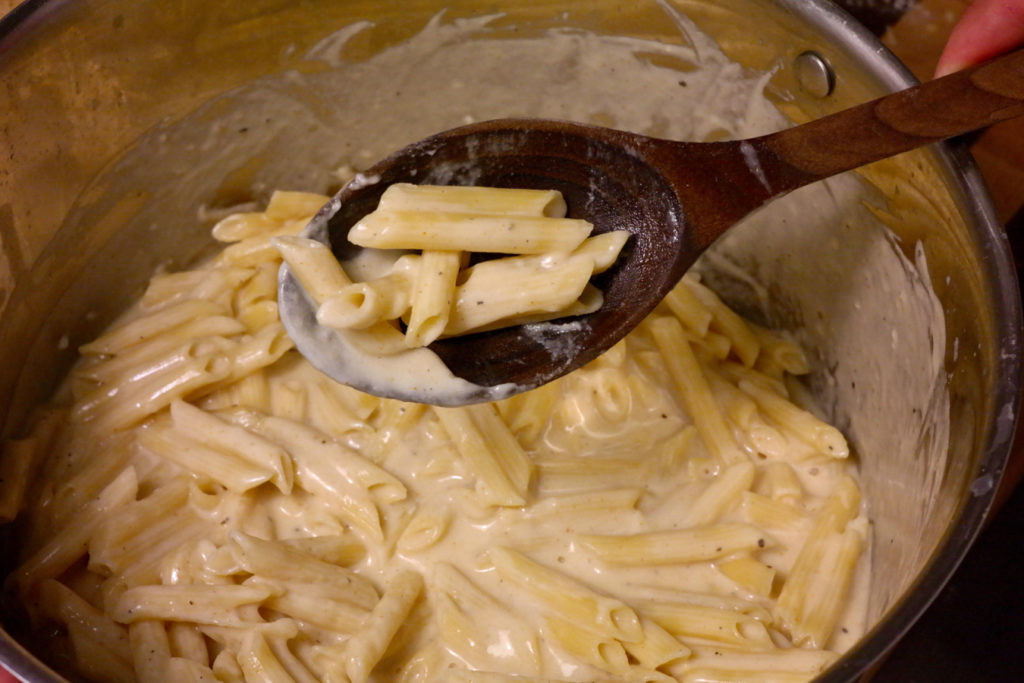 Pour about one-third of the pasta into a large baking dish and top it with one-third of the cheddar cheese cubes.  Repeat this in two more layers until all the pasta and cheese cubes have been added to the dish.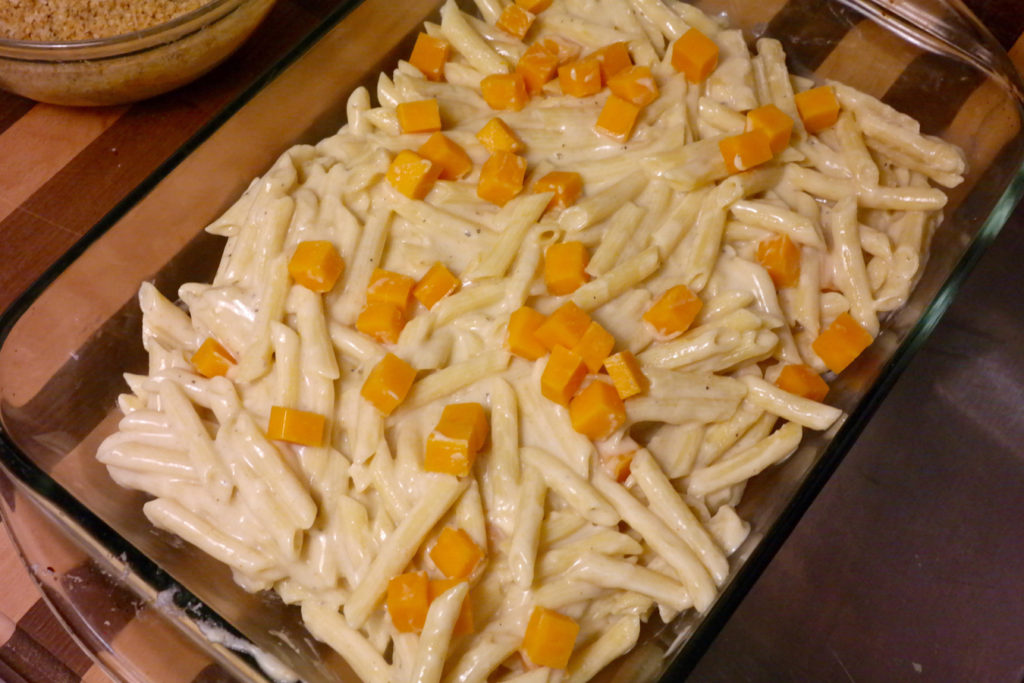 Now melt another 4 tablespoons of butter in a bowl and add in a cup of bread crumbs …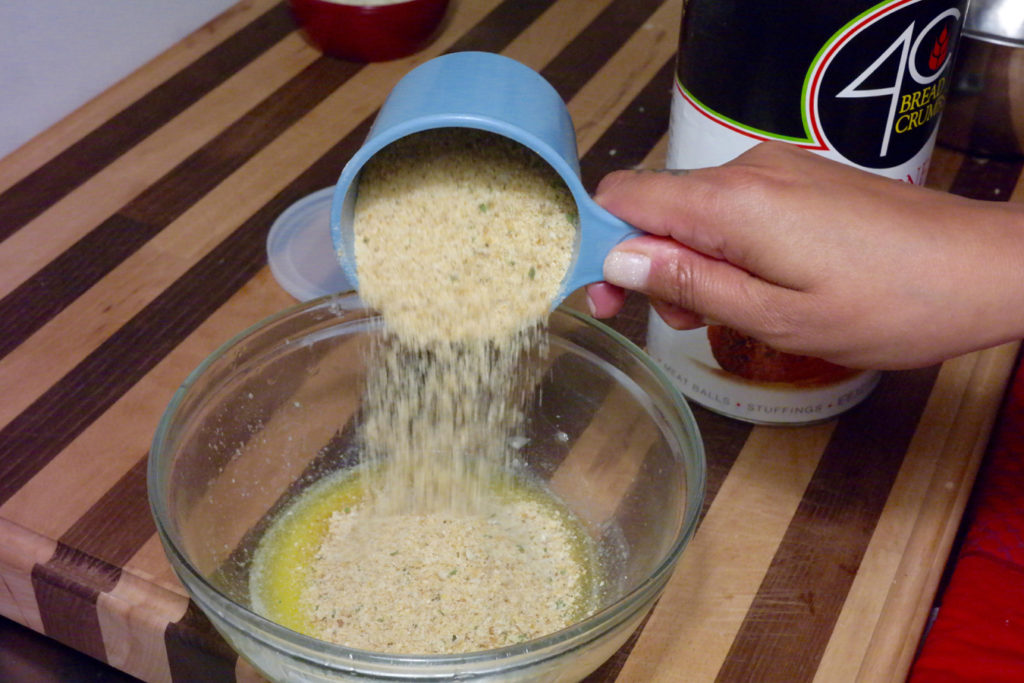 … plus your Parmesan cheese (you should have about 1/4 cup grated).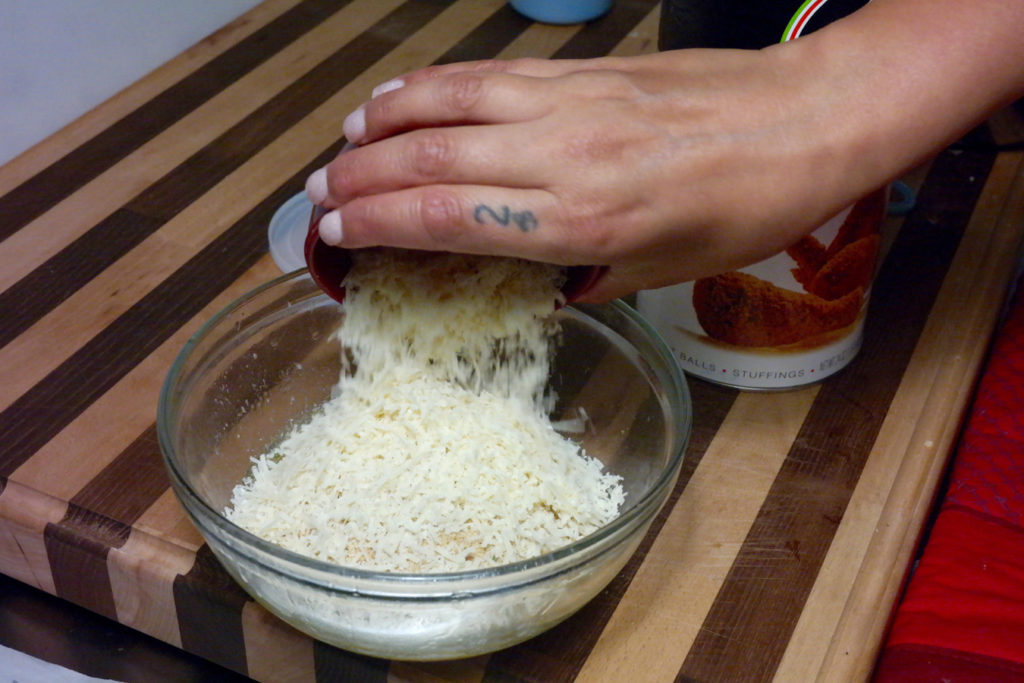 Mix these all together into a topping.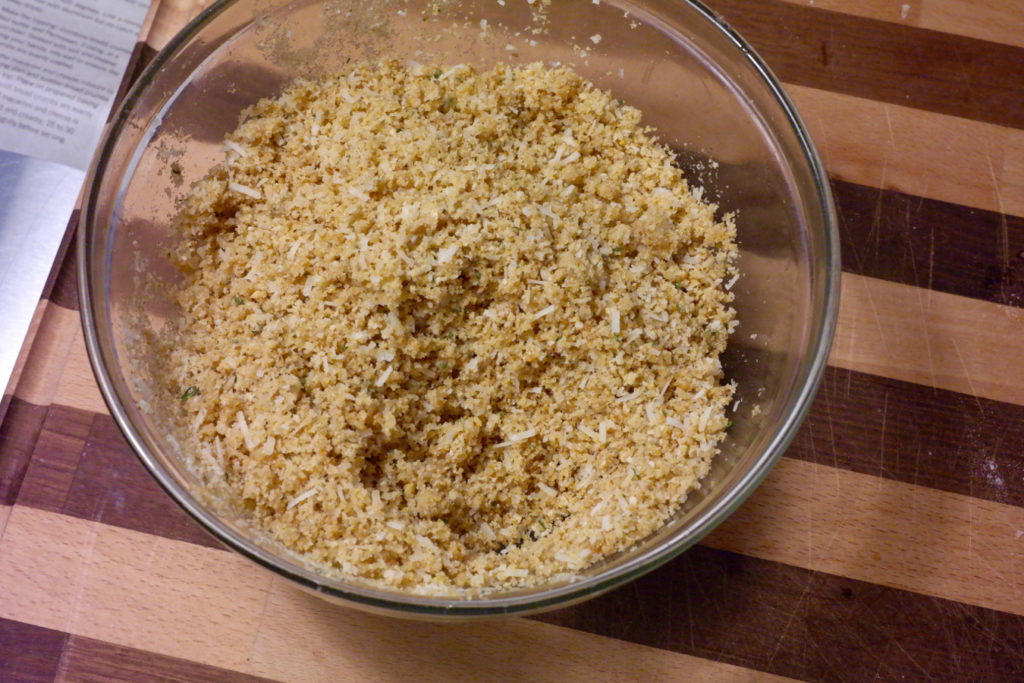 Then sprinkle it on top of your mac and cheese.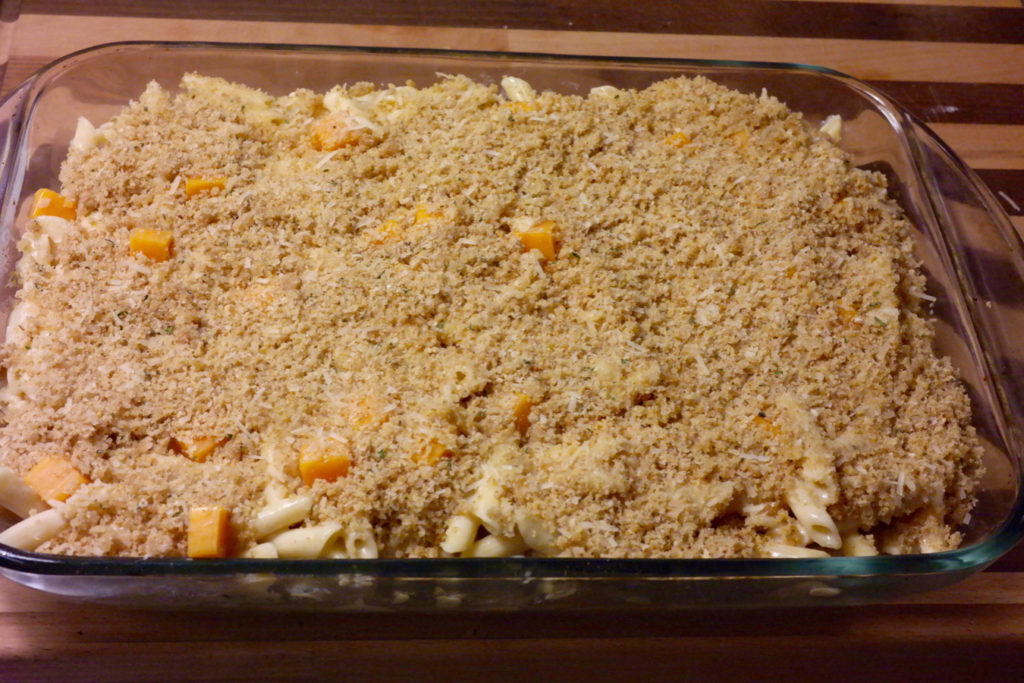 Cover your dish with foil and bake everything at 425°F for 25-30 minutes until it's bubbling hot and the bread crumbs are browned.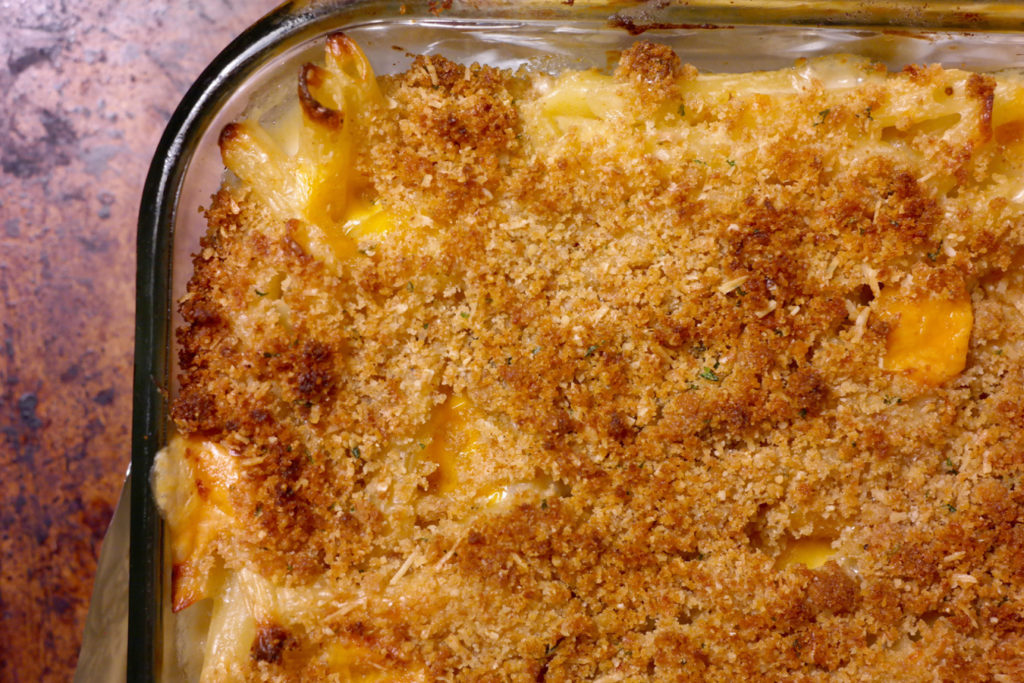 Then dish it out, and you've got yourself an awesome mac and cheese!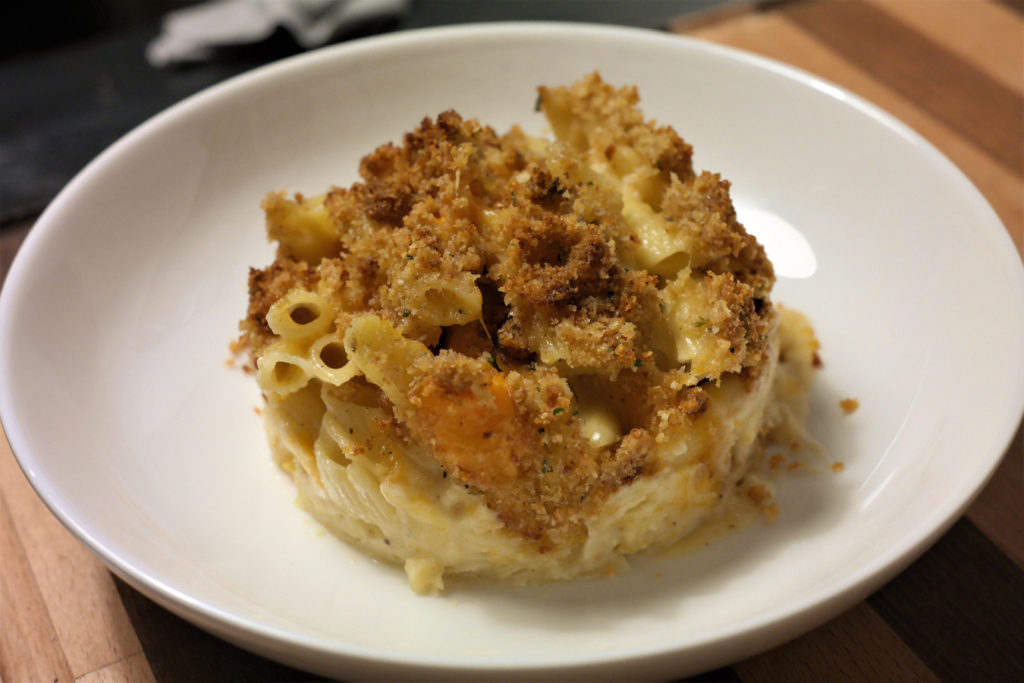 Yep, that's a lot of cheese.  As Cookie Monster would say, this is a "sometimes" food – indulgent, yet delicious.  All the cheeses come together well to bring in subtly different flavors.  The cubed cheese especially adds some melty pockets of cheddar throughout the pasta, and the Parmesan cheese mixed with the breadcrumbs gives everything a crispy, tasty topping.  You can think of this as something for a special occasion, but we guarantee that if you bring this to a holiday, an event, or some other gathering, it'll definitely be a hit.