Two weeks ago we highlighted some places we ate and things we did during a few weekends we spent exploring the Hudson Valley.  Today we'll show you some other cool places a little farther north that you can get to from New York City (just be aware that we are showing some meat dishes here).
First, we think you should check out Poughkeepsie, which is the last stop on the Metro-North's Hudson line.  While you're there you can walk about half a mile from the train station to check out the Walkway over the Hudson, an old railroad bridge that spans the Hudson River and is now open to pedestrians.  It gives you great views up and down the river, and it's only about a 2 1/2 miles across and back, so it's a pretty easy and fun hike with a spectacular vista as a backdrop.
But we know you curious about the food, so we recommend making a visit to Rosticceria Rossi & Sons, an old-school Italian deli that's a five minute walk from the train station.  They have soups, salads, and all kinds of gourmet Italian food, but they're most well known for their paninis.  These delicious sandwiches come in either small or large (we suggest getting the large so you can split it with someone) and you can either choose one of their "house favorite" varieties or build you own, which is what we decided to do:  we shared a large with fresh mozzarella, roasted peppers, baby spinach, and spicy spread, all on focaccia.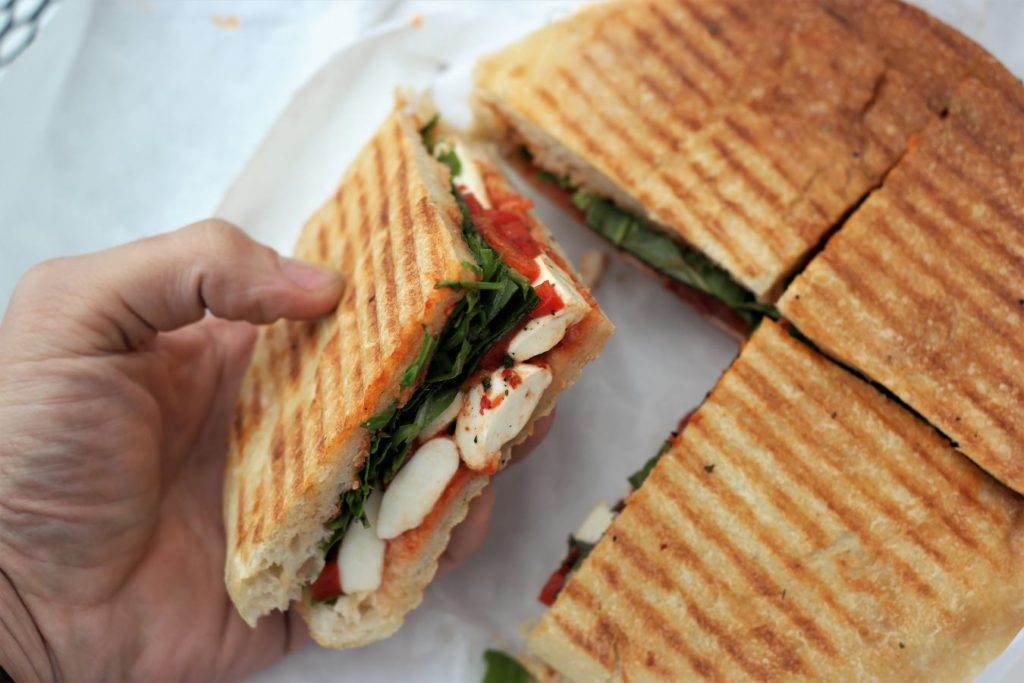 From Poughkeepsie we suggest you head across the river to New Paltz – you can rent a car from the local Enterprise (they'll come pick you up) for about $25 a day or take a 45 minute bus ride from the train station.  New Paltz is one of the most well-known college towns in New York, and in addition to some unique restaurants it's got great hiking as well.  You can go to either Mohonk Preserve or the Mohonk Mountain House to check out the town's trails, which give you spectacular views of the Shawangunk mountains.
So we went hiking in New Paltz, but we also got to check out two cool restaurants in the area.  The first is Huckleberry, a homey restaurant downtown that serves upscale pub food.  We started our meal there with some fried cauliflower cakes, served on top of a lightly spicy green curry – they were kind of like a vegetarian version of crab cakes.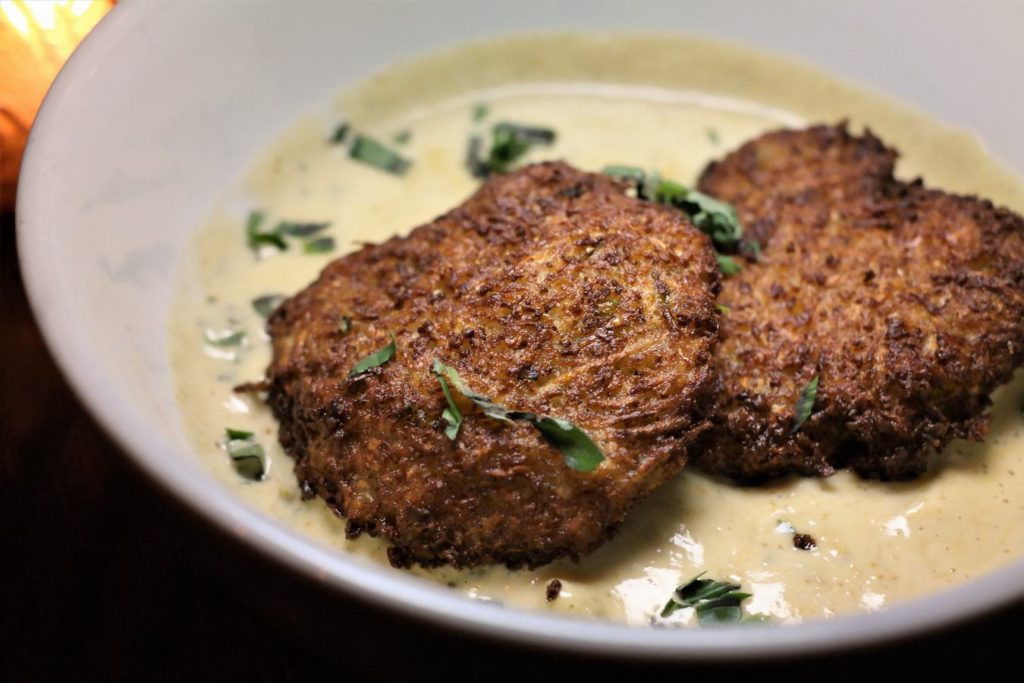 Miriam then made a meal of two white bean quinoa sliders …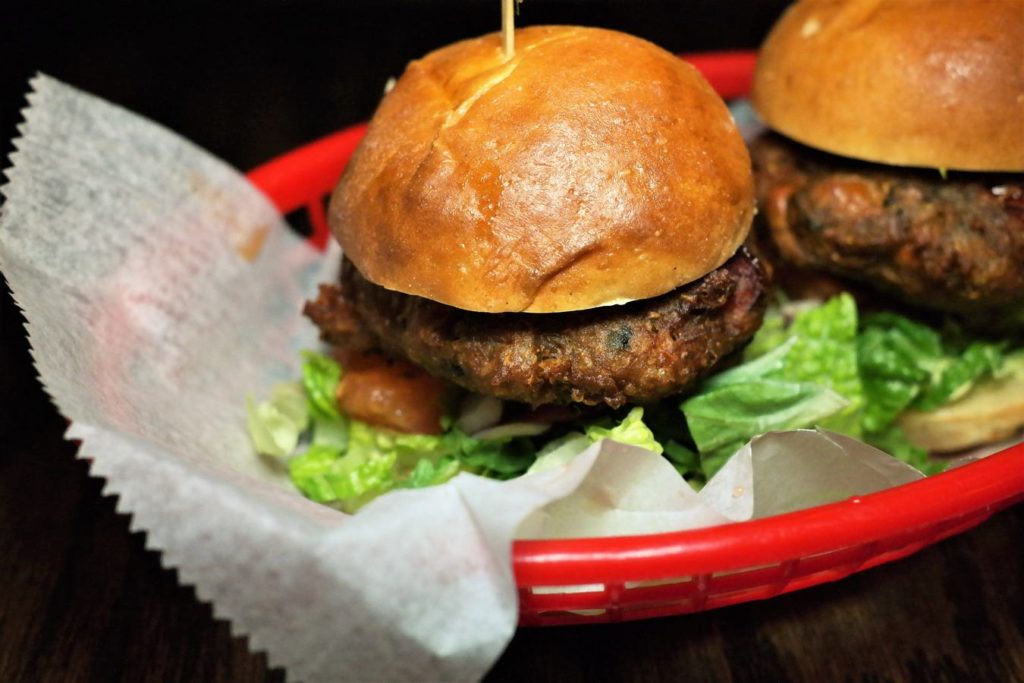 … and one of the specials that day:  a vegetarian chili.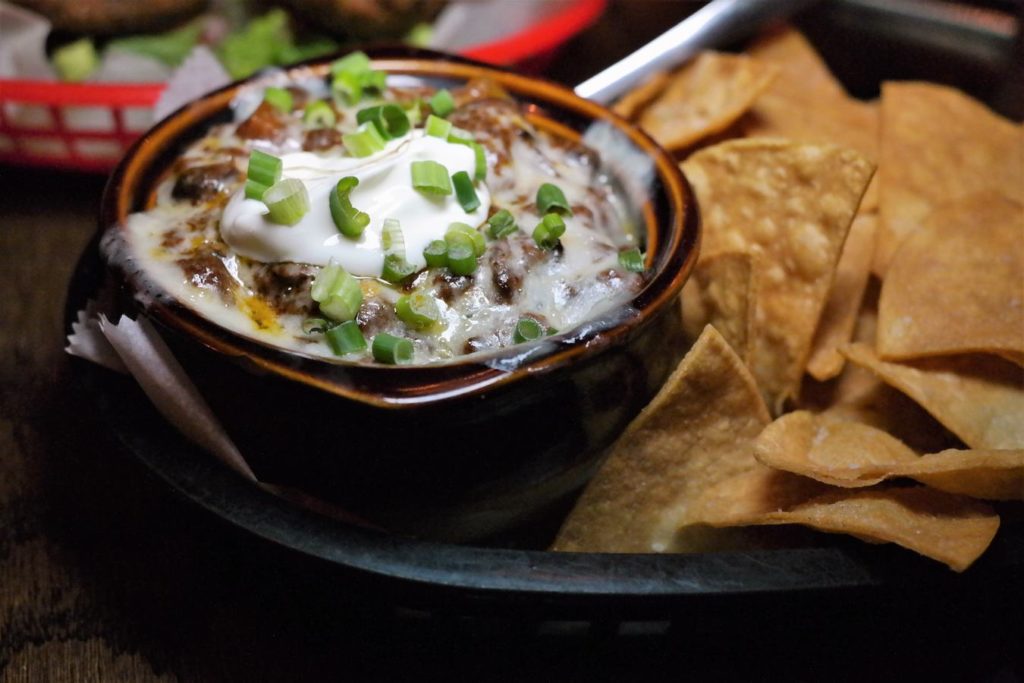 Cyril got another special – a hearty beef stew served with some delicious homemade bread.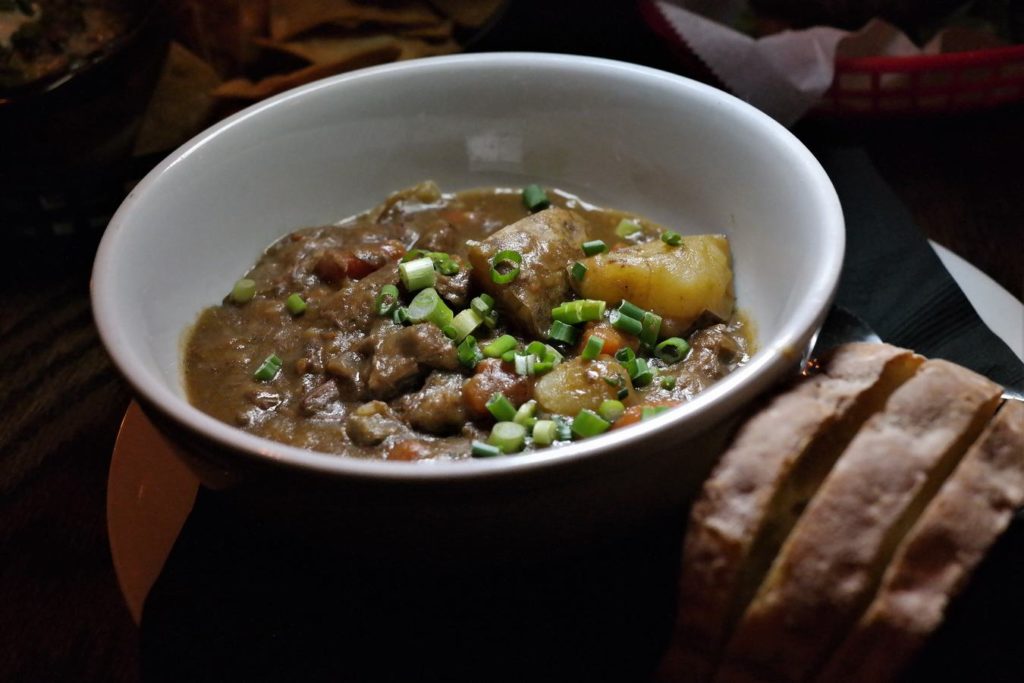 We also got a chance to visit Mountain Brauhaus, which is technically in the town of Gardiner, just to the west of New Paltz.  As the name might suggest, Mountain Brauhaus is a German restaurant, and it sits right at the base of one of the Shawangunk mountains so it kind of feels like you're eating at some restaurant nestled in the Alps.  We started our meal there with a German classic:  a huge pretzel with sweet and spicy mustards on the side plus a horseradish and Gouda beer cheese dip.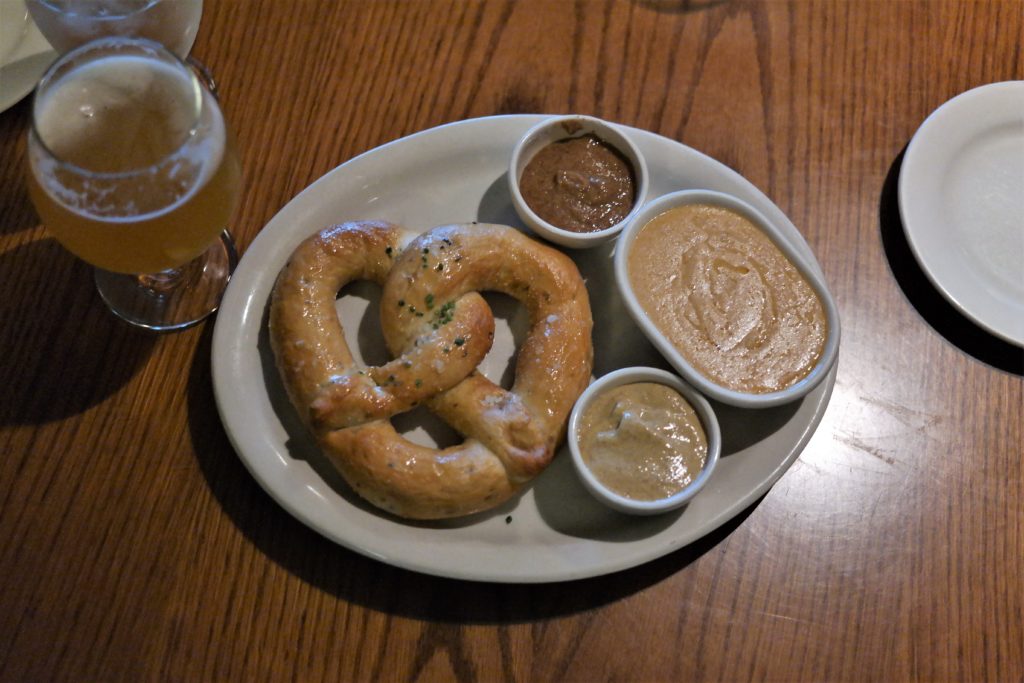 We also got to sample some local pumpernickel bread.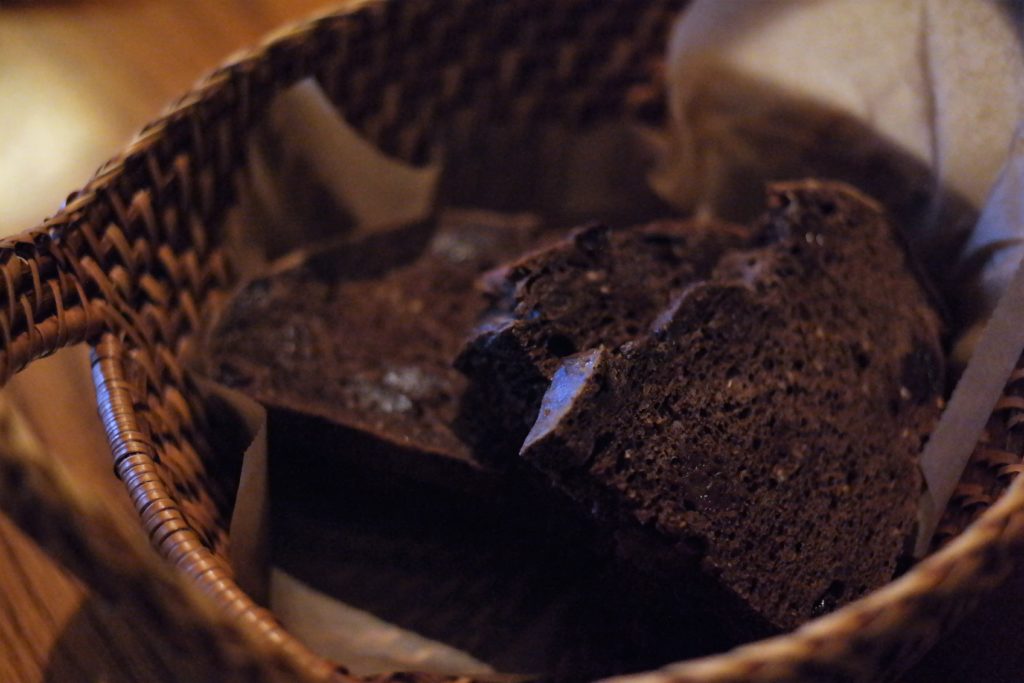 Cyril tucked into some more German food with the wiener schnitzel, fried and served with spaetzle and red cabbage …
… plus a side of the fried potato pancakes.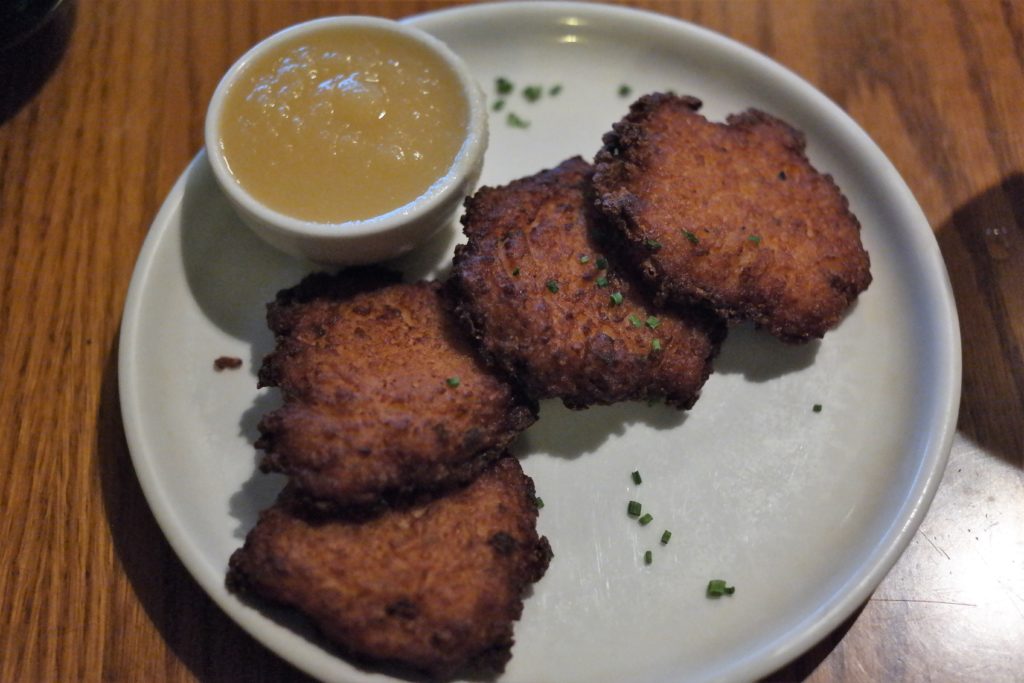 And thankfully, Mountain Bauhaus makes an effort to accommodate vegetarians while still sticking to the German theme, so Miriam got the spaetzle primavera, topped with pesto sauce, cheese, and a variety of fresh veggies.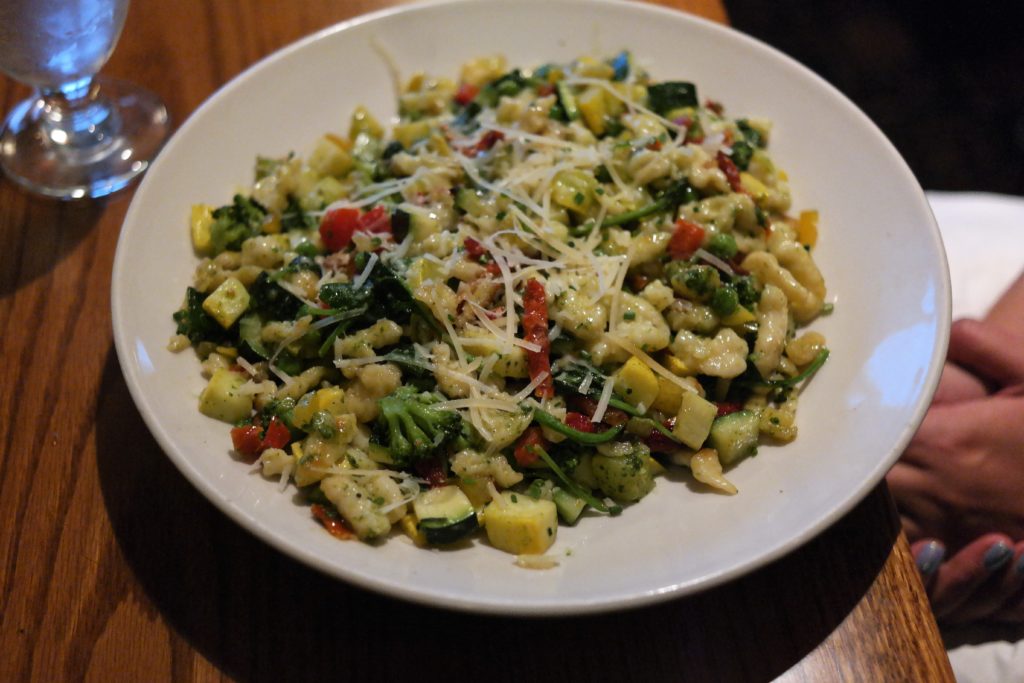 And we finished off our meal there with Russian honey cake, made with layers of honey-infused cake and a whipped dulce de leche frosting, all served with raspberry sauce.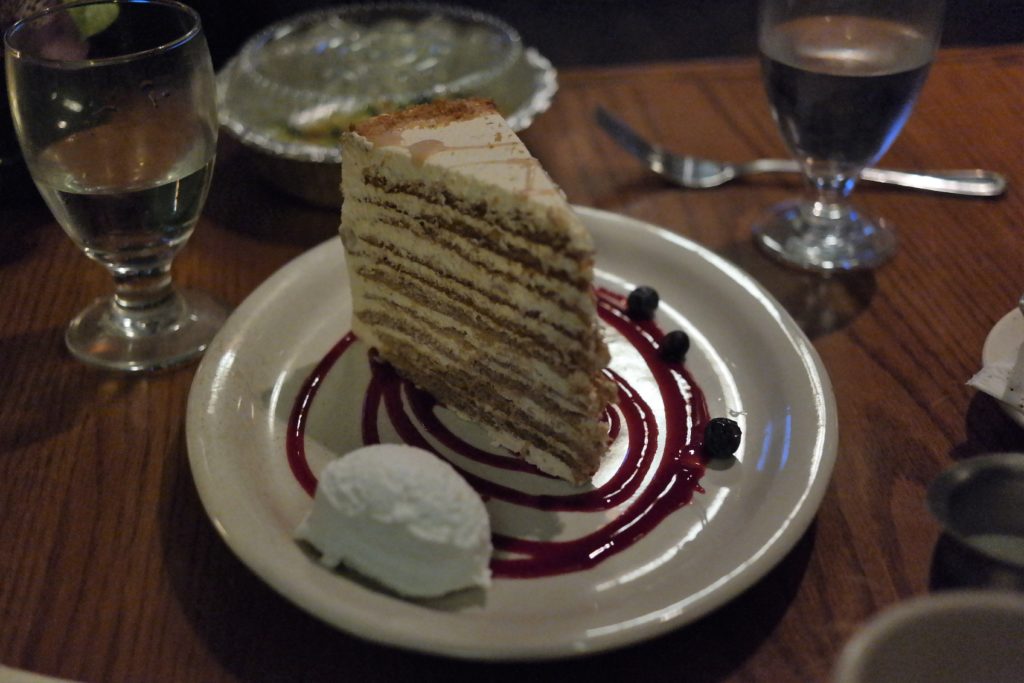 There's so much to do – and eat! – in the Poughkeepsie-New Paltz area that you could really make a day or an entire weekend of checking everything out.  It's a nice trip out of the city and not too hard to get to, and we recommend trying out these and other local restaurants as you explore the upper Hudson Valley.