In case you couldn't tell, we love pizza, and in fact we've written before about some great pizza spots we've discovered around New York.  Well, recently we've set out on another quest to check out more unique and delicious pizza places, and we've had some pretty tasty results.  Today we're going to show you some great slices we've had all in the same neighborhood of Manhattan, and next week we'll feature pizza from Brooklyn.  And the best part:  all of the pizza here is vegetarian!
On the Upper East Side you'll find a cluster of places serving up Roman-style slices – officially, pizza al taglio – which have a light, airy, and crispy crust and are always served in rectangular pieces.  Here is a sampling from My Pie:  a slice with red sauce, mozzarella, basil, and eggplant; a slice covered in mushrooms, shredded zucchini, and artichokes; and a white slice with mozzarella, rosemary, and thinly diced potatoes.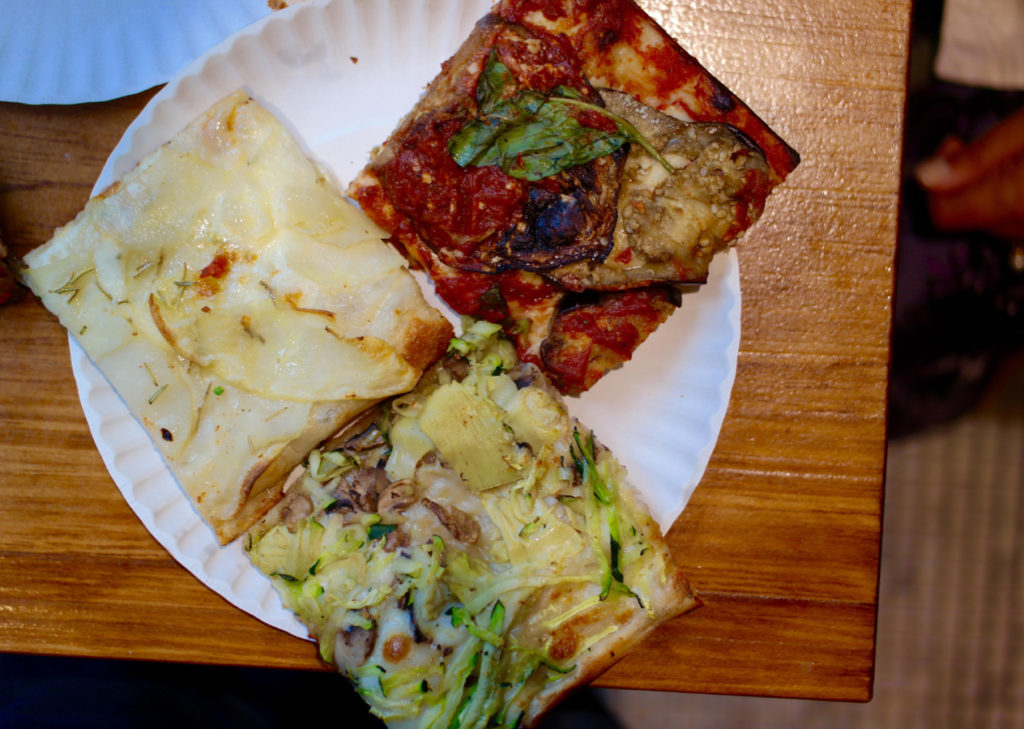 Just a few blocks up from My Pie is Farinella, which serves up slices with gourmet ingredients.  Here's our sampling from there:  clockwise from the very top is the Felice, topped with burrata, mozzarella, and arugula ; the Cacio e Pepe, with fresh mozzarella and a lot of pepper; the Arrabbiata, with mozzarella, red sauce, and spicy peppers; and the V.I.P, made with a layer of artichoke pesto, then romano and goat cheeses on top.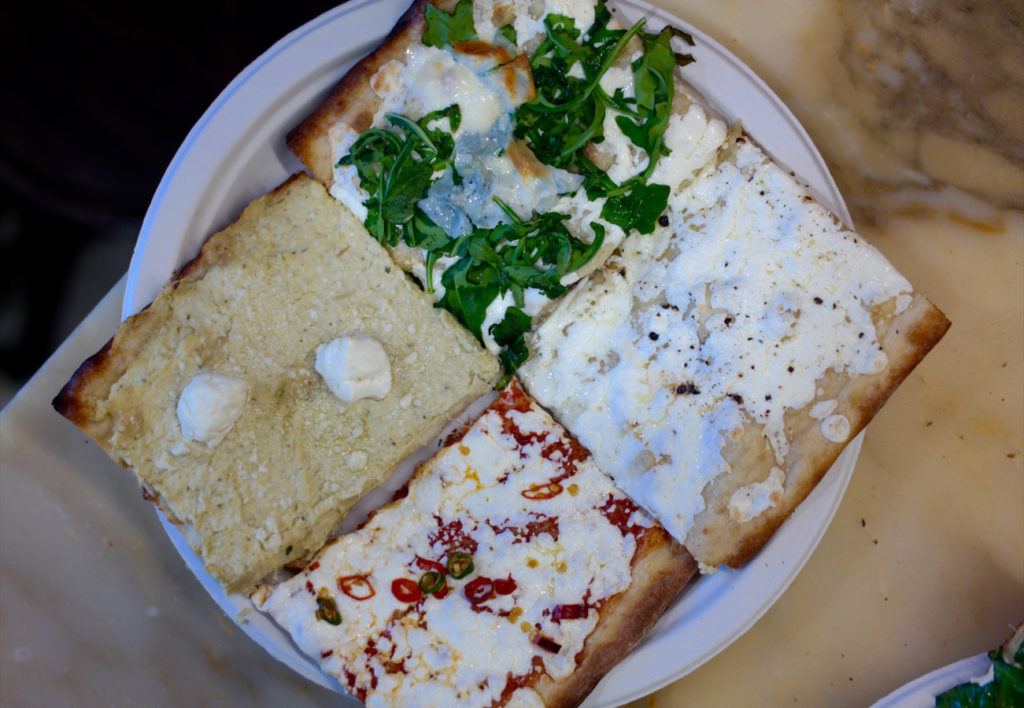 And finally, if you head about a mile north of Farinella, you'll get to PQR.  There we had one slice of with shredded zucchini and cherry tomatoes …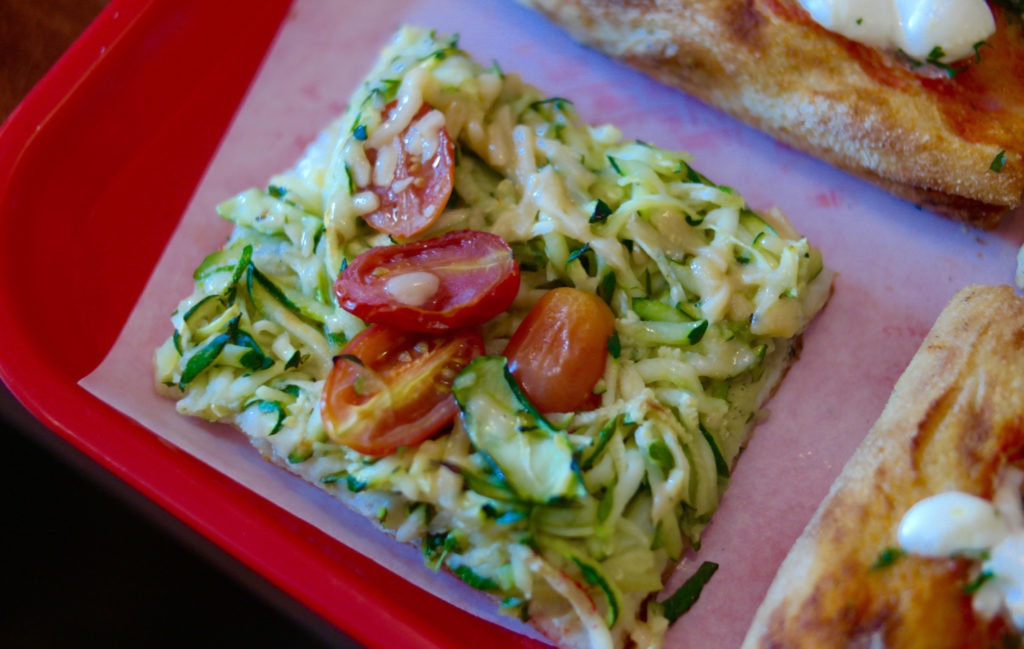 … plus another slice with eggplant, red sauce, and fresh mozzarella.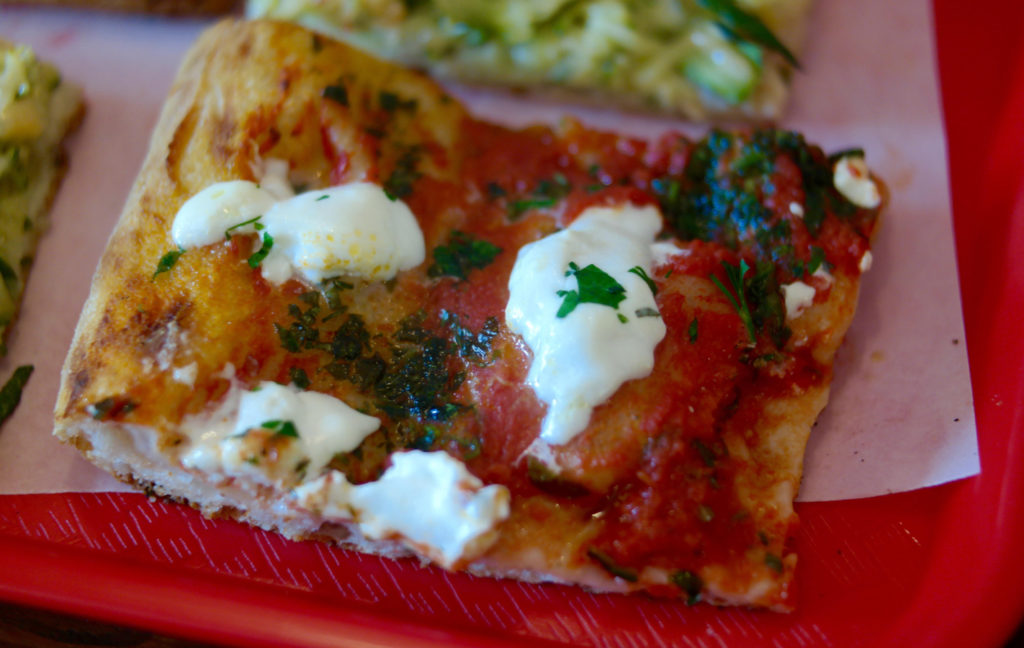 We really enjoyed all of these places, and it was a nice contrast to be able to sample both the Neapolitan and Roman pizzas.  Check out any of these places, and check back next week to see some delicious pizza in Brooklyn!