It's the first day of summer today, and it's hot outside.  That means it's time for refreshing dishes that use some seasonal ingredients, so we decided recently to make a nice, light pasta dish that incorporates some colorful green veggies, fresh herbs, and as the secret ingredient – buttermilk!  Yes, you read that right, we made a pasta sauce from buttermilk, and though that might sound unusual we wanted to try it out after seeing this recipe in Bon Appétit.  Of course we were skeptical at first, but it actually turned out to be a great complement to all the vegetables in our version of this pasta.
To make the pasta, you'll need:
Walnuts
12 ounces of pasta
12 ounces of snap peas
Butter
2 leeks
Garlic
Red pepper flakes
A bunch of mint
Buttermilk
Parmesan cheese
Lemon juice
Start by boiling water for your pasta, then toast 1/2 cup of walnuts on a baking sheet at 350°F for about 7 minutes, until they just start to brown.  Meanwhile, cut off the white and light green parts of your leeks and slice them thinly, and also slice up 3 garlic cloves.  Melt 3 tablespoons of butter with 2 tablespoons of olive oil in a Dutch oven over medium heat and place in the leeks and garlic.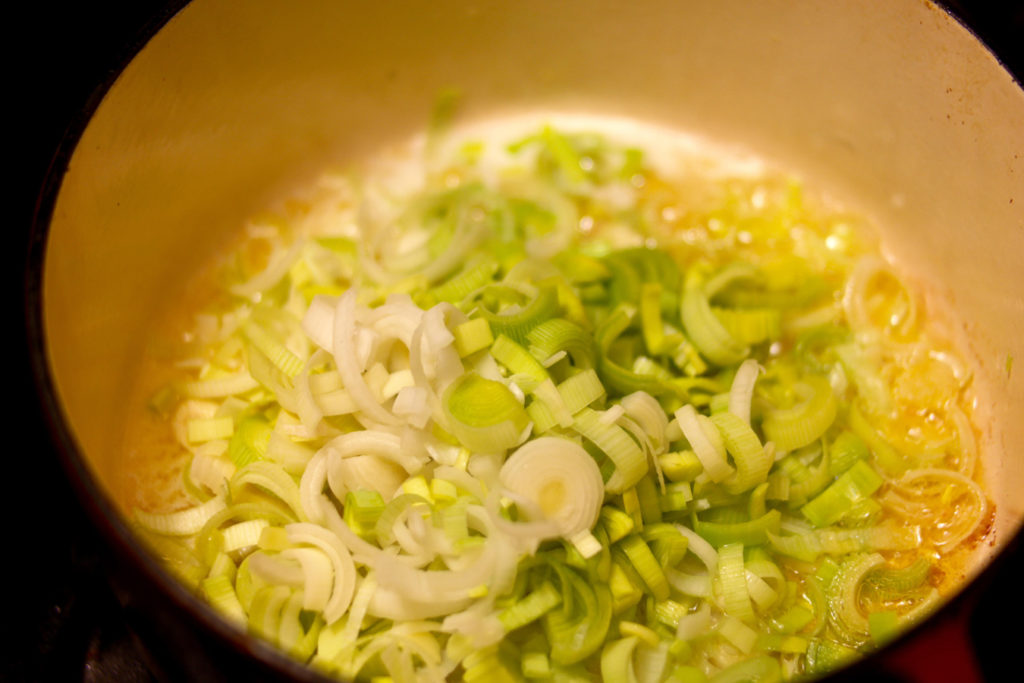 Add in 3 whole sprigs of mint plus red pepper flakes to taste and sauté everything for 8 minutes until the leeks soften – but don't let them turn brown.  Pour in 3/4 cup of buttermilk and bring everything to a simmer, then take out the mint sprigs.
As you're working with the veggies, let your pasta boil for 6 minutes, then cut all your peas in half and place them in the water to cook with the pasta for another 2 minutes.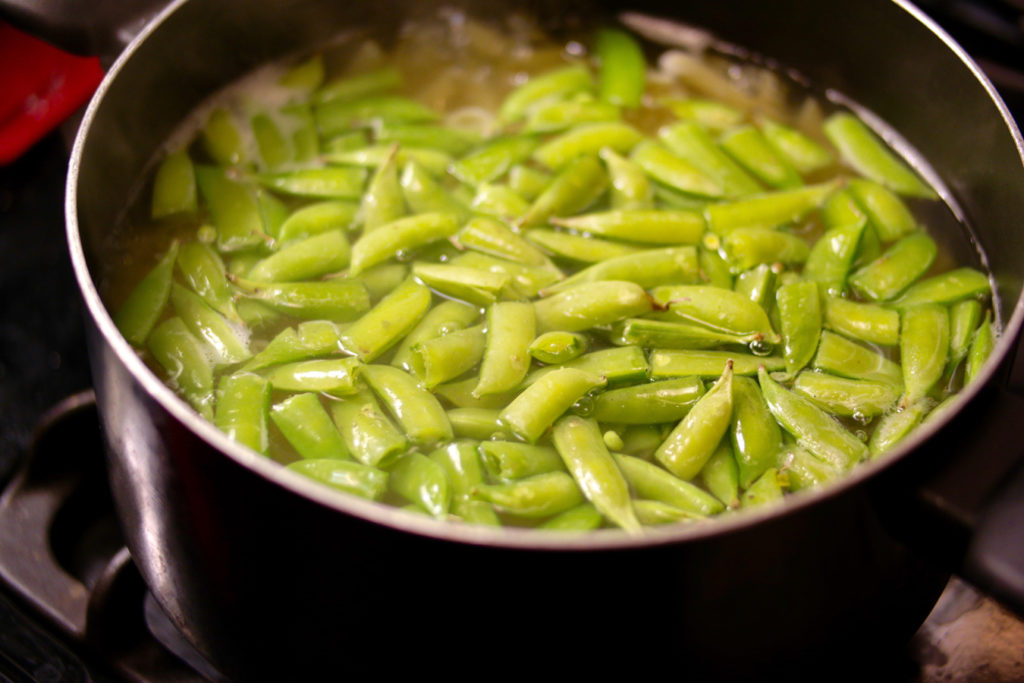 Once the pasta and peas are done, use a slotted spoon to transfer them into the Dutch oven.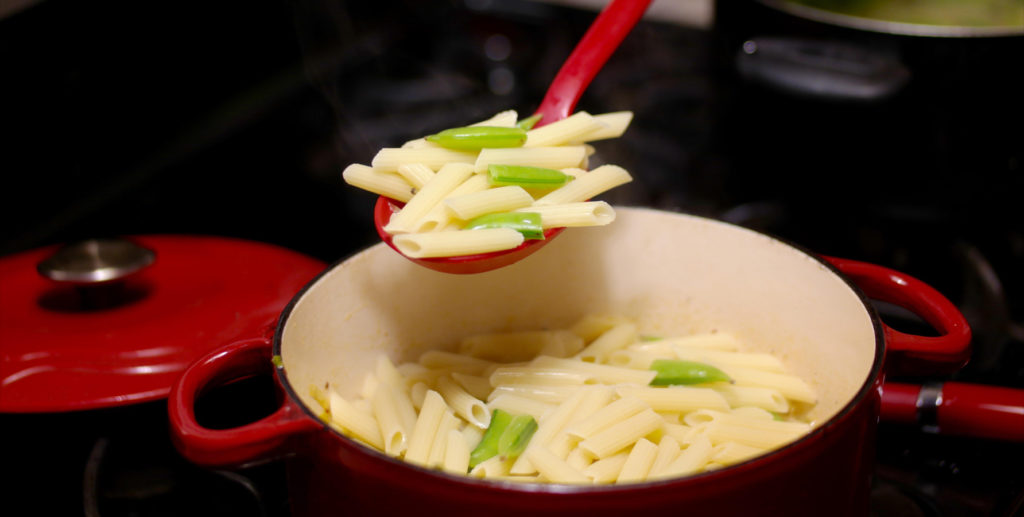 Then add in about 3 ounces of grated Parmesan and mix everything together until you have a smooth sauce.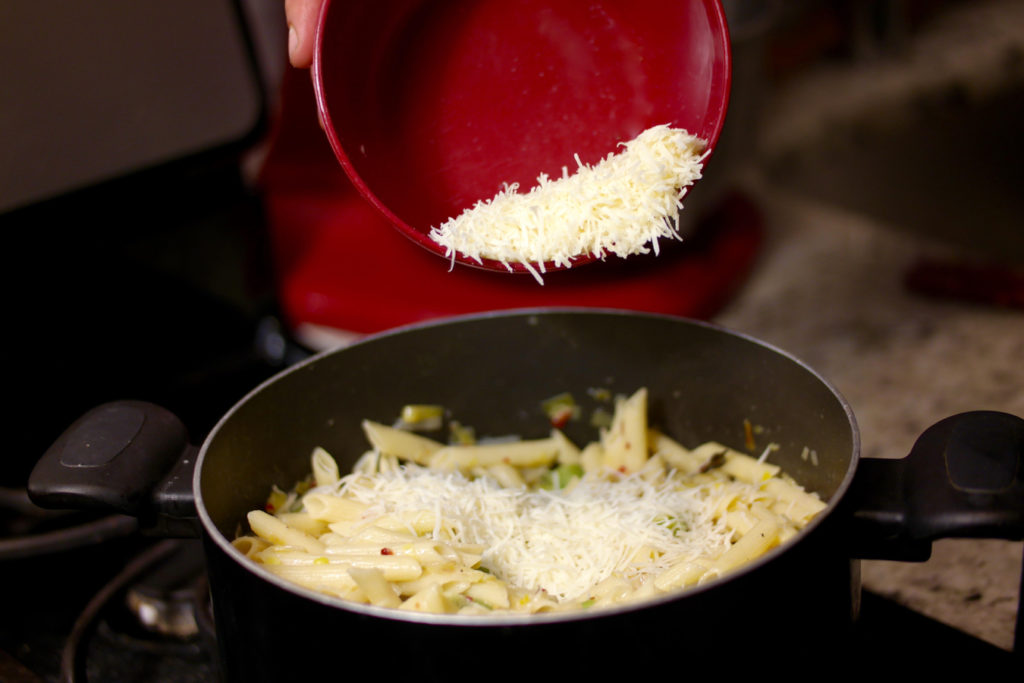 Mix in your walnuts, 2 tablespoons of lemon juice, and the leaves from the rest of the mint and stir everything together.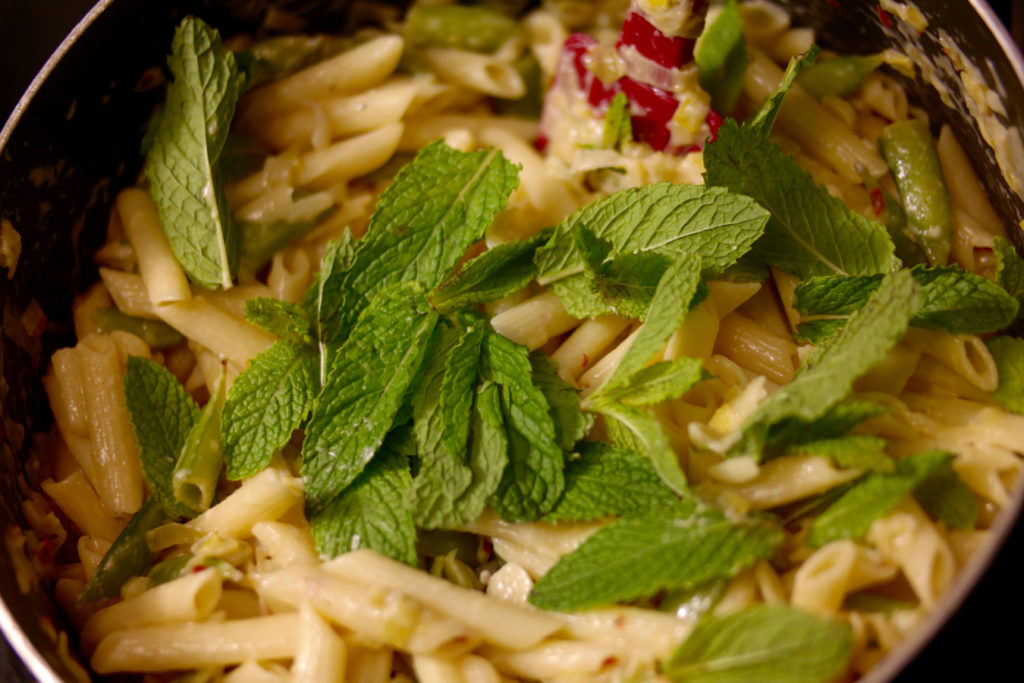 Then you can serve your pasta with some extra Parmesan on top.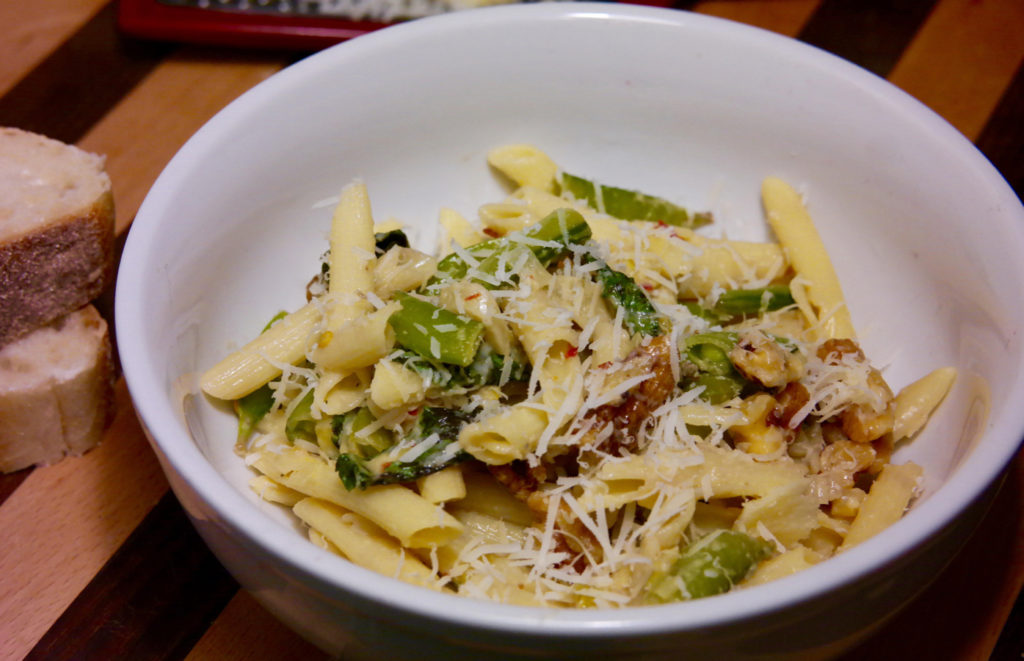 We really enjoyed all the flavors in this pasta dish:  the Parmesan and buttermilk made it creamy, the walnuts added in a savory taste, and the mint and peas were a nice green touch.  Overall, this is an fresh, easy dish for a hot summer day.  Snap peas are a seasonal favorite in the warmer months, and what better way to incorporate them into your food than this quick, tasty pasta?