Here in New York, it's not a summer if you don't take at least one trip to the beach.  To that end, we decided to spend a weekend in Atlantic City because you can easily get there via nonstop bus service.  Atlantic City is of course well known for its casinos, beaches, and boardwalk, but it also has a pretty interesting, if somewhat hidden, food scene.  We decided to scope out some of the best eats in this vacation town, and here's where we went.
We first tried to get a table at the super-exclusive Chef Vola – which we heard was excellent, and only seats you with reservations made by phone – but unfortunately they were booked up the entire weekend (so we'd recommend calling at least several weeks in advance).  Instead we visited Angelo's Fairmount Tavern, a restaurant that has existed in the city's Italian neighborhood since 1935.  There you can get some pretty old-school, delicious Italian-American food – for example, we started off with an order of spicy peppers in a marinara sauce …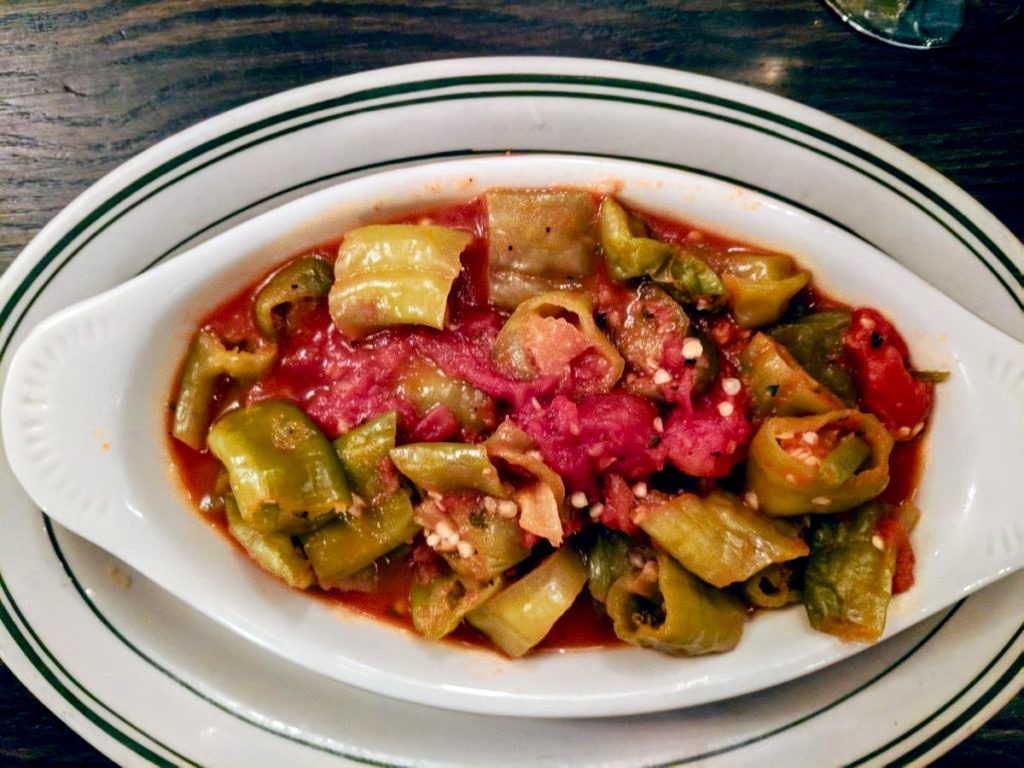 … as well as an antipasto plate of roasted red peppers, provolone cheese, olives, and hard boiled eggs.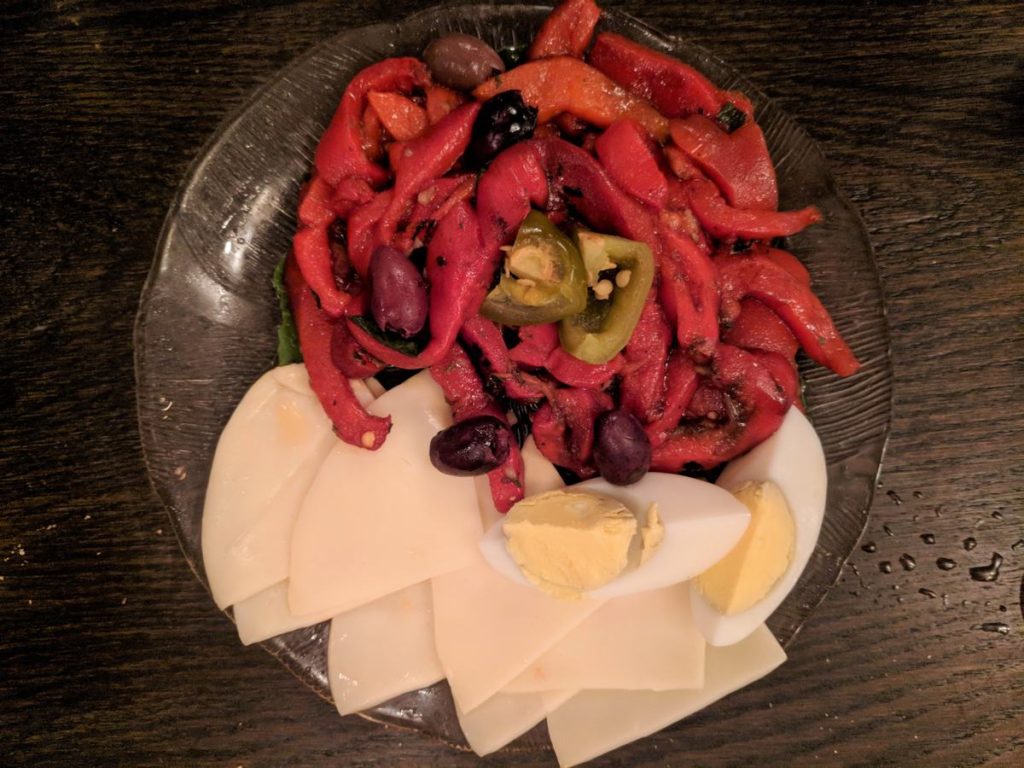 Miriam then had the involtini marinara, made from wide fettuccine noodles wrapped into spirals, stuffed with ricotta cheese, and covered in red sauce.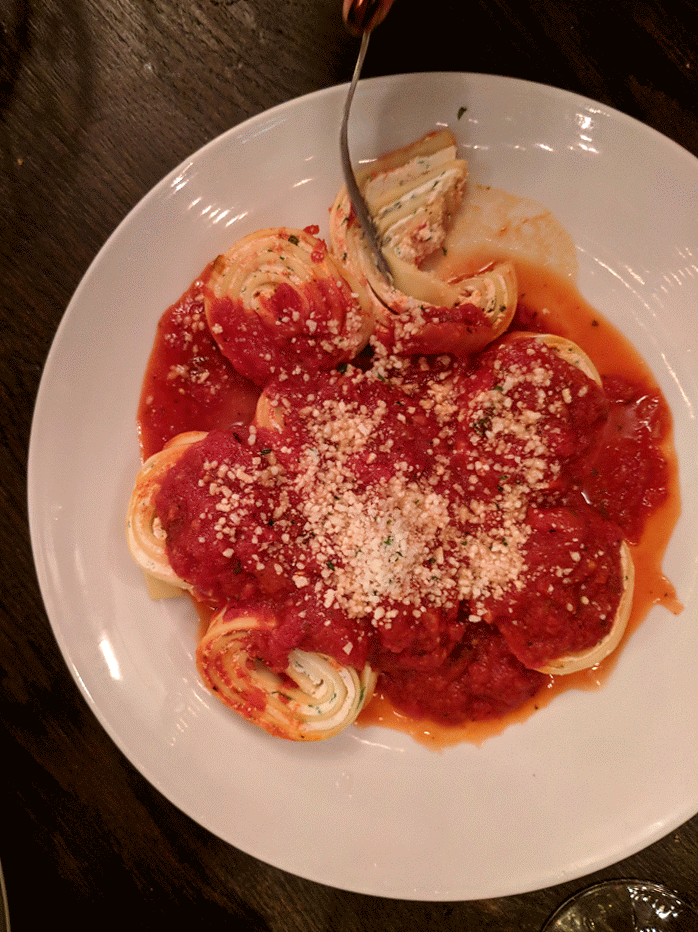 And Cyril got a steak topped with crab, red peppers, wilted spinach, and potatoes.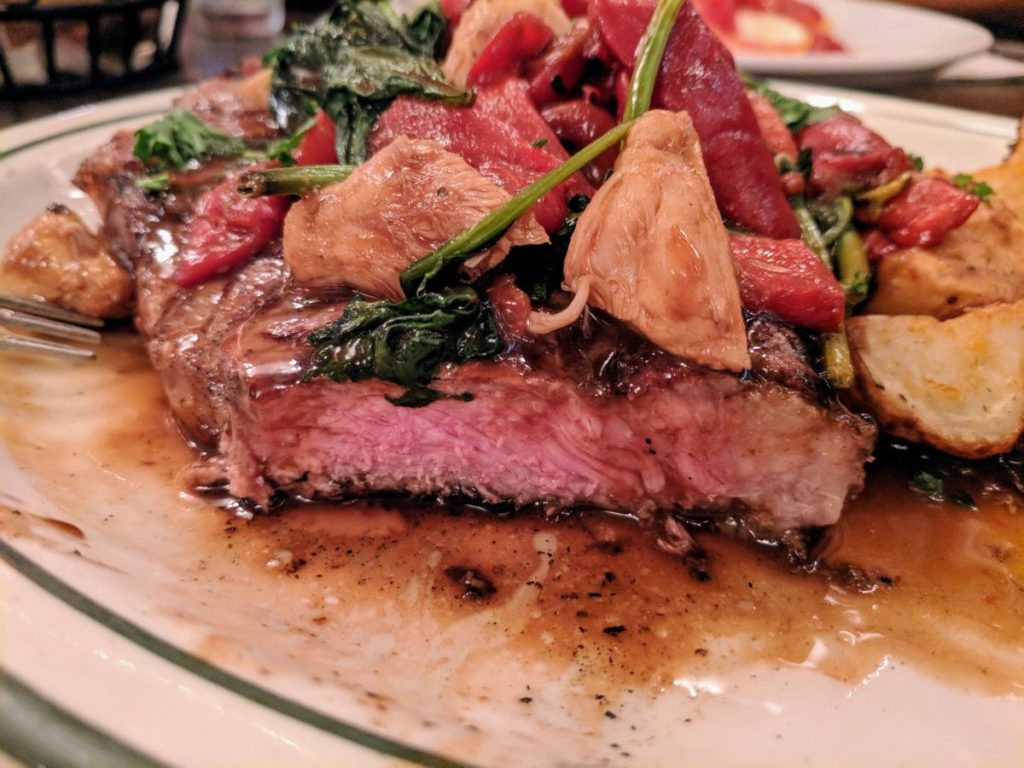 Atlantic City's strong Italian heritage can also be seen at White House Subs, which serves up sandwiches with interesting combinations of ingredients.  Their standard whole subs are each 2 feet long, so a half sandwich is more than enough.  Cyril ordered himself two halves:  one Italian sub, made with ham, salami, capicola, and salami, plus one cheese steak sub.  Miriam, meanwhile, had a provolone sub with fried peppers.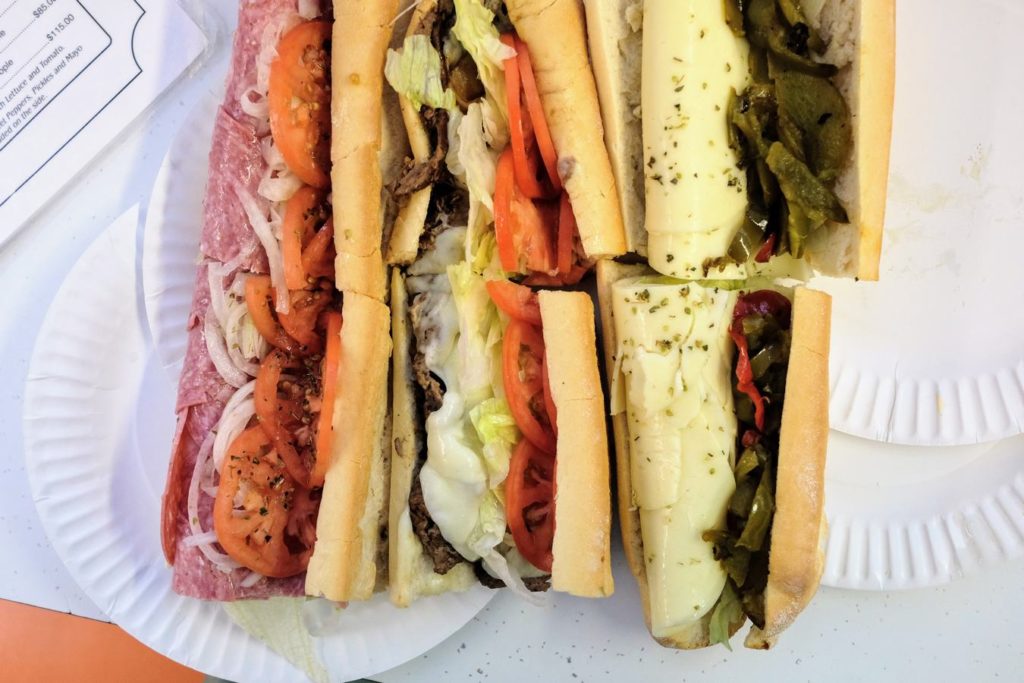 Of course you can't take a trip to Atlantic City without hitting up at least one lavish casino buffet, so we went to the Borgata one night for dinner.  This buffet truly has everything, and we were able to sample all different kinds of food.  Here is the vegetarian plate Miriam fixed, with ravioli, stuffed shells, focaccia, miso eggplant, and asparagus.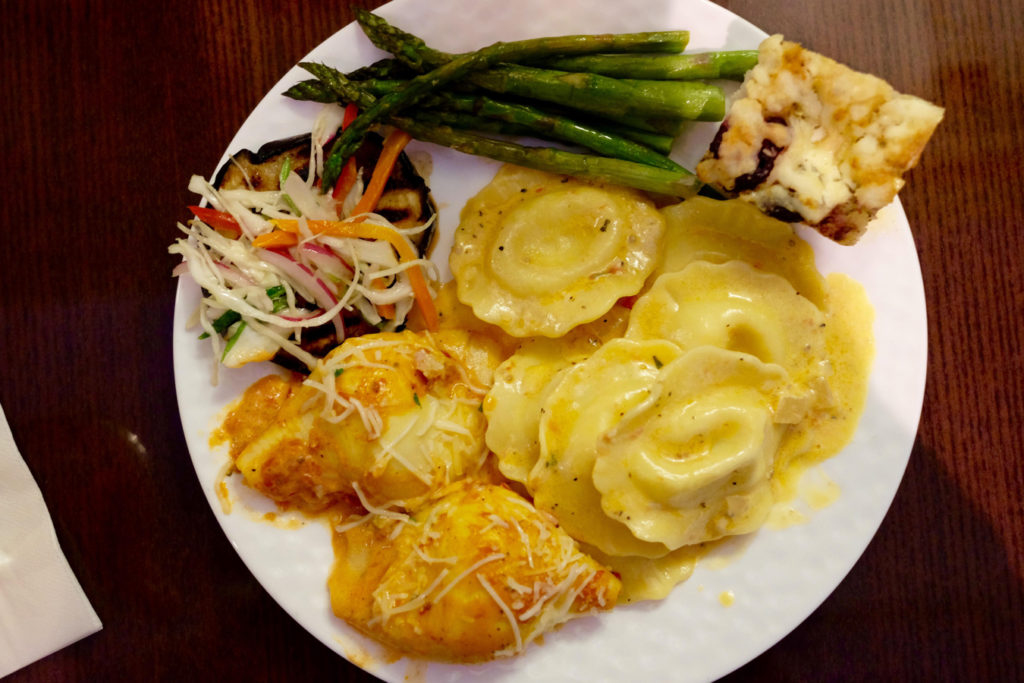 Cyril had a larger selection to sample from, so he made himself a plate of steamed and grilled shrimp …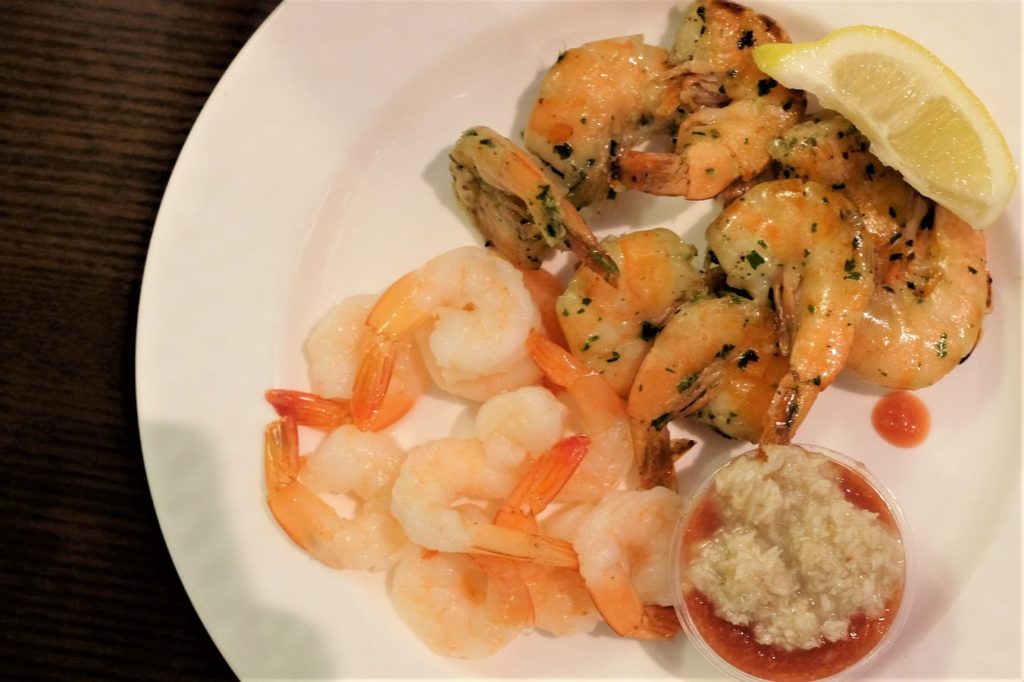 … and also had a nice slab of prime rib with roasted potatoes and asparagus.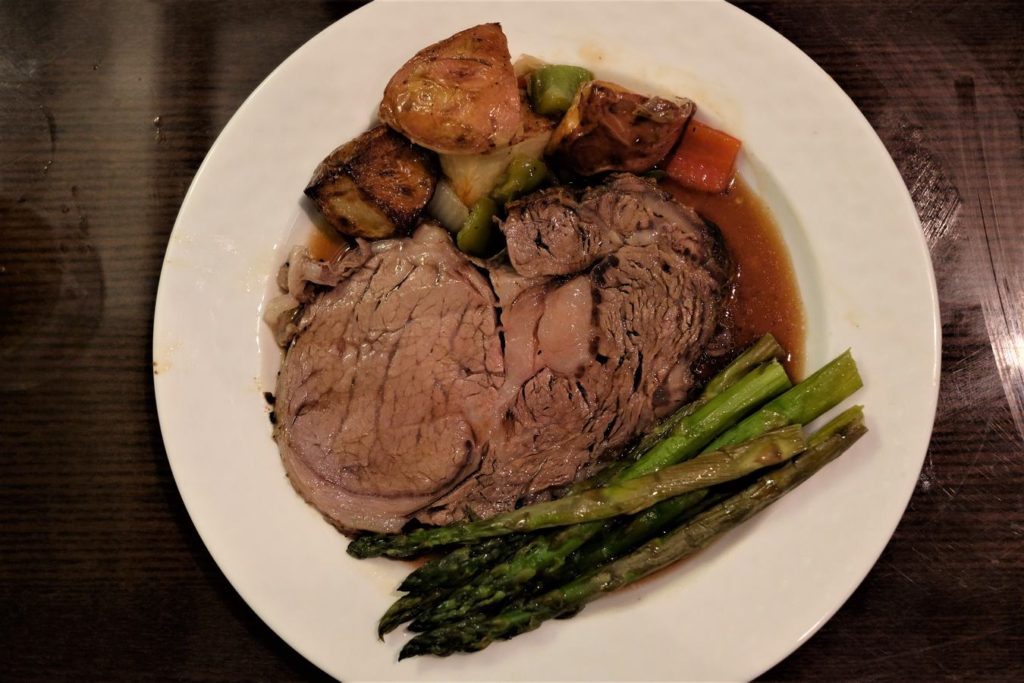 We also tried a selection of desserts:  an apple-caramel bread pudding, chocolate and vanilla gelato, a macaroon, a mini cheesecake in a chocolate cup, and a chocolate-dipped cannoli.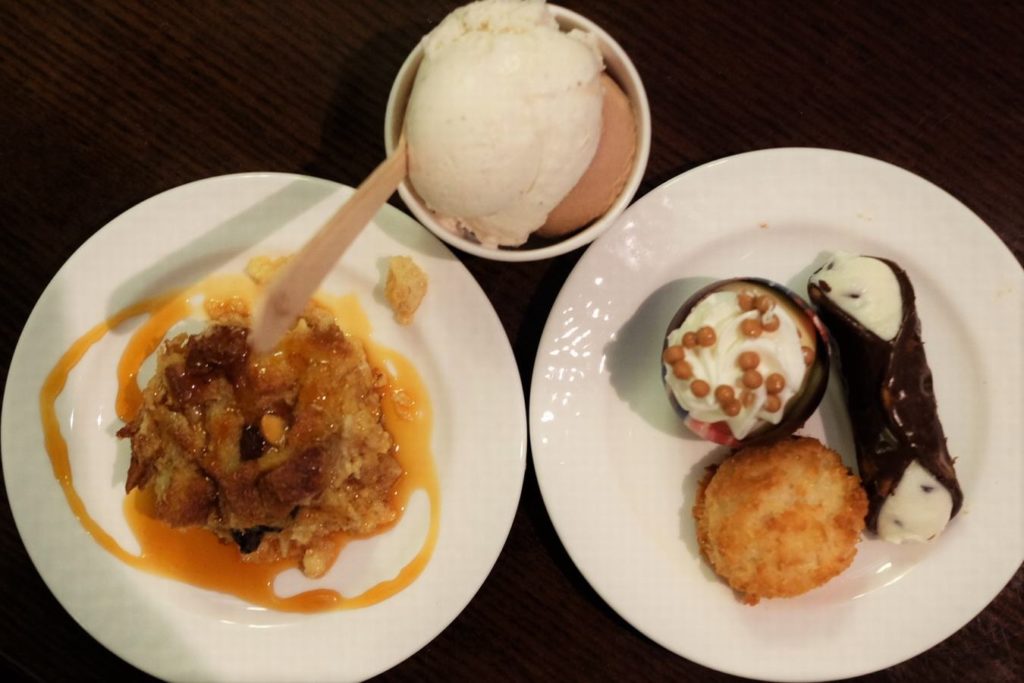 Casinos aren't the only place in Atlantic City that have excellent buffets, though.  We heard that Kelsey's, a soul food place that's just a few blocks from the boardwalk, had a great weekend brunch buffet, so we decided to check it out.  Miriam put together this vegetarian plate, with grits, mac and cheese, breakfast potatoes, and a biscuit …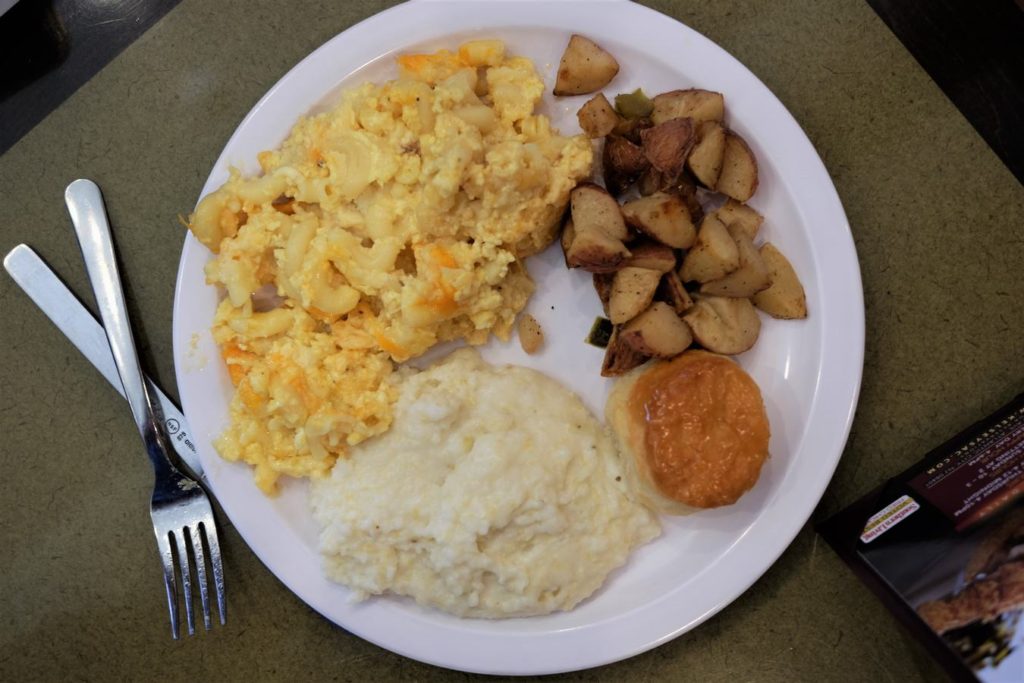 … plus a plate of blueberry-walnut pancakes and a pepper and onion omelet, both made to order at the brunch's breakfast station.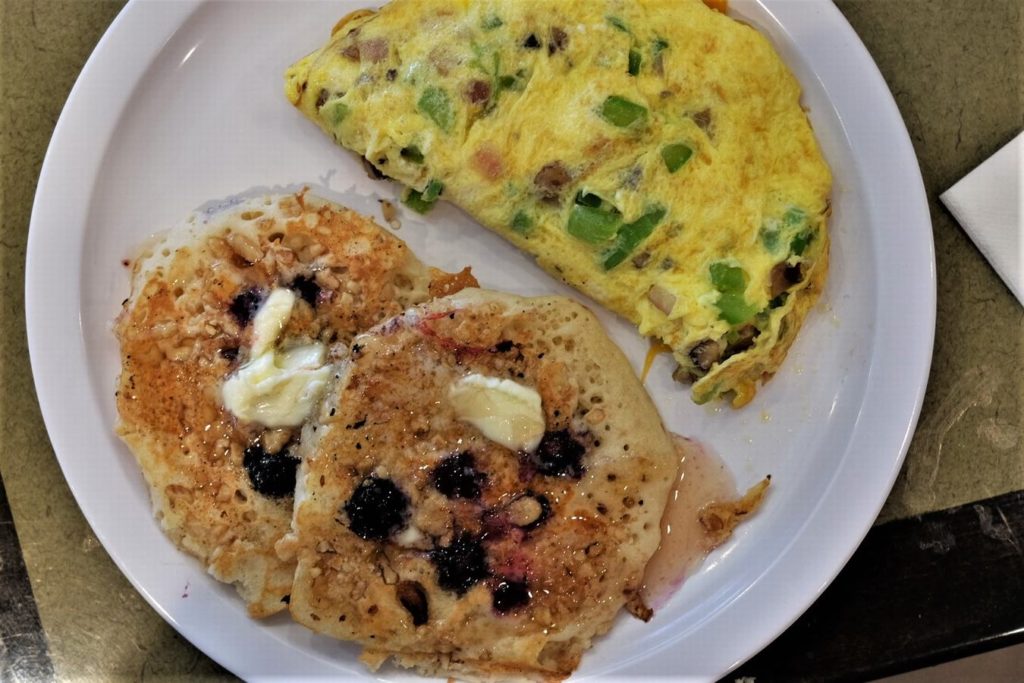 Cyril was able to indulge in a breakfast plate of his own, with French toast, a ham and potato hash, biscuits and gravy, and some bacon.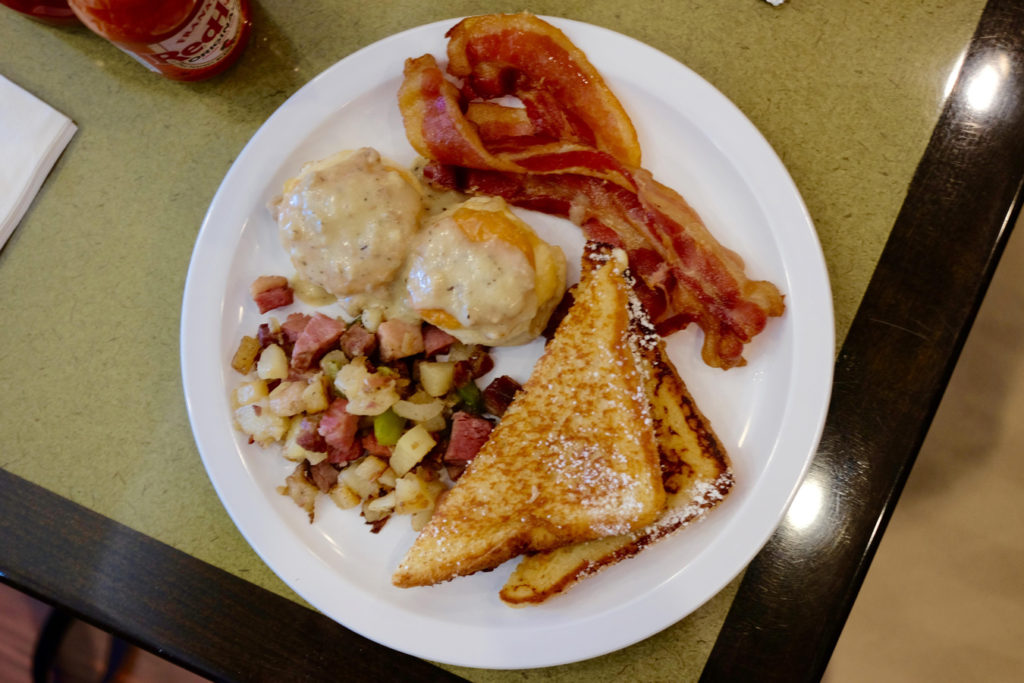 He also got to try some of Kelsey's famous fried chicken with collard greens and more mac and cheese.
We really enjoyed that Atlantic City has a lot of great and different food on offer.  Casino are fine and convenient when it comes to eating, but getting away from the boardwalk and exploring the rest of Atlantic City was great.  The waves of migration and settlement in the area have given the town excellent Italian and soul food, and you should definitely try these two cuisines while you're there.  Be adventurous on your beach getaways, and check back here to see where else we go and what we eat!