A few months ago we decided to visit Vermont and take in all the state has to offer – which of course meant sampling local food.  Visiting the Ben and Jerry's factory was on our list of things to do, but we also discovered that Cabot Cheese has a visitors center and outlet store in the same area.  There they have a big table set up where you can sample all different varieties of their cheese, and after taste-testing a ton of cheeses we decided to take home two spicy kinds:  Hot Habanero and Hot Buffalo Wing.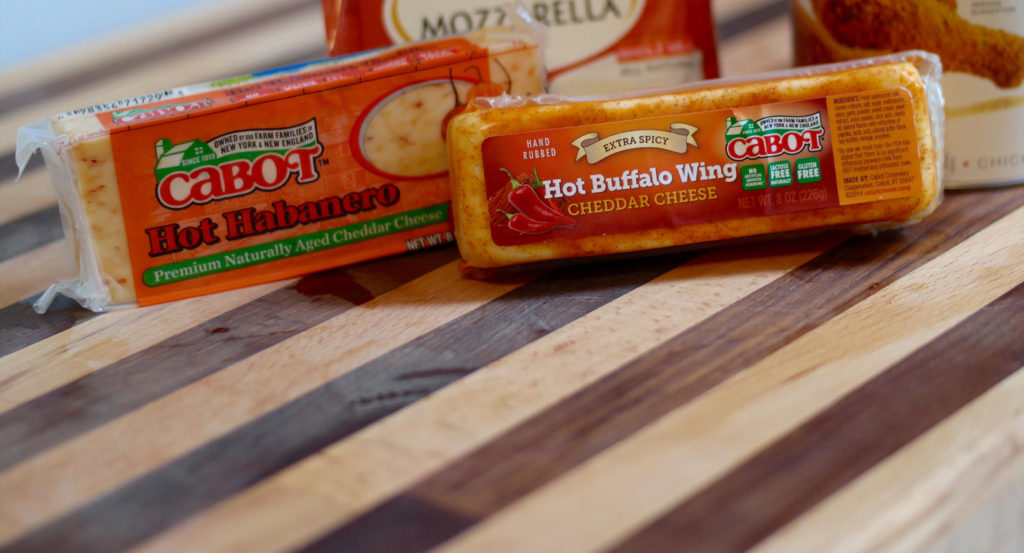 So after we toted this cheese all the way home, we had to figure out what to do with it.  Cyril had the brilliant idea to make spicy cheese sticks, as a fiery alternative to regular mozzarella sticks.  Here's the recipe we came up with.
If you'd like to make it, you'll need:
Start off by shredding half of the Hot Buffalo Wing cheese (you can save the rest to snack on) and all of the Hot Habanero and mozzarella cheese.  Mix these in a bowl with 1-2 teaspoons each of cumin and paprika and 1-2 teaspoons of Frank's RedHot sauce.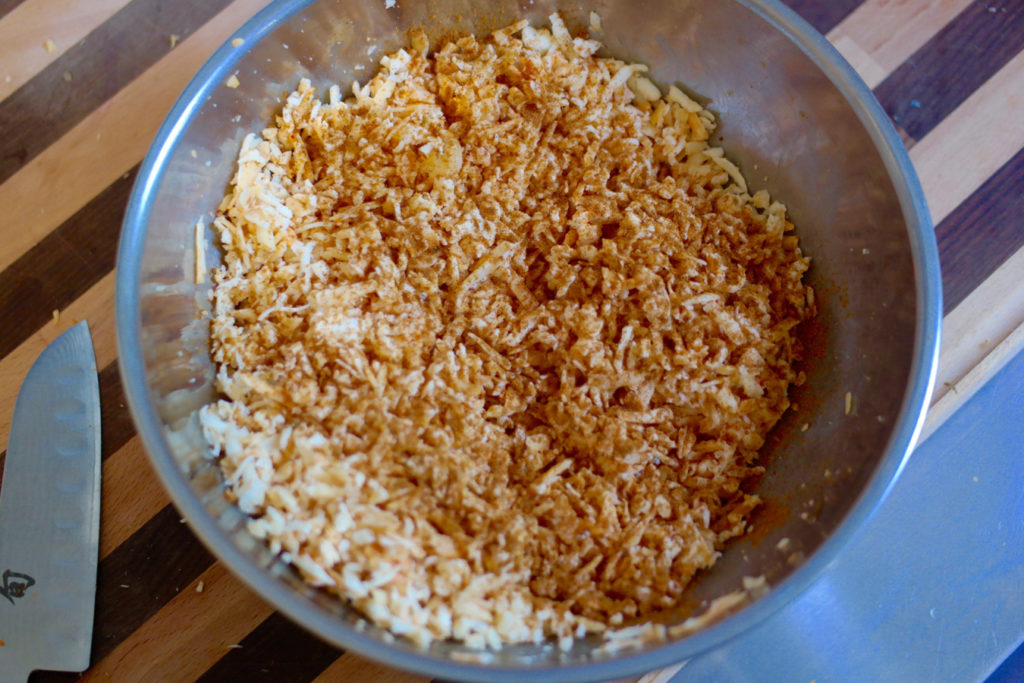 Then take this cheese mixture and shape it into stick form.  Arrange the sticks on a baking sheet so it's easy to work with them, and when you've used up all all the cheese put your sticks in the freezer for 15-20 minutes so they harden.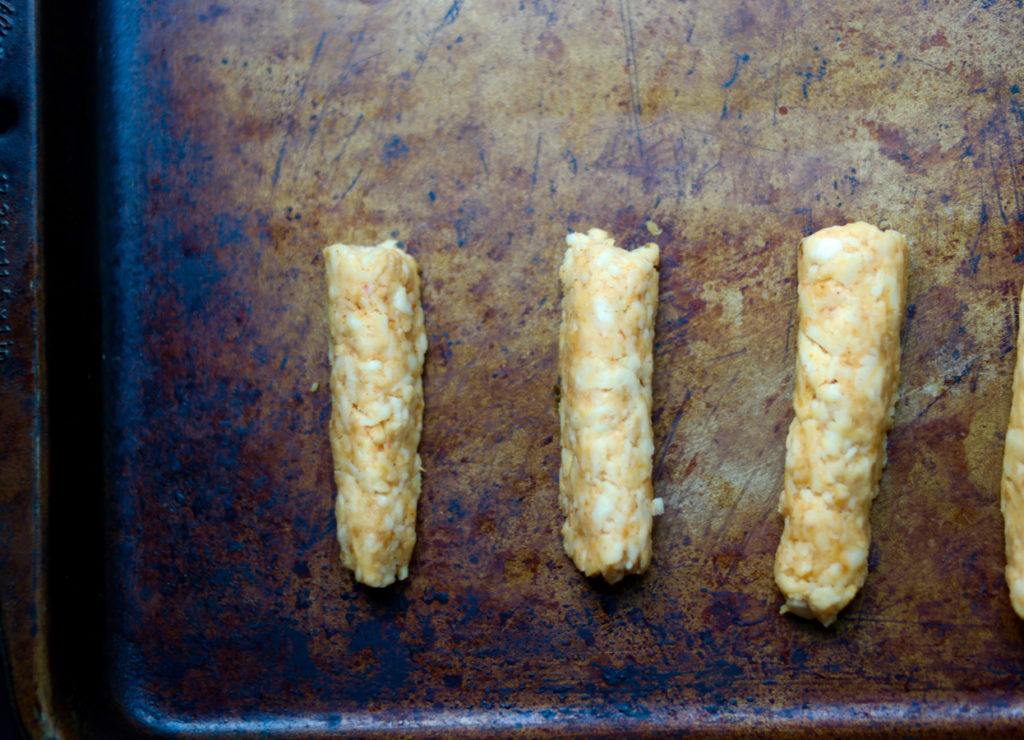 Lay out three bowls and put a cup of flour in one, a cup of breadcrumbs in another, and two beaten eggs in the last one.  Dip each of the sticks into flour …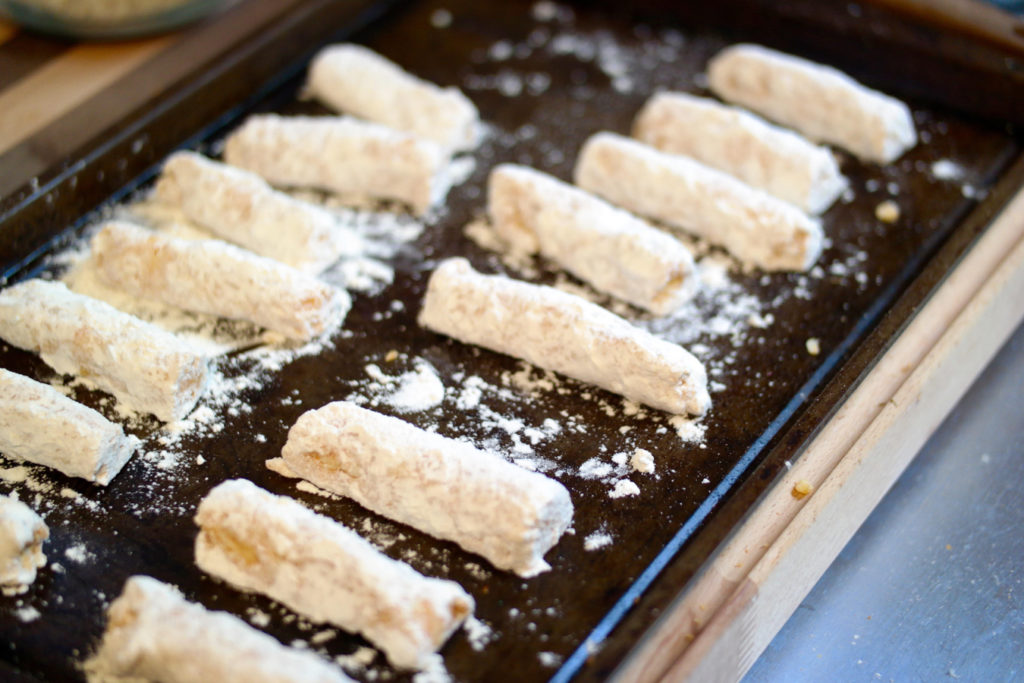 … then into the beaten egg and finally the breadcrumbs.  To make them extra crispy, dip them once more in egg and then breadcrumbs.  Repeat this process until all of the cheese sticks are breaded, measuring out more flour or beaten eggs or breadcrumbs as needed.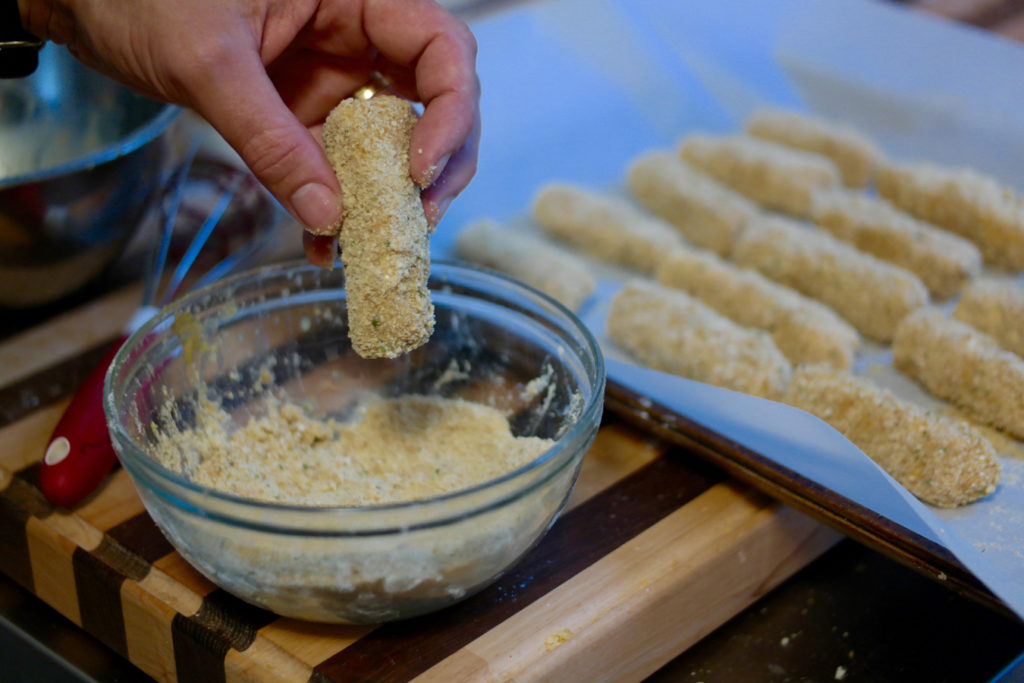 Next, take a Dutch oven or a similarly deep and wide pot and pour in about 3 inches of oil.  Warm the oil over medium-high heat until it reaches 350°F (use a candy thermometer to determine the oil's temperature) and then fry the cheese sticks a few at a time until they're deeply golden.  Let them cool and drain on paper towels when they're done.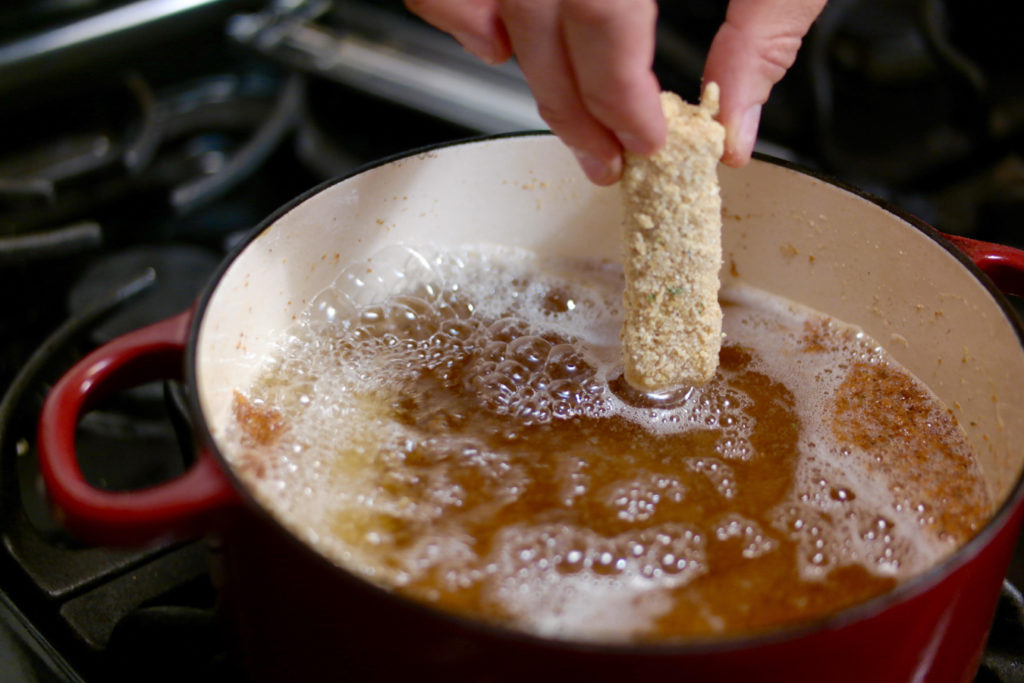 Then you can serve them with blue cheese dressing, for dipping, and celery, to make yourself feel better about eating fried cheese.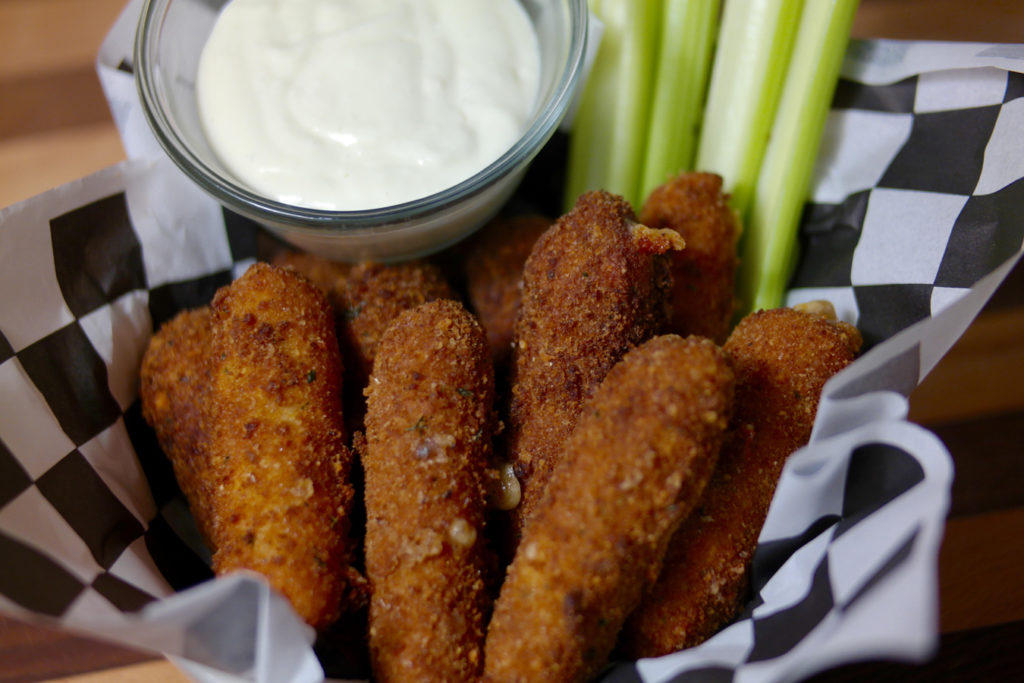 By the way, here's how gooey they come out inside: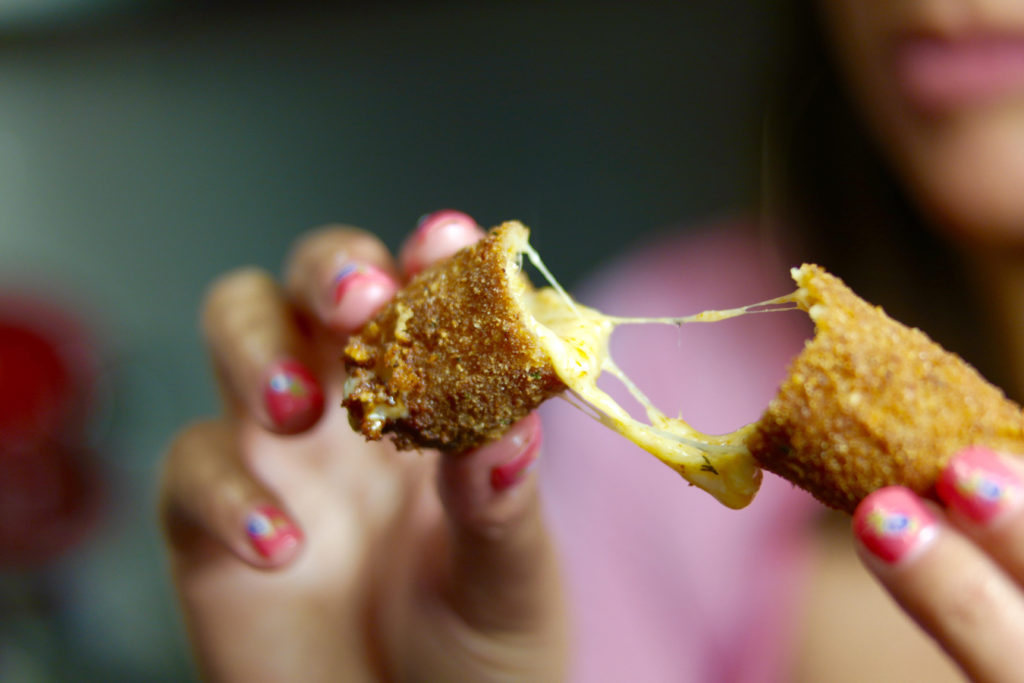 These are an interesting change of pace from your regular mozzarella sticks:  for those who like spicy food, like us, the two cheeses combined with spices and hot sauce definitely brings the heat.  The fact that both of our Cabot cheeses are cheddar varieties gives a sharpness to the cheese sticks, while the mozzarella helps make it nice and melty.  Plus, you know, frying just makes these more delicious.  If you're able to get your hands on Cabot's hot cheeses – or any other kind of spicy cheese – try out our version of cheese sticks.