No, not stuffed-crust pizza, which is a weird Frankenfood that was invented by Pizza Hut and promoted by Donald Trump (really).  This stuffed pizza instead is made from pizza dough that's been baked, sliced in half, and filled with delicious ingredients piled inside.  We decided to make this based on a New York Times recipe we found, but we changed it around a little to make it vegetarian and add our own spin to it.  We thought it came out pretty good, and it was a nice variation on the usual pizza – so we'd definitely recommend it.
To make this stuffed pizza, you'll need:
Semolina flour
8 ounces of pizza dough (we chose to use a store bought dough, but you can always mix up your own – this is our go-to recipe)
A small container of ricotta cheese
A red bell pepper
Basil
Red pepper flakes
Grated parmesan cheese
A small package of arugula
And you'll also need a pizza peel and a pizza stone.
First, set aside a large, clean work space and generously sprinkle it with semolina flour.  Lay out your dough and rub the top with some more semolina.  Press and then stretch it out until it's about 10 inches in diameter, dusting it with extra semolina as needed.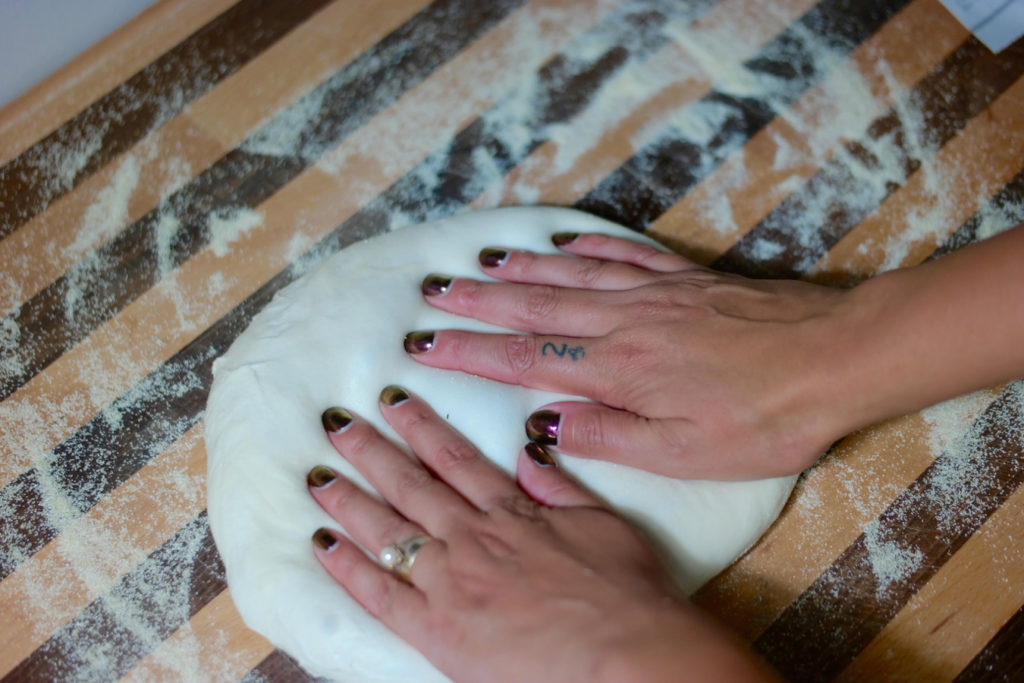 When the dough is the right size, flip it over and place just a little more semolina on the bottom, then slide it onto a pizza peel …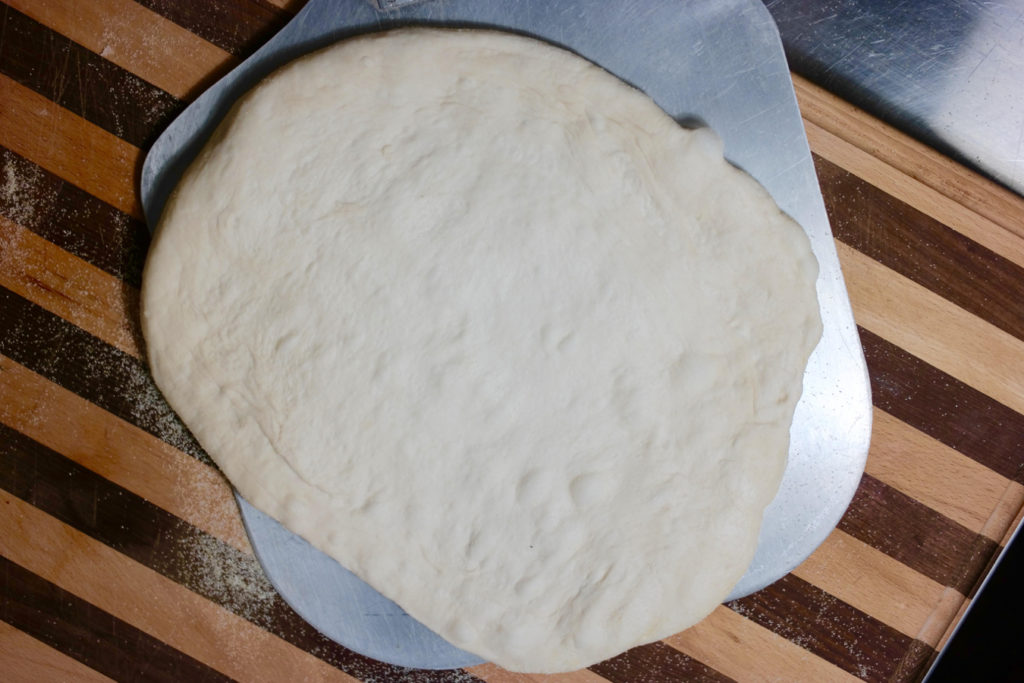 … and use this to transfer it directly onto a pizza stone in your oven, with the stone on your middle rack.  Cook the dough at 450°F for 8-10 minutes, until it's browned and puffy.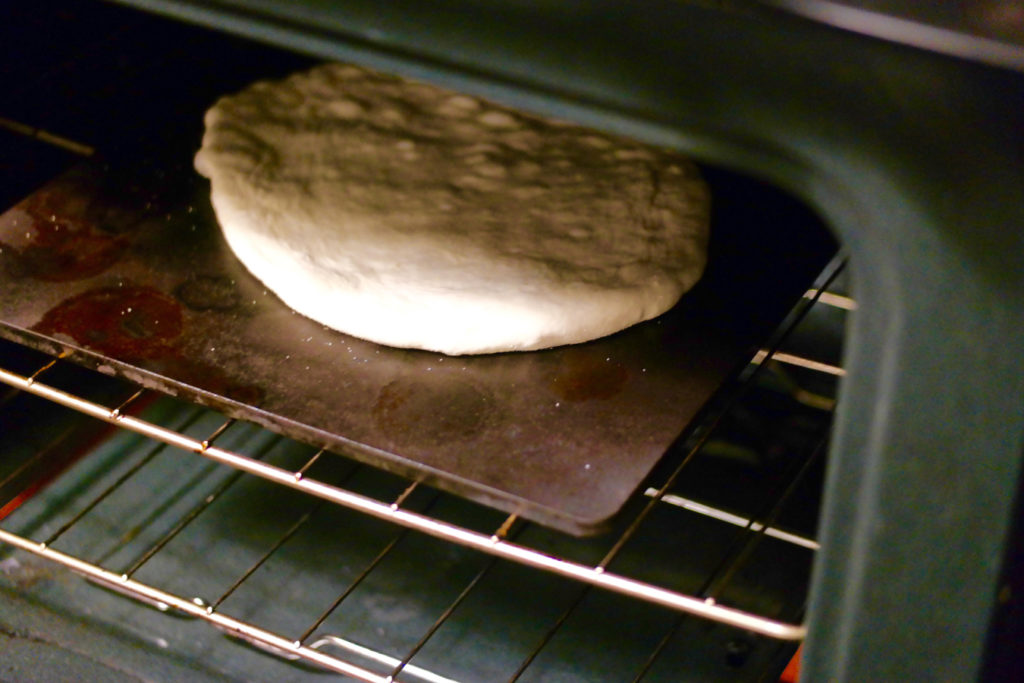 Meanwhile, take your red bell pepper and roast it directly over the flame of one of your burners.  Once it's charred all over, place it in a plastic bag and tie the bag shut to let it steam for a while.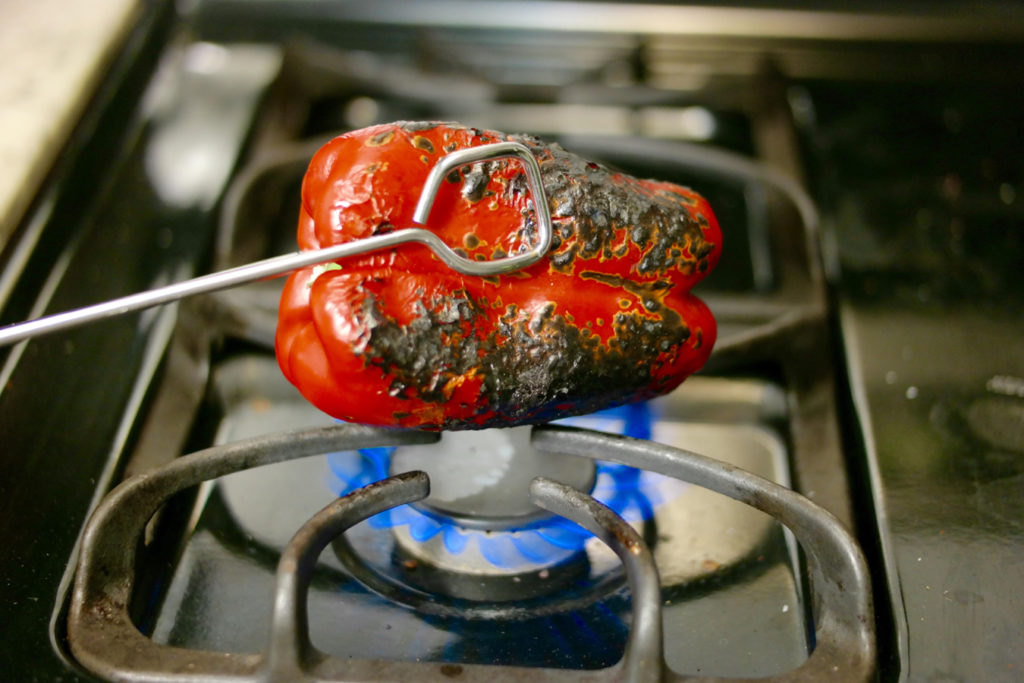 Take the dough out once it's done –  it should look something like this: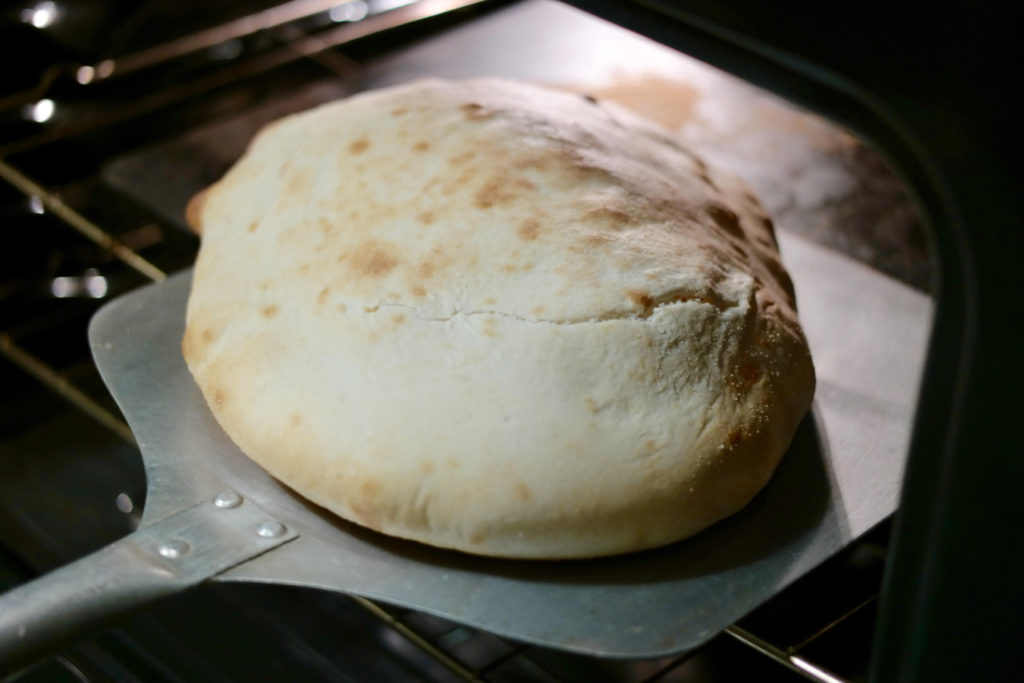 Then use a serrated knife to slice it in half horizontally.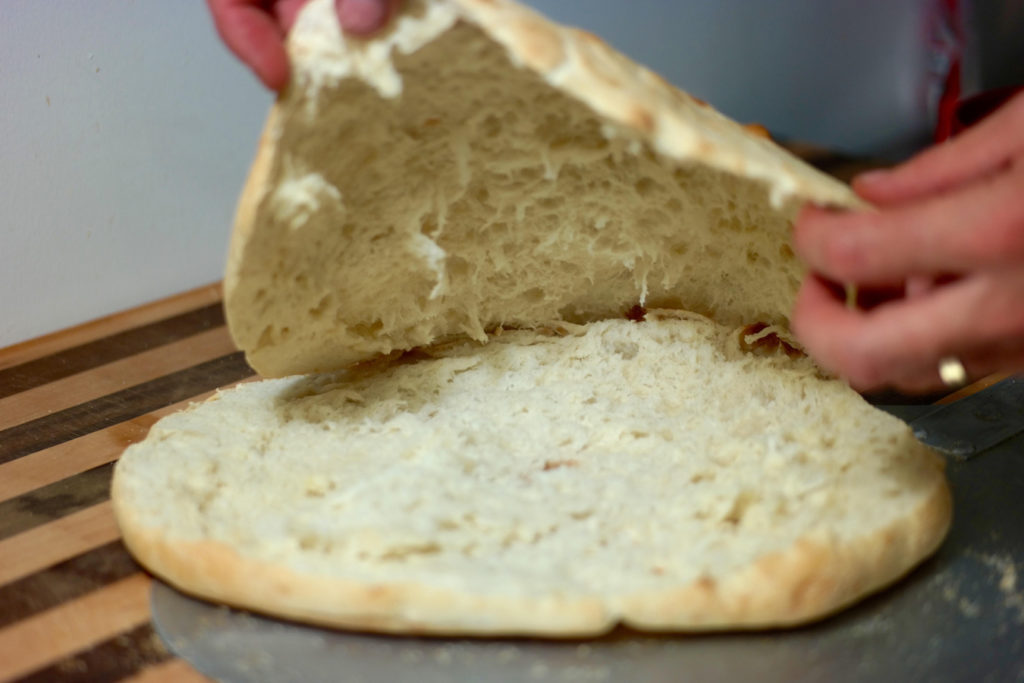 Now it's time to assemble your stuffed pizza:  scoop out 8 ounces of ricotta cheese (which should be about half of a small container) and drain it in a mesh strainer.  Dollop the ricotta over the bottom half of your dough and then use the back of a spoon to smooth it all around.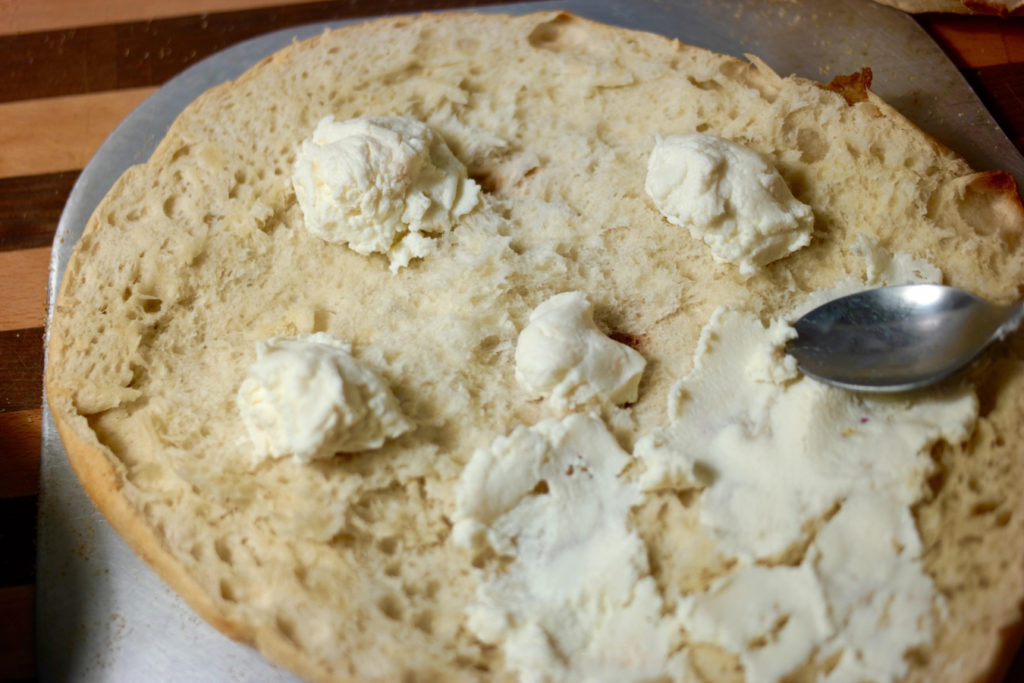 Drizzle a little bit of olive oil over the ricotta and sprinkle on some red pepper flakes.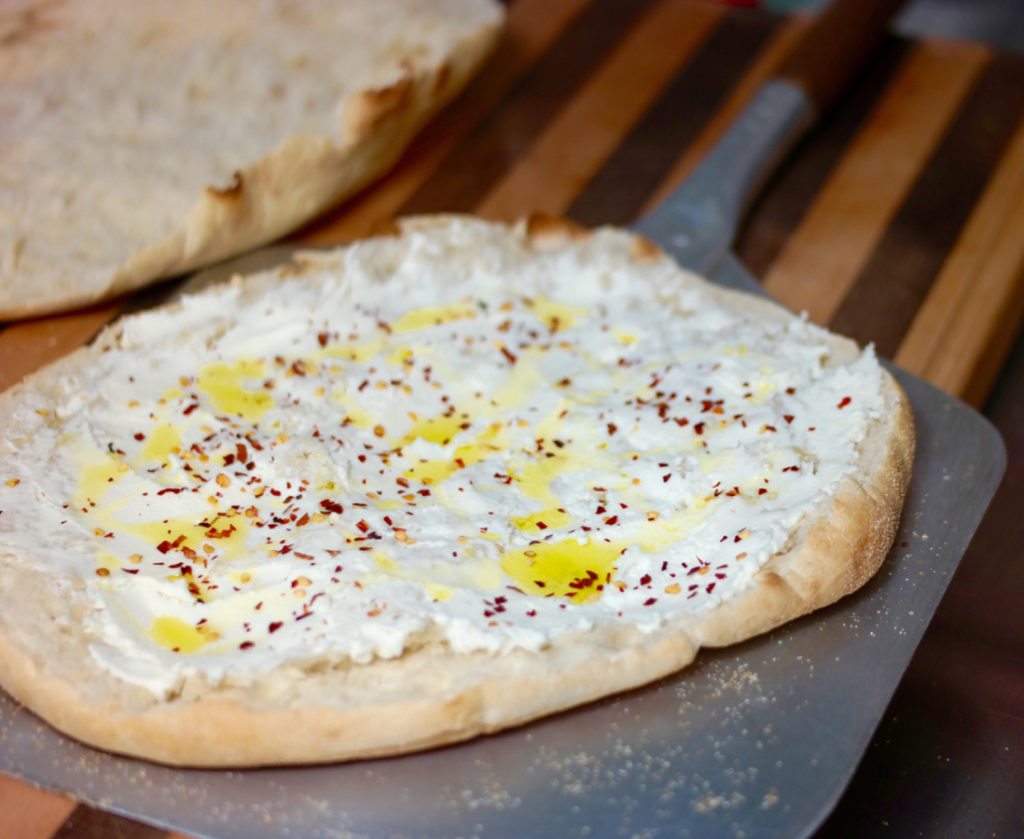 Next, tear off the leaves from a small bunch of basil and scatter those over the ricotta.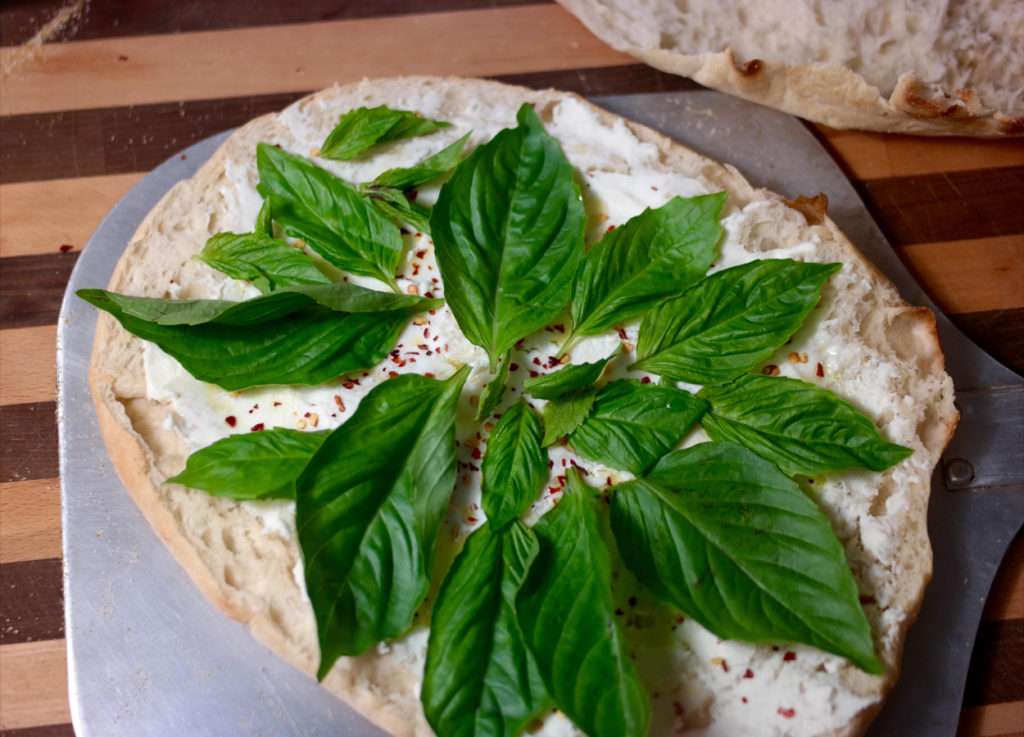 Then take your pepper out of its bag, peel off the charred skin, and take out the seeds and veins.  Slice it into strips and place those on the basil.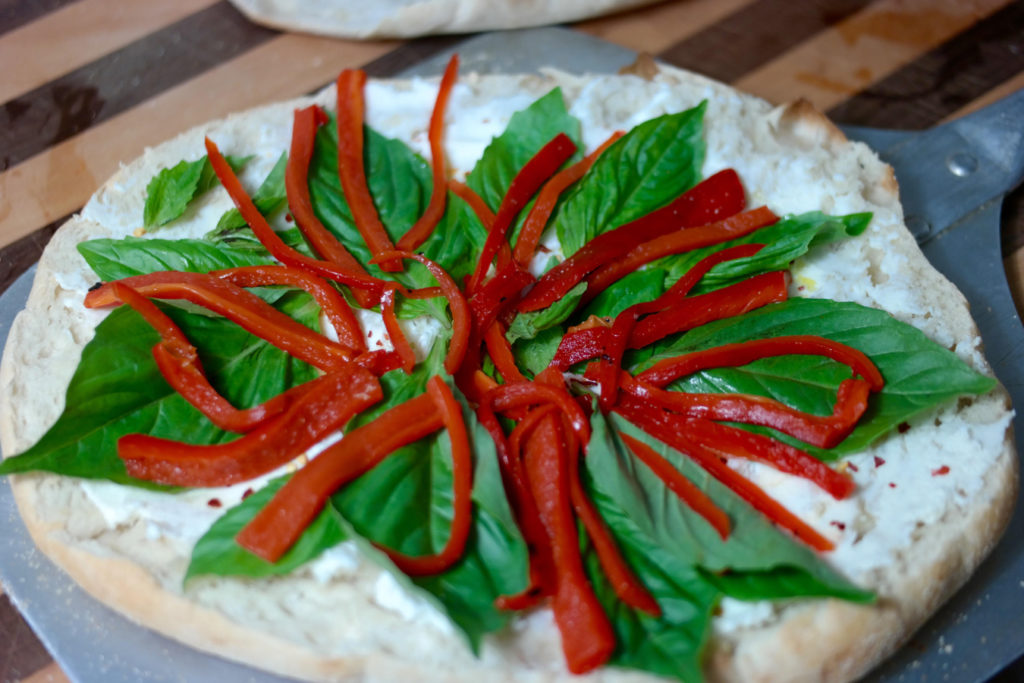 Finally, take bunches of arugula and put those over the basil and peppers, and top everything with grated parmesan.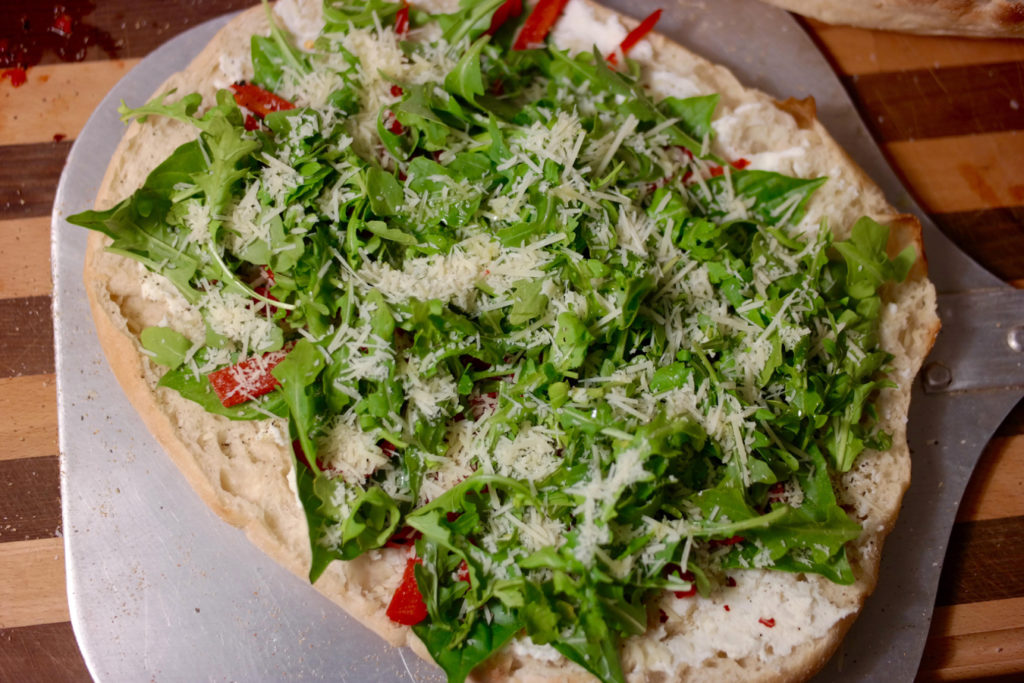 Now lay the other half of the dough over the whole thing …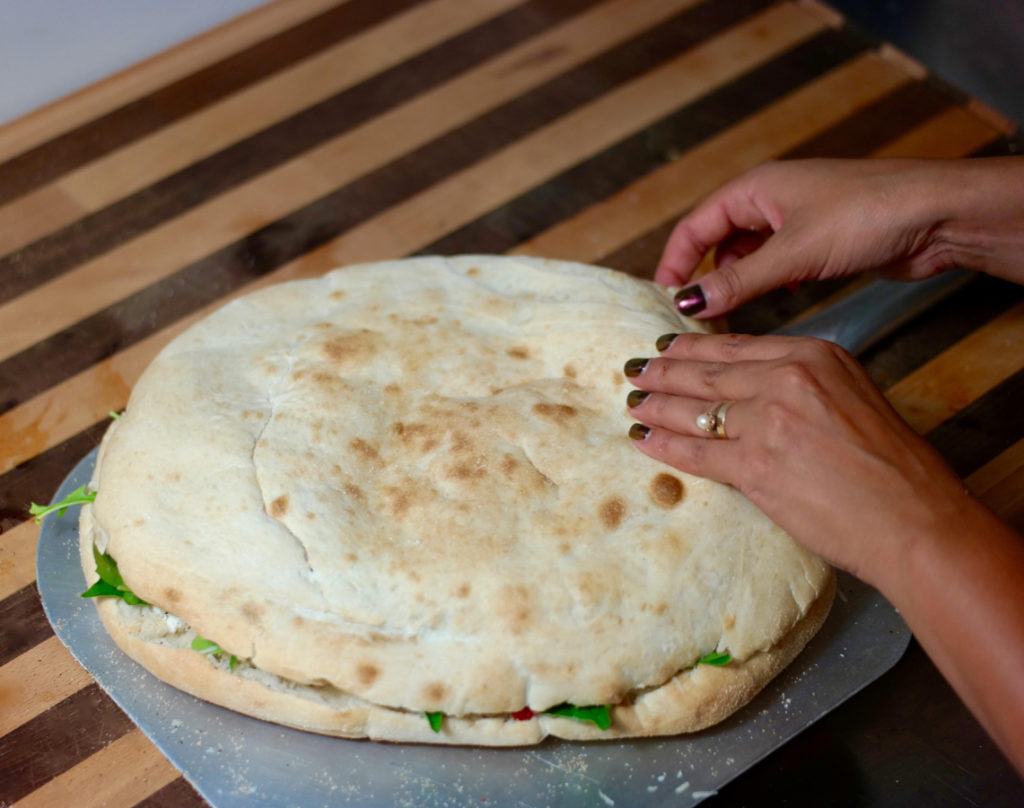 … and cut your stuffed pizza into wedges.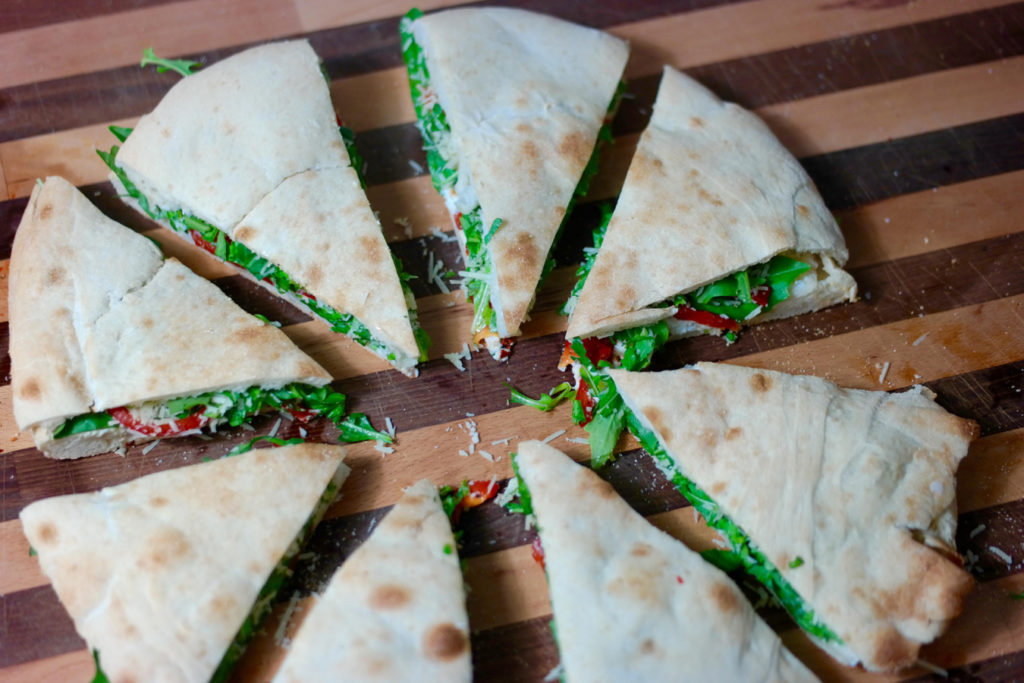 Now it's ready to serve and eat!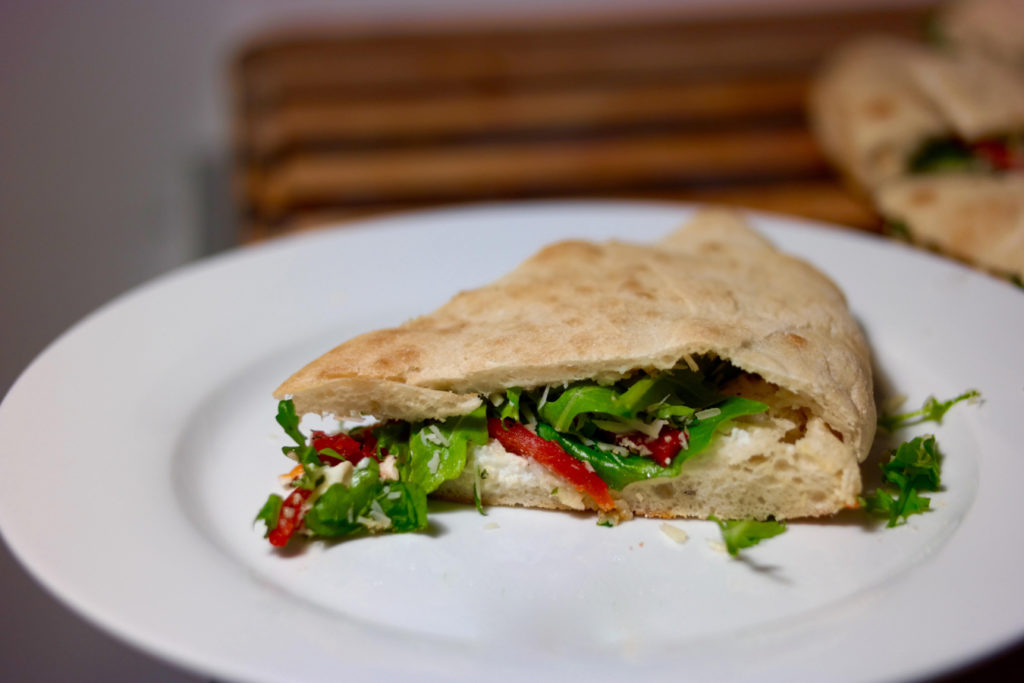 This is definitely not your typical pizza – it's more like a sandwich, really.  But it's still delicious!  The ricotta makes for a creamy base inside, the pepper gives it a sweet roasted flavor, and the basil and arugula add some nice greens.  The baked dough finished everything off nicely as the crisp bread that holds it all together.  Using pre-made dough made this a pretty easy recipe that you can throw together easily, so try it at least once in lieu of regular pizza.